Watercolor painting is one such activity that everyone loves. Both beginner and professional artists love the activity alike. On the one hand, for professional artists,  it is a means to draw down their thoughts and emotions. For beginners, it just brings them happiness when their portrait starts making some sense.
It is straightforward to carry the painting stuff around, making them more likable by people who love to sketch nature or rapidly work out ideas. If you are someone who loves to paint or wants to start painting and look to get some watercolor paints, this article is just for you.
Beginner or Professional, there are certain technical aspects that you will be aware of as you seek to buy watercolor paint sets. A professional watercolor set is perfect if you are looking for something ready to use and you can splurge into painting with. Here are some things that you should consider before buying a watercolor paint set.
Best Watercolor Sets for Beginners
1. Van Gogh Watercolor Paint Set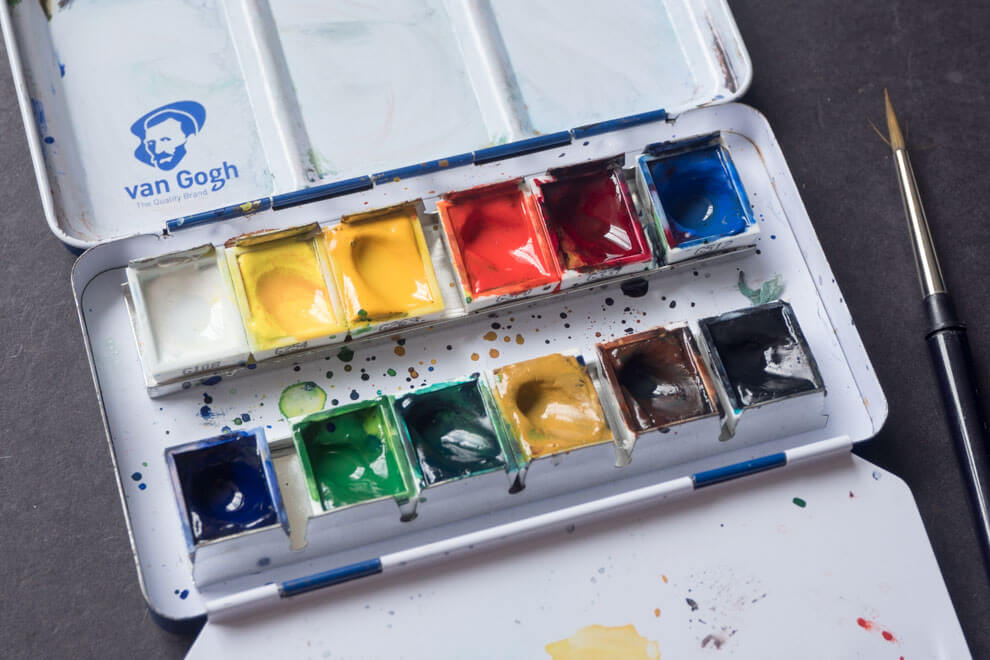 Van Gogh Watercolor set is a student and artist level range of watercolors featuring brilliant transparency and intense color with high tinting strength. Most of the colors are rated with high lightfastness + + + (100 + years) while few others are slightly below at + + (25-100 years). With their high purity and viscosity, these are easy to work with and are perfect for beginners.
It is free of heavy metals and mixes smoothly. These are produced in Holland with stringent quality control and are made for discerning leisure pleasure. It can also be washed into subtle nuances, and when thinned with large quantities of water, the color remains vibrant and lightfast.
2. Sargent Art 12 Count Watercolor Set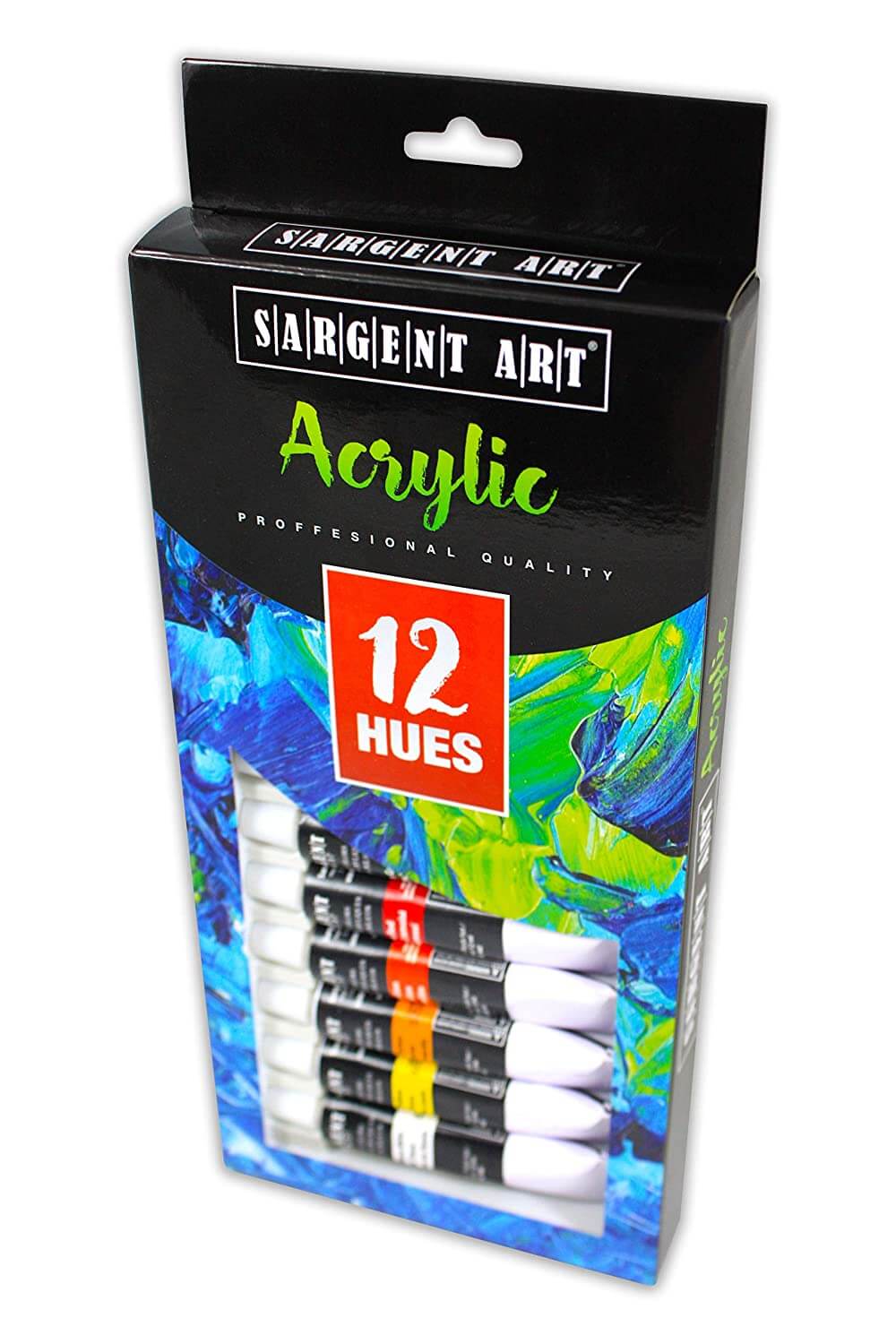 Sargent Art Watercolor Set is non-toxic and safe. It comes in a pack of 12 color tubes with 12 milliliters of each color. It is excellent both for hobby artists and professionals alike. This premium tube watercolor set offers vibrant shades that blend beautifully.
The Colors included are White, Carmine, Lemon Yellow, Yellow Ochre, Vermillion, Burnt Sienna, Black, Ultramarine Blue, Prussian Blue, Chrome Yellow, Viridian, and Chrome Green. They are easy to carry and perfect for your large projects as well.
3. Winser And Newton Cotman Watercolor Paint Skechers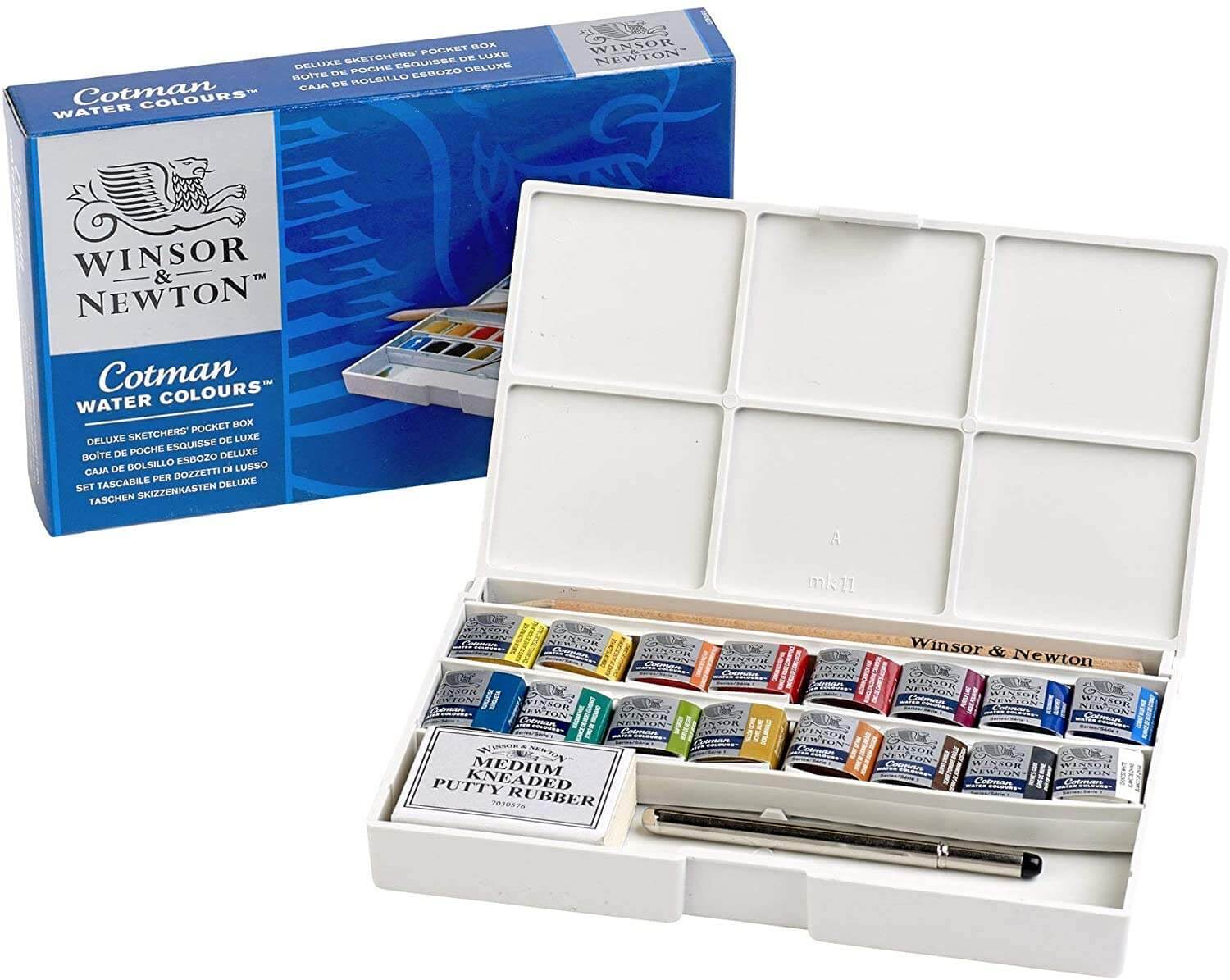 This range of watercolors possesses good transparency, excellent tinting strength, and good working properties. The best thing about this is that it is pocket-sized, featuring a fantastic integral mixing palette in the lid.
The cost has also been lowered by replacing the expensive pigments with less expensive alternatives. Winsor & Newton are among some popular brands selling the best quality watercolors.
4. Raphael Watercolor Travel Pan Set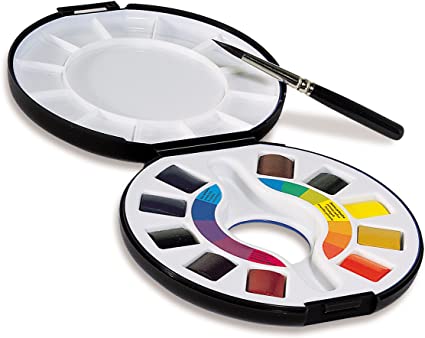 Raphael Aquarelle Watercolor Travel Set makes it easy for artists to carry it around and paint anywhere, anytime. Features a compact circular tin with ten half pans of student grade colors and a 12- compartment mixing palette on the top lid with a small brush. You can carry this set with you and paint it anywhere you want.
5. Kuretake Gansai Portable Watercolor Set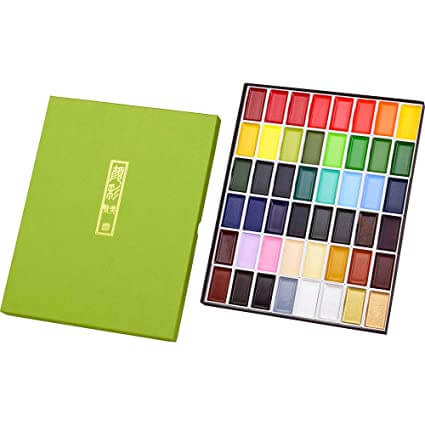 Kurtake Gansai's Watercolor Set is made in Japan and consists of 14 creamy colors. According to traditional Japanese style, each one is well crafted and displays more excellent opacity than any European and American watercolors. The durable plastic case also contains an inner lid designed for mixing paints.
6. Sennelier La Petite Aquarelle 24 Half Pans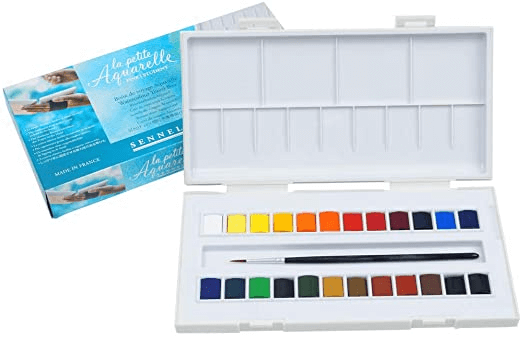 Sennelier Watercolors are known for their high-quality paints. This student range travel set makes the best companion for beginner artists who want to paint anywhere and everywhere. It comes with 24 half pans, a mixing tray, and an elastic strap for field painting. The colors are clear and bright with high transparency, meaning that it is easy to create a glazing effect.
7. Gencrafts Watercolor Palette with Bonus Paper Pad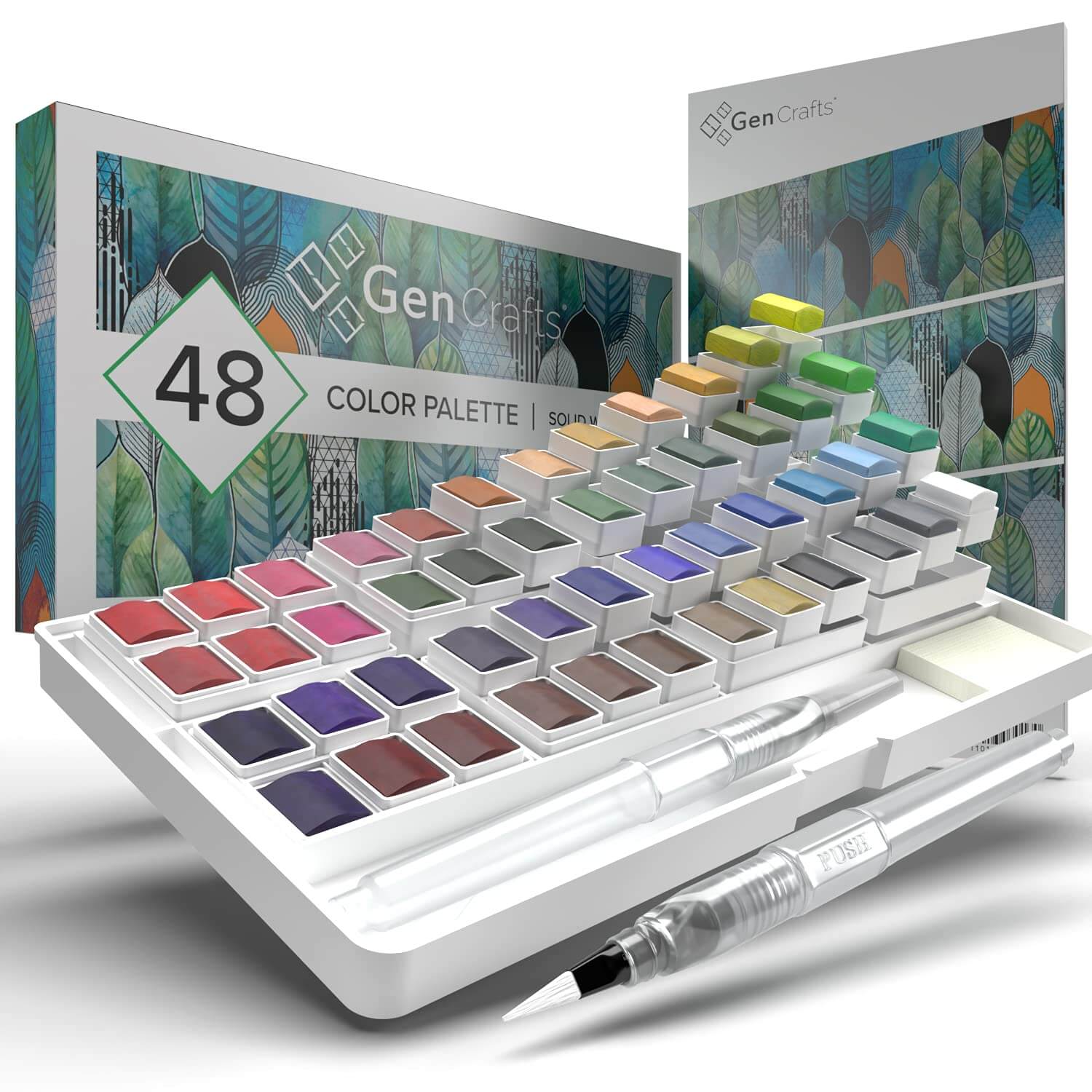 GenCraft Watercolors are carefully crafted for ease of use and are suitable for all skill levels. It is portable, easy to carry a set of watercolor that you can take with you anywhere and everywhere. Reviews tell that the product is no less than a professional set of watercolor paints. The paint colors are thick and vibrant. "I got hooked into this set of paint," as said by one of the customers.
8. Artibox Watercolor Paint Set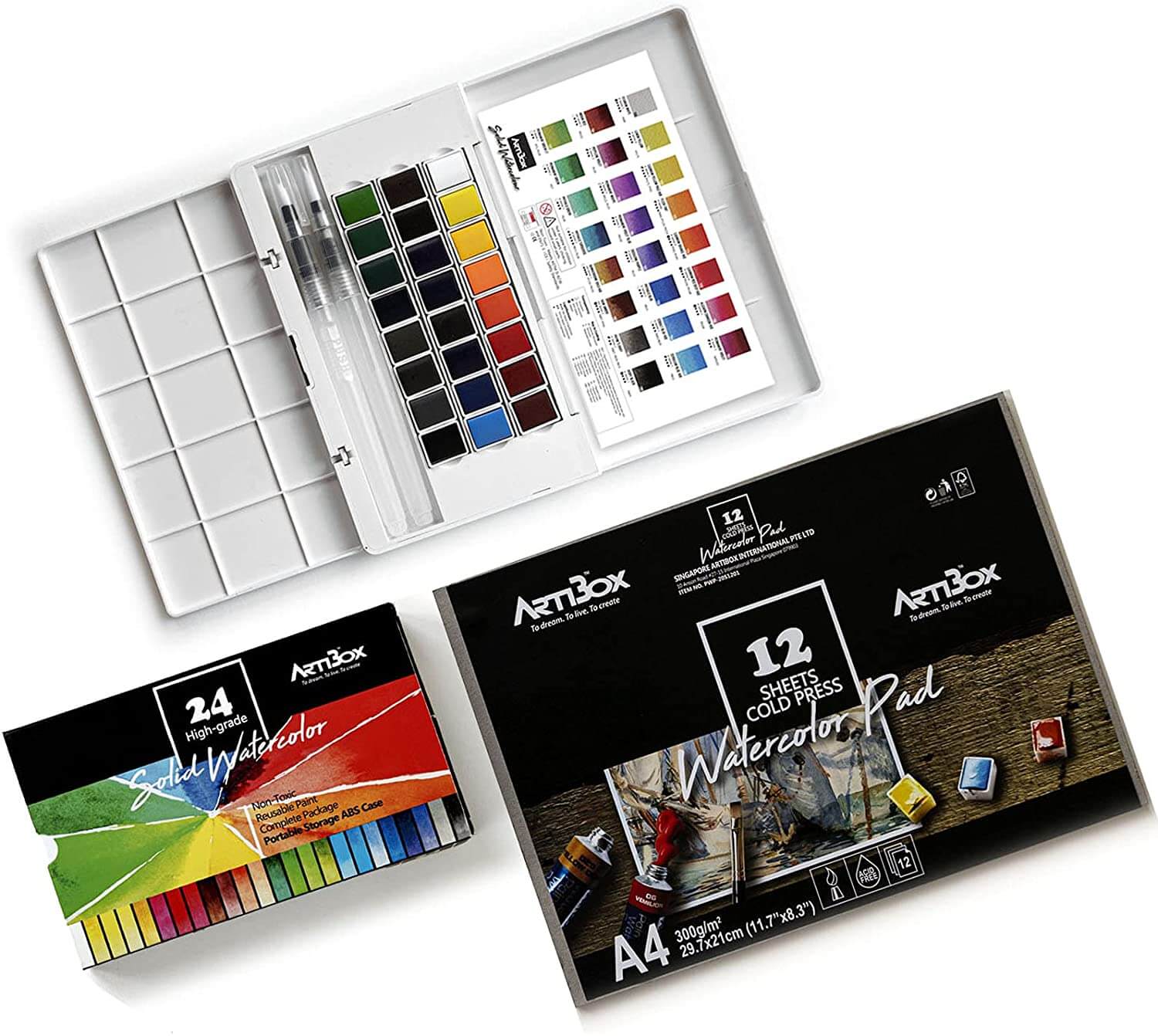 This professional set of watercolor meets the requirement of artists and art students alike. The colors are bright, rich, transparent, soluble, easy to color, easy to blend, fade-resistant, and create unlimited colors.
The set includes 48 assorted vibrant colors in half pans, a professional painting brush, and 12 watercolor painting sheets. The block of colors is refillable, so you can fill it by yourself once the color block is used up.
9. Mijello Mission Gold Watercolor Set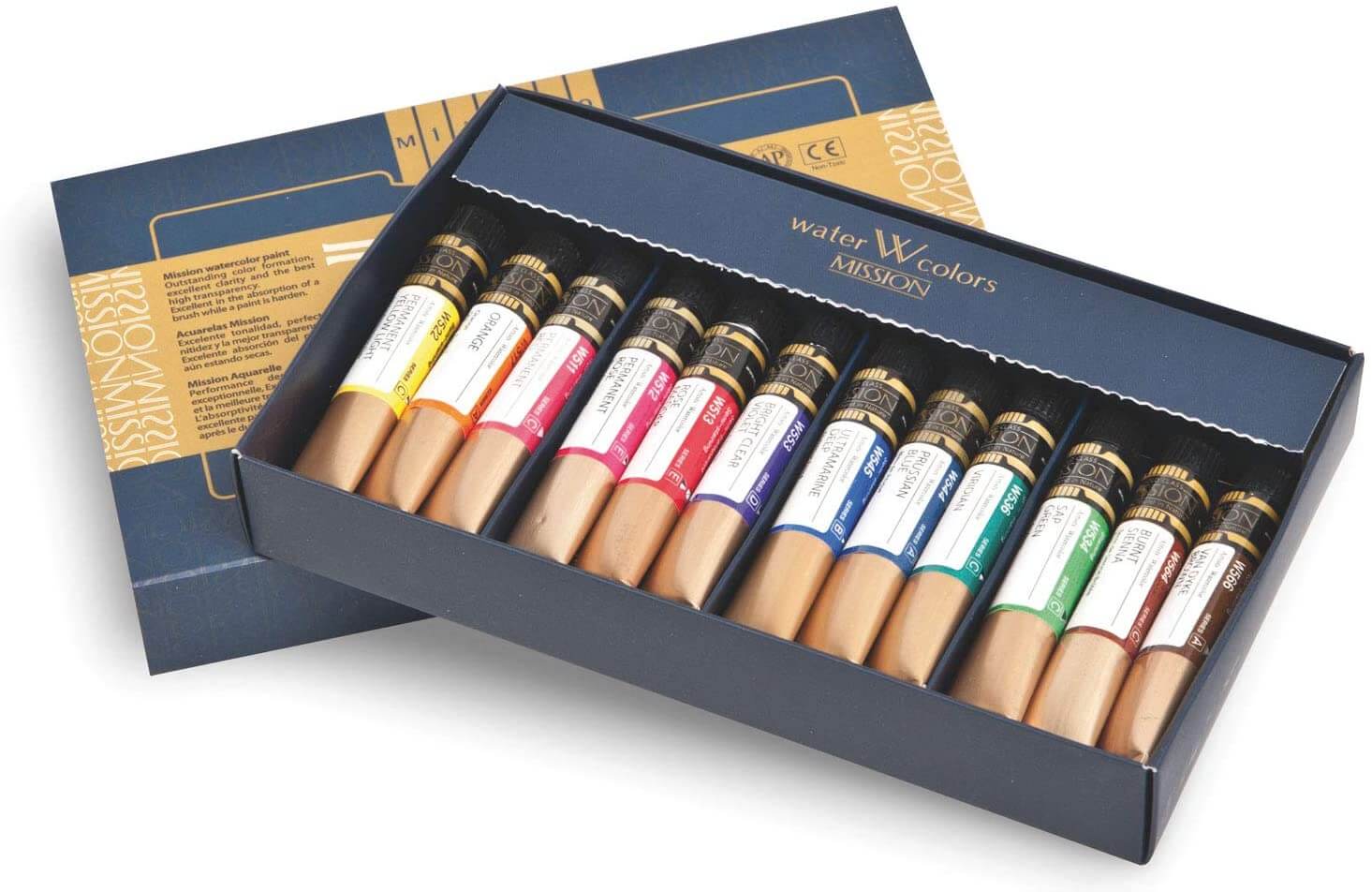 This innovative formula by Mijello Mission Gold Class is free of thickening agents. Created from the finest pigments available, it has excellent lightfastness and creates a granular effect on paper. They are naturally viscous and unsurpassed for their clarity and luminosity. It comes in 34 colors, each of which is incredibly vibrant and matured in traditional Korean pots until they achieve maximum brilliance.
10. U.S. Art Supply Professional 24 Color Set of Watercolor Paint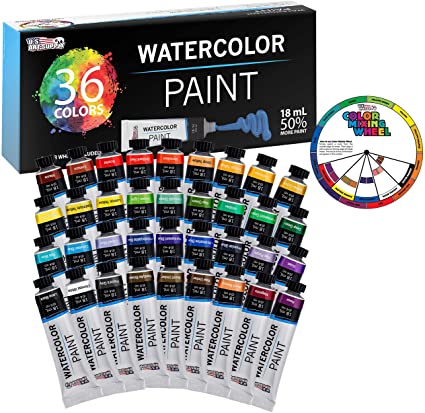 This professional Set of 36 Colors of Gouache Paints comes in large 18ml Tubes. The colors are eye-catching, vibrant, and ideal for use by professional artists and young aspiring artists. Made with premium quality artist pigments, these high-intensity colors paints have smooth consistency allowing the color to be easily dissolved in water for easy color mixing and blending.
11. Sakura Xncw- 18n Watercolor Field Sketch Set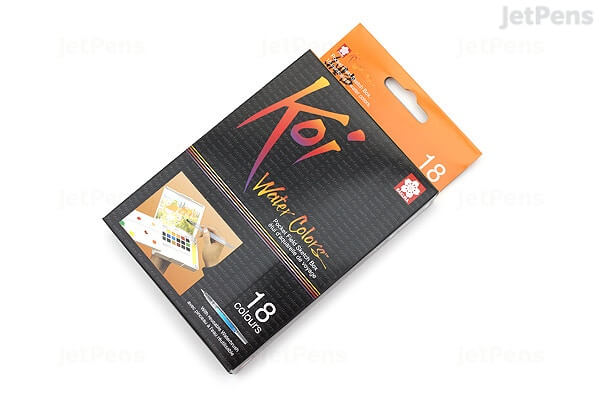 This portable watercolor set is perfect for bringing along whether you are traveling to the countryside, relaxing at the beach, or walking down the urban landscapes. This set of 18 assorted half-pan watercolors are formulated to blend easily and create an endless range of colors.
It also comes with a refillable koi water brush to transport and store water. Its small, sleek design allows it to fit into shirts or jacket pockets, perfect for painting on-the-go. The set includes 18 half-pan watercolors, a refillable paintbrush, sponge, built-in palette, and a plastic case.
12. Daco Watercolor Paint Set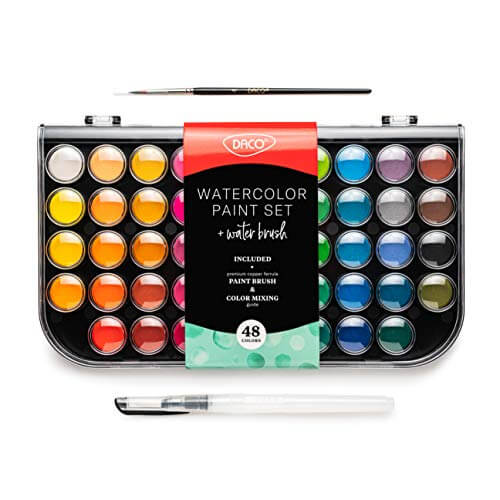 This watercolor set is perfect to start right away. It includes 48 assorted solid watercolor paints, a round watercolor paintbrush, and a refillable water brush. Its high pigment load, fast drying time, and durable consistency ensure excellent color performance.
It is also very lightweight and handy. The colors in this paint set are intermixable, as they dissolve and blend easily. It is also attached with a detachable, easy to open/close mixing tray for your watercolor kit.
13. Daniel Smith Essential Mixing Set Watercolor Paint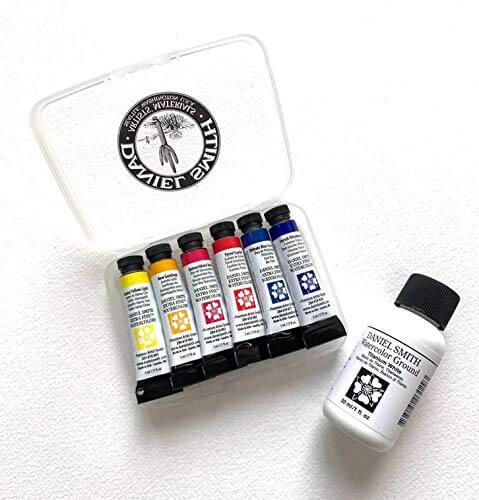 Daniel Smith is known for manufacturing innovative, beautiful colors for artists worldwide. They produce the most extensive range of watercolors. This Daniel Smith essential watercolor set has six 5ml watercolor tubes. This gives the artist an easy way to experience the excitement of painting with Daniel Smith watercolors.
14. Van Gogh Sulu Boya Seti 12+3 X Tablet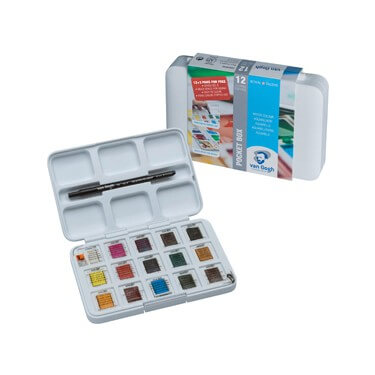 Van Gogh watercolors are rated as a student and artist-level paint range. Featuring brilliant, transparent, and intense colors with high tinting strength, most colors are rated with the highest degree of lightfastness. They have a level of purity and viscosity, making them easy to work with and easy to blend and mix.
Guide to Picking Best Watercolor Sets
Colors
Wanna know the best thing about watercolors? You can extend your color palette considerably just by mixing without investing in a wide variety of colors. If you are just a beginner, you probably should get a watercolor paint set with just 5 to 10 primary colors to test before making any more considerable investment.
The single colors will be much more vibrant than the mixed colors. But many professionals believe in using mixers more than single straight colors. But that is your personal choice, and it depends on what suits you best.
Watercolor pigments also vary and have different prices accordingly. This is because pigments obtained naturally from raw materials or minerals are rare, and their extraction is also tricky.
On the other hand, if you see watercolors made for students or children use less expensive or have standardized pricing. This is because they contain synthetic fillers or colors as a substitute for natural pigments.
Quality
Watercolors are no different than any other art supplies when it comes to their quality. They are available in two grades- student and professional. A student-grade watercolor set will contain a limited number of colors and will be less pigment due to the use of synthetic fillers.
Thus, it will also be less expensive. Professional-grade watercolors, on the other hand, are way more expensive than them. However, their quality is better as they contain raw material pigments and are available in a wide range of colors.
If you are just a beginner and your main aim is to test your hand on watercolors, you should probably invest in a student-grade watercolor. You will not feel much difference in use, and it will be low on pocket as well.
Transparency
What I love about these watercolor paints is the washout effect that can be created using them. Watercolor paints come in opaque and transparent, with the manufacturers writing on the tubes and pans if the paint is opaque. Transparency is an essential factor to consider if you want to create a layered effect with paint colors.
Permanence
In simple words, permanence is the durability of paints when exposed to light and humidity. The permanence of watercolor paints depends highly on the quality of pigments and how much fillers (if any) are used in the paints to cut down the cost.
Rating scales like ASTM (American Society for Testing and Materials) can be used to check watercolors' lightfastness or permanence. Most brands have this information on their websites for visitors to check them before buying.
Staining
Some watercolors can penetrate the paper creating a stain, while others remain on the paper making it easier to erase unwanted lines by sponge or scraping off the paper. The staining of colors varies with brands, and you can quickly test which colors stain by testing them on a piece of paper.
Staining as a property is a significant factor to be considered when layering colors, as non-staining colors become muddy when along with other colors. If you are a beginner, you will begin to understand which colors stain with a little practice.
Tubes or Pans
Watercolor paints come in tubes or in trays of solid cakes of paints called pans. Pans are activated when they are touched by wet brushes and are great for their portability.
They are long-lasting, but since the amount of pigment you take each time is less, it is a bit more challenging to paint large-scale projects.
Tubes, on the other hand, are filled with liquid paint. This makes them difficult to carry on the road but is excellent if you want to do mixing or make large-scale paintings.
As it is easier to take out a large amount from tubes, you may require buying these more often. You should also ensure not to let the paints dry out, as most of the paints do not hold up well with constant rewetting.
Both tubes and pans are sold individually and have their unique properties. If you are a beginner and are confused about which one to go with, you can always experiment and mix and match until you find the one that suits you the best.