In every Household, a Tv is that corner of the house that keeps the family united and happy. A family that watches a movie together is said to have a healthy relationship with each other. Well, it is just a saying. A family stays united either way.
A Corner Tv cabinet can help you save a lot of space at your house and help the corner of your house look aesthetic that would go well with your house interiors. You can either turn your corner tv cabinet into a great one or you can purchase one.
If you see a corner of a house empty and you are looking for a DIY idea to renovate it or to make it look more appealing, then a corner Tv stand can help. A corner Tv stand will help you cover up the area that is not in use and it would also match the interiors of your house.
The corner Tv cabinet consists of a Top, bottom, and side but building a DIY corner Tv cabinet can turn your living room into an aesthetic one.
Let us lookout for some amazing and creative DIY options for a corner Tv cabinet at your house.
DIY Corner Tv Stand Design Ideas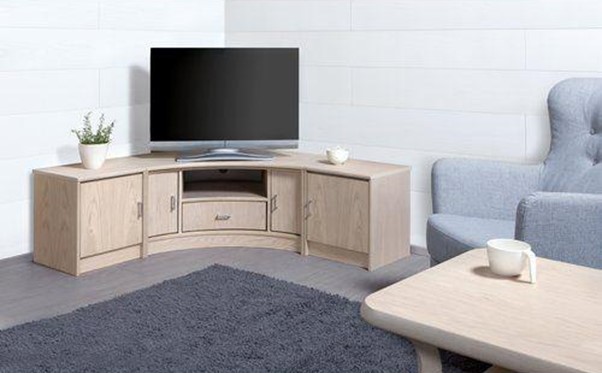 If you have a corner in your home that you wish to fill with a tv unit, then this type of corner tv cabinet will best suit the interior of your house. This type of cabinet goes with every type of interior and it is very easy to create a cabinet like this.
A wooden tv cabinet is always a better option to place your tv. While it goes with your house and supports the tv well. This cabinet will help you store a lot of other things and give you a place to store all your essential things.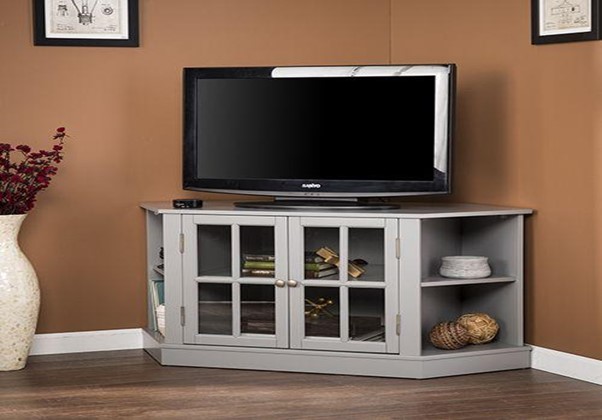 This is a traditional tv stand that has been in use for many years now. A home with an old décor can be great for this type of cabinet. This corner tv cabinet can hold 42-inch flat tv and is an ideal choice for any type of room.
It has many spacious storage areas to store all the media equipment or decorative materials. There is a shelf to store your favorite books and decorative materials can be kept in the open cabinet. The gray color is one of those colors that can go with every corner of your house and with any house paint.
3. Corner Bench Seat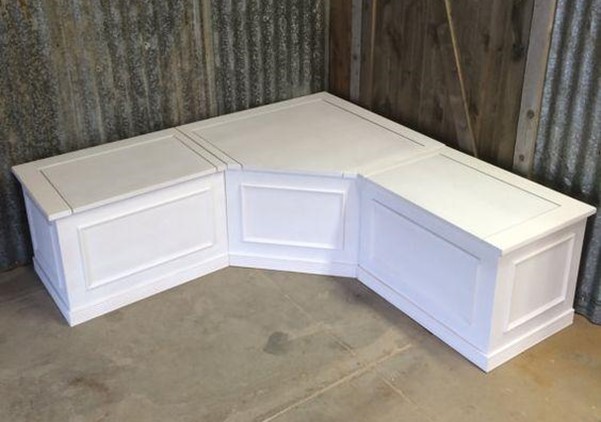 A white corner tv cabinet is something every house deserves to make a house look more decent and pretty. White color brings peace and in this case, it helps you save a lot of space by fitting in any corner of your house.
This cabinet will help you store a lot of your media stuff like remote or any other essential things that you wish to keep handy. This white cabinet can be designed as an open cabinet if you like a shelf to hold showpieces.
4. Corner Tv Console
If you have a very small corner place at your home, then this tv stand can help you fill the corner with a beautiful corner tv stand. This cabinet can easily accommodate 42-inch tv while offering you a lot of space to stuff other things that are important to keep handy.
This corner tv cabinet has a covered as well as an open cabinet which can also be useful to place a showpiece.
5. Rustic Wooden Tv Stand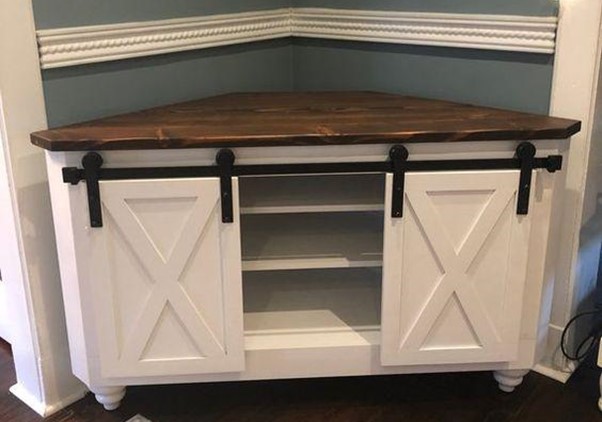 A wooden corner tv cabinet for a place that has lesser space but a wider area, this tv stand would work great in such spaces. The upper ply of this stand is of brown color while other cabinets are of white color.
The combination of both colors would help you create an awesome ambiance in your space while offering a great cabinet for storage.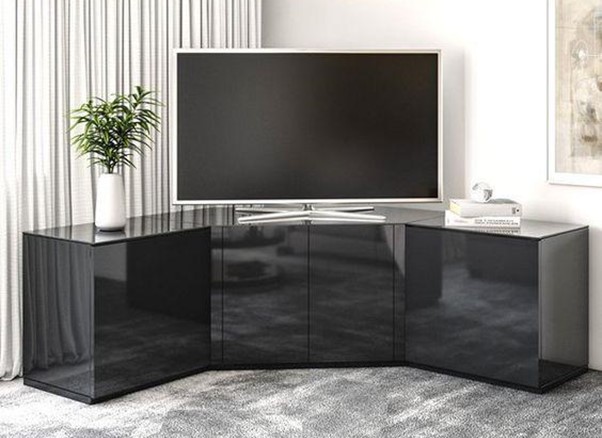 A modern house requires a modern tv corner cabinet that perfectly matches with all your home décor and interiors. If you're a black theme in your home décor, this black corner tv cabinet will help in adding more magic to the house.
This tv stand is in black color, which is everyone's favorite and has shiny glass-skinned shelves that add more beauty to your house.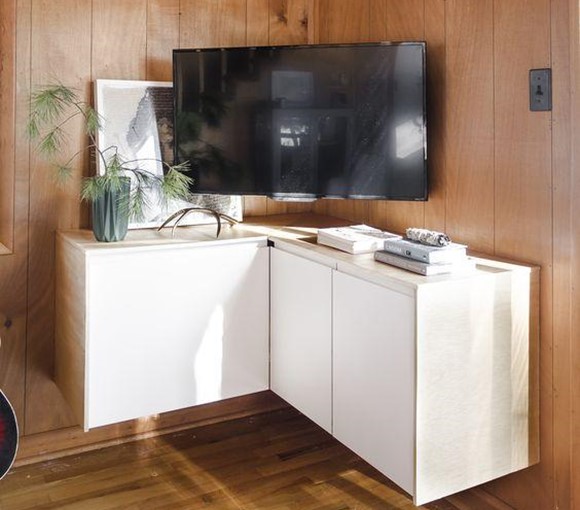 If you live in a region that has cold climatic conditions, a white corner cabinet that goes well with the wooden floorings is something you would invest in or DIY it by yourself. The Tv can be hung on the walls and the cabinet can hold other things that you need handy.
A tv cabinet that looks minimal to the house and yet makes your wooden walls and flooring look more aesthetic and unique is the goal of every individual staying at a cozy place.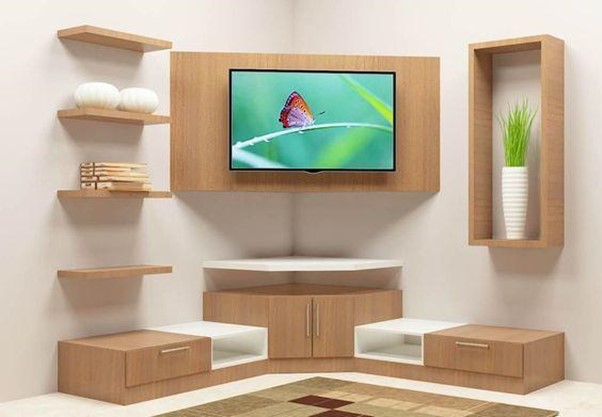 A house with wider corner space can have a tv corner cabinet set like this one as this wooden cabinet set would help you make your house look more spacious yet offers a lot of shelves to store and open spaces to place showpieces.
This set of corner cabinets offers a bunch of places that are designed well and are great for any type of house with a lot of corner space area. A wooden shelf is everything that a house with great interiors needs.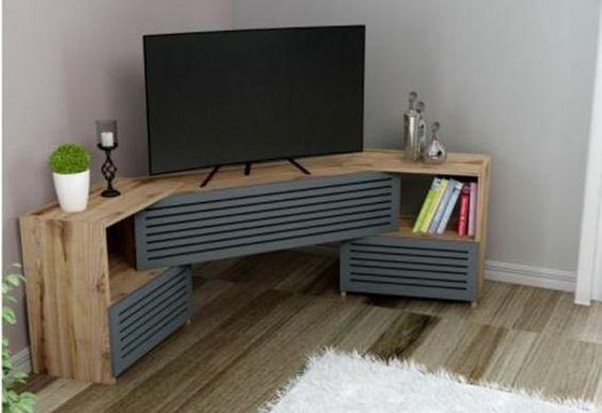 Looking for a smaller corner tv cabinet? This one will help you utilize your corner space and will also help you save a lot of the area of your house. Small corner tv cabinets like these are great for smaller apartments with small families.
Perfect use of your corner space with a decent number of shelves for storage and to place your showpieces.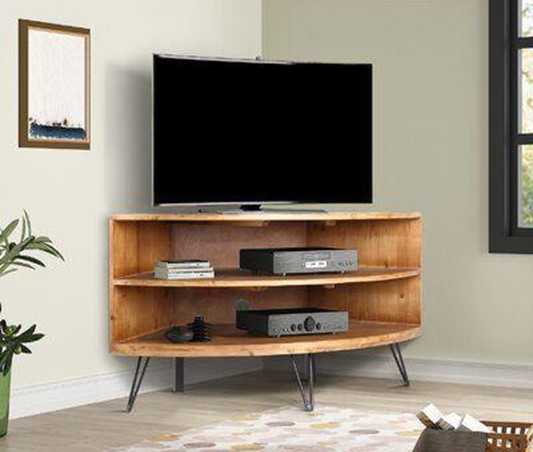 Another great way to style your house is with a mini corner tv stand that has only open shelves to store all your media equipment while enabling you to save a lot of space in your house. A wooden tv stand always wins when you cannot think of any design for your tv cabinet.
Brown wooden corner cabinet that looks super chic yet would go with any type of home décor or interiors. If you are still thinking if this stand is too small for the tv cabinet, then you can go for a bigger tv cabinet.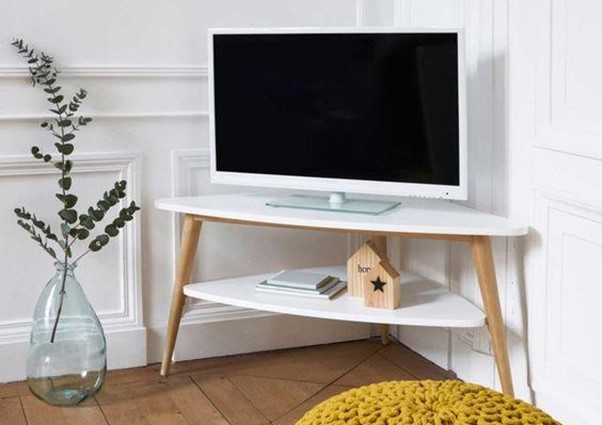 White and wooden tv cabinets are the new style and design that are in this time. Smaller tv cabinets are more popular than a cabinet that takes all the corner space of your house. This type of mini corner tv cabinet is something that helps the house look appealing yet Simple.
In an era where less is more, a tv cabinet that is smaller in size while offering better design and open space to store things is great for modern households.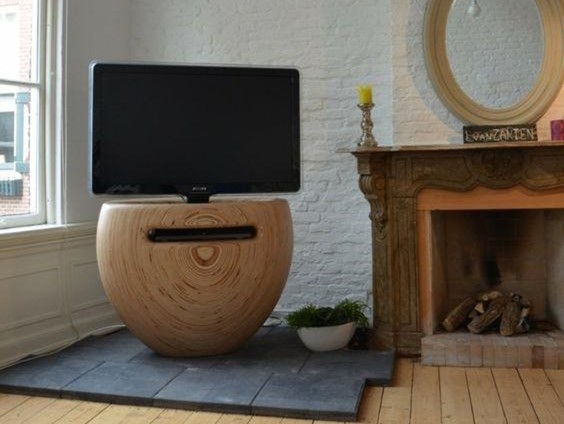 The main motive behind installing a corner tv cabinet is to save space in the house so the house looks more spacious. A unique style of tv cabinet that would help you save a lot of space and will leave every guest asking about this beautiful tv stand.
This type of tv stand can be kept in any corner of your house or bedroom where you can sit and spend some time. However, this type of tv stand has no cabinets or shelves to store things.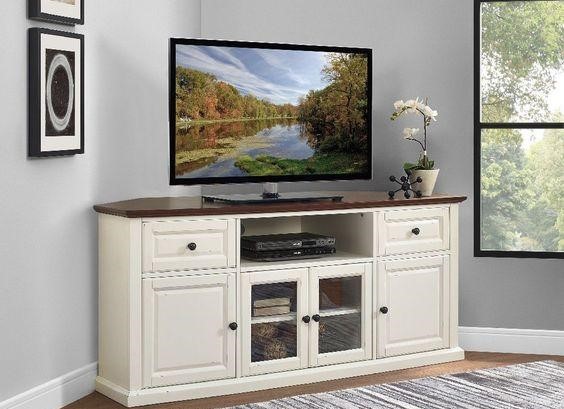 This is one of those types of cabinets that can be placed in any corner of your house but also can be placed in a flatter space. This type of cabinet can fit in every type of room including the living room or bedroom.
This type of cabinet offers many areas to store things and 2 sets of drawers to store tv equipment. This corner tv cabinet is great for wider screen TVs and even smaller screens.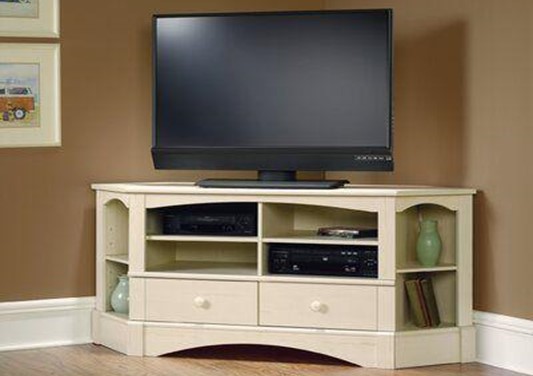 Another type of Tv corner cabinet that is suitable for flatter areas too while offering you several spaces to store your media equipment. This tv stand can hold a wider tv screen of approx. 42 inches and would give your house a simple yet elegant décor.
A simple TV stand that gives you an antique vibe in your house while helping you save a lot of space in your house.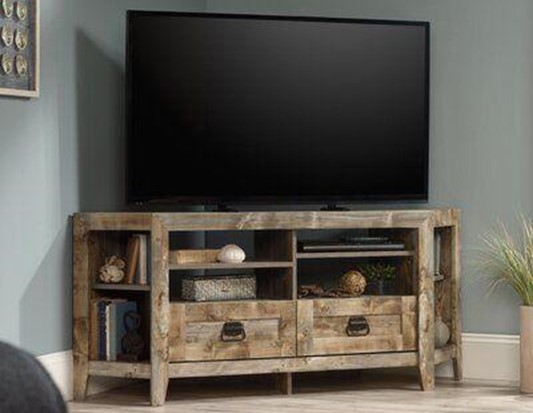 A Tv cabinet that gives a vintage vibe to your house is suitable for a house that already has a home décor of vintage interiors. This type of wooden vintage cabinet allows you to place flat-screen TVs and a lot of space to store your media equipment.
This corner tv cabinet can help you place a tv of 60 inches, a great deal for a spacious house that has a huge tv for their family.
Conclusion
A Tv cabinet stand is something every house owner looks for to help them save their corner space and to make their living room look more spacious. Every individual has a design or a structure in their mind that they desire.
The list of these Tv corner cabinets will help your search easier and will also have all your desires of a tv corner cabinet fulfilled. Choosing a cabinet is easier when you have all types of corner cabinets in one place, so you choose the one that best suits your home décor.