Interior design has been evolving with new colors, designs, and setups ever since it has been discovered by us humans. Today, when everyone wishes to have a unique interior for their home, wall colors are playing the most important role.
Days with white and grey walls have gone and experiments are being done with bright and dark colors. And brown accent walls are becoming fresh in the world of interior design today.
If you too are looking for a unique color for your home's interior, then brown color should be paid some attention to. Brown accent walls are rapidly becoming the next trend and people are just loving the numerous shades of brown.
If you are thinking about the shades of brown, here are some ideas that can help you out. Keep reading to know how brown accent walls can make your living room fresh and beautiful.
Living Rooms with Brown Walls [Photo Inspiration]
1. Formal Living Space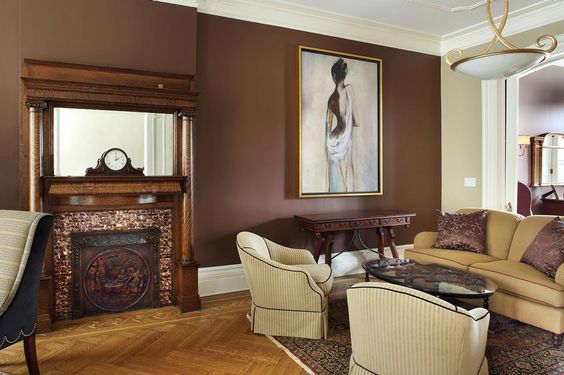 If official meetings and work is something you do majorly at home, you would need a formal corner in your house for that. So, why not make your living room the perfect place? Shades of brown serve as the best color for a formal aura. You can add funk to it by adding plants or paintings (as shown in the picture above) or can keep it in the soberest form.
2. Textured Walls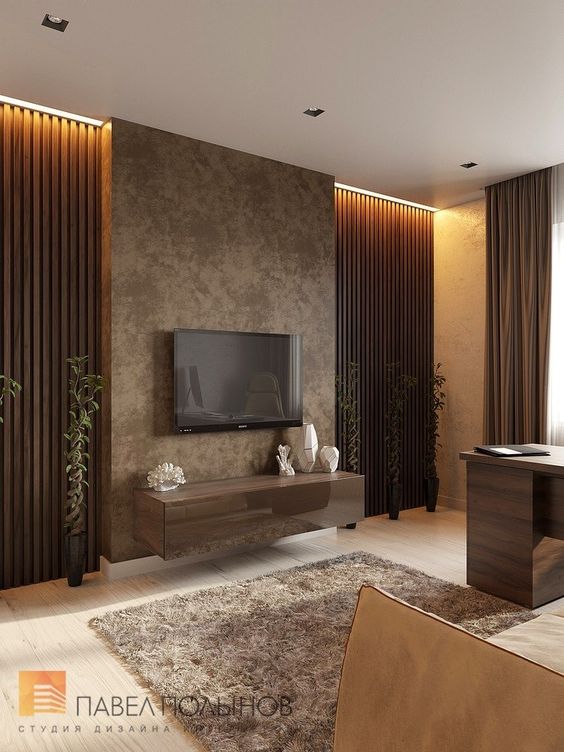 Textured walls in any color are a great way to give depth and soothing visual interests to any kind of room. If you have a simple room with no extraordinary elements, a brown accent wall with matching textures can make it much more attractive.
When it comes to creating textured wood walls that emanate warmth, wood slat panels are an exceptional choice. Their inherent natural elegance and timeless charm effortlessly elevate the overall aesthetic of any space, infusing it with a touch of organic beauty.
Not only do wood slat panels add visual interest, but they also offer a remarkable versatility in terms of color options, allowing you to find the perfect match for your desired ambiance. Furthermore, these panels provide a budget-friendly solution for those looking to enhance their walls with both texture and a cozy, inviting atmosphere.
You can go through a lot of options of textures in both pure brown and mixed colors. Also, textured walls fit just right in any kind of budget.
3. Walls with Patterns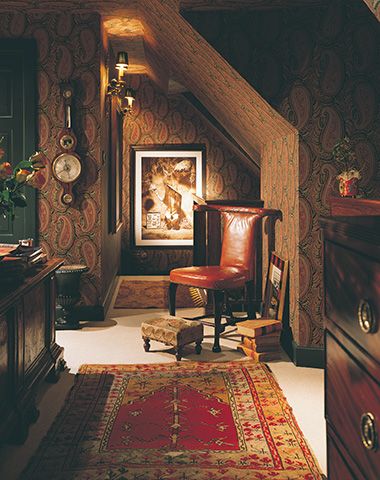 Another super trending thing in the world of interior designing today is wall patterns. If you wish to have brown accent walls in your living room, then adding some unique patterns to them can make your ordinary room lively and beautiful. The type of pattern you choose for your wall would decide the vibe of your room. It can be a traditional aesthetic pattern or a modern geometric pattern. To find the perfect pattern, you would have to dig deep.
4. Colour Match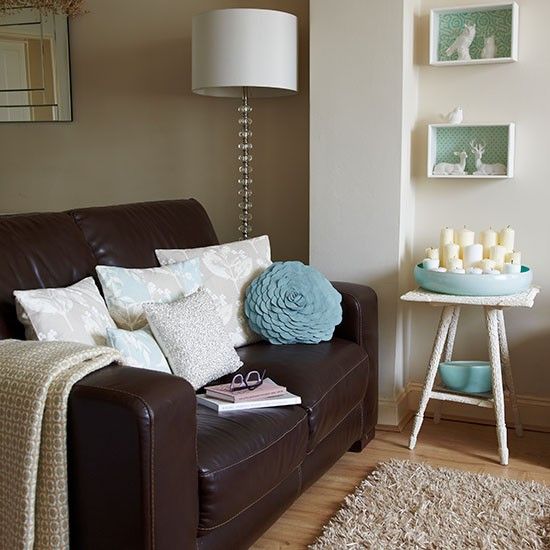 If you do not want all the walls to be brown, there are always other colors available to experiment with. Most people prefer white and creme colors to match with brown accent walls. However, these colors are extremely common now.
People are trying out new things and colors like pastel green, grey, and lilac are being paired with brown. So, depending on the shade of brown your wall is, you can choose any unique color that looks good and give your room a fresh look.
5. Brown Shades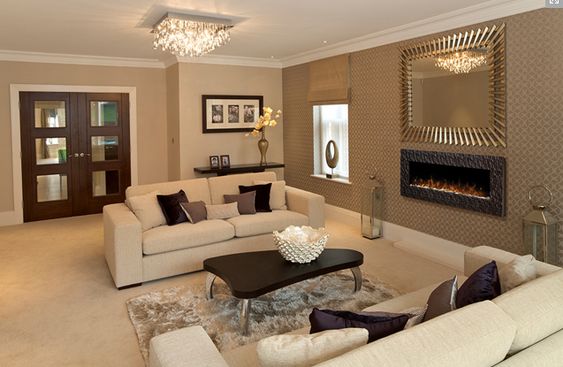 If you are not someone to go with all vibrant and eye-catchy elements in your living room, you can go with a simple set up in a single color. Having all the elements including the walls in brown color may seem boring and average. However, if you set the right tone of brown in your room, it will end up looking utterly beautiful.
Furniture in light brown color with some elements like the fireplace or the center table in dark brown shade looks quite soothing to the eyes. You may add curtains or a flower vase in a different matching color like white or creme.
6. Vibrant Vibes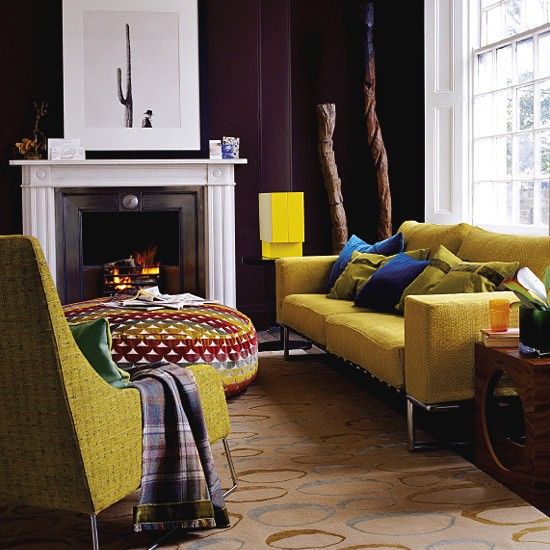 For a fun living space for your family and friends to enjoy, colors are needed. If you plan on brown walls for such a space, you can go with bright furniture and curtains in colors like mustard yellow, magenta pink, red, and orange. All these colors totally go with any shade of brown and make any room look fresh and energetic.
7. Modern Mood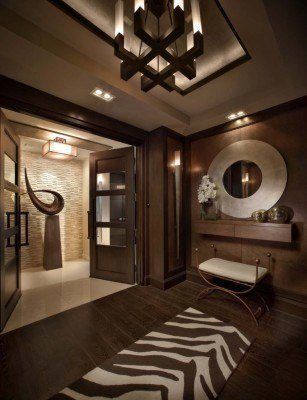 If you are planning on a modern house with all the latest interior trends, this is just for you. Pair modern ceiling lights with rich brown walls to give your room a glamorous look. You can also add curtains and furniture with bold patterns and textures. Carpets in animal and geometry prints can also become a great add-on in a modern-style living room.
8. Brown Fireplace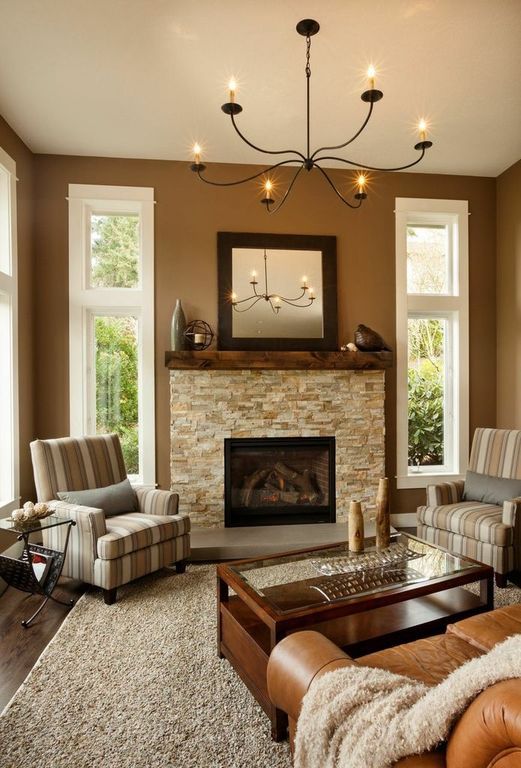 Looking for a cozy living room? A fireplace might help! Warm brown shades with leather couches look amazing with a cozy fireplace. You can add eye-catching visual interests by getting stone patterns or panellings made on the brown accent walls or around the fireplace.
9. Wooden Panelling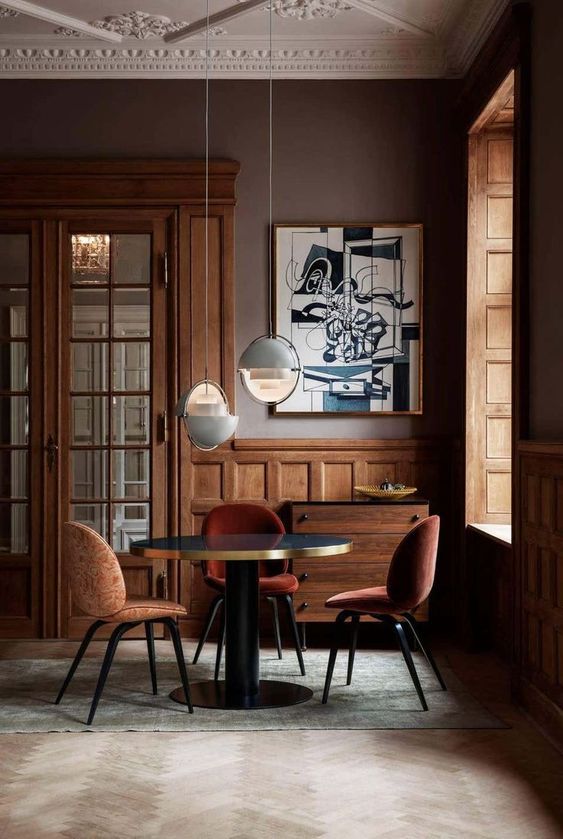 Adding wooden paneling gives depth to the room and a rich look to the overall house. If you are planning to add some visual interest to your basic brown walls, wooden panellings can do it for you. Moreover, you can find a variety of paneling designs to suit every kind of house, that too is just in your budget.
10. Greenery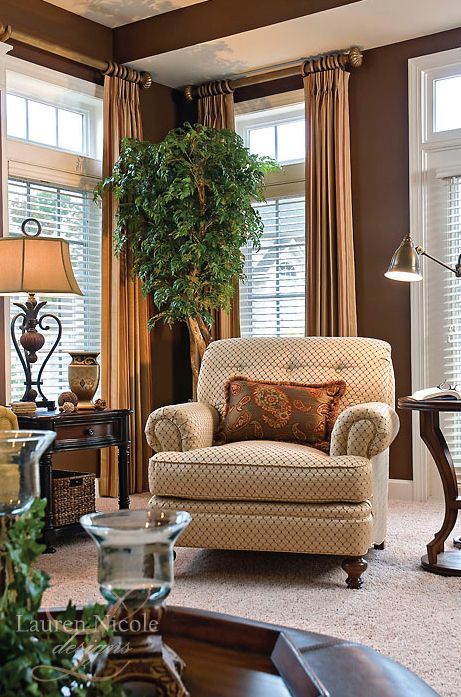 If you are a plant lover and want to have plants indoors, this is a great idea for you. Dark brown accent walls go great when you are planning to have some plants indoors. You can mix up various shades of brown with different green plants and give a warm and inviting vibe to your room. Moreover, with some cute plants and brown walls, you will not need any accent furniture to add attractiveness.
11. White Aesthetic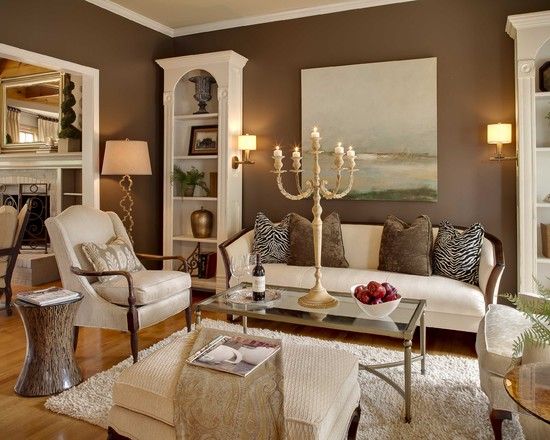 The combination of brown with white is one of the best and attractive combinations you can try. Pairing white with warm and tan, brown can give your room bohemian aesthetic vibes. On the other hand, pairing up dark chocolate brown with pure white can give your room a rich and luxurious look if done right.
Pairing brown walls with white furniture and white accents usually would not need any additional elements. However, you can add a tint of warm orange to make your room look fresher.
12. Rich Brown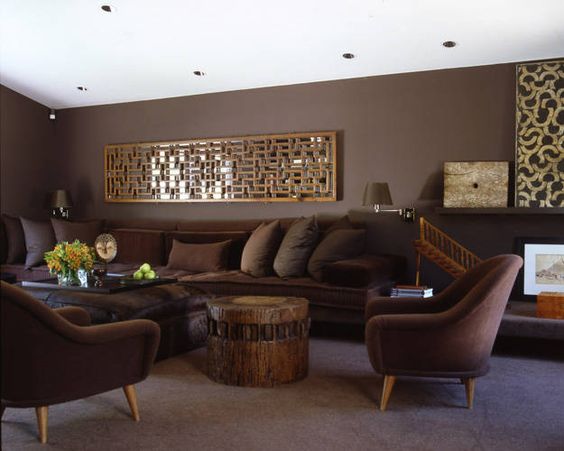 The soothing and relaxing vibes of rich brown color can be replaced by no other color. If you have a huge living space to get ready, you might love the look that rich brown color gives. An accent painting or flower vase could be added to enhance the overall look. With dark brown accent walls and furniture, you can also add sweet yellow curtains or accent chairs for a more attractive look.
13. Entertainment Focal Point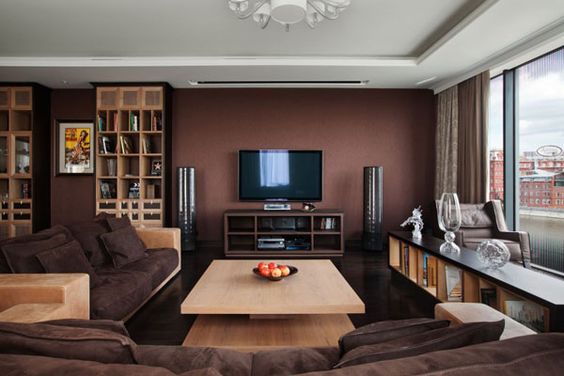 Brown accent walls can be used to create an entertainment focal point in the living room. You can use the wall to support a TV set or create a cozy fireplace. A bookshelf is also a great idea to pair up with your brown wall.
These elements of entertainment can be further paired with accent paintings or lamps to make the room more attractive. You can also go with keeping the room simple and spacious without adding any extra elements.
The best part about this setup is that your wall can be any brown. Warm or rich dark, you can choose any shade of brown to match your furniture.
14. Tan Shades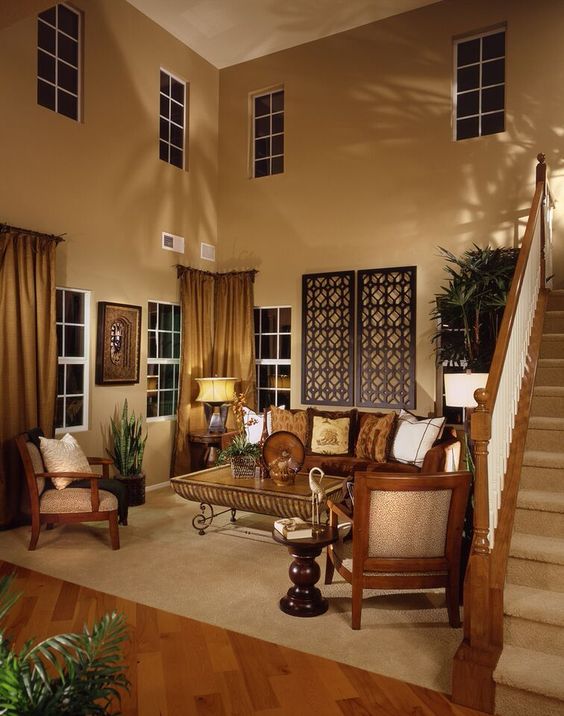 If you are confused about the numerous beautiful shades of brown, here is a great and simple idea for you. Tan, brown is a color that goes perfectly with family get-togethers, friends' reunions as well as official meetups. So, if you cannot decide what color elements you wish to have, go with a single tone of tan, brown.
Some tan, brown leather furniture, curtains, and a tint of white with tan-brown walls will give your living space a perfect look.
15. Traditional Vibes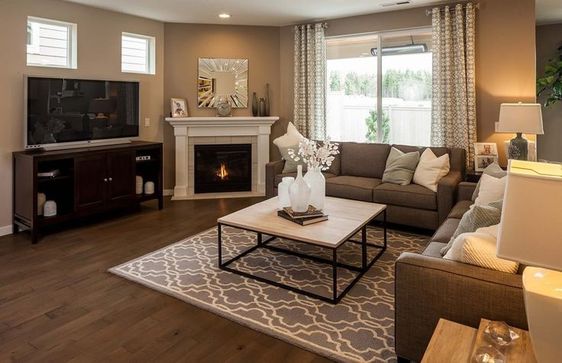 Walls in the shades of brown just remind of the typical old and traditional room setups with wooden floorings and cozy fireplaces. While the newest trends look utterly beautiful, the old trends still have their own magic. If you have brown accent walls, pairing them up with aesthetic furniture and some wooden flooring can freshen up your living room.
16. Accent Curtains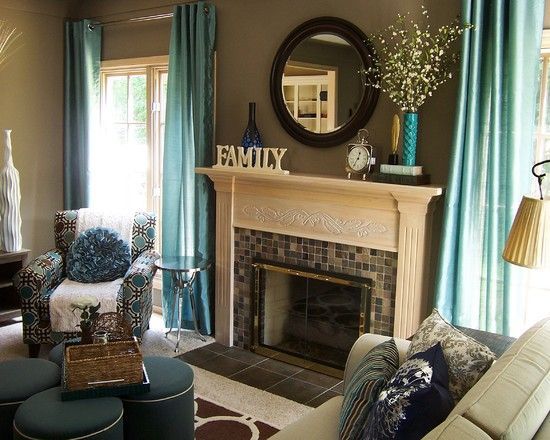 If you wish to have a simple and beautiful room without putting in your deep creativity, bright curtains must be your go-to choice. Might sound absurd but curtains can add much visual interest to an otherwise ordinary living space. All you need to do is pick some matching curtains for your room.
Depending on the shade of brown walls your room has, you can choose sober yet eye-catching colors like sea green and mustard yellow. You can also go with colors like orange and red to add more funk. Playing with patterns may also give your room an eye-catching look.
17. Pendant Lighting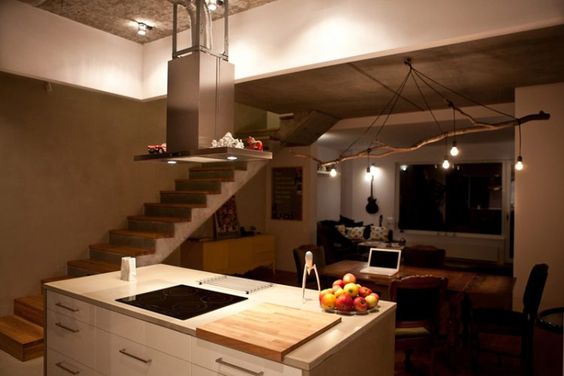 Pendant lightings can turn any basic room into a glamorous space in just no time. If you have basic walls in any shade of brown, pendant lighting can do all the work. There are a variety of pendant lights you can find out there. According to the furniture, setup, and vibes you want, choose the pendant lighting to fit right in your room.
18. Natural Sunlight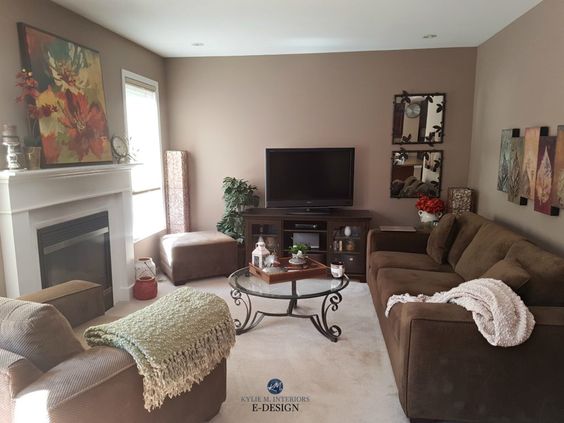 If your living room has a big window or an open space that invites the natural light in, why not use it? Set up your living room in such a manner that your room lights up in the day with optimum sunlight. The natural lighting with warm brown accent walls will make up the space warm and cozy.
You can tone the furniture in similar light shades to have a soothing vibe or can add the tint of brighter colors like yellow and orange to get a refreshing aura.
19. Cool Colours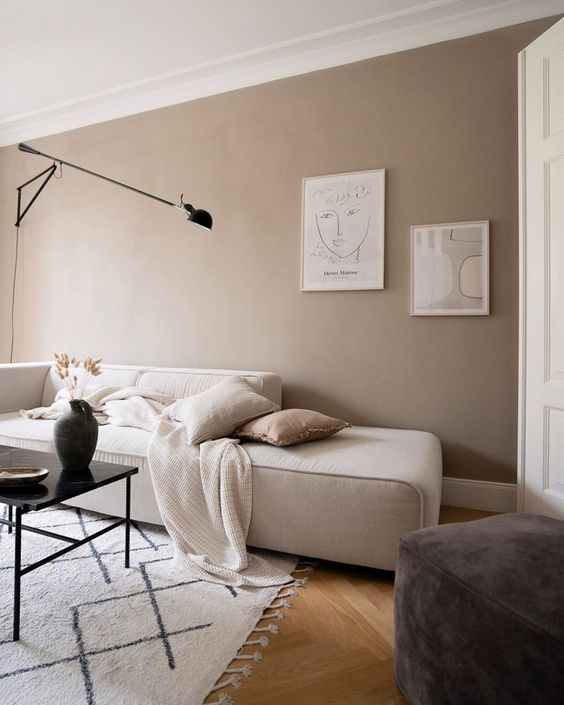 If you wish your living room to be as relaxing and soothing as it can be, go for the lighter shades in brown. Light brown walls, furniture, and curtains in white or creme color will make up the perfect room with a cool ambiance. There are many more relaxing colors that you can choose to give your room a soothing aura.
20. Brown and Grey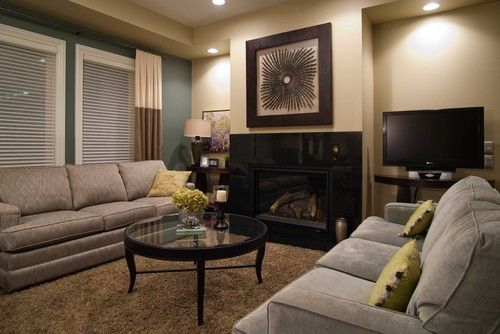 The amazing combination of brown and grey has been quite underrated till now, but it is time to realize this beauty. If you have brown accent walls in your house, pairing furniture in a grey color would look just perfect. You can adopt any type of combination here- dark brown with dark grey or light brown with light grey. Every combination looks beautiful. You will surely find the perfect grey couch for the shade of brown you have.
What's Your Choice?
No matter what kind of house you have, brown accent walls can make your room eye-catching in just no time. All the decor ideas mentioned above are the most popular and unique ones, so you can make your choice from any of them and give your living room a fresh dazzling look.
Also, there is one important thing to keep in mind when you are designing your living room- it is your room, and making choices for it is up to you. So, no matter what, do not forget to put your creativity in the room. Experiment with colors, furniture, and the setup to get the best out of your room.