Granite countertops are a popular choice for bathrooms and kitchens. This is because they're durable and look luxurious no matter which design you prefer. Additionally, granite comes in many styles and colors. Thus, you can select the most appealing look for your home, office, or other work areas.
Indeed, one must purchase high-quality granite slabs to enjoy the above benefits. When looking for granite countertops Orlando or in other areas near you, buy slabs from reputable dealers who have been in the business for a while. They're likely to carry excellent quality brands and products that have been in many homes over the years.
After identifying a good dealer, it's best to have a granite finishing option in mind. This way, your countertop will have a complete look that's more aesthetically pleasing.
If you aren't familiar with granite finishes or aren't sure which one to consider, this article might help. It can assist you in identifying the best option for your granite bathroom or kitchen countertop.
Here are some usual finishes you can choose from:
1. Polished Finish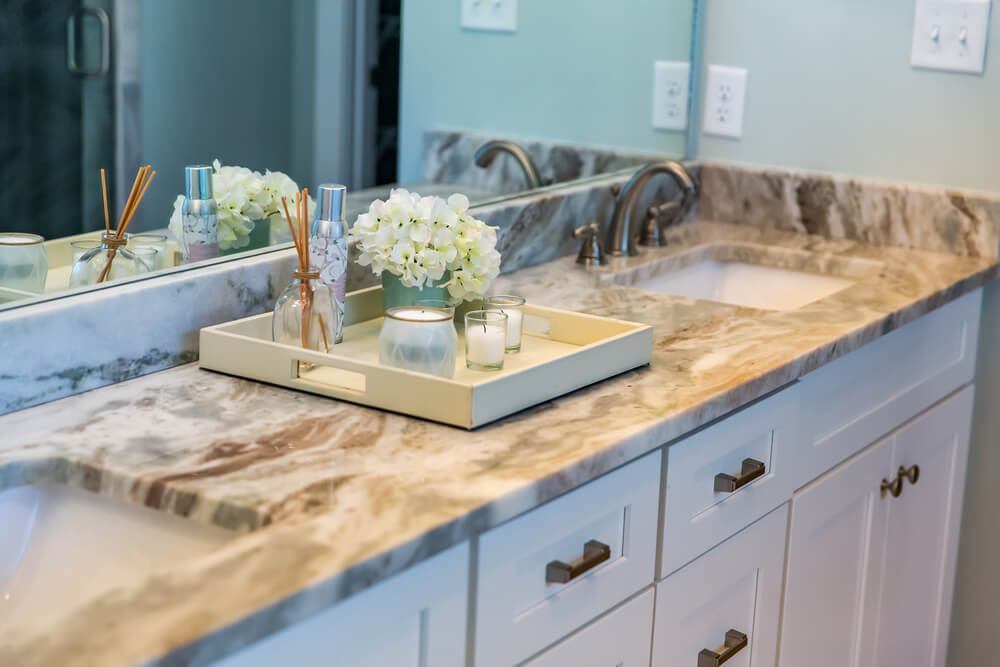 You might find many granite countertops with a polished finish. Many people might prefer this finish because it gives granite countertops a glossy and reflective mirror-like shine. The natural stone is usually buffed with polishing pads to achieve this appearance. This enhances its true beauty, color, and elegance.
Granite countertops with a polished finish also have some excellent advantages you might like. For instance, due to the buffing process mentioned earlier, they're usually non-absorbent. This makes them less likely to stain. Therefore, they're much easier to clean and maintain and won't need frequent resealing.
However, there are also some downsides to polished granite countertops. For example, they're easier to scratch compared to some finishes. So, keeping pets and kids away from your polished granite countertops is essential. Besides, you must use mild detergents for cleaning; buy a chopping board for cutting meat, vegetables, and fruits; and use trivets to place hot pans and pots. These steps will help protect your polished granite countertops by lowering the risk of scratches and other damage.
2. Honed Finish
A honed finish is achieved through polishing, too. However, the process doesn't get to the extent of polished granite. Therefore, instead of having a glossy and mirror-like look, honed granite surfaces have a matte or satin buffed appearance. This unreflective characteristic allows your countertops to hide imperfections that might result from scratches.
Moreover, honed granite isn't as water resistant as the polished type. So, ensure it's always free from moisture. Likewise, the countertop requires resealing more often.
3. Flamed Finish
If you love having unique features in your bathrooms or kitchen, a flamed granite finish might be ideal for your house, office, or any other work area. Usually, you can achieve this finish by exposing a slab to intense but controlled heat. This causes granite to burst and have a faded look and a rough texture. Hence, flamed granite finishes are considered unique, so if you'd like to sell your home after some time, this feature could be one of your house's selling points.
Granite countertops with a flamed finish are suitable for interior and exterior applications, especially in areas where you'd like to avoid slippery surfaces. This is because they're moisture- and slip-resistant materials. That said, the rough texture of the finish makes it challenging to clean flamed granite countertops.
4. Brushed Finish
A brushed granite finish is another alternative you could consider. This is usually created by brushing granite's surface, causing it to become textured and look worn-in. The process also makes this countertop less likely to show imperfections such as scratches, a common occurrence in the kitchen or bathroom.
Furthermore, granite countertops with a brushed finish are usually porous, so they're easy to stain. So, if you'd like to consider this finish, clean it often and ensure proper maintenance and sealing.
Final Thoughts
Granite countertops are undeniably a popular choice of material for bathrooms and kitchens. This is usually due to their likable characteristics like durability and uniqueness. However, a finish is necessary for a complete look.
This article has taught you about polished, honed, flamed, and brushed granite countertop finishes. You've seen how they're created and some of their advantages and disadvantages. Yet before choosing any finish for your granite countertops Orlando, understand and analyze the options you have and other pros and cons.
Then, consult an expert if you need assistance picking a finish for your granite kitchen or bathroom countertops. Consider seeing a dealer or a professional installer. Alternatively, visit a friend or loved one's home with granite countertops and inquire about what finish they have and if they could recommend it for your home.