You may have access to a yard for growing veggies and flowers if you are presently living in the suburbs or country. However, it is also possible that your yard is a rooftop in the event you are residing in a city.
You will be glad to know that it is feasible to grow greenery even in crowded urban regions. Now, you do not have to spend more time waiting and begin to make a stunning space for spending some pleasant time in great ambiance and growing and cultivating plants.  Go ahead, get some inspiration from the 33 best rooftop garden ideas 2020.
Best Rooftop Garden Ideas
1. Keep it Open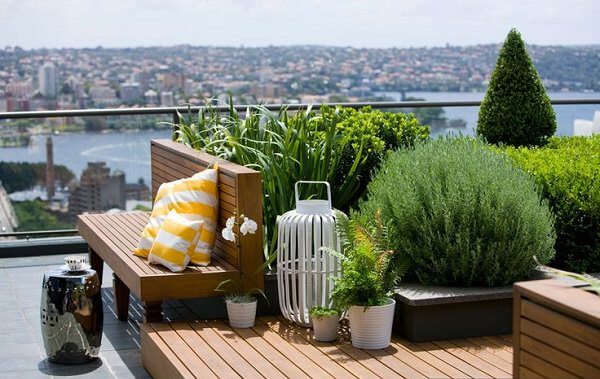 A small rooftop will look great if it is open. You can go with transparent glass rather than parapet wall, railing, fences. In addition to this, you can make protection throughout the border. But you need to prevent this if you want privacy and do not want the spying of your neighbors.
2. Rustic Pergola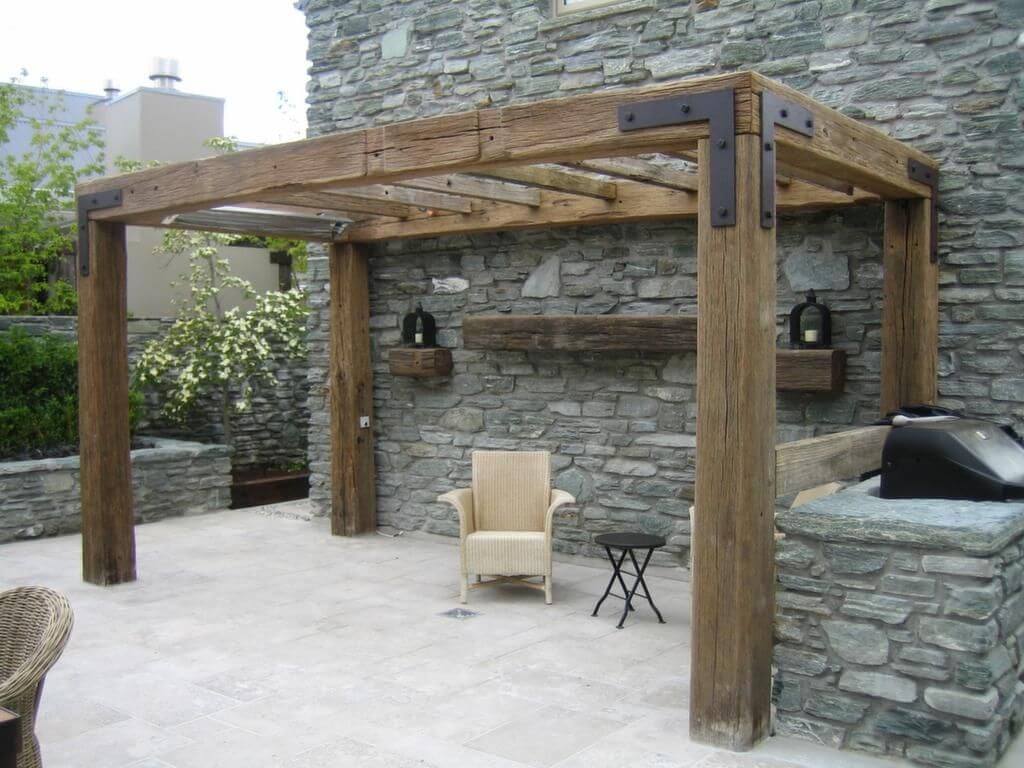 You can get some shade after you are done with taking care of your plants where you can hang out and sit with a bare wooden pergola. In addition to this, this rooftop garden idea is a fantastic place for spending some time with family or friends on summer nights for entertaining. A pergola will incorporate dimension and noticeable interest to the rooftop garden.
3. Park-like Paths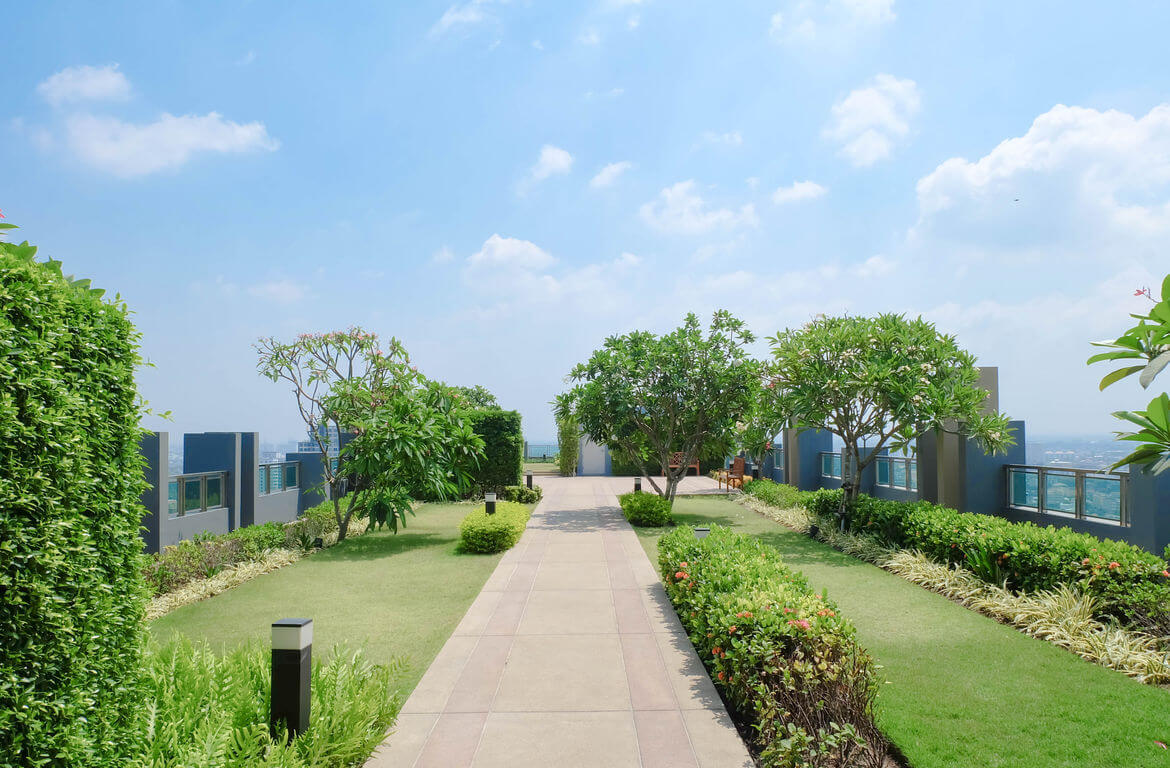 Walkable and extensive paths cover the environment with significant advancement, and this makes a perfect location to relax. No doubt, this rooftop garden idea needs some architectural planning; however, pathways are an excellent way to change an industrial place into a charming beauty.
4. Grow Trees and Tall Plants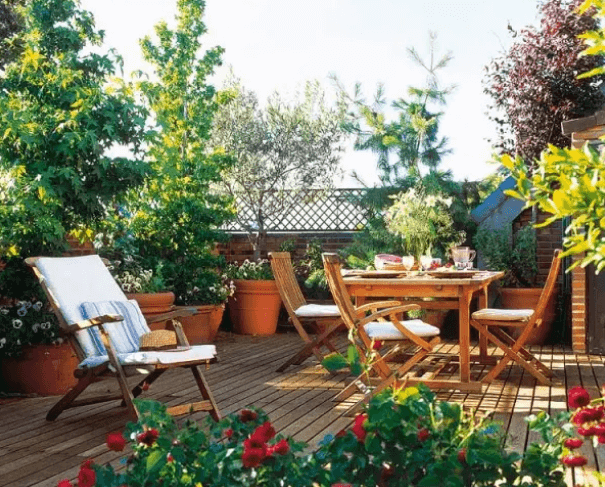 If you do not want to do much maintenance, then growing grasses and bamboos is an excellent match. You can grow trees and shrubs as you have countless options.
5. Bird's Eye View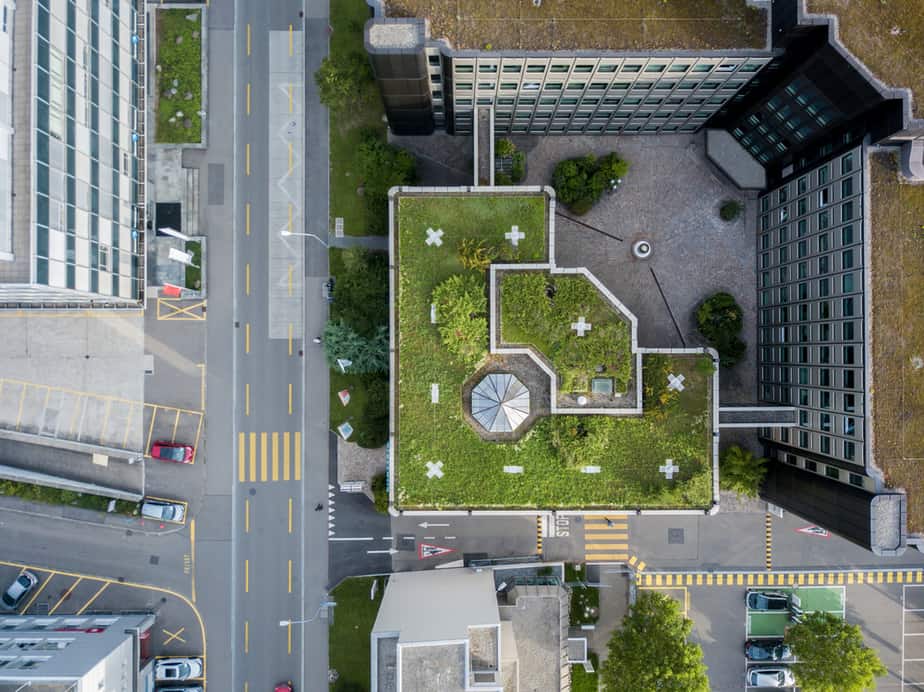 This idea is a green oasis in a gray landscape from the eye of a bird that is flying above. The rugged appearance of steel and concrete in an urban area can advantage from flourishing rooftop dressing.
6. Make Raised Beds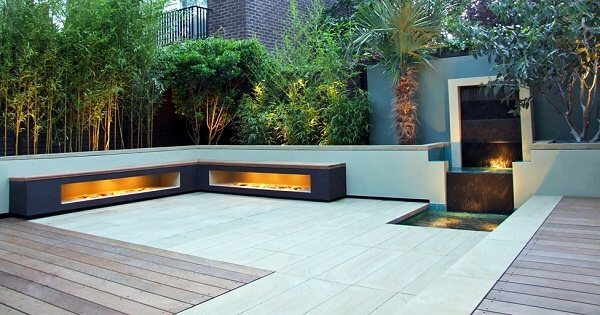 Particularly for growing tomatoes, creating raised beds are perfect for rooftop gardening. These will also allow the taking care of veggies or flowers much more straightforward as there is no need to bend over. Moreover, your plants will get some extra depth.
7. Urban Charm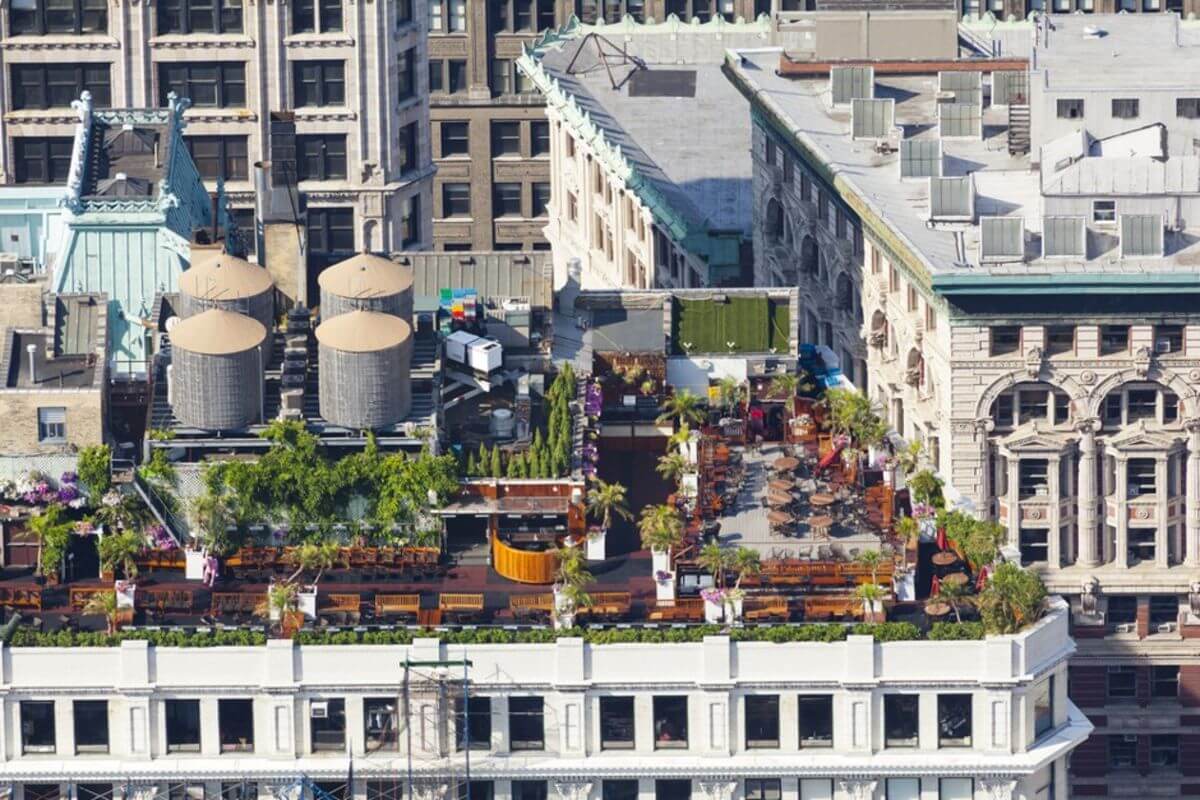 You will get obscured from urban light using trees, shrubs, and plants in the rooftop garden. When industrial features are covered by greenery, they will get softened. As a result, this will create the city's more compliant location to reside.
8. Plant Correctly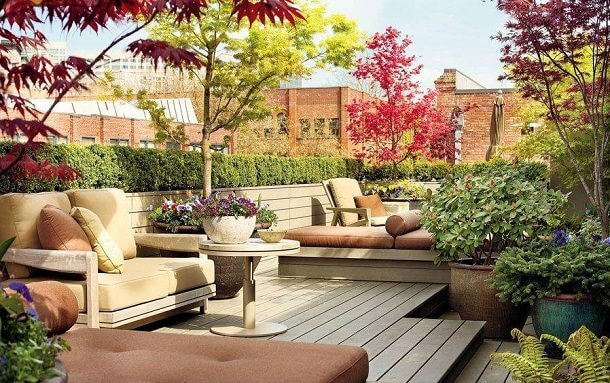 Ensure that you keep up the diversity in the plants' size when it is time for the design of the rooftop garden. Some shrubs, ground covers, plants, little trees, and annuals need to be there. In addition to this, you need to purchase containers of various sizes that will provide a brilliant appearance to your rooftop garden.
9. Stunning Balcony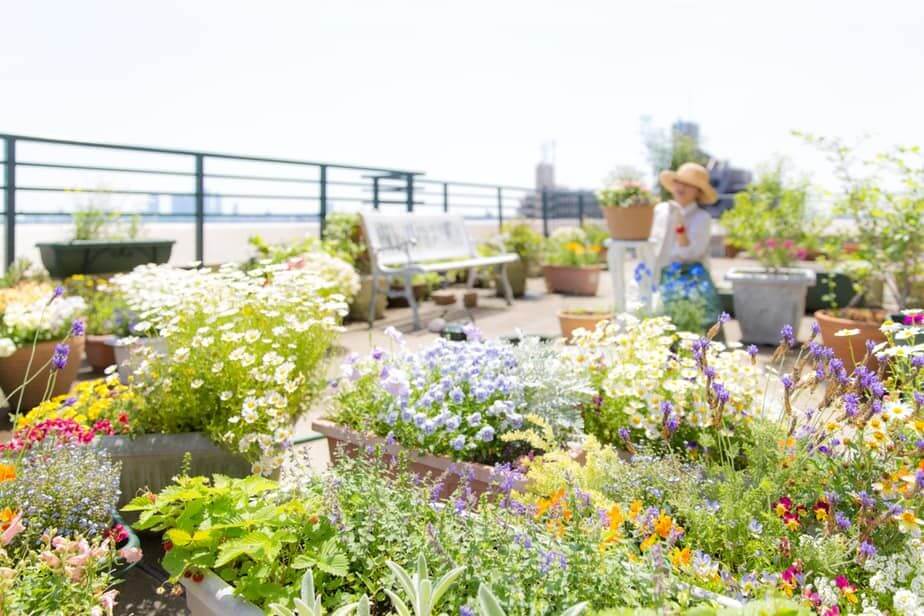 You can add charm to your balcony with fragrant herbs and flowering plants if it is not feasible to design a rooftop garden. You will get a rooftop garden experience by including some pots with oregano, dill, mint, or basil.
10. Furniture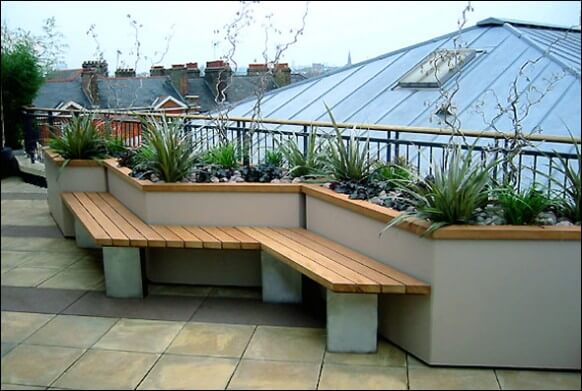 It would help if you determined before you buy any furniture. It would help if you decided in the beginning only whether you desire to have dinner there or lounge on the roof terrace. That furniture will be perfect that suits your theme and style.
11. Wooden Bridge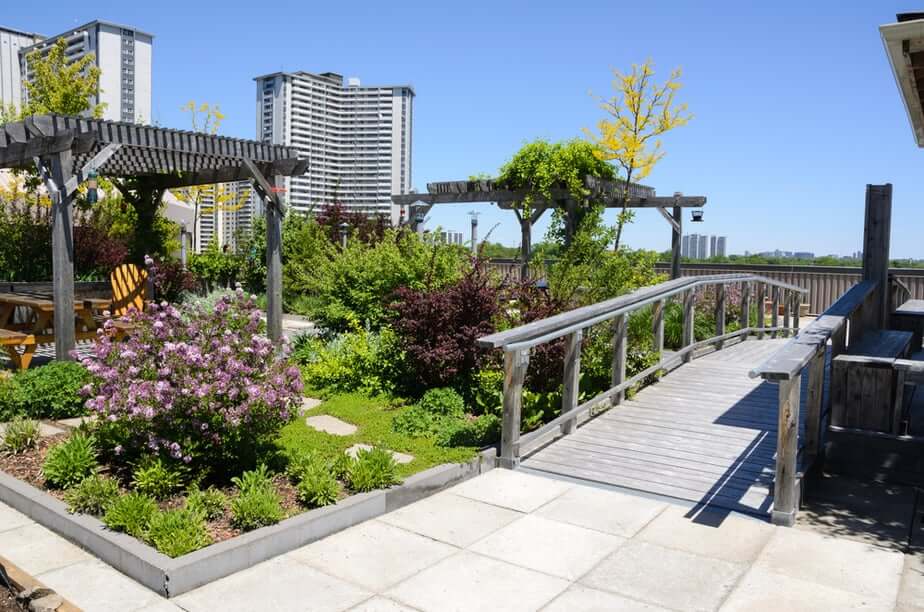 You will get a Cape Cod or beach-like feel with this sort of rooftop garden in the event you include an adoring wooden bridge. You can also observe the inclusion of flagstones in the event you notice closely. You can also get a beach-like feel by making a fundamental stepping-stone way by the grass using flagstones.
12. Include a focal point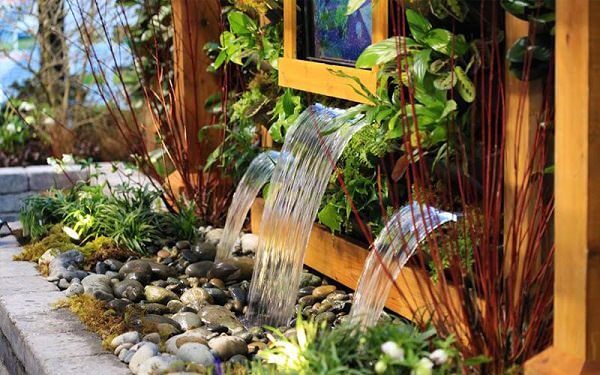 A focal point can quickly gain attention. You can use anything by incorporating a focal point that can attract an eye towards it. You can use a tall tree, water feature, a statue, stunning arrangement of container plants, or more.
13. Solar Power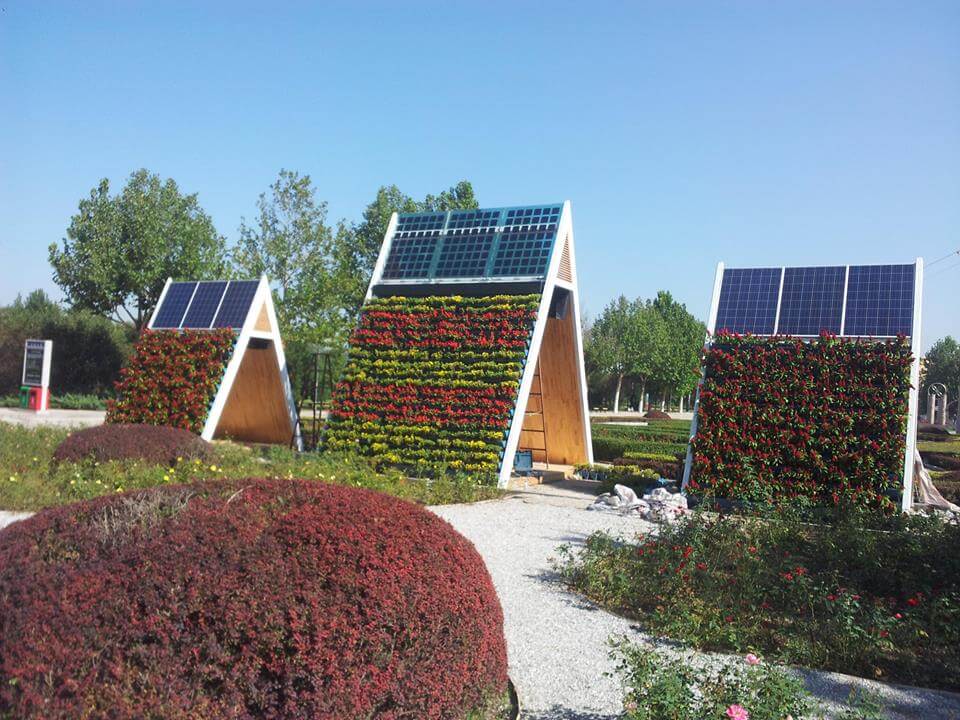 A rooftop can become a perfect location for solar panels in the event it has adequate space. Solar panels can get the rays of the sun because of the high elevation.
14. Do Lighting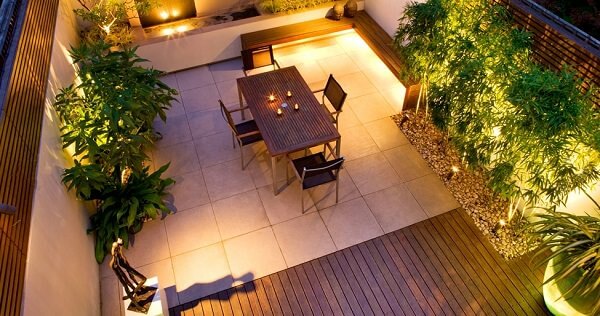 It is necessary to light your rooftop garden during the evening. It is good to create more bright spots, incredibly close to the door or stairwell. In addition to this, during dusk, lighting a roof will create it appear larger.
15. Avant-Garde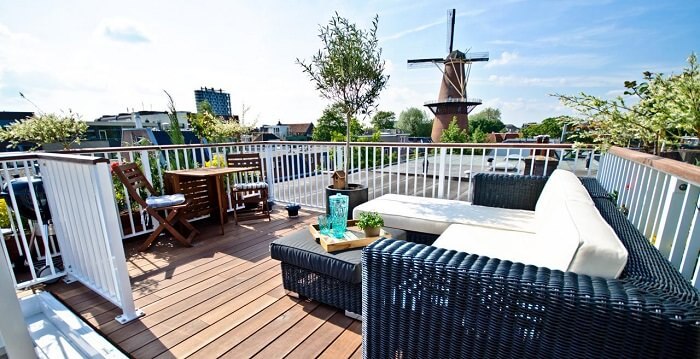 You will feel like you are in a forest because of the trellis's utilization, although you are present in the urban city.
16. Do Not Use More than 3 Colors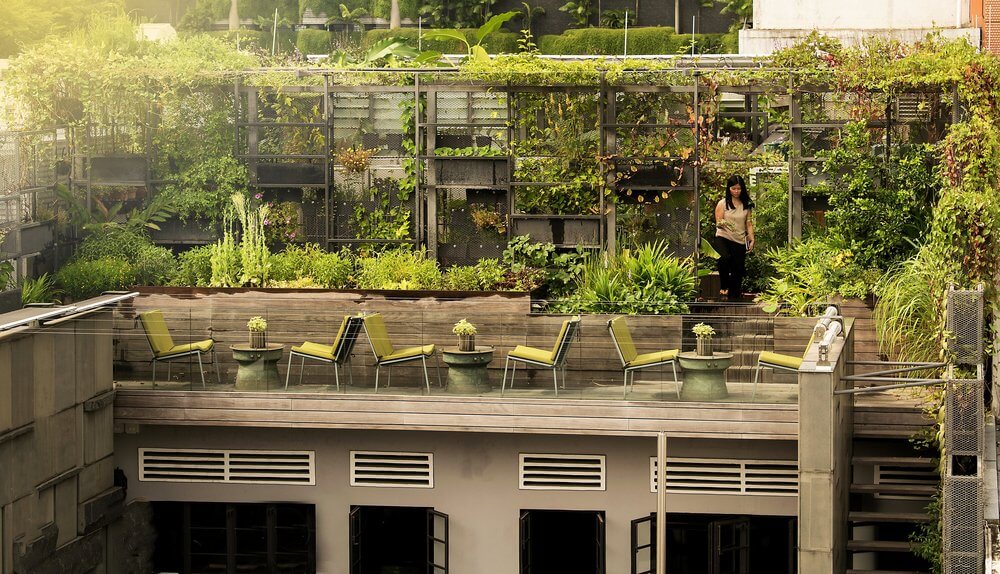 Pick one accent color and 1 or 2 that will accompany it. Make use of various distinct colors for floor, railings, floor, walls, containers, or furniture that will create your rooftop appearance very cluttered and busy. A color blend with a neutral one will appear great. Neutral colors such as beige, gray, white, or indigo also highlight the charm of plants.
17. Rooftop Lawn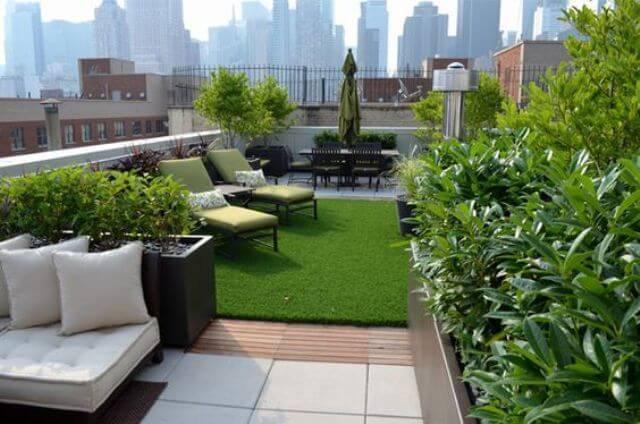 This stunning lawn makes a particularly brilliant appearance for the best rooftop garden idea. It would help if you were ready to remove your shoes and feel the soft grass.
18. Make use of Vertical Space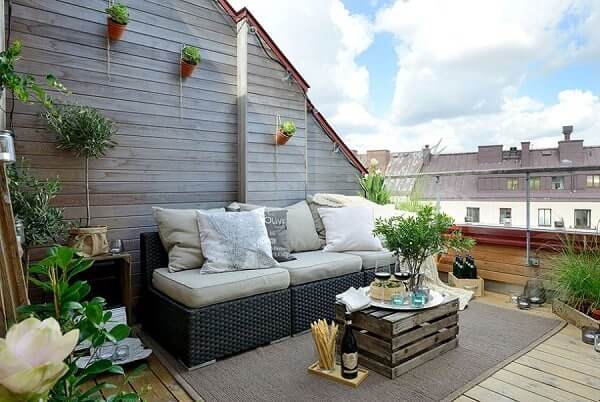 To include more space for your rooftop garden, you can make use of vertical space. Grow numerous climbers, use railing planters, and hang some planters on the wall to adore your rooftop garden.
19. Treetop Space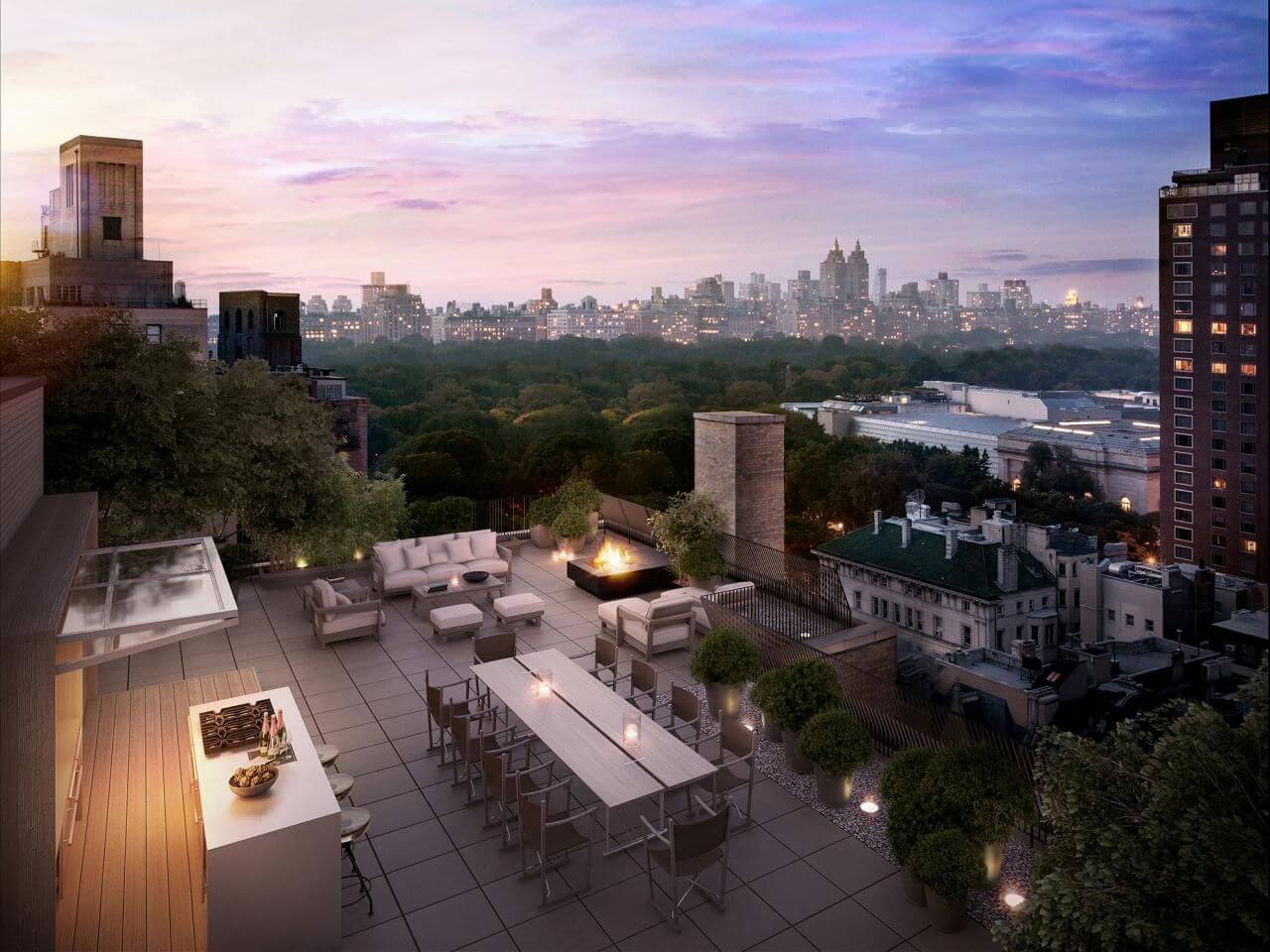 Planting trees is a fantastic thing on urban rooftops in a city with significant levels of CO2 and more of city smog. You will get much cleaner air with this rooftop garden idea.
20. A Beautiful Floor is Necessary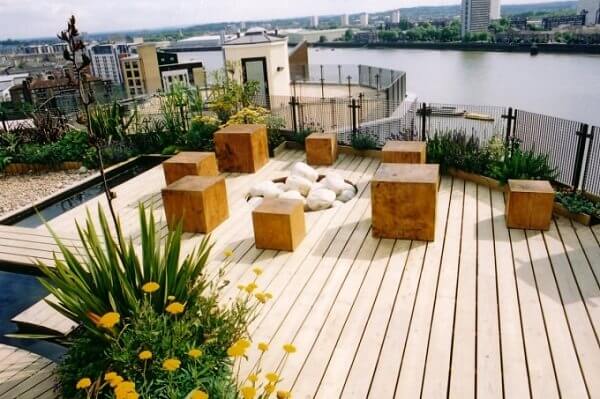 You cannot forget the flooring. You need to select the flooring kind that suits the weather in which you live and your budget. Also, consider including the theme for the best rooftop garden idea.
21. Verdant Dining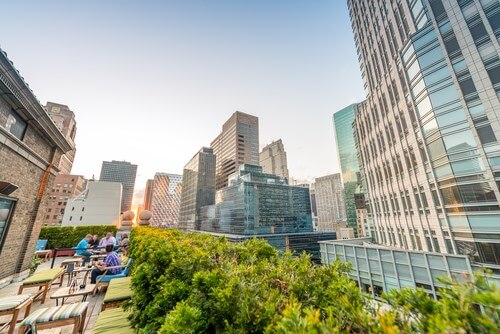 In more fabulous cities, rooftop restaurants are evolving as a significant trend. Based on the space, rooftop dining can become either sophisticated or casual. However, whichever way you select, food will become tastier when you dine in when covered by greenery everywhere.
22. Play with different kinds of plants and colors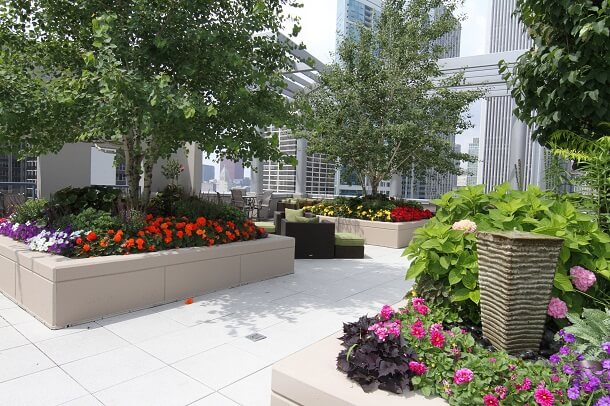 To achieve an elegant appearance, make use of warm and cold colors in balance. Nothing is impossible in a perfectly planned urban garden. For some more colors, you can use shrubs; grow trees, annuals, and foliage plants.
23. Enjoy a picnic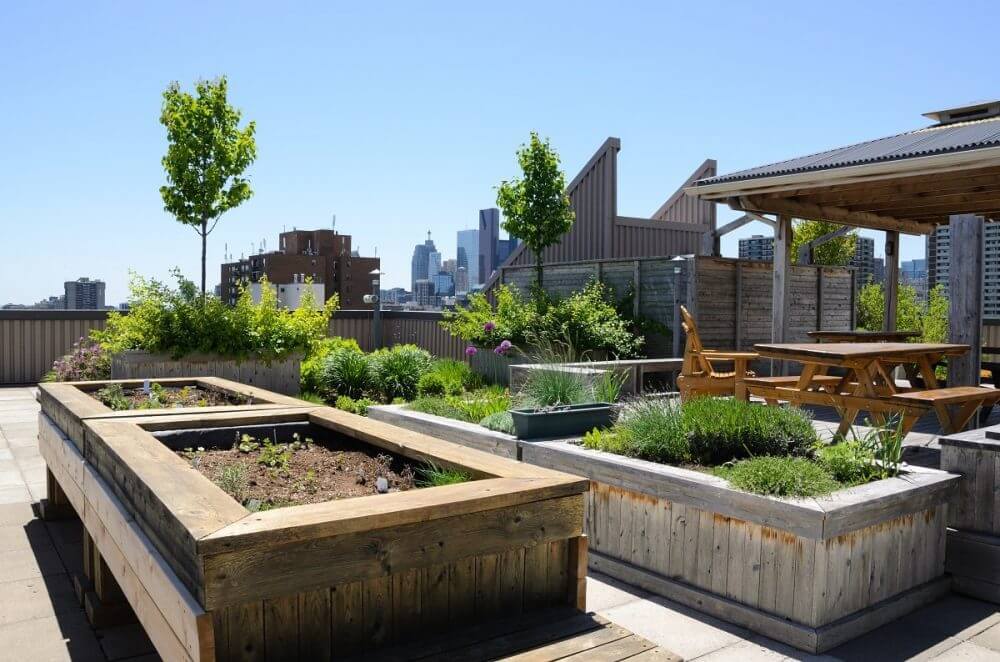 You can relish the included advantages of a dinner-at-the-rooftop in the event you put the table near to the raised beds top up with veggies and herbs. This is how you can enjoy a picnic in your rooftop garden.
24. Water Feature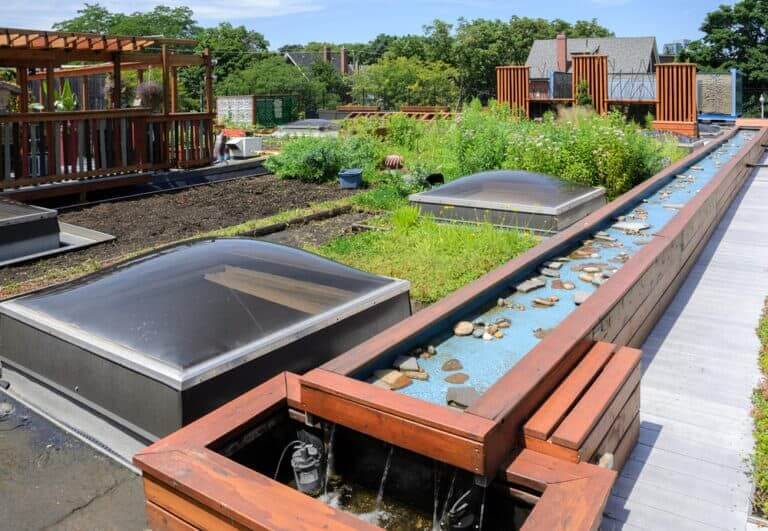 To provide your rooftop garden a stylish look, you can include a water feature like an adoring raised pool. This idea has a contemporary and smooth look. You will get an outdoor view of nature with this elegant reflective surface.
25. Basic space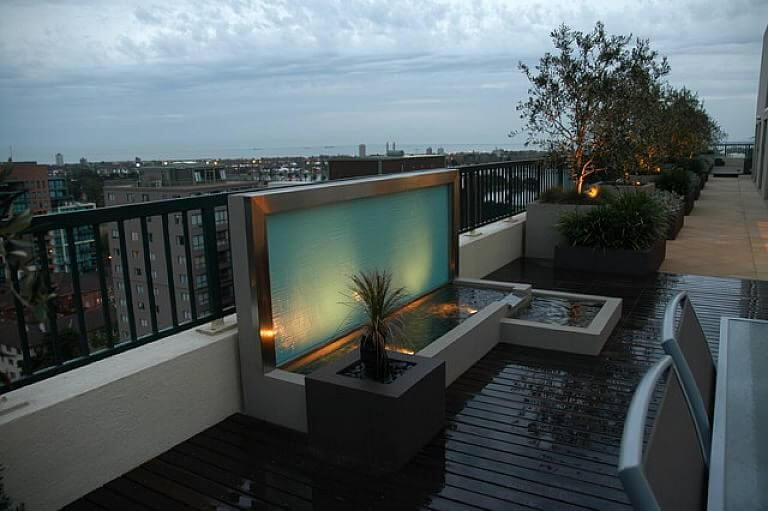 This rooftop garden idea of simple garden space has vibrant hanging lights, aromatic herbs, and flexible furniture in smooth tones to help you unwind and relax at the end of the day.
26. Rooftop Market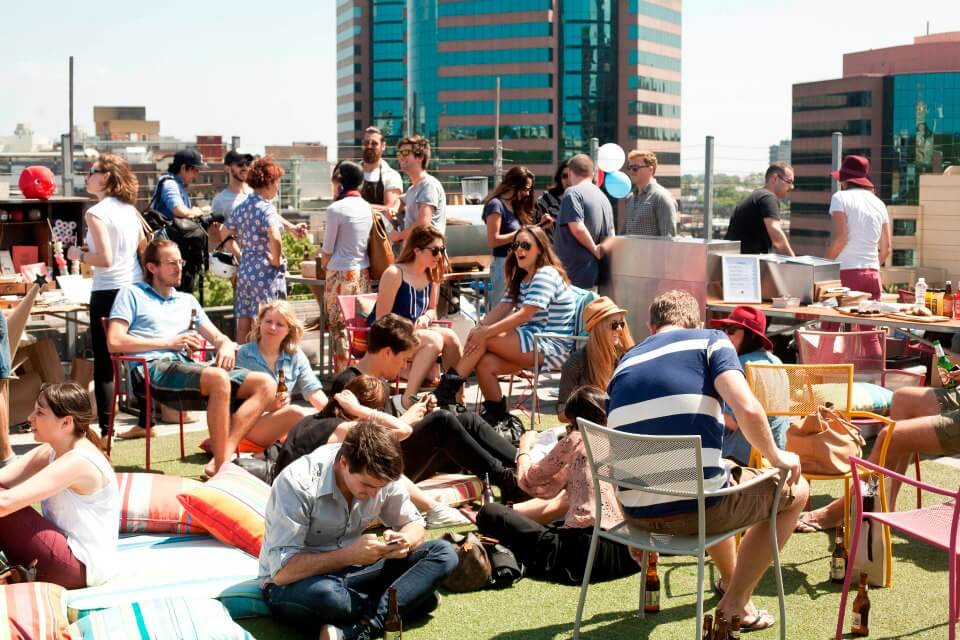 You can make use of your rooftop by growing hot things, such as squash and zucchini. You can sell these to some hungry people in the city.
27. Futuristic Vision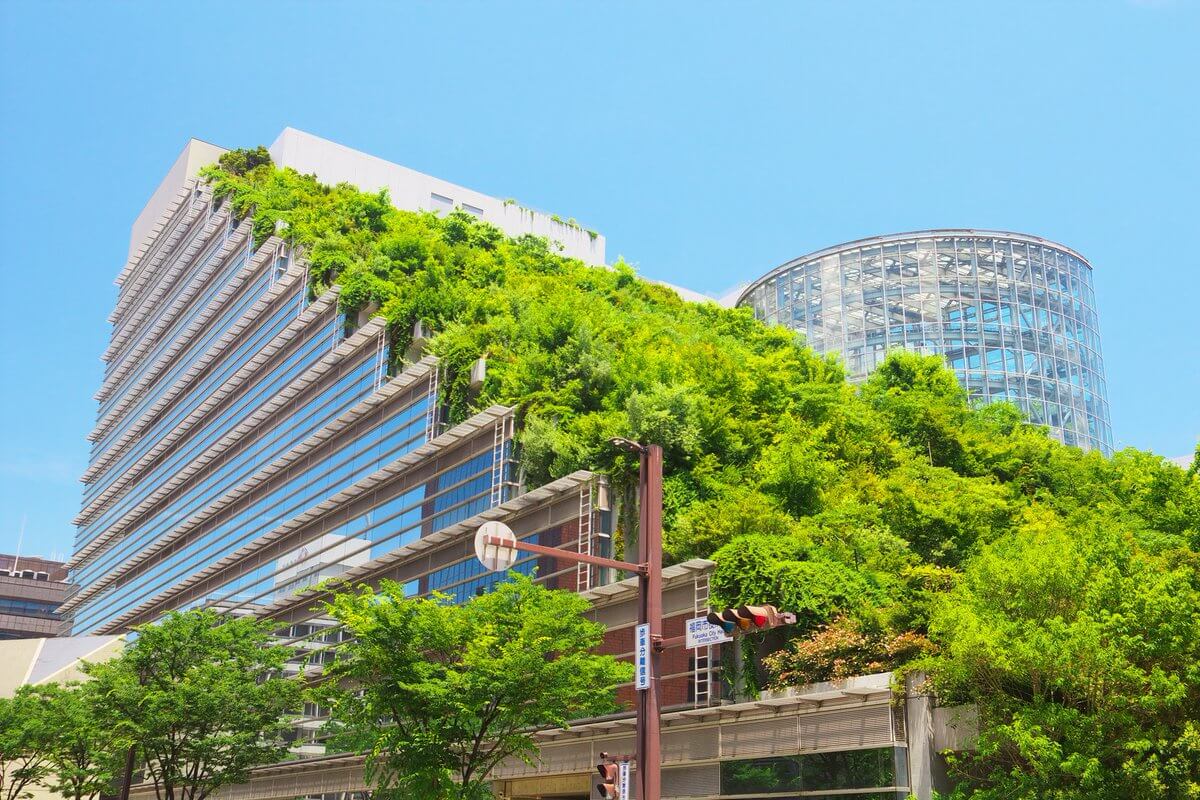 An urban city's air becomes healthier for everyone when you will include more trees and plants in your rooftop garden. This terraced rooftop green garden provides a positive future vision.
28. Quirky Location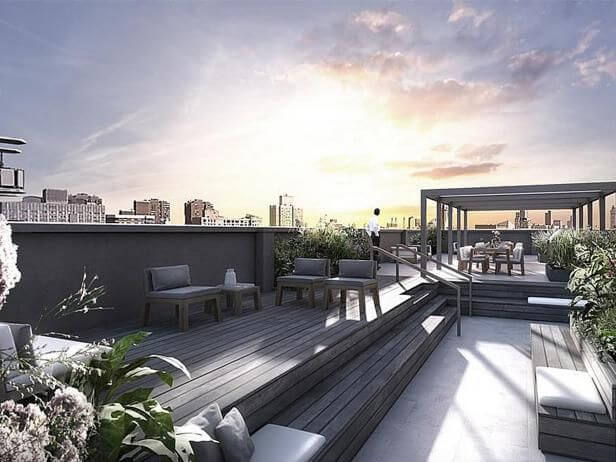 You can access most of the best rooftop gardens by the fire escape, elevator, or multi-story walkup. However, accessing is somewhat tricky here. However, the quirky location rooftop garden idea can flourish at any place where the sun shines.
29. Stylish Design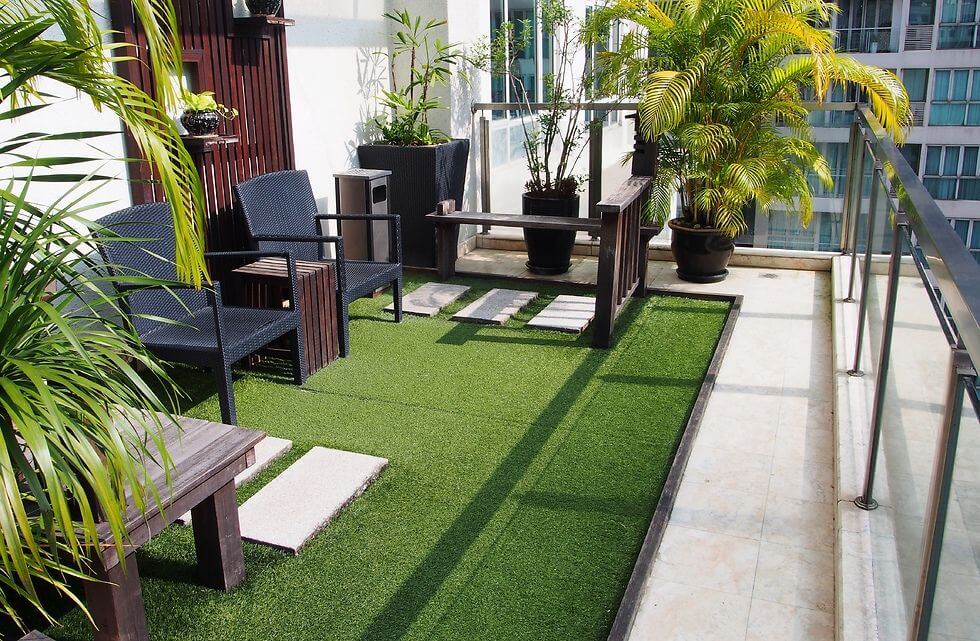 You will get to remember mini-golf with this rooftop garden idea. You need to get the appropriate space for a hole-in-one if you select to include a small lawn with a putting green in the garden.
30. Quaint Cottage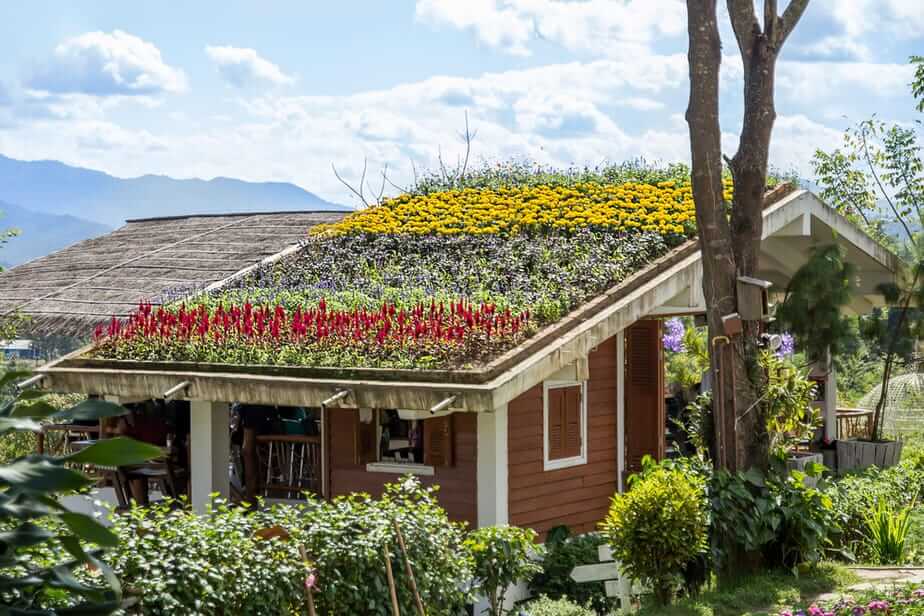 You can plant a flower garden, incorrectly outlined rows. You will love this rooftop garden idea as it offers an emotional effect on the rainbow. In the event you possess a strong ladder, you can harvest the flowers.
Final Words
Hopefully, you got some of the best rooftop garden ideas for 2020. You can cultivate plants on a roof at any location, regardless of any area. These rooftop garden ideas are progressing as a significant trend throughout the globe. You can transform your essential rooftop into a charming land.