Are you searching for relaxing in a beautiful outdoor water garden in your yard? If yes, then you have come to the right place. We will provide 29 unique ideas to turn your simple and straightforward garden into a beautiful and elegant water garden. It does not matter whether your garden is too small or too large to be fit to turn into a water garden because we are here with a list of ideas to be fit for your backyard.
Best Water Garden Ideas
1. A Peaceful Pond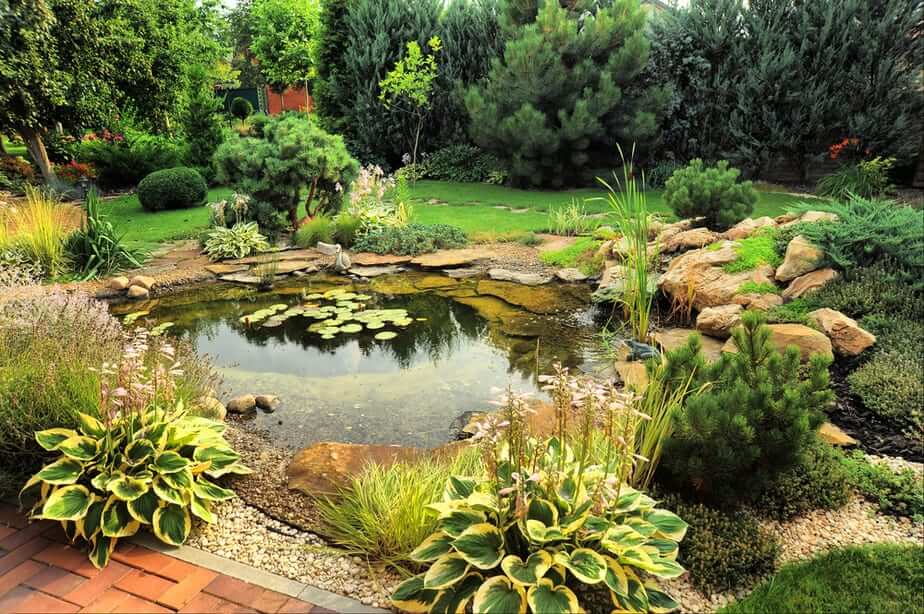 A Peaceful pond is a water garden that is like a natural pond habitat. It will make you feel as if you have reached a watering hole while hiking. This Peaceful Pond will let you relax and sleep in your garden has a beautiful view in front of your eyes. It makes the garden look like a small water pond between the mountains.
2. A Perfect Circle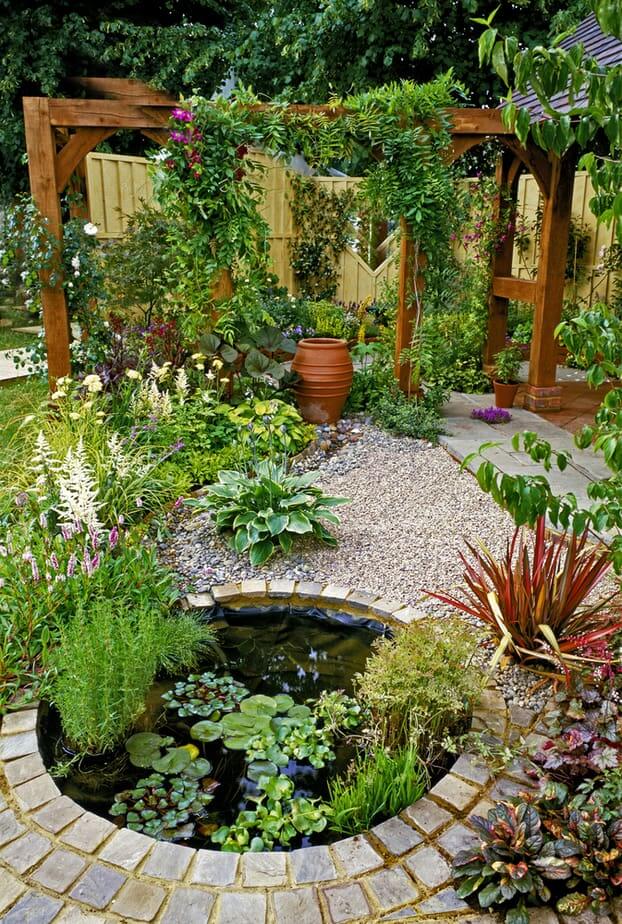 A Perfect Circle features a small water garden that is covered with bricks and stones. This will give you a view of a small pond between a forest. It makes it an excellent addition to a simple gravel portico. You will have to plant natural plantings and trees to make the water garden soften for a perfect circle.
3. A Garden Gazebo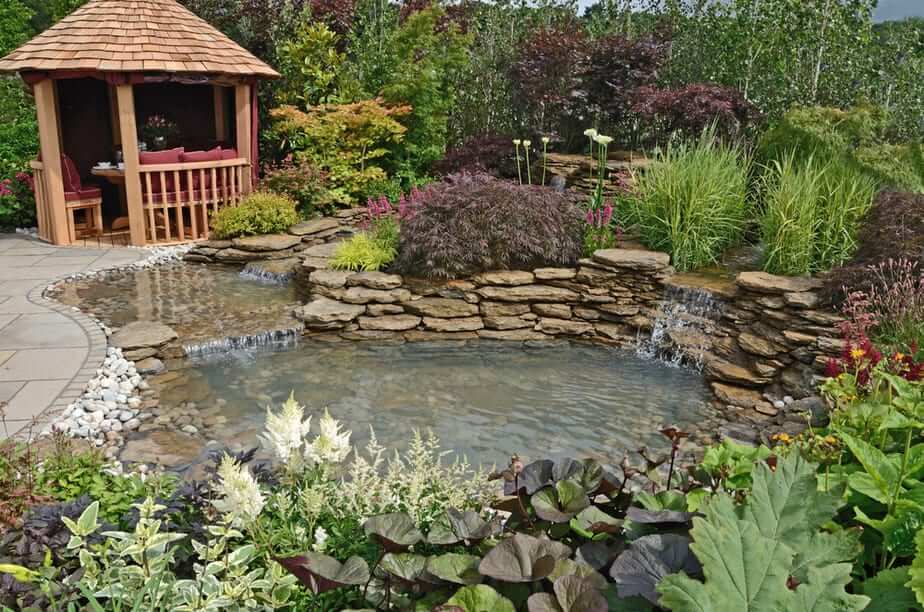 You can also make a Garden Gazebo in your backyard. For this, you will need to add a wooden gazebo to your backyard. It will give you a feel of real shade seating to meditate or picnic with your family or even if you want to read a book on a sunny day in winters while having a beautiful garden view in front of you.
4. Cottage Charm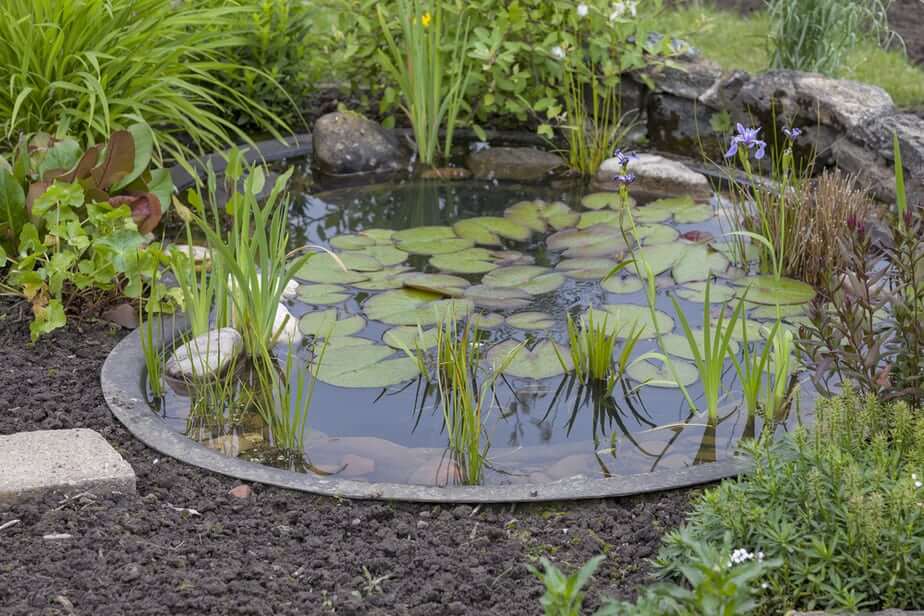 A Cottage charm will be the right choice for a water garden. It will add a mini water feature for your water garden. It will give you an aesthetic look at the garden. Moreover, it will add instant charm to your cottage yard. It also has a miniature water feature, which will give you good vibes and a fair environment.
5. Bold Foliage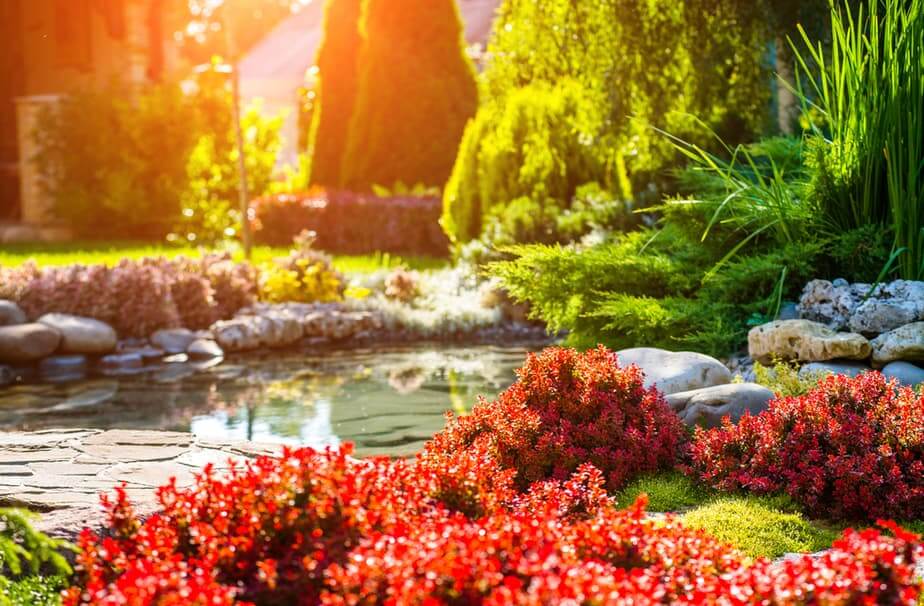 Another choice for a water garden will be Bold Foliage. It combines bold colors and textures all together to give the garden an Asian feel. The water garden looks more beautiful at the time of sunset and sunrise. The low sunlight gives an aesthetic look to the garden, making it attractive.
6. Tumbling Waterfall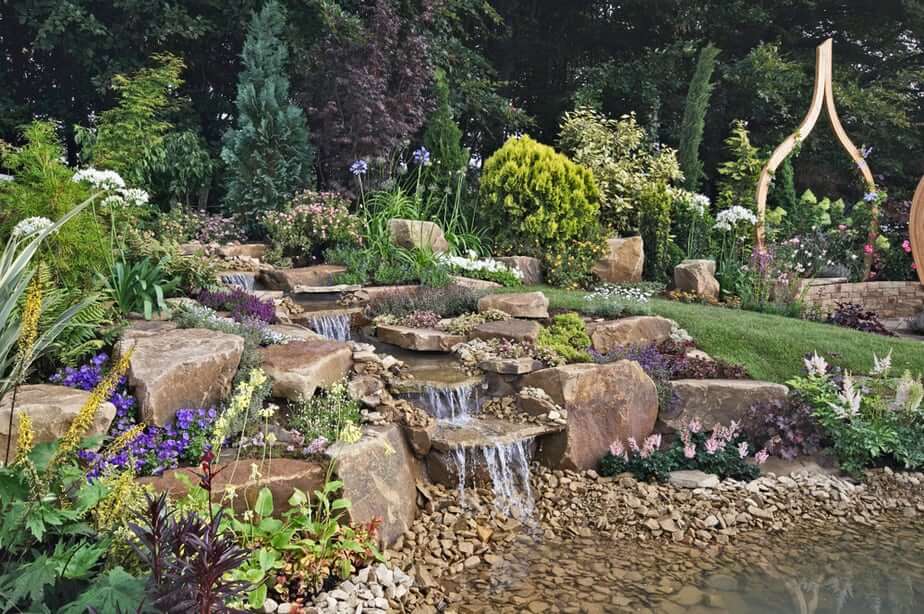 A tumbling waterfall will give your water garden a mountain look. This will also add plants and small trees in your water garden covered with large bricks and stones, which will give your water garden a mountain look. It will look brighter when sun rays fall on the water and reflect. Also, the water garden will be compact and mini size just like a campaign in hilly areas.
7. Hidden Bistro Table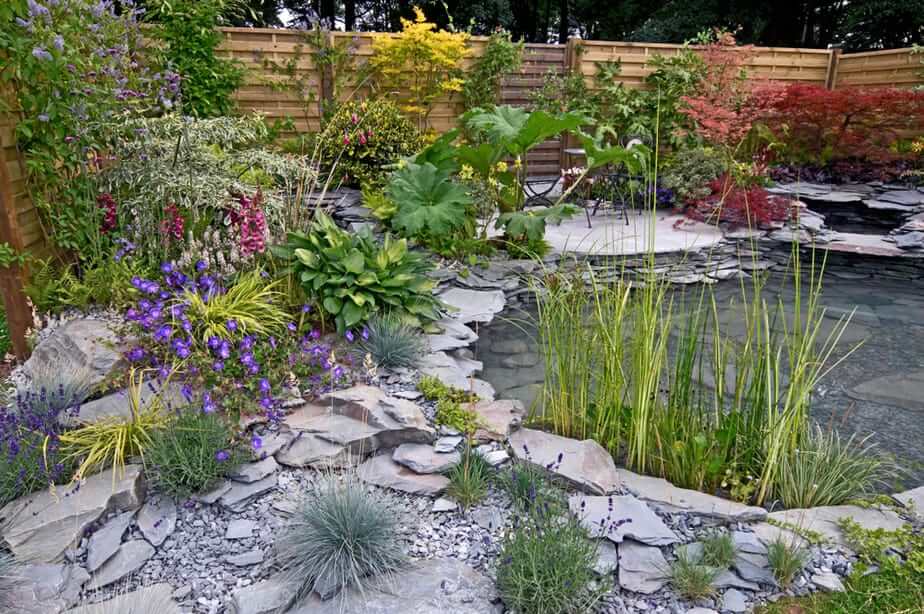 A Hidden Bistro Table will add a perfect look to your water garden. The garden will be surrounded by bricks and walls, and it will cover the pond with large stones. You will add plants and trees around the pond.
8. Mini Waterfalls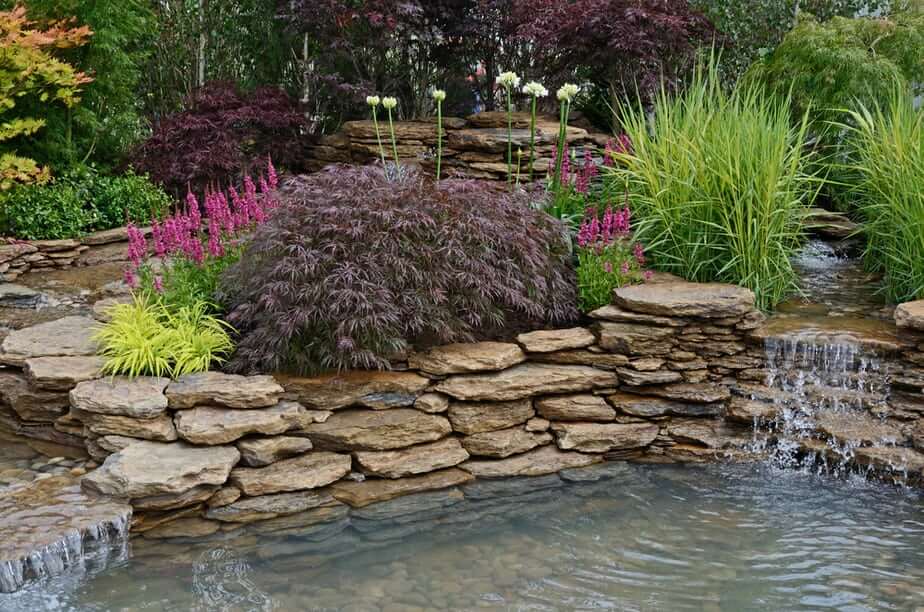 The mini Waterfall is an excellent idea for a water garden. This water garden will be small, and it has a beautiful landscape. You can add two small waterfalls, which will add an aesthetic look giving it excellent exposure and texture. You can build a beautiful landscape with substantial rocks and stones. Mini Waterfall is a good idea if you want to make your garden a small beautiful area.
9. Koi Pond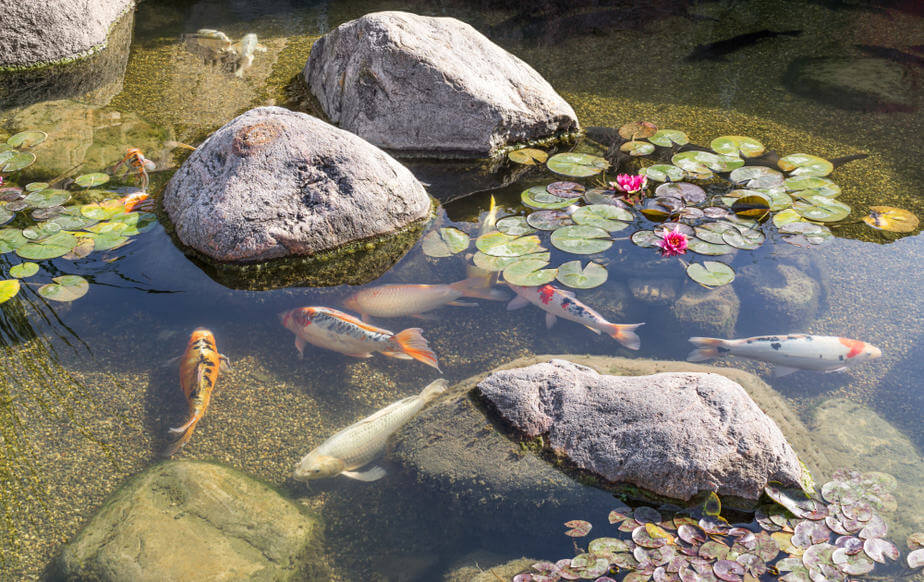 Koi Pond will make you feel like you have entered a Zen garden. This is because it has bright colored fishes to catch your attention. You will admire the garden because of the beautiful ponds and fishes. Also, in a Koi Pond, large stones are kept to give the pond a Zen look. You can keep two to three fishes which will catch your eyes.
10. Tiny Watering Hole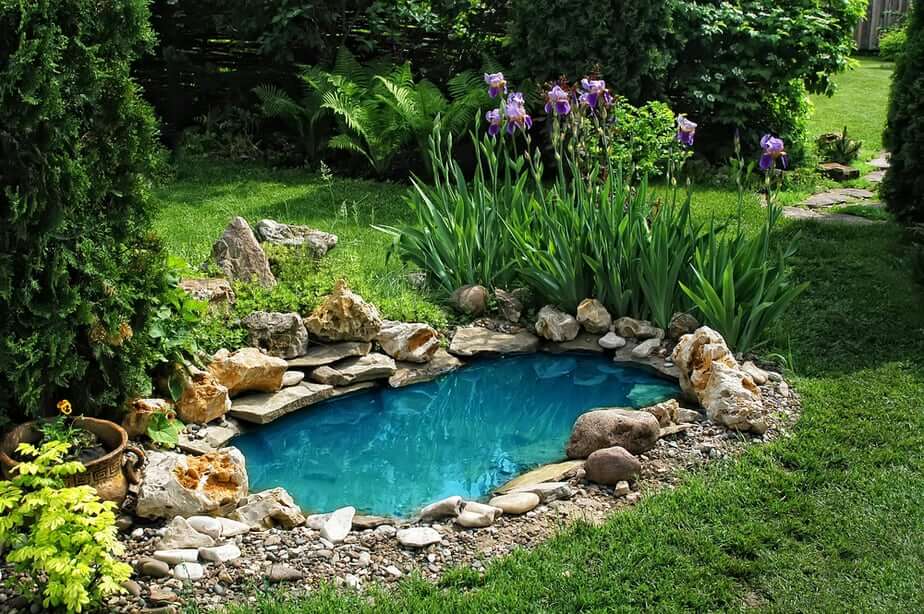 Though this Tiny Watering is one of the smallest water gardens with plenty of charm, if you have a small and compact garden, then this Tiny Watering Hole will be one of the best choices for your garden.
11. Antique Masonry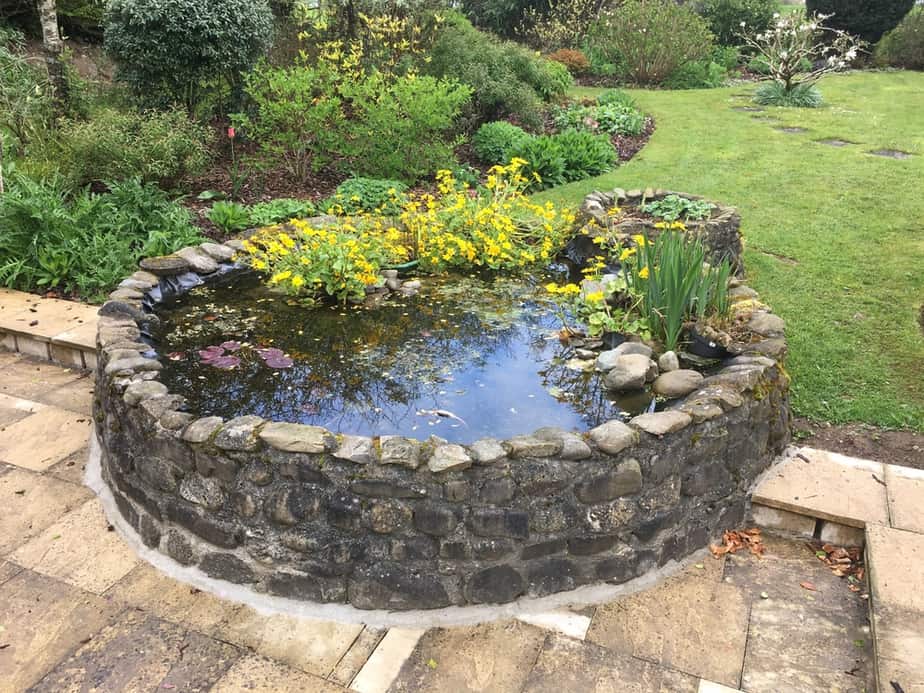 The Antique Masonry is famous because of its Masonry, which features beautiful water and adds a unique vintage charm. Also, it creates a place that is beautiful and comfortable to spend your evening.
12. Ramble On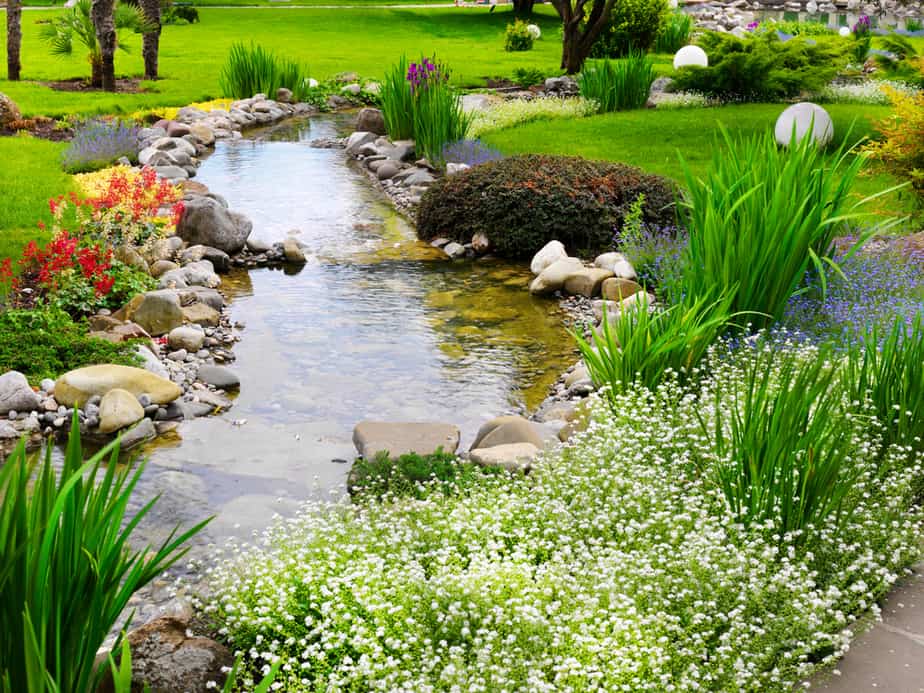 Ramble On is the right choice if you have enough space in your garden to let a stream of water flow. This will be very soothing as it is so peaceful to listen to flowing water while relaxing.
13. Contemporary Reflection Pond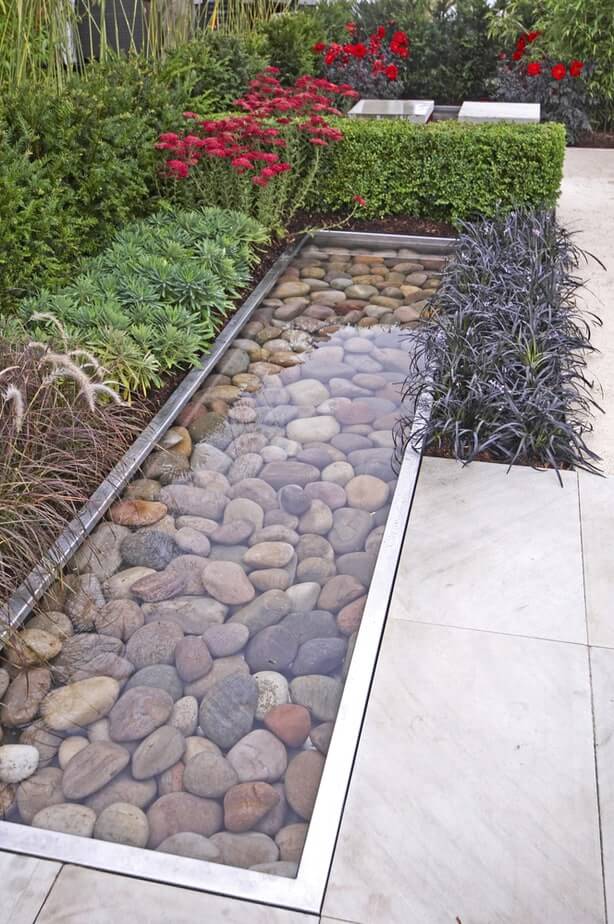 You can add stones in the pond to make it look attractive. It is better to add different types of beautiful stones in the pond rather than adding any plastic material. You can also grow grasses and plants around the pond to add ethnic beauty to the water garden.
14. Garden Bowls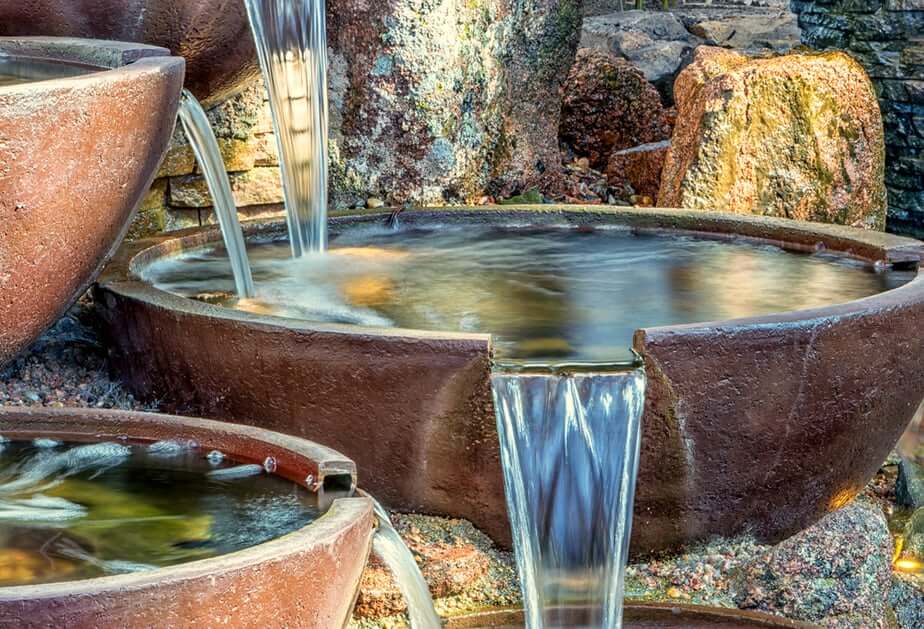 You can put ceramic bowls to your garden to add ethnicity. The ancient ceramic bowls give a traditional look of the pond and other added beauty, such as beautiful shells, stones, and bricks around the pond. You can also grow plants and bushes to make them attractive.
15. Rustic Duck Spout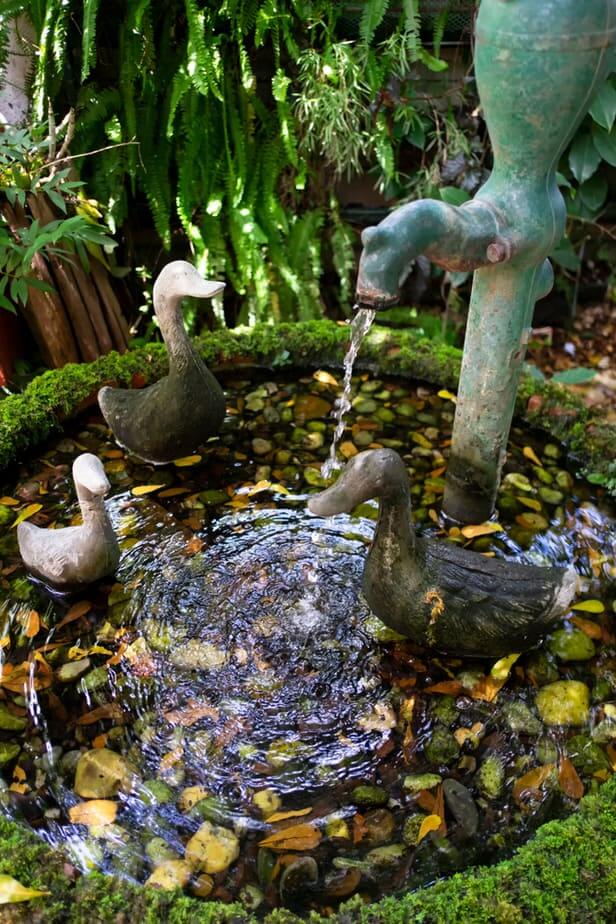 To give your water garden a different look, you can add carved duck statues and put them around. You can put carved duck statues of different shapes and sizes to add variety to your garden. This garden will look beautiful when different statues are covering the ponds and the outer area.
16. Small Pagoda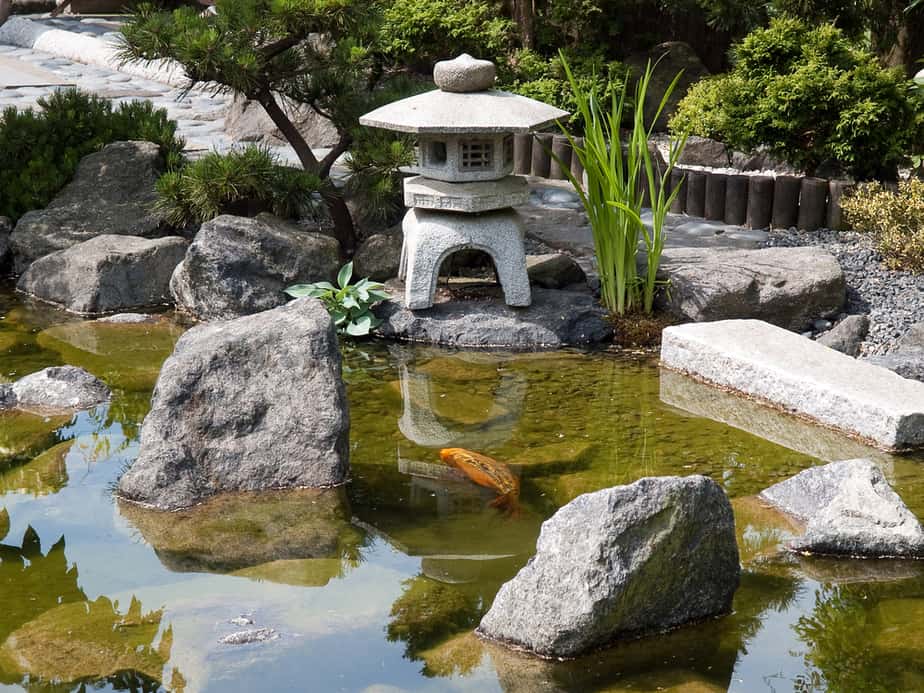 The Japanese Pagoda looks more beautiful and adds peace and tranquility to our lives. Also, these small stone Pagoda adds beauty to the pond. Bushes and flowers surround it. Not only this, but the reflection of these Pagodas gives a beautiful and attractive look to the garden.
17. Wishing Fountain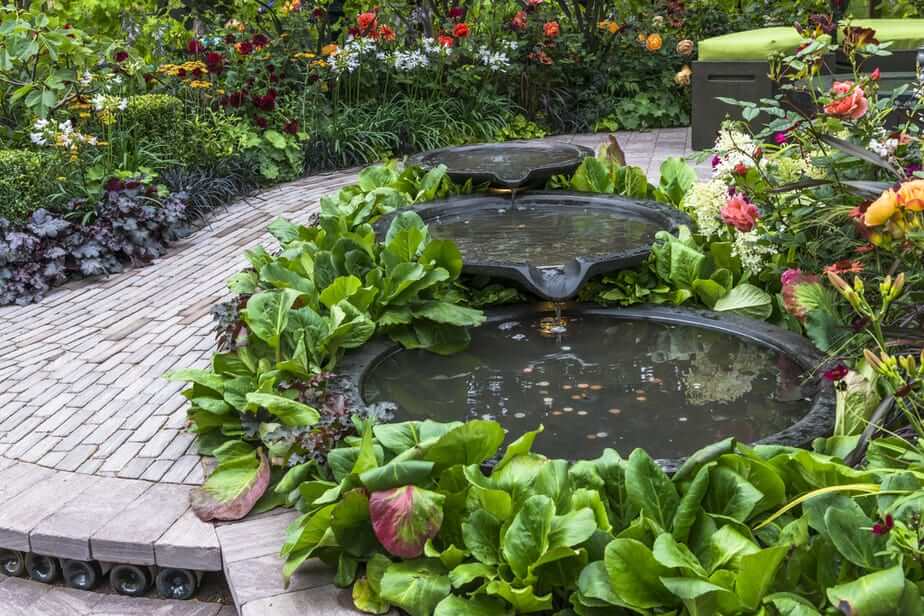 The Wishing Fountain has a small pond on the side of a beautiful road. Your garden will look more beautiful when you have fountains in your garden. Also, it has two to three small ponds connected and small fountains. There will be a beautiful road covered with flowers.
18. Funky Fountain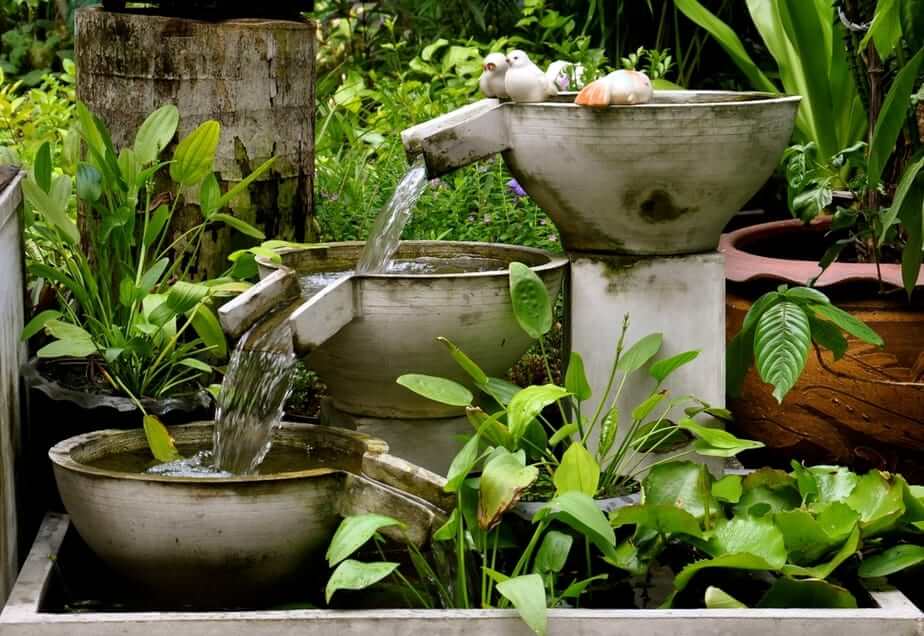 The Funky Fountain has a good and relaxed retro vibe. It has a significant industrial shape and a rich gray color, which adds ethnicity to the garden and make it look attractive and beautiful.
19. The Spa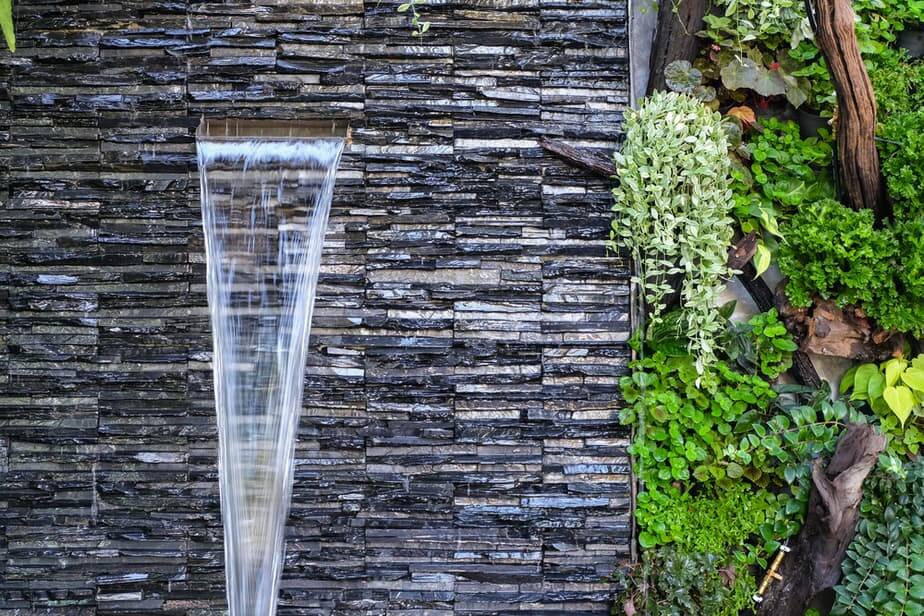 It gives ultra-modern waterfall design, which gives a contemporary look. It looks quite cool to the new, and modern water gardens. It is somehow different from the other ideas which we have discussed above.
20. Dancing Fountain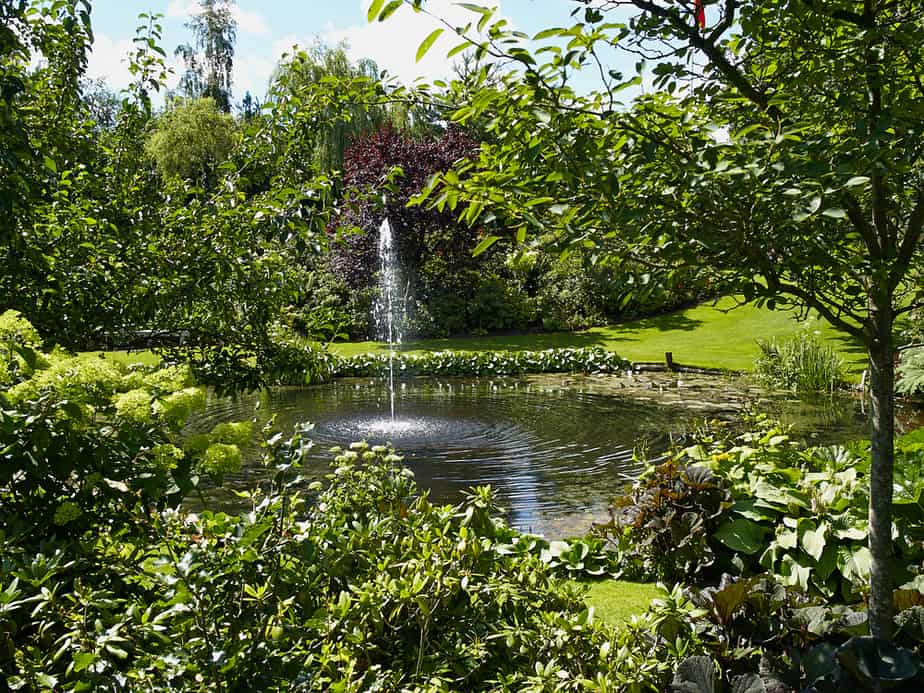 The dancing fountain is a big pond with water shots in the middle of the pond. It is covered with trees and flowers from all sides and has a small fountain in the middle of the pond.
21. Modern Stone Spa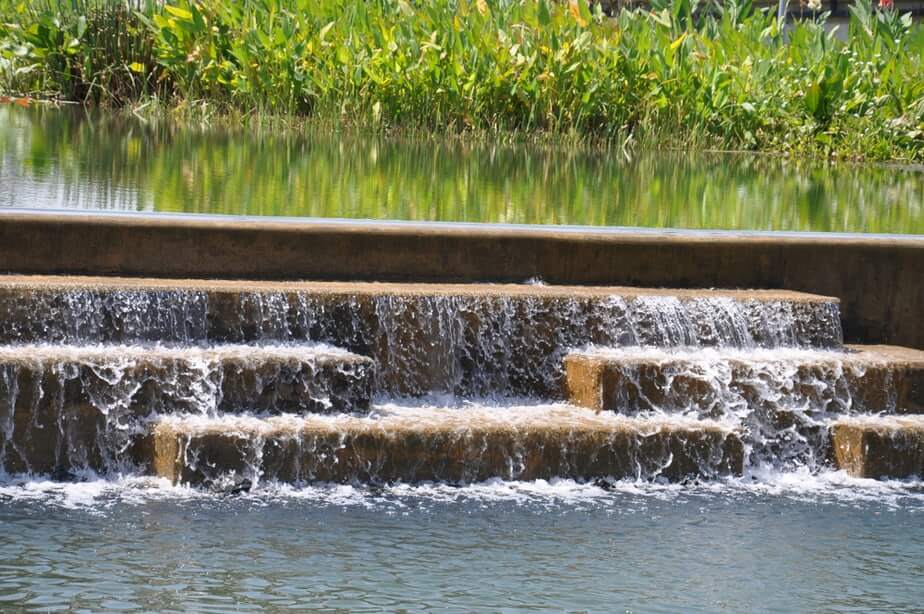 The modern stone spa will look more beautiful, but it requires more budget and vast garden space. But it will look like a big river with fountains and flowers all around. Also, it has small bricks to add beauty.
22. Vacation Vibes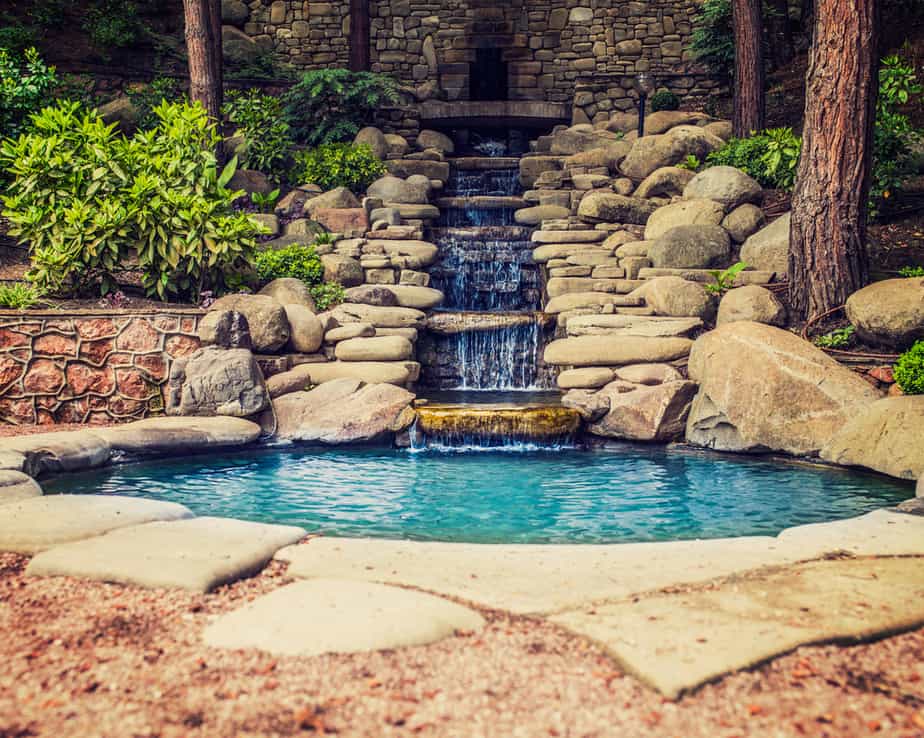 This water garden will give you a beautiful resort feel. It has a small pond and is surrounded by trees and thus gives you a resort feel. However, this also requires more budget and massive space to build this water garden.
23. Maximum Minimalism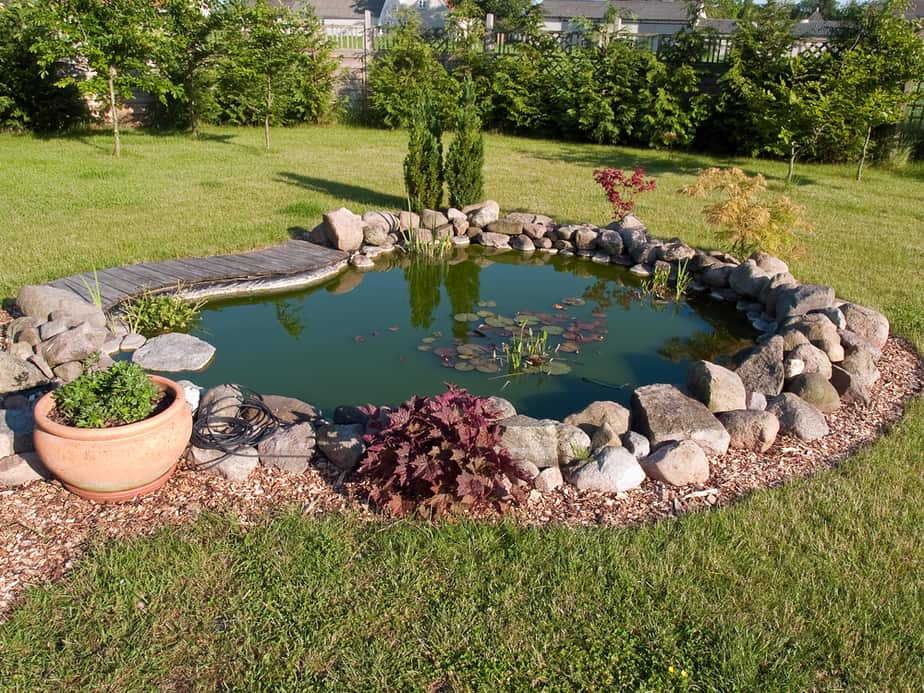 This is the most basic and the most refined and straightforward design for your water garden. This I simple yet beautiful and attractive. It also does not require huge space and can be made compact.
24. Classic Style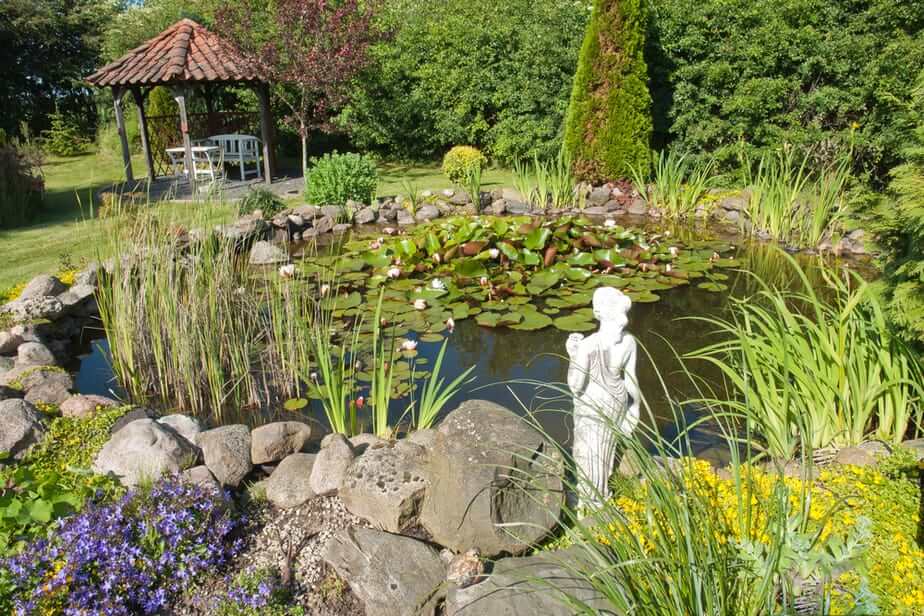 It has a medium-sized statue and is surrounded by rocks and stones. Also, it has beautiful large-sized leaves floating in the water with flowers.
25. Tiered Granite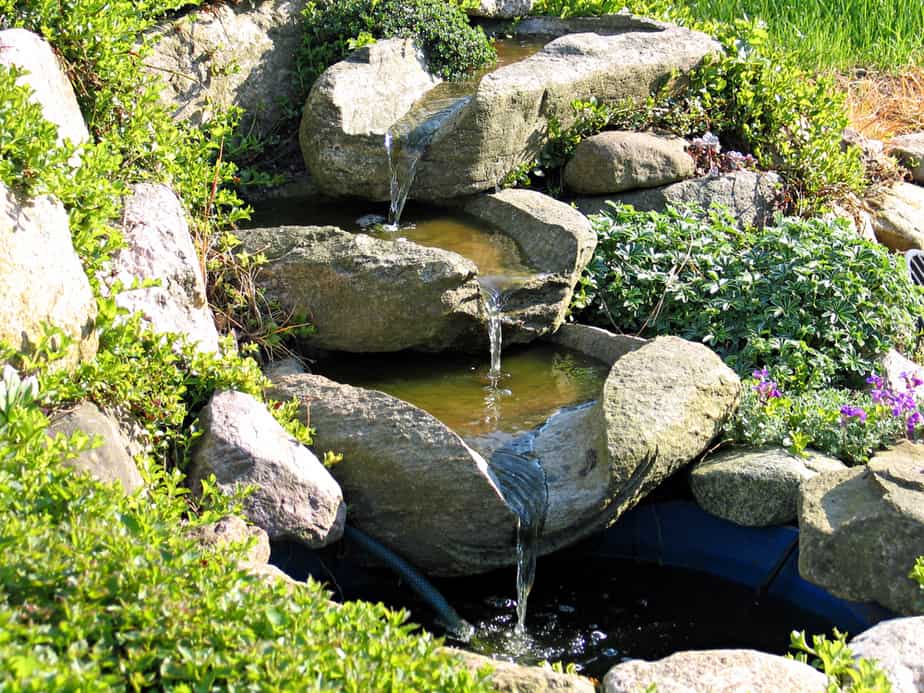 This gives a pretty authentic look to the garden with stones and trees all around. It has large stones which let the stream of water to flow.
26. Simple Bamboo Spigot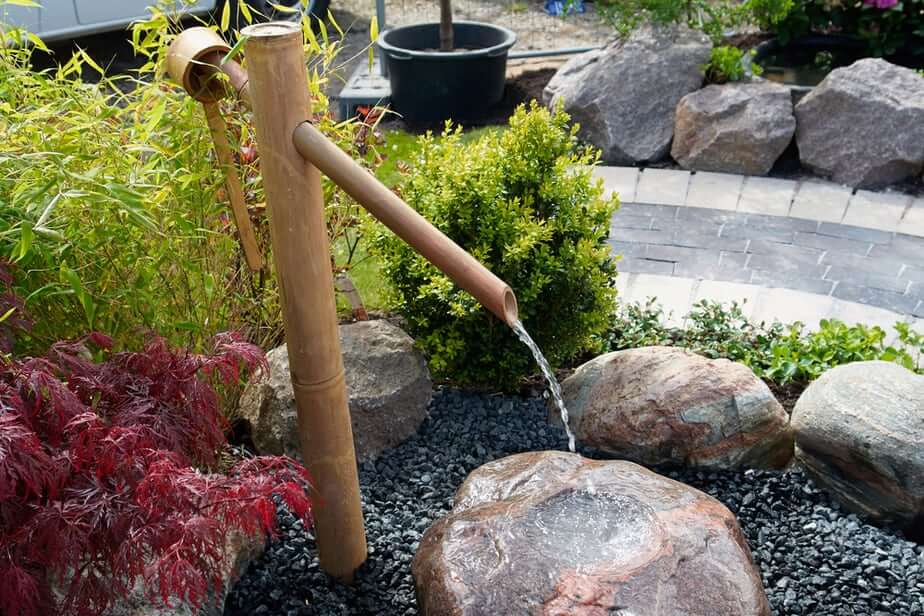 It has solid rocks and trees and a small pond with a bamboo fountain and water flowing. It is quite traditional.
27. Italianate Water Garden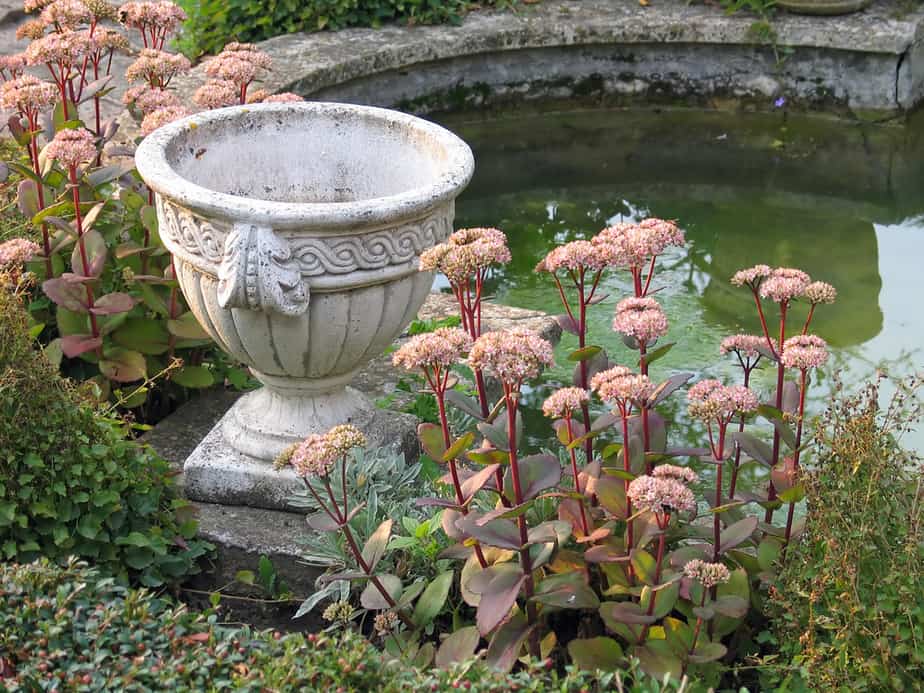 It gives an ancient Roman look with large stones. Also, you can add a small table and chair to make it look like a beautiful place for seating while admiring a beautiful garden.
28. Row your boat home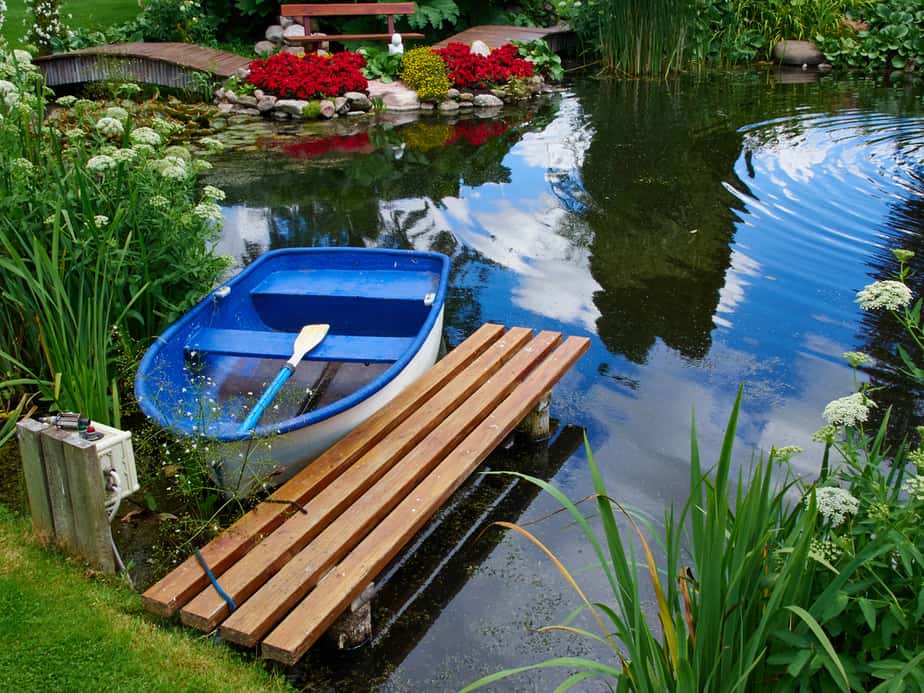 This requires a large pond and water to put a boat to row around the pond. You can keep it small and raw with a simple design that will look beautiful and attractive. Also, in this water garden, you can add a variety of stones and rocks to make it attractive.