Black beetles are commonly found insects both in your home and outside your home. You cannot say that Black Beetles are dangerous or not. Some of these beetles help your backyard eliminate unwanted bugs roaming around, whereas some beetle's larvae are enough to destroy your whole backyard.
Black Beetles are not usually black, they can be dark brown or light brown, and some even have colorful markings on them that can be either striped, spotted, or present underneath their body, which can be seen when they fly.
There are over 400,000 beetles in the whole world, with the Black Vine Weevils on top. Beetles are categorized into families, genes, and species. It would help if you did not confuse bugs with beetles. Yes, they both can destroy your garden, but they are different.
Beetles eat both animal and plant sources and do not bite humans unless they are threatened. Ground beetles are different than black beetles. They are relatively small, just like insects, and can help make your ground free of bugs.
They hide during the day and can be found under the leaves, stones, or grassy areas. They rarely fly and, if exposed, run away quickly to find shelter. Ground beetles come out during Mid or Late Summer and arrive in your house through cracks in ceilings or floors.
They hide under any object on the floor or in the basement. These beetles never harm humans, do not damage your building, food, furniture, or even clothing.
They also do not believe in reproducing inside your home.
But Black Beetles do not do this. Some beetles are so dangerous that they squirt a disgusting chemical on you that can blister your skin and cause irritation, so you need to be very careful in handling them. Otherwise, not only will your garden smell worse, but you will also have problems.
Identification of Black Beetles
Size
Black Beetles can range anywhere from 2mm to 75mm. These beetles are mainly black, but some of these species may vary in color from black to dark brown. Some of them also have colored spots or markings on them. Some have spots, some have markings on the inside of their body, and some have stripes.
Body
The body of a beetle, no matter the size, is a rock-hard shell. It is hard enough that if you accidentally step on them, you can hear the crunching sound. This body of beetles helps them in many ways, protecting them from weather, damage, insecticides, etc. Very few of the beetles may have a softshell, but mostly all have a hard shell.
Nests
Beetles love pine trees, mulch, elm trees, and wood chips to make their perfect nest. Making their nest here protects them from sun, rain, dust, but if there is excessive rainfall, wind, or sunlight, they will shelter themselves somewhere else. During the Fall season, they move to another appropriate location, and in the Winters, they find shelters in your home.
Body Parts
Some black beetles have a massive head than their body and thorax, while others have a small head and a large oblong body. Not all black beetles have antennae; mostly all do, both large and small, but some species have no antennae at all.
Life cycle
Usually, all the beetles have a one-year life span. They are born during the Mid Summers till the Autumn season and then hibernate later in Winters. They become active during the Spring when the most damage is caused. The females lay eggs from September till February.
Below is the list of 14 Black Beetles with their Identification points that will help you identify them if you see them in your backyard or inside your home.
Make sure to check first what type of beetle you are dealing with, and then check how to remove them from your garden. Larvae are more dangerous than adult beetles, so if you see any eggs lying in your yard's tree, remove them first.
Types of Black Beetles
Sawyer Beetle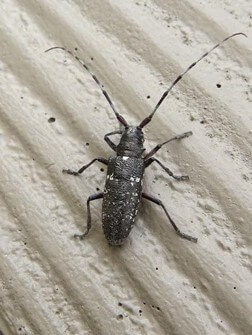 This beetle is also known as White-Spotted Beetle due to the white and black markings on its wings supporting its long body. This beetle is approximately 25mm long and is found in North America's pine forests. These beetles destroy the timber way before it can be used. The female beetles produce larvae that feed on dead pine wood.
Identification
This beetle has the most extended antennae on its body, which is why they are a form of longhorn beetles.
Their antennae can be three times bigger than the length of their body, approximately 75mm.
This beetle can also be identified with the white markings on its body.
The white dots can be seen on its wings, and one white, heart-shaped dot near its thorax. They can be seen under the naked eye too.
Red-Lined Carrion Beetle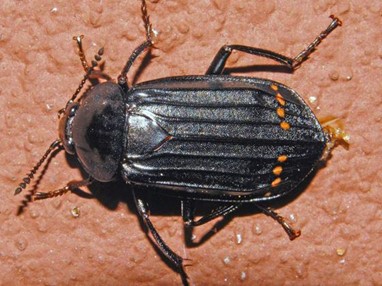 This beetle comes from a Silphidae family and is slightly different from other ones because its shape is a bit different from most of the beetles. It is not oval. Their wings are straight and rounded near the edges. These beetles have a foul odor that makes them easy to identify, mainly because they feed on larvae that feed on rotten flesh.
Identification
This beetle's primary identification is that it has long black wings with an orange shade in them.
When this beetle flies, it reveals its orange wings wrapped on its black abdomen.
It carries a foul odor which can be an identification point.
When removing them, make sure to wear a mask and cover your nose. Also, they are average-sized beetle, ranging from 12-25mm.
Cucumber Beetle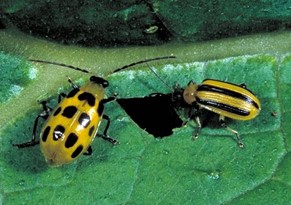 There are two types of cucumber beetle – spotted and striped cucumber beetle. They both are tiny garden beetles that may appear in your garden. Do not be fooled by its small size, and it is equally destructive as the normal size beetles. This beetle belongs to the Chrysomelidae family of beetles. They feed on vegetables like corn, legumes, cucumber, lettuce, etc.
Identification
You can identify this beetle with the help of the yellowish-greenish markings on its black body.
The spotted and striped species can be identified through these markings too.
This beetle is relatively tiny, weighing about 5mm, which makes another identification point, but do not be fooled by its size, and it can cause severe destruction to your plants.
Black Carpet Beetle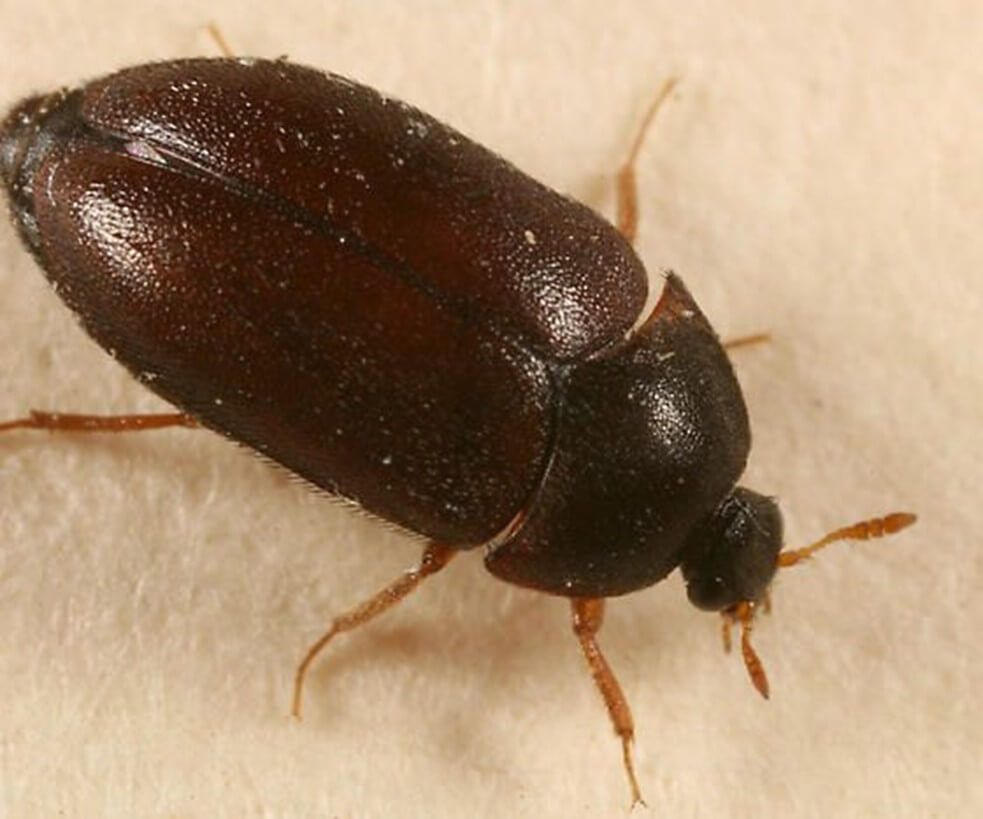 This is one of the most destructive types of beetle, it can destroy your house and cereals, but it does not bite humans. This beetle can fly and crawl around your house. It is recommended to get rid of adult beetle rather than the young ones, although the larvae cause the most destruction. This beetle, when growing up, is white, and when it has completely matured, it becomes black.
Identification
This beetle can generally be seen in any home and measure about 3mm. These beetles can crawl or fly around your house.
It is one of the most commonly occurring beetles.
Having short antennae and a short oval-shaped body is another identification of this beetle.
They are usually dark brown or black, and if you look closely, they have little hairs on them.
Furniture Beetle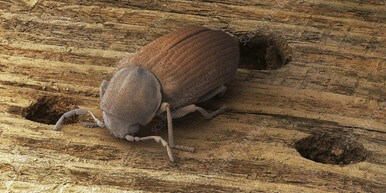 This beetle can damage your wood or any other furniture. These beetles are responsible for the woodworm in most of the furniture at your home. It would help if you got rid of this beetle's larvae because it destroys the wood. These can destroy your furniture and make it look disgusting.
Identification
This is a medium-sized beetle that measures about 2.7-4.5mm.
These are also known as wood-boring beetles that damage your furniture, crumble wood pieces, near fine dust, and mature beetles come out of the holes.
This beetle has a round, long black or dark brown body, near to light brown color with two antennae on their head and stiff black wings.
You can easily spot them on black furniture, and it might be challenging to spot them on brown furniture.
African Black Beetle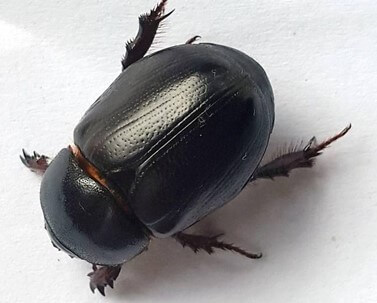 The African Beetle does not affect your home rather affects your surroundings. These beetles can be found through the brown markings it leaves behind when roaming around here and there. These are native to Africa and are the common agricultural pests in Australia and New Zealand. They can destroy your grass as well as plants.
Identification
These beetles measure around 12-15mm long and are commonly known as black lawn beetle since they can destroy your grass and plants.
They are pure black and belong to the Dynastinae family.
This beetle can be easily identified from its oval body and head with no markings on it, with short feet and no antennae.
This is one of the beetles that do not have any antennae on their bodies, small or big.
Black Vine Weevils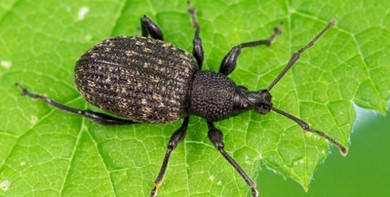 Black Vine Weevils Beetles belong to the Weevil family, which belongs to the significant family of Curculionoidea of insects. Mostly all the Weevils species are black in color and small-sized. This Black beetle is a garden beetle that cannot fly because of its wings being fused, and it uses its antennae to smell the plants the beetle must eat. 
Identification
This beetle measures up to 12mm long and feeds on plants like lilies, lilac, etc., and is native to North America as the famous garden pest.
It does not bite humans and come inside your home. Instead, it destroys your backyard.
It has a rectangular or elliptical body structure of gray or black color, with raised bumps on its body, a small thorax, and an even smaller but longer head along with two antennae.
American Oil Beetle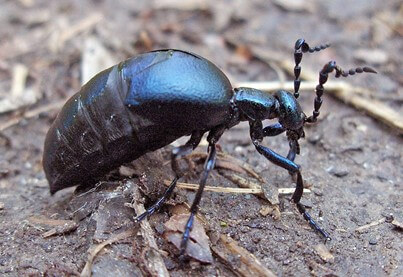 This beetle has a shiny black body that is bigger than its head and belongs to the Meloidae family group. This beetle is also called 'blister beetles' because if you get stung by it, you can have skin blistering or harshness due to the chemical poison it possesses. It is also known as the Oil beetle because it emits an oil-like substance wherever it passes by. 
Identification
This beetle measures up to 30mm and is one of the largest beetles and moves very slow on the plant. It feeds and does not fight with other insects too, and it mostly remains calm.
It has an illuminating black shiny body that is bigger than its head and thorax. Its antennae are shaped like an upside-down L.
You can quickly identify this beetle in your backyard.
Blister Beetle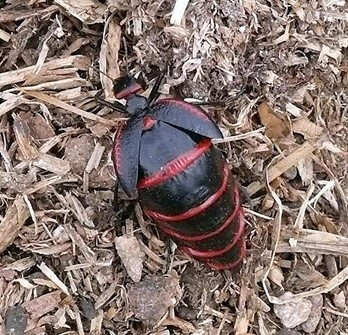 This beetle belongs to the Meloidae family of beetles, and they are called as such because of their secretion of cantharidin, a blistering agent which can make your skin blister in a worse way. One such dangerous blistering beetle is the Red and Black Blistering Beetle, commonly found in Central America and Southern USA.
Identification 
This beetle measures up to 10 to 15 mm, and it moves slowly.
This beetle looks like a tiny armadillo. It does not fly but has two wing-like features wrapped around its thorax.
This beetle has a humpbacked body that is in a shape of a tear.
It has a relatively smaller head than its hard body, and red stripes can be seen around its body.
Cedar Beetle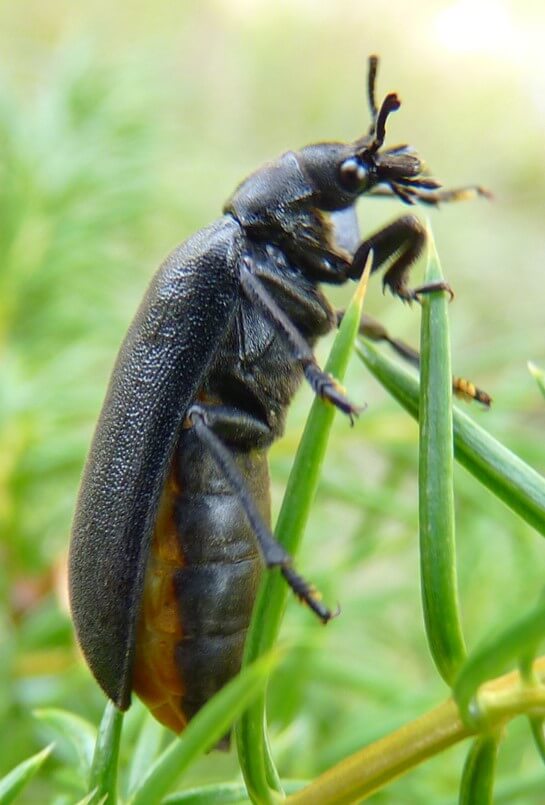 Coming from the Rhipiceridae family of insects, this is one of the flying, black-colored beetle. They are also called 'cicada parasite beetles' because they feed on other bugs named Cicadoidea. They like to wander around the elm trees, where the female Cedar beetles live. The male beetles fly a lot during warm days and can look like a firefly, so do not get mistaken. 
Identification
This little measure up to 2 to 5 mm. Both the male and female beetles have reddish-brown to black color.
However, the male beetles can be either black or light brown.
It has an elongated body with shiny black wings.
Their abdomen is of orange color, which can be seen when they fly around, much like fireflies.
Their antennae are short and feathery in males and toothed in females.
Rhinoceros Beetle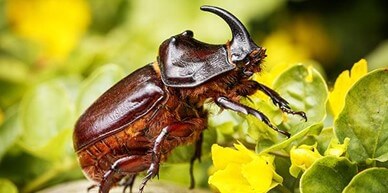 This is a vast harmless beetle of dark brown color. It is also called a scarab beetle because it belongs to the Scarabaeidae family of beetles. They are slow-moving beetles and feed on dead roots in the forests or your yard. They can fly, but you will mostly see them crawling around, and they are also called the Unicorn beetle.
Identification
This beetle grows up to 12 to 33 mm and is a shiny black beetle.
It, however, moves quite slowly and does not fly around, although it has wings.
You can quickly identify this beetle with the one horn it has on its head resembling a Rhinoceros.
They have a shining fat black body with orange color underneath it, with a single horn that gives it a threatening look.
Black Stink Beetle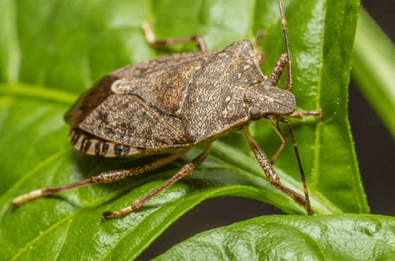 Coming from the species Eleodes, Stink Beetles are known as Pinacate beetles, which means black beetles. When these beetles are threatened by any other insect or even by humans, they stand on their heads, representing a rather unusual behavior, and squirt out a stinking chemical which is their defensive strategy. It leaves out a worse stinking smell.
Identification
These beetles grow up to 25 to 30 mm long and can survive hot temperatures. They cannot fly and instead move slowly on their legs.
Due to their stinking smell, they are also called 'stink bug,' or 'skunk beetle.
Few of the stink beetles have black/brown, oblong bodies pointed towards the top, whereas few have oval-shaped bodies with the oval thorax and a tiny head.
Both have long antennas, two pairs of legs attached to their abdomen, and two attached to their thorax.
Hermit Flower Beetle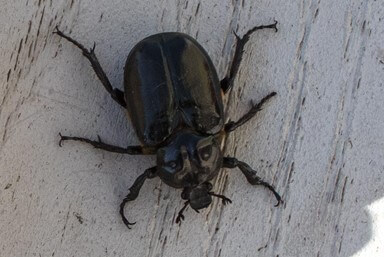 This is another type of scarab beetle that only feeds on dead and decaying wood. These beetles are quite beneficial and among the larger species of beetles. They move slowly underneath the wooded areas, and at night they are attracted to light and fly from one place to another. These beetles also have a disturbing smell which you can smell from afar when they move.
Identification 
These beetles grow up to 30 mm. They do not have any spots or markings on their body but can be found mostly on flowers.
They only feed on dead trees and nothing living.
It has a shining black, fat oval body and a hard shell. They also have a dimple between their eyes and on their thorax.
You can also identify them with the help of their stinking smell.
Pigweed Flea Beetle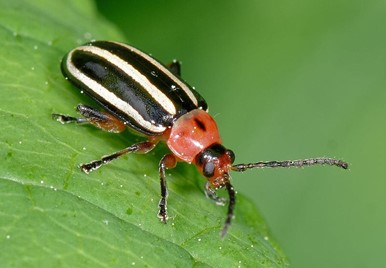 Coming from the Chrysomelidae family, this is a slow-moving beetle. It is an unusually colored beetle with red, black, and white colors present on its body. You can find this beetle in Eastern and Central North America regions, feeding on the Pigweed plants. Their wings have yellow-colored lines, two on the left side and two on the right side.
Identification
This beetle grows up to 5 mm only. It is active from Late Spring to Autumn and should not be present in your garden.
If you see it, remove them carefully.
It has an oval black body with white stripes on its whole body that makes him stand out on the leaves or in the forest.
It also has a black and redhead, two large antennas, and six pairs of black and red legs.
Conclusion
Black Beetles are dangerous whether they are inside your home or outside. You need to identify them with their body, where they are feeding, etc., and then check whether this beetle is beneficial for your garden or not.
Because not all these beetles are harmful, the identifications mentioned above will make you understand what type of beetle you are dealing with and get rid of them. To get rid of a black beetle, you can spray them. Regular bug spray will not be used on these beetles because they have thick skin and a hard shell.
You need two items that will keep the beetles out of your property. The first one is the Maxxthor Granules which you will apply onto your mulch and at least 10 feet away from your house.
Apply this once per month when you actively see them in your garden, and then once every three months to ensure that they do not wander back. After you have done this process, you can use the Maxxthor EC. Spray over the mulch and use them the same way you will use the granules.
If the bugs are inside your home, you can use FS MP Aerosol spray. It does have a slight odor, so when you apply it on your baseboard, hide your nose and leave the room for a while. Apart from the odor, it does provide quick action and is even effective over larvae.
These 14 beetles of various colors, markings, spots, and stripes can damage your garden. Do not get fooled if you see a bug. They both are different. They both cause damage. However, beetles cause more damage than a bug. It would help if you were careful, check out all the facts before you go on and use the spray, you might end up using a bug spray on a beetle, and it will be of no use.
You can also quickly identify whether you have a bug or a beetle in your garden by looking at your trees, wood chips, or even leaves. Usually, some of the beetles leave a marking indicating their presence, whereas some of the beetles tend to chew the dead or decaying wood, so it will be easy for you to identify.