Figurine collecting is more than just a hobby. It's like stepping into a whimsical wonderland, where emotions run wild and imagination takes flight. Each figurine holds a story waiting to be told. Whether it's a beloved superhero fighting against injustice or a cuddly creature that reminds us of our childhood pet, these tiny treasures tap into our emotions, reigniting the flames of nostalgia and wonder.
From porcelain animals to action figures, these pint-sized sculptures pack a punch of personality, resonating with collectors on a profound level. They become more than just objects; they become tangible connections to our passions, interests, and fondest memories.
To better understand the mesmerising world of collecting, let's step into the enchanting realm of the colourful De Rosa Rinconada figurines. These little wonders hold almost mystical power over collectors, capturing beloved, adorable animals and cherished memories in their delicate forms. But what exactly fuels the frenzy around collecting these captivating trinkets?
You'll find out the answer to this question and more in the following paragraphs, where we'll explore how artistry and charm blend into the lovely De Rosa Rinconada figurines.
The Story Behind De Rosa Ceramics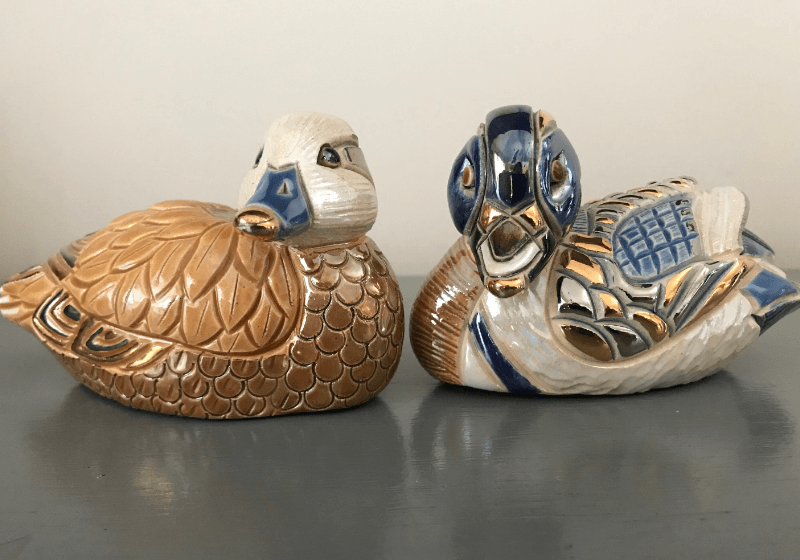 These figurines are the imagination of Jorge De Rosa Thompson coming to life. Mr Thompson has always been fascinated by the unique art medium that is ceramics. In 1965, he opened up his company in Montevideo, Uruguay, and co-founded Artesania Rinconada with his friends Jesus and Javier Carbajales.
In 1996, his son, Jorge De Rosa Duo, became responsible for running the company. He ushered in a new era of growth by opening up a new production plant and introducing the De Rosa Collections. Today, the collections are known for their artistic value and use of premium materials like 18-karat gold and colourful enamel glazes. And because of their connection with Artesania Rinconada, they're also often referred to as De Rosa Rinconada.
The Creation Process
The journey of a De Rosa Rinconada figurine begins with a lump of clay, patiently moulded by the hands of skilled artisans. This initial step lays the foundation for the intricate details and lifelike characteristics that define these treasures.
The artisans use a combination of sculpting tools and their artistic sensibilities to give shape to the figurine, ensuring that every curve and contour is meticulously crafted.
Once the basic form is achieved, the figurine undergoes a process known as firing. This involves subjecting the clay to high temperatures in a kiln, causing it to harden and transform into durable ceramic or porcelain.
The firing stage is crucial in preparing the figurine for the intricate painting and finishing touches that will bring it to life. The colourful enamel glazes, gold, and platinum are hand-applied with a unique brush to highlight the distinctive personality of each piece.
Exploring the Different Themes and Designs

Derosa figurines draw inspiration from a wide range of themes, capturing the beauty of nature, the charm of animals, and the rich symbolism of cultural heritage. The animal figurines, in particular, are beloved for their lifelike representations and meticulous attention to detail.
One popular collection is the Medium Wildlife series, which showcases creatures from different corners of the globe. From the regal lion and Siamese cat to the playful pandas and magnificent eagles, each figurine captures the essence and spirit of its subject. This collection celebrates the diversity and wonder of the animal kingdom, inviting collectors to appreciate the natural world in all its glory.
Another notable mention is the Nativity Scene set, which includes different figurines depicting the story of Christ's birth. From Mary, Joseph, and baby Christ to barn animals and the Three Wise Men, you can arrange your little nativity scene. The intricate details and vibrant colours of the Nativity series make them a captivating addition to any Christmas holiday décor.
Celebrating 2023 – the Year of the Rabbit
If you take a closer look at the different pieces, you'll notice that the ceramics manufacturer is highly influenced by Asian folklore and design. Each year, the company releases a new piece as a way to mark the Chinese New Year. And 2023 is the year of the rabbit.
To commemorate this year, the company has introduced its whimsical Lop Rabbit figurine. It's quite different from the other rabbit pieces, as it features gold and platinum details and cute little lop ears.
The rabbit is the fourth in line in the Chinese zodiac. Interestingly, it's regarded as a lucky animal in Chinese mythology, and displaying a rabbit in your home is thought to bring good fortune. It also stands for kindness, grace, and beauty.
If you know someone who's a rabbit in the Chinese zodiac and loves collecting porcelain pieces, this figurine may be the perfect gift for them.
The Investment Potential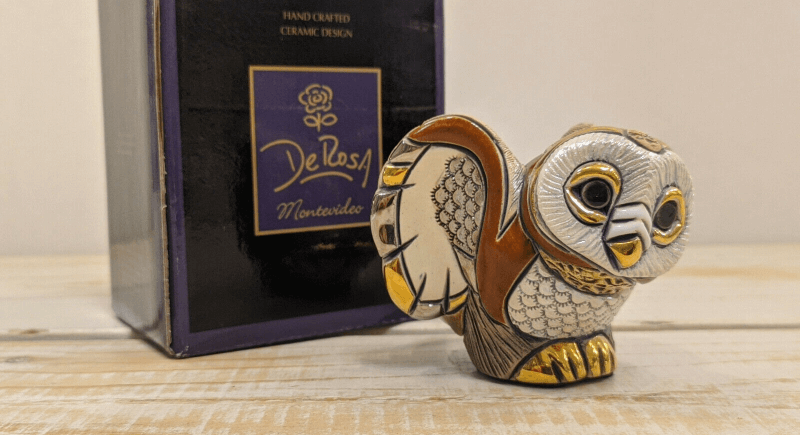 While the primary motivation for collecting these ceramic objects is often the love of art and craftsmanship, their investment potential is also worth considering. Over time, as the availability of certain figurines diminishes, their value tends to increase. This aspect attracts collectors, who view their acquisitions not only as beautiful objects but also as potential investments.
The investment value of the pieces in this collection is influenced by various factors, including rarity, desirability, and the overall demand for the specific collection or series. Collectors who have a keen understanding of the market and a passion for these treasures can enjoy the satisfaction of watching their collection grow in value over time.
Displaying Your Pieces
As collectors acquire a diverse range of figurines, the display becomes an essential aspect of their enjoyment. Showcasing these miniature works of art allows their beauty to be appreciated and admired by both collectors and visitors alike.
These colourful yet elegant ornaments can be incorporated into a variety of home decor styles. They can add a touch of elegance to a traditional or classic decor, or a pop of colour to a more modern or contemporary space. The figurines can be displayed individually or in groups, depending on their size and design.
One way to display Rinconada De Rosa figurines is to create a vignette on a shelf or mantel. A vignette is a small grouping of objects that are arranged together to create a visually appealing display. Choose a few figurines of different sizes and arrange them on a tray or small table. Add some greenery or other small objects to complete the display.
Another way to incorporate these collectors' items into your home decor is to use them as bookends. Choose two figurines that are similar in size and design and place them on either side of a stack of books. This will add a touch of whimsy to your bookshelf and make it more visually interesting.
How to Care for Your Ceramic Ornaments
Caring for these ceramic figurines involves handling them with care and ensuring they are kept in a suitable environment. Regular dusting using a soft cloth is recommended to maintain their pristine appearance. It is also advisable to keep the figurines away from direct sunlight, extreme temperatures, and humidity to prevent damage or fading.