Sleep is the most critical aspect of living a peaceful life. Just like everything else needs rest and maintenance, your body needs it too. And I am sure you would not want to compromise with anything that can ruin your peaceful sleep. You want to have everything of utmost comfort and quality, from having the correct bed, pillow, bed sheet to blankets and comforters.
But the biggest challenge that we as consumers face is figuring out the best product from the market that gives you so much variety and quality. Another major problem we face is with the usage of terminology for the products. We sometimes do not understand the products' usage and are misguided to buy the one that does not go well with our comfort.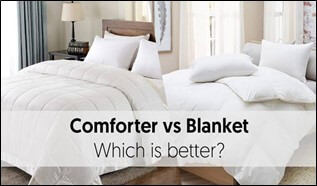 Like buying bed amenities, we often tend to get confused between a Comforter and a Blanket. Comforter vs. Blanket has been a significant point of conversation between the people buying bed amenities. Consumers often fail to understand the difference between a blanket and a comforter and thus remain irritated and confused about bringing it home.
Let us keep the conversation going to understand the concept between Comforter vs. Blanket in more detail. By the end of the article, you will be very confident in understanding the differential aspect between a comforter and a blanket. Not only that, but you will also feed yourself with some fantastic insight between Comforters and Blankets.
So, continue to scroll down to find out who you would take home to accompany your bed after the conversation between Comforter vs. Blankets.
What is a Comforter?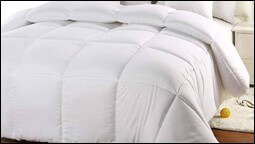 A Comforter is a large type of bedding used as a cover to cover the user's body while sleeping to get warmth and comfort. It is quite soft and mainly filled with fibers like cotton, silk, wool, or polyester. They are generally closed using zippers or buttons. 
Comforters are made up of multiple layers and have good insulation properties. It consists of the front layer, back layer, and insulation layer. It is very suitable and comfortable during colder seasons.
Advantages
Comforters are of great size.
Not required washing too often.
It holds insulating properties, which makes it best for the winters.
Very soft and fluffy.
Excellent Durability. 
Disadvantages 
Storing comforters is a considerable challenge.
Comforters mostly cause allergies.
Few Comforters are not machine washable, so they need dry cleaning, which will cost too much.
It cannot be used on the sofa.
Other than the winter season, taking on a comforter causes discomfort.
Types of Comforters:
Comforters are generally categorized based on the fiber and the material used. So, here is the list of different types of comforters that are available for consumers.
Bamboo
Brocade
Cotton
Down-filled
Faux Suede
Flannel
Fleece
Fur
Jacquard
Microfiber
Polyester
Sateen
Satin
Silk
Wool
5 Best Comforters to Bring Home
Nanko Comforter
No products found.
This fantastic Queen marble comforter set is such a sight of comfort and provides equally impressive quality sleep. This Nanko Comforter is a queen size bed comforter with extreme softness and warmth. It adds beauty to the interior of your house.
The above comforter set weighs around 6.34 pounds and spreads around 88 x 90 inches. Along with the Comforter, it gives you two unique pieces of matching pillow shams that spread around 20 x 26 inches.
The fabric of the Comforter is made up of 100% luxury brushed microfiber. It is very light in weight and gives you complete satisfaction. It has excellent durability and assures you a 100% money-back guarantee if you are unsatisfied with the received product.
Pich Pleat Comforter Set
Another beautiful piece of Comforter set is this lovely Pinch Pleat Comforter Set, an incredibly soft, shiny, fluffy, pin-tucked design with super fantastic quality.
This set comes along with two pillowcases of similar design and pattern. The entire set, when put together, enhances the interior of your house. The Comforter spreads around 90 x 90 inches. The pillow spreads around 20 x 26 inches.
The entire set is handcrafted and shows excellent craftwork. This pintucks styling adds an extraordinary view to the entire set. It has excellent durability with an easy washing guide, making sure that you do not bleach it. This set can work as a fantastic present that you could present to your close ones. Truly a fantastic product to get home.
KARRISM All Season Down Alternative Queen Comforter
Here comes another beauty that will blossom not only your interior but also your sleep. This amazing KARRISM All-Season Down Alternative Queen Comforter is hands down the most comfortable Comforter so far.
Its softness, size, and fluffiness grabs all the attention and promise the user to provide a peaceful sleep. It is made up of double brushed fabric shells and whole piece microfiber filling. The temperature under the Comforter remains constant and is hypoallergenic. The size of the Comforter spreads to 88 x 88 inches. The maintenance of the Comforter is also quite affordable.
Wellbeing Bed Comforter Set
The Wellbeing Bed Comforter Set is soft and made up of pure cotton. The set comes along with two standard shams that spread to 20 x 26 inches. At the same time, the set extends to 90 x 90 inches.
The printing work done on the material is a major attraction and a compliment to your interior. The fibers used are incredibly soft microfiber fabric filled with 100 % polyester filler.
What makes it more worth it is that the Comforter's maintenance can be quickly done, and you could wash this Comforter several times.
Plush Fluffy Duvet Cover Oeko
This luxurious and soft Comforter looks like a dream movie set if brought home. The softness, warmth, and fiber used are the most significant assets to the user.
This elegant Comforter is made of long microfiber plush, while the back is ultra-soft crystal velvet fabric which plays a vital role in providing warmth and comfort.
It has excellent durability and has a zipper closing. During summers, you can also use this as a blanket. Maintaining this Comforter is not a significant challenge. It can be given a gentle machine wash along the cold water.
What is a blanket?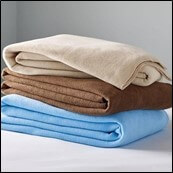 A blanket is a long, large soft piece of cloth that is used to cover the body. It is a type of bedding that is used during a bed setup. A blanket is usually used when one goes to sleep. It provides comfort, warmth, and peaceful sleep. All use it from children to adults.
Blankets are commonly made up of acrylic, knitted polyester, mink, cotton, fleece, and wool. Buying a blanket generally depends on the choice and comfort level of the consumer. Blankets are also referred to with different terms at different places like the quilt, duvet, and many more. But their general use remains the same.
Advantages 
Easy to store and maintain.
Very comfortable to sleep on.
They do not cause allergies.
It can be used on sofas too.
Low cost.
Disadvantages
Less Durable.
It can only be used as a top bed layer.
Lacks warmth and comfort. (No Insulating properties)
Finding perfect size blankets is always a struggle.
Woolen blankets are expensive.
Types of Blankets:
The kind of Blanket you choose for yourself is crucial because it contributes to your sleep quality. So, I am sure you will want to bring home a blanket that can meet your expectations in terms of quality and comfort.
Below are a few types of blankets that might help you know more about blankets and pick the right one.
Afghan Blankets
Acrylic Blankets
Car Blankets
Chenille Blankets
Cotton Blankets
Down Comforters
Emergency Blankets
Fleece Blankets
Linen Blankets
Microfiber Blankets
Nylon Blankets
Polyester Blankets
Vellux Blankets
Wool Blankets
5 Best Blankets to Bring Home
Pinzon Faux Fur Throw Blanket
Pinzon Faux Fur Throw Blanket is 100 % polyester, soft and warm. This Blanket is also animal friendly which means no animals were harmed during the making. The Blanket spreads around 63 x 87 inches. 
It is light in weight with excellent durability. The maintenance of the Blanket is comfortable and not too much of a task engaging. This is a perfect partner to a cozy, calm environment.
NANPIPER Throw Blanket Reversible Sherpa Flannel Blanket
Nanpiper Throw Blanket is made of 100% microfiber fabric and has super quality softness and warmth. It can be easily carried while traveling, camping, or to a cozy place.
The Blanket spreads to 50 x 60 inches and is very light in weight. The color of the Blanket will not fade away, and washing the Blanket is also not a big struggle. Just remember not to bleach the Blanket. Get this fantastic Blanket piece and add it to your bedding set and enjoy the relaxing, calm moment.
RONGTAI Sherpa Fleece Soft Throw Blanket for Sofa Bed
RONGTAI Sherpa Fleece Soft Throw Blanket comprises 100% Polyester fabric and is exceptionally light in weight. The Blanket is available in various sizes and colors. It can go well with almost every stuff from bed to sofa. It is just a perfect match. It can be easily machine washed and then put to low dry heat. Its softness and comfort are going to woo your hearts.
Extra Soft Faux Fur Throw Blanket
Extra Soft Faux Fur Throw Blanket is made of pure Polyester fabric. It is super soft and super warm. The beautiful soft hair is around 4cm long. It is skin-friendly and causes no allergies. The size of the Blanket spreads to around 50 x 60 inches.
The Blanket will go very well with the interior of your house. This Blanket does not bother you with its maintenance, and it can be easily washed in the machine and dried at a shallow temperature.
You can get this beauty for yourself or gift it to your close ones. This is an entirely satisfying product, and you can always return if the product fails to meet up your expectations.
Throw Blanket with Fringes in Diamond
Comforter vs. Blanket 
Well, this concept is something that most of us struggle with while we buy a bedding accessory. There has always been a debate, chaos, and confusion about what is better and comfortable between a Comforter and a Blanket. One gets very picky with the stuff they buy for bedding, of course, that's because sleep is essential, and nobody would ever want it to be ruined by any chance.
So, keeping it in mind and understanding the importance of having quality sleep, we are here to ease your confusion and chaos between Comforter vs. Blankets.
Firstly, they both are an essential accessory of bedding, and the absence of any one of them can make the bedding setup look incomplete. But ultimately, choosing which one to bring Home is the consumer's choice.
The comforters and the blankets are different due to their size, material, and usage. What I mean by that is, a comforter is a three-layered fabric sheet, while a blanket is just a single-layered fabric sheet. Both are used to cover the user's body, but a comforter acts as a more responsible one in providing great warmth, calm, and comfort to the user.
Comforters are very soft and fluffy, which allows the user to feel cozy and comfortable in bed. Comforters generally are more extensive and can be used as a bedspread too. They also have insulating properties and are usually available in stitched form.
Whereas Blanket is a single-layered bed covering that, compared to Comforter, lacks behind in giving the amount of warmth and comfort. It can only be used as a top bed cover.
It can be taken to a picnic spot to spread in on a grassy area. Blankets are woven and usually can be used in all seasons in different forms.
But when we talk about comparing the two Comforter vs. Blanket, reasonably, Comforter weighs more than the Blanket in many terms. But again, choosing a comforter or a blanket should also be based on the parameter of the consumer's choice and comfort level. So, choose what comforts and contributes more to your sleep and peace.
Points to Remember While Bringing Comforters and Blankets Home
Comforters 
Bed Size
Quality and Stitches
Color and Patterns
Checking the maintenance guide
Fabric
Cost
Blankets 
Size
Warmth & Weight
Quality and Fabric
Color and Patterns
Maintenance guide
Cost
Conclusion
Apart from the quality, size, material, and other aspects of buying a blanket or a comforter, individuals' own choice and comfort should be prioritized first while buying any of these two. You will use the product; hence, your satisfaction and trust matter the most.
Being your guide and helping you to understand every aspect of a blanket and a comforter, we hope that you make a great choice and enjoy softness, comfort, and calmness throughout.