As the UAE aims to reach net zero carbon emissions by 2050, it has made significant progress in developing its sustainable urban infrastructure — in particular, in Dubai.
Famous for its skyscrapers and luxurious lifestyle, Dubai also showcases an eco-friendly side you may not have explored yet. Here, you may find that urban living and nature blend together to create an eco-friendly environment. The city is brimming with green communities that focus on reducing their carbon footprint and preserving natural resources.
This article takes you on a journey to Dubai's top five green communities. They introduce a blend of sustainable living and urban comfort that will make you rethink what city life can be like.
Dubai's Eco-Friendly Communities
Eco-friendly communities are the heartbeat of sustainable living. They focus on sustainability — from the building materials used to the appliances installed within. Among other things, these real estate Dubai communities champion the use of renewable energy, making the most of the ample sunshine Dubai is blessed with.
But it doesn't stop there. In these green havens, you'll find lush spaces. They not only add a touch of beauty but also lend a lung to the city. The communities encourage habits such as recycling and smart water usage among their residents. All to pave the way for a lifestyle that cherishes the environment, while offering a beautiful, sustainable setting for residents to thrive.
1. DAMAC Hills
Nestled within the vibrant city of Dubai, DAMAC Hills is a luxurious residential oasis designed by the acclaimed developer, DAMAC Properties. This community offers more than just homes — it breathes elegance into every corner.
From elegant villas to chic townhouses and stylish apartments, DAMAC Hills caters to a variety of lifestyle preferences. Each property is thoughtfully designed, ensuring that luxury and comfort are a given, no matter your choice.
2. Emirates Hills
Emirates Hills is a gated community in Dubai. It's not just a residential area but also a symbol of unmatched elegance on a global scale. This community is home to bespoke villas, each standing as a testament to personal taste and luxury nestled amidst green fairways.
As you stroll through the leafy lanes of this prestigious community, the tranquility will make you forget you're in the heart of a bustling city. Emirates Hills effortlessly fuses the brilliance of upscale living with the serenity of nature, making it a standout in Dubai's top green communities.
3. Al Barari
Dubai's Al Barari is an expansive green oasis where luxury meets nature. Spanning over a million square meters, this community is a testament to sustainable luxury. It consists of custom-designed villas, plush apartments, and grand estates. Each property is a unique statement of luxury, carefully woven into the lush green fabric of the community. Al Barari beautifully captures the essence of eco-friendly living without compromising on elegance and comfort.
4. Arabian Ranches
Arabian Ranches, a luxurious residential neighborhood in Dubai, embraces the beauty of the desert in its unique design. This gated community offers a serene escape from city life, right within the city's boundaries. With its desert-inspired architecture, Arabian Ranches transports you to a tranquil oasis, away from the city's hustle and bustle. Here, you'll find an elegant harbor that pairs the charm of desert living with contemporary comforts.
5. Dubai Silicon Oasis
Stepping into Dubai Silicon Oasis, you're greeted by a vibrant green landscape, a testament to its commitment to sustainable living. This community stands out with over 50% of its area draped in lush greenery, from serene parks to open spaces that beckon residents to revel in nature's beauty.
But it's not just about aesthetic appeal. Dubai Silicon Oasis embodies environmental responsibility, creating a haven where sustainability and urban living go hand in hand. This harmonious blend of nature and city life earns it a well-deserved spot among Dubai's top green communities. Here, you can truly live green in the heart of the desert city.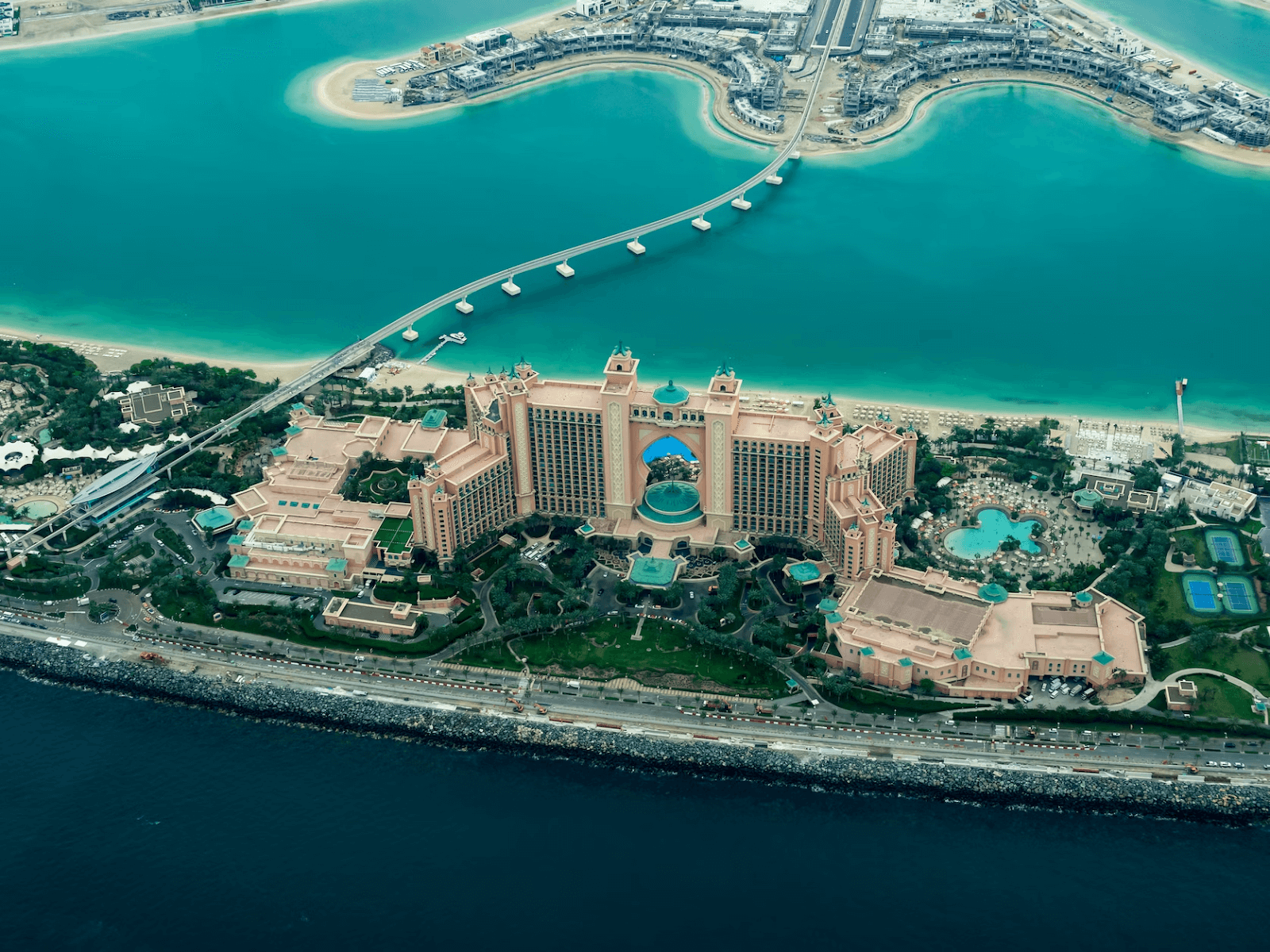 How Is Dubai Leading the Path Towards Sustainability?
Dubai is renowned for its rapid growth and dazzling urban development. It has adopted a clear vision for sustainability. This bustling metropolis is on a mission to harmoniously blend its ambitious growth plans with a deep respect for the environment.
The city has finished comprehensive sustainability goals as part of its Vision 2021, focusing on smart, sustainable living. As a result, it introduced regulations for buildings to meet green building standards. Now, the government works on the implementation of the We The UAE 2031 strategy. This decade, the country aims to reduce greenhouse gas emissions by 18%. They expect to rank among the top 10 countries in terms of hydrogen energy production.
Dubai is also harnessing the power of the sun. The Mohammed bin Rashid Al Maktoum Solar Park aims to generate a substantial portion of the city's electricity from clean, renewable sources.
Moreover, the city is encouraging sustainable transportation. Dubai offers an expanding metro system, electric vehicle charging stations, and plans for eco-friendly public buses. Taxi services equip their fleet with e-cars to offer environmentally friendly transportation options.
Dubai's journey towards sustainability isn't a mere nod to global trends. It's a deeply ingrained ethos reflecting respect for nature along with the city's growth. This commitment to a green future truly sets Dubai apart as a global city with a sustainable vision.
Conclusion
In a world increasingly aware of our environmental footprint, Dubai stands as a beacon. This city offers more than just a dazzling skyline and a luxurious lifestyle. It demonstrates that rapid urban development and sustainability can indeed go hand in hand. With its commitment to green living, it offers residents a chance to embrace a sustainable lifestyle without compromising on comfort and luxury.
It's a green oasis in the heart of the desert. As we continue to aspire for a greener future, Dubai sets a compelling precedent. One that promises a sustainable lifestyle, right here, right now.