Planning to get patio furniture for your residential or commercial surroundings?
Looking for the best material for outdoor furniture?
Consider different materials and their inherent qualities when shortlisting the best patio material for outdoor furniture and check if they match your specific needs.
But the question is, how to choose the best materials for outdoor furniture?
Let's make it simple. When finalizing the one, look for the following:
Material of the furniture
Cost
Durability
Aesthetics
Maintenance
Read ahead to learn more about different materials for outdoor furniture.
WHAT IS THE BEST OUTDOOR PATIO FURNITURE MATERIAL?
When evaluating the best outdoor furniture material, you may just think of characteristics like style, comfort, durability, and budget. But the most important point one should consider is the furniture's endurance to outside weather conditions.
Although, no 100% weatherproof material has been made available till now. But when choosing the material for the outdoor furniture, you should check if they can withstand the changes in the weather conditions while providing comfort and offering a stress-free aura around you.
Our guide to the best material for outdoor furniture will help you choose the one you need.
OUTDOOR PATIO FURNITURE MATERIALS
Before finalizing the best material for outdoor furniture, you should first understand different outdoor materials for furniture.
But before moving ahead, keep these three things in mind:
The space is available for the furniture.
How frequently will you be using your outdoor furniture?
the kind of furniture you need.
Whether you want to have a small patio with a few chairs or a luxurious sofa, need rocking outdoor furniture, or an outdoor glider chair, a large variety of materials are available to choose from.
You may use different materials for different furniture too. You can use the material for outdoor chairs and then another material for the table. For instance, you can use a glass tabletop and metal for the base of the table and chairs. Such combinations, too, give an elegant look. Also, note that the best material for patio furniture depends on the climate you live in.
Here is the list of the outdoor materials for furniture you can choose from.
FACTORS TO CONSIDER FOR OUTDOOR MATERIALS
When researching the best material for outdoor furniture, ensure the material can retain its structural integrity and its appearance over several years, surviving through various weather conditions.
Here are some key factors you need to consider for outdoor material for furniture:
| | Sun & Temperature | When living in a sunny area, choose furniture that can withstand the damage caused by severe UV rays and fluctuating climatic conditions. Or else the constant exposure to Sun may lead to cracking, fading, and heat retention (making furniture uncomfortable to use). |
| --- | --- | --- |
| | Rain & Moisture | Choose water-resistant furniture when living in an area that receives frequent rainstorms. Furniture, when exposed to water for a longer duration, may lead to the growth of mold, mildew, rot, rust, corrosion (if metal furniture is used), and warping (if water penetrates, then dries unevenly). |
| | Wind | If you are living in an extremely windy area, choose heavy furniture so that your furniture doesn't blow away. Or else, you may have to continuously protect the furniture by storing it when not in use. |
| | Durability | Whether you are planning to get outdoor rocking chairs or an outdoor glider, the durability of the material plays a vital role. Also, it depends on many things, like exposure to the sun, water, and your everyday use. Hence, choose sturdy material if you plan to use your furniture frequently; then, it will have less wear and tear. |
| | Care & Maintenance | Some outdoor furniture materials require intensive care, whereas some are quick and easy to clean. So, if you want to invest less time in cleaning, opt for lower-maintenance materials. |
| | Cost | Last but not least is the cost of the outdoor materials furniture. People choose one furniture material over the other to stay within the budget. But it is very important to understand the cost involved in maintaining the same in the long run or if the material requires frequent replacement. Hence, the cost plays a vital role when evaluating the options. |
1. METAL
One of the strongest, most reliable, and most durable materials for your outdoor furniture is metal. It can be used in combination with other materials to access manufacturers' greater style flexibility. However, this sturdy material has its flaws, such as metal furniture heating up in Sun, can have rust and corrosion at some point in time, and some metal furniture is heavy and difficult to move.
Maintenance tip
Clean the steel furniture with the help of mild soap, warm water, and a sponge.
Still, each metal type offers unique features:
Stainless Steel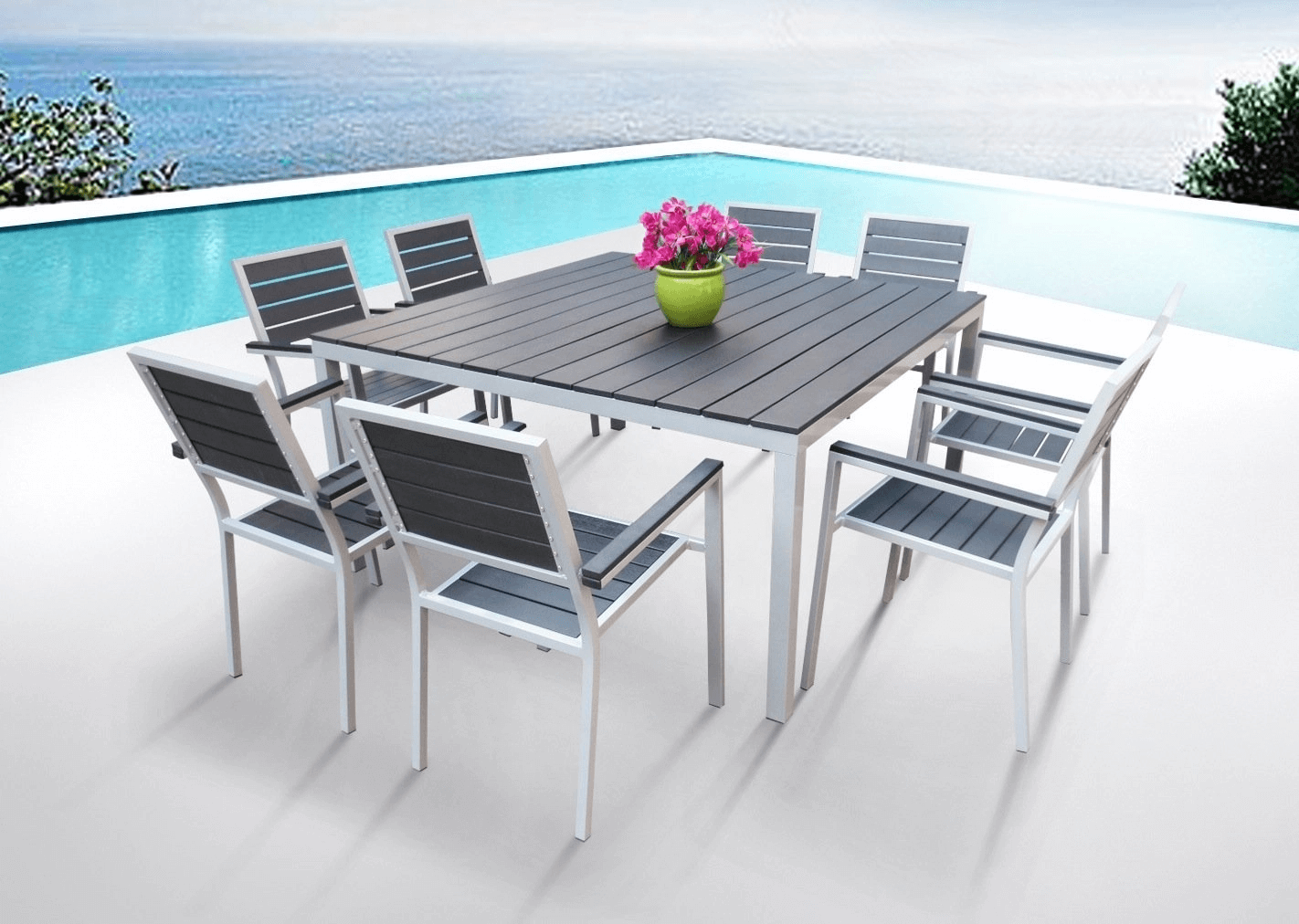 By combining iron and carbon, we get stainless steel. It is extremely strong and has high density. Due to this, steel stays tough against high winds and is prone to dents and other damage even when used persistently. But it is not appropriate for furniture like dining chairs or side tables as they need to be moved frequently.
Pro tip: Switch to stainless or galvanized steel instead of plain steel.
If using plain steel, ensure to apply a protective finish to protect from rusting.
Pros:
Wind-resistant, sturdy, durable, and easy to maintain.
Cons:
Costly and reserves heat.
Cast Aluminum
One of the most popular metals for outdoor furniture is aluminum. Though strong and durable, it is lightweight, which makes it an ideal option for outdoor sitting areas. Even various complex shapes can be worked out using it. Due to its highly weather-resistant quality, the application of a polyester powder coating is advisable. It adheres better to the metal and is prone to fading.
Pros: Inexpensive, low maintenance, lightweight, strong.
Cons: Retains heat, and during high winds, void tube frames may blow over, and needs regular cleaning.
Wrought Iron
Wrought means 'worked by hand," so if you are looking for a sturdy set of garden furniture with a unique handcrafted design, wrought iron patio furniture would be a perfect choice.
Wrought iron furniture is the heaviest of all outdoor furniture metals. If properly cared for, this can last for several years. To seal out the damaging moisture, the wrought iron furniture is treated with weather-resistant finishes. However, it gets too cold in winter and very hot in summer if left out. Hence, without cushion seats and backrests, these are difficult to use. But it is one of the most durable furniture materials when sealed to prevent rusting.
Pros:
Substantial, stylish classic look, solid, and perfect for windy areas.
Cons:
It can be uncomfortable to use, heavy to move, rusts easily, and needs a lot of maintenance.
2. PLASTIC and RESIN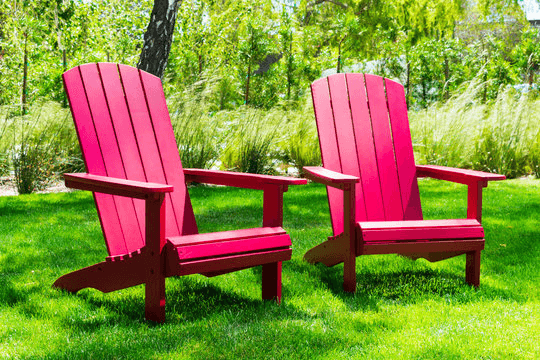 Plastic and resin furniture, man-made synthetic materials, are extensively used in the world of outdoor furniture. The hybrid compositions of these polymers help manufacturers attain various shapes and sizes.
These are lightweight, inexpensive, fade-resistant, and available in a wide range of colors and textures. Easy to store, the plastic chairs can be stacked effortlessly. But these materials are moved by wind easily.
Maintenance tip:
Rinse it with water and mild soap. For tough stains, use warm water instead.
Synthetic Resin- All-weather wicker
Wicker is the weaving style, not the material. Synthetic resin patio furniture is lightweight, long-lasting, stylish, yet low-maintenance. Synthetic resin furniture is usually fabricated on an aluminum frame. Natural wicker can be obtained from various organic sources such as bamboo, banana leaf, rattan, seagrass, and willow. But these strong and stylish pieces of furniture are vulnerable to damage from rain, moisture, and humidity.
High-density polyethylene (HDPE), a high-quality resin that does not release any chemicals, is impenetrable and can get through for decades without degrading, even when exposed to UV rays.
Note: If the outdoor furniture tends to become brittle and crack over time, that means it is prepared from polyvinyl chloride (PVC), low-quality synthetic wicker.
Pros:
Easy to clean, looks-like natural wicker, extraordinarily resistant to weather, HDPE is 100% recyclable.
Cons:
Lightweight for a strong storm.
Recycled Plastic
Recycled plastic offers a lot when it comes to stylish outdoor patio furniture. Recycled plastic is gained from shampoo bottles, milk cartons, etc. This furniture offers certain remarkable characteristics like these are stain-resistant, easy to clean, sturdy, and resistant to moisture, insects, mildew, and saltwater.
Pros:
Easy to clean, helps in the "go green" initiative, sturdy, resistant to stain, weather, and fade.
Cons:
Extremely light for strong winds.
Other Plastics (PE)
Other plastics, such as Polyethylene (PE), are the most common form of plastic used to prepare deck furniture. Due to its weather-resistant and durable nature, the high-density version (HDPE) is required for outdoor applications.
Polypropylene (PP) is lightweight and extremely resistant to heat and chemical degradation. Polycarbonate (PC), though susceptible to scratching, is a tough and impact-resistant material. Widely used when there is a requirement for transparent furniture. Acrylic – Polymethyl Methacrylate (PMMA) is similar to polycarbonate and inexpensive but is accessible to cracks and is less strong than PC.
3. WOOD
Be it a table, outdoor rocking chairs, outdoor gliders, or benches, wood provides a sturdy framework and has been a popular raw material among people. But not all woods, like softwoods, stand up well to the environmental conditions. Hardwoods are the preferred choice and can last decades if treated well. However, there are different types of hardwoods with major differences.
Maintenance Tip:
Use a gentle cloth and rinse with mild soap and warm water. Then, sun-dry completely.
Teak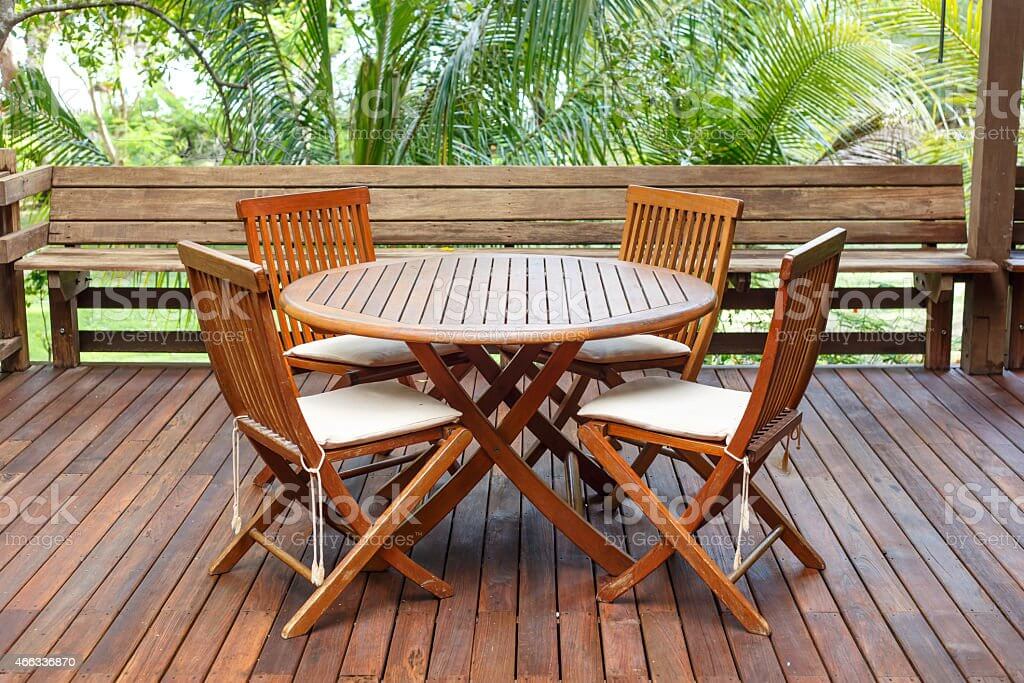 An extremely popular wood choice for outdoor furniture is teak. With limited availability, the price of teak wood is quite high. Due to its high natural oil content and sturdy nature, the wood is highly resistant to decay and damage from rot and insects. If cared for properly, it can last a long time. It is one of the most popular materials for outdoor tables.
Pros:
Easy to maintain, no warping, naturally resistant to weather, insects, and decay, strong.
Cons:
Expensive, can warp as time passes, and regular maintenance is required.
Shorea
Compared to teak, Shorea is strong and heavy. The strength and flexibility of this Southeast Asian reddish-gold material improve when exposed to heat.
Pros:
Eco-friendly, weather and insect-resistant, worthy compared to teak, high strength.
Cons:
Acacia
Acacia, a reddish-brown with golden touch hardwood, is an eco-friendly option available that can pull out in any type of weather. The strength of this hardwood can be increased with a seal or stain.
Pros:
Readily available, Attractive finish.
Cons:
Prone to cracks or warps, needs oiling to retain the golden color.
Eucalyptus
The Australian hardwood, Eucalyptus, gives a rustic appearance and is long-lasting. The presence of oil in it acts as a natural insecticide; it is weather and rot-resistant. Its cost is significantly lower compared to teak.
However, using a sealant on eucalyptus is advisable to improve its resistance against pests, reducing the uneven moisture retention impact.
Pros:
Rot-resistant, eco-friendly, durable, and cost-effective.
Cons:
Susceptible to cracking if the sealant is not applied; prone to marine and pinhole borer.
White Oak
White oak lasts for decades and is stronger and available in large quantities than the other. It can resist rot due to its structural ability to repel water. Paint or sealant is applied to it to maintain its durability.
Pros:
Strong, water-proof, and resistant to rot
Cons:
SOME MORE OUTSIDE FURNITURE MATERIALS
4. Tempered Glass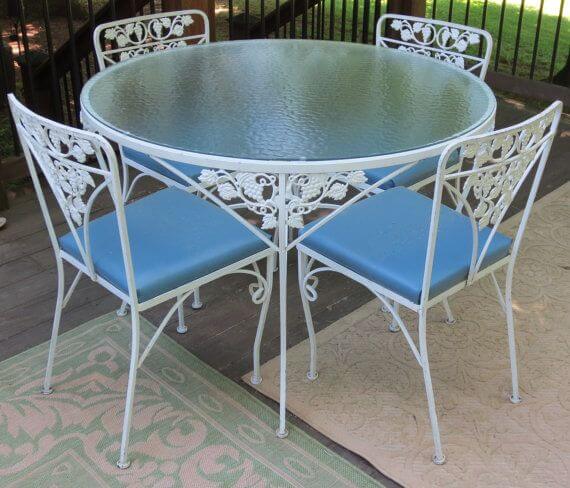 Usually used for outdoor tabletops, it is a perfect option for screened-in portico dining and coffee tables to prevent the sun from reflecting off it. It is resistant to changes in temperature and can be heavy and hard to move.
Pros:
Looks sophisticated and resists temperature.
Cons:
Heavy to move and can cause luminescence
5. Concrete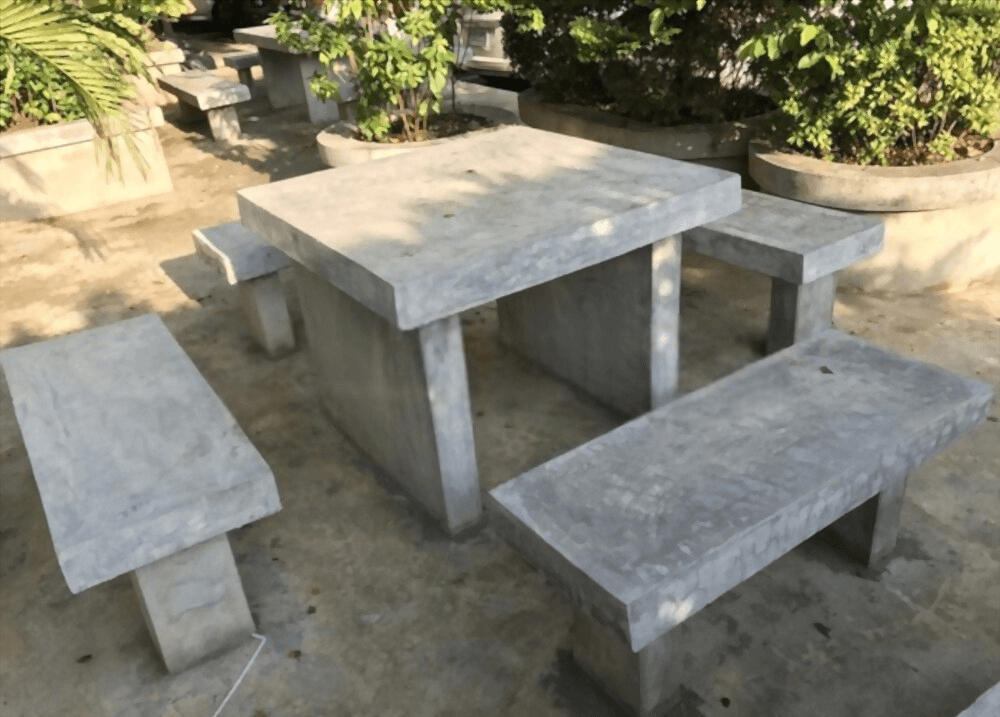 Concrete is a one-stop material when looking for solid outdoor furniture that can survive under the harshest conditions for years. It can be molded into a variety of shapes and can even serve as a strong base for glass-top dining.
Pros:
Enduring, strong, and can be transformed into any shape.
Cons:
6. High-Pressure Laminate (HPL)
A combination of resin, aluminum, and kraft paper is heated under high-pressure to create HPL, a fashionable layered material. However, melamine is added to increase the durability of HPL.
Pros:
Resists stains, scratches, and bacteria, Contemporary look.
Cons:
CONCLUSION
Choosing the best outdoor patio furniture can be a challenge. Hopefully, now you will be able to shortlist the one that looks elegant as well as suits your needs.