Ikea has one of the biggest markets of furniture with so many different options in the best quality available out there. And there is always an option to customize with the varieties that are available with your creativity.
Besta is a special storage collection that needs to be secured to the wall. The collection is suitable for bedrooms, living room, kids' room etc. ranging with categories like TV unit, kids' storage unit, or a windowsill unit – with the provision to sit as well if required.
There are so many ideas and experiments that you can explore with this IKEA beast bench like painting, changing the shutter material or colour to give dynamic look, adding hardware of handles or knobs, chalk boarding or stencilling. There are too many cool ideas, see what you like and get inspired by what you see!
Option 1 
For a stunning and comfortable contemporary bench with plenty of storage space, read out the following instructions and build this amazing piece of furniture and customize it according to your house requirements. There is no such thing as too much storage space in a house especially if there are kids or you are a hoarder. In any case, this bench is something you need then.
Materials
IKEA Beast bench
Plywood or MDF board
Knobs 
Fabric
High-density foam 
Batting 
Drill  
Wood screws 
Staple gun 
Spray adhesive
Scissors
Instructions
Start with frame from 2" x 2" lumber. For moulding, you need to leave an inch on both sides. As well as there should be 2" x 20" support beams for every cabinet you are planning to use.
With the directions given, build your IKEA Beast bench. Place them on the base and then drill the cabinets to each other using the wood screws. Flush and secure them with clamps for precise and efficient workmanship.
Drill the cabinets into the base for a firm structure.
Make doors and attach them, also drill holes to add knobs. 
Note: there are various types of knobs available in the market. It is a small thing but can change the complete look of the bench. You can use old metallic for a more vintage look or the leather ones like mentioned in the picture to make it look modern and contemporary. It should be decided according to the look of the rest of the space.
Moulding should be added to the base with finishing nails or wood glue at your convenience.
Now let us begin with upholstery! Spread out the fabric on the floor, straighten it out properly, add batting. Spray the adhesive, carefully, place the foam in the centre leaving a good 5-6 inches of material on the side for wrapping. Add plywood, be sure the foam and the plywood are flushed together properly.
Secure the batting and the fabric to the plywood with staples on equal distances tightly enough. Read the below instructions thoroughly for better understanding.
Secure the upholstered part on the bench with wood screws.
Option 2
Materials to be used:
Ikea besta bench (there are many options, and you can try different permutations and combinations to suit your needs as there are many varieties available. Also, if possible, just buy the frame.)
High-density foam 
MDF board
Upholstery textile (Buy according to your choice and need)
Velcro strips (Hoop and Loop)
Adhesive Glue (In the form of spray will make your work easier)
Staple gun
Instructions
Set up the Ikea besta bench with the Ikea directions given to you with the furniture piece.
Using the spray adhesive, glue the high-density foam to the MDF board.
Next, you need to measure and cut the material you are going to wrap around the foam and board. You can use vinyl, so it is easier to clean or if you prefer fabrics check out Ikea's fabric section which is in a very affordable range.
While measuring, keep in mind to leave little extra material on all sides. Around 5-6 inches will be sufficient.
Optional: For a protective layer you can add a layer of old cotton cloth before the upholstery material. Doing so gives a smoother finish to the foam. If you decide to go with it just repeat the measuring and cutting process as same for the upholstery material.
The method we suggest wrapping upholstery material (with the optional cotton fabric) around the foam and MDF board is gift wrapping style. You wrap it the way you wrap a present normally.
There are many other ways, and you can look for methods and style as you like. There is one where you bunch up the material along the corners giving a clean and soft look.
Take help from someone while stapling the whole thing as the material should be wrapped around tightly enough, the fabric should sit firmly around the form for a cleaner look, even if stapling is not done perfectly, that's okay because staple pins are not going to be visible.
The last step is a rather important one, for prevention of anyone from sliding down you need to stick the wrapped material to the besta bench frame. The Hoop and Loop Velcro is a cheap and effective option that you can use. Using the strong adhesive to stick the Velcro will keep the whole piece properly intact.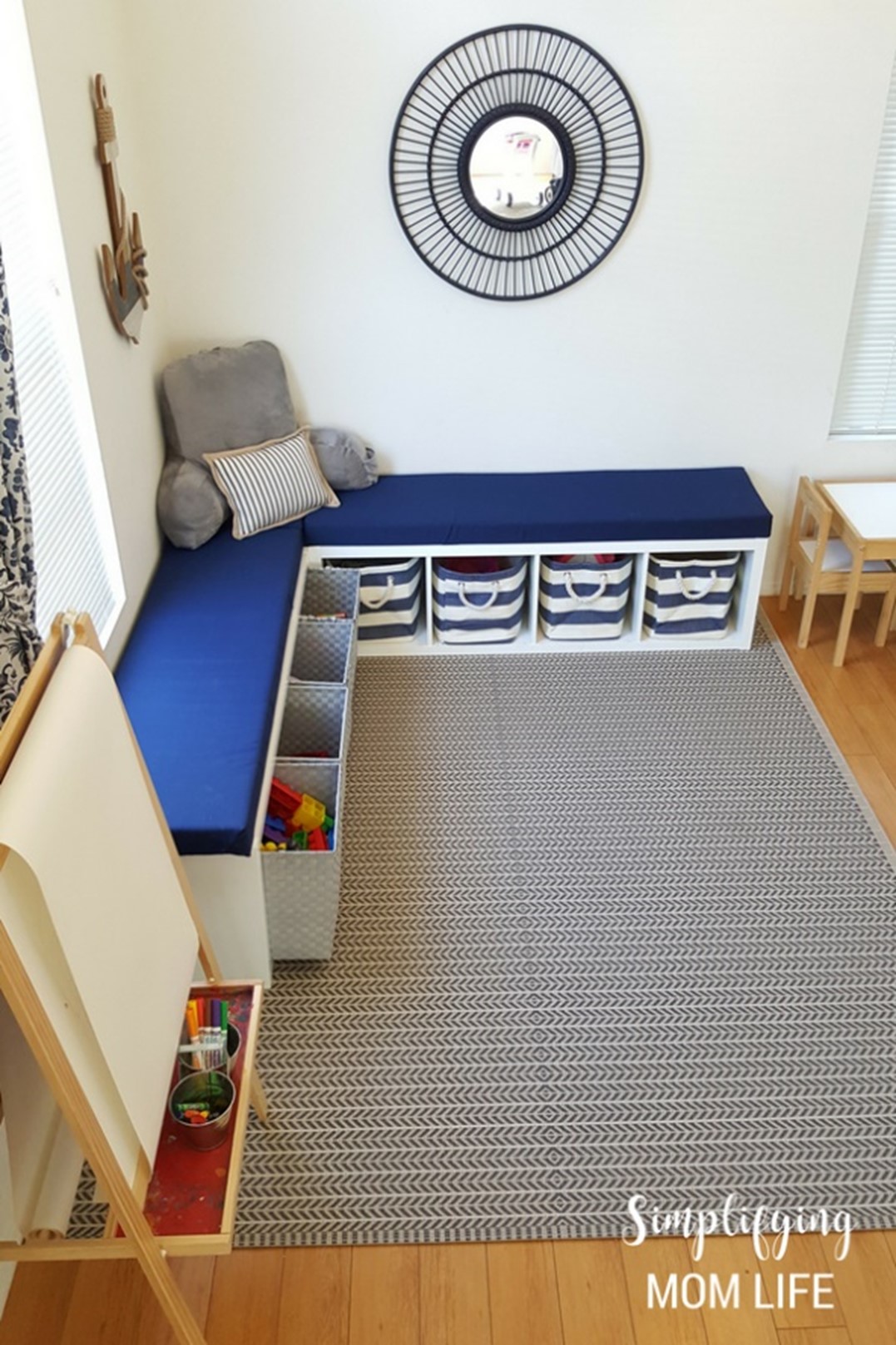 This one is a gem if there is limited space that you can spare. The main idea is to make a living room sofa with storage with baskets or boxes to store anything or everything. It can be a playroom in the living room or a library in the living room with comfortable upholstery sitting on top.
Making this Ikea Beast bench into envisioned storage, plus sitting is easy and does not need any difficult techniques or drilling etc. You can find these benches with the name Kallax or Expedit pieces, and you can buy six legs in total for the complete 2-piece set, screw the legs at the ends and the middle of each bench.
Then cut the foam with proper measurements, you can cut it with even a kitchen knife. You will need quilt batting over the foam which you can simply staple with a staple gun, just stretch it accurately over the edges of the foam and MDF board. After this step, you need to repeat the steps with the fabric to make a comfortable sitting area. And then screw the whole thing from beneath the bench to the MDF board with a 3-inch screw.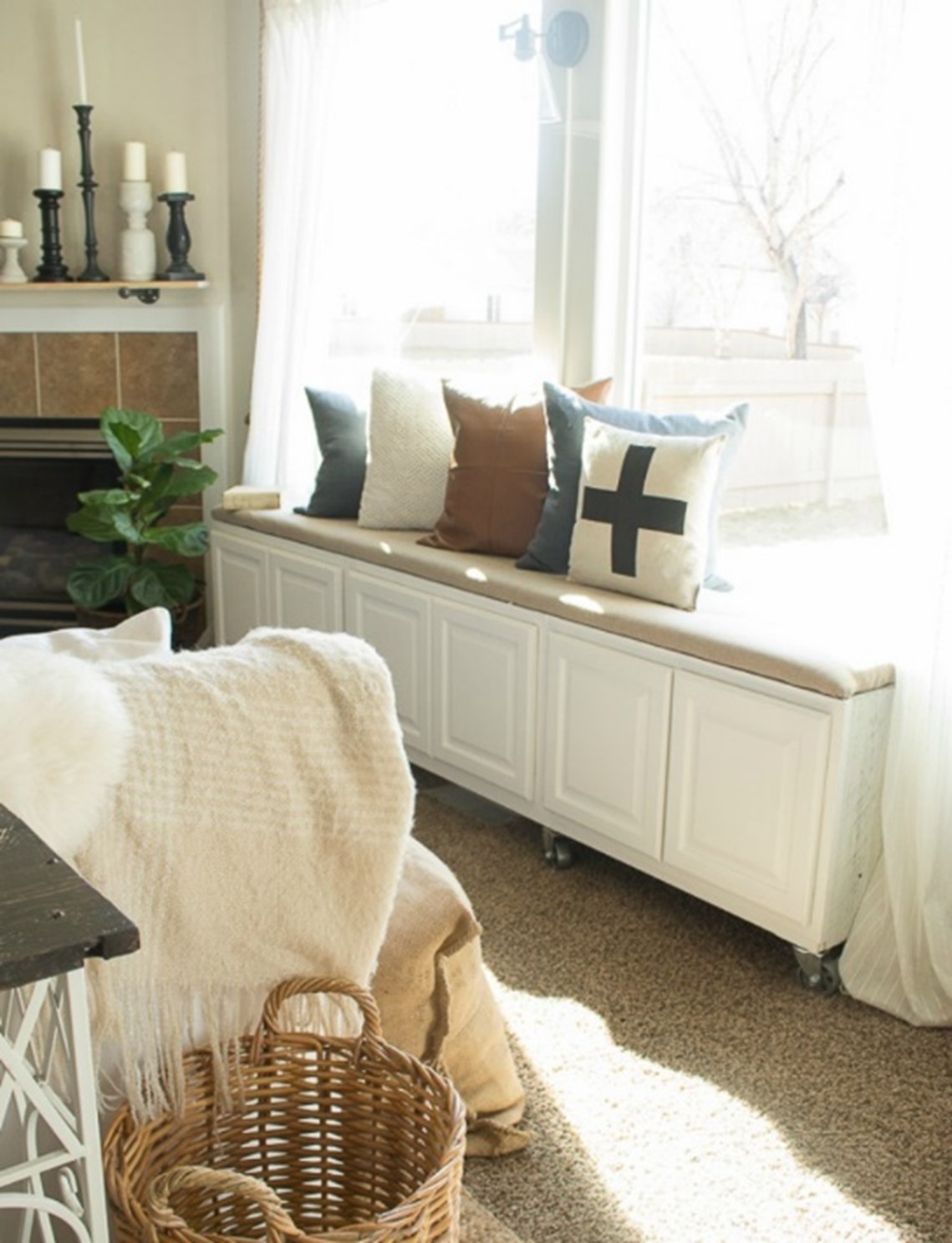 This one is a perfect choice of a bench with sitting if your house is on rent or if you guys keep changing houses frequently as there are wheels below helping to move this piece of furniture easily.
You can always update the look with few changes, like painting the doors of the cabinet or changing them into blackboards for kids or into the transparent glass to showcase something worthwhile.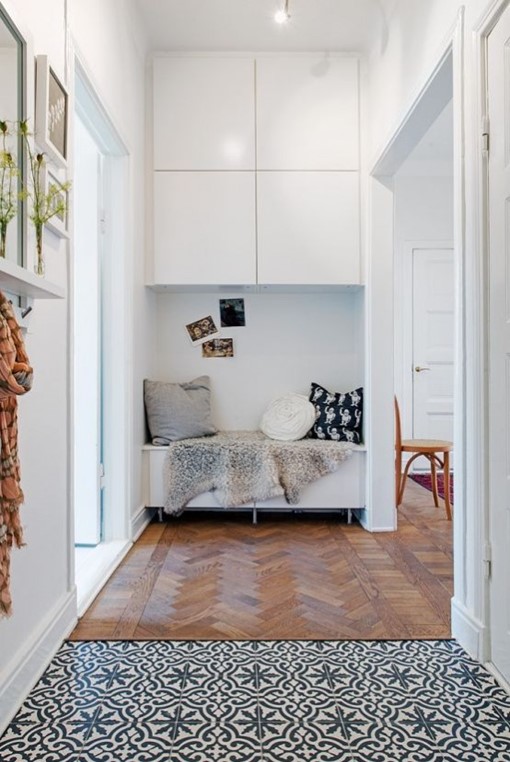 Other small variations you can do are with the fabric of upholstery or cushion. It is a piece of free-standing furniture that can be kept near the wall as well as near the window depending on your requirements and choice.
If you are looking to make a reading nook in the house, I let you on a secret; Niches work as the best reading or private spaces. Put a bench with upholstery with few comfy cushions and a fluffy blanket. You can put a writing board on the backside or just stick few favourite pictures.
The bench can be with the storage found in IKEA and you can always add upper cabinets as well, depending on your needs. This a very contemporary look but you can always update it with bright cushions or tribal patterns on cushion covers to make it more versatile.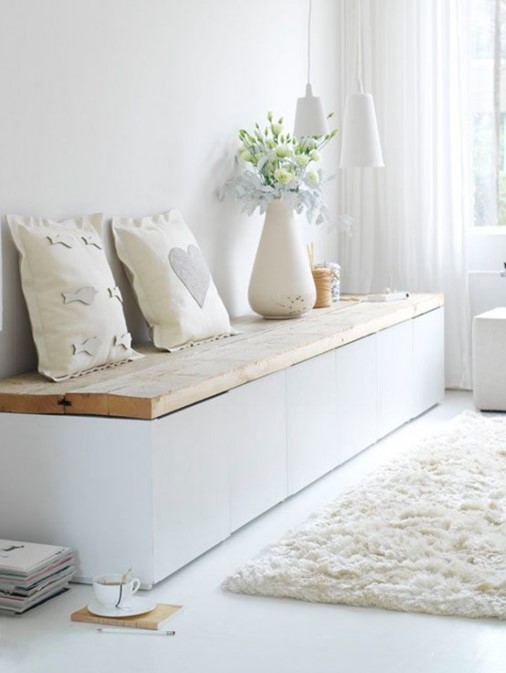 All people do not like upholstery or fluffy, soft materials on their benches. So here is an option with a hard surface at the top with few simple cushions to add a little texture and comfort. This kind of setting with hanging lamps and a beautiful flower vase on the side can work in living rooms as well as in bedrooms.
Be careful about the colour palette you choose in accordance with the rest of the room. The simple and subtle colour palette is more suitable and enhances the rich look that is radiated in the picture. With aesthetic, it is also user friendly with ample storage space that conceals any kind of clutter you would like.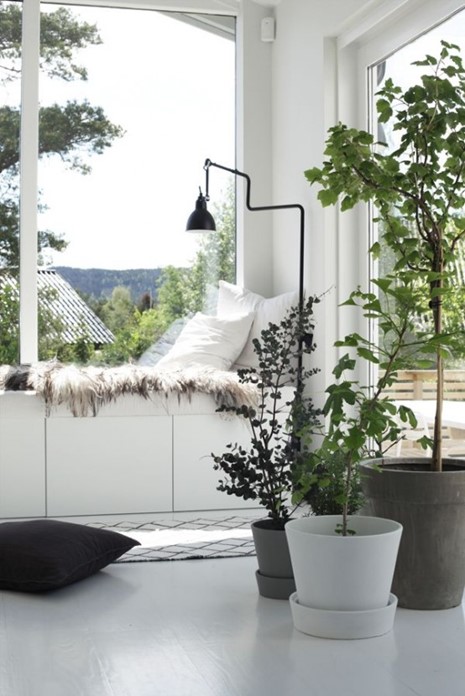 A daybed near the window is seriously a blessing. Imagine relaxing in this bed with sunlight and a book in hand with greenery around you. You can even put an area rug below and cushion above to make it cosier and inviting. Add a nice night lamp on the side to enjoy it at night as well.
This kind of space is great if your house is in the countryside or you have a great view to enjoy. It is a simple bench design with storage and sitting with nice white colour to suit any interiors.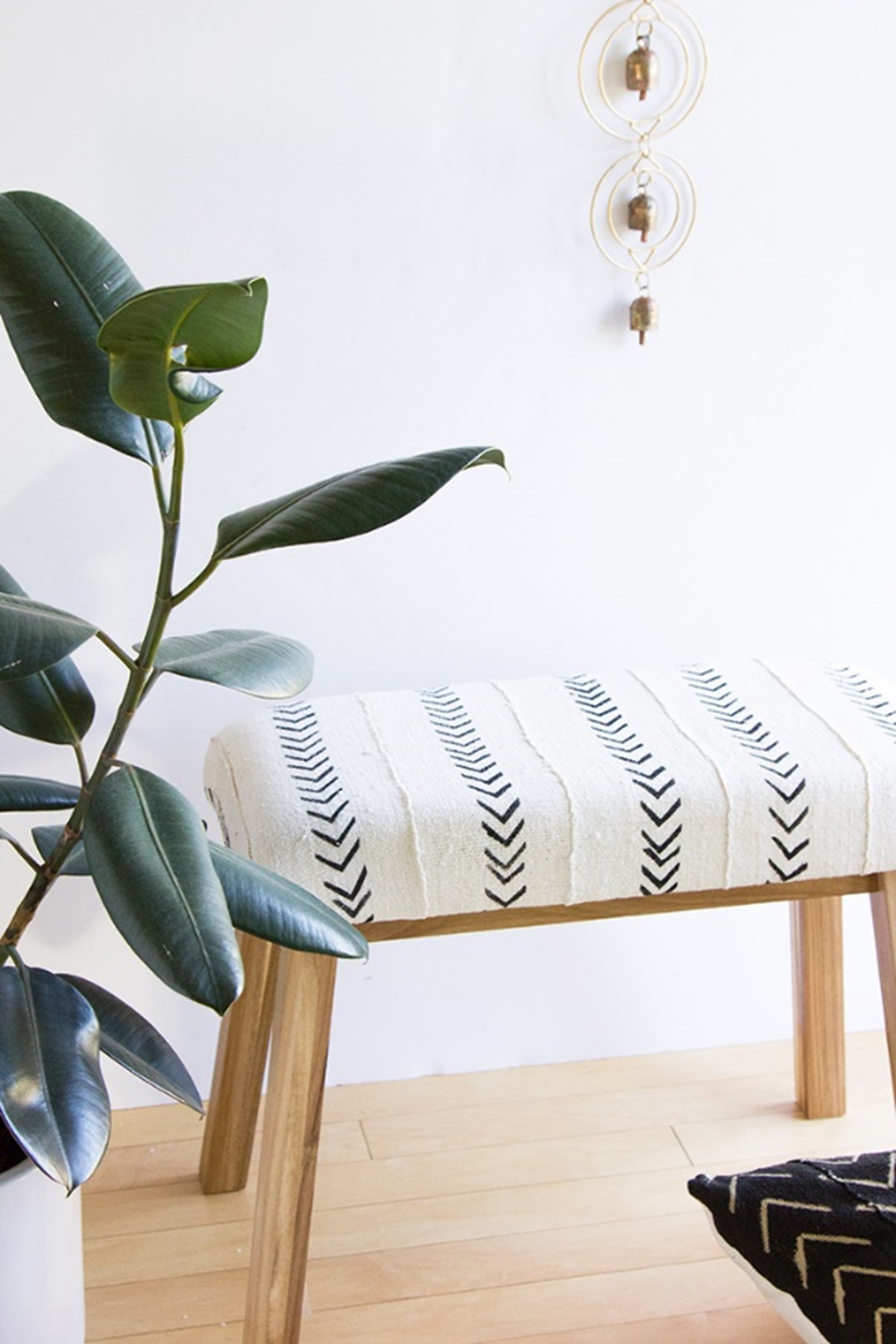 Benches are a good way to light up your entryways. It is the most ideal position for a bench in the house, to sit and wear or remove the shoes or to keep your ready to go bag etc. You can add a basket or boxes to store shoes and footwear underneath the bench.
Add a plant on one side to make the space livelier. Try a nice neutral colour cushion cloth with a print that accents with the rest of the house. It can be a minimal tribal print or more contemporary depending on your taste. You can also see the different variety of legs in different material or style.
Makeover of our interiors is an exciting as well as a little nervous job. But take it more as a challenge and come out triumphant with help of our articles and a little bit of your creativity.
We have always mentioned this in our articles that pick the favourite ideas from each idea and make one collective piece that suits your personal needs. This is much better than taking one single idea as it is.
Enjoy your IKEA besta bench makeover!