Propane tanks are commonly used for things such as fueling grills, stoves, home heating, hot water, generators, and pool heaters. And when you come to think of it, propane tanks are truly one of the most common things in your locality.
Over time, your propane tanks might become timeworn or broken and you might be unsure of how to safely dispose of them. Luckily, there are excellent innovative ways to recycle old propane tanks that can save you a considerable amount of time and money.
If the tank's made of steel, you can easily recycle it as scrap metal for a higher return on investment rather than recycling the aluminum coating or copper lining. You're also given the possibility of recycling empty propane tanks by simply exchanging them with new ones at your local gas company retail outlet, often free of cost if they're less than five years old.
If you're unfamiliar with the concept of propane recycling, below we suggest some innovative ideas to recycle propane tanks to not only protect the environment but also your wallet.
Turn Them into Barbecue Pits
Did you know that old propane tanks can make great barbecue pits? Start by cutting the end off of a propane tank, and ensure it's long enough to either stand on its own or let it be propped up by bricks or rocks.
If you choose to use a brick as a foundation, go ahead and lay them inside the bottom cut-outs in the side of the canister so they're standing upright at each corner. Put the fuel over charcoal briquettes, chopped fruit trees, or firewood chunks, put the food on top, cover it with additional coals, and cook until finished.
Make an Outdoor Bench
To make an outdoor bench, you can use your old propane tanksonce again and you can also cabinet top as an extra sitting. To do this, you will need to find old bricks and mortar to fill in the spaces between the recycle propane tank's legs and paint it in any color you like.
Recycling may be an awesome option for you if you want a unique-looking patio table. The recycled propane tank should be turned upside down with its top facing up as the base of the table. If you want, you can also use it as a dining room set piece or sideboard and make it an interesting conversation starter at a dinner party with your friends. Recycling propane tanks can be incredibly beneficial because they help our environment and can be very functional at the same time.
Create an Old-Fashioned Lantern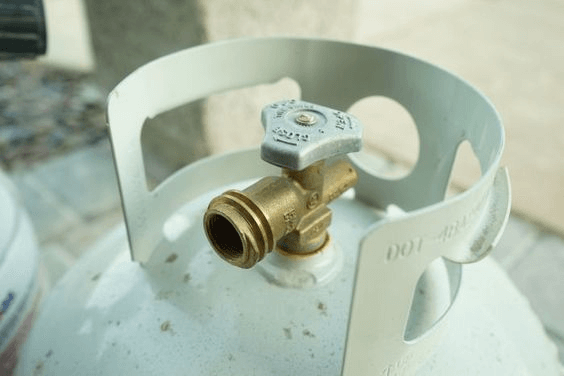 If you have old propane tanks lying around your house, why not put them to good use. An innovative idea is to fill the tank with water, let it sit for a couple of days, then cut off the top. This way, you get an old-fashioned lamp that is also eco-friendly as it's a recycled item.
Furthermore, you can cut off your empty tank's top and be careful not to puncture or split the metal on either side while cutting along its length. Remember to always be extra cautious when using power tools like a jigsaw blade and put on protective eyewear at all times.
Once removed efficiently, go ahead and drill two small holes near the tank's bottom rim and attach a threaded rod, or thick wire to serve as a handle. Afterward, fill it with water and let it sit for a couple of days. To complete the project, douse it in kerosene lamp fuel oil and light it up at night.
Turn into a Garden Tool Holder
An old recycled propane tank can work wonders in your garden if you turn it into a practical garden tool holder. You can do this by attaching your recycled propane tanks to the side of your shed or the garage wall. All you need is to grab a drill, some screws and bolts, and garden tool holders from your toolbox or buy some from your local hardware store.
This is an excellent way to store your tools and recycle old propane tanks at the same time. Once you attach the garden tool holders, drill holes at each end of the tanks for drainage before filling with gravel or dirt. Another creative idea is to use it as a flowerpot but ensure it has ample drainage by drilling many small holes on both sides.
Final Thoughts
Coming up with creative and innovative ideas to recycle your old propane tanks is a marvelous way of protecting the environment, beautiful flowers and at the same time making use of something that would otherwise go unused. By trying out some of these innovative ideas, you can reuse your old propane tanks and ease the burden of any extra expenses.