Designing a kitchen is an important and extensive task, specifically for an India Kitchen wherein different kinds of delicacies are prepared. You need an easy-to-maintain, stain-free, heat-resistant materials and a design that looks elegant and classy.  Kitchen countertops are an important part of the kitchen design spaces.
Quartz countertops is an engineered material that is both stain- and and heat-resistant -making it the ideal choice for busy and traffic-infused cooking spaces. When you go through the impressive range of engineered quartz for countertops from a leading Marble & Quartz supplier, it is mostly made out of around 95 percent of natural quartz that is mixed with polymer resins and pigments.
The ultimate result is the highly stunning and durable stone-like material that is capable of withstanding all types of wear & tear. As it is highly convenient, engineered quartz for countertops do not require sealing like with natural stone countertops like granite or marble.
As far as the overall looks are concerned, engineered quartz kitchen countertops from Johnson Marble & Quartz are available in a myriad of colors, textures, and patterns to choose from. Some even feature natural stone-like patterns to bring about the real, regal vibe throughout your kitchen.
Choosing the Best Designs for Quartz Kitchen Countertops
The kitchen area serves to be quite a personal space for the entire family. Therefore, selecting a countertop design theme like white or grey quartz kitchen countertops will make the entire area appear not only elegant but also chic because of the superior traits of engineered quartz.
Kitchen countertops help in adding immense versatility, style, and function to the existing area. They tend to dominate the entire kitchen area while making everyone notice. Due to this reason, most homeowners aim at highlighting the island or kitchen countertop by selecting quartz designs and colors that will help your space to stand out.
Some unique design ideas for your bespoke quartz kitchen countertops are:
Polished Black & White Kitchen Design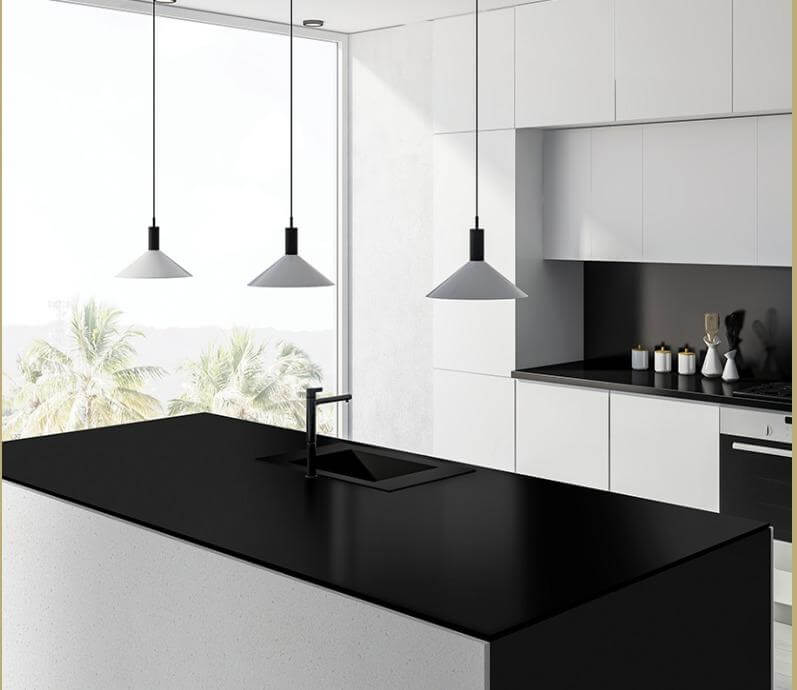 This elegant and glossy kitchen space featuring an all-black island and kitchen countertop is brimming with vibes of royalty and aesthetics.
The countertops, island, and backsplashes are designed with polished black quartz like Zodiac Black or Jet Black to lend a chic look. The lacquered kitchen cabinets in contrasting white impart a beautiful contrast to draw the overall attention.
This dramatic kitchen design features an island with jet black quartz countertop while being surrounded by contrasting white kitchen cabinets and furnishing.
The contrast between monochromatic shades helps in drawing and focusing the eyes. The design is completed by beautiful black and white pendant lights hanging over the island. There is abundant natural light flowing in through large-sized windows.
#Marble-Inspired Black Quartz Countertops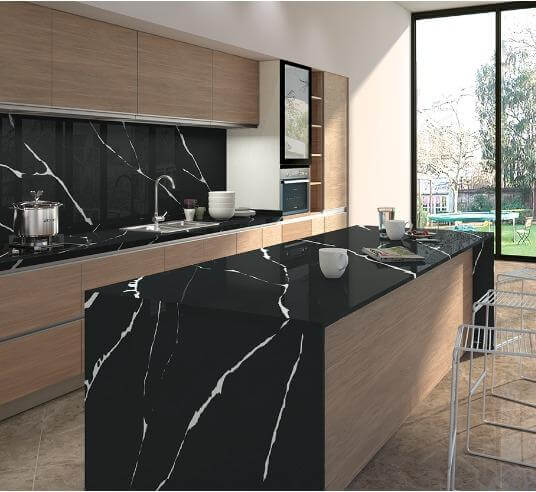 Bring about a dramatic statement to your kitchen area with the help of installing veiny, zebra-like Nero Marquina engineered quartz from Johnson Marble & Quartz. The engineered quartz slab in this condo kitchen resembles the classic marble kitchen look to appear more ethereal.
While most homeowners prefer light hues for their kitchens, dark colors like veined black quartz can also be elegant -when implemented correctly. This modern kitchen features an abundance of black complemented by soothing beige hues to complete the contemporary look.
The quartz counter on the island is also black quartz with stunning white veins. The white veins help in softening the counter design visually while allowing the bold design to align with the remaining space.
#Modern Kitchen Countertops with White Quartz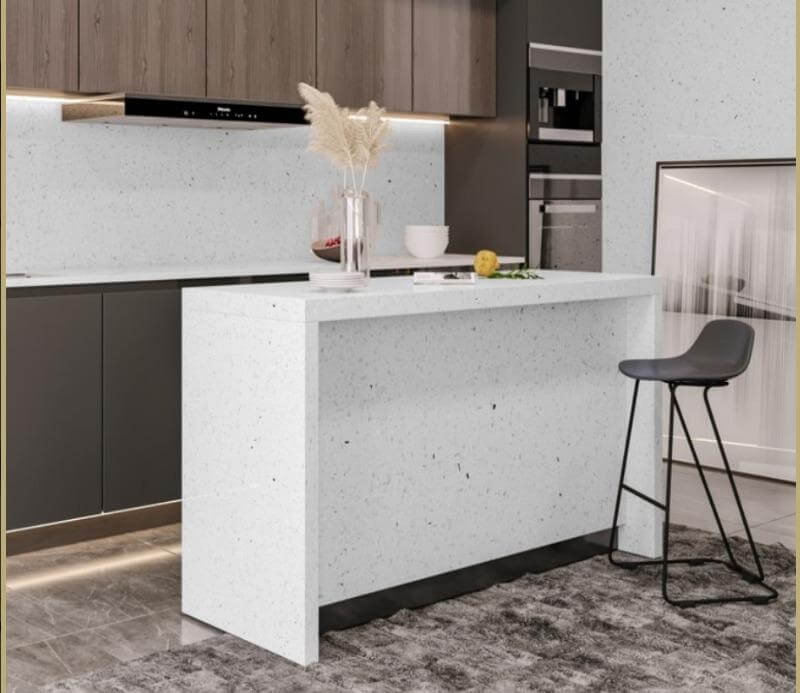 Do you adore the grained version of quartz for your home design? This contemporary kitchen space houses the presence of bespoke white quartz with minimal grains to enhance the look and functionality. You can opt for the stunning Glacier White engineered quartz material from Johnson Marble & Quartz to bring about the unmatched appearance.
White quartz countertops are also becoming a staple in modern farmhouse kitchen designs. The overall white look of the kitchen's core is complemented by warm hues of light brown with wooden veining throughout. You can accentuate the existing space by including modern, high-end furnishing into your kitchen like vases and a bar chair.
#Multi-dimensional Design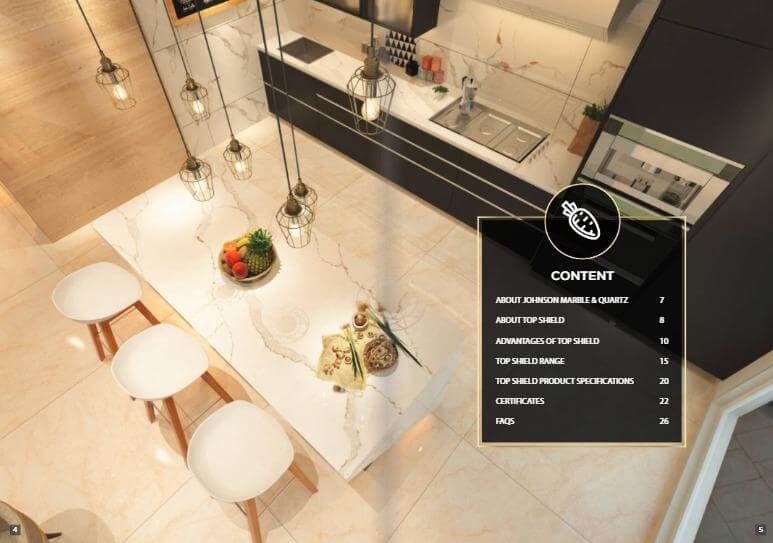 Island countertops in your stylish kitchens are no longer expected to be isolated, flat surfaces. This unique kitchen design sports not only a built-in counter, but also a separate waterfall and a column.
Together, these integral design elements help in bringing about a geometric interest to the kitchen's island. The entire multi-dimensional context of the design makes your kitchen stand out from other traditional designs.
The classic waterfall quartz island and complementing dining tables make this contemporary neutral kitchen immensely inviting. The countertops that line the back wall of the kitchen are made out of engineered quartz with a soft Calacatta Classic finish to achieve the royal marble look.
#All-White Kitchen Design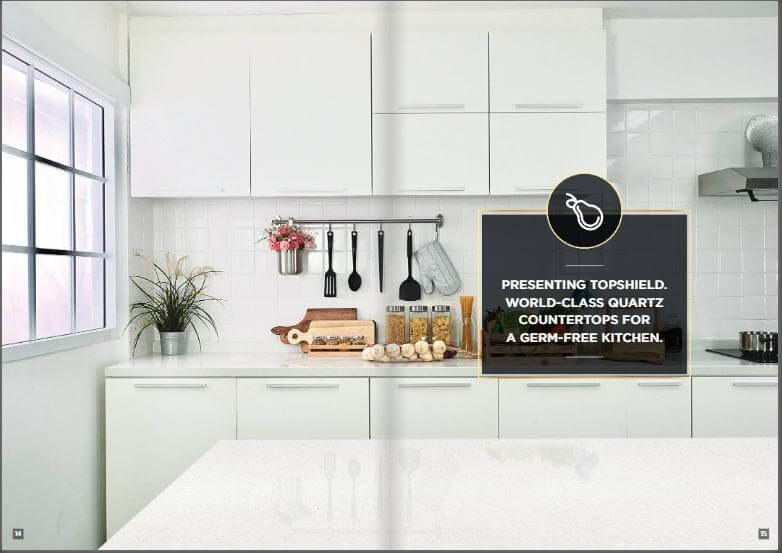 Larger slabs of pure white engineered quartz run throughout this chic and modern kitchen design. Bright white kitchens have been long sought-after for designing lofts and other contemporary spaces. This bright white countertop features a creamy tone with subtle white cabinets all around to bring about seamless coordination.
The remaining walls of the kitchen are also designed white with only some contrasts brought forth by attractive kitchenware and some indoor plants. As a result, you obtain a highly minimalistic design.
Conclusion
Engineered quartz countertops are not only ideal for kitchens, but also for a variety of other areas in your home. They are highly functional and durable, making them perfect for areas such as living rooms, bedrooms, and bathrooms. These countertops are designed to withstand a wide range of activities, from prepping and cooking in the kitchen to hosting guests in the living room.
With its versatility and durability, engineered quartz countertops can be a great addition to any room in your home. Whether you're renovating your kitchen, creating a luxurious spa-like bathroom, or simply updating your living space, engineered quartz countertops are a great option for beautiful and long-lasting results.
Quartz countertops are highly durable, low-maintenance, and impervious to most scratches, stains, and frequent kitchen usage. With a myriad of colors, styles, and patterns of engineered quartz to choose from, you will face no trouble in finding out the best deal to fit the desired design ideas. Choose top-quality engineered quartz countertops for your kitchen as you design your dream space.