Do you want to surprise your kids as they see a brand-new trampoline in the backyard? There can be no better way to keep your children at home during the pandemic without them annoying you.
Jumping on trampolines early in the morning can be a tremendous family-fun activity! And of course, they provide great exercise that is undoubtedly beneficial for you and your children's health.
And brownie points, your kids play more often in the fresh air than always remaining stuck to the smart gadgets. What can be better! Besides, do you know trampolines are also used to treat autistic children? Shocking, right!
But are trampolines safe? Though there is a considerable risk of injuries, trampolines these days come with safety pads and other safety accessories, and with a little caution on your part, your children are safe.
Buying a trampoline with a wide variety of options available in the market currently can be quite a task.
Two of the most popular brands are Propel and Skywalker Trampoline. But before choosing one, we are sure you would like first to compare the product features, descriptions, safety measures, options available, and, most importantly, the pros and cons.
Read our entire review and compare for yourself to choose the best for you and your children.
Let us Quickly First Glance Through the Benefits Both Trampoline Brands Provide:
Pros of Skywalker Trampoline
They are ASTM certified
They promote Autism Awareness
They provide a three-year warranty on frame and a one-year warranty on other materials
It includes a Jump N' Dunk basketball accessory
Pros of Propel Trampoline
It comes with a sure lock safety pad
The enclosure net has an impact absorbent response system
It has most of the accessory options
The product is registered.
Now that we know about a few of the features briefly, let us dive deeper into it:
Skywalker Trampoline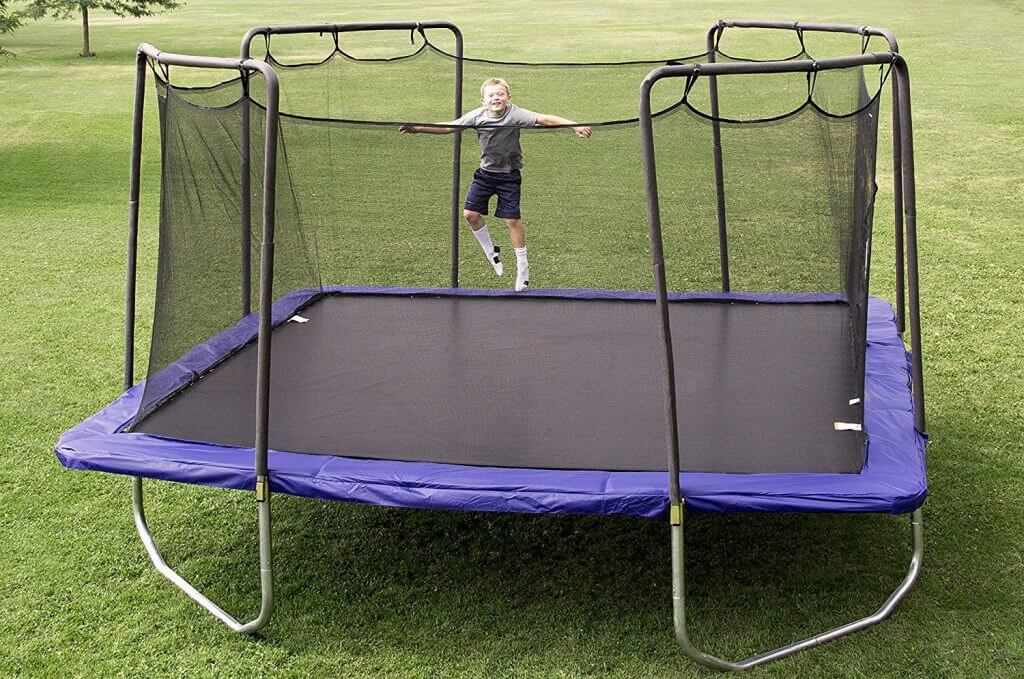 Safety
Are you always in doubt about the safety and quality factor before you purchase a trampoline? Skywalker might be a good option for you.
Skywalker trampoline is the third party tested for safety, unlike propel Trampoline, and it meets the ASTM standards.
They have safety enclosures and come with anchor straps and spikes.
There are also secure T-joints and T-bars, and they excel at all levels of efficiency and quality.
You might have read so many news articles on children suffering from injuries due to a trampoline fall! With the Skywalker brand, your children are safe. 
Warranty
The three-year warranty on thick frame and a one-year warranty on other parts that Skywalker trampoline provides is non-transferable. Only the original purchaser can avail it for strictly residential use. You must keep a maintenance budget aside for regular jumping mat replacement and other worn-out parts to avoid any chances of an accident.
Options
Are you a fan of trampolines that comes in a variety of sizes and fun-shapes and colors? Skywalker offers various Trampoline sizes starting from a 36-inch mini square trampoline to a 17×15 foot oval trampoline and a lot of other options in between.
So, Skywalker Trampoline is basically for anyone and everyone to have fun! Also, the trampolines come in various shapes like round, rectangular, square, and much more. What is better? You can choose your kid's favorite color, be it blue, purple, camo or green. And all these shades come at the same prices!
Propel Accessories
No one can beat Propel Trampoline when it comes to accessories. Well fun or useful accessories, you do not have to choose! Propel offers you both. Let us see some of them:
Shade cover: When you and children are playing on the Trampoline on a hot summer afternoon, you want a perfect weather cover! Don't you? The shades cover come in 12′, 14′, and 15′ foot sizes that protect you from the sun or rain.
Propel Ladder and Mister Kit: Do not worry about your kids not being able to access the Trampoline on their own! Propel Trampoline comes with a ladder. Also, you might be feeling uncomfortable about your kids playing under the sun for long hours. Propel offers you a mister kit that cools the jumping area to about 22 degrees.
Clubhouse: Your kids will fall in this love with this fantastic accessory! Whether the oldest one wants to have a party with friends or the youngest toddler wants to have a sleepover, this fun space is perfect.
Two additional plus points of Skywalker Trampoline:
Company Patents
Every brand often has some "unique features" or a "new design strategy" that they offer. The buttonhole enclosure net and the accessories are the two patents of this company.
The buttonhole bridges the gap between the jumping mat and springs, creating a safer environment for kids by keeping them away from the spring. So, they are protected from any injury that might occur by pinching or falling between the springs!
Skywalker and Autism
Doctors say that trampolines can be used as a therapy tool for autism! The Skywalker Trampoline supports this cause. It has taken the initiative to spread awareness and support autistic children by donating a free trampoline to a child every month.
Propel Trampoline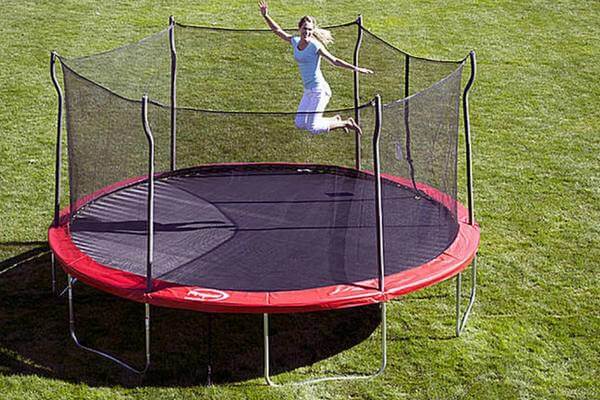 Safety
Though we have spoken in volume about Skywalker's safety standards, Propel Trampoline is not much behind.
The enclosure net has an impact-absorbent response system and safety net tucked under the jumping mat, preventing accidental slipping.
And the additional advantage here is that sharp metal springs are replaced by bungees so that your children do not get hurt.
Even if your children bang and jump on the Trampoline with full force, the impact-absorbent system will make sure that the collision is not too hard.
Besides, the T-bracket technology makes the Trampoline more stable, and as mentioned earlier, it comes with a sure lock safety pad.
Registration and Warranty
Though Propel Trampoline does not publish much about their warranty period, you can register the Trampoline within 30 days so that during that period, you can get replacement offers. Also, you can go to their website and contact them for warranty claims.
Options
Propel has much lesser options when it comes to shapes and sizes or colors than Skywalker. The size range is narrow from hardly 7-feet to 15-feet, which means the adults can hardly enjoy it.
The round shape one is the most readily available, and sometimes you can find a 12-foot x 8-foot rectangular Trampoline on their website. Also, the sizes are color-coded, so the fun option of various colors is not available here.
Skywalker Accessories
Though Propel is undoubtedly the "king of accessories," even Skywalker Trampoline has some fun ones. Let us see:
Basketball hoops: Do your kids love playing basketball? Then your kids will enjoy the double basketball hoop attached to the enclosure.
Volleyball nets: Want to have a fun volleyball match with your kids while jumping on the Trampoline? Skywalker provides a volleyball net attached to the Trampoline. Happy match!
Upper toss games: Skywalker Trampoline comes with beanbags, a scorekeeper, and a ball with two fun, brilliant games. Have fun!
Propel v/s Skywalker Trampoline Price
When it comes to pricing, almost both brands come at a budget-friendly option. Sometimes, propel can be a little cheaper, but it hardly makes any difference.
Now that you have compared both the brands, let us discuss in detail the various models:
Skywalker 14 Foot Round Trampoline:
More than enough space for jumping and playing tricks
Has a trampoline and enclosure safety-put net design
Has a weight limit of 200 lb.?
Parts can be easily assembled with instructions.
Does not come with a ladder and wind stake
Replacement parts are expensive
Propel 14-Foot Trampoline:
The trampoline accessory kit comes with 96 springs and a spring puller tool.
Includes a basketball hoop with a ball and a pump.
The frame is strong and thick, manufactured with galvanized steel, and legs are coated with black powder for tensile strength.
Has a weight limit of 275 lbs?
Assembling is tough even with instructions.
No spring puller tool or ladder
Propel 7 Foot Trampoline:
Offers a fun Jump N' Jam basketball hoop system with a basketball
The weight capacity is about 150 lbs
The impact-absorbent net and 40 springs provide for a pretty good bounce
Avoid twisting of legs with T-bracket system
Skywalker 8-Foot Trampoline:
The height is only about 21 inches, which means young kids can get on and off without any ladder or help.
Comes with enclosure net and basketball setup.
The weight limit is up to 175 lbs.
It has 56 springs and slightly expensive than the 7-foot Trampoline.
Hopefully, we have provided you a complete guide on comparing Skywalker and Propel Trampoline on all the aspects. While the Skywalker Trampoline is ASTM certified, propel offers some fun accessories. We are not giving a judgment here, and it is all upon you to decide.