As much as we enjoy having a lawn or a nice green backyard, it takes real efforts to maintain it and keep it nice and clean. It must be tiring to rake up the leaves in the autumn and grass clippings in spring. Well, if yes, you should probably think of investing in a Push Lawn Sweeper. A Push Lawn Sweeper can replace your rake. It will help you gather and clean all the clutter from your lawn like leaves, twigs, acorns, etc. short order. However, not all Lawn Sweepers are the same.
A perfectly maintained green and immaculate garden will enhance the beauty of your home. Although we do understand that it is a difficult task, it is still not impossible. With the right tools and helpful hand weapons, you can easily remove debris (like grass clippings, fallen leaves, twigs, pine needles, and other waste) without wasting the lawn.
Using a lawn sweeper helps you save your time, energy, and money when maintaining the yard to look neat, clean, safe, and attractive.
If you are looking for a solution to all those tough jobs of clearing a dirty lawn and buying a Push Lawn Sweeper, this article can help you out. This will help you know how you can use a lawn sweeper on your lawn and consider what you should consider before buying one.
What is a Push Lawn Sweeper?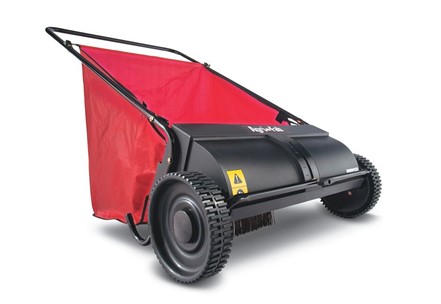 A push lawn sweeper is manually operated and is perfect for people with smaller lawns or someone who enjoys using yard work as a form of exercise.
It has rotating sweeper brushes (like the brushes you might find on the bottom of your vacuum cleaner) that gather up the lawn debris into an attached hopper bag. And when the bag fills, you can empty it into a lawn bag or compost pile. So simple.
The Push Lawn Sweeper is easiest to store among others and is less expensive. This makes it a great tool that you can have in your garage.
Types of Lawn Sweeper
Before getting a lawn sweeper for yourself, you should know the types of a lawn sweepers. There are two basic types of lawn sweepers-
Push Lawn Sweeper- This works simply by pushing it constantly. Its soft brushes will collect leaves and other debris into its collecting/ hopper bag before disposing of it off. It is ideal for small lawns and helps to keep them well maintained. It is compact, lightweight, and simple to use without any noise while operating it. However, it is not ideal for large areas or slopes and for gathering wet debris.
Pull Behind (or Tow) Lawn Sweeper- To perform its operation of cleaning the yard area, the Sweeper must get attached to the back of any moving lawn rider or tractor. It is perfect for medium to large-sized yards and performs high than push models. With its solid built material, it can handle many years of use. However, it is costlier than push models due to its bulky and heavy-duty body.
Should You Invest in A Lawn Sweeper??
If you have a large yard, then a good lawn sweeper is perhaps a good investment for you. It can help you get done all those yards cleanup tasks that you probably hate doing. Also, it saves a lot of time.
In addition, a lawn sweeper not only helps in picking up debris, such as leaves and pine needles, but also can help you manage pine corns, acorns, and twigs.
Reviews from customers buying lawn sweepers suggest that they have started to enjoy cleaning the lawns and doing other related chores which they really hated before. This shows how it can reduce your stress and worry and help you with these psychological benefits as well.
Limitations You Might Encounter
A lawn sweeper will not really help in picking up bigger sticks and branches but can help you clear out dust and dirt from your patio, walkways, or driveway.
Getting A Push Lawn Sweeper- Things to Consider
If you are getting a lawn sweeper to clean dust and dirt from your driveway, walkway, or patio, it is a good option to consider. But, if you are looking for something that can help you with picking up large sticks or branches, this is not the best option for you.
Whatever it is, if you have decided to buy one, you should probably consider few things before you put your money into these.
Where Can You Get A Push Lawn Sweeper
Lawn Sweepers are available at local hardware stores, home improvement stores such as Lowe's, the home depot, Tractor supply, and Menards, as well as online retailers.
You may even get lucky with finding them used on online platforms like Facebook Marketplace. But, at the same time, it may be not easy to find them when you need them the most. You can also rent lawn sweepers and try one out before you buy them.
Lawn Sweeper – Costings
Tow-behind lawn sweepers generally cost $300 to $400. Agri-Fab 44-inch lawn sweeper is one of the top-rated models from Amazon.
Costing around $350, it comes with a height adjustment lever with an easy-to-use indicator which does not slip and assures optimum performance.
Storing a Push Lawn Sweeper
Among many pros of this machine, one is its easy storage. Our garages can accommodate only so many things. We need to prioritize our tools and equipment based on their use and importance so that the useful ones can get a place.
A folding lawn sweeper takes more space when hanging on a wall than a large leaf rake. Such a tool deserves a spot in your garage and is worth using.
Uses of a Push Lawn Sweeper
A lawn sweeper can be used in many ways and for multiple purposes on your lawn, but there are a few things for which this tool can work extra effectively and can be used.
Want to Clear Off Acorns?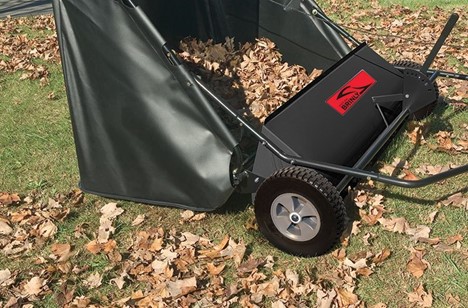 Do you have a large, oak tree in your yard? If yes, then you probably have accumulations of acorns on your yard. Not all the lawn sweepers can effectively clear these acorns. It is better to first read the customer reviews, and then choose a lawn sweeper that is effective for cleaning such kinds of debris.
The size of your lawn and the number of acorns you must clean up each year will determine the best lawn sweeper for acorns for you.
If you have very large lawns, maybe professional grade larger models from Scott's or Agri-Fab would probably do the best for you.
While, if you have a smaller lawn, Garden Weasel Nut Gatherer is something worth giving a try.
No products found.
Before making your final purchase of lawn sweeper for your lawn, you must consider three main factors.
Sweeping Width- The wider the sweeping path of the lawn sweeper, the more area can be covered in a single pass. So, choose the one with a wider path.
Size of the lawn- Size of the lawn will decide the type of Sweeper for proper maintenance of your lawn. Push along lawn sweepers is good to use for lawns up to 2000 square feet whereas the tow behind lawn tractor attachment works well for larger lawn areas.
Hopper Bag Size- Hopper bags collect the leaves as they are swept up. This grass or debris collecting bag needs to be emptied every time when the bag gets filled. So, choose the bag that is large enough to lessen the time spending on disposing of the debris.
What for Leaves?
If you are wondering what kind of lawn sweeper is effective for gathering leaves, a lawn sweeper with a large number of high-velocity brushes can help you deal with them. This way, with fewer passes on your lawn, you will be able to collect a more significant number of leaves. Tip.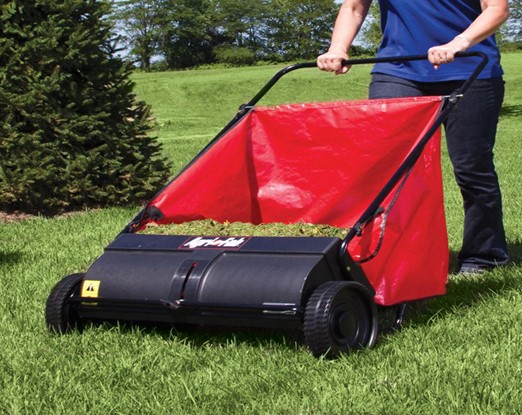 You should probably check out the Greenworks 10 Amp 14-inch Corded Dethatcher, 27022. It features six high-velocity brushes that pick up a lot of debris in a fewer passes.
It is not only the best lawn sweeper for leaves but also does an excellent job at picking up pine needles and old grass clippings after dethatching.
Best Lawn Sweepers for Sticks and Twigs
As mentioned previously, lawn sweepers are not efficient at picking up sticks and twigs. So, make sure to pick them up manually before going on the lawn with your Sweeper. Agri Fab Sweeper is one of the best lawn sweepers for sticks, twigs, and other lawn debris. One of the best features of this machine is that it can be folded up for compact storage without tools.
Now that you have got a Push Lawn Sweeper for yourself, it is time for you to also know the best way you can use it.
Using a Push Lawn Sweeper- Tips you can use.
Before you begin using the machine, there are certain important points that you should keep in mind. Some of these are mentioned below.
Assemble the Sweeper correctly. It is common among the first-time users and many home comers that they report problems with their sweepers because they have put them together in an incorrect way.
Using the lawn sweeper on a nicely mowed lawn. It is obvious that if you try using the machine on an overgrown lawn, that will lead to more problems.
Use it on a dry lawn- It is best to use a lawn sweeper on a dry lawn. It is harder for the brushes to get grip on wet grass and wet debris. This makes it even more difficult to sweep your lawn while the lawn and/or leaves are wet.
Let us have a look at some of the best Push Lawn Sweepers that you can consider for your purchase.
1. Agri – Fab 45 – 0492 Lawn Sweeper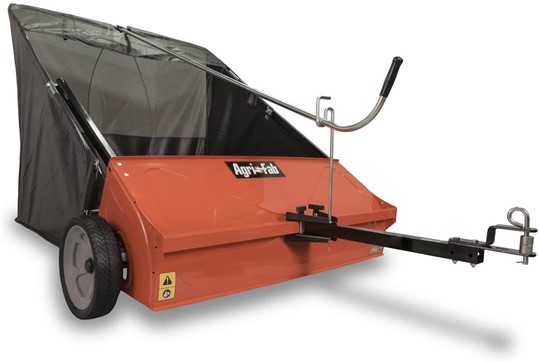 This model of lawn sweeper will reduce your time and strain required to clean up the debris in the lawn due to its exceptional performance. It makes it easy to clean up the leaves, grass and other debris in the spring or the summer season. With its excellent durability it can last for years when taken proper care and used regularly.
Its 2 semi pneumatic wheels ensures smooth ride on the area and four brushes will sweep debris into the hopper bag having twice the holding capacity than a general hopper bag. Also, you can adjust the height of the machine for efficient cleaning.
2. Agri – Fab Inc. 45 – 0546 Lawn Sweeper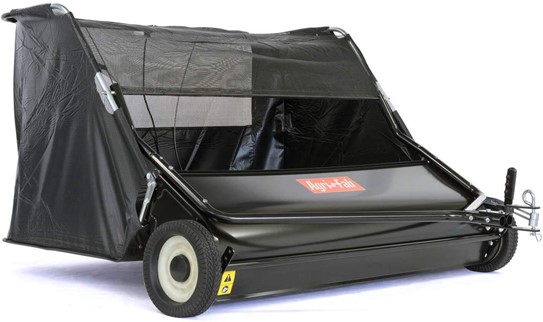 This one can help you in maintaining a professionally groomed lawn. It helps in removing debris without straining or time consuming. It has a large hopper bag attached to it which has a holding capacity of 26 cubic feet. The six 10-inch brushes sweep the debris into this extra-large hopper bag.
It has 2 semi-pneumatic tires that helps in ensuring a smooth transport on the working area. It also is highly durable and if given proper care, maintenance and regular usage, its working life can be extended for years to pass.
3. Karcher 1.766 – 303.0 S650 Cleaner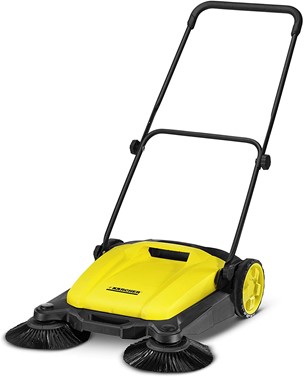 If you want to cover a larger amount of area in a small amount of time, then this is the best option to go for. It is lightweight, making it easier to use and handle and comes with 16-liter waste container that get on with sweeping. This helps you in easily performing your cleaning instead of wasting your time in moving the waste here and there.
It is durable and has easy to store design. You can perform your cleaning task easily without getting any strain if the bristles on the side brushes ensure thorough cleaning.
The height of the push handle of the Sweeper can be adjusted for comfortable movement and easy folding for better storage.