Lentils are often overlooked as bland and tasteless. To that, I say that you're cooking them in the wrong recipes. Once you've learned how to cook red lentils then, when combined with spice and flavorings, they are a versatile and healthy ingredient that tastes great. Lentils are great at absorbing anything they're cooked in, leading to some unctuous dishes full of flavor.
3 Simple and Delicious Recipes with Red Lentils
These dishes are quick, healthy, and, frankly, downright delicious. Lentils are big in countries like India, so expect curried flavors in many dishes, alongside rice or Indian bread as an accompaniment.
Vegan Red Lentil Curry
If you're after your spice fix, this vegan red lentil curry brings you all the flavors of the East, packs a punch, and is so easy to make it's perfect for a simple weeknight meal. The creaminess from the coconut combined with the spice of the chili and turmeric is a match made in heaven.
Ingredients
1 tablespoon neutral flavor oil, coconut works great
4 minced garlic cloves
2" piece of ginger, minced or grated
1 tsp ground turmeric
1-2 diced serrano peppers
1 tsp ground cumin
1/2 tsp ground coriander
1/2 tsp Kashmiri red chili powder
2 tsp curry powder (Tandoori or Medium)
1 tsp garam masala
Flakey or Kosher salt to taste
Black pepper to taste
1 cup red lentils (if you're short on time use split)
2 cups low-sodium vegetable broth
1 can chopped tomatoes
1 can of full-fat coconut milk
3 tbsp unsweetened almond butter
Juice of 1/2 small lemon
1/2 cup roughly chopped fresh cilantro
Serve with your choice of rice and bread, naan, roti, and paratha all work great!
Method
First, rinse your lentils.
Over medium heat in a good-sized saucepan add the coconut oil until it's releasing steam and is shimmering. Add the garlic, ginger, and Serrano pepper. Cook for around 2 minutes, don't let the garlic burn or your dish will taste bitter.
Add all your dried spices and seasoning. Cook this for around a minute until your smell the toasting spices.
Pour in the broth and deglaze the pan using it. Add the lentils and tomatoes and give a good stir.
Lower the heat to a simmer and cover for around 20-25 minutes.
Check the lentils are soft and cooked through, feel free to add more broth and cook on until they are.
Once cooked, add the coconut milk, butter, and season to taste.
Cook on lower heat for around 8 minutes or until your curry has a thick texture.
At this point add the lemon and cilantro and remove from heat.
If you want to you could puree the mixture so it's smooth, or leave it as it is for more texture and bite.
Serve with accompaniments.
Spicy Lentil Soup
This is a perfect winter/fall warmer with a cozy set of hearty ingredients. The addition of the curry paste really brings this soup alive. You could just as easily replace the curry flavoring with spices of your choice, or even a selection of dried herbs. Cilantro would work perfectly in this soup.
Ingredients
2 tbsp curry paste
1 chopped onion
2 grated carrots
140g red lentils
1l vegetable stock, keep hot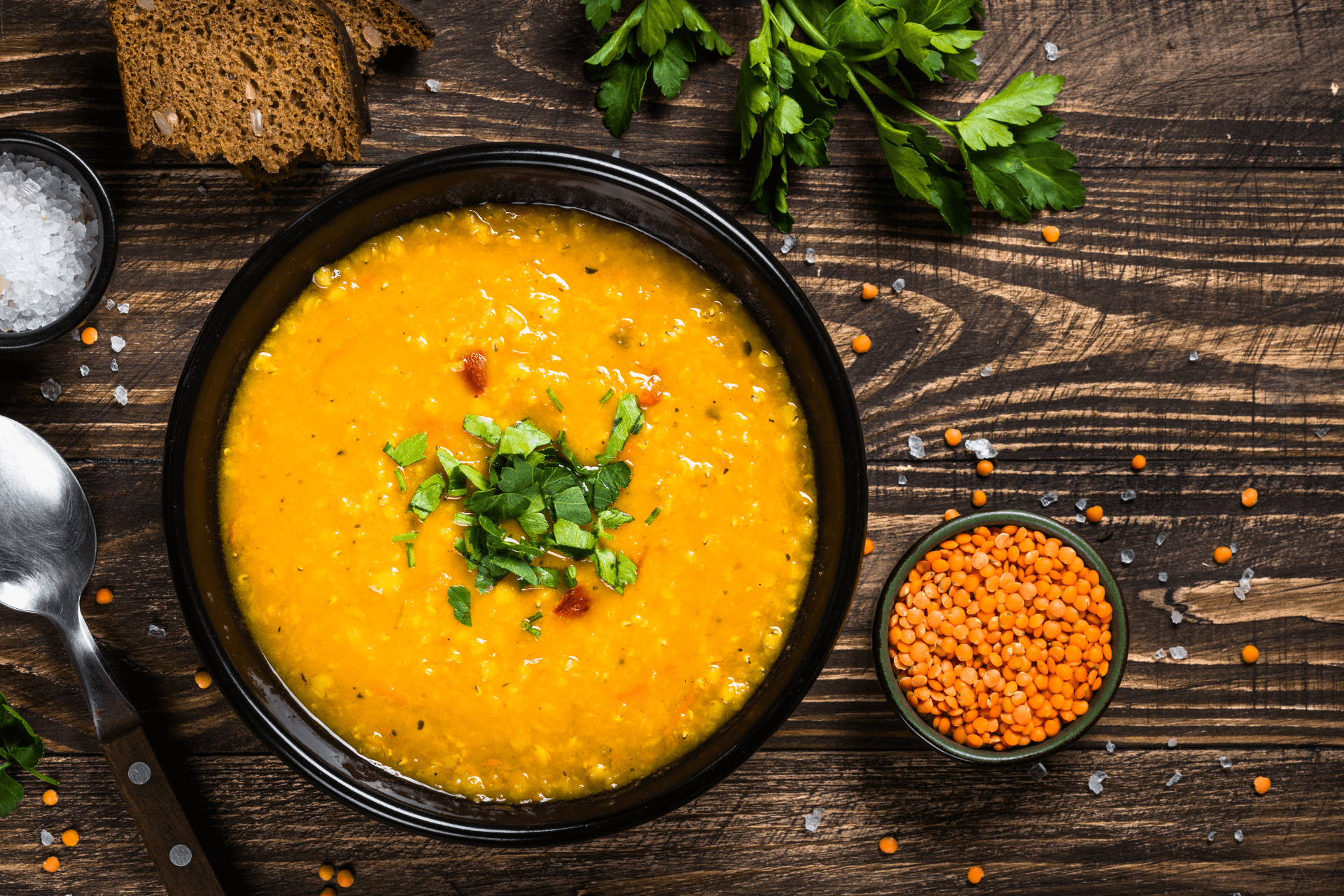 Method
In a large pan add some oil, followed by the curry paste, and cook for a minute until fragrant.
Add the onion and cook over medium-high heat until the onions soften.
Add the carrots and lentils and stir until your mixture resembles a thick mass.
Cook this for around 2 minutes, pour over the stock, and lower the heat to a simmer.
Simmer for 20 minutes or until the lentils are tender.
Pour the whole mixture into a blender (or use a hand blender in your current pan).
Whizz until you reach your desired smoothness.
Season to taste.
Serve with bread of choice, and for extra decadence top with a swirl of cream or natural yogurt.
Indian Red Lentil Dal
Also known as Masoor Dal Tadka, this is a mandatory part of Indian cuisine. You'll see this on almost every menu across the country and is a staple part of the day-to-day diet, especially in a country where the vast majority of the population is vegetarian or vegan. If you ever visit, keep an eye out for the red or green dots that signify if a restaurant is using animal products at all (red) or pure veg (green).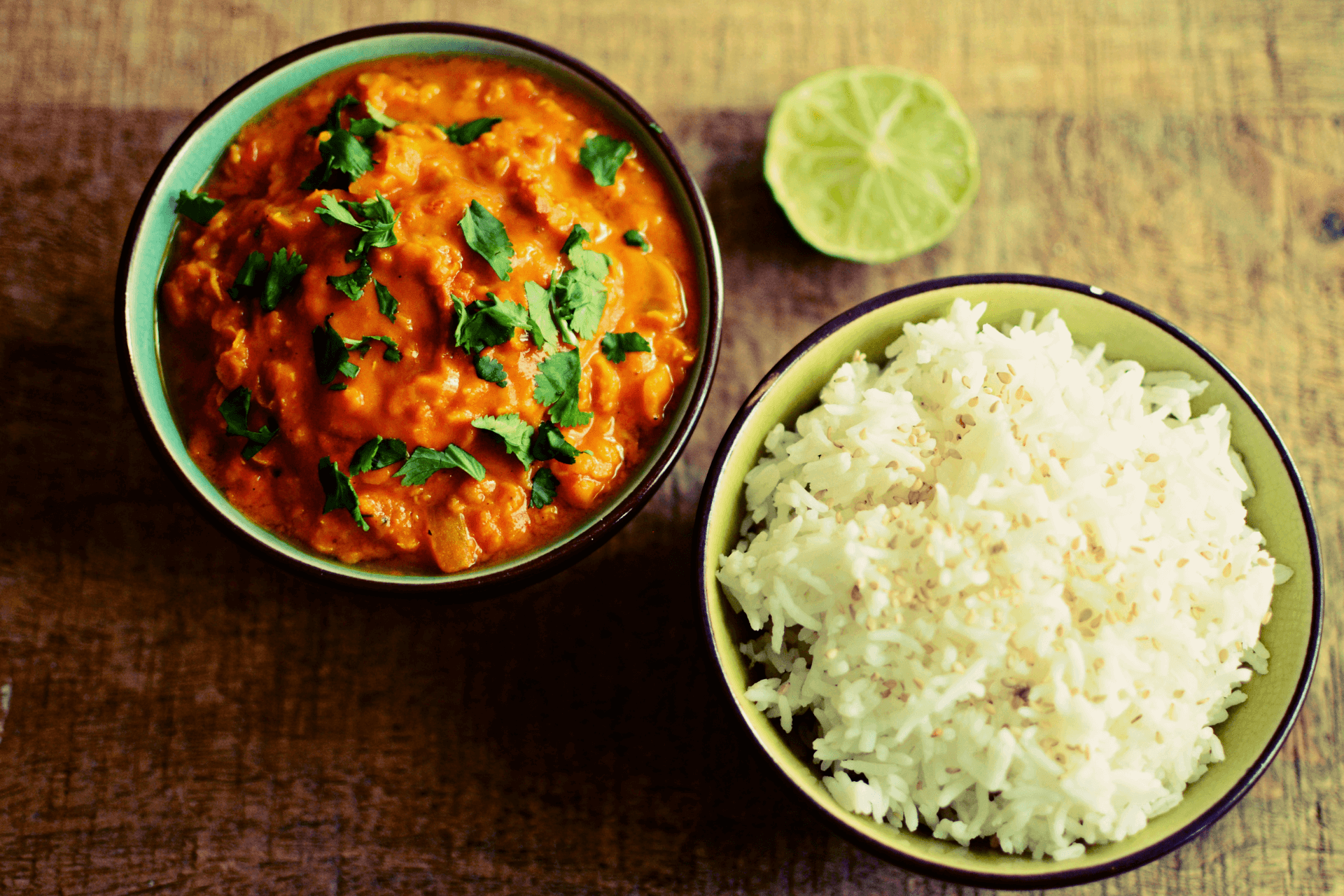 Ingredients
2 cups red lentils
8 cups water
1 tbsp oil of your choice ideally non-flavored or coconut
1 diced large yellow onion
6 minced garlic cloves
1 tbsp minced ginger
2 minced green chilis – if you like heat keep the seeds in too
1 tbsp curry powder – I'd go with medium or tandoori.
1 tsp whole mustard seed
1 tsp ground coriander
1/2 tsp ground cumin
1 1/2 tsp salt
15 oz can of chopped tomatoes or you could use an equivalent amount of fresh tomatoes.
Cilantro
Rice or bread to serve
Method
Add the lentils and water into a large pot, and bring it to a boil before reducing it to a simmer. You might need to skim the foam that collects off the top. After around 20 minutes the lentils should be soft and tender.
While the lentils cook, it's time to cook the mixture. Heat some oil in a pan before adding the onion, garlic, chilis, and some salt. This mixture should soften after around 5 minutes, make sure the garlic doesn't burn.
Once softened, add the spices and herbs. Cook until aromatic and then add the tomatoes.
Add the tomatoes, canned will take around 7 minutes to cook, fresh tomatoes may take longer so cook until they're soft.
If there is a lot of water left with the lentils drain some off.
Combine the mixture with the lentils and simmer over low heat for around 5 minutes.
The dish should have a textured slightly thick soup-like texture.
Serve with your choice of accompaniment.
Key Takeaways
These dishes, once you try them, are sure to become part of your regular repertoire of weeknight meals. Combined with the right sides and other dishes, there's no reason these dishes can't grace the table of any dinner party too!
Remember that split lentils cook far quicker than their whole counterparts.
Always pack lentil dishes full of spice and flavoring to elevate their relatively bland taste.