Culinary connoisseurs and food-prep enthusiasts know the role presentation plays in the overall dining experience. Not only is it an integral part of making cooking more fun, but it brings an unparalleled level of satisfaction when well-executed. Both the functional and decorative aspects of tableware can be used to craft a unique dining arrangement – from the moment guests sit down, to their last sip of coffee before they leave.
With that in mind, it's no surprise that many people are quite picky about the tableware they use, especially when hosting a gathering with friends or family. Sure, everyday pieces can do the job, but having contemporary designer tableware puts you on the fast track to creating an inviting and luxurious atmosphere with minimal effort.
How Designer Tableware Enhances the Dining Experience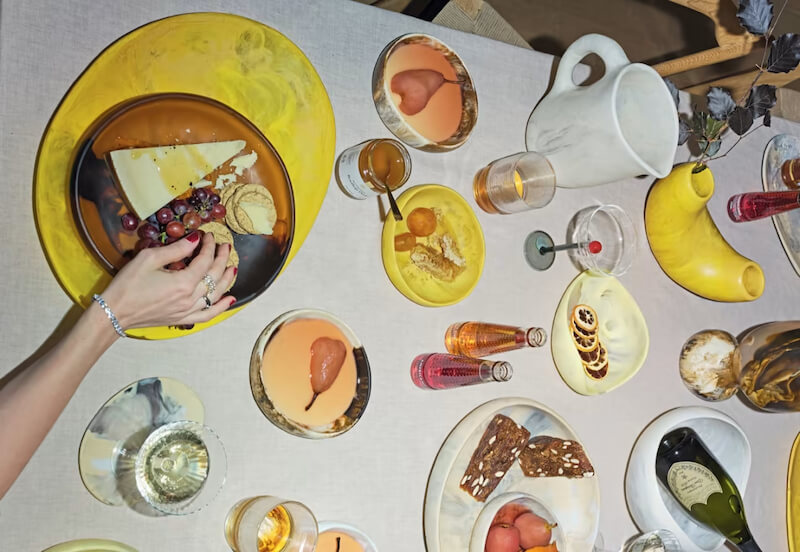 But what can you expect from high-end serveware and how will it make your dining experience that much better? Which aspects of the meal will it affect? As it turns out, there are quite a few perks that might arise.
Visual Synchronisation With Food
While there's nothing wrong with setting meals on plain monochromatic plates, the lack of colour can be a bit underwhelming and sometimes even take away from the vibrancy of certain dishes. Even if a meal looks beautiful, it's often not enough for the plating to be truly memorable.
Resin in particular is one of those materials that helps mitigate this issue. Its almost mystical visual properties can be used to enhance the presentation of food – making every bite that much more appetising. The irregular patterns and offbeat shades an interesting contrast with the dishes that can leave your guests in awe, with every mouthful seemingly glowing in harmony with the plate it's served on.
Setting the Mood for the Meal
Besides being aesthetically pleasing, luxury tableware often provides a genuine sense of occasion when used. The exact design and patterns on the pieces might resonate with your guests on a subconscious level, helping endow the meal with an air of importance. You can think of it as transforming a regular dinner into a celebration of sorts.
Moreover, the mere presence of specialty serveware might cause a certain level of anticipation to arise in the minds of guests. It suggests that they're in for something extraordinary – with you having gone the extra mile to guarantee a truly enjoyable dining affair.
Reinforcing the Theme of the Occasion
Oftentimes, the plates and other tableware used can be a great way to tie in with the overall theme of your gathering. Not only does this add to the sense of occasion, but it could also become an interesting conversation starter if you opt for a quirky or bold design.
For instance, if you're having a beach-themed party, some blue or white resin plates and vases could bring the coastal vibes right to your dinner table. The delicate patterns and wavy shapes of these pieces can truly transport you to a seaside setting – leaving you and your guests yearning for a holiday at the beach.
Strategies to Fully Use the Functional Elements of Tableware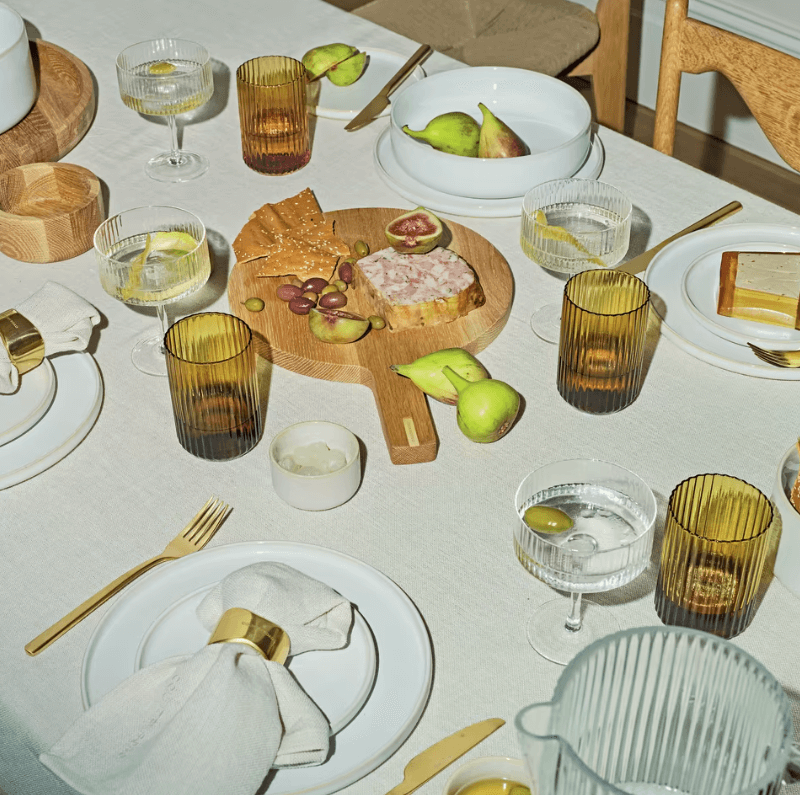 It's clear that luxury tableware can be beneficial from a decorative standpoint. But when it comes to actually using the pieces, they're just as practical as their more mundane counterparts – and of course, with far better results.
Proper Selection According to Meal Type
Of course, the plates and other items you'll need to use will depend on the type of meal being served. As an example, if there are several courses planned, then having various sizes of plates is an absolute must. You could layer the courses in size order, allowing for a smoother transition between meals.
If you want more of a leisurely experience, there are plenty of tableware pieces that can be used to create this atmosphere. For instance, some Moroccan-style salad bowls with smaller plates will give your guests a chance to really savour each bite.
Correct Usage of Different Pieces
Each piece of serveware is designed with a specific purpose in mind. As such, using them in the wrong way can mar the overall dining experience and take away from the plating. Sure, it might not seem like a big deal, but those small details can make all the difference in the general feel of the meal. For instance, if soup is served as a starter, it should always be in a shallow bowl or cup and not a tea plate. Soup takes less time to eat than other courses, and the shallow bowl allows guests to get through it quickly – so they can move on to the next dish in a timely manner.
Pairing With Appropriate Beverages
How each beverage interacts with the dish is of course based on personal preference, but there are common rules you can follow to ensure a proper pairing. We're all familiar with the concept of red wine with red meat, and white wine with fish, but there are other combinations you can pursue as well.
You can match the glasses used for each beverage to the plate it's being served on. This visual consistency creates a pleasant impression, with the glasses and plates seeming to blend together. Furthermore, this practice also adds a sense of balance and proportion to your plating, so that nothing looks out of place.
Techniques to Maximise the Decorative Elements of Tableware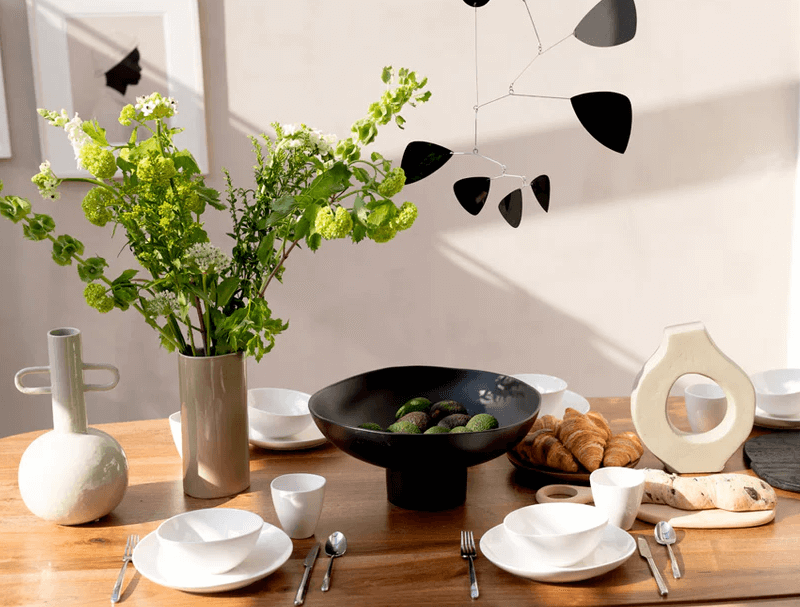 To fully reap the charming decorative qualities of designer pieces, you must know how to best combine them. There are a few techniques that may come in handy during the setup process.
Coordinating Colours and Patterns
Colour coordination is an important part of plating. If you're using a variety of pieces from different collections, it's best to not go overboard with the colours. You want all the plates and dishes to be able to stand out on their own, without clashing or competing with each other. If you're using two different shades of blue in the same setting, see if any other piece in the room shares that same hue. This could be a centrepiece or even some small candles on the side. The shared hues will tie the pieces together and create a cohesive look.
Mixing and Matching Pieces for Unique Settings
Sometimes, you may want to break away from traditional colour and pattern matching. Doing so can create an interesting juxtaposition among the pieces, with each of them breaking away from the overall theme yet still managing to meld together. When there's a mix-and-match approach, the end result can be quite unpredictable. With every dish coming from a different collection, the table settings can become as unique as your guests. It's an excellent way to spice things up and give them something to talk about.
Using Tableware as Centerpieces or Focal Points
If you're serving a grand meal, it's always nice to have a handful of decorations or centrepieces to provide a focal point for the guests. And what better way than using luxury tableware? Whether you're in the mood for a coral swirl platter or a subtle resin branch vase, these pieces will make a statement and draw all eyes to them.
By placing the items at the centre of the table or on each guest's place setting, you can create a truly stunning spread. The vibrant colours and graceful shapes of these pieces will bring your plating to the next level and create a lasting impression.