For some, all over the world, moving to New York and living in Manhattan or Brooklyn is a dream of a lifetime. A lot of people are looking for Rental Apartments Financial District. But there are the others, those who prefer more space, calm and those who have the possibility of working remotely and those who can / no longer want to pay exorbitant rents … all the reasons are good to leave the city where you never sleep and just rest a little.
The good news is that there are dozens of New York suburbs and cities in which to find your dream home or rental like Westchester, Long Island, Connecticut or New Jersey. We searched and here is what we found.
Yonkers, NY
"New York's best kept secret"
The vibe: Yonkers is practically a part of New York City , just a few miles north of Manhattan , so much so that many call this area the 6th Borough . The larger town of Westchester has undergone revitalization over the past decade.
The once sleepy town on the Hudson with an industrial blue-collar vibe has seen a surge of development, including new construction and factories converted to apartments. The former Otis Elevator buildings are now home to Yonkers iPark, biotech and internet companies.
The Alexander Smith and Sons Carpet Mills complex, vacant for many years, has become the new arts district home to hundreds of artist studios; and the Boyce Thompson Agricultural Institute are now offices, retail stores and restaurants.
There are nearly 200,000 inhabitants and Yonkers is home to over 100 cultures and nationalities. Indeed, there are a significant number of Italian-Americans and people of Portuguese descent in the region, as well as a large Slavic community (with immigrants from Poland, Ukraine, Russia and Yugoslavia, among others. ), and an Arab enclave. We reassure you, you will not be the only French.
Real Estate in Yonkers: Yonkers has 38 distinct neighborhoods offering single-family, multi-family, and condominiums at various prices ranging from $ 125,000 to $ 3,000,000. FYI, Yonkers has been dubbed "New York's best kept secret".
The extras: If you live in Yonkers, you are not a New York resident and are not required to pay New York taxes . Phew. But that's not all: The city has one of the highest levels of public transport use in the country, and a quarter of residents do not own a car.
New Rochelle, NY
For young singles and professionals
The atmosphere: If you leave from Grand Central Station, you will arrive in New Rochelle 30 minutes later. This charming town of 8,000 inhabitants where houses are arranged in 8 by 3 blocks offers a quiet respite from all the hustle and bustle of the big city with its beaches and parks.
Real estate: About half of all residents rent out their homes or apartments , mostly concentrated south towards the city center and bay, and around the Iona College campus .
Real estate is very diverse in New Rochelle, ranging from some of the most expensive neighborhoods in the United States on the North End and million dollar gated communities along the Sound, to affordable real estate located around the center. -City and Home Park.
The little extras: Preferred city for young single professionals, there are in the city many activities, restaurants and bars to meet in the early evening. In addition, New Rochelle is by the sea, which means that on sunny days, the creeks, the nautical activities or… a good nap on the beach are yours.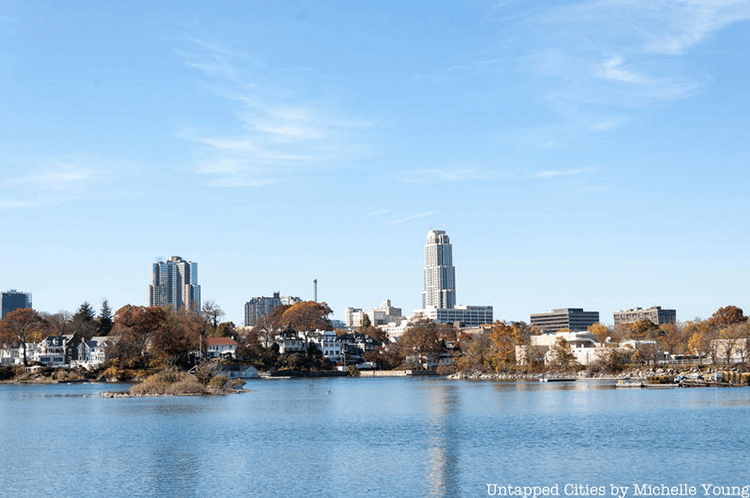 Jericho, NY
5th best city in the United States to raise a family
The vibe: On the north coast of Long Island is Jericho, a family-friendly town ranked as the best place to live in all of New York State by Niche.com. Over 70% of residents are college graduates and half earn more than $ 65,000 per year. Finally, half of the population is over 45 years old.
Real Estate: With a homeownership rate of nearly 85%, the area offers a suburban family feel, mostly with neighborhoods of two-story homes. The average price of a home is $ 863,000 in 2021.
The extras: Jericho was ranked 5th best city in the United States for raising a family , with schools rated A +.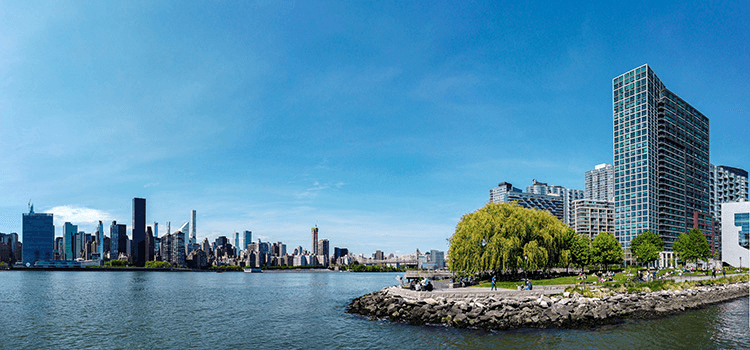 Bronxville, NY
Recognized and Affordable
The vibe: The city, with a current population of just under 7,000, is just fifteen miles north of Midtown Manhattan. The city, which had fully developed in the 1940s, has not changed much since.
Real estate: At $ 1 million to $ 2 million, one can currently find a wide range of five- to six-bedroom homes in Bronxville, and at the lower end of the market, two-bedroom apartments can be found for well under $ 300,000. dollars.
The little extras: 2 renowned public establishments for your offspring; Sarah Lawrence College and Concordia College.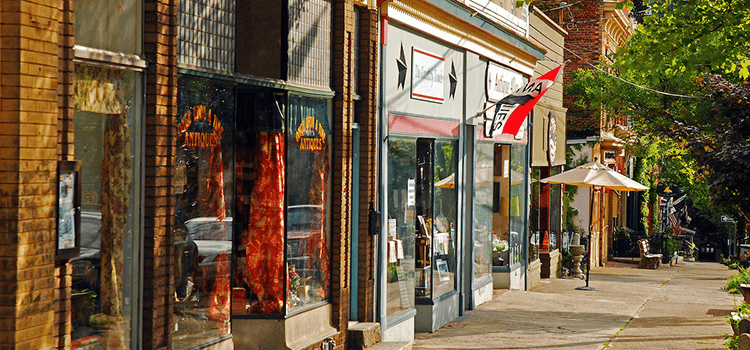 Chappaqua, NY
Quality of life a stone's throw from Manhattan
The atmosphere: The best for the end? Almost. Perched on the shore of the Hudson River , just 35 miles north of Midtown Manhattan , the bucolic hamlet of Chappaqua is perhaps tiny – with a population of 1,800 and an area of ​​just under a square mile – but he is rich with a great community spirit. Plus, it offers a quality of life that many Manhattan residents envy. The town itself is beautiful and within walking distance, with a plethora of recreational activities: jogging through the 126 acres of Gedney Park, swimming and tennis at the Chappaqua Swim and Tennis Club and the Birchwood Swim and Tennis Club, and more. again.
Beyond Chappaqua, residents have easy access not only to New York City , but also to other Tony suburbs like Greenwich, as well as the rest of Westchester County and the Hudson Valley.
Real Estate: Chappaqua's housing stock is mostly single-family homes (however, the downtown area is being revitalized for mixed-use), and good news, the market is booming with an increase in sales of houses by around 66.5% in 2020.
The little extras : Stay on your 31st, it's not uncommon to see the Clintons at the nearby Starbucks, they have a property there… Seriously, Westchester County's public schools are among the best in the United States. , and the schools in Chappaqua are perhaps the best in Westchester. In 2020, US News & World Report ranked Chappaqua's three elementary schools in the state's top 75 schools and its two colleges in the top 20.