Garden lighting allows outdoor spaces to be functional at night, as well as beautifying the space and providing more security. Outdoor lights give an exceptional touch and transform the environement, producing a different look from the daytime.
With the use of lights, it is possible to enjoy your garden at night with parties, dinners and leisure activities, as well as highlighting trees, shrubs and paths. The lighting fixtures should be suitable for use in outdoor areas and blend well with the atmosphere.
Types of garden lights
Garden lights should be designed for these areas, as they will likely be subject to rainwater, wind, dust, and high and low temperatures all year round.
Lamp posts: They are medium or tall posts that provide lighting. Ideal for general lighting, spreading it throughout the space. Several models stand out in the garden with their shapes and styles. Some are sustainable and economical with the use of solar energy. They can be made of iron, aluminum, or metal.
String lights: These are stylish accessories on which lights are hung. They can be arranged in various ways, hanging from trees, gazebos, roofs of houses or even in interior decoration as curtain lights. They create an incredible effect in the decoration and general lighting of external environments. Various types of lamps can be used, such as coloured or white.
Recessed light on the ground: They are installed in small holes in the garden, so they require more planning for their installation. These lights have resistant characteristics, with a long life. They shine from bottom to top and are suitable for highlighting architectural details such as textures and coatings. Recessed light can also illuminate corridors and passageways in the garden.
Sconces: These are lights fixed exclusively to the wall and are quite practical for use in outdoor areas and gardens. They provide indirect and soft vertical lighting. Recommended for lighting passages, balconies, and walls around the house.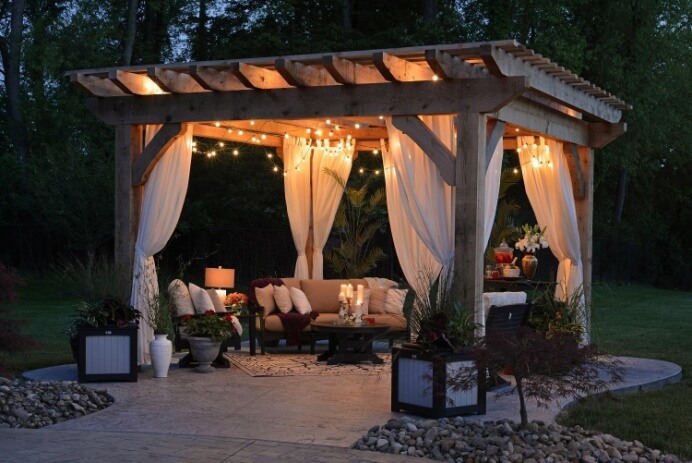 Spotlights: There are many styles of spotlights, some with a directional beam. They are excellent for use as decorative lighting to highlight plants in garden areas with lining, pebbles or exposed soil. Spotlights have the benefit of being easy to install with a ground-fixing system.
Reflectors: Widely used in decorative lighting in gardens, they are suitable for brightening a specific point because they emit a strong and focused light. Reflectors are usually installed on the ground, with the light coming from the bottom up towards a point. Ideal for highlighting objects such as statues, vases, bushes and trees.
Decorative lanterns: In addition to lighting the surroundings, they also serve as decorative pieces in the garden. They can be easily arranged in the outdoor area both on the ground and hanging from trees or pergolas, as they do not require electrical wiring. Decorative lanterns have various styles and give a welcoming touch to the garden.