Tree stumps are nature-provided useful material to decorate your yard or garden, especially if your residence is in an area is surrounded by afforested and cut trees. The concept is mostly acceptable because it is budget-friendly and efficiently possible. It is customizable according to your family and yard needs. With a thoughtful and environmental-friendly approach, there are some fantastic ideas we have listed below.
There is a wide range of quirky things that are possible from useful furniture to an ornamental centerpiece. Not all ideas are for all stumps, and it highly depends on the height and width of the tree stump that are available around you but get you creative gears in motion causes that will be required in this more than our ideas but don't worry it is secure. We assure you of fun in the process of transformation.
So, let us start looking at the list of best
Best Tree Stump Ideas for a Quirky Yard
1. Tree Stump Furniture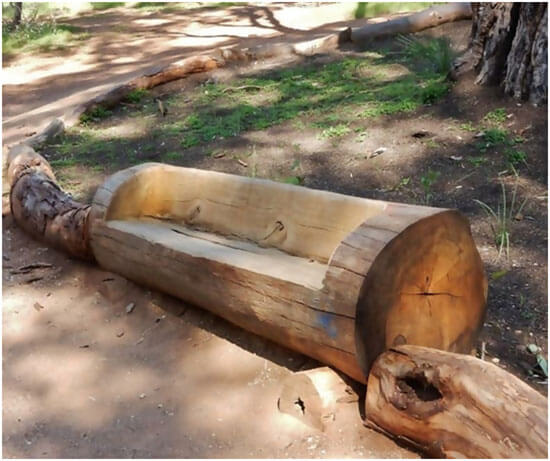 beautiful way to use tree stumps is to turn it into quirky and unique garden furniture. What better option than something aesthetic and functional. The look of the furniture is entirely up to you, whether you want it raw (lesser work for you) or polished and brushed up fancy furniture.
Either way, it is pleasing to look at, as wood texture goes well no matter the surroundings. Plus, the best part is it is super low-cost furniture that looks amazing and sets a quirky tone in your beloved yard.
2. Carved Tree Stump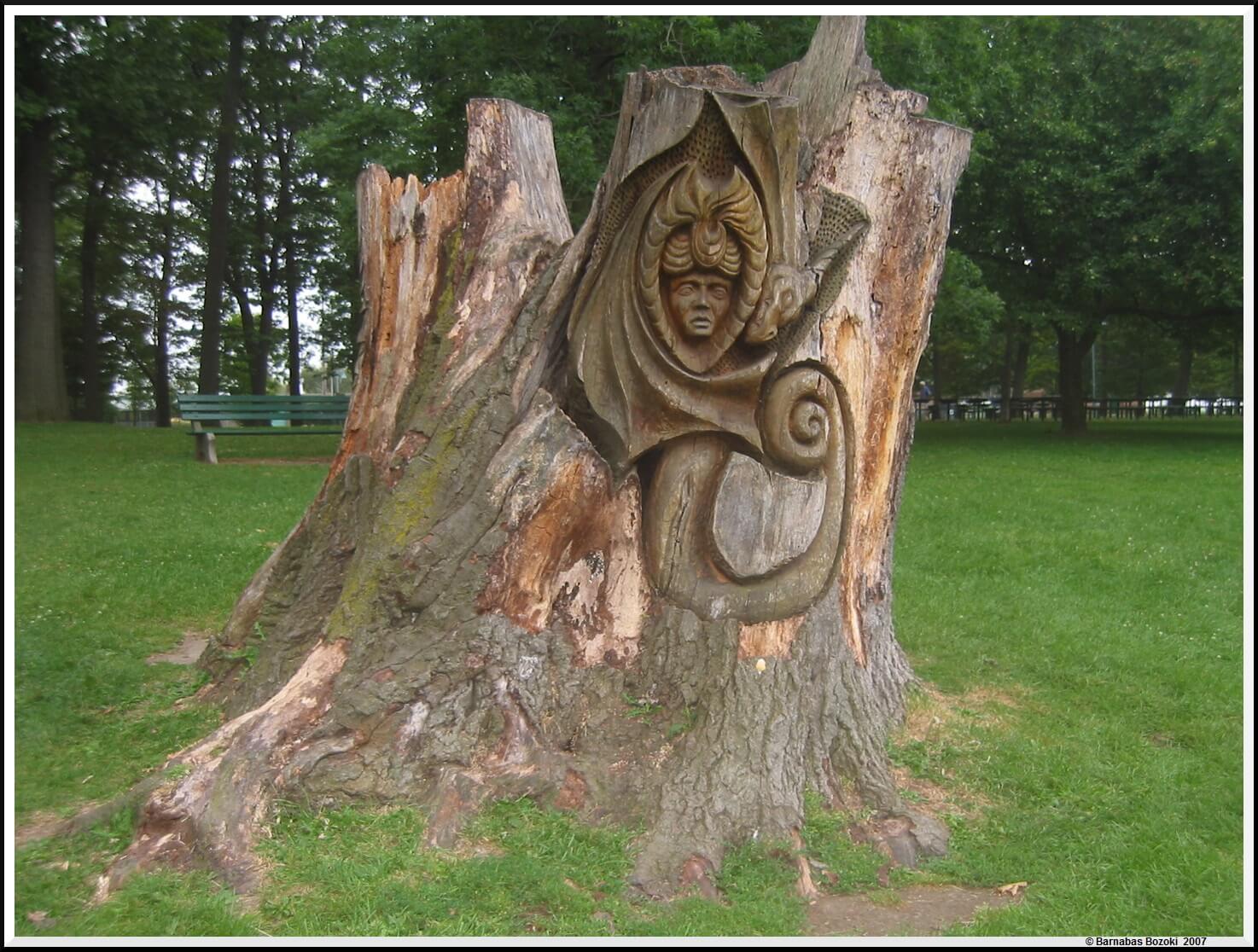 If you are someone who loves wood carving or sculptures, this one belongs in your yard. The level of detail is up to you, if you do not know how to and love the idea hire someone who knows it, and support artists. Also, all carvings are not possible on all tree stumps, and it depends on the dimensions, type of wood, and so on.
3. Tree Stump Transformation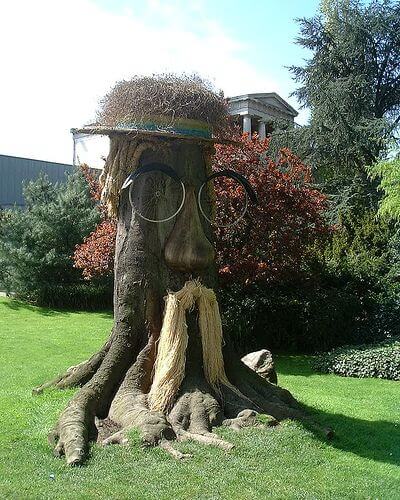 This is a straightforward and good-looking idea for those who do not want to do a lot. Do not confuse this for the carved tree stump idea, it's hard work vs. smart work.
For this, observe the Tree Stump you have, see what it resembles, and using some household items and scrap, then turn it into whatever you want, without much effort of carving.
4. Tree Stump Planter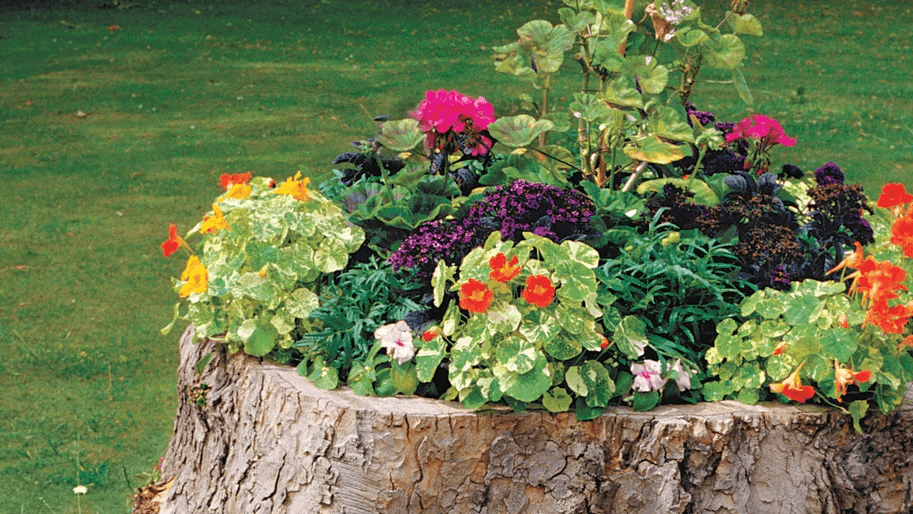 A cute idea for ones who love quirky planters and gardening. Tree stumps can be a great place to grow a plant in, the plants you plan to grow in it can be flowering ones or not; any look you wish to create.
5. Turn it into a Quirky Vertical Pot Stand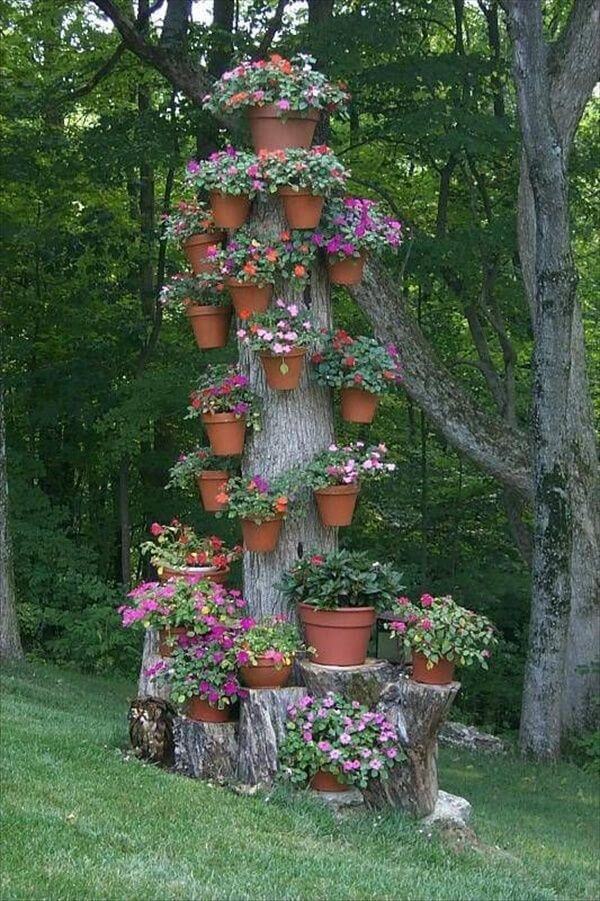 An excellent idea for plant parents, who love to experiment. This is also a great idea to make more space in your yard, plus it looks very pleasing.
6. Make a Tree Stump Playset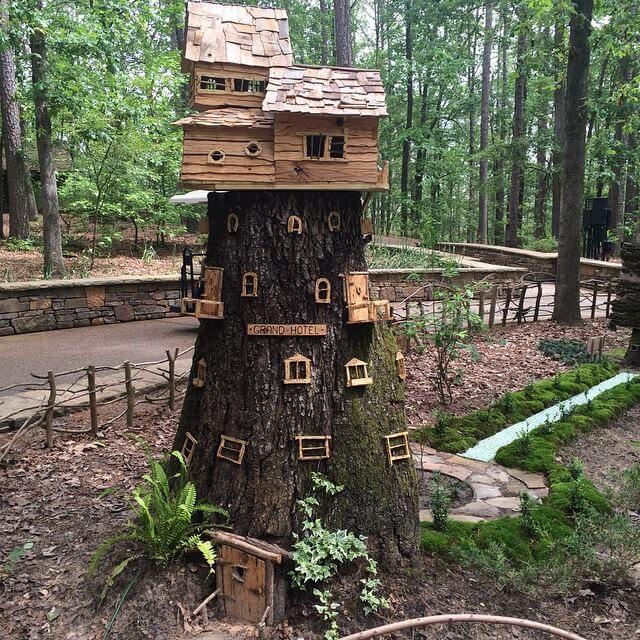 For all readers with kids who have been trying to encourage their kids to get away from screens and play outdoors, here is a great idea. It can include a few too many things as per your wish and size of the yard and available tree stumps. It looks like a lot of work, but it will be worth to watch kids play on it. And you can hire a carpenter to get it done too.
7. Tree Stump Mailbox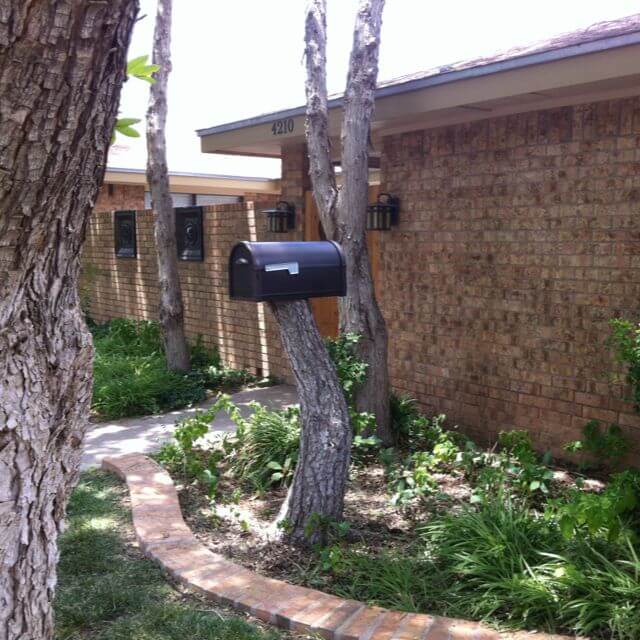 Set the head of the stump flat and just place a mailbox on it, use a rusted one if you like a raw look. And there, it looks excellent and the stump got used for good. Easy-peasy!
8. Built a Miniature World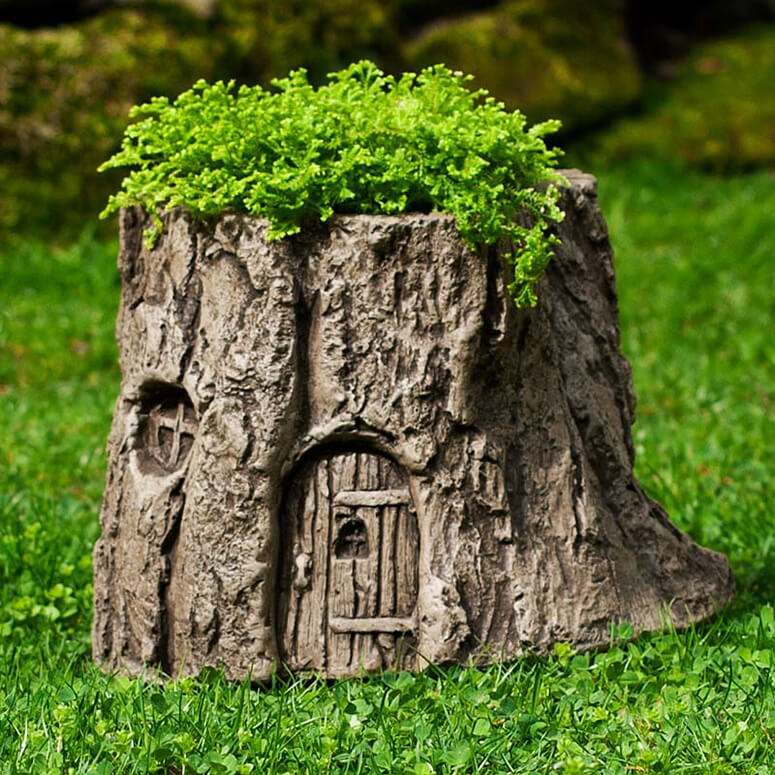 An idea that requires you to put on a thinking hat and make a miniature world with whatever you have. This one allows you to use things that have been lying in your storeroom.
If you have kids, team up with them. You can use carving, decorate with plants or origami butterflies, or anything and everything. Go where your imagination takes you 🙂
9. Tree Stump Pathway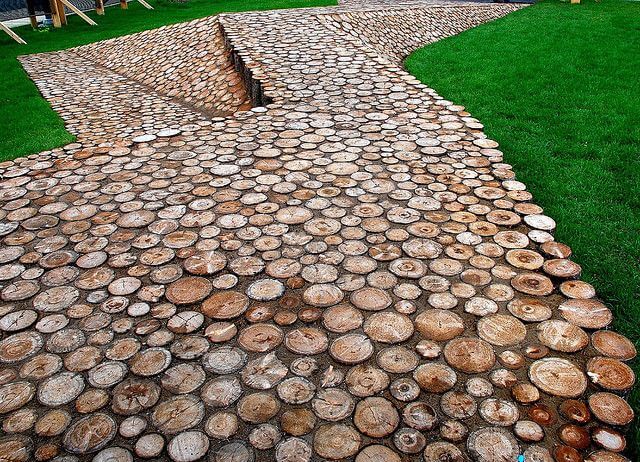 Have you been thinking of getting steppingstones in your yard? How about using tree stumps instead? They set a fantastic and natural look as well.
10. The "lit" Tree Stump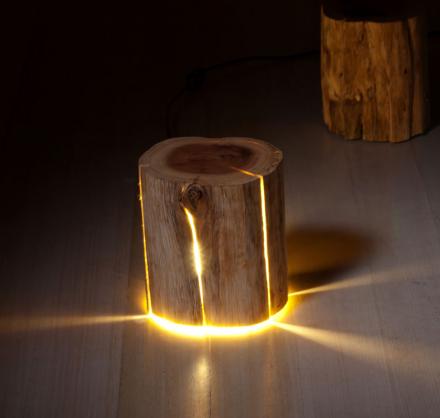 This is one of the most beautiful ideas we have on our list. Something that lights up your yard beautifies it, and can also be used as a quirky stool, isn't that great?
More information about this brilliant idea can be accessed by clicking the mentioned link.
11. Tree Stump décor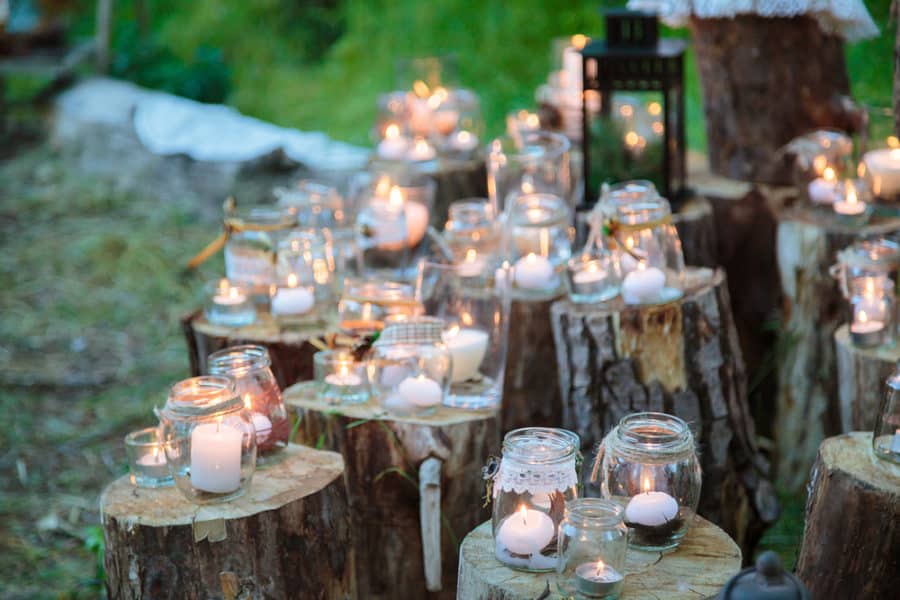 If you are left with numerous stout stumps and do not know what to do with it. This can act as an excellent setting for parties, dates, and get-togethers just with few candles and glass jars you can transform your yard into a pretty haven looking garden in no time and incredibly low budget.
12. Create a Raw Fencing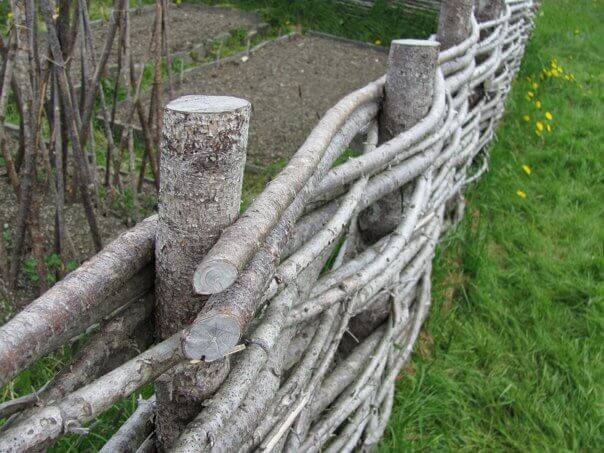 There are numerous ways how different kinds of tree stumps (and some logs) can be used to make low-budget fencing that can be for your flower bed or anywhere else. It looks bold and wacky. And it could be done at home itself.
13. Make a StumpStool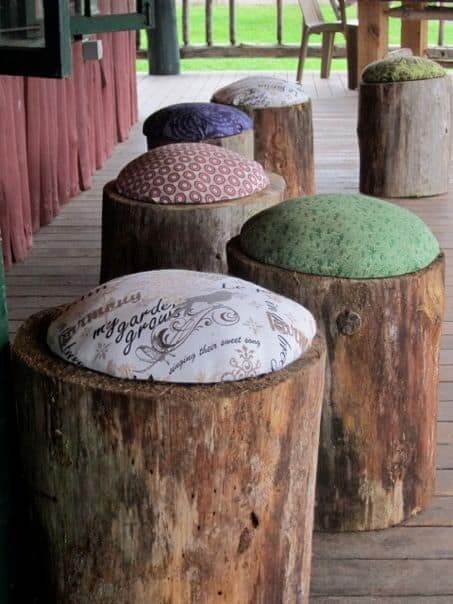 If you are looking for something quick yet quirky, just scream eureka because this is it. If you are lucky, you can find these cushions at some yard sale, or you can outsource if you find it somewhere. Fix it with some tree stumps, and there is an entirely comfortable and pleasant looking garden stool.
14. Convert it into a Chair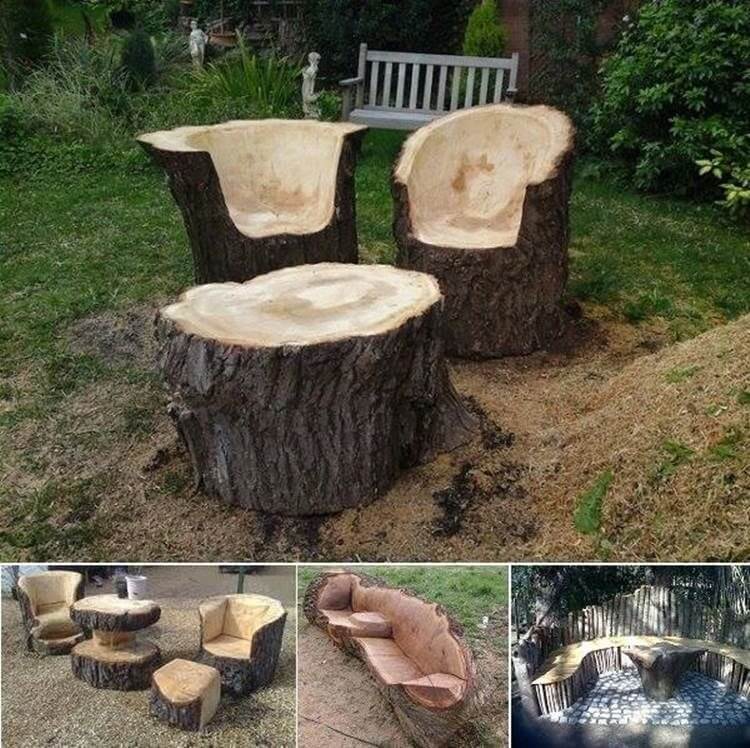 The picture shown is of a rather basic and easy to make chair, but you can get as creative as you want. Perhaps you can have some carving on your chair with armrests as well. You can try mixed media as well, featuring metal armrests with such a chair. But make sure to leave no splinters. Raw and rustic look in yards has become a trend. And we agree it does look great.
15. Bird Feeder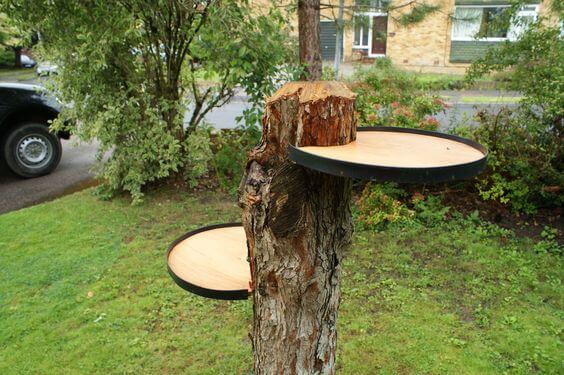 Having a variety of birds as visitors to your backyard feels excellent. It is a sign that you live in a balanced environment, and hence this should be appreciated and maintained.
Here is a great idea to do so by turning a tree stump into a bird feeder, which also looks pretty. You can also flat out the top and keep a bowl of water if you like.
16. Bird Condos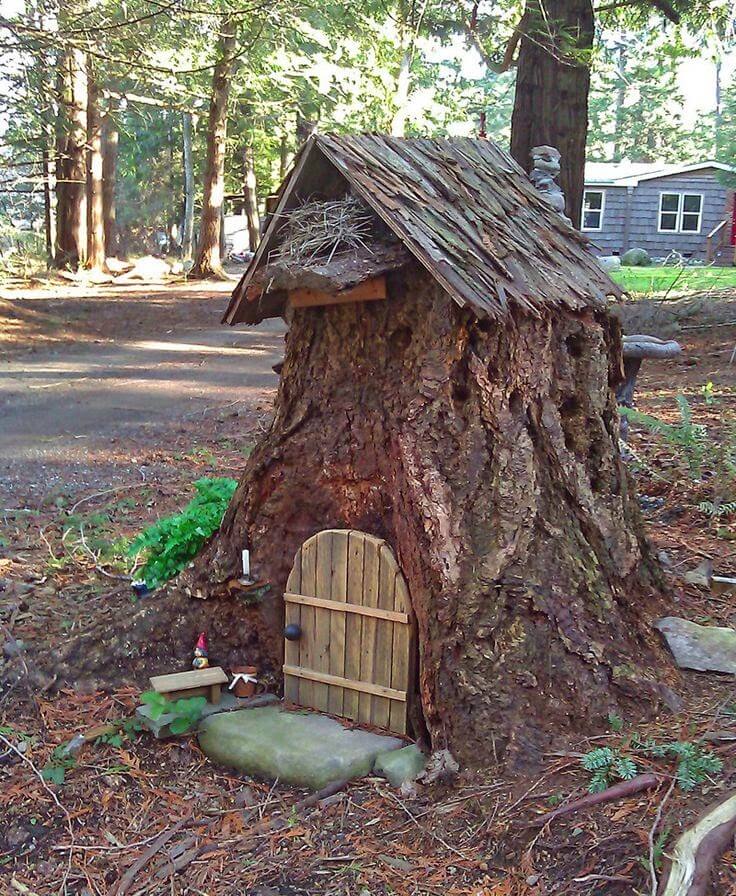 And another one for our cute bird buddies. Also, children love this and learn a little something about co-existing. The door is optional, and you can also add a birdbath and feeder in this. If the tree stump you have is big and built well, it also attracts squirrels, which just adds a cute member to your yard eco-system.
17. Separating Beds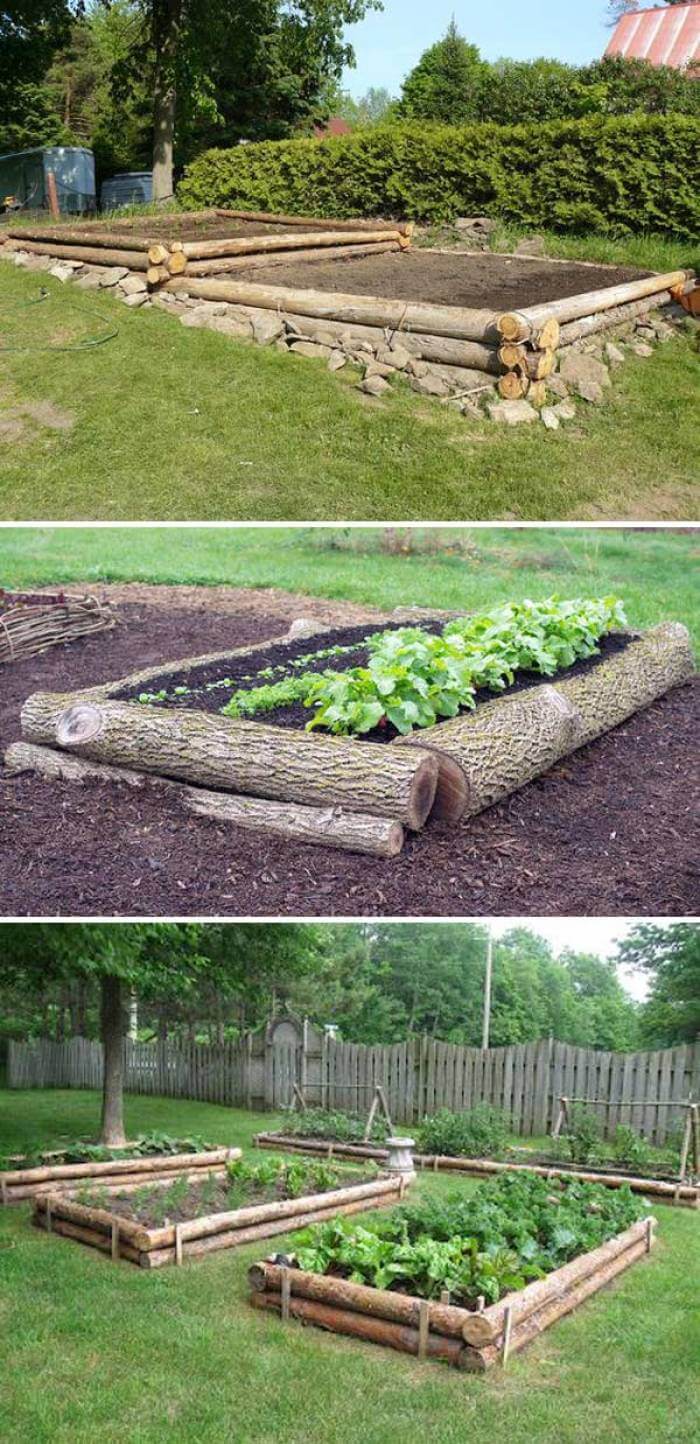 Comparatively long and thin tree stumps can be used to separate beds and certain areas easily. It is a creative way to get things done, and it does the job efficiently. Easy to make and looks distinct from other annoying ways of doing this.
18. A Huge Centre Table in the Yard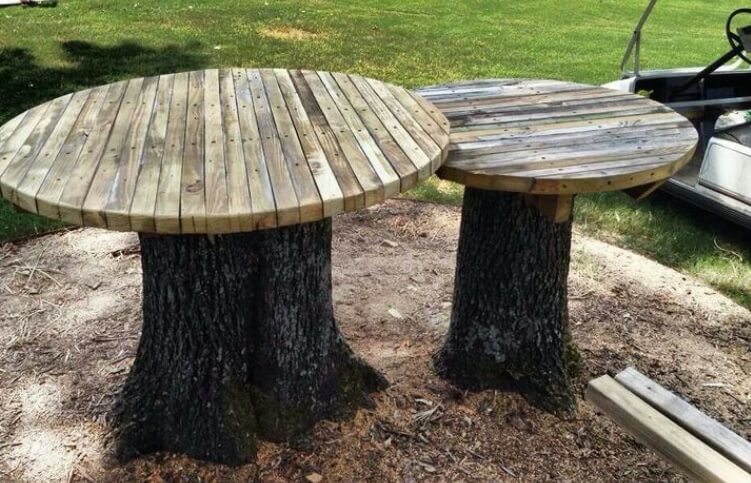 You can place a treated wood disc on a fat topped tree stump, which is functional and pleasant-looking, or even a nice and thick circular glass top on it, which can elegantly highlight the texture.
The contrast of glass and its sophistication with the rawness of the tree stump is an excellent example of contrasting elements creating a beautiful and quirky piece.
19. Grow a Mini Flower Bed Within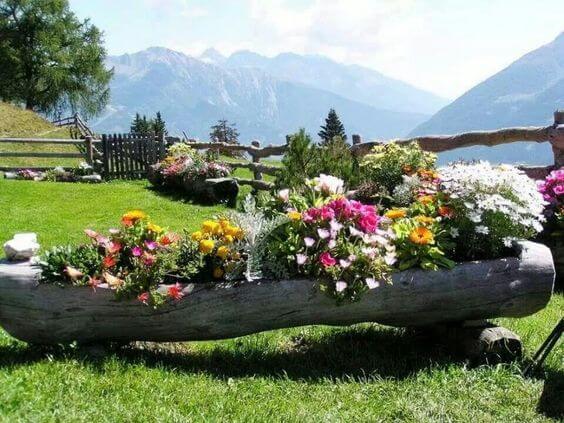 If you are left with a giant-sized tree stump that has been removed already, you can place it horizontally and grow various flowering plants in it. The structure will keep them safe and separate. The transformation of an eyesore tree stump into this beautiful, unique, and quirky flower bed is unbelievable and leaves the guests and visitors at your home wondering.
20. Create a Mushroom Furniture Set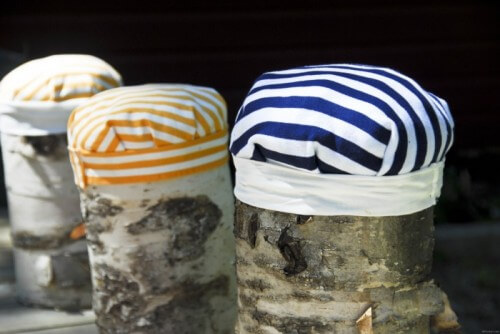 Use a cloth with a mushroom pattern on top or paint it the way it is shown in the second picture. Little stools with one center table to form a quirky set of garden furniture with a mushroom theme will surely brighten up your yard and make it stand out from the others that we usually see.
21. Upcycle into a chair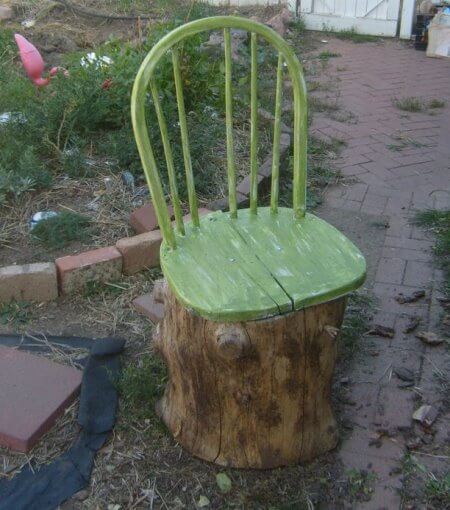 The next time chair loses one leg or is broken, and you can save it to try this. If you already have an old chair, this one is a must-try as it is easy to make functional and looks great too. You can paint it in any shade you like, and pastel shades would give a funky look that looks great with green in the garden.
Wrapping Up
And with that, we conclude our list of 21 Quirky ideas to tree stumps in your yard. We hope you all liked the ideas and found it helpful. We recommend experimenting, mix, and match two ideas to get the right look for your yard.
Get your creative on!
(Note- We do not support the cutting of trees anywhere, and these ideas are aimed to stop wastage of material if you find or have stumps reuse and repurpose them and take out maximum use.)