Crabs are one of the most popular and tasty seafood that everybody wants to feel the taste at some point in their life. Many tourists especially visit such places where crabs are easily found and cooked just to get a feel of the tastiest seafood that they can ever have.
There are many different types of crabs that are cooked but few of them are the tastiest and we will discuss all such varieties. There are few giant snow crabs as well as blue crabs that have long and broad legs containing whole meat within themselves.
The Dungeness crab and blue crabs are those crabs in which the meat is contained in their body and the type of meat is succulent snow-white. Along with this, their spiky legs and claws are something that people crave.
However, there are thousands of crabs that are divided into more than 850 species and cooked accordingly. Most of the crabs have a hard-outer cover or shell that is famously known as an exoskeleton. These crabs have mostly three walking legs on either side of their body and they have two pinching claws.
Furthermore, these varieties of crabs can be found in saltwater regions and warm sea areas. These varieties are not cold-temperature survivors and, they live on the land as well. Now, there are few such varieties of crabs as well that are found in extremely cold regions. For instance, snow crabs are mainly found in the cold-water seas of Alaska, Greenland, Siberia, and Japan. So, overall, crabs can be found in different areas depending upon their habitats.
Types of Crabs
As discussed, there are many different types of crabs and each having its features and taste. However, people are so fond of eating this delicious seafood that they often visit such places just to get a taste of this special seafood. Now, we will get into details of the types of crabs that are cooked for people around the world.
King Crab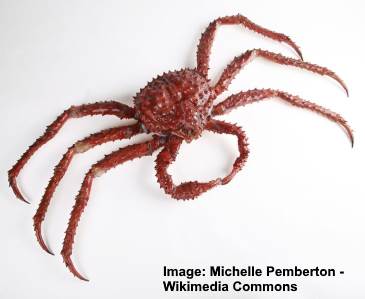 The very first such variety of crab is none other than the King crab. This is one of the most special varieties of crab that is consumed and is often termed as the tastiest meat of all time. They are also the most consumed meat, and they have a very elegant and delicate taste. These carbs are the largest found crabs on our planet and hence, they are the most popular meat around the world for which people are looking for.
There are many further species of King crab and one of the most popular King Crab is the Red King Crab. It is also known as an Alaskan Crab and is one of the largest Crab found on our planet. Therefore, it is quite famous among us and the bodies of these crabs measure up to 28 cm. They nearly weigh around 28 lbs. And the most important thing is that their meat is mainly found in their legs and they have a span of 1.8 meters approximately.
Another best thing about this Red King Crab is that they have a little light jaggy body when they are present in cold sea regions such as North Pacific Seas around Alaska. As the Red King Crab is quite large, its meat is divided in its body and its larger portion is found in kits legs that are very tasty and have a delicate and pleasant taste. Once cooked, they obtain the dark red color indicating that the meat inside the crab is now fully cooked and ready to be served.
Snow Crab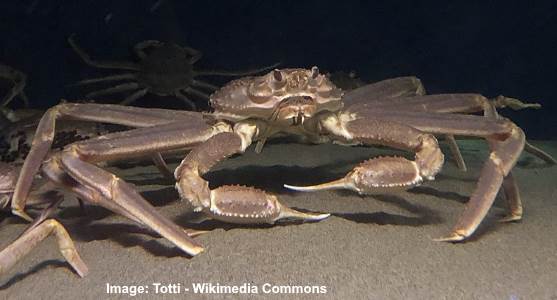 The next such variety of Crabs is none other than the Snow crabs that are mainly found in the cold weather and the cold sea regions. These crabs often live in such cold weather and are not adjusted to warm regions and that is why they are mainly seen in Alaska and North Pacific regions. However, there is not much difference in their taste, and they are usually brown. More so, when they are cooked properly, they take the dark brown color indicating that the meat has been cooked properly.
Along with this, the meat of this large crab is mainly divided into its body and its leg. Some of the meat is also present in their claw but the larger portion can be found in its legs. They are often cooked in edible oils and their claws are covered with a hard shell so basically, you will be needed to open the claw first and then take out the meat. This is very challenging for few people who are not much into crabs and are tasting them for the first time.
Blue Crab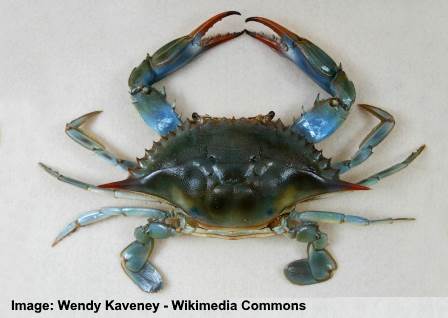 Another special variety of Crabs is our Blue Crab that is very much like the previous two crabs that we have discussed. However, it tastes much different than those that we have already discussed, and its cooking style is also different. Blue Crabs are mainly found on the East Coast of the Us, Antarctica, and in the Gulf of Mexico. These are the dear places of this blue crab because they go for mild temperatures for their survival.
Blue crabs are also known as Swimming Crabs and they use their paddle to swim through the water. The swimming crabs are big and can grow up to 23 cm in breadth. Its shell has a dark blue color and, the structure of this species of crabs is relatively different from the ones that we have been talking about. The claws of the Blue Crab are too pointed at the end, unlike any other crab. Another interesting feature of this crab is that its shell is not too hard and thus it can also be cooked or deep-fried.
Many people cook seafood according to their taste that often varies from one region to another. More so, people in warm regions like not to deep fry the hell part of the crab whereas the people in cold regions are adjusted in cooking its meat and the shell is one of their most favorite parts. Plenty of meat lies in its body, shell, legs, and claws and that is why this species of crab is the favorite among every other seafood.
Dungeness Crab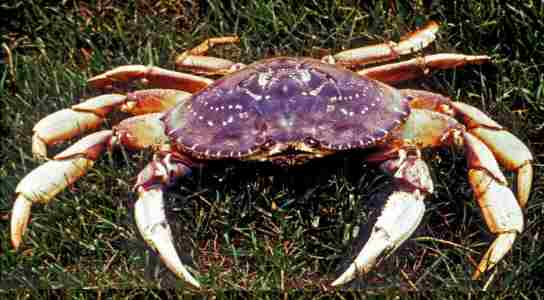 The next species that we will be discussing is none other than the most famous Dungeness Crab. You must have heard about this one and how it is different from the regular crabs. Though its meat also lies in its leg people are much fond of its claws. This is because its claws are slightly twisted, and a little amount of meat lies there for which you will be needed to open the claws first and then take out the meat. This carb is brown, and, in some regions, their shell is purple, and this is an identifiable feature of Dungeness Crab.
When we cook the Dungeness crab their color goes from light brown to light pink and sometimes goes to a light red color indicating that the mean inside the body has been cooked properly. The main idea behind its cooking is that it should always be kept on high flame otherwise, the shell part of the body will not be fried properly a sit require a high temperature to get soften.
In Crabs, the most interesting body part is their shell and their claws. The meat lies in the leg in a large quantity, but the claws and shells are not touched by many people. The taste of their meat is not too spicy but sweet. So, if you are fond of spicy meat then you should not go for this one. However, you should try a different taste as well and once you get a taste of the sweet meat then it will also become one of your favorites.
Florida Stone Crab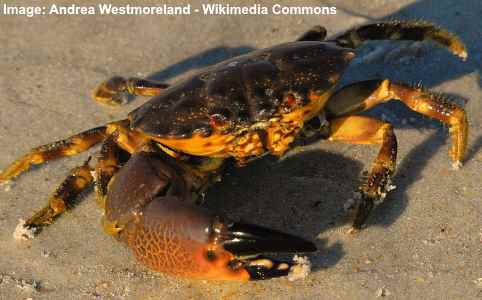 Another beautiful variety of crabs is our Florida stone crab. This is also relatively popular because of their meat and their body structure. They can be identified from the color of the shell that is slightly brownish and red and they have large pincers on their body that are not present in any of the other species of Crabs. However, these are the varieties of crabs that are found in the warm region, and hence, the cooking style of this one is slightly different from all those that are found in cold regions.
These crabs are not cooked. They are caught and their body parts are separated and then cooked accordingly. This is because not every part of their body is ready to eat and that is why those parts that are not good for eating are removed from the body. These crabs are too large and can expand up to 17 cm in breadth. When the claws are cooked then they take red color and indicate that now they are ready to be served.
Peekytoe Crab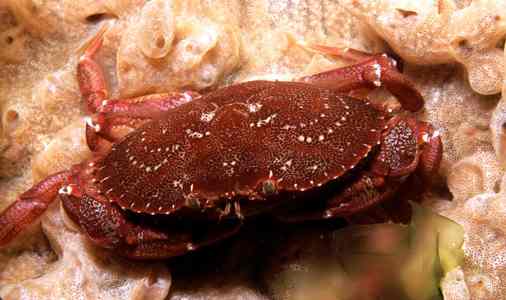 The Peekytoe crab is one of the most beautiful, red-colored crabs. It is also popularly known as brown rock crab and is mainly found in cold regions, for instance, the Atlantic Ocean. These crabs are easily identifiable by their look and structure. They are red and brown and on their hard shell, few purple spots are not present on any other variety of crabs. The next important thing is that these crabs are neither too small nor too large.
These medium-sized crabs are 13 cm in diameter and most of the meat lies in their body and legs. These crabs taste no different from those that we have discussed above. They are cooked thoroughly, and their claws are taken apart. Many people have claimed that this seafood is one of the best seafood that they ever had in their life. However, the cooking style is slightly different from the warmer regions but still, the meat gets the same taste.
This crab is known with many names and some of them are Atlantic rock crab and Cancer irroratus. These names are coined in Maine and since then, it has become quite famous.
Japanese Spider Crab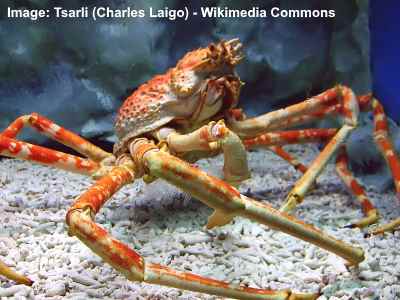 Now comes the most awaited and the scariest type of crab that is none other than the Japanese Spider Crab. This Japanese Spider Crab is too scary and is one of the giant crabs all over the world. These have long legs and claws, and they look too deadly and dangerous. However, the meat of these crabs is too tasty and the cooking style of this one is somewhat different from the other regions.
The Japanese Spider Crab has a very large body, and they have long legs in which the meat resides. They are expanded to 40 cm in width, and they generally grow up to 5.5 meters in length. Not only this but also, they are too heavy. They almost weigh around 19 kg and that is too heavy according to a crab. These crabs though look scary and dangerous but are not at all aggressive.
The meat of this Japanese Spider Crab is too delicious, and the meat is not too spicy but sweet. However, cooking this seafood is a challenging task on its own because it has many points that need to be taken care of. For example, the spices that are added to the food have not to be too spicy, and to maintain the sweetness level, the spices should be added accordingly. So, overall, this is a tedious task to do and that is why when it is cooked, it tastes too delicious.
Horsehair Crab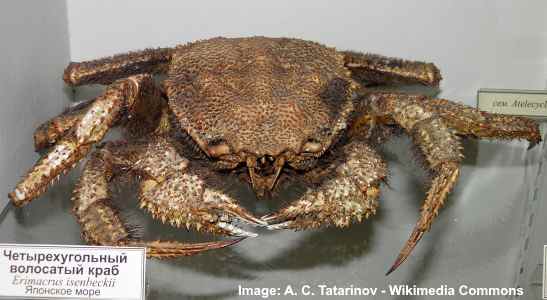 The next species of crab is none other than the Horsehair crab. This is a popular variety of crab and is mainly found in Japanese Cuisine. They are dark brown and take too much time to be cooked properly. This is because the shell of this variety of crabs is heavy and hard and that is why it takes much time to soften the shell so that it can be opened for taking out the meat inside it.
Nowadays, crabs have become one of the most demanding seafood across the world and now everybody wants to develop a taste for them. Therefore, their demand has increased and now people are experimenting with them to make a different taste of them using the spices. Also, the cooking habit differs from one region to another but somehow, the meat tastes the same. So, people have taken a step ahead to bring varieties together by adding and mixing some spices so that the taste can be felt slightly different.
This variety of crabs is also easily identifiable by their marks and spots on their body. There are many such varieties of crabs that have spots on their bodies but to identify them clearly you must have knowledge about crabs and only then you will be able to recognize them. They are also called hairy crabs because of the body hair that is present in their body. These are quite delicious and one of the most demanding seafood across the world.
Southern European Crab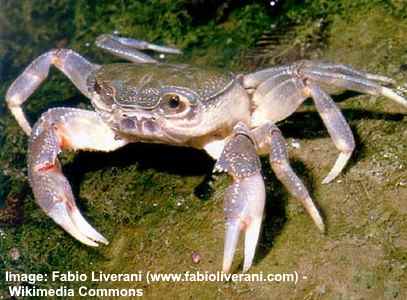 Another one on our list is none other than the Southern European Crab. These crabs are mostly found in freshwater and that is why nowadays it is relatively difficult to find them as no freshwater is available. For this variety of crabs. They need fresh water and a little salty water to survive and sometimes they live on the land near the sea also. However, freshwater is not easily and readily available, this variety is in demand, but the supply is less.
Furthermore, people have developed a taste for it and now they are always looking for this variety of crabs only. As the supply is too less, people have started catching and cooking them on their own. Therefore, you will often see people in these areas going for catching crabs. However, catching the crabs is a difficult task to do but as this variety is small enough to be caught, people have made their way.
They are mostly found in the North American region and the Southern European region. People living in these areas often get the taste for this special variety but the people living far away from here do not get to taste this special variety. That is why they always visit such places so that they get to taste this one. The idea behind cooking them is to boil them beforehand and then let them dry for hours.
Once they are dried enough, they will become slightly soft and then you can start mixing the spices according to the taste that you want so that they can be cooked properly and can taste better. They are nearly 5 cm wide and thus do not take much time to be cooked once you start cooking. However, they take time to get boiled and dried.
Brown Edible Crab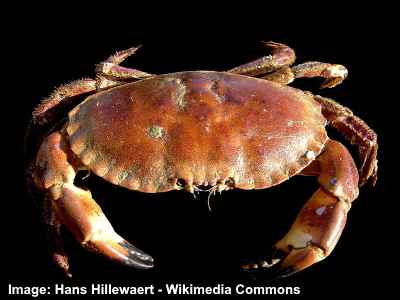 The Brown crab is another popular variety of crab that is mostly found in the United Kingdom. They are red and brown and have sharp legs and claws. The meat resides in the shell and legs of the crab. It is one of the most famous varieties present in the United Kingdom. This variety of crab is medium-sized and can grow up to 22 cm. The flavor of the dish is different from any other variety of crab and thus it has become quite popular in the United Kingdom.
They weigh around 3 kg and around one-third part of their weight goes into the meat. The meat is cooked according to the taste that people are fond of. For instance, people in cold regions often like sweetmeat while the ones in the warm region go for spicy meat. So, the food is cooked accordingly so that people can have different tastes according to the region where they live.
Brown crabs can be easily identified because their body structure has an oval shape, and the edge looks like a pie crust. The shell of their body has a light brown color and once it is cooked then the color gets transformed to dark brown that indicates that the shell is now soft and can be opened to take out the meat. The meat has a rich flavor and mostly it is sweet. However, if you like spicy meat then you can put up the spices accordingly.
Coconut Crab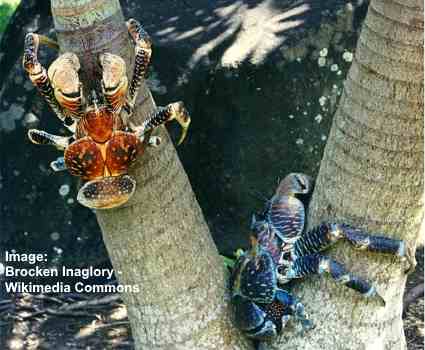 The coconut crab is another popular but rarely available variety of crab. As you now know that crabs have different varieties and each variety has got its features and taste, people like to cook them according to their taste of meat.
Many people like sweetmeat so they do not add much spice whereas there are many people who like traditional spicy meat and cook the food accordingly. The Coconut crab is one among them that is not always available, but it has always been in demand.
Coconut crabs are mostly found in Indian as well as the Pacific Ocean. People claim that the taste goes like the taste of a lobster, but it can only be verified if you got to eat it. So, if you want to get a taste of this Coconut crab then you must visit all those places where it is found as it is not found everywhere. Once you eat it then you will realize why this specific meat is too much in demand.
Overall, this variety of crab is not too small and that is why it is easy to catch them and cooking them. They do not take much heat and much time to be cooked properly. A larger portion of the meat is found in their legs and claws. If you ever get to taste this variety, you will get a slight taste of coconut as well. So, you must try this variety of crab if you are fond of seafood.