Colorful flowers are something that can beautify any landscape. Be it home with a play garden for kids or a bungalow with an expansive yard and colorful trees, never fail when offering visual delight. Now, when talking about visual delight, a tree with pink flowers never goes out of style.
If you have space where you can plant a beautiful tree, you should go for it. A tree with pink flowers or any other flowers provides beautiful visuals and offers fruits and other benefits. However, choosing the best tree to match your landscape may get complicated. But no worries! Here, we have got you the list of the 20 best flowering trees.
A tree with pink flowers is legit one of the best choices to make when thinking about a flowering tree unless you like red berries on bush. So, keep reading to know which one is for you and your garden!
Types of Flowering Trees with Pictures
Flowering Cherry Trees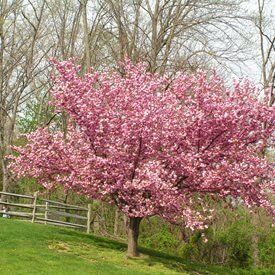 Japanese cherry blossom trees are considered one of the most beautiful trees in the spring. These trees are also called Sakura. If you are looking for a tree with pink flowers, this one is absolutely for you. Cherry trees bloom with flowers in the shade of pink and white, which give a dreamy landscape to any garden or yard. These flowers bloom in clusters and look like the tree is covered in pinkish-white candy floss.
However, these flowers do not last long and lose their petals in 2 to 3 weeks. Different types of cherry trees bloom at different times, so you can get multiple varieties planted in your garden for enjoying more blooming time. These trees also give fruits but are mostly grown for their pretty flowers.
Magnolia Trees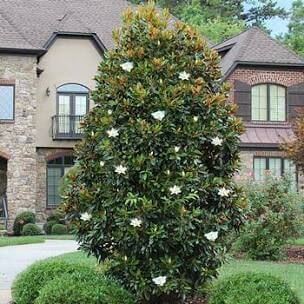 The Magnolia tree is an ancient tree that is believed to appear even before the bees. It is said that its flowers have evolved to encourage pollination by beetles. Magnolia trees come in various sizes, with blooms in numerous colors. You can get a multi-stemmed shrubby tree of around 8 feet or an extended 70 feet tall majesty.
The large flowers of Magnolia blossom in the spring and fill the air with an exotic sweet fragrance. Also, you can choose your flowers from a variety of colors like white, pink, red, and purple. The flowers often bloom before the leaves and give a soothing view. Depending on the Magnolia tree species, flowers can be as large as up to 30 cm across or can be in their general size of around 10 cm. Magnolia trees require a lot of care therefore before planting a Magnolia tree consult the Riverside tree and plant experts and ask them about their advice and experience.
Persian Silk Trees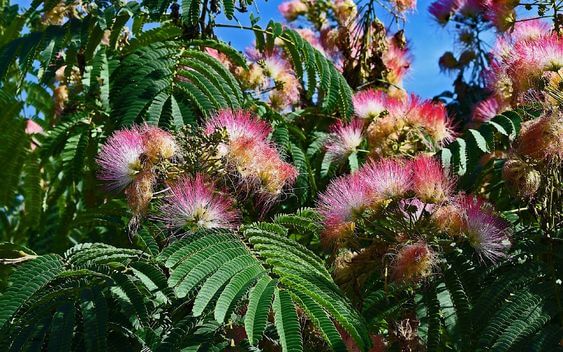 The Persian silk tree, also known as Mimosa, is known for its fragrant pink fluffy flower heads. This tree has left in medium green color, which perfectly sets off with its pretty flowers in pink. Flowers on this tree bloom from early summer until mid-summer. These trees thrive in the best warm climates. Also, this tree comes with numerous skincare and beauty benefits that you can take OK advantage of.
One who knows about the trees from genus mimosa may confuse Persian silk trees with them. Flowers on both the genera look similar but are different.
American Redbud Trees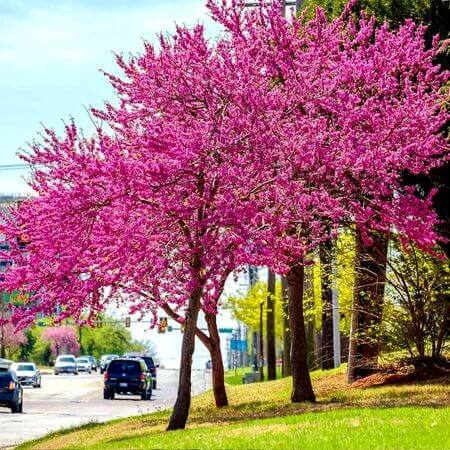 The American redbud tree is a small flowering tree with pink flowers. It is a deciduous tree that blooms flowers in all pink shades before the leaves from spring until summer. Though the American redbuds are famous for their small pink flowers, some of their varieties also bloom in white. Flowers on this tree grow in masses like a pea. This creates an eye-catching landscape.
These trees usually grow at a medium rate from 6 to 9 meters long and spread for around 10m. However, different types of American redbuds have different sizes. You can choose the size that looks good in your garden or yard. Moreover, these trees would attract many pretty singing birds and butterflies to make your garden more happening and dazzling.
Pink Trumpet Trees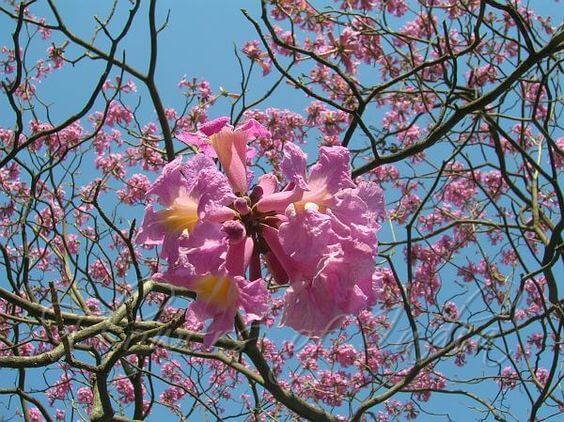 Also known as Pink Poui and Rosy trumpet, this is a neotropical tree with pink flowers. This long-living and semi-deciduous tree blooms with delicate pinkish-white flowers with a yellow center. These flowers grow in shape like a trumpet and in clusters to create a bushy flower head from late winters till early spring.
These trees grow at a moderate rate. From being a slim pyramid in its young ages, this tree becomes a broad silhouette of around 30 to 40 feet when mature. The pink trumpet tree grows best in subtropical zones but thrives well in both wet and dry climates. So, no matter what climate you experience, you can enjoy this beauty every time.
Dogwood Trees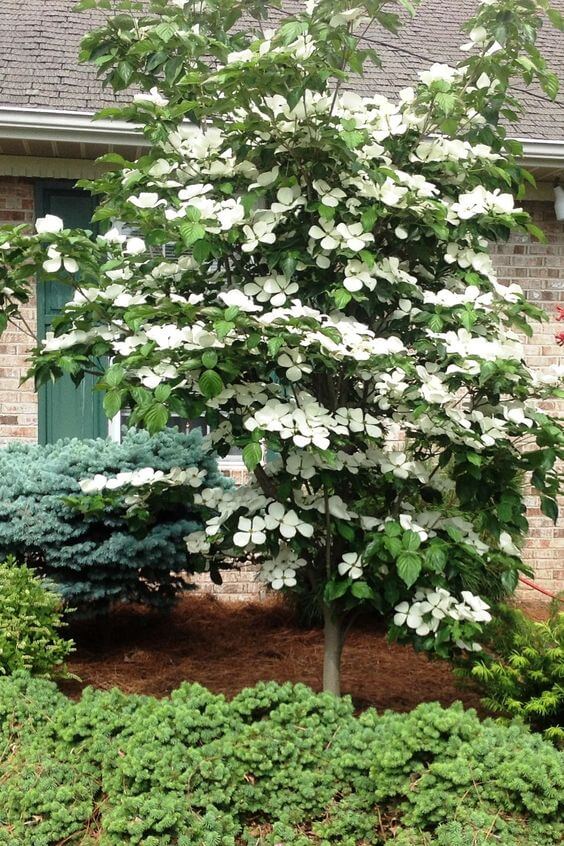 Dogwood trees come in over 50 species, and all of them offer great visual delight with their beautiful flowers in various colors. Flowers on these trees bloom in beautiful colors like pink, red, purple, and white. All its flowers have a dense cluster of stamens at the center in the shade of yellow and green. Also, deciduous leaves in some dogwood species turn into the shade of burgundy or purple in the fall.
With summer and fall foliage, the trees also have winter branching habits and offer fall fruits. The flowering species of dogwood thrive well in moist zones but also grow in drier habitats. Moreover, their height usually goes around 20 to 40 feet, and they may spread even more than their height. If you decide on getting one of these trees in your garden, it would be the right decision because they offer long-term service of up to 80 years.
Rose Trees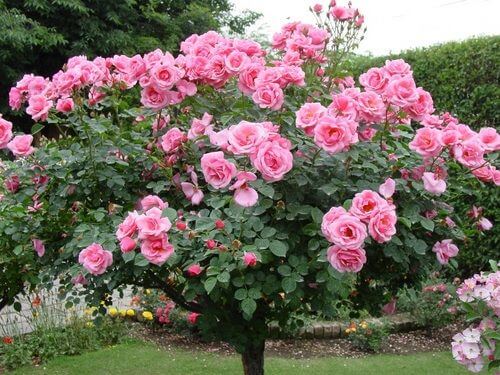 For someone who loves roses, this is the best option to go with. Rose trees, also known as rose standards, are not trees. They are just handmade planting that lets a rose bush grow into a tree. Although, with a wide range of bright colors, rose trees give you the freedom to choose the perfect color that matches your landscape or home.
However, roses are not considered for an icy climatic condition. Rose trees have not proven to be hardy enough in winters. Though you can provide the trees with external protections, they hardly make it through extreme winters. Generally, rose trees survive for 8 to 10 years. In case the climate is freezing, crucial care is needed to make them survive.
Thunderchild Crabapple
The thunder child crabapple tree is a small, upright tree that offers beautiful blush pink blossoms. This tree with pink flowers shows dark purple leaves that come once the flowers bloom. The flowers also have a sweet and delicate fragrance to give you the best spring vibes. With its small apple-like fruits, which can be used in jams and jellies, this tree is the best choice to make. You would get everything in your garden- fruits, flowers, and foliage.
A beneficial fact about the thunder child crabapple is that this tree has strong disease resistance (no fireblight at all) because of its rigid constitution. Also, these sun-loving trees have excellent winter hardiness and are hardy in zones 3 to 7.
Red Horse Chestnut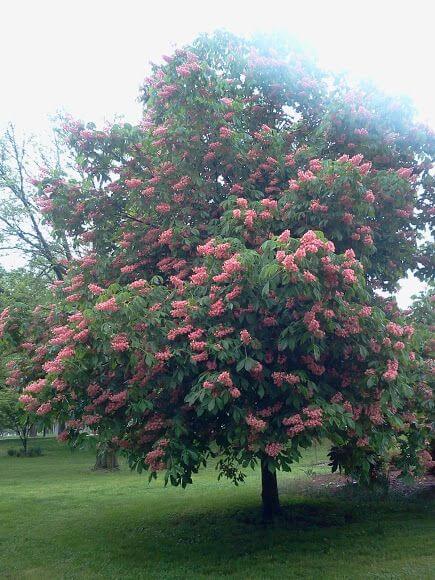 The red horse chestnut tree is a medium-sized tree that is very popular in extensive gardens and public parks. As the name suggests, it is a cross between the horse chestnut and red buckeye. This cross tree makes an eye-catching statement in gardens or yards with its dark green leaves and pink-red flowers that bloom in clusters.
Moreover, this tree with pink flowers attracts butterflies and hummingbirds of various species, making your garden more happening. The fruits that it offers are poisonous to humans, but they attract squirrels quite a lot. The tree grows up to 30 to 40 feet tall when mature. Also, it has proven to be hardy in zones 4 to 10, making it a cold specimen. You can quickly grow this tree with pink flowers in a full sun position with moist soil.
Crape Myrtle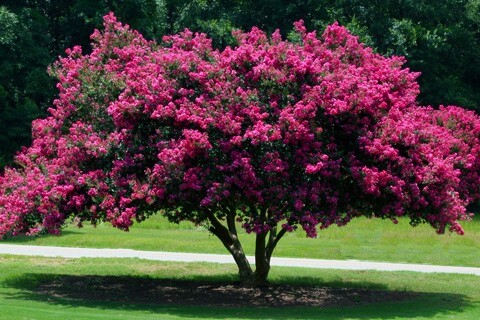 Crape Myrtle is a common tree chosen for gardens and yards. It is a deciduous, small tree or can be called a shrub. If you are looking for a long-lasting tree with pink flowers, this might be one of the best options. With proper care, crape myrtle trees live for around 50 years or even more. These long-living trees offer flowers that have wrinkled petals like crepe paper.
With showy flowers in the shades of red, pink, and purple, these trees also experience foliage in the shades of yellow, orange, and red. This makes them a year-round attention seeker at any place. Different varieties of crape myrtles offer different bloom colors and sizes. There are dwarf varieties that grow up to or less than 4 feet. You will also find semi-dwarf crape myrtles that grow around 4 to 8 feet tall, and the largest ones go up to 20 feet.
Flowering Almond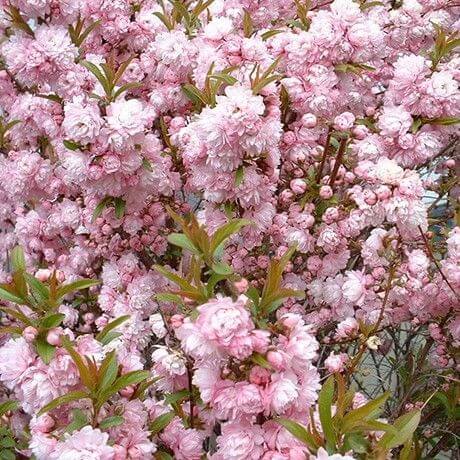 There can be nothing prettier in the spring than an almond tree with pink flowers in your garden. This is a deciduous tree with double-flowering ability, meaning that it blooms with double petals. One thing that you should know is that the flowering almond trees do not produce edible almonds.
The flowering almond tree usually grows around 12 feet tall and has an almost equal spread once matured. It has proven to be hardy in zones 4 to 8 and is also considered drought tolerant. Moreover, you can plant this tree in full sun or a partly shaded space, and it thrives well in both conditions. These trees live up to 50 years, thus providing you with long-living service.
Cherokee Chief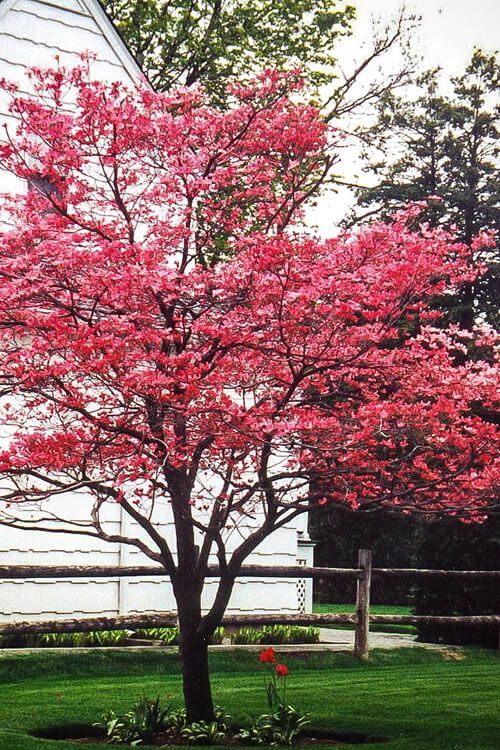 The Cherokee Chief is a type of dogwood tree with pink flowers. It is a small tree that grows around 15 to 39 feet tall. The Cherokee chief is one of those trees which bloom first in spring. The beautiful showy flowers on this tree bloom in April and May with dark green leaves, which later turn red in the fall. Also, it offers small red fruits in late summer and early fall that are inedible for humans. However, these red fruits are loved by birds.
This beautiful tree thrives well in zones 5 to 9. With minimum demand for care, this tree still attracts beautiful birds. Thus, it makes itself an excellent choice for home gardens and extensive public gardens and parks. However, a significant drawback of these trees is that they come with the risk of diseases.
Wisteria Trees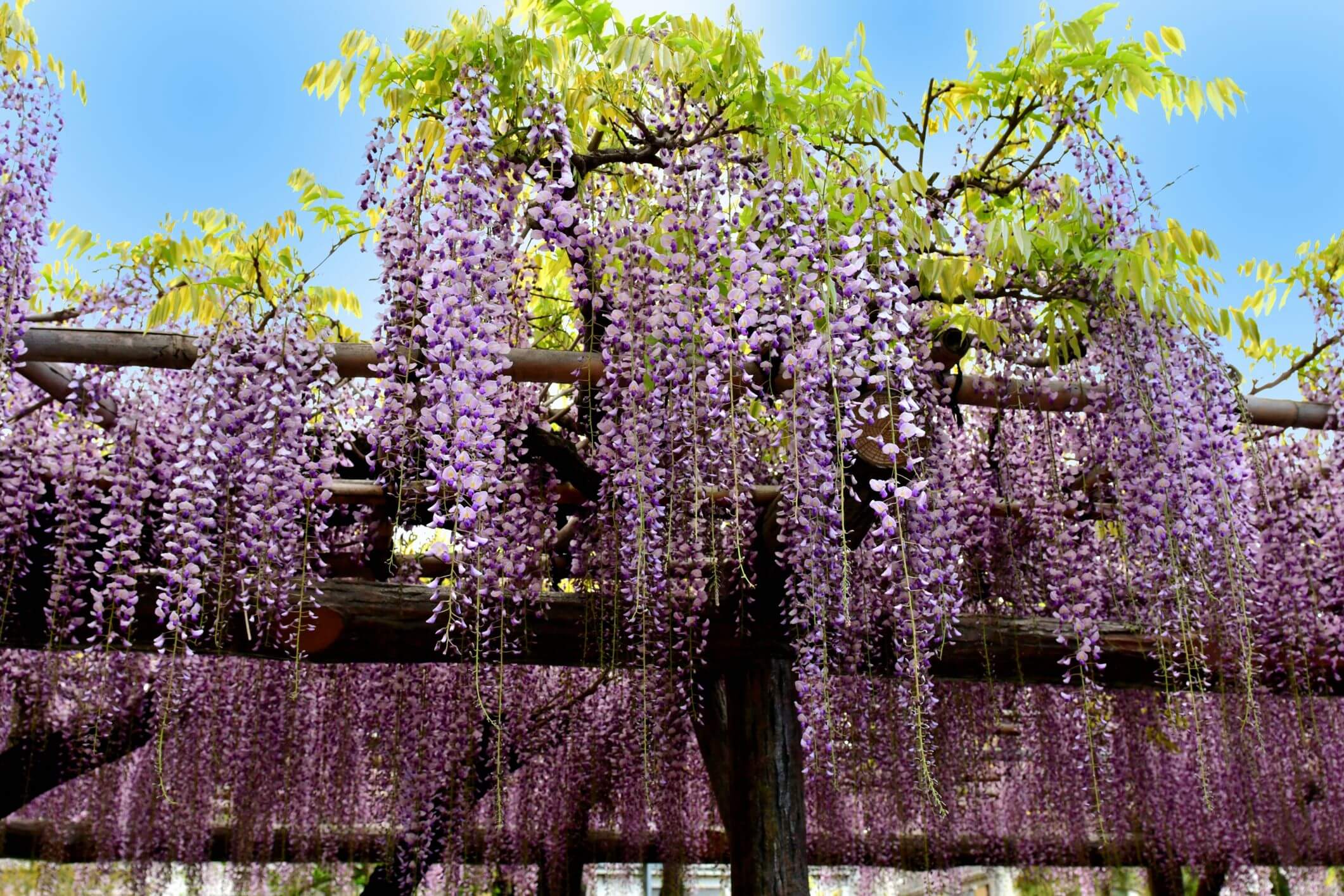 No matter where you plant it, the wisteria tree never fails at drawing everyone's attention in the spring. It can run along your house wall or balcony, or you can grow it as an independent tree. It is all up to you. This tree comes in various types, and all those types offer flowers in different colors. Their colors vary from creamy pink to lilac-blue to purple. With its beautiful flowers, the tree also offers a sweet fragrance.
A wisteria tree usually grows up to 6 to 10 feet with a spread of around 8 to 9 feet. You can grow it in full or partial sun. With proper care, the tree can serve amazingly and offer a beautiful visual delight. However, one must be patient and provide the tree with complete care in its initial years for great results.
Azalea Trees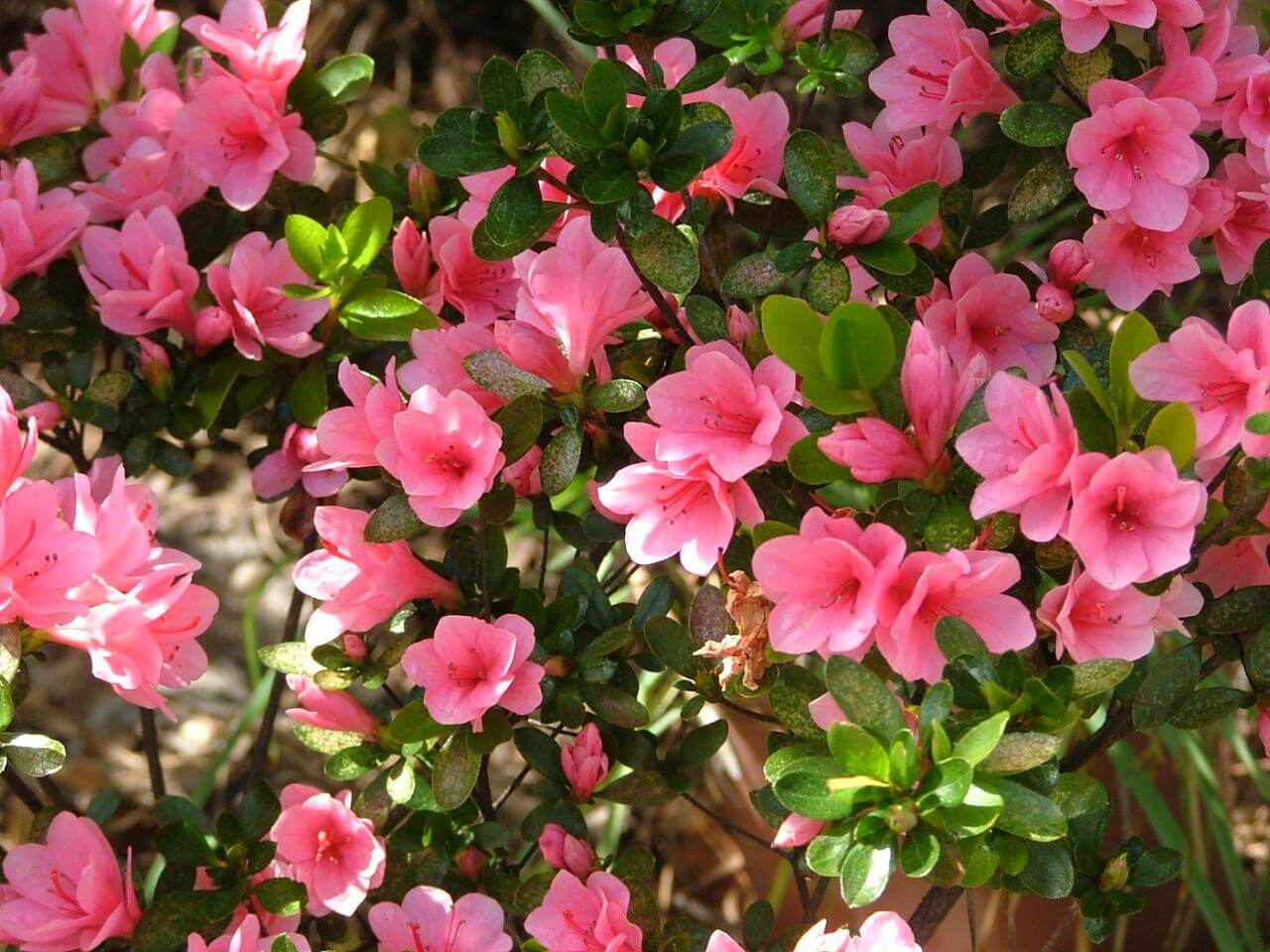 The Azalea trees are a flowering shrub that is grown as a tree. This tree offers flowers in bright colors like pink, purple and red. Azalea trees can work anywhere. As border plants, in masses or as a specimen tree, the azalea tree maintains its beauty in all forms.
The tree requires a well-drained and humus-rich soil to thrive the best. Azaleas have proven to dry out quickly if no proper care is provided to them. So, regular mulching is required so that no shallow roots are left. If proper care and nourishment are given to azalea in the initial ages, then the tree thrives at its best and lives long up to around 50 years.
If one wishes to plant azaleas, the best time is in fall and spring. You can plant the tree in direct sun, but it requires some afternoon shade too.
Rhododendron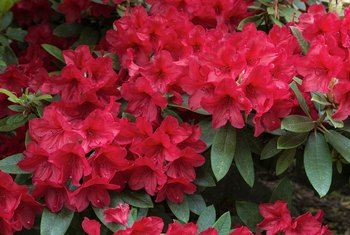 Rhododendron is a family of over a thousand woody plants and trees, both deciduous and evergreen. These trees offer showy flowers in shades of pink, red, white, orange, and yellow. Also, various rhododendron trees vary in their sizes and shapes. Their size varies from 5 to 6 feet tall to even 20 feet and more. This gives you numerous options to choose the best tree for your home.
When it comes to planting positions of rhododendrons, they are unique from other common flowering trees. This tree with pink flowers does not like full sun in the winters. It instead thrives best in shaded positions. It is said that most of the trees in the species of rhododendrons live for hundreds of years.
However, one drawback of this tree is that it is considered toxic for pets (like dogs). So, it may not be a good idea to have a pet if you have a pet to have rhododendrons around them.
Weeping Cherry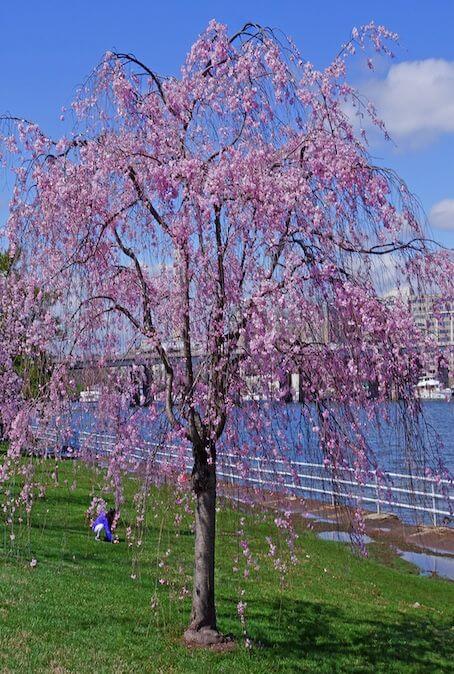 The Weeping cherry trees create a splendid look in spring when their pendulant branches bloom with pink and white flowers. This is typically a tree with pink flowers, but some of its species also bloom in white, yellow, and green colors. The different types of weeping trees come in different sizes. You can go with dwarf varieties, which grow around 8 feet tall, or with trees that reach a height of around 40 feet.
Moreover, these trees live for around 10 to 20 years which is a significant period to enjoy their beauty. If you wish to grow a weeping cherry tree, it prefers full sun positions and well-drained soil. It is not difficult to plant a weeping cherry, but it requires patience and a lot of care to grow efficiently. It demands regular watering and mulch for healthy growth.
Hawthorn
Hawthorns, also known as Hawberrys and May-trees, is a genus of hundreds of species of shrubs and trees. The flowers on Hawthorns bloom in April and May in bright colors like white and shades of pink. These trees grow up to 15 m and live long from 50 to 100 to even 150 years.
Moreover, this tree with pink flowers also offers berries in a color that varies from yellow to deep red. These edible berries have a tangy and sweet taste and are used as herbal remedies for digestive problems and heart problems. However, it is also said that these berries come with several side-effects like headaches and nose-bleeding.
Jane Magnolia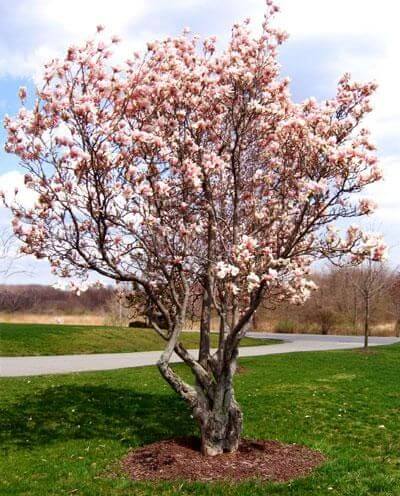 The Jane Magnolia is one of the members of the hybrid magnolias' group "Little girl." The beautiful flowers on this tree look like tulips in pink, purple, and white shades. These pretty flowers also spread a sweet fragrance when they open late spring to avoid frost damage. The green leaves on this tree emerge in the summers and experience fantastic foliage as the leaves turn yellow and bronze. The leaves then drop off in winters.
These trees grow as a large shrub or a small tree of around 10 to 15 feet tall and spread 8 to 10 feet when mature. Moreover, if you wish to grow these trees, you need moderately moist, neutral, or slightly acidic soil.
Oleander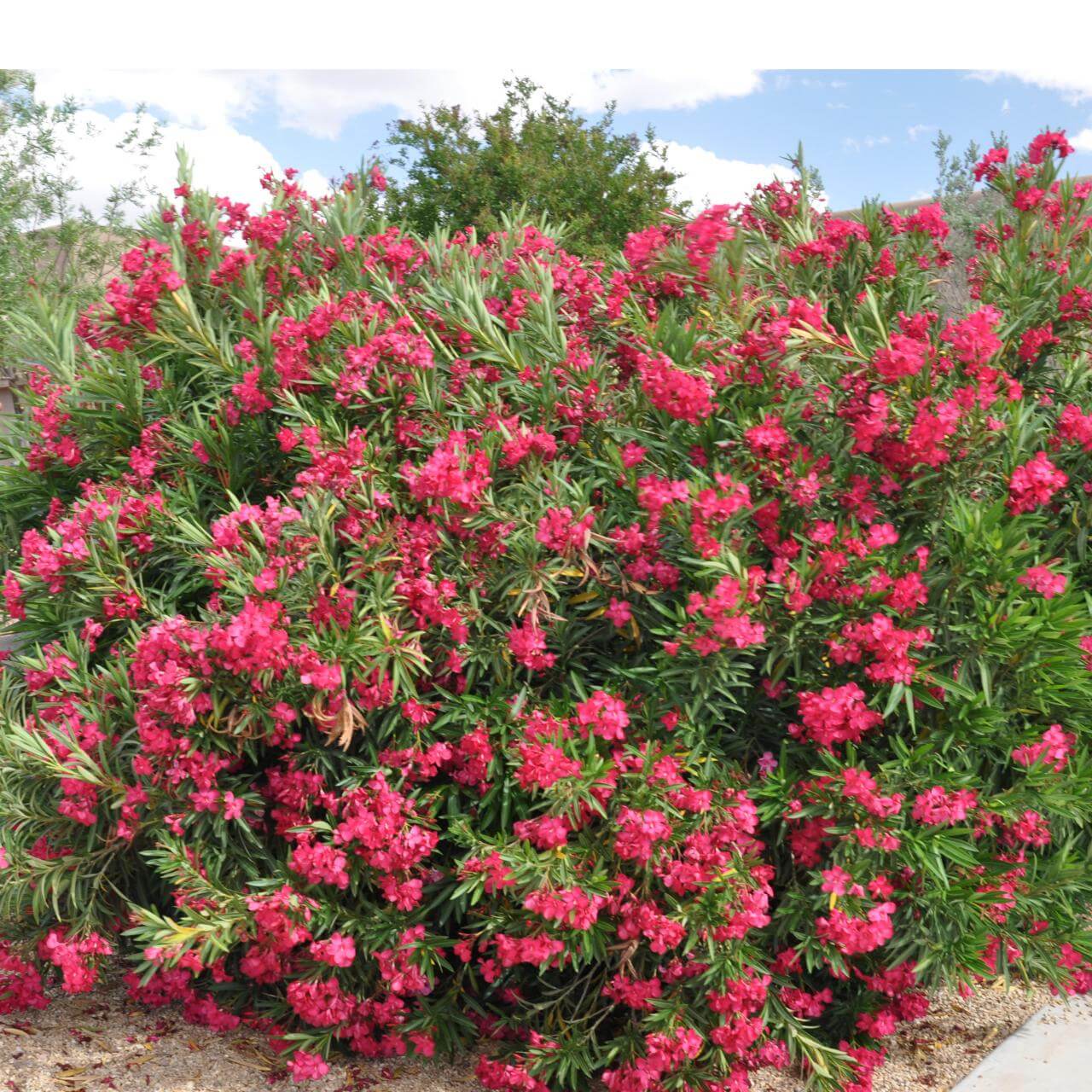 Also known as Nerium, Oleanders are a large shrub type of tree. The trees in this family bloom in various attractive colors like pink, yellow, white, and red. Also, some of their species offer unique double-petal flowers. The tree blooms typically in summers but can offer year-round blooms in some prime frost-free areas.
Oleanders grow around 10 to 12 feet tall and have an equal spread. This evergreen tree also comes with toxins that can be very dangerous, whether the tree is green or dried out. In all, Oleanders are a versatile shrub to grow as an ornamental or landscaping plant.
Which Tree Do You Like?
If you have not yet planned on getting a pretty and colorful tree, then take this as a sign. A tree with pink flowers can beautify and enhance any garden or yard. Flowers in bright colors never fail in adding to the overall beauty of a house or landscape.
Moreover, All the trees mentioned above are the ones which can grow in almost all kinds of climates and surroundings. Also, the trees vary widely in their shapes and sizes (from a bushy shrub type to a tall and majestic one).
So, you can easily choose the right one for yourself. According to your home and garden, you can choose the right tree with the right flowers to match and look good with your home or in your garden.