Flowers look beautiful and the best thing to present to anyone. They are the best positive points of nature when you see them, you always feel so calm, and their aroma attracts you a lot. Flowers are of many kinds and colors however we will discuss here the White Flowers, know their different types, and look at their interesting features White flowers are so beautiful and explain the meaning of peace with their beautiful fragrance.
White flowers can be mixed with other different flowers with different colors and provide you with a colorful bouquet that you can present to anyone and this will be the best present for them for sure. Plants with white flowers like Lilies, Orchids, Jasmine, etc look beautiful with green foliage. 
White flowers are a symbol of elegance, peace, and sometimes sympathy as well. White flowers can be used during wedding bouquets, bridal bouquets, and funerals. White flowers with little pink color, Ivory-white flowers, and pearl-white look very beautiful and graceful.
It has been observed that most of the plants producing white flowers need direct sunlight however there are some that need some shade as well. The soil system should also be well-draining as it needs a lot of water during summers. Let us have a look at different types of white flowers, their interesting characteristics, and interesting facts about them and that too with images of them for better understanding.
Japanese Anemone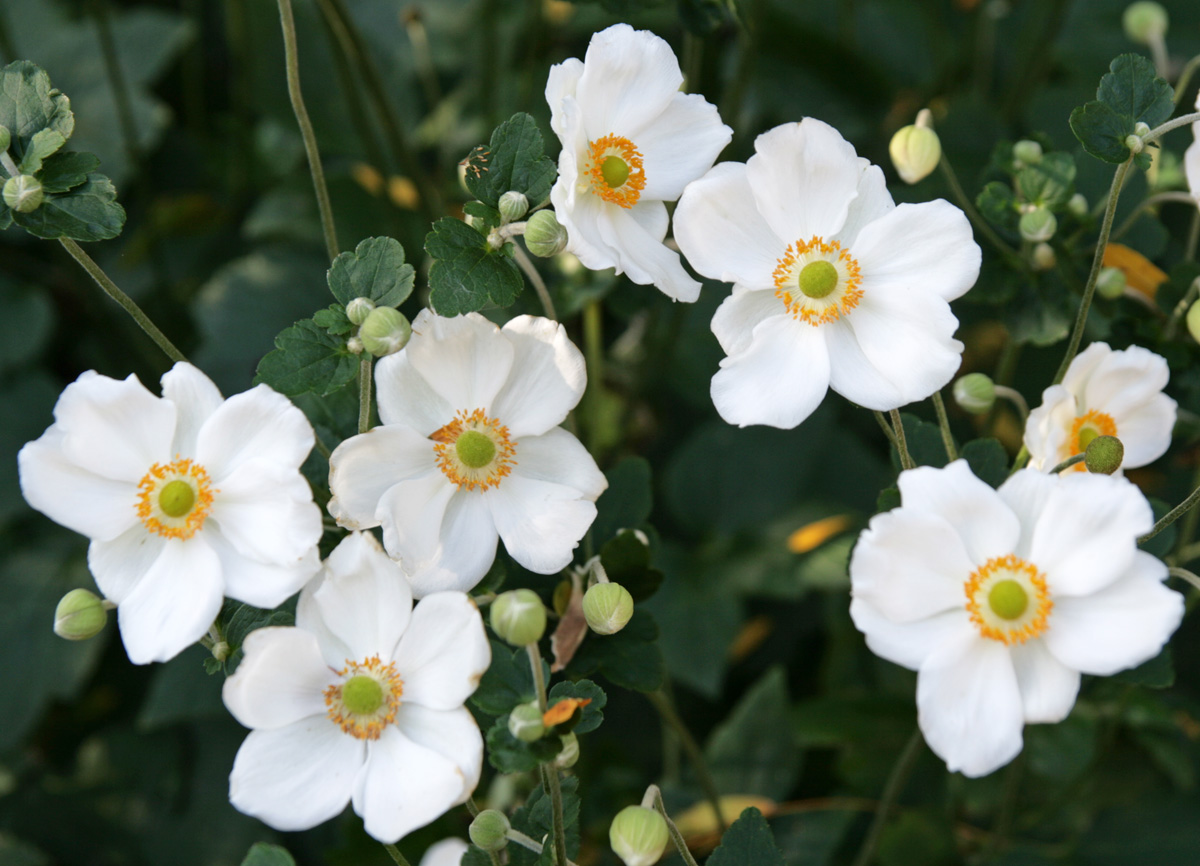 These are beautiful white flowers with a little yellow color at the center of them. So, if you are planning to get white flowers with yellow color at the center then Japanese Anemone is the best choice for you. These consist of large petals and show graceful white color. They have star shape petals, so they look stunning. They have multi- petals and, they are available in blue, pink, and crimson colors with a ruffled look.
The best feature of these flowers is that they are perfect and exceptional for your garden from the period of late summer and extended to late fall. These can be grown between the zones of 5-9 and most probably 4-8. The white cultivars include Anemone blanda 'White Splendour' Anemone Coronaria 'Mount Everest.'
Jasmine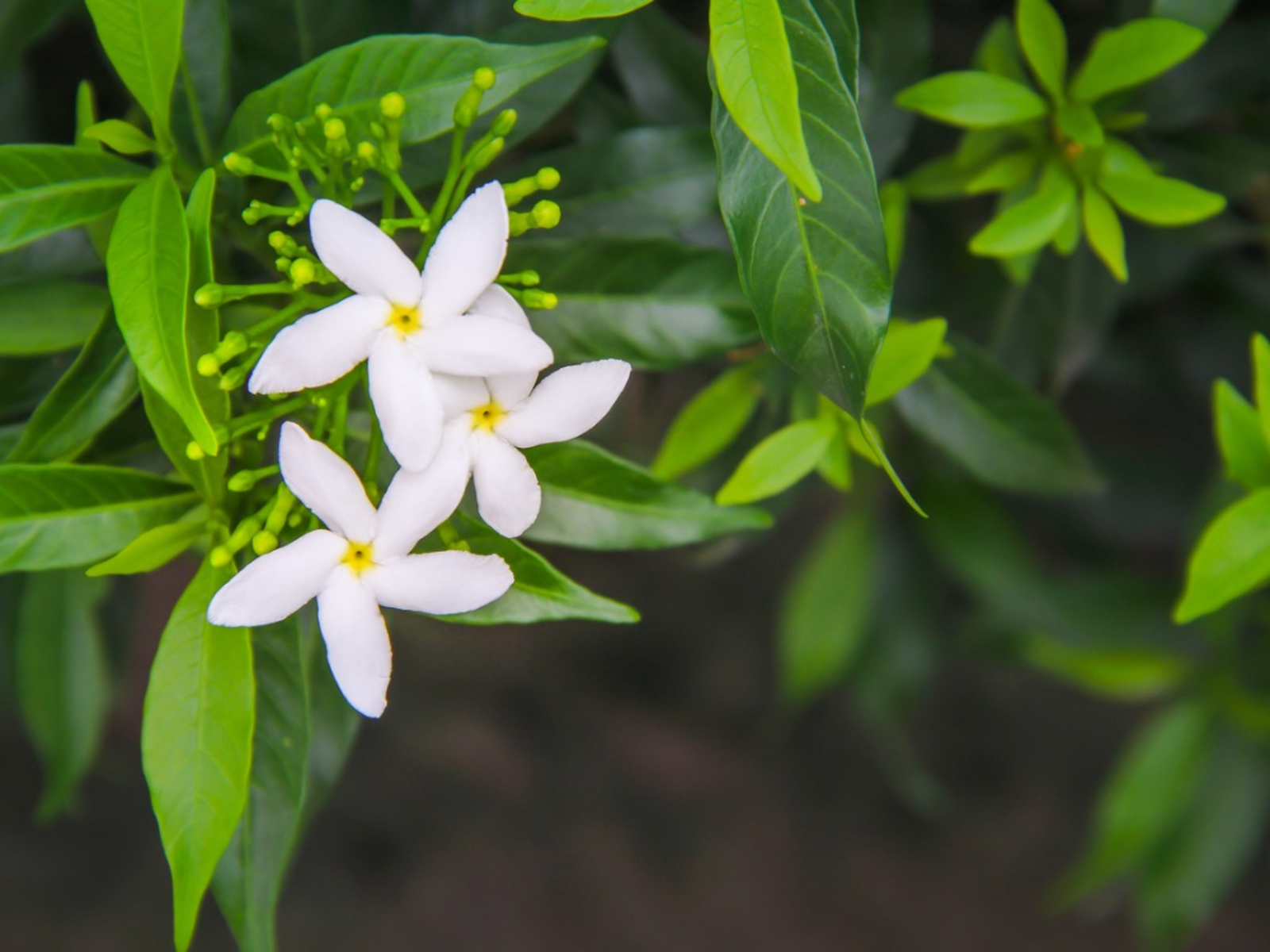 This is very popular all over the world. This has beautiful white star-shaped petals, and these are small flowers with amazing fragrances. If you plant the ornamental jasmine shrubs in your garden, they are very good for climbing up arbors and covering fences giving them elegant look. These flowers can be grown in summer and spring that can extend up to Frost.
These fastest growing flowers can be grown up to the level of 18-30 ft. The best feature of these flowers is that they give an amazing fragrance, semi-evergreen bush with white or light pink color. They have a growing zone of 8-10. The White cultivars are Jasminum Sambac 'Grand Duke of Tuscany,' Jasminum sambac.'
Camellia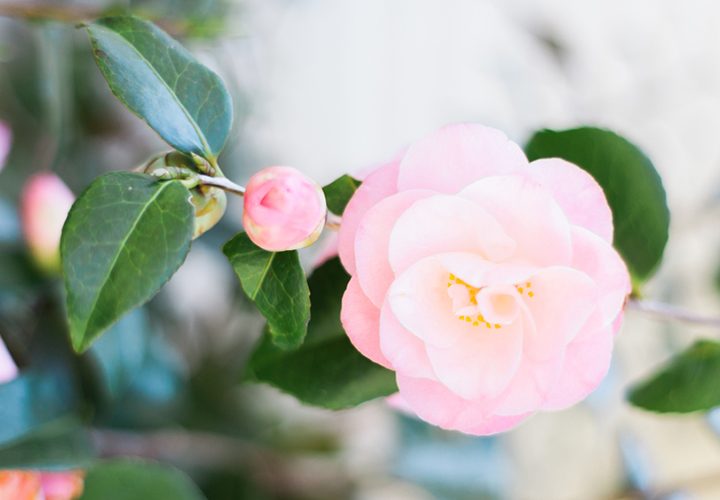 Camellia is the best and amazing large flower that can be grown in fall, winter, and even into spring. These have peony-type flower heads and, they have an amazing nature to be found in some temperature regions however instead of that there are some Camellia Cultivars that are cold hard, and not specific to the temperature region. These have pretty petals with spiral shapes and are ruffled to create showy flowers.
The best part of the Camellia is that the elegant white blooms look beautiful against the lush green foliage. These have growing zones between 8-10. Camellia also has white cultivars like Camellia 'Chine Clay' and 'Snow Flurry' etc.
Calla Lily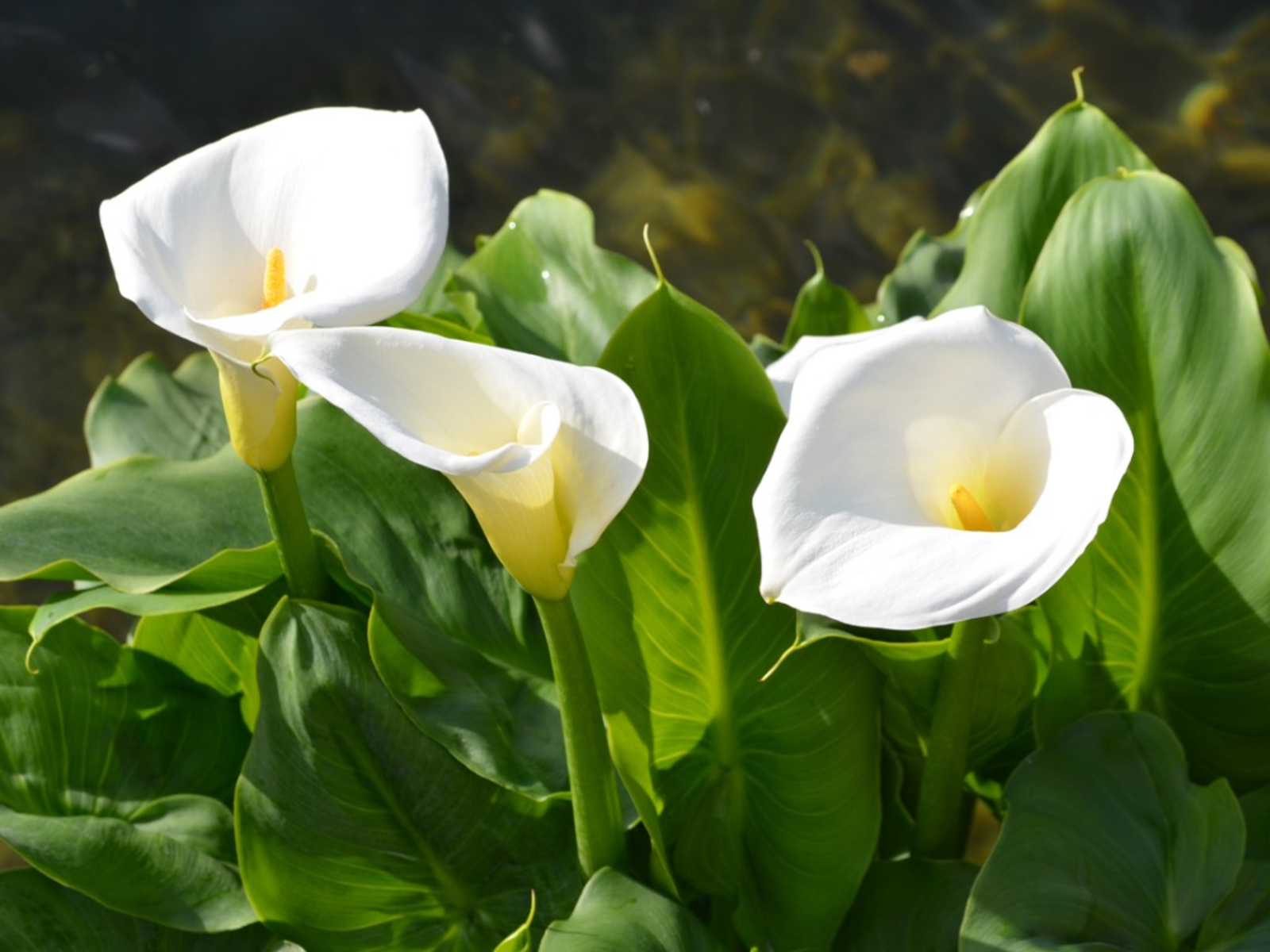 Calla Lilies can be identified with their elongated trumpet-shaped flowers that are white in color and are so grateful that you cannot take off your eyes from them. These are mostly used as the centerpiece of any flower display since they are so stunning in their look, the white flowers with amazing green foliage around.
They have white cultivars that are called Green Goddesses and they can grow about 2-3 feet. They have also other cultivars like white flowers with purple shade in the middle and some with white color and chalice-shaped flowers with yellow color at the center. Every Calla Lily looks amazing, and you cannot decide which one is more beautiful.
The best feature about them is that they give a different and attractive look to your garden when they grow and the period in which they grow is between Late springs and early summers. They have a growth zone of 9-10. White Calla Lily cultivars are like Mint Julep and Crystal Blush etc
White Orchids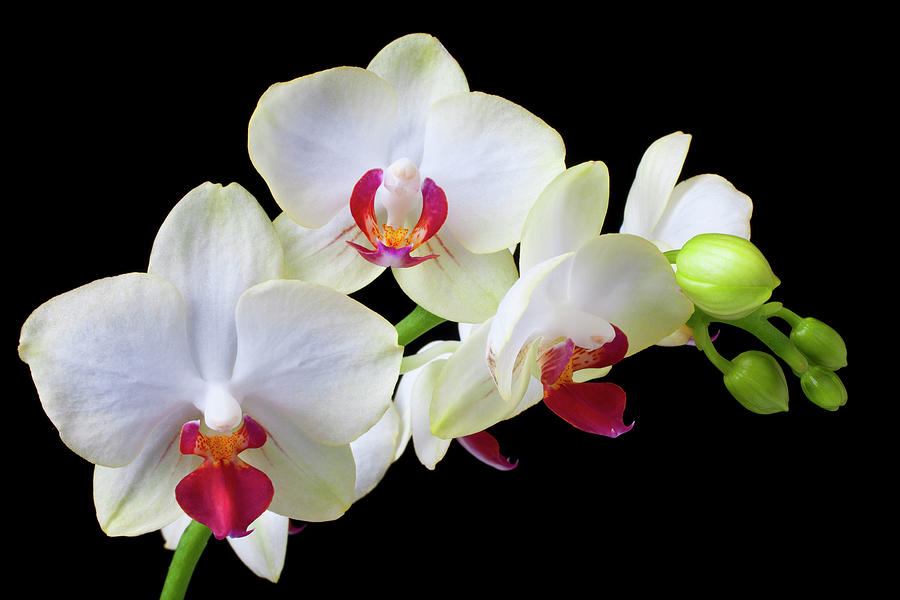 Orchids are beautiful and elegant white flowers that can attract anyone towards them in one look. These are the flowers that symbolize beauty, Innocence, and refreshment. All over the world, there are more than 1000 categories of orchids and flowers with different colors. Some flowers are just white in colors however some have a beautiful shadow of pink and yellow at the center to enhance their beauty and attraction.
The best part of these flowers is they have a soothing white color with contrasting yellow or pink centers. Also, they can be grown in between the zone of 8-13. Despite this, they can also be grown as an indoor house plant. They also have a special thing that is they may have up to 50 blossoms on one stem.
Chrysanthemums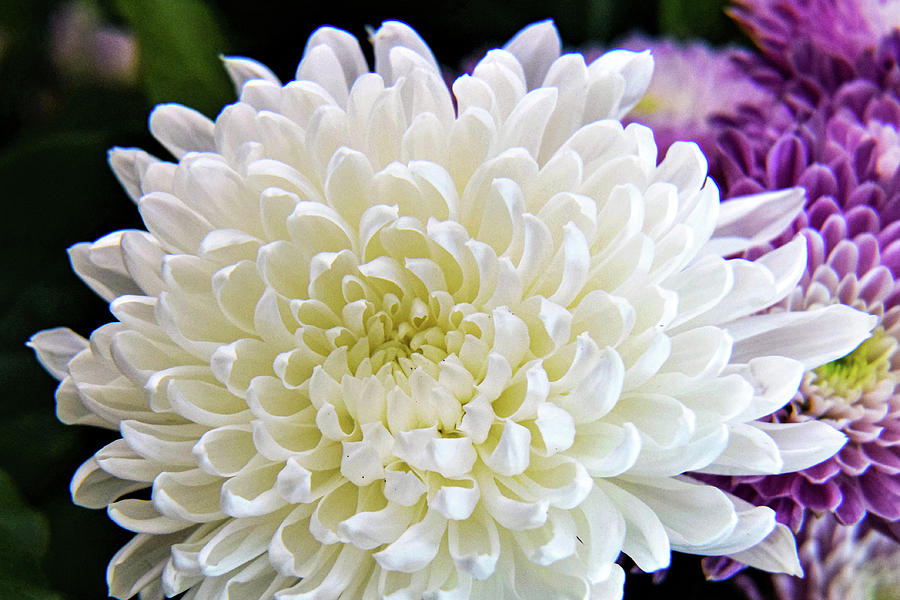 If you plan to plant Chrysanthemums in your garden then it will be very interesting as it will give your garden a different look with splashes of white, purple, pink, and red in the fall. These flowers are so beautiful and come in different shapes and sizes. There are more than 100 tiny petals that can give rise to this category and they are called globular flowers.
The 'Spider Mum' is special in this as it consists of thin white petals and with yellow center. The best part about them is that if you have small cut flowers look in your garden, it will enhance its beauty as Chrysanthemums are large showy white flowers and they will add to the beauty of the cut flower structure of your garden. The growing zone lies between 5-10. There are white cultivars of Chrysanthemums that are Spider Mum and Billy Bell etc.
Daffodils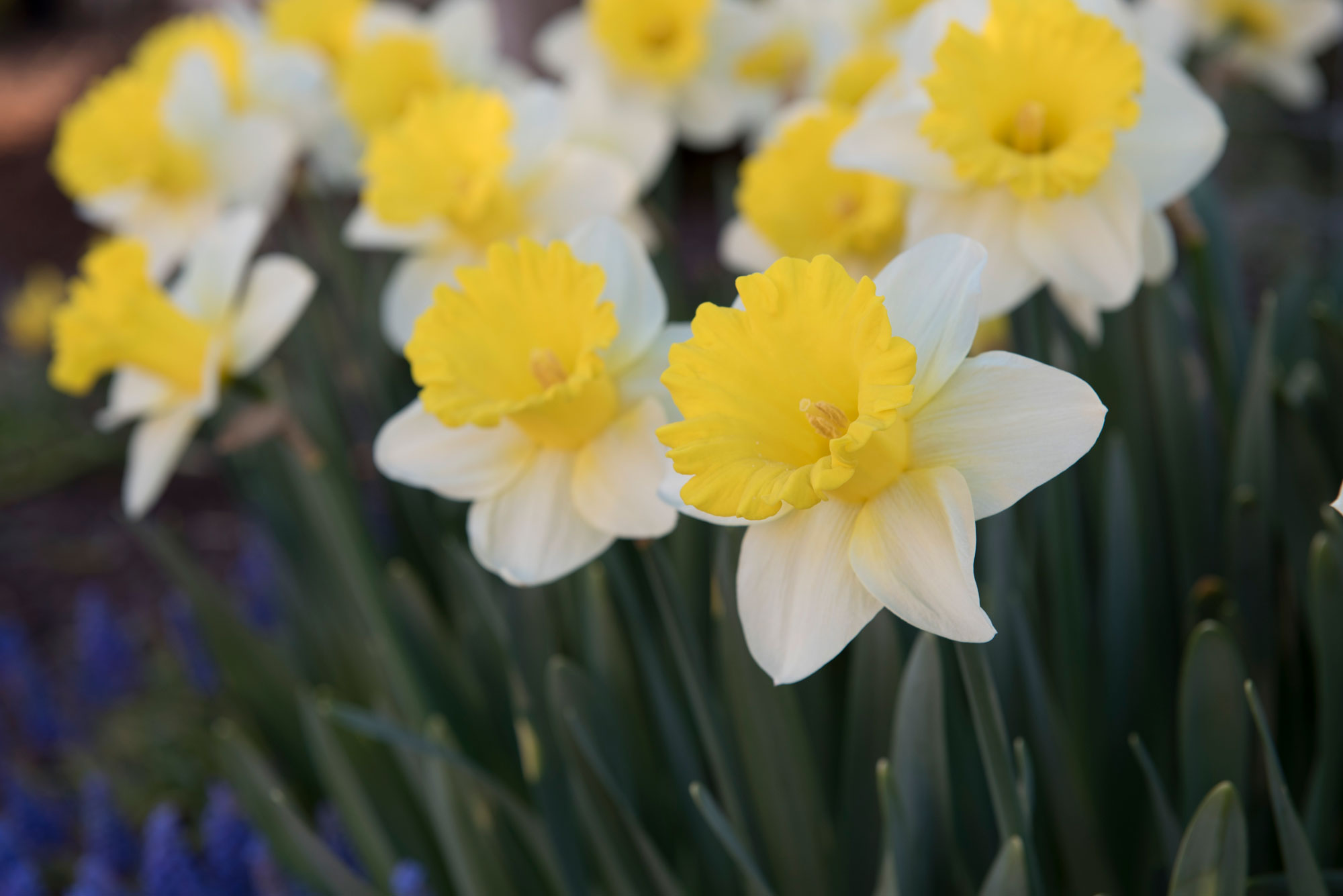 Daffodils are basically funnel-type flowers with small to large as well. These flowers are the center of attraction due to their white petals and yellow trumpet at the center that gives them an amazing look. Daffodils with double ruffled yellow and white petals look very mesmerizing and, they are spring-flowering plants. 
Daffodils are the plants that are known for their presence on any occasion, and they will add to the beauty of those occasions, no matter any. They also have the ability, to add to the beauty of your spring garden all the time. The growing zone lies between 8-12. The white daffodil cultivars include Bridal Crown and Ice King etc.
White Tulips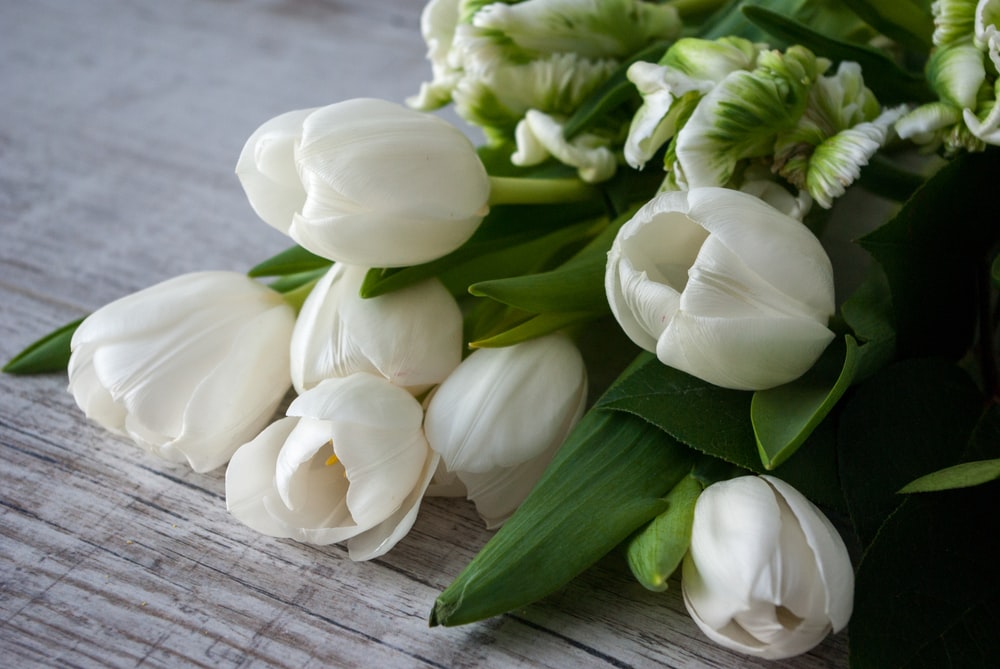 Tulips are beautiful flowers that show that spring has started. They can easily be identified when you see them as they have a cup-shaped flower that lies on the top of a long stem and they look so elegant with this shape. The petals of the tulip flowers can be of oval shape with interesting shades of white, yellow, pink, and orange as well.
Some tulips have a tapered look of petals and that will make them spiky. White tulips are the perfect representation of romance and charm. The best part of tulips is that they are so beautiful white flowers with vibrant and contrasting colors. Their growth zone lies between 4-8. White Tulip Cultivars are Ice Follies and White Triumphator etc.
White Hibiscus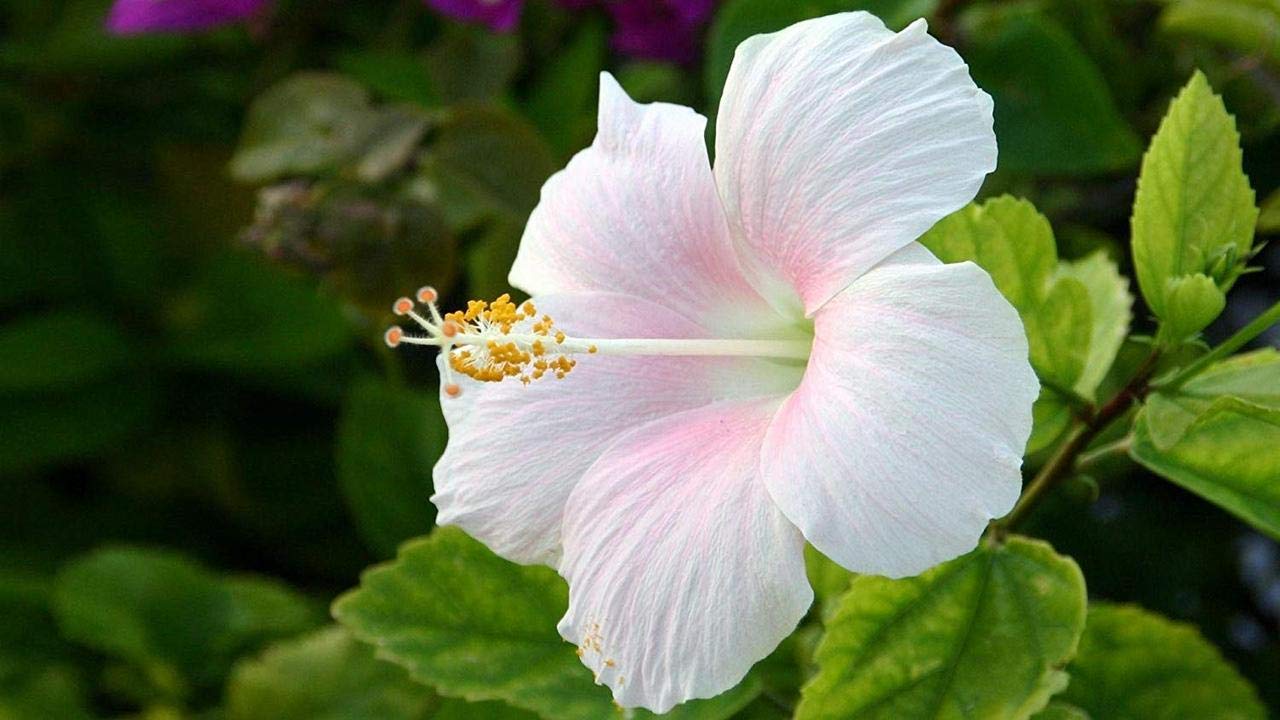 Hibiscus is commonly known as the Rose of Sharon. These are beautiful flowering shrubs that produce amazing large blooms. They do not need strict maintenance so they can be grown easily and due to this factor, many people like to grow them. Hibiscus has white trumpet-shaped flowers and papery petals.
They also produce a stamen from the center. The best part of Hibiscus is that they are large showy white flowers with vibrant pink, red and purple colors, that gives them a superb look. The growing zone lies between 4-8. The cultivars include Mocha Moon and White Chiffon etc.
Carnation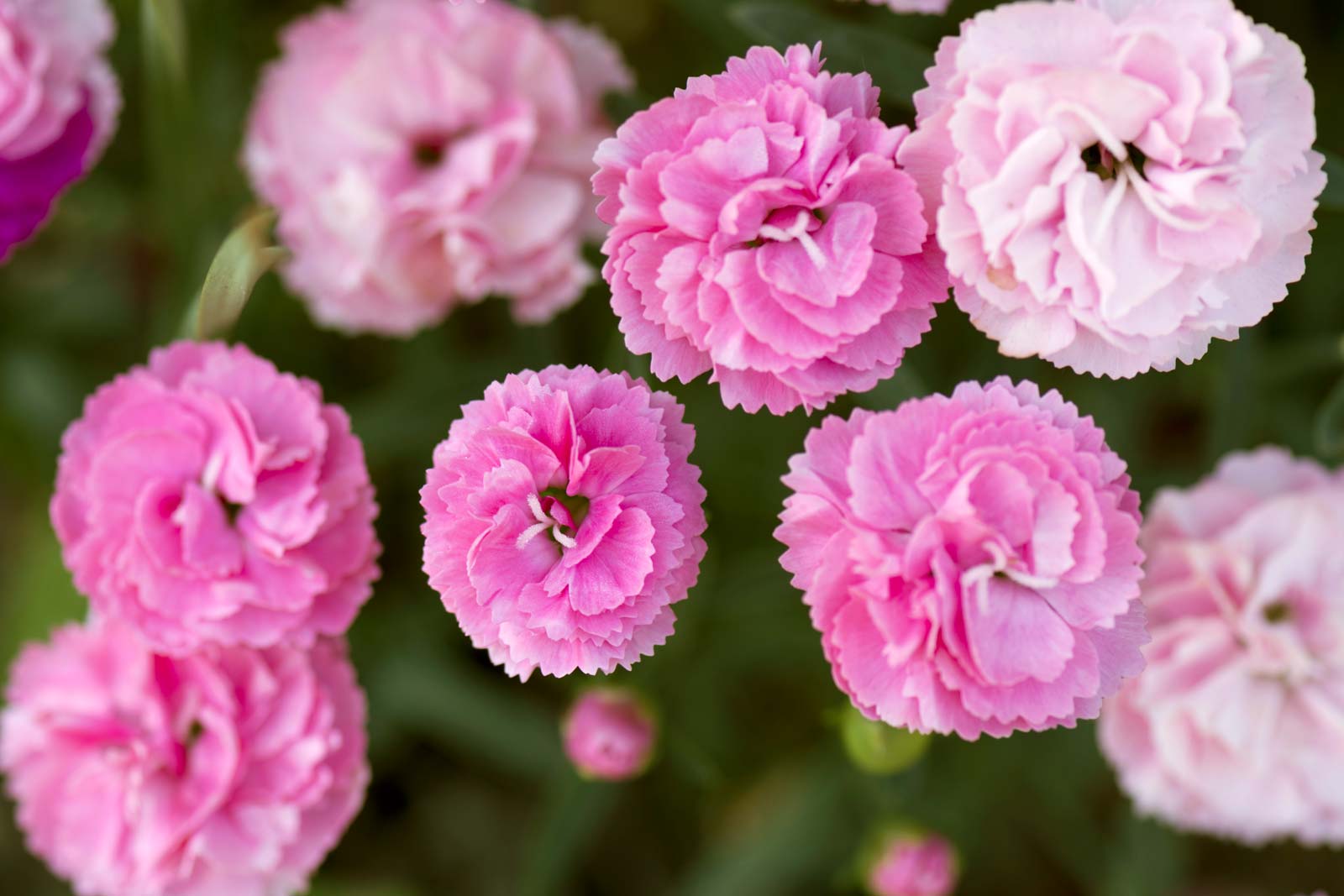 Carnations are beautiful flowers with ruffled petals. If we talk about their types so there are more than 300 species of Carnation are available and they are both annuals and perennials. There are long and tall stems on which the flower rests. They have leafy stems. Carnation can also grow between 9"-10". Except this Carnation can grow even taller. The best thing about Carnation is that they are beautiful fragrant flowers that fit on all occasions. The growing zone lies in 5-8. The white cultivars are Coconut Surprise and Arctic Fire etc.
Amaryllis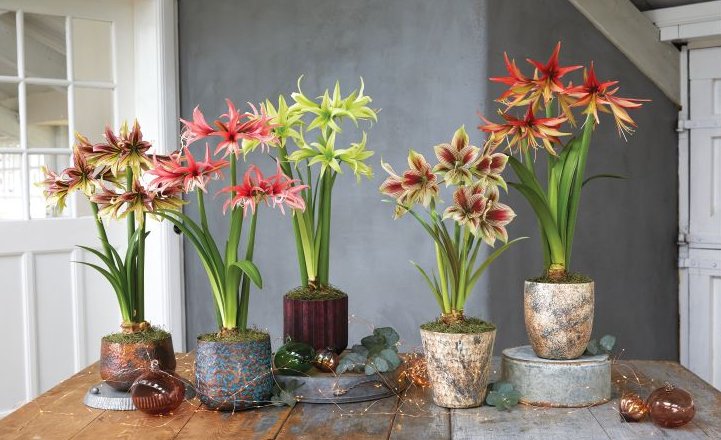 Amaryllis produces amazing and spectacular flowers with large and showy looks. They grow on the stems and they are large with superb colors like white, pink, and orange, etc. They can grow high, and their height can be up to 2 feet.
The well-noted point about them is that they can fill a room with their beauty and charm expressing their beautiful and vivid colors. The best part about Amaryllis is that the varieties of Amaryllis that have double flowers are amazing and attractive. The growing zone lies between 3-10. The white cultivars include Christmas Gift and Mont Blanc etc.
White Rose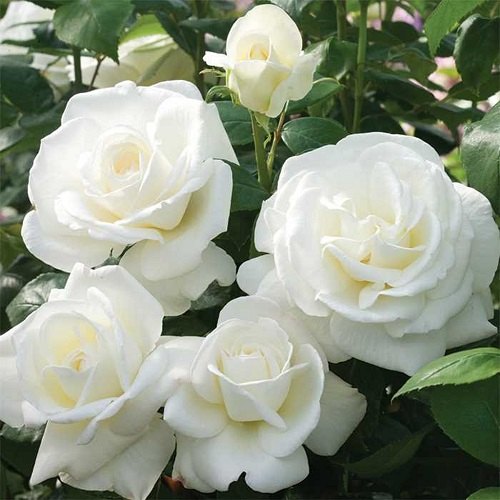 Roses are always pointing towards love and romance. However, there are more than 1000 varieties of roses and out of them, white roses are used for marriages and a new beginning of life with your partner. Roses are basically Perennial plants and climbing plants too. Some roses have bushy-looking rosettes. They have creamy-white flowers. Some roses have large petals which are open, and they also have vibrant yellow color at the center that looks awesome.
The best thing about White Roses is that they can be used on any occasion to add to the beauty of it and they also have amazing fragrances that can melt anyone's heart and make them fall in love with them. The growing zone is between 4-9. The Cultivars include Claire Austin and Susan Williams-Ellis etc.
Magnolia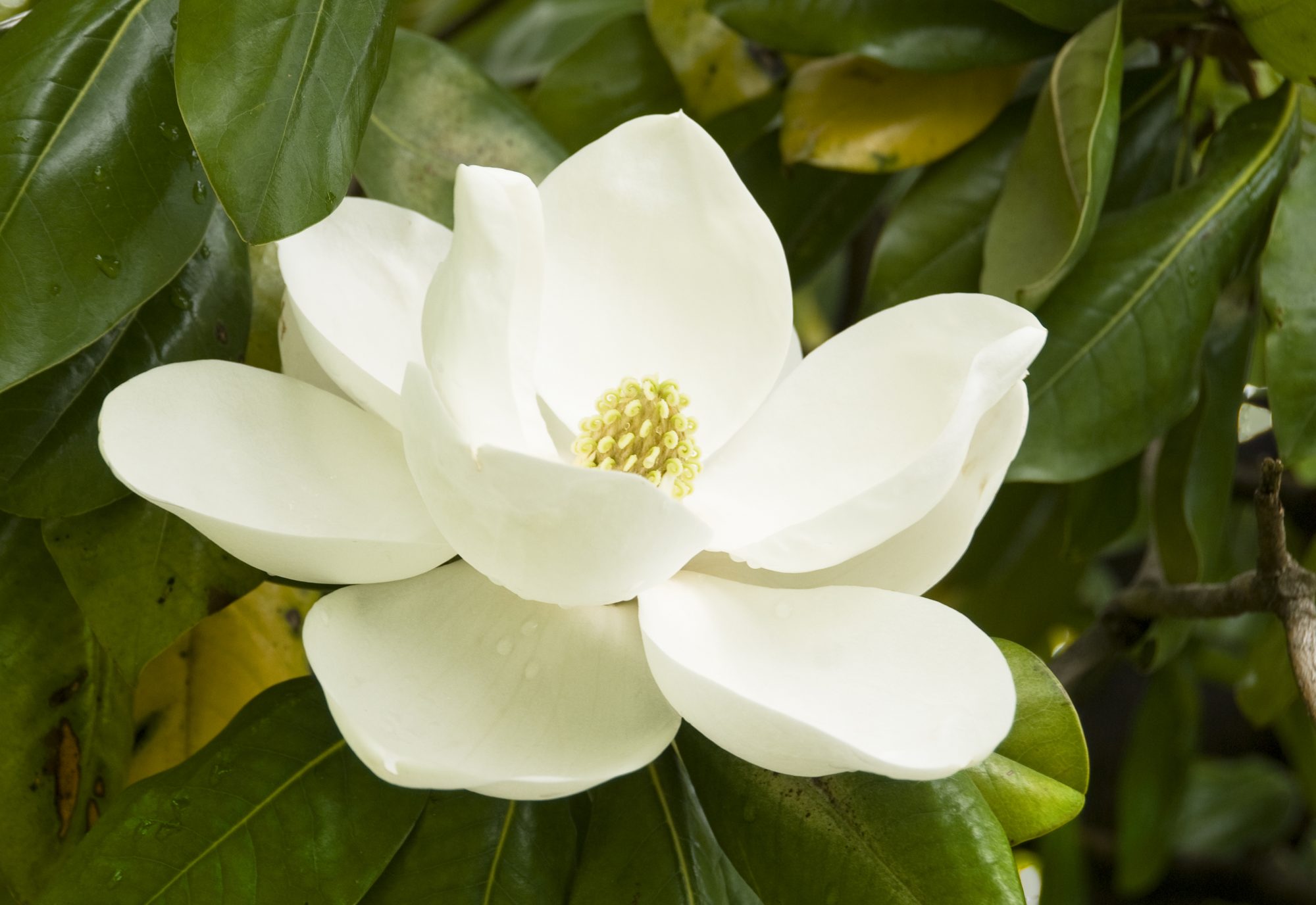 Magnolias are climate-dependent shrubs and trees. They are basically perennial evergreen deciduous species. These are so attractive with an amazing aroma to be the perfect source of happiness. Magnolias grow up between Springs and Summers to fill your garden with immense beauty and Fragrance at the same time.
They give spectacular look with white and pink flowers. There are some magnolia white flowers that have cup-shaped petals however some others also have curving petals in the backward direction. The best part of Magnolias is they are a beautiful collection of floral displays in your garden with an amazing fragrance. The Growing zone lies in between 4-9. White Magnolia Cultivars include Gold Star and Ivory Chalice etc.
Lily of the Valley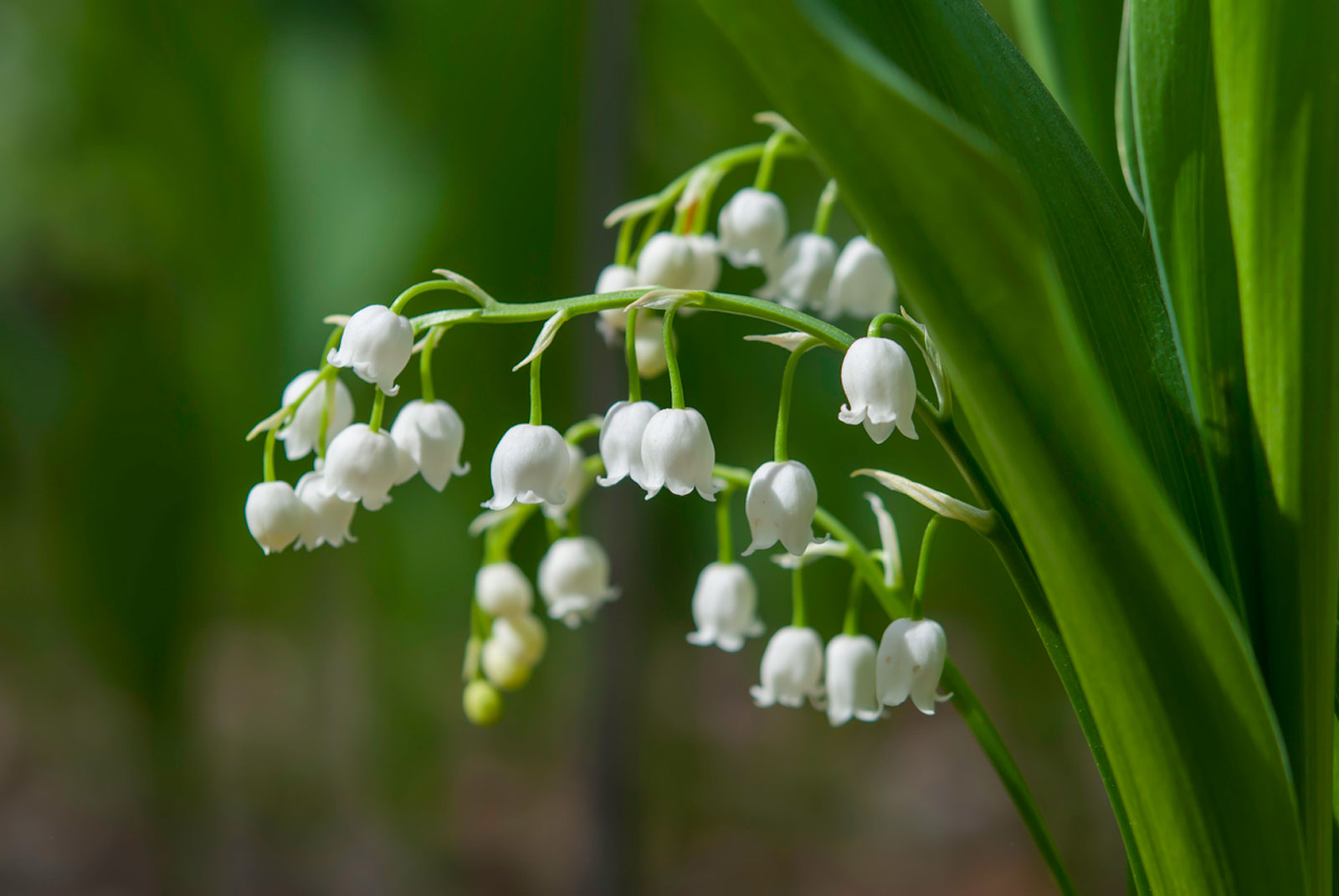 Lily of Valley produces white bell-like flowers that look outstanding. There are usually 2 leaves surrounding the flower and their stems are long up to 7" to 12". Each stem has more than 12 flowers and gives this flower a fabulous look. Due to the beauty of Lily of Valley, it is used in bouquets during weddings and a major species to be used during Royal Weddings. The best thing about them is that they are low-growing plants and produce flowers in late springs. The growing zone lies between 2-8. White Cultivars include Albostriata and Bordeaux etc.
Heliotrope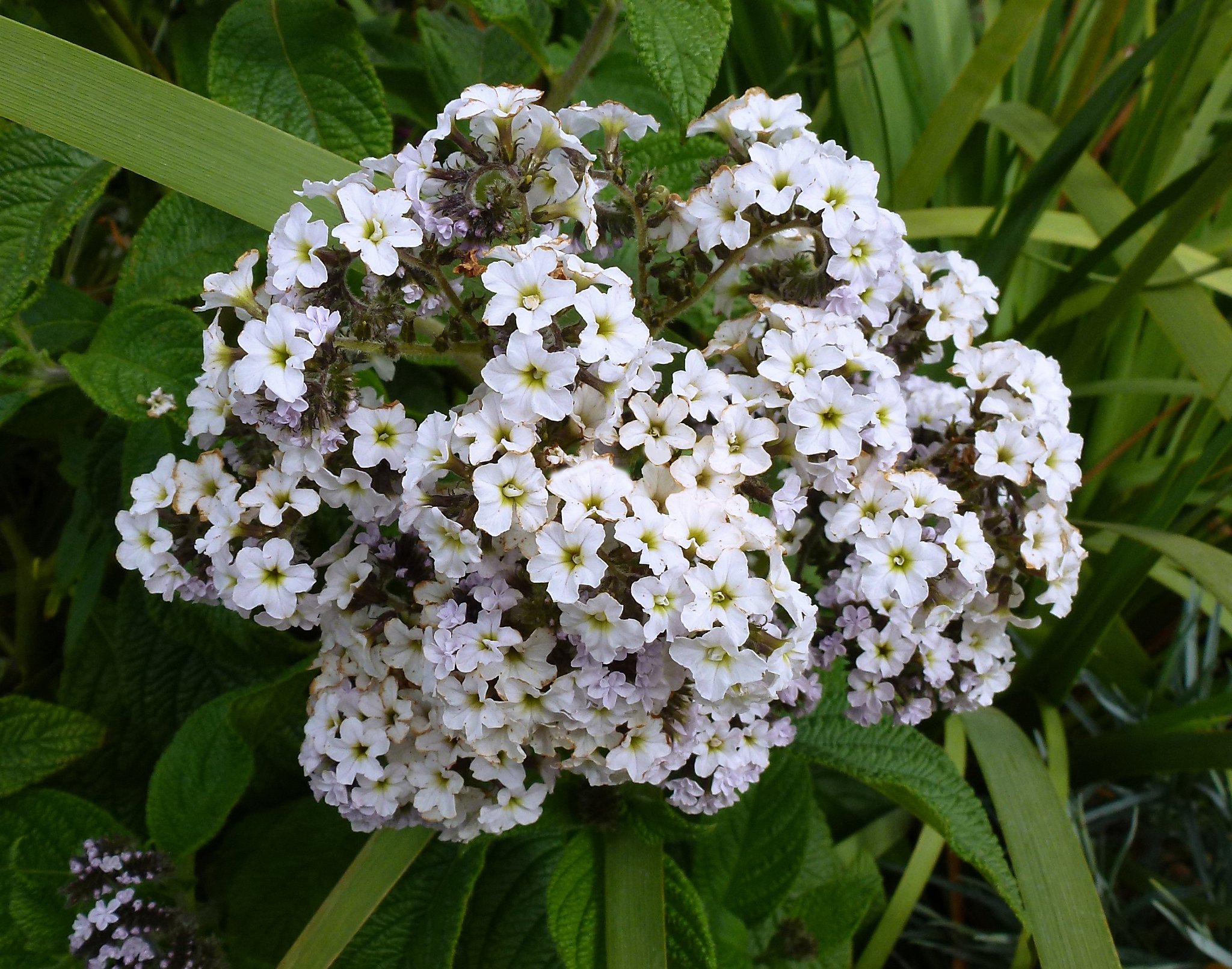 Heliotropes are bushy annuals that produce clusters of tiny flowers. Heliotrope flowers are very beautiful. They show star-shaped petals and those give amazing fragrances. The best thing about Heliotrope is that they create a colorful ground cover in summer. The growing zone lies in 8-11.
Gerbera Daisy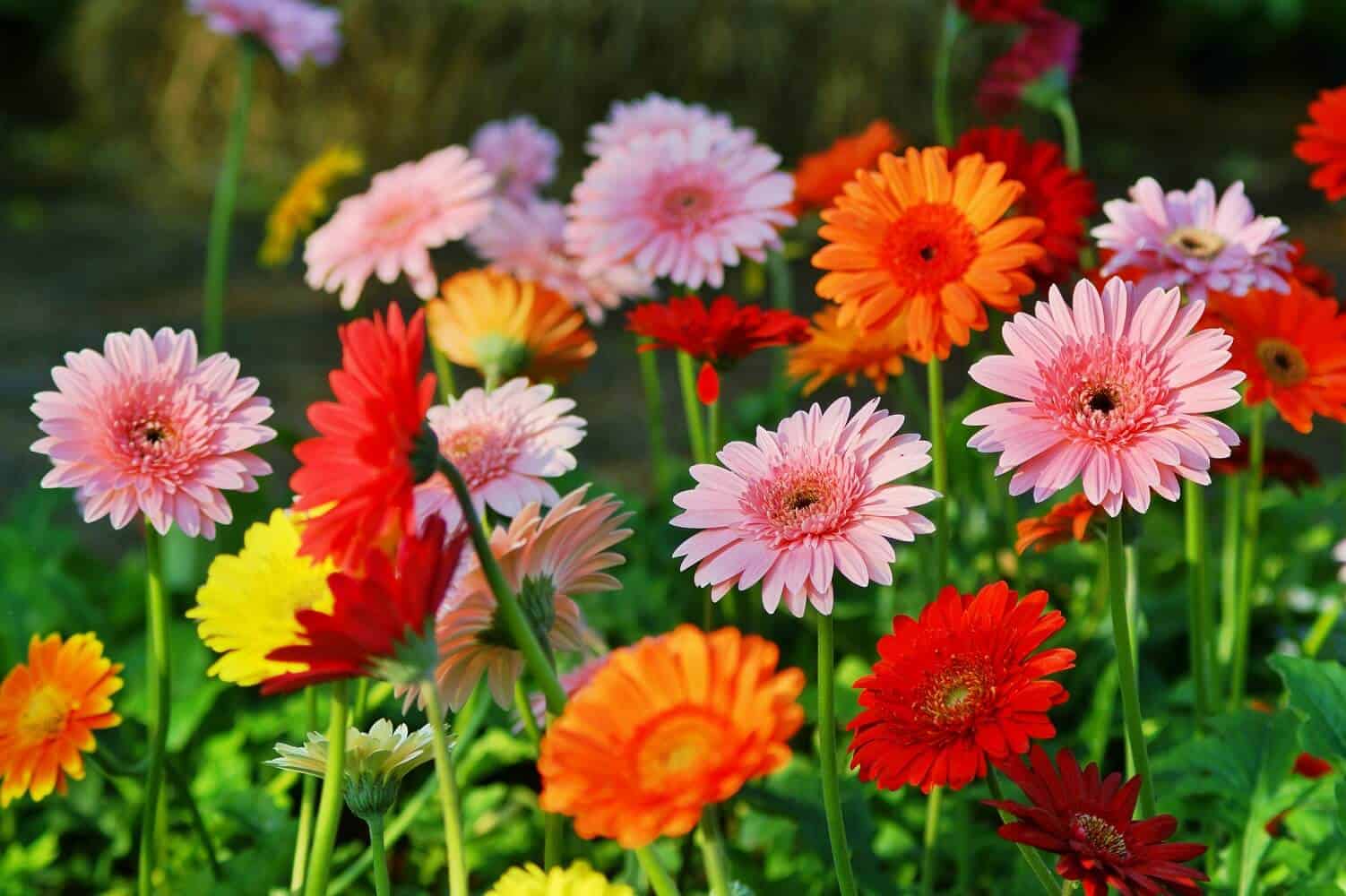 Gerbera Daisy is large and beautiful flowers and due to their large size, they act as the center of attraction and the center of any floral display. They look so beautiful in a combination of amazing colors like red, purple, and maroon flowers. Some Gerbera Daisy is also yellow and pink in the centers that give an extraordinary look to the flowers. The best thing about Gerbera Daisy is that they have large and beautiful flowers, and they have a diameter up to 5". The Growing zone lies between 9-10.  The cultivars include Gerbera White.
Hydrangea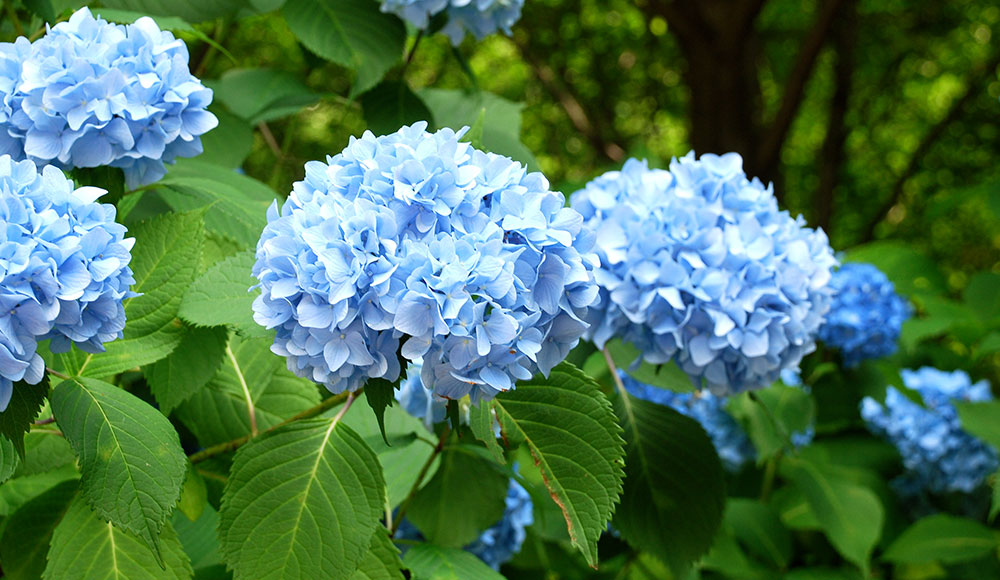 Hydrangea produces globular flowers in summer, and they are basically perennial shrubs. These are bushy plants and very beautiful. They grow at a very good rate and they can be 4-5 feet long and they can also spread up to 6 feet. These are summer flowers, and they can last for 2 months not more than that.
The best part of Hydrangea is that they have beautiful flower heads and those give an elegant look to the cut flower collection and express beautiful color to the room. The growing zone lies in 4-9. White Hydrangea cultivars include Snowflake and Grandiflora etc.
Gladiolus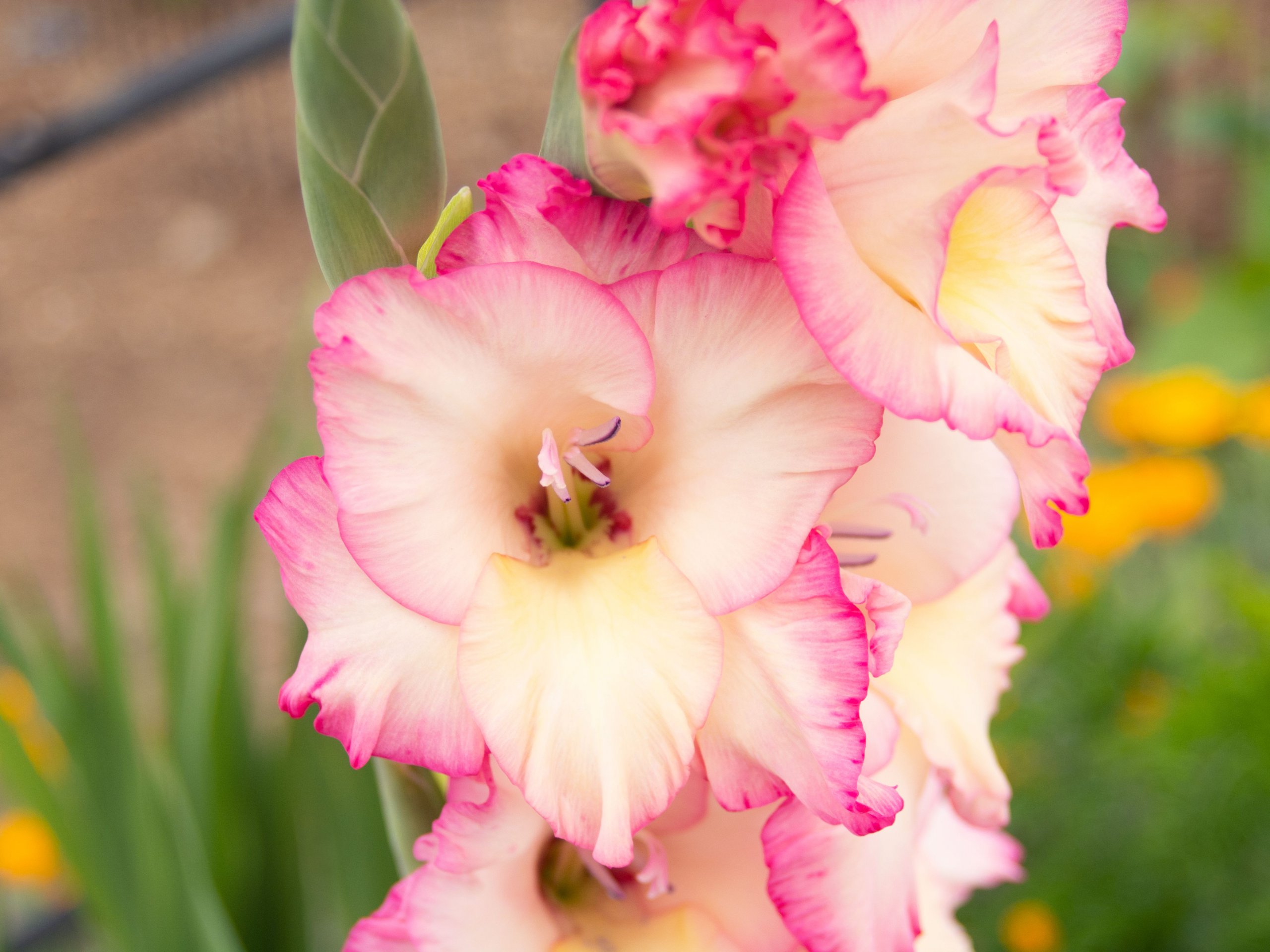 Gladiolus are called Sword Lilies as well. Gladiolus plants have tall spikes that hold the flowers. They are the plants that produce trumpet-shaped flowers, and they look outstanding. As they have long flowering tops and vibrant colors, they look amazing with small cut flowers. These are tall summer flowers that can grow to a height of 5 feet.
These have a variety of colors in their flowers, and they are so attractive. The growing zone lies between 9-11. The white gladiolus cultivars include Incrediball and Madame Emile Mouillere etc.
Clematis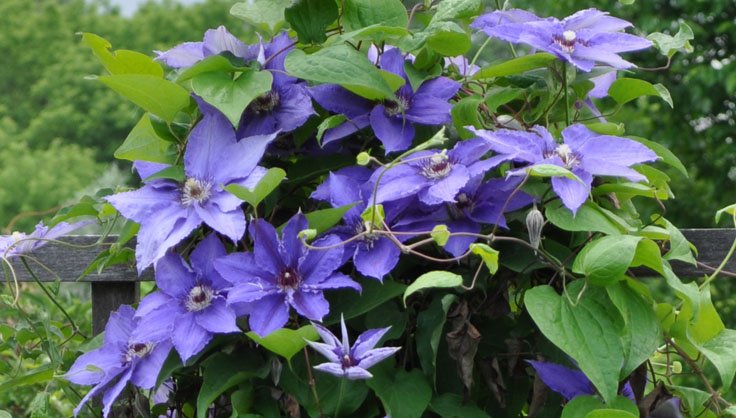 Clematis is one of the best flowering climbing plants to grow if you are planning to have one. They grow at a very fast rate and can be grown up to 10 feet. These have ruffled star-shaped flowers that look very beautiful, and they also have double flowers that give them an excellent look.
The best thing about Clematis is that they have green foliage and large white beautiful flowers. The growing zone lies between 8-11. White cultivars include Lanarth White and Hydrangea Macrophylla etc.
Phlox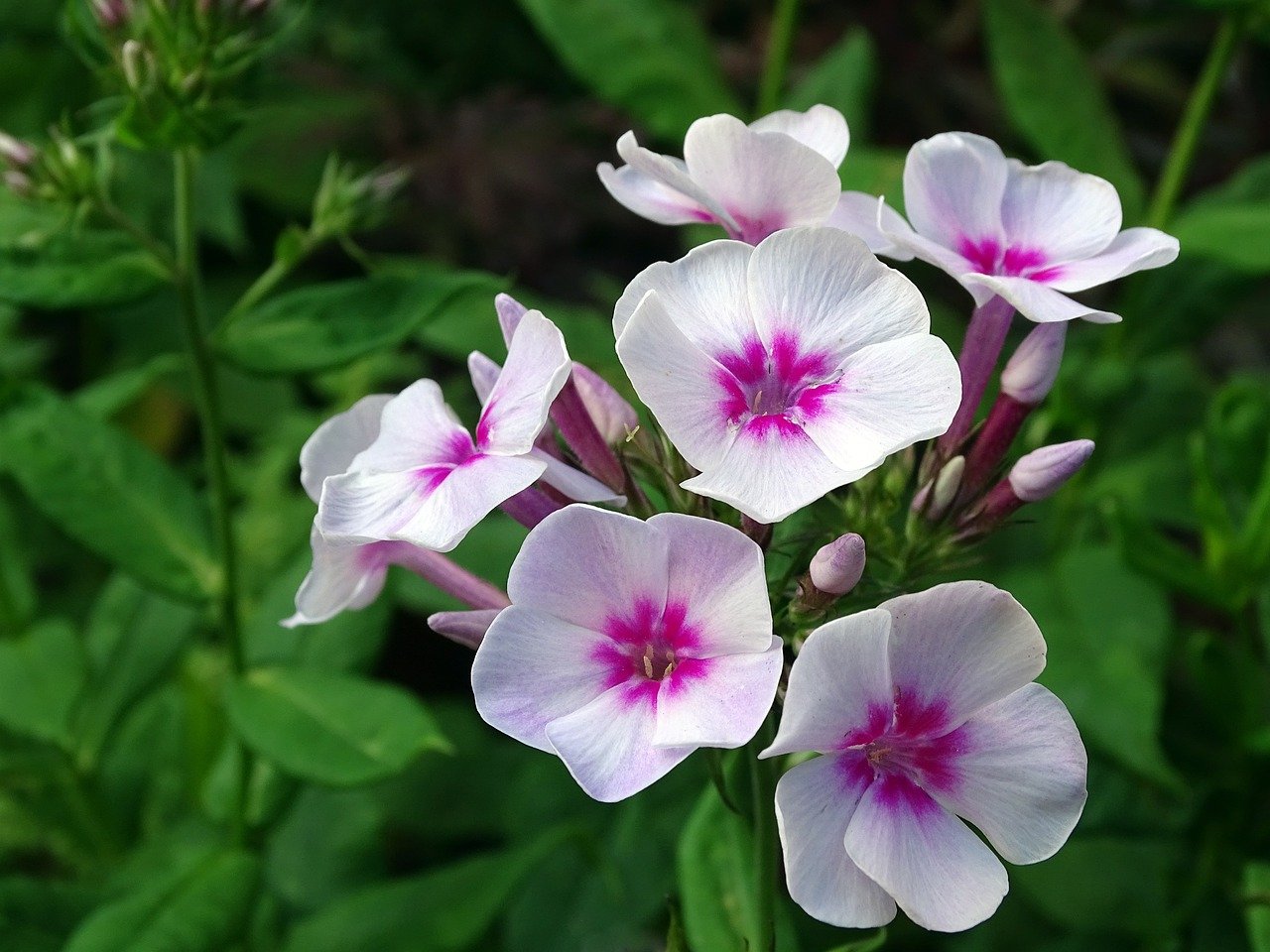 Phlox are beautiful white small and ground covering plants. They show beautiful colors during summertime. These are so beautiful small white flowers if you have many somewhere then it seems that snow plate has covered the whole ground.
They can grow between 3-4 feet tall. The best thing about Phlox is that they do not need strict maintenance and they can be grown with a little maintenance and give you amazing white flowers that can attract any eye. The growing zone lies between 4-7. White Cultivars include David and Flame White Eye etc.
Snowdrops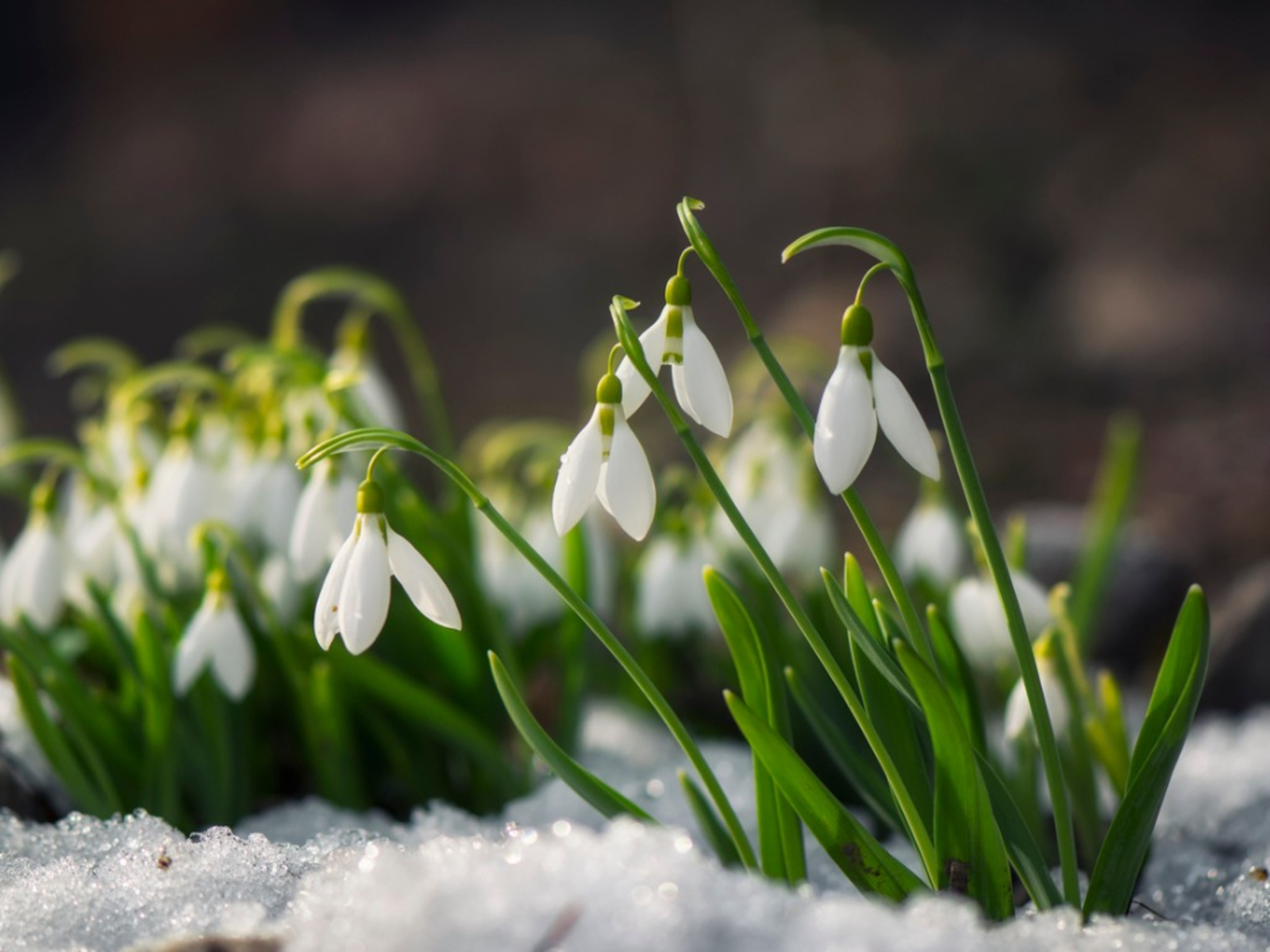 Snowdrops are small perennial flowers that grow in your garden to give them an enhanced look. They are the flowers that grow at the first after the winter. These look so beautiful and can cover your garden like a carpet of white blooms when they grow. The best thing about Snowdrops is that they bloom just after the winter and some also bloom in May as beautiful flowers. The Growing zone lies in between 4-8.
So, above is the list of White Flowers, their types, and special characteristics. Now, you can decide and choose the one for you that you want to grow. However, all are beautiful, and all are attractive so it may not be easy for anyone to choose one from them. White color is also a symbol of love and romance with a new beginning too. Choose yours and keep loving!