You can be outdoors for various reasons, including working, spending time with family, and practicing a hobby like swimming or hiking. While in these activities, the weather could change without any warnings to severe conditions like thunderstorms, high winds, tornadoes, and heat waves.
Exposure to either cold or hot weather can affect your health negatively, leading to illnesses. Monitoring the temperature is critical so that you prepare for any eventualities. You can access resources to help you calculate actual heat stress. This article will highlight safety tips when you're outdoors. So, read on to learn.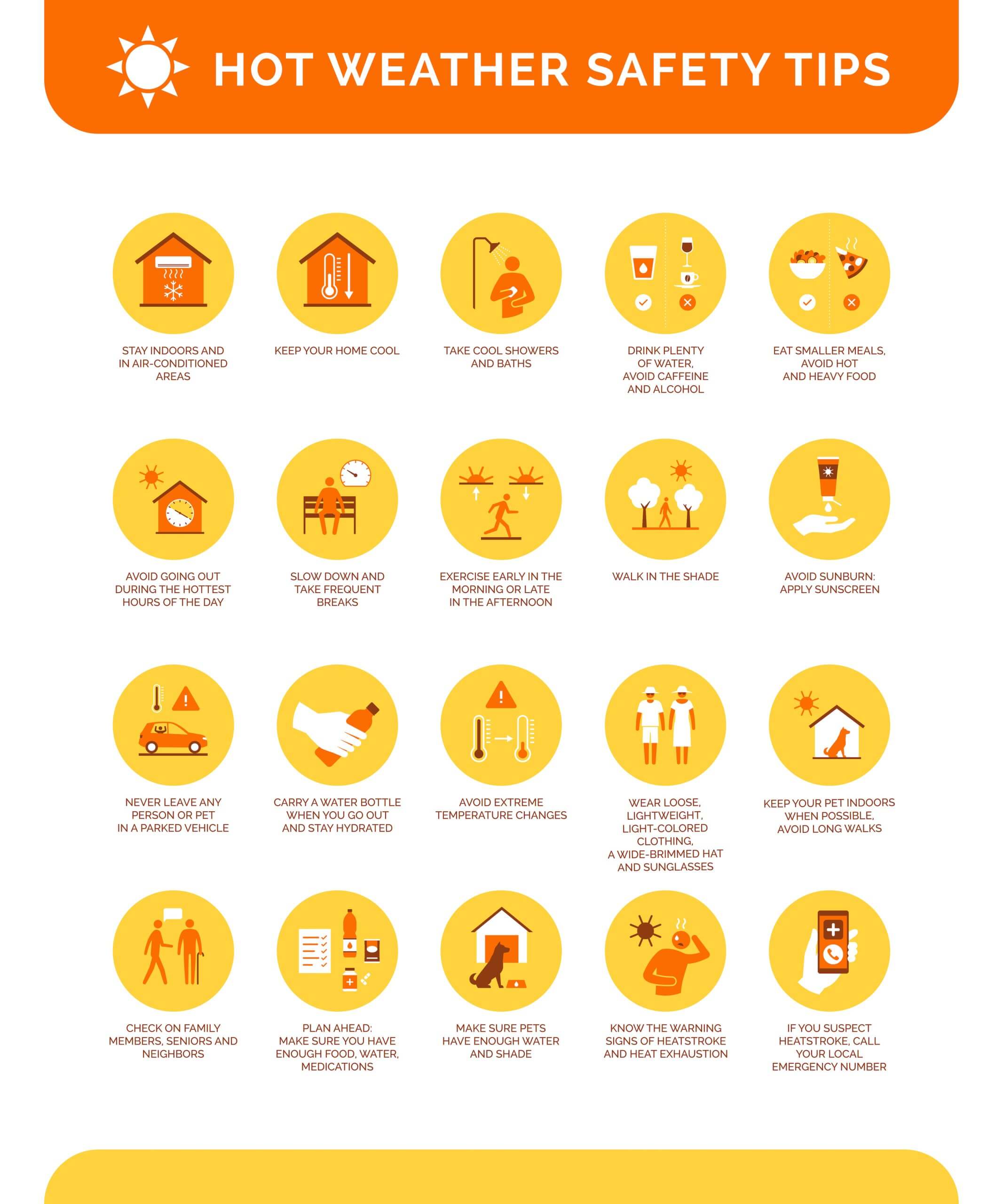 1. Observe Weather Forecasts
Before going out to work, check the weather forecast for the day to prepare for any weather changes. Weather reports help you anticipate the temperatures for the day, including road conditions. That way, you can bring essentials like an umbrella, raincoat, boots, or jacket to provide yourself with in case of weather disturbance.
2. Stay Hydrated
You can keep hydrated by taking water and other fluids throughout the day to avoid the thirst. Try as much as possible to keep the body cool and avoid heat-related sicknesses like heatstroke. Watch for heatstroke signs like fainting, decreased sense of thirst, no sweat, and difficulty concentrating.
3. Know What To Do In Case Of Any Weather Threats
In case of any weather threats, it's crucial to know a safe place you can go to and what to do when you're caught up in hazardous conditions like lightning or thunderstorm. Read through safety resources to get weather updates.
4. Dress Up Accordingly
Whichever activity you engage in, have additional appropriate clothing for any eventuality. For instance, wear warm clothing like a warm jacket or shawl if you're hiking. When taking a walk along the beach, wear a hat or cap and apply sunscreen.
5. Learn About Safety Measures
Enrolling in a first-aid class to learn about safety measures to deal with weather-related emergencies is essential. Learn about various response techniques for both cold and hot-related accidents. You can also obtain first-aid materials online and from emergency response centers and read them to stay informed.
6. Eat Healthy Meals
Eating healthy meals, especially when working in the cold, is essential to generate heat. Some of the types of food that can help to produce heat are foods rich in carbohydrates and fatty acids. It's advisable to take the food in small snack portions instead of having two or three heavy meals. You should also be alert to note any illnesses that result from the cold weather so that you get treatment soon enough. Instead of caffeine that may increase your heart rate, take sweet beverages like sports drinks with electrolytes.
7. Use Roads You're Well Conversant With
Try and stick to the route you use most of the time when going to work or any place you frequent. You could get stranded accessing a new road significantly if it's usually affected by weather changes like heavy rain and becomes impassable. Get into the habit of informing the people around you, which could be your friends, family, or colleagues, whenever you leave for a place. Tell them where you're going and which route you'll use so that in the event you get stranded, you can easily be traced.
8. Fully Adapt To The Place You Spend Most Of Your Time
If you spend most of your time outdoors, have enough time to adapt to the area so that your body gradually gets used to staying in the heat. If it's your first time working outdoors, be careful about how much you expose yourself to the heat. Begin by exposing your body to 20%, then increase by 20% as the days go by. In case of extreme weather changes, adjust to that by decreasing the time you work outdoors as you increase your workload. Do that until you're able to achieve your regular working schedule.
9. Get Your Car Emergency Kit Stocked
When you're going out, check all your car essentials, including the emergency kit, and stock it. That's not only for emergency purposes, but so that you don't get stuck in case, nobody in the area can help you. The emergency kit should have a flashlight, batteries, jumper cables, a map, water, and painkillers. You can check out resources like the National Safety Council, which contains a catalog of all the items you should have in a car emergency kit.
Conclusion
The one sure thing you can do to reduce the risk of suffering weather-related accidents is to prepare and plan. Have an idea of what to do in the face of bad weather to keep safe. Before you leave for any outdoor destination, monitor the temperature by checking out the weather forecast. It will help you prepare appropriately.