Nothing can be as refreshing as a shower. And choosing a shower wall that gives an aesthetic touch to your bathroom, making you feel calm and relaxed might be difficult, right? Do not worry. We are here to help.
Shower walls go through a lot of torture with all the cleaning products and detergents, cleaning processes, constant water, and sometimes a lot of steam and humid conditions if you are a hot water bath person.
So, choosing a shower wall that is durable enough, most importantly, water-resistant is a must. And not to forget, it should be attractive too, just to get you out of that lazy bed and to make you take that shower.
Here are some of the best shower wall material ideas that will help you make the right choice.
1. Acrylic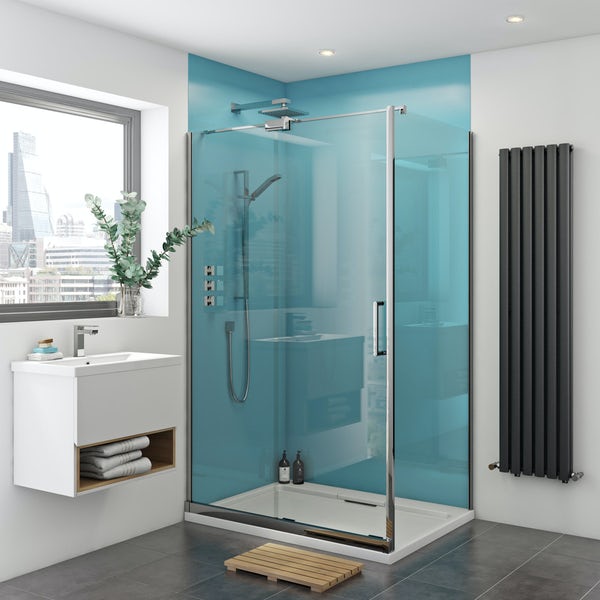 Acrylic is an easily installable and affordable shower wall material idea. It can be installed very quickly and would cost less than tiles. It gives a bright and fresh look to the shower walls.  The best thing about it is that it is completely stained and scratch-resistant.
So once installed, it will give that pristine look to your walls forever. Plus, you will not have to waste hours cleaning it. Simply, a wet cloth is sufficient. Try avoiding harsh chemicals on it.
It can be easily modified as per your choice. Being a non-porous material, there is no risk of leakage in the bathroom. Another benefit of its non-porous nature is that it will not absorb any steam or vapors, creating the environment you want while bathing.
If you are wondering how much it is going to last, here is your answer. As it is resistant to almost everything, 12 years is the minimum age for this material. It can easily last for more than 12 years. It is anti-corrosive in nature. Also, it can keep the growth of molds, bacteria, and mildew away as it is grout-friendly.
Acrylic material is easy to install, but at the same time, it requires professional and skilled attention during installation. Because once installed, nothing can be changed. Usually, it is a huge piece of plastic sheet mounted once from corner to corner, rather than in pieces. Due to this, you need to switch the whole set-up of walls if any damage occurs.
Another drawback of the acrylic shower material idea is that it comes in limited variants and colors. It cannot be customized exactly as per your choice of color and design. But the limited colors include more than 120 vibrant and fresh shades.
Acrylic has got both sides of the coin, the pros, and the cons. The choice is yours now.
2. Marble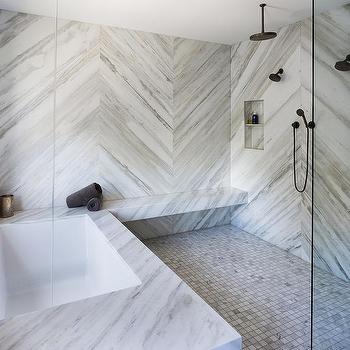 Nothing can be as magnificent as marble. No other material can offer the elegant look that this natural stone can provide. This stone is sure to add beauty to your shower walls. Marble is an amazing shower wall idea.
The best benefit of marble is its looks. It is the most pleasing material for your eyes among all the other shower wall material ideas. Apart from looks, it provides various benefits. Let us talk about its durability. Marble is extremely durable. It can last for as long as you want, just with a little bit of care.
It is just human nature to drop things. So, we need a material which will not break as soon as something hits it. Marble is the best option. Yes, marble is shatter-proof. So do not worry next time you bang something on it. Being a natural stone, it is an excellent insulating material. Subsequently, installing marble shower walls will protect your walls against heating up of walls in humid conditions.
Unfortunately, this luxurious stone comes with some of its drawbacks too. Marble, being a natural stone, is porous in nature. Therefore, it is awfully exposed to staining. Even if you spend hours cleaning it, there is no point. The stain may not come out. If any such thing happens, the first thing that comes to your mind is the usage of harsh chemicals. Bad news! You cannot do that either.
Using strong chemicals and detergents on it will worsen the conditions. Harsh and acidic cleaners will not take the stain out but conversely, will rupture the surface of the stone. There is more to it. Marble is readily prone to oxidation when it meets harsh substances. Avoid usage of such chemicals. You can use certain cleaners which are specially designed to clean marble and other naturally occurring stones.
Here is a bitter truth for you. Marble is far more expensive than other shower wall material ideas. It is not budget-friendly at all.  You will have to pay the price of its beauty. But we say it is worth it. Regular sealing must be done to avoid complete damage over time.
Marble comes in many varieties and textures. Among all, white marble is our favorite. Which one is yours?
3. Porcelain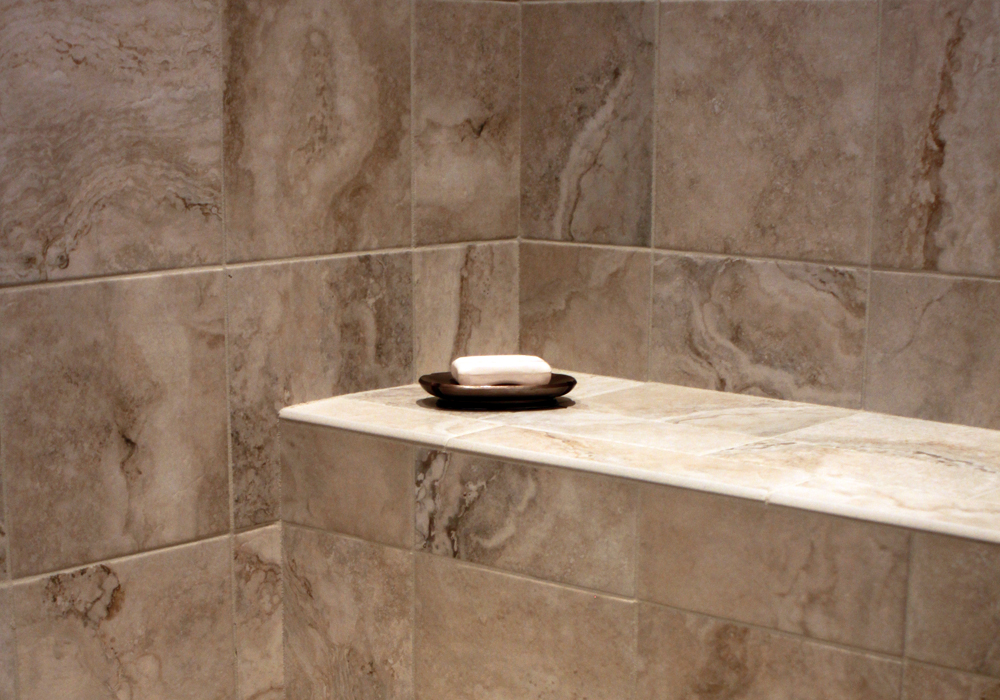 Porcelain is a popularly used shower wall material idea. It is various designs, varieties and stylish look makes it the popular one. It is a versatile option, especially for shower walls.
It is incredibly durable. It can bear with cracks, scratches and minor impair. Cleaning it once or twice a week is more than enough. It can take up the stain, but it can be cleaned simply with soap and water. It is remarkably resistant to water and will surely provide protection from any kind of leakage. Porcelain is greatly waterproof, making it an amazing option for shower wall material.
Easy maintenance is its super-power. You will not need to pay much attention to it. Porcelain is available in plenty of designs and colors. Its texture can also be modified according to your will. It is also available in a variety of options such as tiles or slabs. It does not get influenced by steam or hot water vapors. So, you enjoy your hot water bath without any worry.
Porcelain is a harder, denser, and non-porous material for shower walls, making it a versatile shower wall material idea.
When it comes to repairing, porcelain is repairable when damaged. You will not need to replace the whole setup for a teeny-tiny crack or chip. Porcelain is slippery in nature. but as we are using it as a shower wall material idea, you will not be having any problem with that.
Porcelain needs superior skills to be installed. A highly professional person in this field is required to make sure the tiles or slabs are fitted appropriately to last long. Porcelain tiles are a bit costly but affordable.
Porcelain has got so many pros and very fewer cons. You can go for it.
4. Fiberglass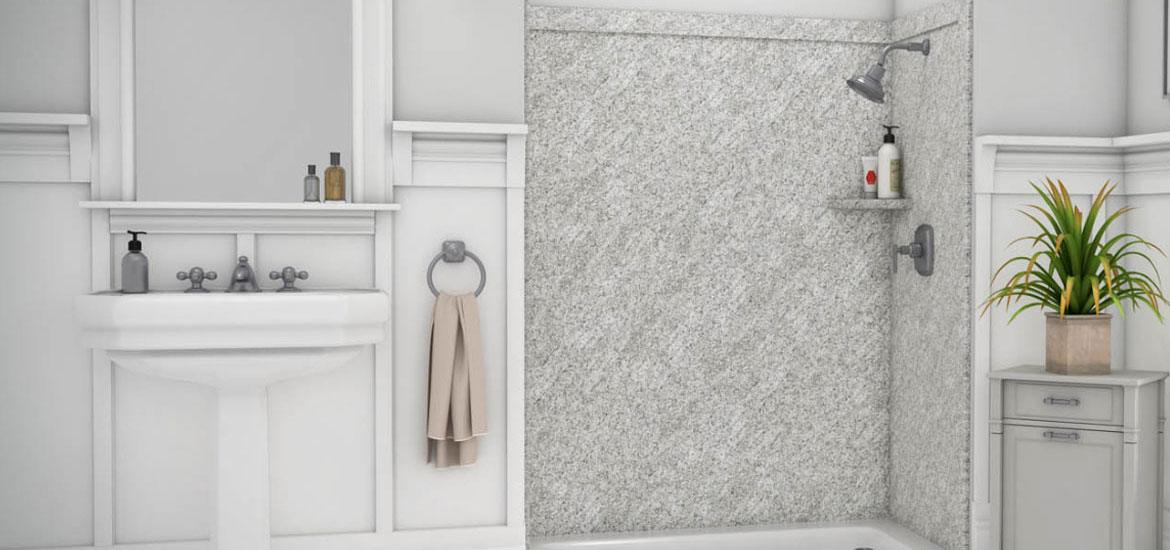 The next shower wall material idea is fiberglass. Production of fiberglass is comparatively easier than acrylic. It is a mixture of polyester resin and woven glass fiber which is then poured into a mold after the process of spraying gel coat mixture over it.
Fiberglass is a bad conductor of heat; hence it proves to be a very good insulating material. Installing fiberglass will provide proper insulation, preventing the conduction of heat through the walls. The amount of insulation also varies in fiberglass. You can choose medium intensity or high-intensity insulation according to your will.
Like acrylic walls, fiberglass walls are also available as large plastic sheets, like acrylic slower wall idea. So, there is no trouble with grout lines and the problems arising due to it such as molds and mildew. Fiberglass is thicker in texture and consequently, provides soundproofing. Yes. These soundproof walls will allow you to sing in the shower loud as you want without letting anyone hear it.
Fiberglass is the cheapest shower wall material you can get. It will easily fit into any budget and will provide the best of its benefits. Fiberglass will provide a kind of protection on your walls that will not allow the hot vapors to escape from your bathroom.
Being porous, fiberglass is more prone to cracks and damage. It can easily take up dirt and stains. So, cleaning the fiberglass walls can be a hectic process that can eat up a lot of your time. Moreover, fiberglass shower walls may fade their color shortly, giving them a dull appearance. Fiberglass shower walls do not last long. It can last up to 8 to 16 years.
It is obtainable in a very limited amount of colors and designs. Avoid usage of strong chemicals and detergents over the walls. Cleaning it with a wet cloth can increase its life.
5. Ceramic Tiles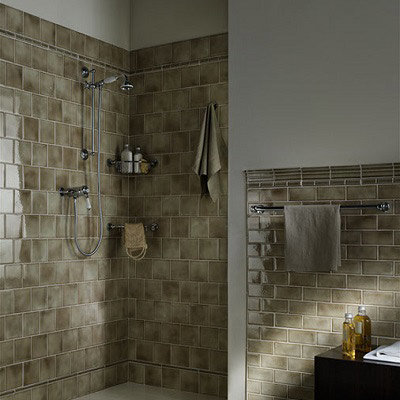 Ceramic tiles are the most traditional and widely used tiles. This is because they provide a wide number of benefits and a poor range of disadvantages.
The first thing that comes to our mind when we say shower walls is resistance to water. The ceramic wall is water-resistant to a great extent. There is no single chance of water seeping through it. Production of ceramic is done by heating clay minerals at large temperatures in a kiln. After the production is done, the glazing of the tiles is done. Due to this, the tiles appear amazingly shiny and glossy.
Ceramic shower walls may last for a very long amount of time. Depending on your usage, it can last for at least 20 years. It is extremely durable. Ceramic shower walls are very cost-effective. Unlike other materials of shower walls, they will not draw much money out of your pockets. Ceramic tiles do not take much maintenance. Maintaining them is an easy job.
If you want the maximum range of designs and colors among all the shower wall material ideas, then this one is it. Ceramic tiles offer a wide diversity of designs and color combinations when it comes to shower walls. You can easily customize your walls as per your imagination. With ceramic, you can literally get what you want.
Ceramic tiles are naturally very cold. So, they can provide a cooling sensation during hot summers. A ceramic shower wall is an amazing shower material idea when it comes to effortless installation. Its installation process does not require any guidance or professional attention. The reason is that it is soft and less dense.
Ceramic walls are truly eco-friendly. It is non-toxic and can be recycled as well. So, installing them will be quite a contribution from you to our mother nature. Plus, cleaning them is not a tough job at all. Thanks to its high absorption rate. Clean them with mild detergent or soap and there you go, with your sparkling walls, just as new.
Certain flaws of ceramic tiles include their porous nature. Stains may seep in if attention is not paid for a longer amount of time. But cleaning them immediately is the key. Also, cleaning them once a week is sufficient.
Another matter of concern is grout. As ceramic tiles are fitted as square or rectangular pieces, application of grout is necessary. This may enhance the chances of bacterial growth. Molds and mildews are a problem too with the ceramic shower wall material idea. Ceramic shower walls need resealing after a specific amount of time.
If the tiles are damaged due to cracks and ruptures, it may affect the looks of your walls. The clay material underneath the glazed coating will be totally visible.
Some Other Shower Wall Material Ideas:
Clear Glass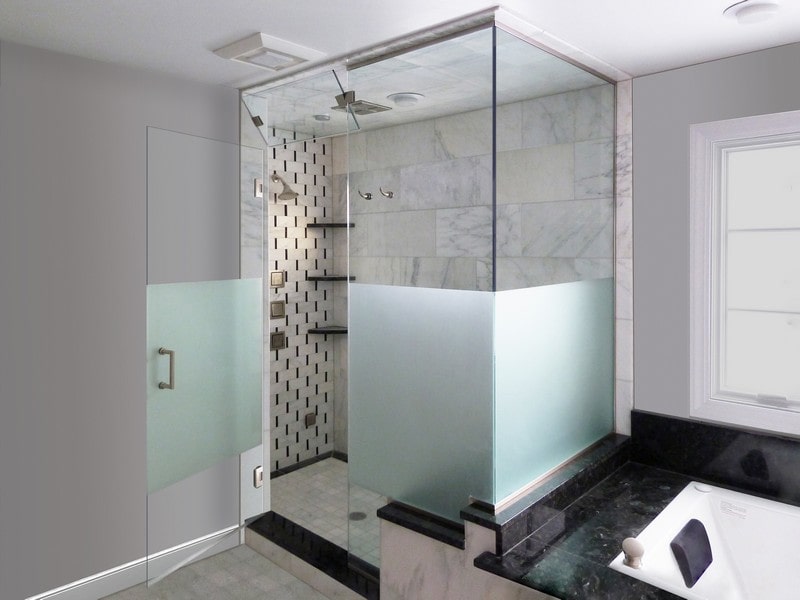 Granite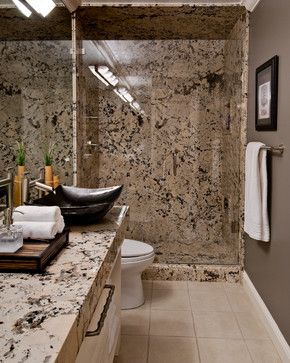 Travertine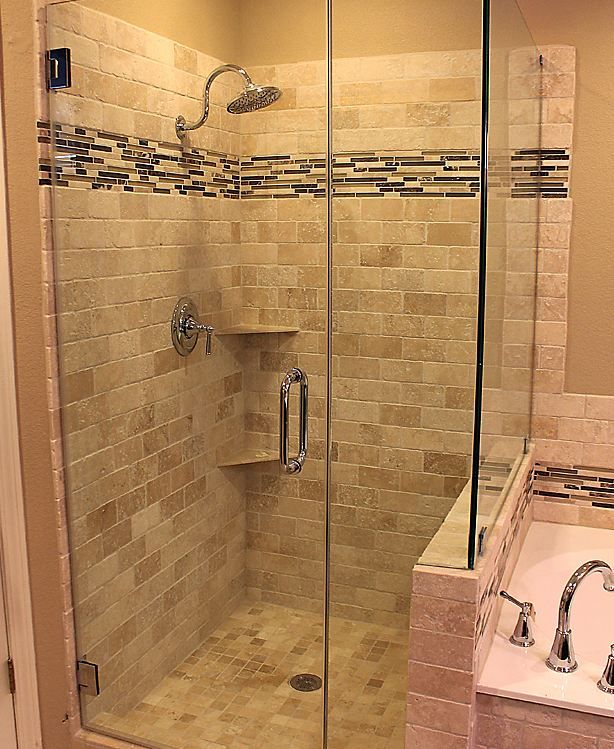 Here, we end with our shower wall material ideas. We hope you find it useful for your bathroom renovation or designing process. These shower wall material ideas will provide a gorgeous look to your walls along with the highest level of comfort. You can choose the material according to your choice and it will prove to be the best for you. Thank you!