Recliners, sectionals, mid-century modern, cabriole or a tuxedo, there are an unlimited stream of choices that you can choose from when it comes to picking a brown sofa either for your living room or even a bedroom.
The task gets more difficult when you must pick up throw pillows that will complete the look of your sofa set.
Always choose a classically designed sofa because not only you can never go wrong with it but also everything gets along with it. A sofa set is always incomplete without the pillows. Can you imagine an empty sofa? No, right. So, here are the list of things that you need to know before you consider buying pillows for your sofa.
What All Do I Need to Know?
Irrespective of the fabrics, dark tones of brown couch are very neutral and basic and goes with almost anything. So do not put a lot of thoughts into it.
If you a want a pop of colour for your sofa set, you will have to consider at least three colours to create a balanced set up with your sofa and throw pillows.
A little lighter tone of brown will go better with earth tones like blues and greens.
Deep colour pillows like mustard, maroon or orange works well with the brown couch. Make sure you select the colour of the couch accordingly.
You can either add neutrals or solids to bring the whole look together and balance the same eventually.
If you desire a bright room, add light colour pillows with different textures to lighten up the whole landscape.
Let us go in-depth of what combination works best with a brown couch. Now before we move ahead, remember that throw pillows should not only match with your sofa but also with the whole room where it is going to be placed.
Throw Pillow Suggestions for a Brown Couch
Classic Whites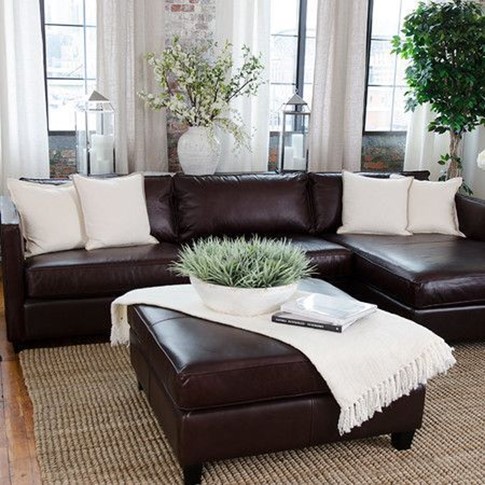 Brown and white combination can only go wrong if the other elements of your room are too bright or dull to match with this classic combination. You might have already seen it in many houses and luxury hotels. Do not worry about how common it is because classics can neither to go old nor do they run out of fashion.
As you can see in the image above, this sofa set up is as classic as it can get. Whether you or your guest can easily feel comfortable on this couch with a little luxury on the side. The size and shape of the pillows can change according to personal preferences. This combination will always show a sense of elegance in your home.
Two-toned Pillows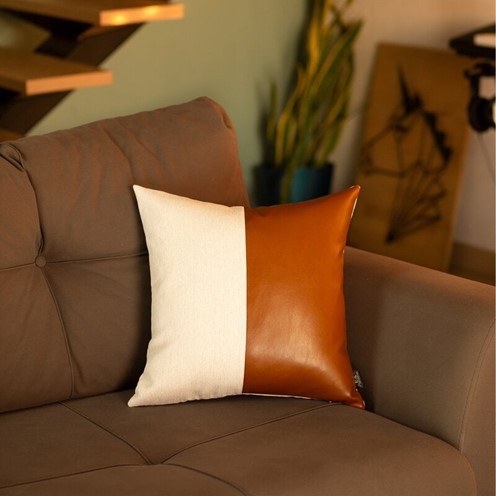 If you are not a big fan of whites than you can go with second best option that is two-toned pillows. The best combination that works here is again brown and white duo. These are highly preferable when you have a wooden furniture around.
You can easily notice how fashionable and polished this pillow is looking with a medium shade of brown. This duo combination also gives you an opportunity to get either a white center piece or brown. Who does not like to have more choices?
Let Leather do the Talking.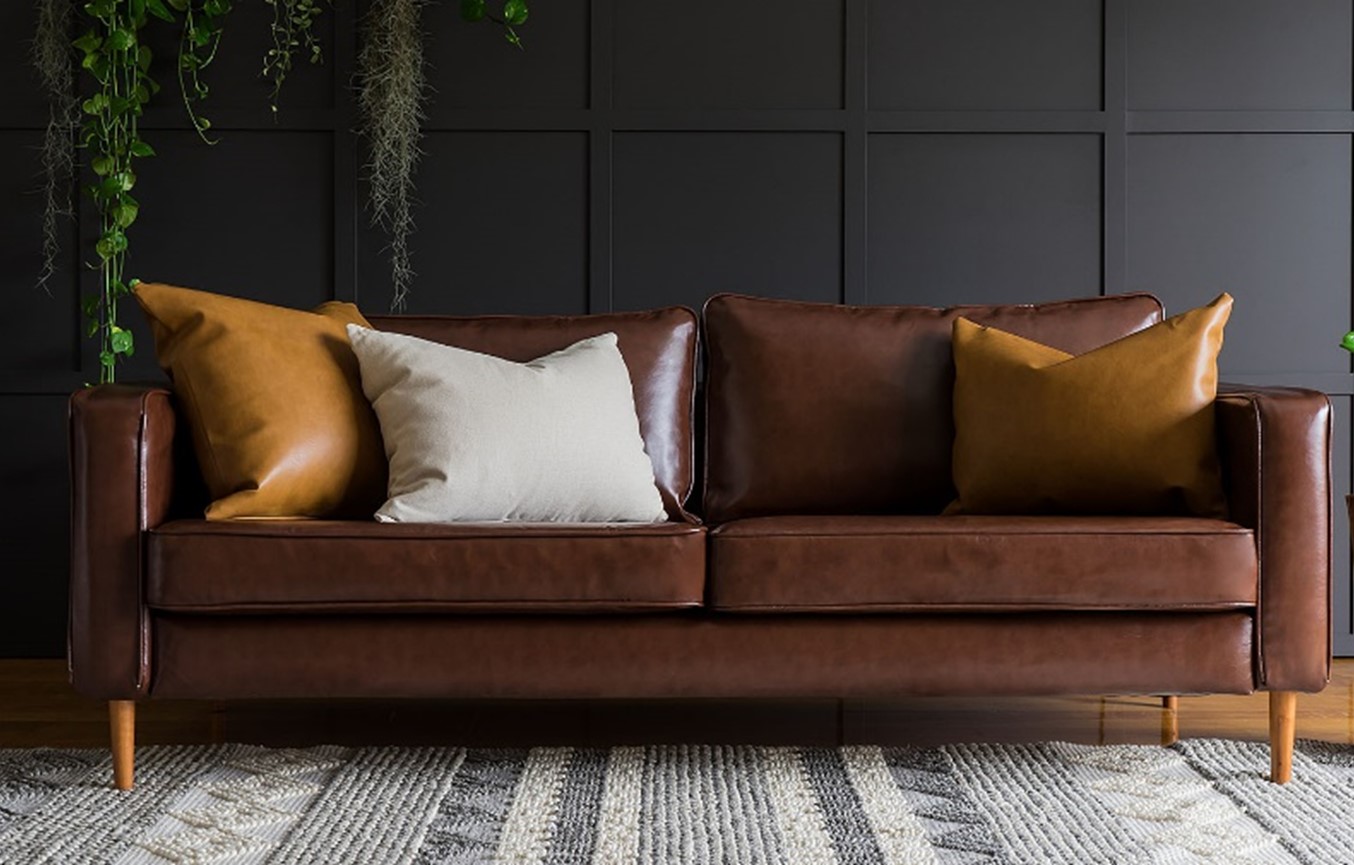 Leather has been a sign of richness for ages, and we all know how grand a piece of leather looks. So why not add a throw pillow to your sofa set and give it a completely refined look. This will not only embrace your whole set up but will also give you a lap of comfort.
Do you see yourself relaxing on this masterpiece? The bold colours and the smooth texture of leather is making it an amazing fit for your living room. You can unfold the pages of your magazine while lying on this comfortable throw pillows.
Bohemian Style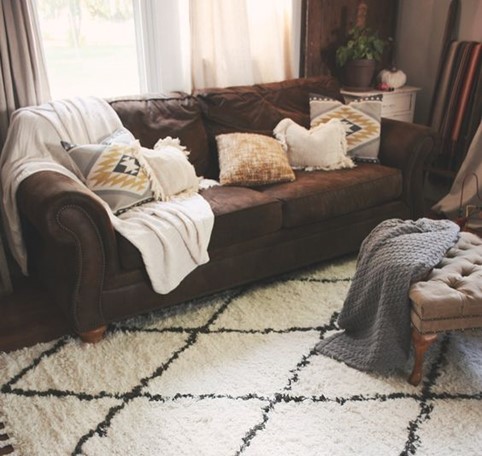 We can totally understand if you choose comfort over luxury. There is no better option than bohemian pillows in lighter tones as compared to the sofa. This will give a casual yet a very authentic look to your living room.
As you can see in this image how casually luxurious this set up is. You can do the same with your living room or bedroom. The extra advantage that you will get with bohemian throw pillows is that it is comparatively low maintenance. Adding some green plants will give you a complete boho vibe.
Oversized Pillows Are the Talking Trends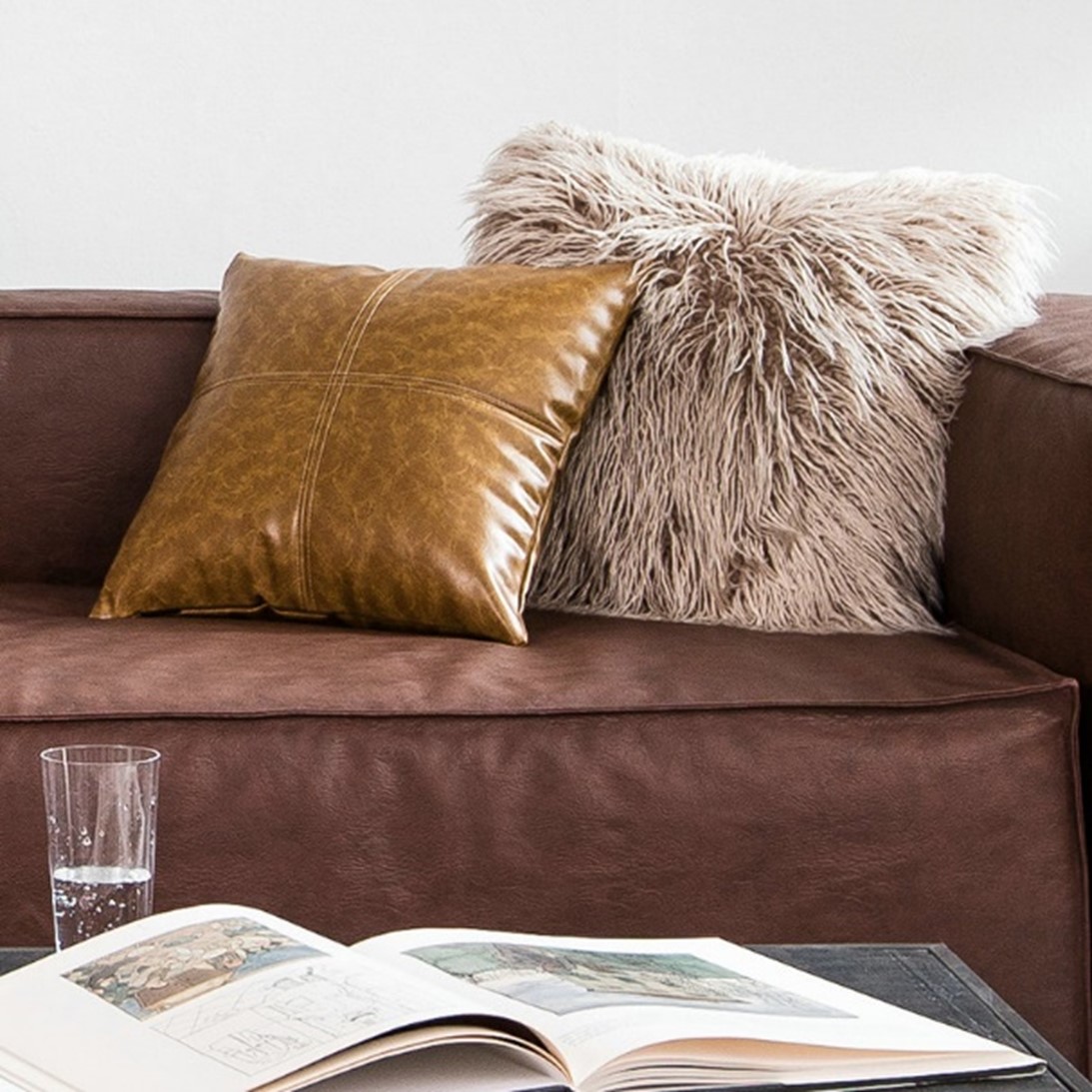 Using an oversized pillow in your brown couch set up will speak for itself. It will leverage the whole look, plus your kids will love to stay on sofa rather then lazing all day in their room. The secret advantage of having oversized throw pillows is that they are super-trendy.
It can be clearly seen in the image that oversized pillows are adding an extravaganza flavor to the whole set up. They are acting as mood lifters. You can also add a couple of recliners to this setup to make it look even better.
It is advisable to add two to three oversized pillows so that it does not look clustered. However, you can go ahead and add more pillows if you like that way. Just make sure it looks clean and there is enough room left for you to relax.
How About Adding some Hues of Grey?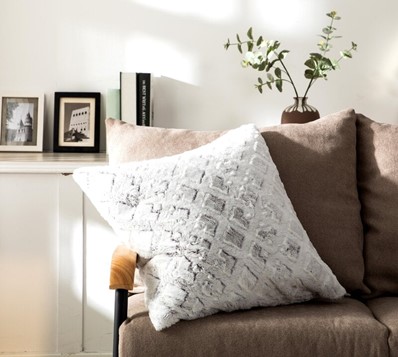 If you prefer a little lighter tone in brown couch than grey pillows can add aesthetics to your sofa set. The combination of light shades can do miracles for you. It will add a perspective of freshness and lighthearted ness to your landscape.
Elegancy has no boundaries. You do not need dark colors to make bold statements. This combination of grey and brown talks all about the simplicity and adds an element of basics to the setup. You can increase the number of pillows to add an element of joy or just because you like it that way.
Try Farmhouse Look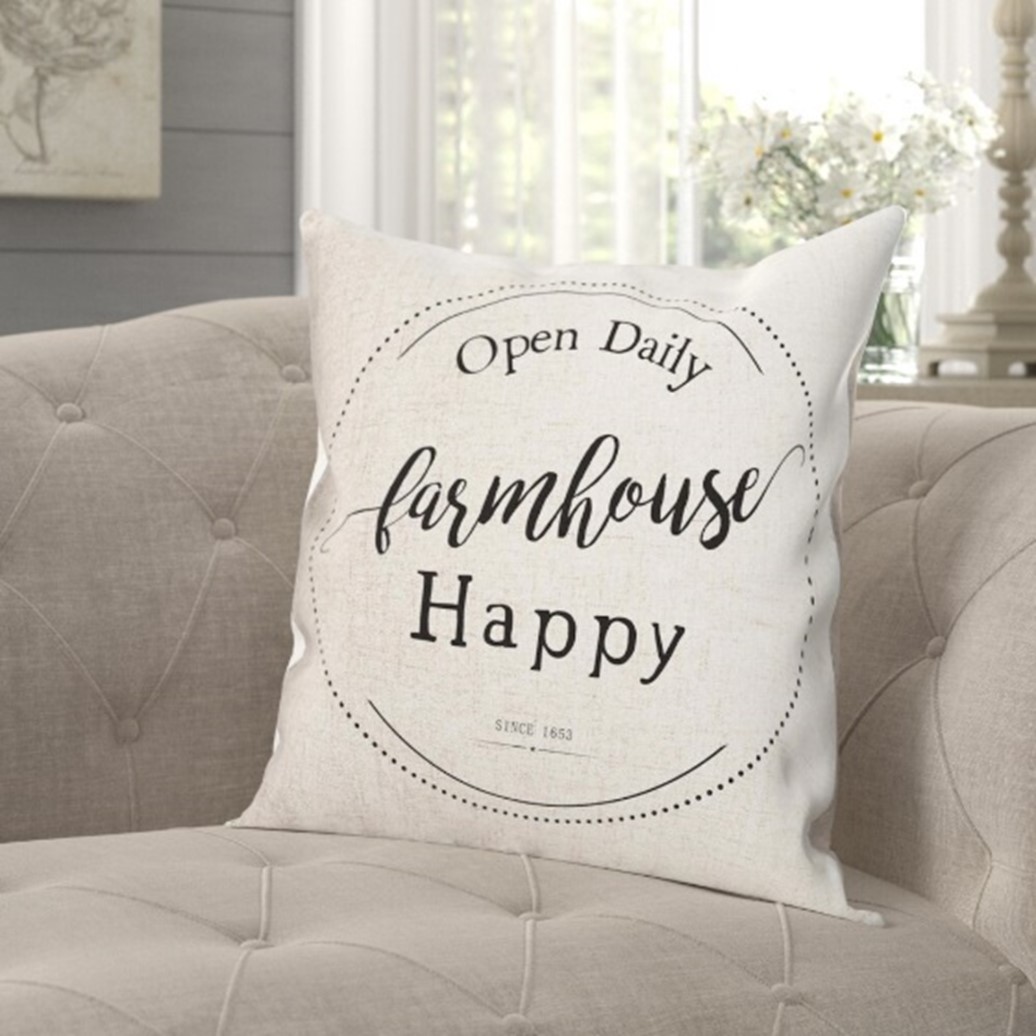 If you are involved into the farmhouse type look then think no further and relax on your brown couch by grabbing your hands over some rustic, farmhouse style pillows that will go with the colour of your sofa.
You can get something customized with your name like the one in the image or you can go ahead with random patterns. With the increasing love for décor, this aesthetic is also getting popular day by day. You will find many stores from where you can pick something you love from farmhouse collection.
Aztec Prints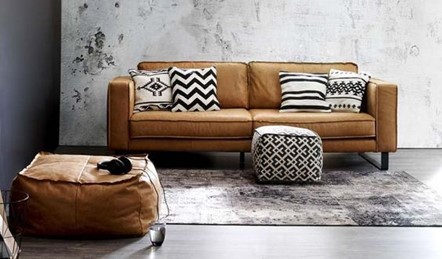 This is where the business gets a little tricky. While picking up patterned decorative throw pillows, you must be careful otherwise you will end up investing your money into something that looks tacky.
You must play very cleverly when around throw pillows with Aztec print. Its not an easy task but when done carefully, the results will be right in front of you – a stunning piece of sofa set that is tackled around mildly printed carpets and walls. You can also ask your designer to put up something so different for you.
How Will Navy Blue Look with my Sofa?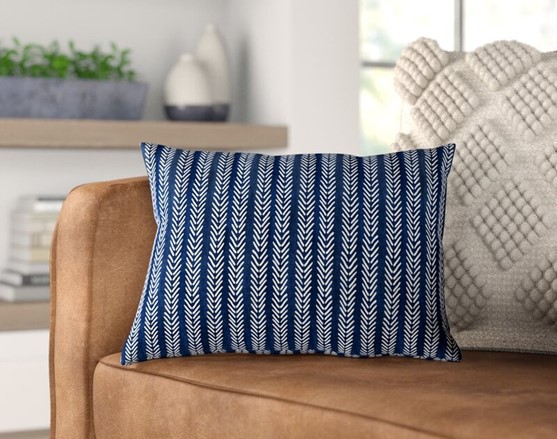 Most of the people do not prefer this combination, that is what makes it so special. A navy-blue throw pillow with brown couch is an intelligent choice if executed well. Again, if you are doing something different than make sure you do it like a professional or hire a professional to do it.
Yes, we know how beautiful this combination is looking and you can do the same thing around your house. Make sure that the other elements in the house are also complimenting this combination otherwise it might backfire.
Solids or Patterns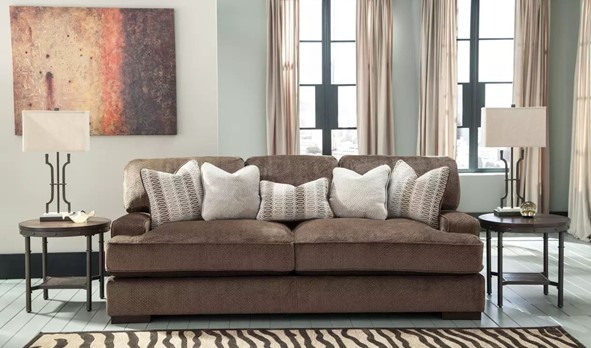 Well, you do not need to choose. Go ahead and get a combination of solids and pattern throw pillows. It looks very descent and fulfilling when put together. It adds an element of calmness to your whole set up.
You can get your brown couch all matched up like this with some solids and some patterned pillows. You can also pick up different sizes to jazz it up a little more. Along with that the colours and textures should also complement each other. Another important tip to keep in mind is that do not forget to balance out solids with patterns and vice versa.
Poppy Orange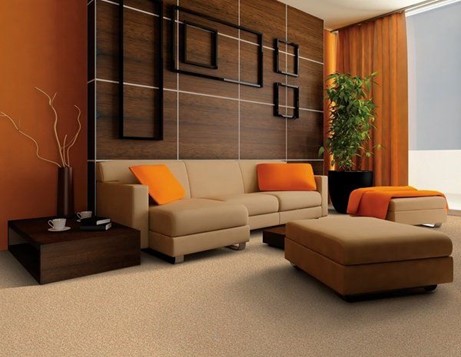 Poppy orange might sound a little too bright, but we can also go on a subtle side. We can use matt finished pillows over the glossy one's. This is one of the most rising combinations so grab it before it is too late.
In this image the colour of walls and curtains are also complimenting the whole brown and orange combination. Even without the matching interiors this combination would have worked because the dull colour of sofa balances bright orange beautifully.
Picking up bold elements can be a difficult decision, but it can pay off well. Also, this combination will give you the holiday vibe of chilling in a resort.
Feel the Fur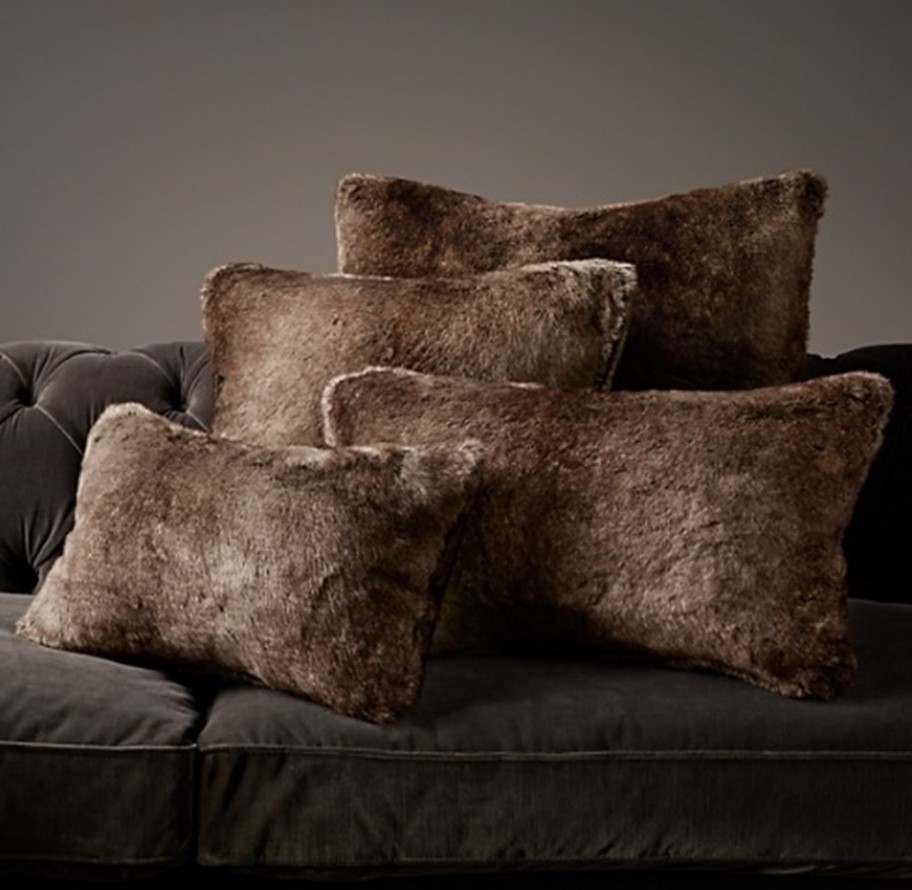 Fur is all time a royal choice. If you are really looking for a cozy look then picking up fluffy and flurry sounds a great choice. You can really imagine yourself cozying up in the sofa with a cup of coffee and a cookie.
If you see carefully, the shades here are not too contrasting. They are just two to three shades away and still they are giving an amplified output. That is the magic of the fur. However, if your ethics do not allow you to buy fur you can always go for a pillow that has a knit designing on it or the cover looks like cashmere.
Random Looks Good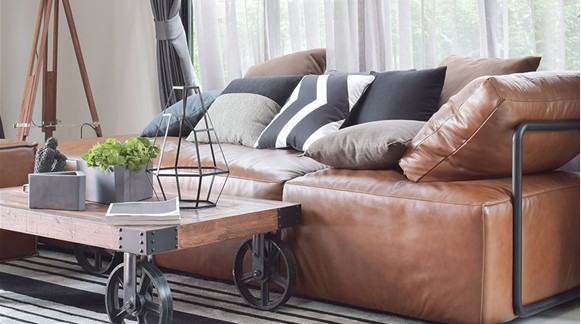 Our home depicts us in some way or the other. So, it is completely fine if all you want to do is just put some pillows together on random basis. However, make sure that you are balancing all the elements, colors, and textures.
See how graceful this whole set up is looking. Random pillows are not looking that random after all. Considering all the other aesthetics, this set up is all you might need before your housewarming party.
Black and White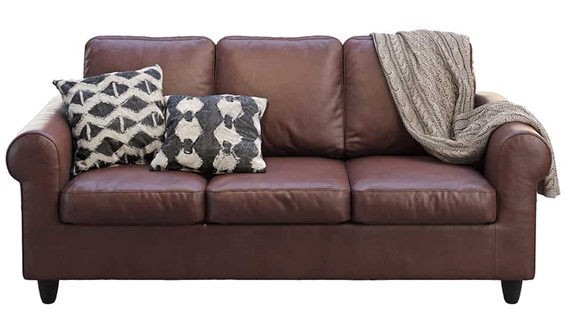 Black and White is another all time classic that you can choose even if you are blindfolded. Two striking black and white throw pillows with a knitted plaid for extra comfort is the easiest way to create a powerful base four your brown couch.
Place the two pillows next to each other just like the one in the image on the one corner of the sofa and the knitted plaid on the other one. Make sure the plaid matches the colour of the cushions as shown in the whole arrangement. This idea works best in white living rooms because of neutral spaces.
All in One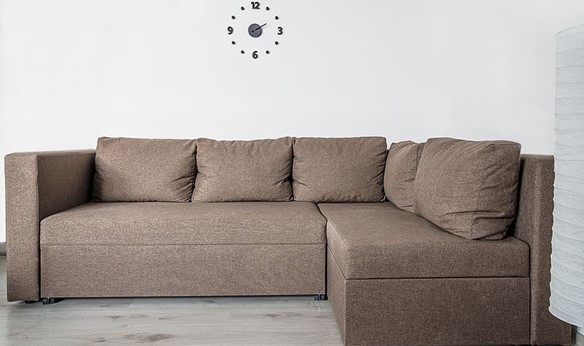 When no combination is good for you, then go for all-in-one option. In this option, the colour of the sofa matches exactly to the colour of the throw pillows. This is one of the most common set ups but is still preferred by a huge crowd.
This is one of the simplest set up and yet looks like also the warmest one. It does not stand out in the room and that is the beauty of it.
Conclusion
It can get super tricky while choosing from different colours, sizes and designs and that is why we have tried to make it easy for you. We have picked up some classics and some fancy combinations for you, so that you can make a better decision.
Make sure that you have coordinated and combined the throw pillows on the lines of same colour palette. This color need not mandatorily be based on your sofa only. You can match it up with your curtains, rugs and sometimes walls.
If you have more questions, just put them in the comment section so that we can do the needful.
Stay connected for more tips on couch and pillows.