Affordable
Affordability is a huge factor for the majority of things we purchase, and flooring is no exception. Whether it be online or in high street shops, cost is a factor for most of us. Laminate flooring excels within the category of overall cost as it is less expensive than most alternative floor types.
Here are some approximate minimum purchase price examples of some of the different floor types currently available in the UK;
Carpet = £7 m2 plus
Sheet Vinyl = £7 m2 plus
Laminate = £8 m2 plus
Luxury Vinyl Tile = £15 m2 plus
Real Wood Flooring = £23 m2 plus
As you can see from the above, laminate flooring is one of the least expensive flooring options available.
Easy To Install
How easy flooring is to install is another huge factor to overall cost. If a floor is easy to install it can be attempted by more people, experienced professional floor fitters are usually not required for laminate flooring. People can save hundreds to thousands on the overall cost of new flooring if they can carry out the installation themselves.
Laminate flooring is perfect for this. It is a floated floor, which means it is simply laid over underlay, and it is a click floor, which means the planks are manufactured to literally click together. The advantage here is no glue is used for the installation, which makes the whole process quicker and easier.
Even if you do decide to pay a professional to install your laminate flooring, it shouldn't break the bank because the installer should be able to complete the job relatively quickly. Time is money!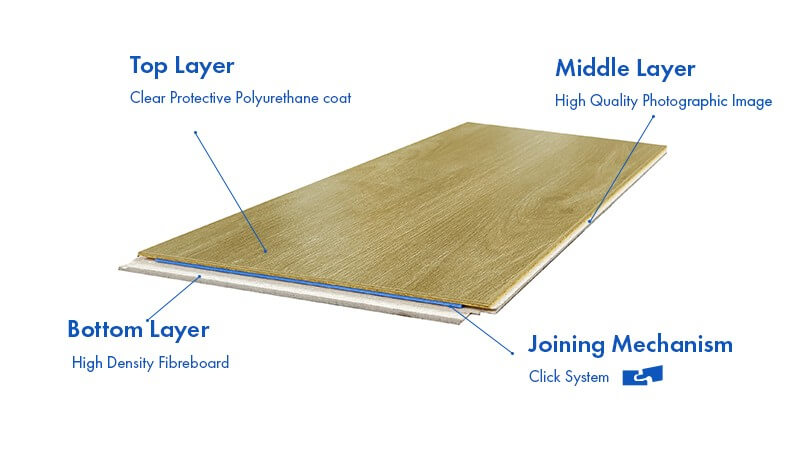 Durable
If you are looking for a very cost effective flooring option that is also as durable as possible, you have to consider laminate.
If you compare laminate to real wood flooring, laminate is usually less than half the price, and yet it is more resistant to moisture and temperature changes.
If you compare laminate to the most similar vinyl floor which is click lvt flooring, lvt is waterproof which laminate is not, however laminate is usually around half the price, which is a big difference.
You will often find laminate flooring that has been down for 20 to 30 years in shops such as hairdressers and barbers that receive significant foot fall and use before it really needs replacing. Considering the price of laminate that is tremendous value for money!
Easy To Live with
Laminate flooring is considerably easier to live with than the floor type that it is designed to imitate, real wood flooring.
You have to keep a much closer eye on the moisture and temperature in the area where real wood flooring is installed, because real wood flooring reacts to moisture and temperature much more than laminate does.
Replacing damaged laminate planks is much easier than replacing damaged planks of any flooring that has been glued in place, such as the majority of wood flooring. The reason replacing individual laminate planks is relatively easy is because laminate planks are not glued down or together.
Laminate also requires little to no maintenance compared to wood flooring, especially oiled wood flooring which needs to be re-oiled from time to time.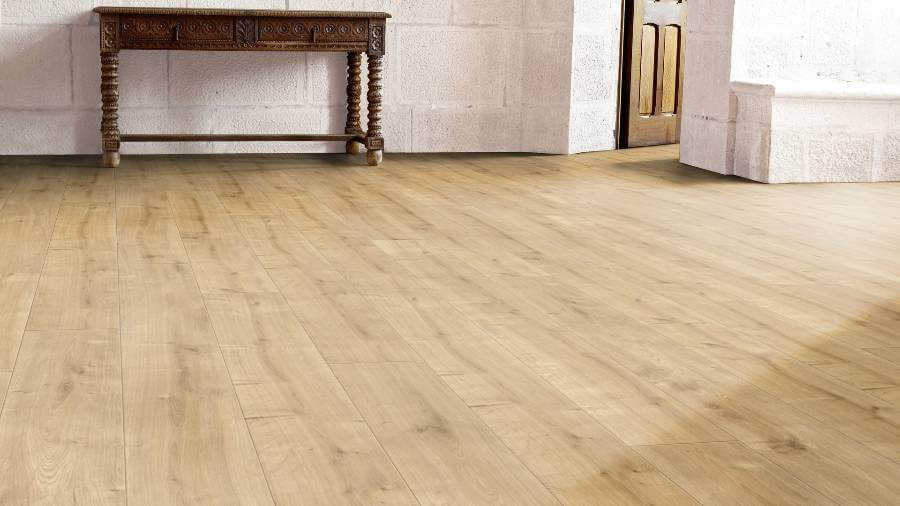 It Looks Good
Appearance is important. Would you have a floor fitted in your home that you hated if it was for free? Probably not!
Laminate flooring looks good even at the lower end of the scale. If you are able to stretch your budget to higher quality laminate products around the £30 m2 price range you can have a laminate floor that has artificial wood grain texture embossed into the surface of the flooring. So not only is it considerably less expensive to buy than most real wood floors, it's easier to install, it's cheaper to install, it requires less maintenance and it is more resilient.
Variety
Laminate has been around for a long time now and has all but been perfected. It's also a manmade product, which means there are lots of different companies manufacturing it in lots of different designs. There are so many subtle variations we are a little spoilt for choice.
Laminate floors are available in different colours, patterns, plank lengths, plank thicknesses, plank widths, surface textures and types of embossed wood grains. Some laminate products are even now designed to be water resistant for a defined period of time which is often thought to be the biggest drawback of laminate.
Summary
It is clear from the above that laminate flooring has many benefits and advantages, and it's no surprise that it is so popular. The price and usability are only really rivalled by modern lvt flooring, which is still considerably more expensive.
If you are on a budget and looking to keep costs as low as possible you simply have to consider laminate as an option. You will struggle to find a more cost effective flooring option that can be as widely used as laminate.