People who are into gardening or have a refined taste in décor both indoors and outdoors  are probably familiar with grapevine trellis in their  backyard arbor. Backyard arbor does not just add aesthetic beauty to your garden but also acts as a shade to offer a little privacy. However, if you are looking for a little more privacy then adding a grapevine on the trellis or the arbor is a great idea.
The trellis will protect you from the harsh sun rays in the summer and will act as your private space where you can enjoy a cup of hot coffee with your family on a winter day. However, when it comes to choosing the right kind of style for your grapevine trellis, do not just settle for the first design that you come across. Instead, do a little research and look for the best designs.
15 Grapevine Trellis For The Perfect  Backyard
1. A Simple Trellis with A Bench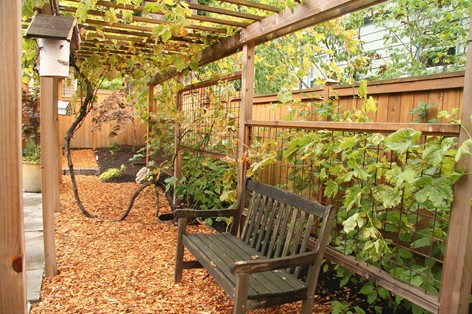 One of the main uses of a trellis is to offer a nice sitting area under the shade, so if you are running low on budget and you want something simple yet attractive then this is what you need to try out. A simple wooden structure with vines and a plain wooden bench for you to spend a pleasant evening. Also, to add to the beauty of the trellis, you can fill the floor up with old and dry leaves.
2. Something Basic with A Great Use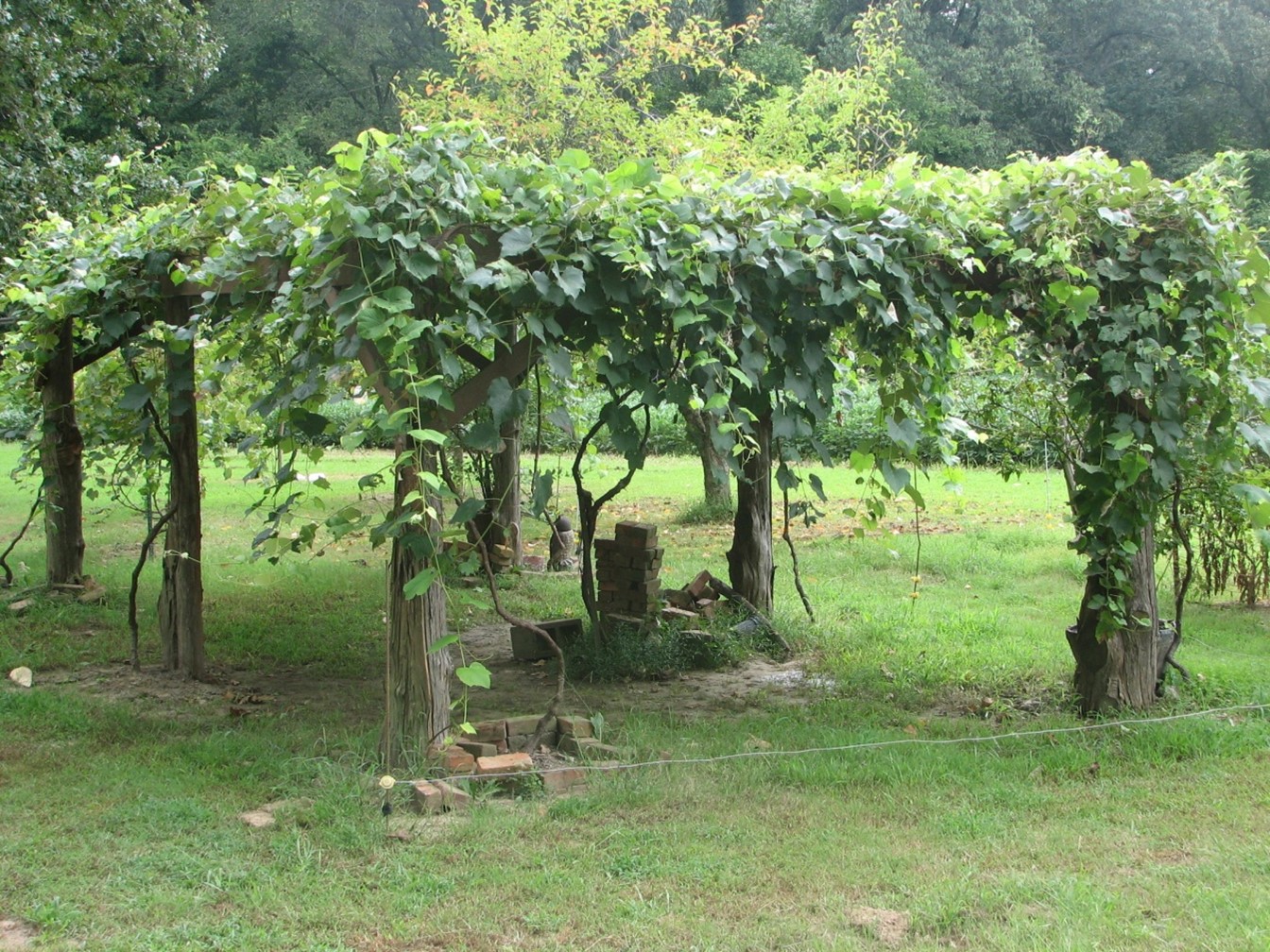 Let us say that your main aim is not to add to the beauty of your garden or to sit under a pleasant shade, but you are planning to grow grapevines for the grapes alone. In that case, this structure is the best one for you. Although it is not high on glamour and beauty it is an effective way to lay down your grape vines and help them grow.
Again, even this design is not too fancy and does not have many requirements, and hence you can easily afford it. The only specific requirement that it needs is to lay down the vines properly so that they can grow well without any major hindrance.
3. Add A Little Color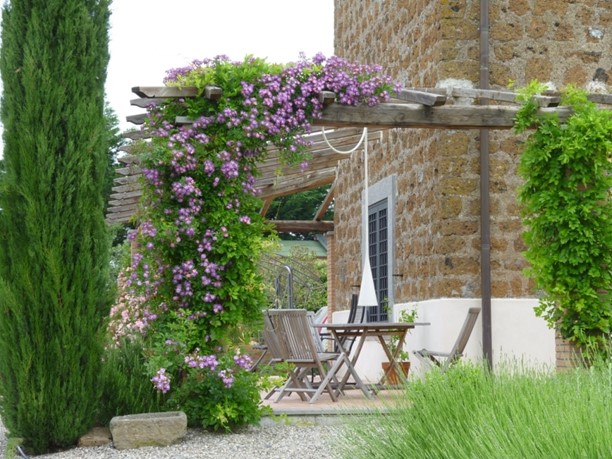 How would you like to add a little color to your grapevine trellis? Well, if you are doing it to give your garden a fancy makeover and add to its charm then we are pretty sure that you would like some extra color to the brown and greens scheme of the arbor. In that case, you can add a climbing flowering plant along with your grapevine.
Here, the owner has chosen bright, purple-colored flowers to go with green, but you are free to choose any color that you like pink, yellow or white. All these colors will look great against green and help you fulfill your original purpose.
4. Ann Arbor with Curtain Like Trails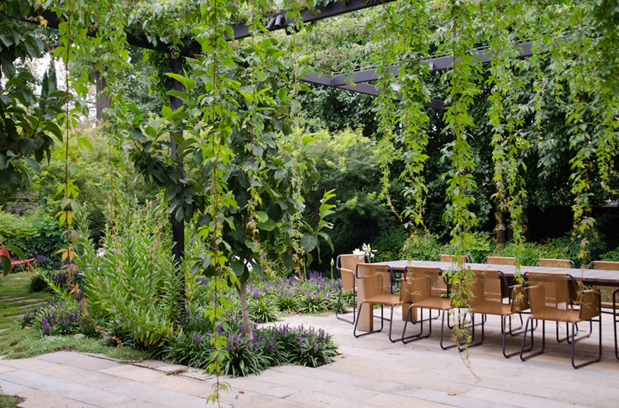 So, you are looking for a beautiful grape trellis for your background with the only purpose of creating a stunning backyard sitting area for you and your family to enjoy some quality time, right? Then how would you like this gorgeous design of grapevines on the arbor that is giving it a curtain-like look?
The hanging vines against the painted black frame offer a brilliant contrast. One can have the ideal Sunday brunch in the backyard.
5. Keep It Neat and Simple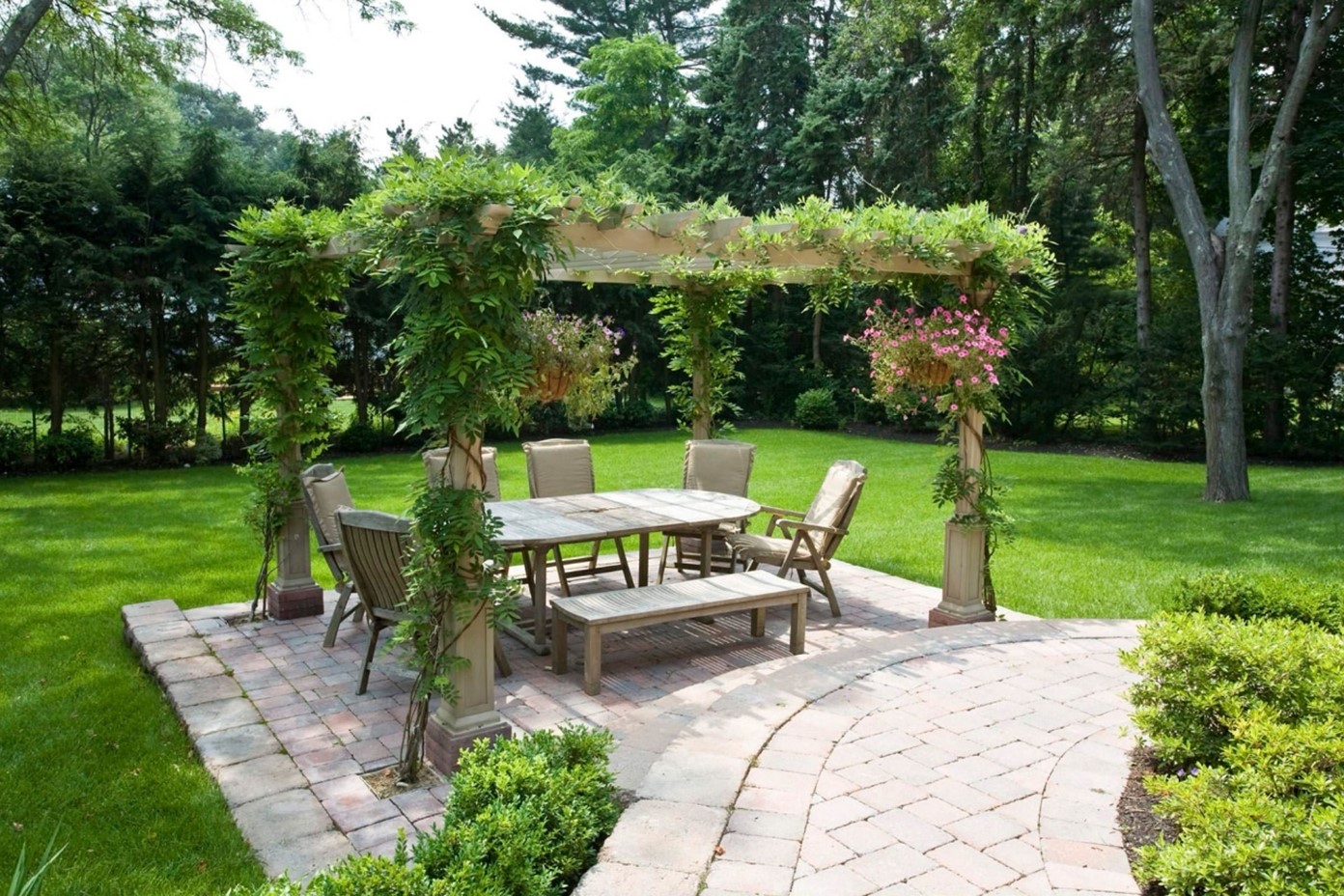 Your arbor does not have to be full of green grape vines from all sides and corners, Real beauty does not lie in excess decoration, in fact, what you really need to do is find the right balance. If you are someone who prefers a cleaner and more organized look then this arbor with grape vines only on the roof and pillars is the ideal design for you.
The vine has been neatly trimmed so that there is not a huge green mess and a beautiful climber with charming pink flowers is added to the trail to make it stand out even more.
6. Green Corridor to Heaven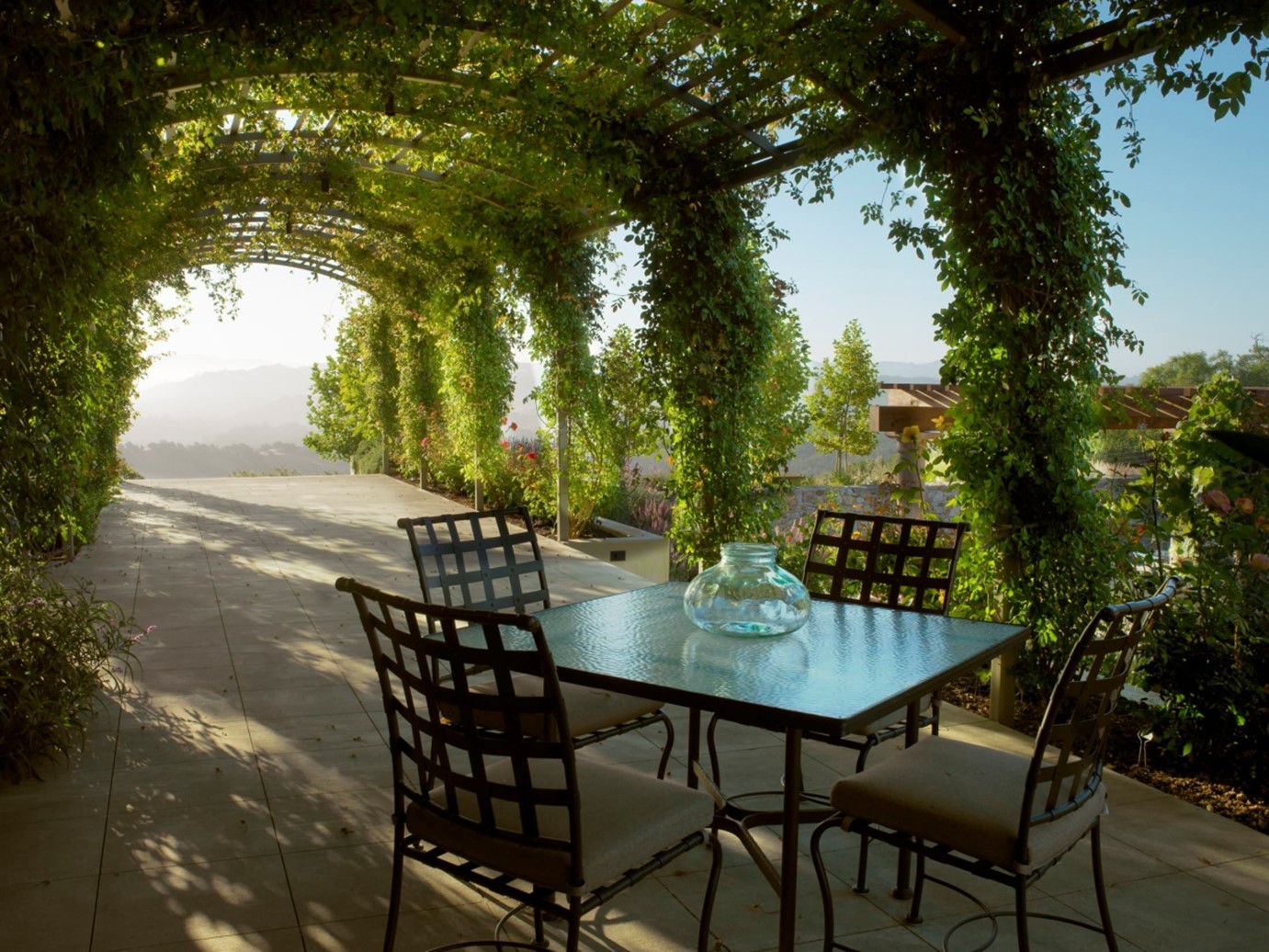 If we are honest, then this is by far one of the best grape trellis that we have come across. There are a lot of people out there who absolutely love their green plants and climbers and vines.
In short, they love everything green and would love to have a trellis adorned with thick grapevines. But how do you manage to fulfill that wish without over-crowding the trellis with the vines, Well, there is only one way to do that, and here it is.
This stunning green corridor. Since the vines are wrapped in spirals on the trellis, they do not look messy, and the thick coverage will work an excellent shade you from the scorching heat. So, you get the perfect place to enjoy your morning tea without compromising your love for plants. Isn't it amazing?
7. The Best Breakfast Spot for You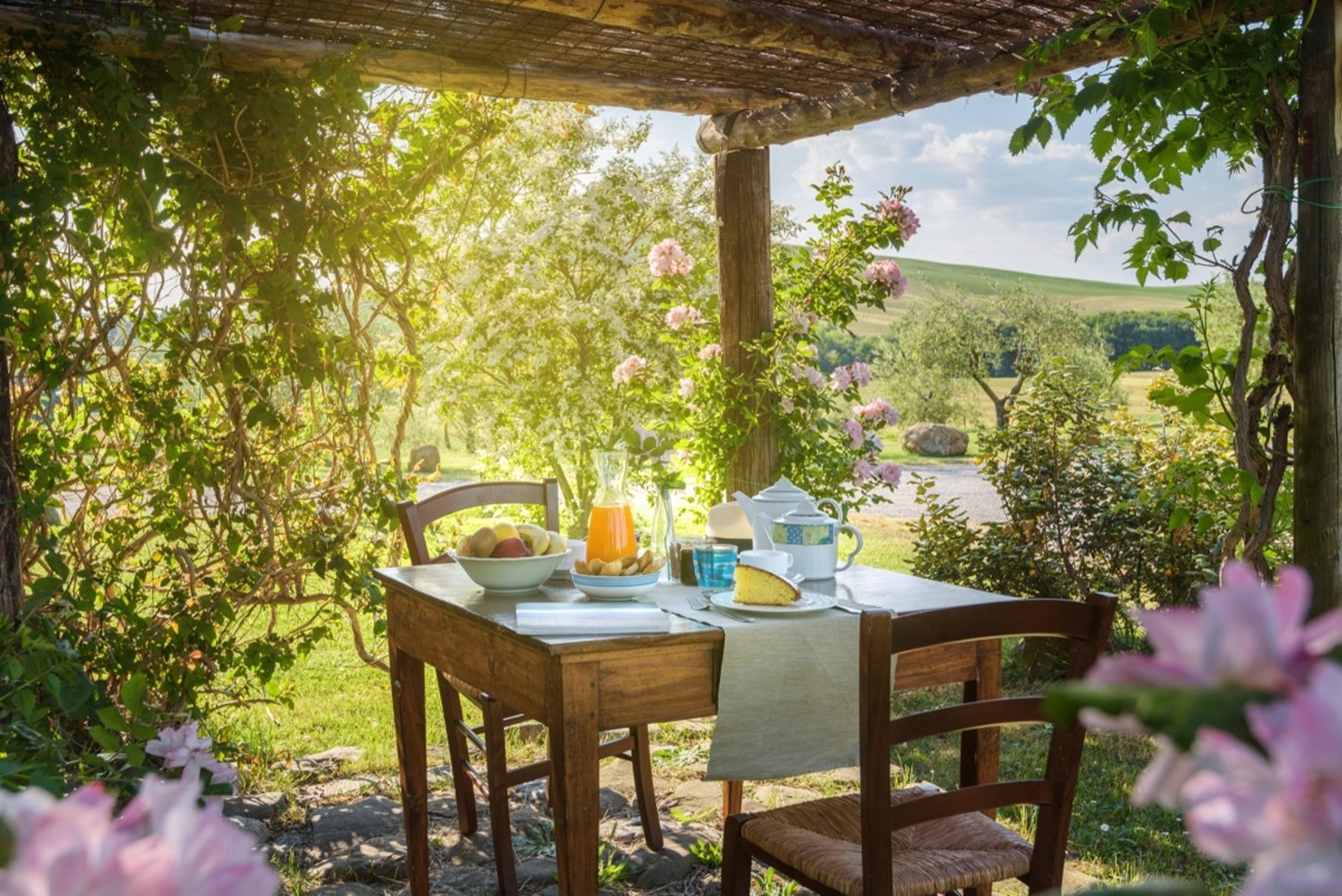 Looking for the perfect breakfast spot? Do not worry, we got you covered! On a simple wooden trellis, plant your favorite grapevines and let them grow in abundance all over the roof and climbing down the wooden pillars.
Also, if you do not want to disrupt their growth with another climber but you still want to add some color to your backyard. The plant flowering trees near the pillars of the grape trellis give you an overall pleasant and colorful look.
To make it look more authentic, let the roots grow out and one side that later will act as a support to the new grapevines that start growing and tadaa! You got yourself a stunning backyard arbor with a gorgeous grapevine design that will act as your perfect breakfast spot.
8. A Simple Trellis with A Dash of Colors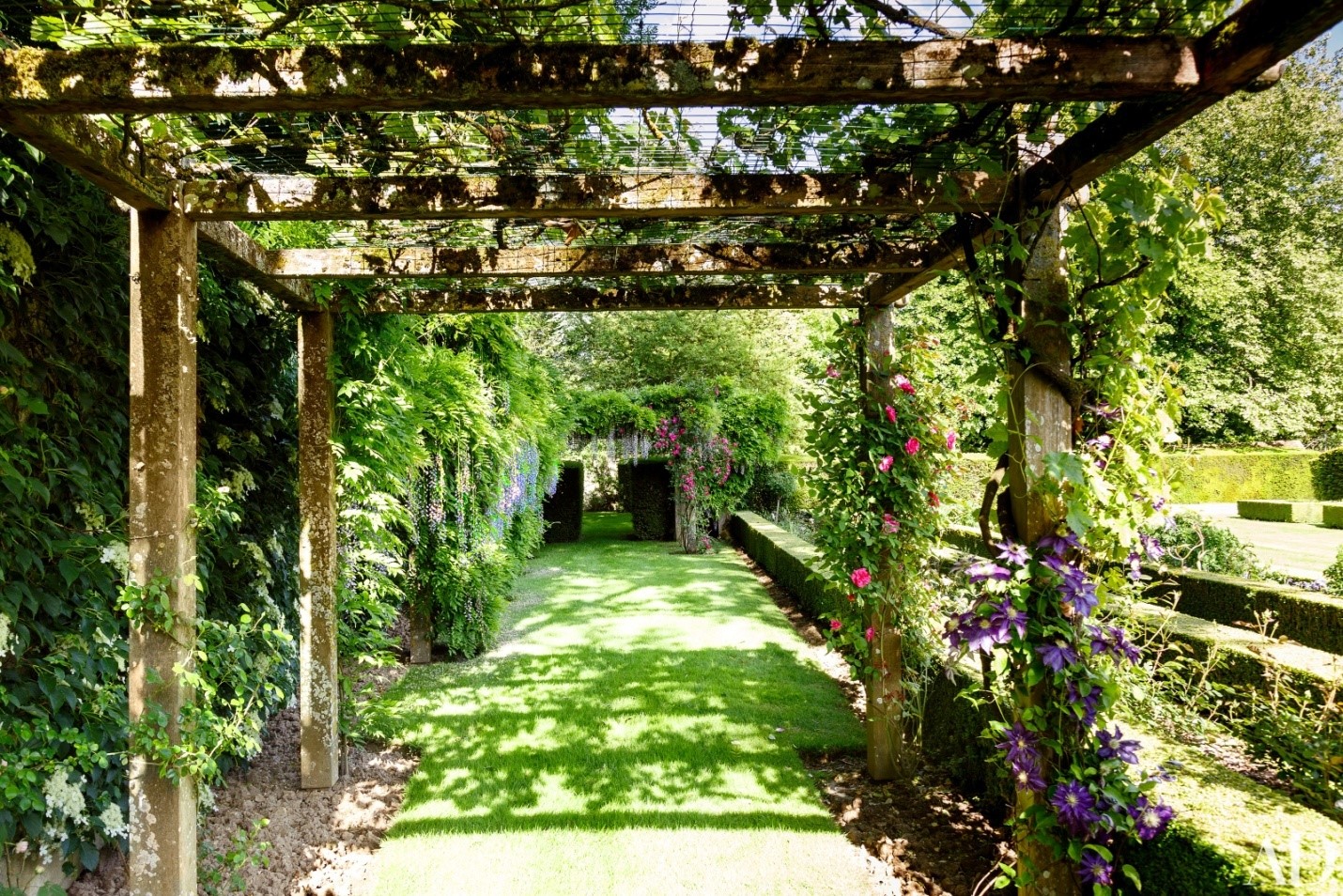 Do not want a sitting arrangement in your grape trellis? No problem. If you want to dedicate it all to the greenery, then this one is for you. A simple wooden trellis that acts as a connecting pathway in your beautiful garden.
Cover it up with extensive growth of grapevines and in the interior, you can get flowering plants of different colors to add to its beauty. It will be like a tiny garden inside your beautiful garden with an array of fresh and bright colors.
9. Bring Some Grapes on Board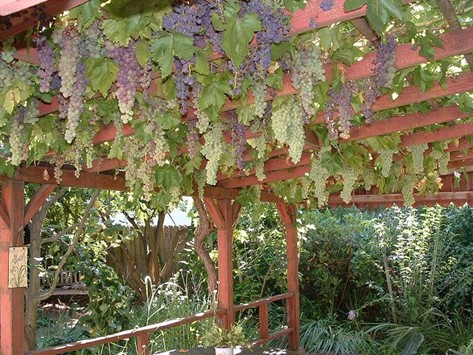 How would you like a grapevine on your trellis with actual, juicy grapes hanging from the roof? We know that if you are a gardening enthusiast then you will absolutely love this idea. So, we brought this amazing backyard trellis design that is decked up with fresh green leaves and ripe juicy grapes in both shades.
However, there is one thing that you need to keep in mind and that is these grapes will not be here forever. They will come and go with the season so make sure that when you are setting the grapevine on the trellis, you do the entire decoration keeping in mind that soon the juicy ripe grapes will not be there.
10. A Fancy Grape Trellis by The Pool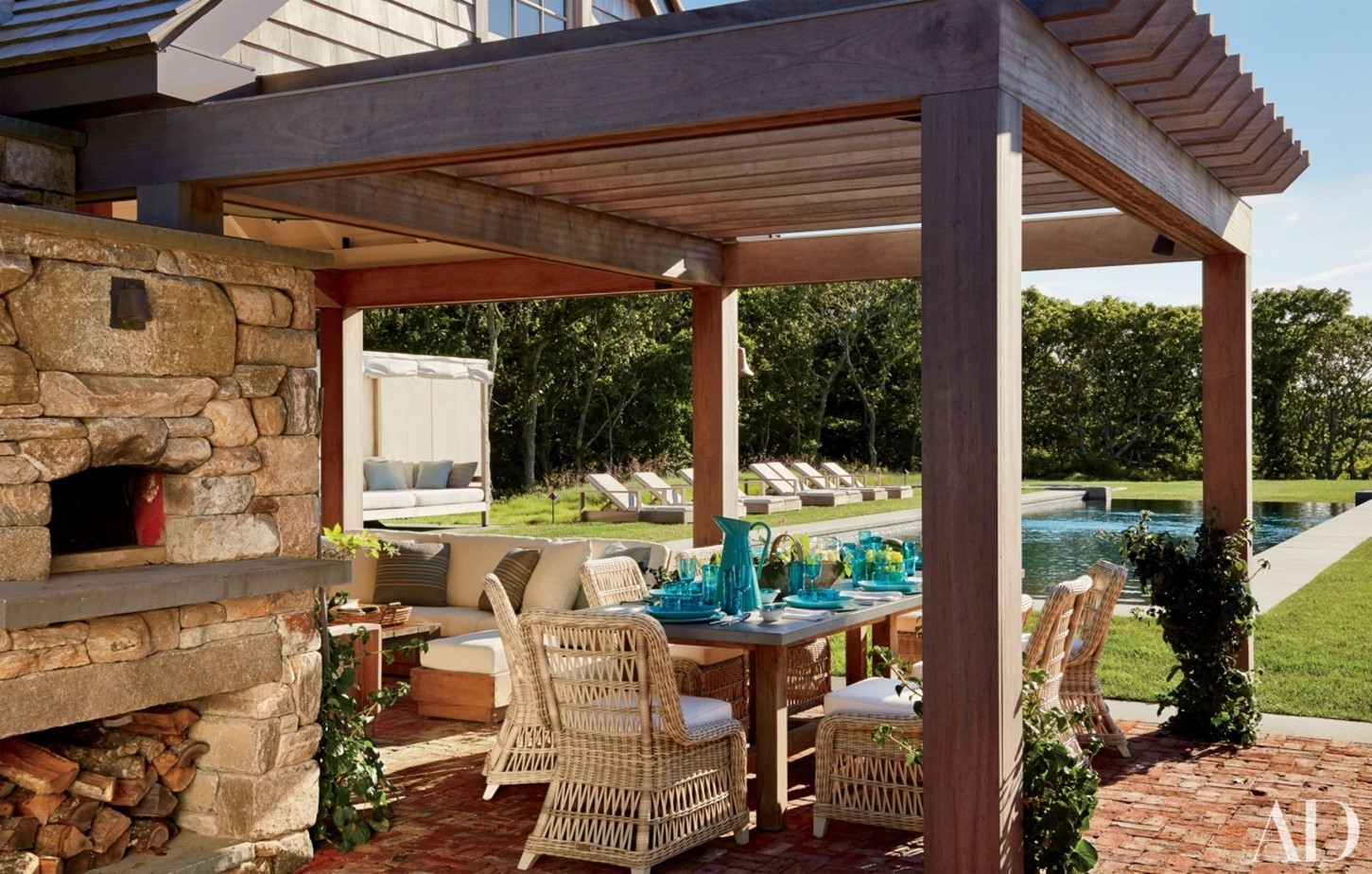 Well, if you are looking to make a valuable addition to your already fancy backyard then you should consider setting up your trellis with grapevines along with the pool. When it comes to gardens, it is a lot about the play of colors and we are pretty sure that a fantastic combination of blue, brown, and green will be a feast to your eyes and you will enjoy sitting by the pool and marveling at the stunning creation you conceptualized.
11. A World of Grape Vines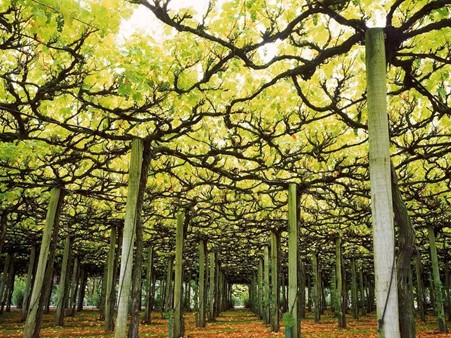 Honestly, we do not think we need to talk much about this design's brilliance. As you can already see, this grape trellis, especially the grapevine has been planned in a way that creates a chamber-like area.
It is like having your own secret chamber of green grapevines in your garden that not just provides you a pleasant secret place of yours but also makes a stunning addition to your beautiful garden that all your visitors are going to marvel at.
12. A Gorgeous Trellis with Flower Baskets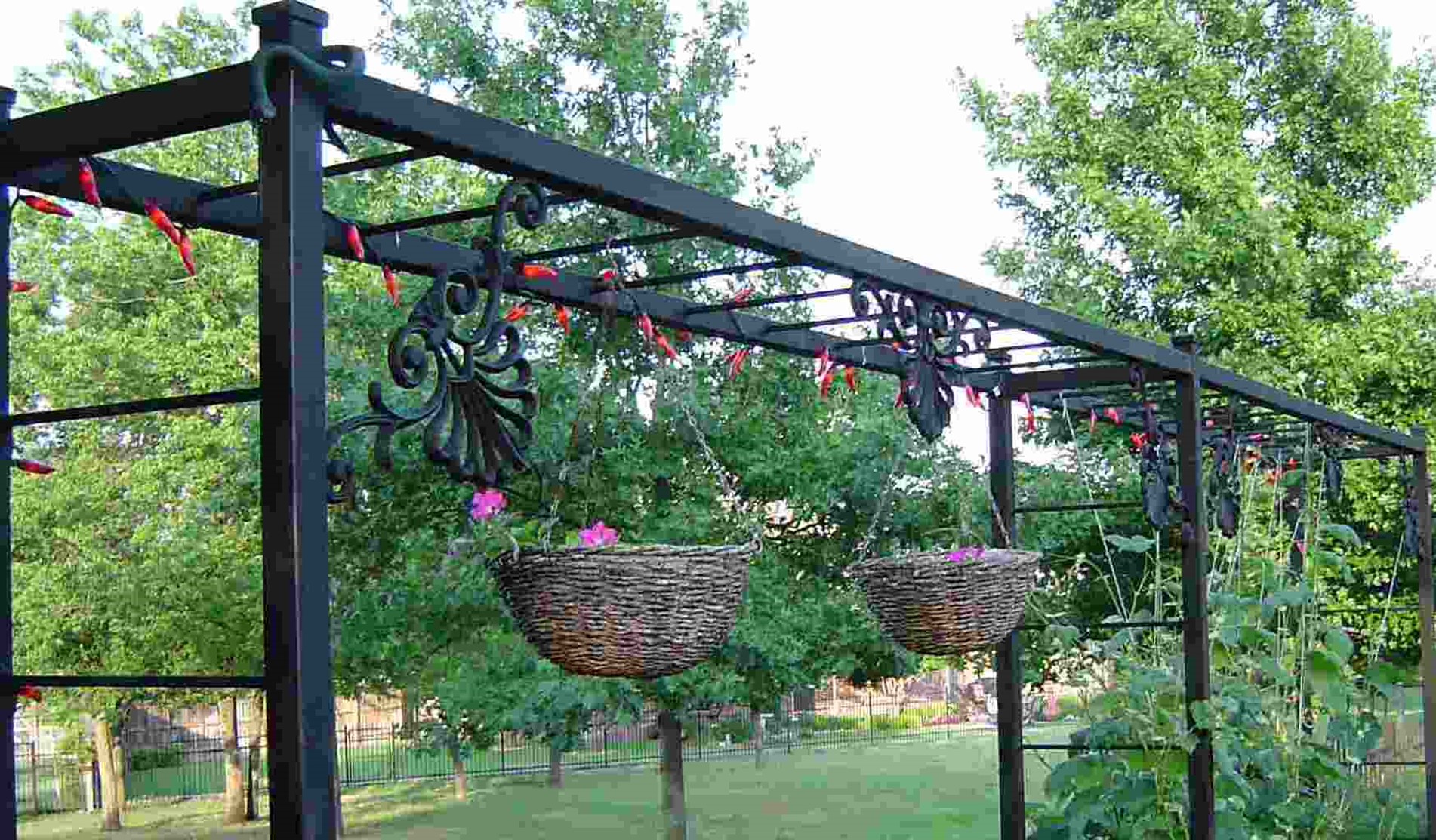 Another way to add some charm to your garden is to have a beautiful trellis adorned with gorgeous green grapevines and pretty flower baskets. In this case, the owner has used pink flowers in the basket, you can choose your own color as well. Cater better to your love for gardening with a unique trellis décor idea with these hanging flower baskets.
13. Bring in A Rustic Vibe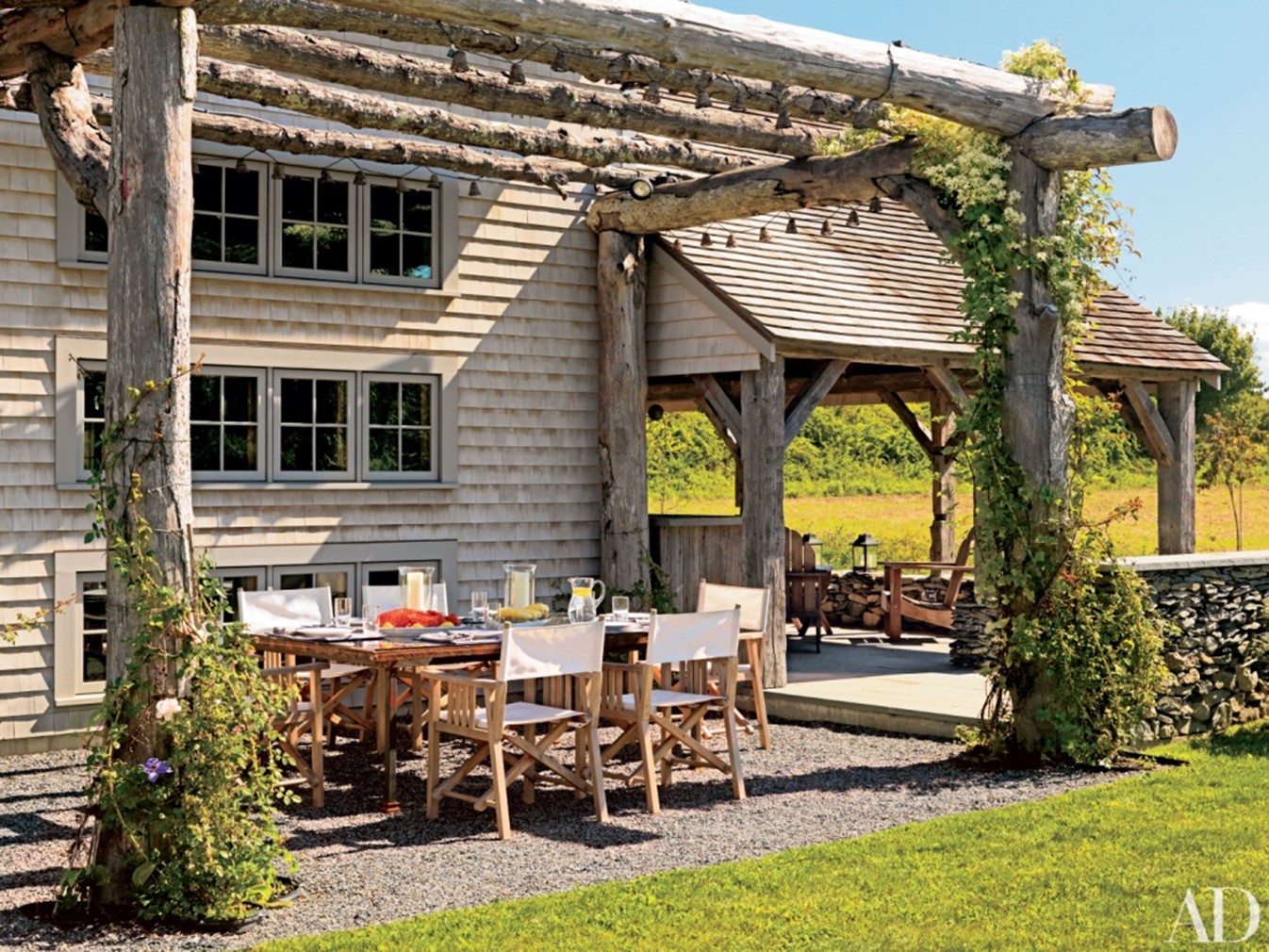 If a rustic countryside vibe is what you are looking for in your beautiful backyard, then this is the design that you should pick. The best thing about this design is that it is attached to your house, so you are not hijacking a huge space right in the middle of your garden. Also, being attached to your house gives it more support that makes the grape trellis sturdier and more reliable.
The overall material used in the structure is plain old wood and it is purposefully left unpolished to bring in a countryside vibe. To add to it, they have also planted the vines to spiral across the pillars in a not-so-neat look to keep up with the countryside vibe.
14. A Super Fancy Trellis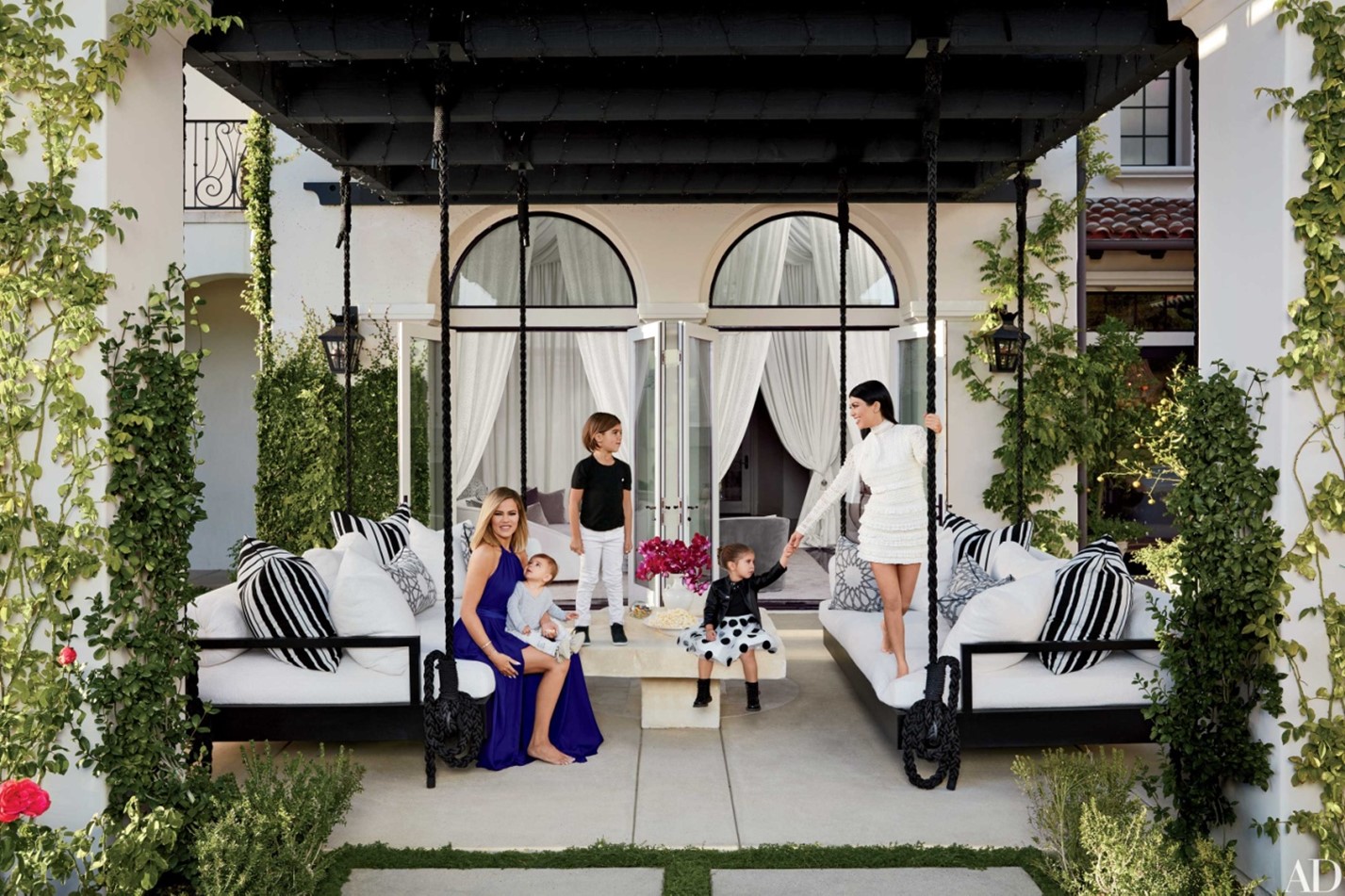 Let us assume that you have a big and fancy villa, so obviously, you will need a fancy grape trellis along with the best grapevine design to with the look in your backyard, right? So, if this matches your requirement, this fancy grape trellis is the right choice for you. Install a stunning black trellis and plan a complementary color scheme with white pillars and a black and white seating arrangement.
Adorn the pillars with grapevines and add a stylish center table to the whole arrangement. This place is like a little piece of paradise in your backyard that will surely not just attract and impress the guests but will also come in handy as a cozy spot for family time.
15. Go Overboard with The Greens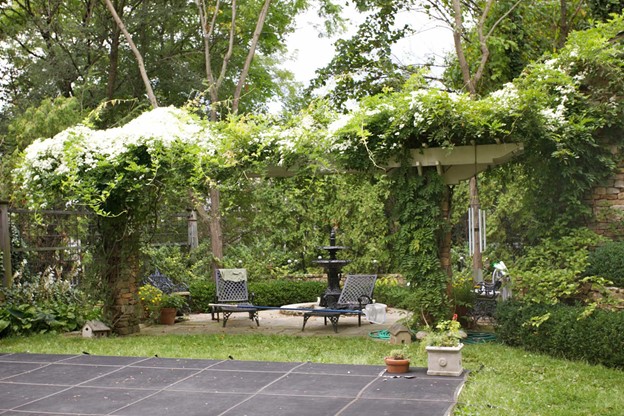 For all the greenery lovers out there, this one is the best design for you! If you love a splash of green in your trellis.
This trellis idea is not only for your comfortable seating arrangement but is also an excellent way to showcase your stunning grape vines sprawling all over the roof which not only speaks high of your refined taste in gardening but will also impress your guests with your skills.
You can also add to its beauty with a carefully planned flowering climber just how it is done here. The brilliant contrast of white against green will make your grape trellis stand out.
So, these were our 15 grape trellis designs and ideas for your backyard. We have tried to keep at least one design idea for each level of budget and taste, so we hope that you found your perfect grapevine design and start on the journey of building your backyard arbor as soon as possible.
We hope this article was helpful and you were able to find what you were looking for. If you have any further queries or any value addition that you would like to make to this post, then feel free to reach out to us in the comment section below.