The stone-lined pathways that we usually see in many homes are what is known as the Dry Creek Beds. These looks serve both beautiful aesthetics and functional purposes.
Dry Creek Beds can add a whole new vibe to your front or backyard area. It has an appealing effect that makes your outdoor landscape an eye-catching element of your house.
Another great thing about these beds is they look professionally done even though most of the designs can be completed easily by yourself. The impressive look which it provides will make anyone easily fall in love with your place.
However, if you are not a homeowner but wish would have these in your backyard. Since standing wet or water spots may bother the homeowners due to their inconvenience and ugliness, you can install underground drains hidden beneath the dry creek beds. This way you can divert this water into a more desirable area away from your property.
So, if you are thinking to have something like this at your place where you can just sit and relax with yours enjoying the joy and pleasure of this aesthetic décor, this article is just the perfect way to get started,
Below we have provided 25 dry creek bed landscaping ideas from where you can gather some inspiration and create one for yourself.
1. Crushed Purple Grass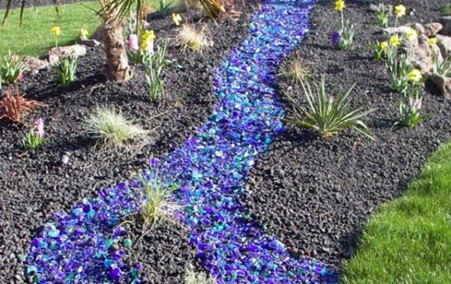 Crushed Purple grass can add a perfect color to the monotonous color of the natural rocks. It adds sparkle & color to your landscape, fire pit, fireplace, or water feature. It can be used as an alternative to gravel to create dry riverbeds, as fountain accents, as filler for flagstone and pavers, or in fire pits or fireplaces as a clean and modern alternative to logs and ceramic logs systems.
Trust me this view can really melt anyone's heart and will attract all your visitors.
2. The Lavish Path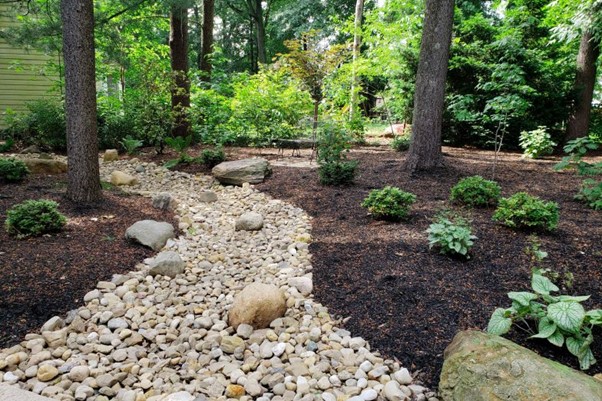 You can create such a path of the creek from your house into the yard. This is something new and unique that can also be a star element of your house.
If you really want to create a dry creek landscape, make sure that it is soothing to your eyes. It will be the place where you and your family will spend most of their evenings enjoying the sight with a nice cup of tea. So, create it the way you like, and it will surely add up style and uniqueness to your garden.
3. Dry Creek in Action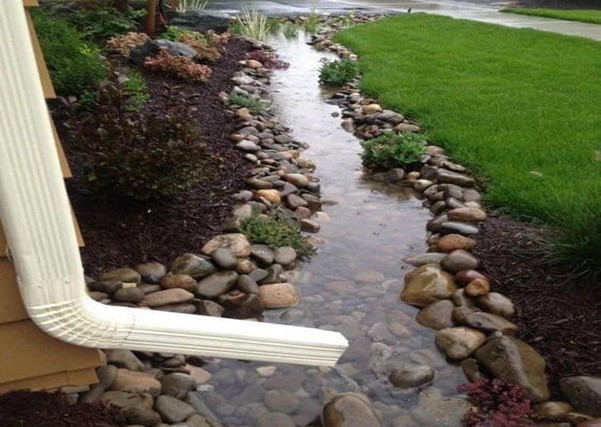 Well, if you are wondering if the dry creek landscaping will really help you or not this image itself is answering that call. These landscaping ideas can not only help transform your property but also protect it.
Be it a small rainfall or a massive, such drainage canals will help direct the accumulated water out and away from your house. Plus, it really looks extremely beautiful.
4. Backyard Dry Riverbed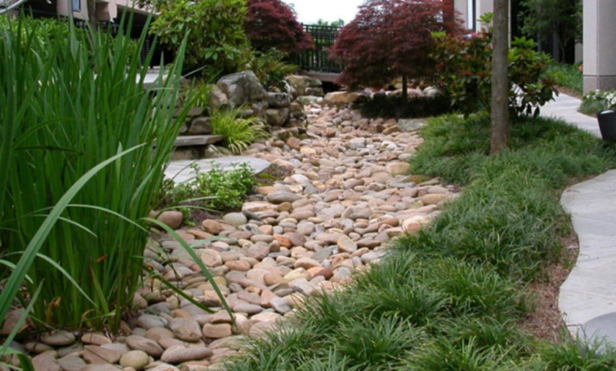 If you have space in your backyard, you can spruce up that space by adding this dry riverbed landscape. Especially for those who like to keep things minimal, this is a great way to intensify the beauty of your yard just by adding this simple design.
This simple rock path with some larger stones and thick greenery leading the way to the quaint seating area where you can enjoy your day with a nice drink in your hand is the best thing you can have.
5. Dry River Garden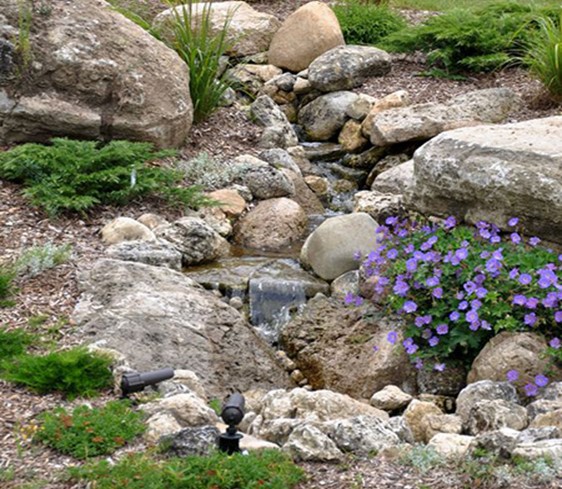 Slanting Dry River like the one shown above can really add a gorgeous feature to your backyard and be visible from anywhere in the outdoor space.
This is the perfect way to keep yourself close to nature. Add some color with favorite flowers and if possible, run some water through these rocks to make it seem more natural.
Now if you are really putting so much effort into creating this beauty, you deserve to show it off. Call your friends over and let them witness this beautiful place created by you.
6. The Wooden Backdrop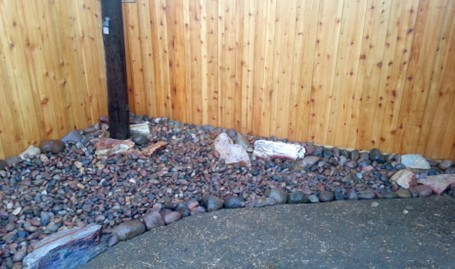 Now, this undoubtedly will look extremely modern and fascinating to any passerby. The wooden backdrop with the roadside dry bed makes a stunning landscape design.
It not only makes a beautiful feature in your garden but perfect fencing as well. You can also add some color to the whole monotonous vibe over here. Incorporate some colorful flower plants, paint the pebbles or stones, or get creative with the wooden background.
You can also plant some trees in between the stones such that the stones surround the stem. The trees this way add the necessary greens.
7. Stone Path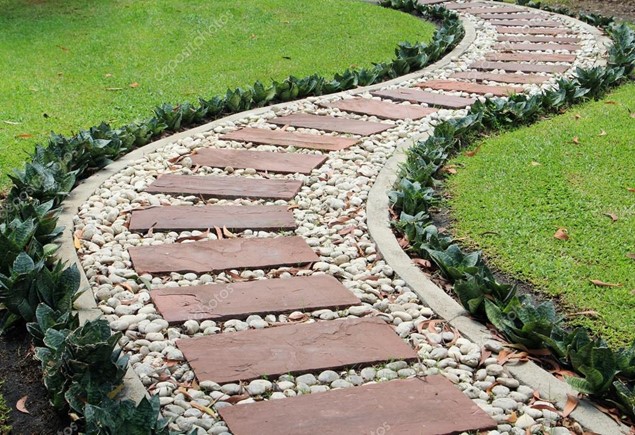 As you can see in the pictures above, the dark mulch or green grasses are contrasting to the light stone paths are making. This makes it look amazing.
This idea is neat as it is just dry creek beds that act like the walking path. It is very clean and looks very aesthetic. Enhance the look by adding green plants on the edges or using wooden planks in between as shown in the picture.
8. Homemade Backyard Dry Stream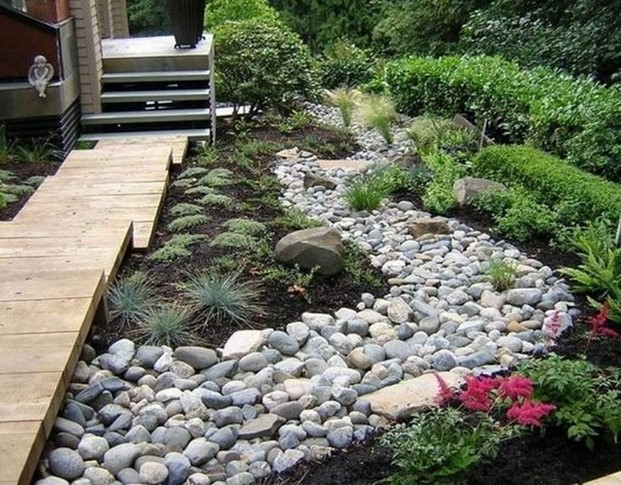 Dry Creek Beds not only can look like a dry stream but are functional too! These are the trenches or gullies that are generally lined with stones. You can use different types of plants to line the edges, mimicking the look of natural creeks and streams. If you have a lot of space in your backyard or garden, you can easily install these beautiful dry creek beds.
Following are some ways you can create a backyard dry stream.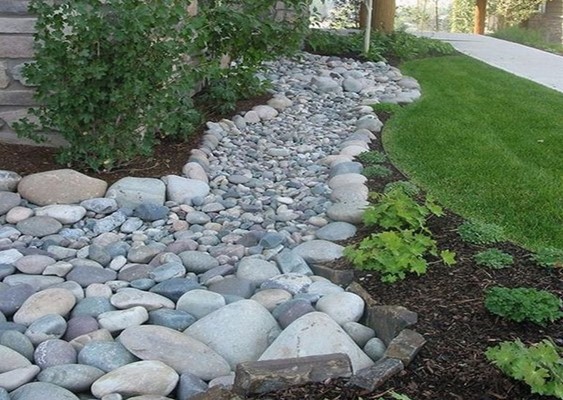 9. A Simple Stack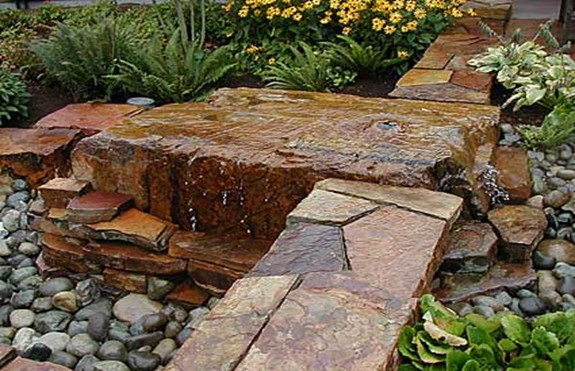 If you are someone who does not want to do any complex things and wants to go easy with designing the backyard, this one is just for you. There is nothing as easy as this idea.
Just gather up a collection of large, jagged stones or mountain rocks, if available, and place them stacked underneath or in front of the eave's trough drains around your house.
They do not serve just one purpose. While they are indeed beautiful to look at and adds up a great feature to your space, beyond the visual impact is a greater use- for drainage.
It will filler the water coming down and redirect the flow of water away from your house preventing water from pooling. They also reduce the runoff thereby preventing erosion.
10. Spruce It Up with Simplicity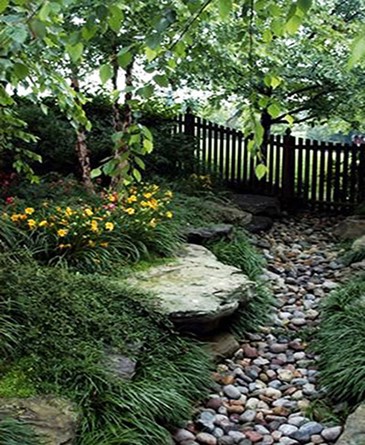 This idea shows how you can use simple stones and create beautiful garden features. Looking at the stones, they do not really seem to be any special but the contrast they give to the lush plants that line the bed makes it look beautiful.
These plants not only add greens but help drain any rainfall away from the property. If you are a nature lover, this idea might really excite you. The vibe created here mimics nature's vibe giving you the experience of peace and calmness.
11. Modern Home Décor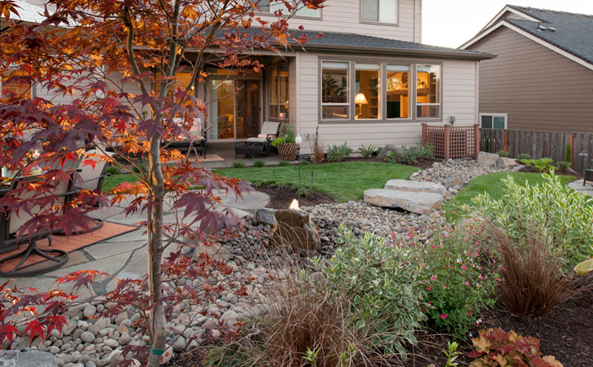 Highlight the elegance of your modern home by creating a dry creek bed like this. The entire contrasting impact of this structure will give your home a refreshing ambiance, allowing you to experience the immense pleasure it brings.
You can also keep some elementary pieces like a ceramic pot, as shown in the picture below, in the center of the winding dry riverbed, along with green grass and purple flowers which will add elegance to the garden.
This overall composition intensifies its pure awesomeness making it a perfect landscape for your modern home.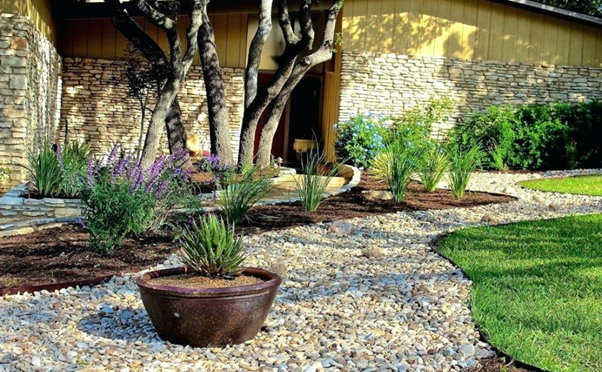 12. Rock Fountain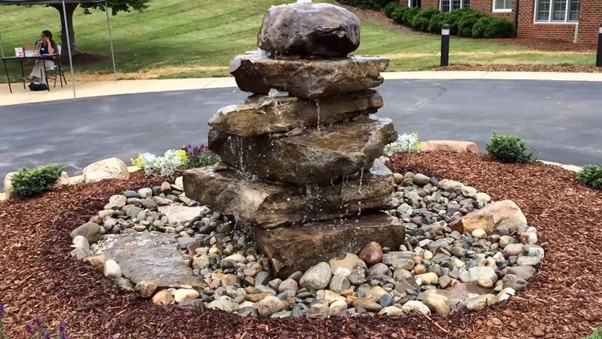 Now, this is amazing and looks aesthetically pleasing in your backyard. If you are trying to turn your backyard into a rock oasis, then adding a rock fountain to it would really be so cool.
Look for inspiration, then plan and design your dry creek river and plant a fountain, front, and center. These are not only very easy to install or build but also create a serene outdoor atmosphere, making it your favorite place of your house.
13. Creators Passion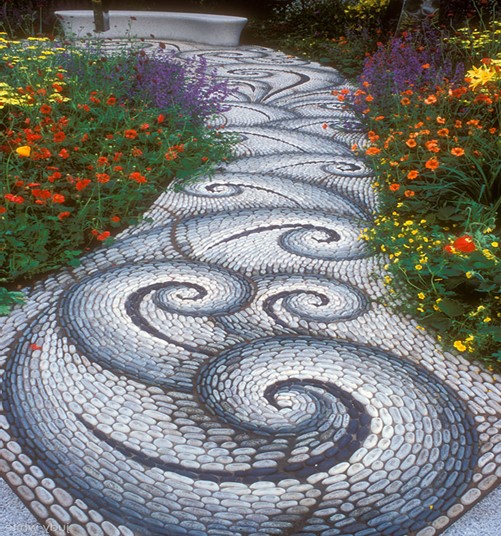 Who said the rock paths lack color? Well, not me! As shown in the image, you can literally create any design you want with these beautiful pebbles. It can mimic the circular pattern of the real river water or any other mosaic pattern.
It will exhibit the passion and creativity of the creator. Although it does take a lot of time to fill the space and create this art, the results are worth the effort. Its charisma will surely attract everyone's heart.
All you need is some rocks, paint, and your limitless imagination. Use different shapes and sizes and create beautiful designs in your dry creek bed rather than just filling it up with stones.
14. Assorted Riverbeds Rocks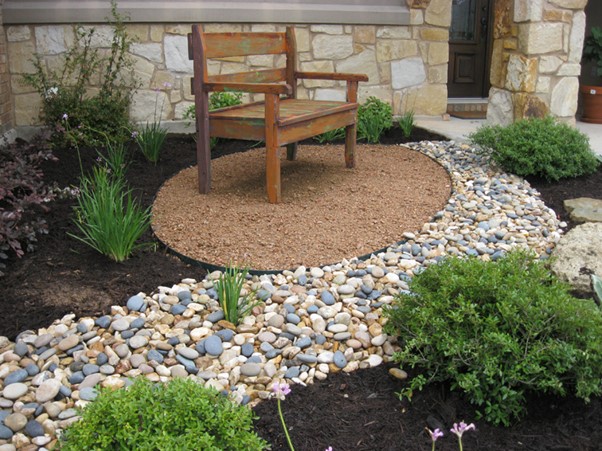 You can easily create this eye-catching dry creek riverbed that is pleasing to the sight. The landscape with these colorful and lush green shrubs can act as a unique perimeter to your house. It can also help filter away rainwater from your property. Plus, it will make you look more creative and cooler than your neighbors.
15. Sea Illusion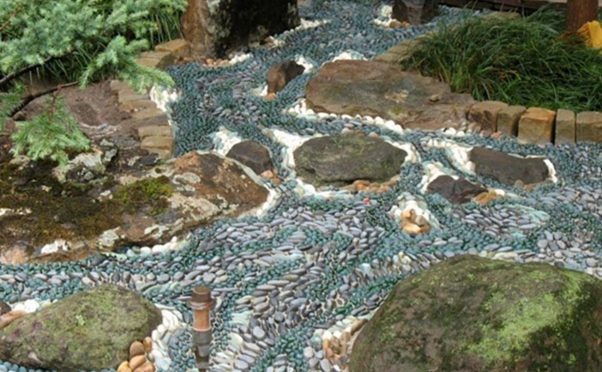 Aren't the above pictures enough to tell you that this idea can blow your mind with its immense beauty and attractive structure?
This sea-inspired dry creek does take a lot of time, effort, and much attention to design. The carefully arranged, intricate pattern of every oval-shaped stone shows the creativity and passion of the creator leading to this immense beautiful landscape.
16. Two-Tier Garden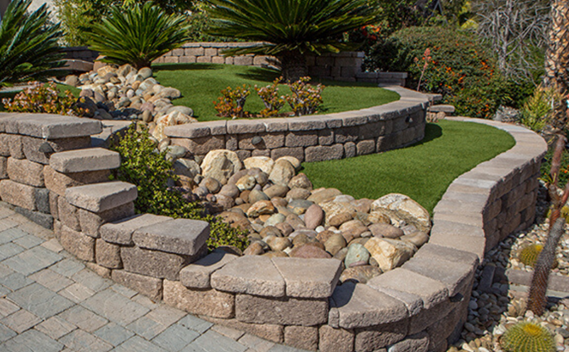 This two-tier garden with a dry creek bed on the side and sculpted stone borders can make your backyard or garden more elegant and sightful. The green grasses contrast with the color of the stones highlighting them and creating a simple yet elegant landscape.
17. Cost-effective yet luxurious.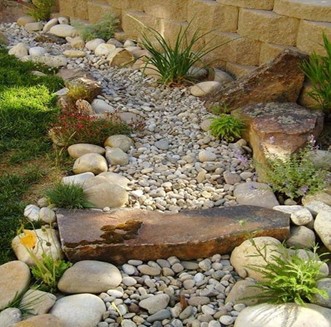 A dry creek bed not only adds a unique visual interest to your garden but also divides the larger areas. This is something that we already covered, but what you might not know is that you do not really need to spend a lot of money to create a stylish look.
This is because most of the materials that you will require to create this is already in nature. All you got to do is to use those pieces and construct the beautiful elements out of them, just like this long rock bridge shown in the picture.
18. Playing with Colors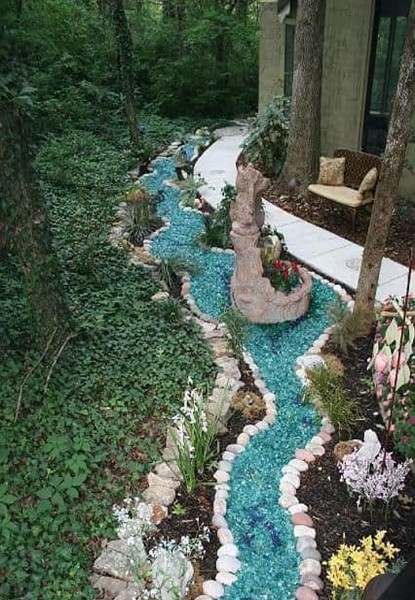 Creating visual interest in your garden or backyard is quite simple and you can do it easily by playing with colors. You can use strikingly different stones both in shape and color to create some amazing effects in your garden.
The combination of rocks, gravels, wooden plank, stones, grass, and colorful pebbles makes this a stunning landscape. Every element adds a unique character to your garden.
19. Oasis in Dessert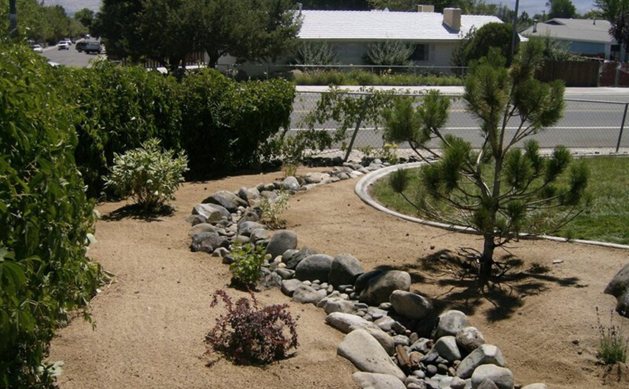 You can create beautiful edging in your garden by laying large rocks near your lawn. Dry creek bed designs can create a lot of lusciousness in a small area and with a bit of creativity, turn a narrow outdoor space into an oasis.
Use smooth black stones to create a dry creek bed that will make your landscape look classy and lavish, particularly when it is wet. Show it to your friends once you have completed the project and let everyone appreciate its elegance.
The landscape showcases that creativity and imagination have no limits.
20. Add a Wooden Bridge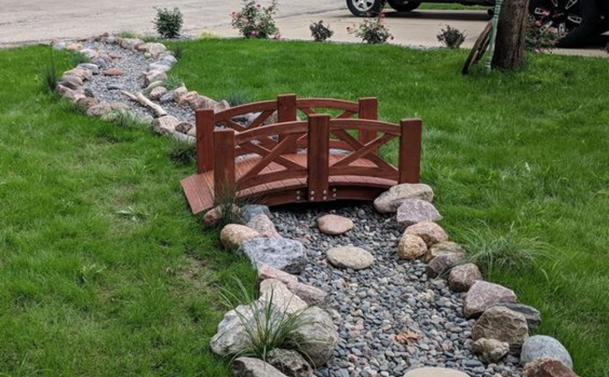 The image shows how just by adding little structural elements, which can just do by yourself, you can create a beautiful yard of your own. It can amp up your dry creek river very well and make it look more beautiful.
Use big rocks and surround the way with plants to make it more attractive. Line the creek with small rocks, nestled in flat walking stones, and then find the perfect spot to stick the bridge. That is, it!
21. The Japanese Version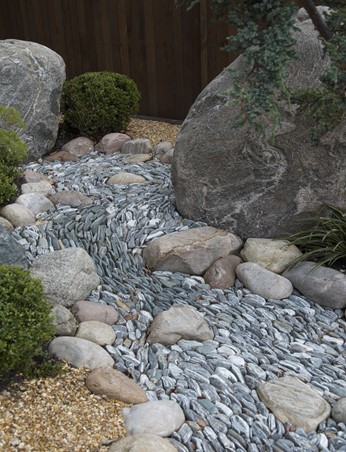 The Japanese garden-inspired creek bed enhances the gardens' serene view. The brightly colored gravels and lush green-shaped shrubs all emphasize the ancient Japanese garden style.
If you are a beginner, it is a perfect idea that you can try in your garden. It is extremely easy and requires two things- some flat rocks and a bit of your time.
Clear the creek area which you wish to fill with rocks and line it with fabric. Turn the flat stones on their sides and begin to fill the space in a line form. As the creek is filled, you will have a visually stunning outdoor feature.
22. The Timeless Elegance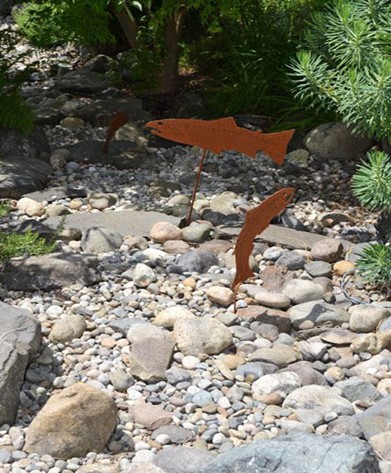 Who said dry creek bed landscapes need to be limited to using rocks, pebbles, mulch, and plants? If you are creative, you can try and add more elements of fun to it and make it more interesting.
Add a bit of character with the little gnomes, frogs, or even a few metal structures of fishes like the one shown in the picture to make it more visually appealing.
23. The Mountain Vibes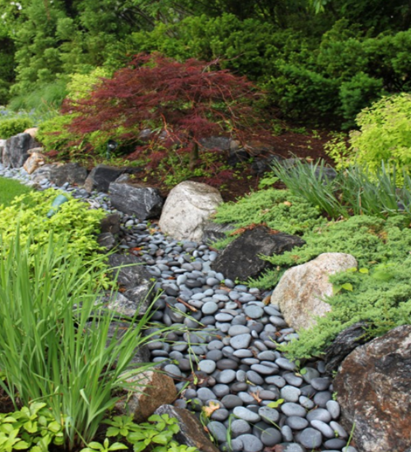 The entire thought behind this idea is to recreate the natural vibe. The dry creek landscape highlights the traditional vibe of Real Mountain.
If you are lucky enough to have a treed property then you probably must deal with damp, mucky trails. In such a case consider clearing some room through the trees and put a dry creek river. It will not only help drainage but also leave the trails around your home a little drier.
24. Rainy Climate? Not a Problem Anymore!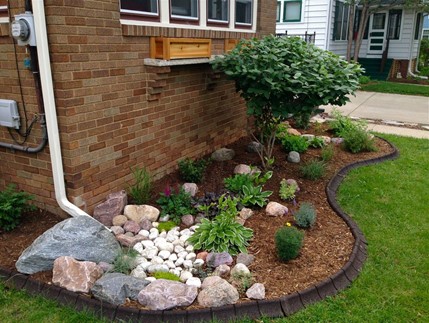 If you live in wet or super rainy climates or near coastal areas, you likely are to deal with a heavy burst of water coming down through the eave's trough. This can create a gorgeous opportunity for you to create a dry creek bed or a self–sufficient pond in your garden or backyard area. It will look beautiful and will have its functional advantages as well.
25. The Sophisticated Outline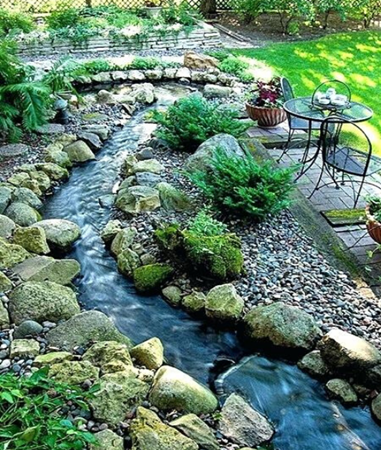 Again, the idea behind this design is to mimic the real river. The rock border makes a beautiful and impressive addition as an outline of shallow flowing water.
You can incorporate some plants beside the river to enhance the refreshing beauty of the landscape.
Conclusion
If your garden or backyard seems boring and not exciting and you are willing to put bit your efforts to make it more fun, then this article must have helped you a lot.
Although you need to put in efforts in digging the land and aligning the rocks, the result that you get is worth the efforts that you take initiative.
The best thing about decorating your garden using dry creek beds is that you can add or remove certain elements to make it look entirely new. You can style your garden in a zillion of ways. Few of which we already mentioned in this article.
So, what are you waiting for? Get inspired and create your dry creek landscape and do not forget to share your thoughts with us.