What comes to your mind when I say garden? Colorful flowers and lush green grasses? Or Sweet and relaxing scents? I bet. But it can be more than that. How? Let us see.
A garden can be more than its greens, pinks, and sweet smells. Also, with unpredictable weather patterns and business lifestyle, the traditional gardens and the maintenance that comes along with it is losing its appeal.
Considering that a rock garden seems to be an interesting concept to look upon. Rock gardens are also one of the latest front yard landscaping ideas that are trending all over the world. They are low maintenance and can play a leading role in garden design.
If you are looking for some fascinating and unique rock garden ideas for a front yard, then be for we are providing you with sparking ideas that will blow your mind.
So, read this article to learn more about rock gardens and get inspired with some of the best ideas around!
What is Rock Garden?
Rockery, or rock garden, is basically a garden where rocks and rock arrangement play an important part in the design. Traditionally, rockery is imagined to be a heaped arrangement of rocks with soil and rock plants around them.
Before you decide on starting a rock garden, do proper research and planning and envision the finished product. Investing your time in planning will help you consult with a local nursery or check out online tutorials and find the best plan for your garden.
Benefits of having a Rock Garden.
Rocks are overtaking the traditional gardens due to many reasons. Some of them are given below-
They Can Survive in Harsh Environments
Harsh environments are no longer a concern for you. Intense sun, strong winds, or long droughts will not have any effect on your garden. Rock gardens can tolerate all sorts of extreme weather conditions, a major part being played by the plants and the foliage that are included in them. They can do well both in the rain and at times of droughts.
Make Your Yard Appear Larger
, Unlike traditional gardens, Rock gardens require fewer plants, leaving larger spaces that can be filled by smaller rocks to make your yard full without feeling overgrown. This makes your garden look larger than it is.
Low Maintenance
Isn't this the first reason why we thought of rock gardens? With most people having busy lives, we cannot be bothered to stay on top of mowing the lawn, watering the garden, pruning the flowers, or weeding the yard. We can use rocks and cacti to bring plants' life in and water responsibilities out.
Diversify the Yard.
Who said diversity occurs only in living creatures? Rock gardens can be easily made of a combination of tiny pebbles, large stones, and big boulders, all working together to create depth and diversity.
Looks Great Year Around
To enjoy the rock gardens throughout the year, do not forget to use a combination of flowering plants that bloom in the spring and summer, as well as foliage and evergreens.
Rock Garden Ideas and Designs
Let us now dive into some unique rock garden landscaping ideas and designs that you can try and recreate for your home and garden. Do not forget to add your touch or favorite element from them into your design.
Rock Gardens with Plants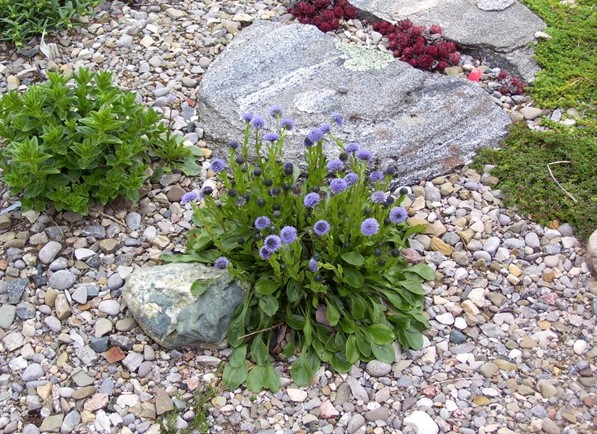 A very basic rule for picking plants for your rock garden is to pick the small ones that take drought well. You can consider creeping plants or tiny bulbs and succulents that will look great in your rock garden.
While we suggest small plants, do not limit yourself to getting just that. Big plants can also look great in this kind of garden.
Stones in Equilibrium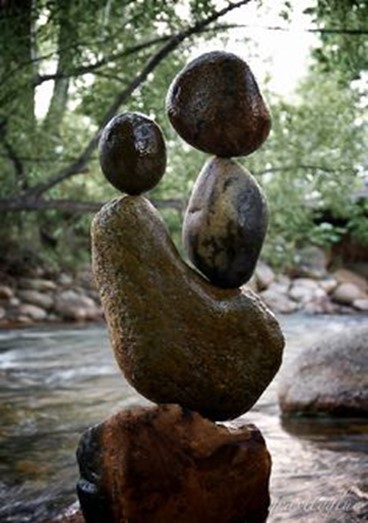 Want to do something exciting and challenging? This idea is best for you. It is a bit challenging, and you might not be able to do this in the first go.
But the final structure is worth taking all those efforts. Of course, do not just expect these stones to align themselves, you can use nails and other tactics to give them the structure you want to.
Landscaping Stairs with Stones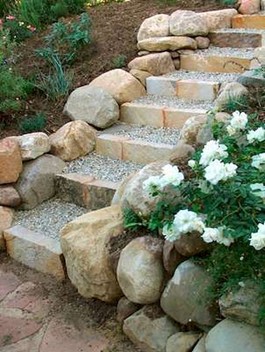 Houses that are located on hills or have large front yards can use this idea to make them look beautiful. Steps designed with stones are generally seen in theme parks. Installing such rock stairs makes the landscape look more appealing, giving easy access to the home.
Add colorful pots, wild plants to give a jungle and wild sort of effect, giving you a feel of ancient times.
Buddha inspired Rock Gardens.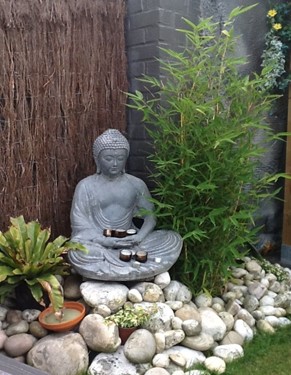 This attractive idea is an easy pull-off if you have a Buddha statue lying around. If you do not have one, no worries. You can still use any centerpiece to replace the statue.
Surround it with pebbles and some plants (especially bamboo) to give it an aesthetic look.
Flat Slab Walkaway Garden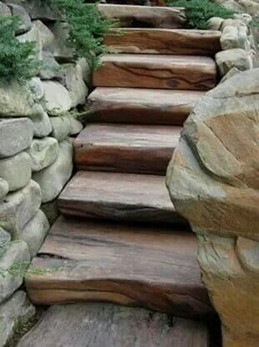 Gardens with a natural vibe all around give a sense of calmness and relief. Ever wondered what extra you could do to establish that vibe in your garden?
Rocks can bring a more natural feel than concrete. And that is exactly what you can do to bring that natural vibe into your garden. Add such flat slabs alongside the wooden planks in your rock garden to give it a touch of architecture and nature.
Well, of Rocks.
Remember how in the olden days, people used to gather around wells to collect water for their daily needs? Well, we could use not same, but similar kind of idea to design our front yard.
Making that sort of a circle full of stones and placing a small fountain in the center will add a lot of beauty to your front yard while giving you the experience of the olden days.
Center Boulder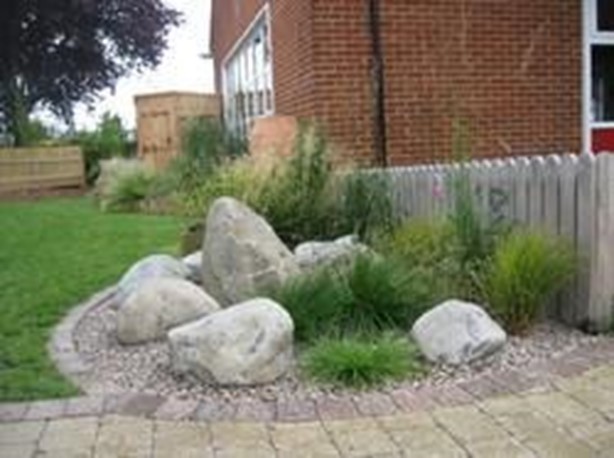 The centerpiece in your garden need not always be a fountain or a statue.
Look at these boulders. Do not they look amazing. Similarly, you can use such attractive stones and make them focus on your garden.
Beautifying the Fence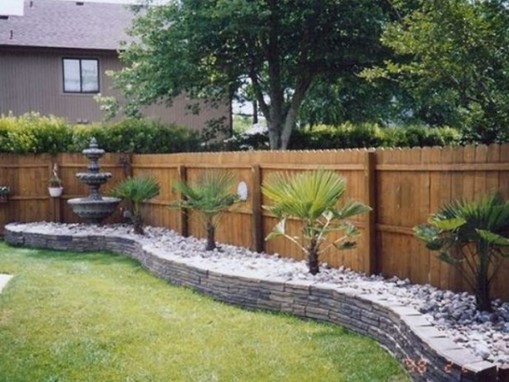 While we give so much time and effort to beautifying every inch of our house, we often forget to give some time to our fences and leave it like that. Fences can also be decorated with stone pathways beside them.
You can add some plants in between to make it look more appealing. You can add colors by planting flowers in them or painting the stones with your favorite colors.
Garden Pond with Rocks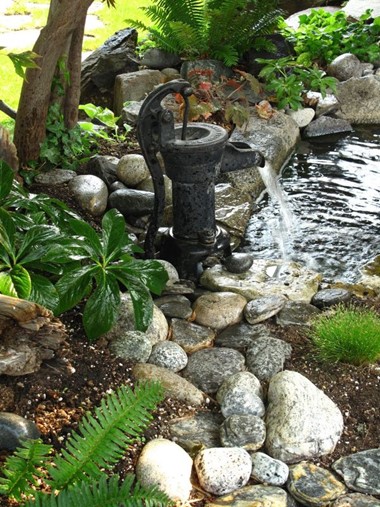 Do you have a pond or water feature in your garden? If yes, this might be a great idea that you can use to beautify your front yard. Smooth stones look great on the bank of water bodies. They can be used as a stepping platform when you peer over your pond.
Add some plants to make it look more natural. You can also add distinctive features like an artificial hand pump or pots to make it look more appealing.
Bonfire in Backyard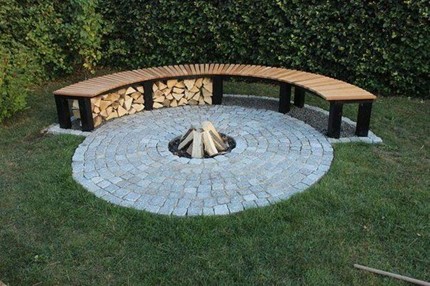 Winter nights plus bonfire is…best combo, isn't it? Well, you can build a bonfire in your yard to get warm on wintery nights. Make it more using green plants and chips.
Arrange sitting across the bonfire and enjoy your little camping in your yard.
Front Yard Steps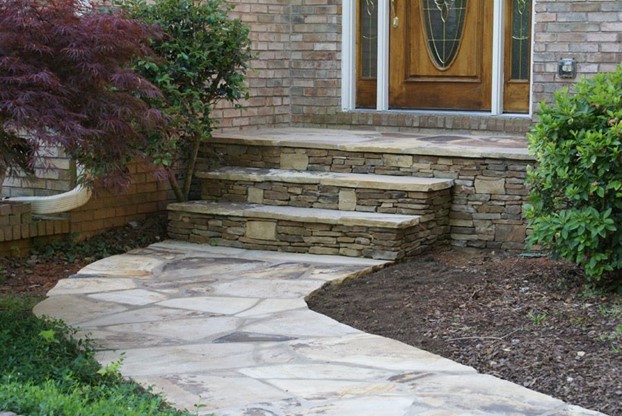 Rocks can be used to form stairs entrance in front of your home. As aesthetic and beautiful as it looks, they are also sturdier than normal wooden or concrete stairs.
The stairs will also eclipse your house from neighboring houses. The space around the stairs can be left or can be filled with grass to increase the beauty of the stairs.
Artistic Designs in Front Yard with Stones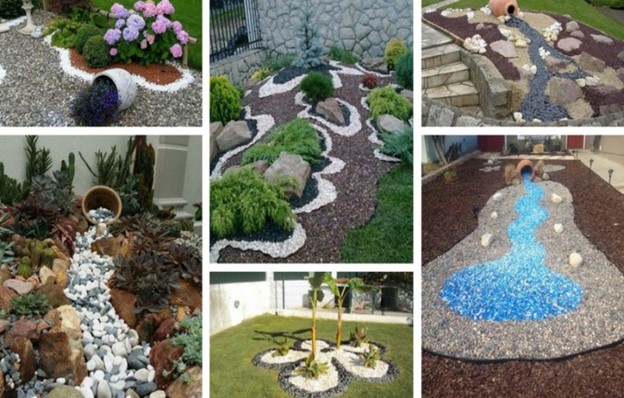 Stones and rocks from your garden can also be used to decorate your lawns. You can create a garden and include a rock labyrinth of large flat stones on a graveled area and frame the stone garden with native and exotic plants.
The best part of using this idea is its simplicity, and it is very easy to create, maintain, and looks amazing in your front yard. All you got to do for this is to take a square plot of sand with scattered rocks, minimal and stylized grass added to it.
Japanese Zen Rocks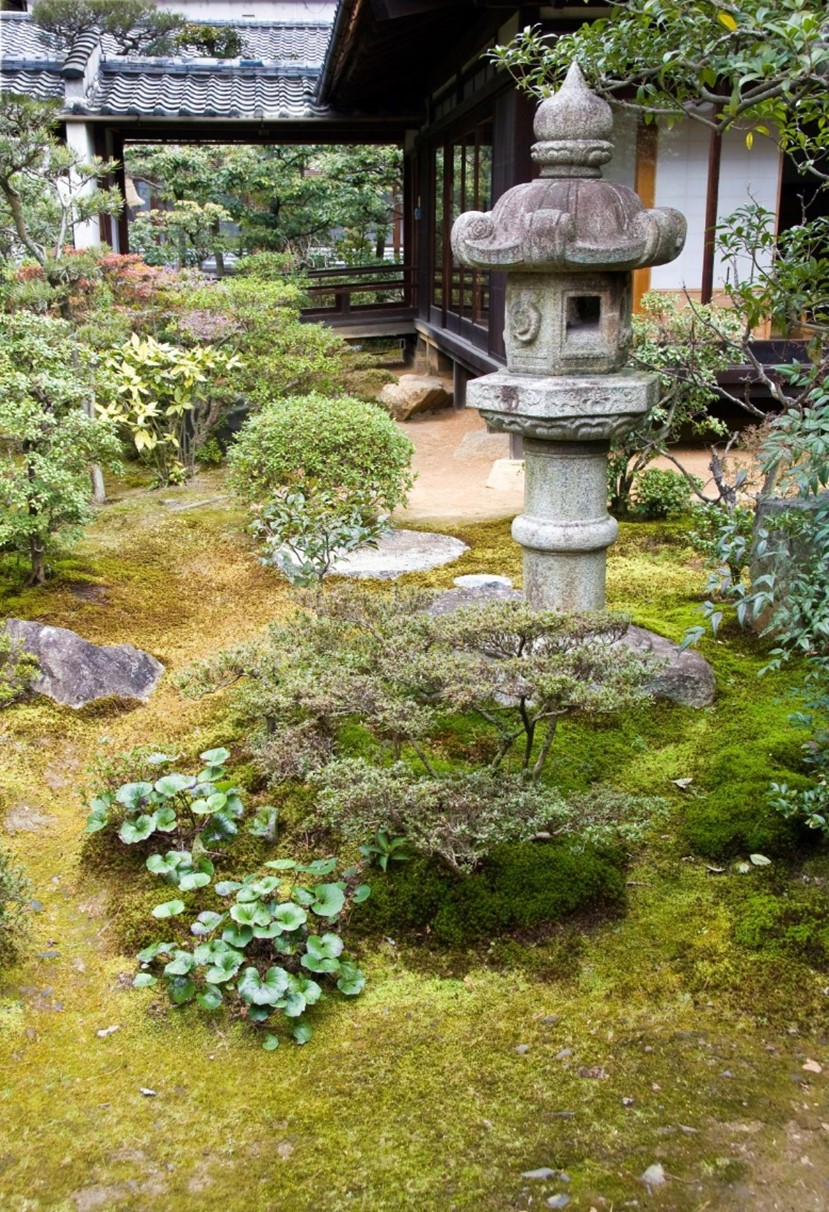 Why always stick to usual rocks and stones? Zen gardens feature and reflect natures, reaching right into the heart.
Add some fine greenery in the background and sides with rocks resembling huge jades spread on the ground. You can also add a Zen feel by using extra props and enhancing the visual aspects of the garden without compromising its meditative and calm appeal.
Rock Dike Pond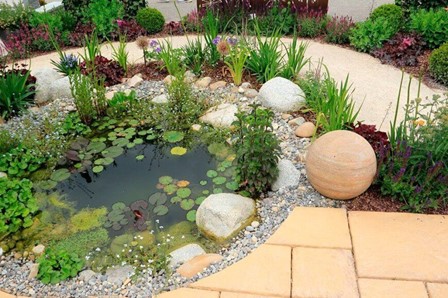 If your house features any water bodies like a pond or waterfall, and you want to show it off in a flashy way, then having some rock dikes on your pond would be perfect for you!
Rock dikes make sure that no one can pass beyond its borders while completing the pond.
Rock Mosaic Garden Design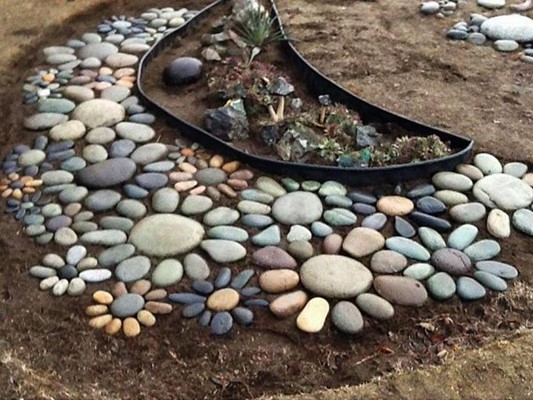 Stones and rocks come in different shapes and sizes, which gives us the freedom to get creative with them. Creating a rock mosaic with them is a unique way to go for it.
These beautiful pieces of art are perfect as steps or designs of walkaways, beautifying the way to your home with homeliness and grace.
Rock Garden Terrace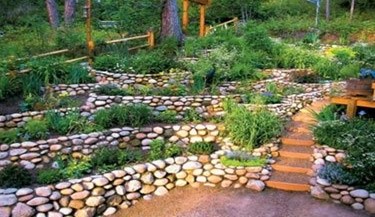 Who said rock gardens are just for front yards, back yards, or other landscapes? Can they be a part of terraces as well?
They are neat and add a beautiful aesthetic to the location they are placed. Depending on how you place them, your stones can shine as the main attraction or complement your star plants.
Contrasting Rock Spiral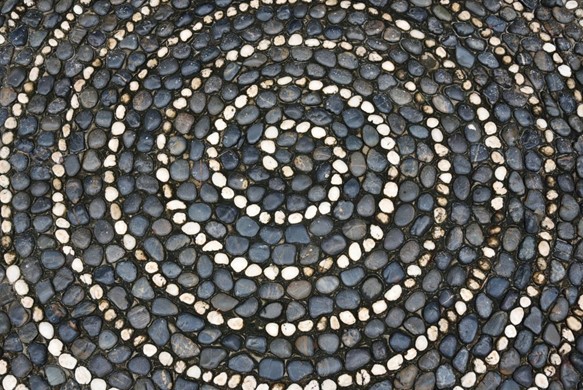 Doing something creative, out of the box is what makes things different and unique. The same is what we can apply while using rocks as décor items.
Instead of placing them side by side, we can be creative and arrange them in a contrasting spiral. Dark-colored pebbles can be easily found, but you probably must buy white pebbles from garden or landscaping stores as they are not as common as black ones. But the output is worth spending that much money on.
Rocky Entryway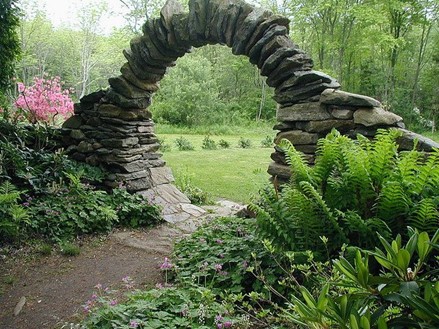 Now, this is something that will require more than just your time. It will require more effort, more skills, and even more materials than other ideas on our list. But I can promise the result will catch your eyes as well!
Get someone to help you with this project. You will get some time to spend with your friend and can easily pull off this extremely attractive magical entryway to your garden. Most importantly, make sure to glue the stones properly to ensure that they will not fall.
Rock Mulch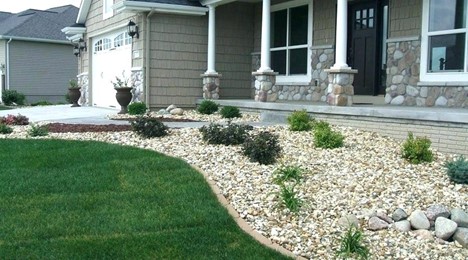 Mulching is basically a technique of covering the surface of the soil with organic material to help retain temperature and moisture.
Using rocks for this purpose is more decorative than functional on the surface and has its own merits. It will make your flower beds look neater, more attractive, and just overall lovely to look at.
Rock Garden with Waterfall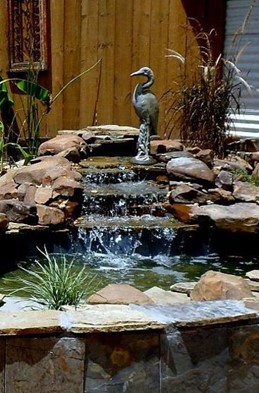 There is no lie in saying that we all at one point wanted to have a waterfall in our front yard or back yard.
Just the sound of water falling and splashing as it cascades down makes it amazing. You can make it more beautiful by adding some waterproof LED lights to create an interesting sight in your garden. If you are someone who loves it, then we would suggest you go for it!
Conclusion
So, many ideas to go for. Now the real challenge for you will be to choose one from these ideas. All of them are easy to execute. You just need to have the right amount of time and know what you want. Be a little creative and add your own inputs to give it a personal touch.