Many homeowners will agree that the kitchen is one costly room to renovate when remodeling a home. The greatest contributors to the high costs of kitchen renovations are the materials involved and the labor costs of secondary parties, such as suppliers, contractors, designers, subcontractors, and architects.
However, it is still quite possible to keep your kitchen renovation costs low and maximize your savings. Here's how:
1. Decide on Your Budget
As you explore the possibility of renovating your kitchen, keep in mind how much you intend to spend on the project. A good project has a plan and cash to fund it. With your budget figure in mind, it will be easier to explore the various design options with a clear picture of what will and will not work for your budget.
Wholesale Olive wood cutting boards and Spoons can be a fun addition to your kitchen and make it feel more rustic and homely, but they're also safer for children than plastic or metal ones.
2. Refresh Your Cabinets Instead of Getting New Ones
While it may sound like a good idea to tear out your old cabinets and replace them with shiny new ones, it may also cost more. Brand new, custom-made cabinets tailor-made just for your kitchen are pricey. Therefore, refreshing your cabinets is the next best option for a more pocket-friendly one.
How?
Painting: The option of sanding your kitchen cabinets, priming, and finally painting them is a well-known method of creating a brand new look for your kitchen.
Re-facing: Especially if your cabinets require a change in how they look. You could choose to add a new veneer or surface to the outside of the cabinets while replacing the drawer fronts and cabinet doors.
Hardware: There is a wide variety of cabinet hardware on the market. Sometimes a simple replacement of your cabinet hardware, such as handles and knobs, maybe the facelift required for your cabinets.
Shelving: If you have to pull out your old cabinets, create an open fill to your kitchen by replacing them with open shelving. Compared to new kitchen cabinets, shelves are less expensive and come in different styles and designs to suit your preferences. Besides, open shelving will give your kitchen a warm and inviting airy feel.
However, all said and done, if you want to have new kitchen cabinetry, consider taking your search online. Shop around for the best online cabinets that cost less and look great.
3. Maintain Your Kitchen Layout
A kitchen renovation no-no is to alter your kitchen layout. Unless necessary, it would be better not to move your dishwasher, refrigerator, and plumbing to your sink. Moving your appliance might require the aid of plumbers to run new pipes, which will add to the cost of your renovation project.
As much as is possible, renovate your kitchen within the framework of its existing layout. Doing so will save you from running up additional costs for electrical rewiring, new plumbing lines, or new flooring.
4. Enlist the Services Of A Professional
Contrary to the assumptions of many people, a do-it-yourself kitchen renovation might not cost you less. Depending on the scope of your kitchen renovation, enlisting the services of a professional may lead to a better result in a shorter time.
Having a professional onboard your renovation project may give you the additional advantage of finding quality materials and products at a discount. The experienced designer will know where and who has a good deal and when to purchase the needed items. The designer will also ensure that the other specialty contractors keep their end of the bargain.
Conclusion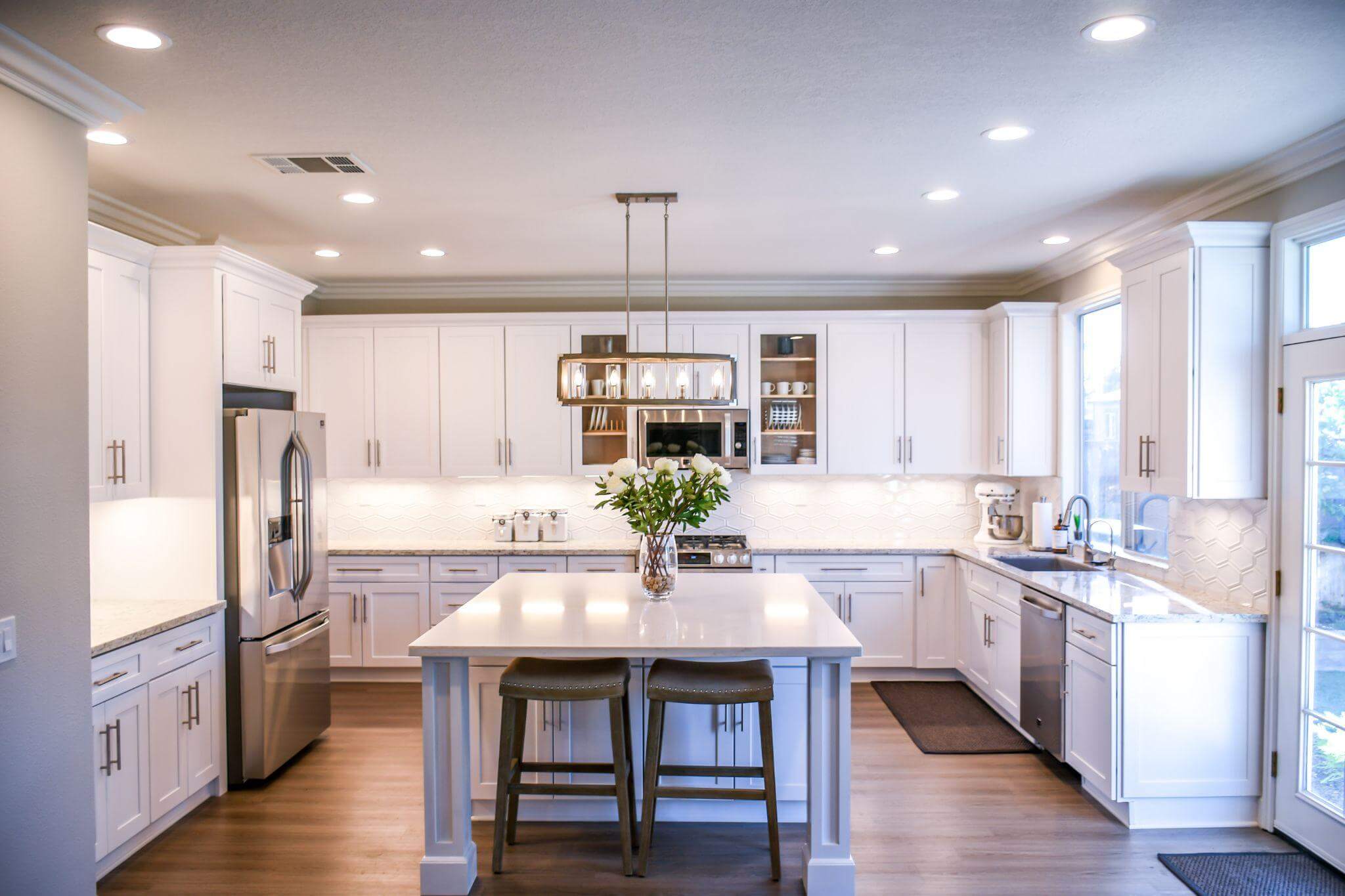 The key to saving funds on your kitchen renovation is to apply strategy in your spending. Be ready to splurge on a few products and materials, and then work these into other cheap yet creative options. The overall result will be a brand new, high-end kitchen that costs a lot less than it looks.