Concrete is a material made from cement, water, and sand. As this is a strong material it remains the first choice of many of the consumers. This material is used to create patios, basement floors, etc. Patios are affordable and flexible.
Concrete patios serve as great gathering zones for entertaining activities. It can be decorated in various ways with cosy seating areas, water features, fireplaces, etc. The concrete patio can also be painted using vibrant colours. An outdoor rug and plants could be added too.
Keeping the concrete patio clean is the wisest and the best thing to do for maintaining it. Spring season is a very good time for cleaning patios. Concrete patios are mostly cleaned once a year. But sweeping it regularly is very important so that lumps of dust do not get created. In case this happens cleaning the patios becomes too difficult.
So, I believe, prevention is better than cure. Dirty concrete patios will never please your eyes, no matter how much effort you have put into decorating them. Whenever you are planning to create a patio especially for hanging out, do keep in mind that you must keep it clean because decorating it beautifully is not everything and cleaning is a major part too to get aesthetic vibes.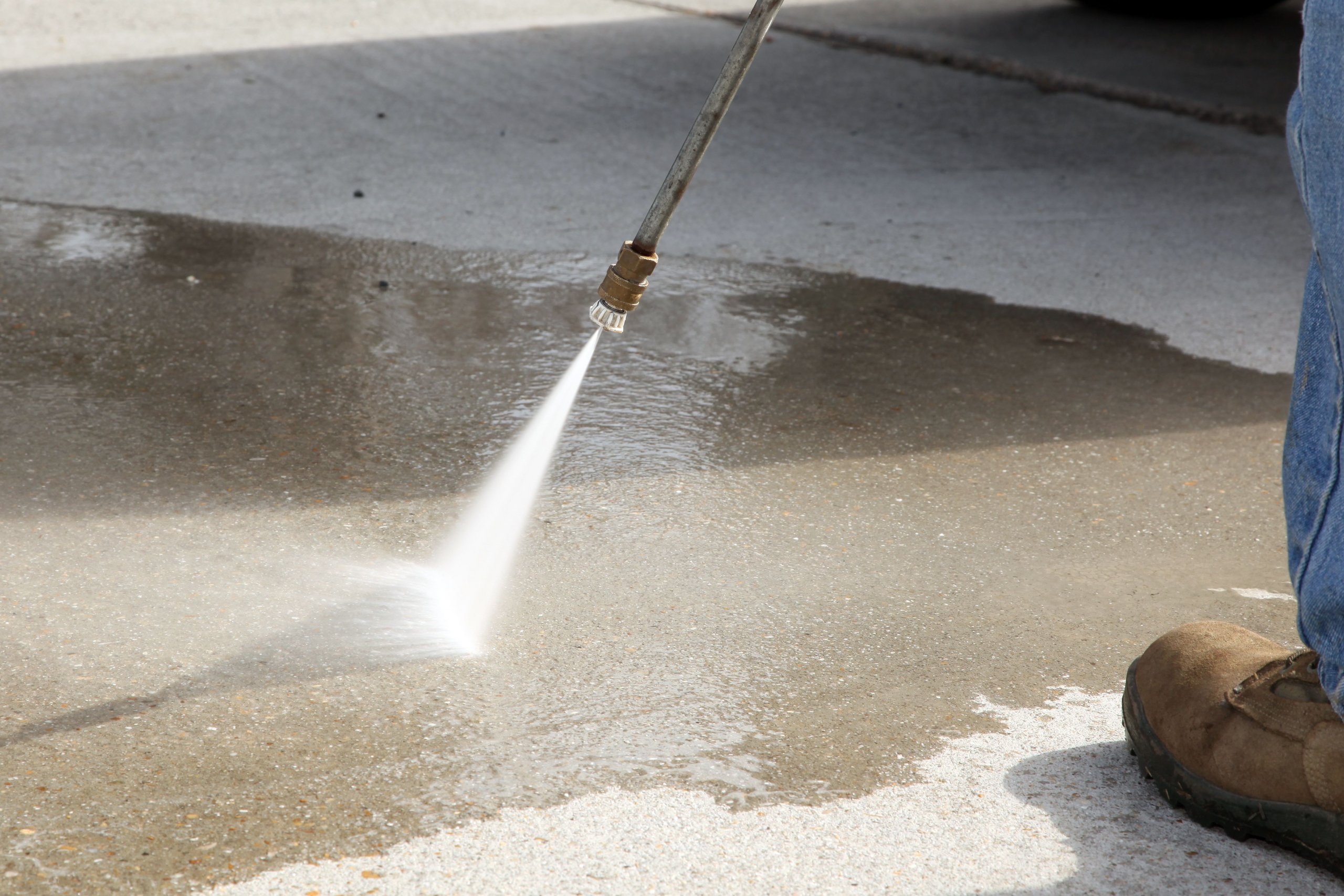 Read the article below to get knowledge about how to clean these patios especially without a pressure washer. Pressure washers are costly items which all cannot afford or may not be available now. Having a pressure washer does not mean that your patio will get cleaned properly.
You need to have the proper skills to get it done. Or else you might end up harming the surface of the patio. So, let us forget pressure washers for a moment and concentrate on the other simpler and easier ways to clean the concrete patios.
Usage of Vinegar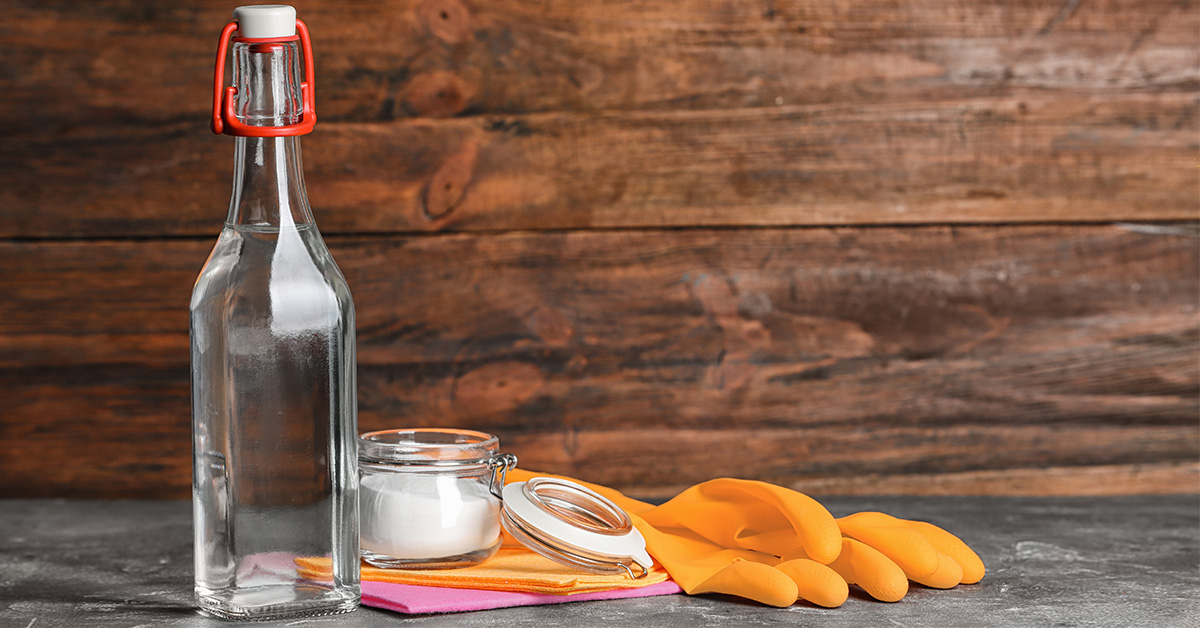 Vinegar is a natural and an eco-friendly cleaning agent and it is totally safe to use it on your concrete patios. This can be used not only on the patios but also throughout one's house.
Houses are always kept clean and so the patios are meant to be kept clean too.
Vinegar acts as a stain remover which is very beneficial for all because stains are commonly found in each house or patios. Remove all the furniture, plants, toys, etc from the concrete patio before starting the cleaning process.
Do mix white vinegar along with an equal amount of water. Pour it in a spraying bottle and spray it all over the surface of the patio. Let it sit over for 30 minutes. Then scrub and rinse the patio.
If still the stain is not getting removed even after a good scrub, then add some more undiluted vinegar above the concrete patio and let it sit over for around 10 minutes. Then scrub again. This will ensure the removal of tough stains.
Sweeping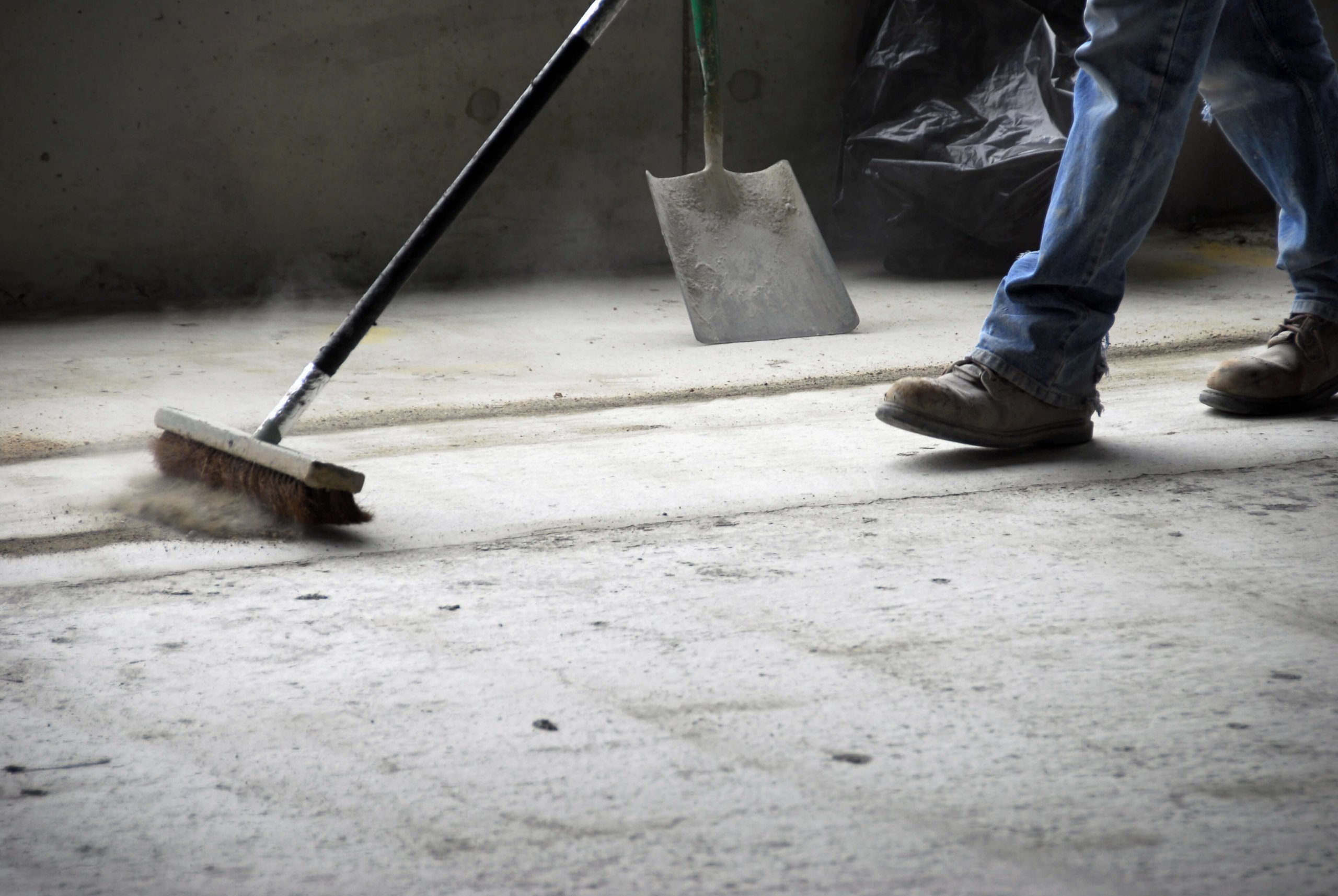 It is very common to find loose dirt on your concrete patio. The solution is very easy for this problem. 'Sweeping' yes you heard it right, sweeping should be done regularly to keep loose dirt away from your patios.
Dirt can be swept away easily when it is loose, but it becomes very difficult to clean up integrated dirt. So, it is very good to sweep regularly. This does not allow the dirt to get integrated into the concrete patios. Cleaning up the loose dirt early is the best hack to get rid of the integrated dirt.
But in case you are not careful about your patio and suddenly one day you get to see fungal growth, then you should call the professional workers to clean your concrete patio. Harsh materials always harm the look of the patios. Be a bit careful while cleaning! Hence, it is better and safer to use natural ingredients to clean patios.
Usage of Baking Soda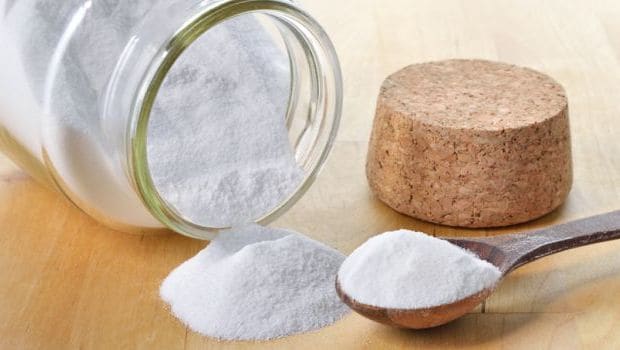 Baking soda is also a natural cleaning agent good for the concrete patios. Take a half cup of baking soda and mix it well into a gallon of water. The consistency should be like a cream soup. It should be thick enough to spread on the patio. This is a home remedy and baking soda is available at each house.
Still, if you want something stronger than this, for your patio, do add a bit of liquid dish detergent to ensure strength. Pour the mixture in a spraying bottle and spray it only over the stains of the hard surface.
You may spray it on the entire patio as well. (Your choice) Let the formula sit over the surface for around 30 minutes. Do scrub the entire concrete patio well to break down dirt.
Slowly, while performing the activity you might notice the dirt getting removed from the hard surface.
After scrubbing, rinse off the entire area with clean water and enjoy the new patio back again.
Usage of Muriatic Acid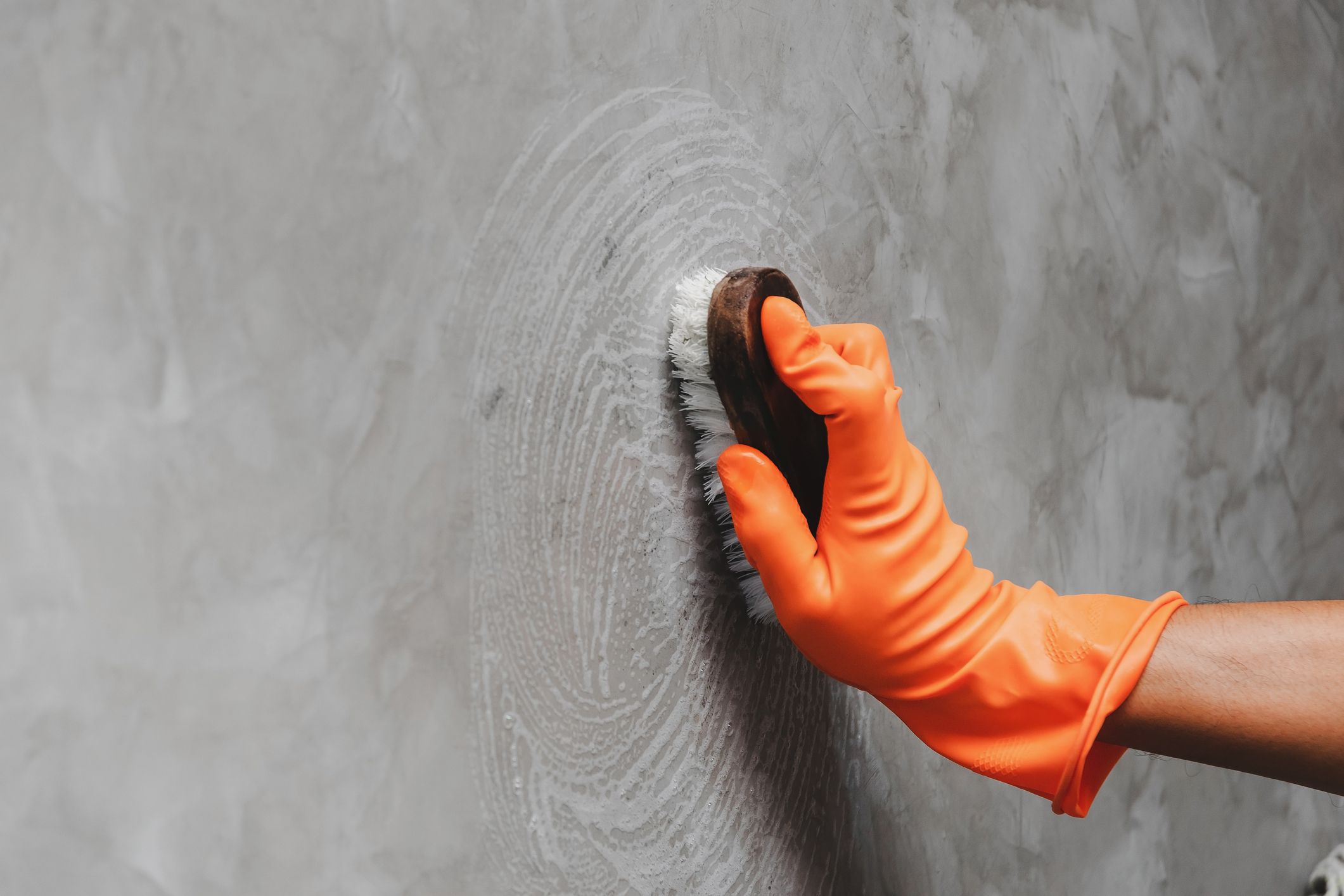 Stains are of various types. Some are easy to remove, and some are tough. These tough stains are removed with the help of muriatic acid. It is very effective for cleaning the patios, walls, etc. It is a white powdery substance.
This is a highly toxic chemical and cannot be used for normal use or easy stains. In case your concrete patio has become rusty, due to the furniture's legs or due to the barbecue grills, you can go for using this acid.
This muriatic acid cannot be used like the other remedies mentioned above. You must wear protective eyeglasses and hand gloves before performing the activity. Make sure that you follow the instructions mentioned in the pack.
It is better to call a professional worker for this task. Still, if you choose yourself for this job be very careful while doing it. This acid is very powerful, and it will surely, without any doubt clean your concrete patio leaving it to stain free.
Usage of Bleach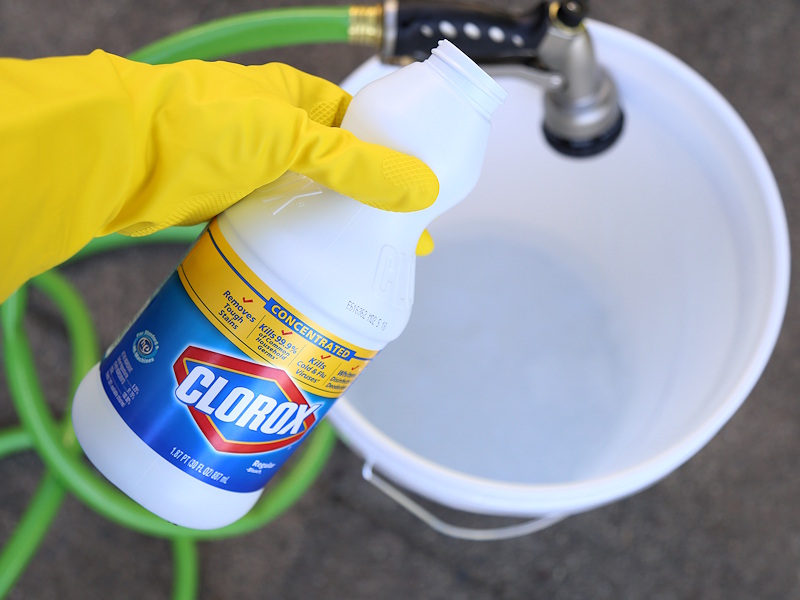 Bleach is also used to remove tough stains from a concrete patio. But bleach should always be given the least importance when talking about cleaning stains. Because tough stains are not so easily found on the patios. So why go for bleach in the beginning?
Other remedies can be easily used to remove the easy stains from the concrete patios. Try to avoid bleach for cleaning easy stains because it is a very dangerous chemical and it should be kept away from the reach of the children and pets.
Bleach can harm the skin of your hand, so it is compulsory to wear gloves while using it. You should also wear a mask for safety to avoid inhaling it. Mix water and bleach in equal amounts and pour it into a spraying bottle. Do not spray it on the entire patio. Spray only in the stained part. Let it sit over for around 10 minutes. Then scrub the parts with a brush to remove the stains off.
No products found.
The brush will do because bleach is quite strong in removing the tough stains so it will not take a long time. Be very careful while spraying on the concrete patio because if there is any presence of plants around it, the plants might get affected by the bleach.
After the tough stains are removed, rinse off the parts. Bleach has also got the ability to remove unwanted plants and weeds. It is deadly for them. So, in case you are seeing a growth of unwanted plants on your concrete patio you can apply the above-mentioned procedure to clean it because the process is not only for removing tough stains.
Let your patio fully dry, then you can keep your decorative items back to the space. This is done to ensure a green algae-free concrete patio. Patios should be created right below the sunlight.
Bleach and ammonia can also be mixed to clean the concrete patios. This is an extremely dangerous combination and do use this hack only when bleach and water are not working together to clean off the space.
Usage of Trisodium Phosphate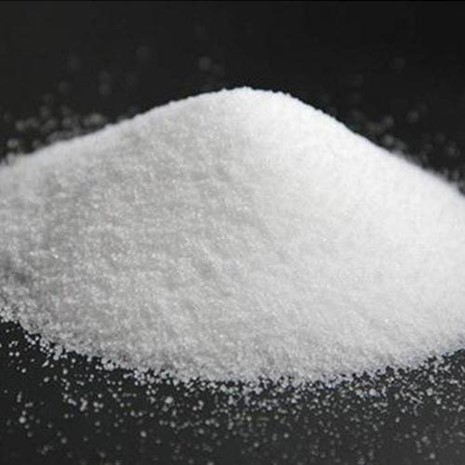 Trisodium Phosphate can be mixed with hot water to clean the concrete patios. This mixture works as an effective cleaning solution. Mix the solution well and then pour it in a spraying bottle and spray it over the stained parts. There should be no lumps of Trisodium Phosphate present within the spraying bottle. If the surface is extremely dirty take ½ cup of TSP or else ¼ cup is fine.
Let the solution sit over the stains for a few minutes and then simply scrub the parts with nylon brushes. Nylon brushes are very effective too. Never use metallic brushes because it might leave bits of metal pieces on the patio which would lead to tough stains.
These are good for cleaning stains from the patios. Do scrub the concrete patio until and unless the stain is removed. Rinse off the parts after scrubbing. Trisodium Phosphate can also be used inside the homes to clean stains.
Cleaning the concrete patios without pressure washers is not at all a difficult task if you are having the correct ingredients and tools.
Of course, you can easily purchase effective cleaning solutions from the nearby marketplace or online sites but why to do so? You can easily clean the patios with home ingredients and keep them neat and tidy.
Clean concrete patios are beautiful to look at because these are the ideal place for family get-togethers or hangouts if you are not willing to move outside.
Never let the dirt cover the beautiful man-made space!