The arrival of spring means three things: higher temperatures, loose clothes and the perfect opportunity to freshen up your home. This doesn't mean you should engage in major home renovation projects to spruce up your living space, but make simple updates that will give it a more lavish look.
The great thing about redecorating is that you don't have to hire a professional interior designer to help you make your home exude comfort and luxury with wood paneling. In fact, there are plenty of tricks you can do yourself to design a space that feels regal and expresses your personality.
From implementing a statement piece of furniture to accessorizing with scented candles, plants and textured throws, you'd be surprised to see how just a few classic touches of decor can create a space and feeling that makes staying at home a treat.
If you don't know where to start, here are five things that will certainly add luster to your space.
A statement piece of furniture
One of the best ways to make your place luxurious is to add a statement piece of furniture in the living room. This part of your home is where you mainly host your family and friends so you should definitely have a striking piece that will stand out in the room. This can be anything from an elegant Odette sofa with a polished brass structure to a custom marble table which will add a bold, contemporary appeal to the space.
If you choose to implement a sofa, be sure to choose velvet as the material because it is a plush, opulent fabric that oozes style.
An eye-catching wall art
Another great way to add luxury to your home is with eye-catching wall art. The truth is your wall decorations are probably the first thing your visitors will see, so you should hang up something that will complete the room and achieve a deluxe finish.
For example, photos printed on canvas are elegant piece of art which has the ability to bring a whole new mood into any room. You can either hang it above your living room sofa to add vibrancy or showcase it above the console table in the hallway to give the decor a chic and timeless look.
House plants and flowers
While scented candles, monochromatic rugs and small decorative sculptures can be regal additions to your home, you should also consider adorning the place with greenery. This can be anything from a curated display of flowers to large indoor plants that will create both a calming and enlivening ambiance.
For example, if you have an empty corner in your living room, you can bring life to it with the Bird of Paradise plant. This is one of the most cherished and beloved plants which you can place in an elegant, neutral color floor vase to beautify your decor.
Lush drapes
Instead of decorating your windows with blinds and shutters, you should consider adding lush drapes to add a touch of grandeur to your home. This type of curtains can be used to make a statement in any understated room while also offering high levels of privacy.
However, in order to achieve the luxurious feel you are looking for, you should choose a curtain material that will bring you just that. Out of the many options available, silk is often the most sought-after choice among homeowners as it is soft and can instantly add a touch of luster to any room.
Crown moldings
If you want to enhance the visual appeal of your home, then you should try adding some crown molding to the walls. This is a form of cornice created out of decorative molding which is installed atop an interior wall, doors or windows. It adds style and character to the space without making it look overdone or cluttered.
For example, a crown molding style which will give you the "wow" factor you want for your living space is a chair rail. This style provides a sophisticated and classic look which is why it is most commonly applied in dining rooms, living rooms and foyers.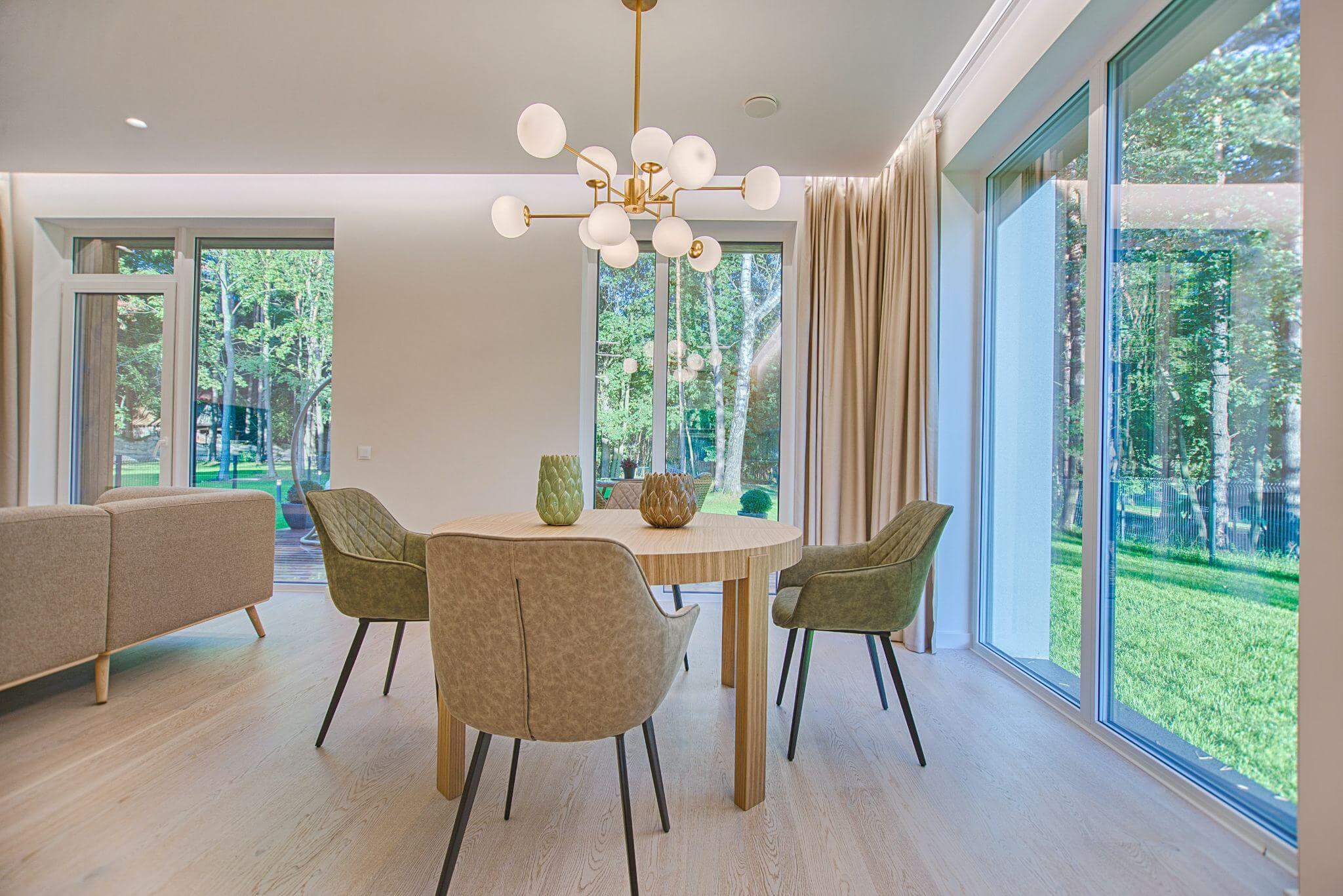 Final thoughts
Despite contrary beliefs, designing a luxurious home doesn't involve engaging in major home renovation projects. In fact, there are plenty of ways you can give your living space the luster it needs without running your wallet dry.
From adding a statement sofa in the living room to accessorizing your decor with eye-catching wall art and blossoms, choose the item you like the most and will make your home more lavish.
If you are looking for ideas, refer back to our post and borrow some of ours.