Some home designs are timeless while others make modern homeowners look back and wonder why that even existed! Design trends come and go but some have a funny way of resurfacing years after the prime of their popularity is long past.
No matter how cynical the world of home design trends is, some trends just refuse to die. One of these is the concept of wood wall paneling which has recently made a comeback, in moderation, with a modern twist.
Paneling has gone and come back into the vogue with a new approach, moving away from the creepy grandma's basement style and towards a classic timeless look. Gone are the days of crappy laminates of plywood covering the wall, when used skilfully wood wall panel installation is simple and can help add that unique flair to your home with its versatile yet natural appeal.
History
In the 1970s, wood paneling hit its height of popularity and since then, homeowners have been pulling down or masking these panels with paint to brighten up spaces for years. In cozy spots such as dens or studies, though, wood wall paneling in shades of brown is making a comeback. Paneling is used sparingly as an accent wall or another feature for the character of the space.
Wood walls can be stained in a rich mahogany to look upscale or be weathered and rustic. The warm wood paneling tones evoke a vintage vibe. But unlike their false counterparts, the paneled walls of today are made of natural wood, making them more environmentally conscious and trendy than ever before.
To turn them into architectural components, artists have flocked to reclaim wood and veneer panelings. One of the first to put back the "grandma's basement" look with orange carpeting, kitschy posters, yellow vinyl banquettes, and, yes, wood paneling, on the new pop scene was the New York Flower Store, a chic Chinatown lounge, a few years ago.
But the newly common wall covering is more than just slipping back into a scarily nostalgic vacuum of memorabilia from the '90s. Instead, in a fashionable Japanese-inspired London apartment, and even in a Swiss chalet-style California home, wood paneling is returning in sleek and contemporary ways.
Types of Wood Wall Paneling
With this trend gaining quick momentum, people looking for ways to spruce up their living spaces and add much-needed insulation can turn to these 7 major types of wood wall paneling-
Shiplap
Board and batten
Plank wall
Tongue and groove
Flat panels
Beadboard
Raised panel.
This article will examine each style in depth including its pros, cons, and typical price range.
Shiplap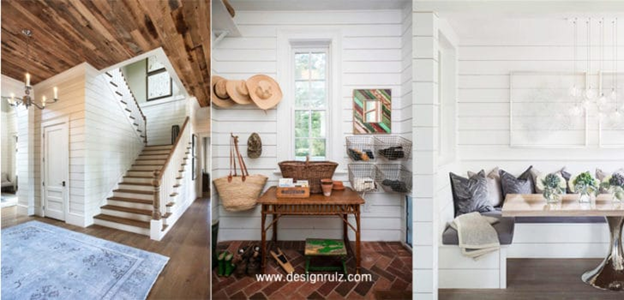 If you have been paying attention to current modern home improvement design solutions, you will know that shiplap is all the rage. This style of paneling features horizontally running grooved boards that are positioned tightly together to form a weatherproof seal (shiplap used to be primarily used for home exteriors).
In strictest terms, shiplap consists of boards with L-shaped cuts on either side that allow one board to fit perfectly with the next. This tightness was important when shiplap was used for exterior cladding because it kept rainwater from seeping in. But in practice today, people use the term to apply to any indoor paneling design that uses rows of 6 – or 8-inch boards. Shiplap used to be a base layer not meant to be exposed or seen. The unmistakable design feature of shiplap sure has come a long way from its humble origin.
With the addition of clean, crisp lines and visual texture gradient to the room, shiplap might just be the wood wall paneling design for you. This type of wood wall paneling adds certain insulation and is more durable than just drywall making it a reasonable choice for homeowners who are looking for a durable yet decorative and rugged look.
Because of the characteristic grooves and ridges in the shiplap-type wood wall panels, they can be harder to clean and maintain. Ensuring that the shiplap is installed correctly to avoid warping or routine over time is also essential to the process of making sure the wood wall paneling lasts.
When using real wooden panels, shiplap costs between 150 to 500 rupees (2.5 to 7$) per square foot.
Board and Batten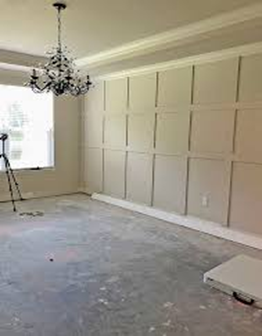 Board and batten are a classic type of wainscotting where different types and sizes of plywood boards and moldings are combined to create a chic, textured wood wall paneling look. It adds intriguing three-dimensional texture into your home with the wide vertical boards and narrow batons fastened over the gaps between the boards.
Originally popularised as exterior side paneling on houses, board and batten have found their place inside the home as a popular wood wall panel style. Depending on how rough or fine the lumber finish on the wood is, board and batten wood wall paneling can look as rustic or modern as need be. It adds a touch of sophistication to any space.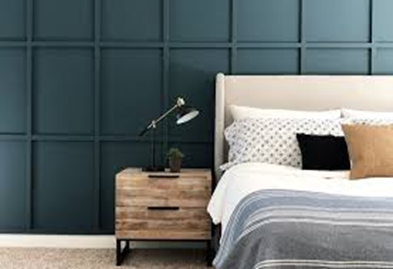 1×10 boards and 1×2 or 1×3 boards are the most common configurations. 1×8 or 1×12 boards and 1×4 boards can also be used. The boards should be in sound condition and free of open knots to seal out moisture, and the battens should be at least 3/4 inches on all sides of the boards.
Cedar is a good lumber choice because it is soft; harder wood, such as pressure-treated pine, will not seal as well and is more likely to crack and not last as long. If properly maintained, board and batten style wood wall paneling can last for years and years. It is a rather low maintenance peace that does not ask for much care if set properly and treated correctly.
One downside of getting this wall treatment can be the relatively higher cost and precision demands. The cost of the paneling depends on the material used, real wood or vinyl. Vinyl can be made to mimic wood too. Depending on the material, the cost can vary from 85 to 800 rupees (1 to 10 dollars) per square foot of material.
Plank Wall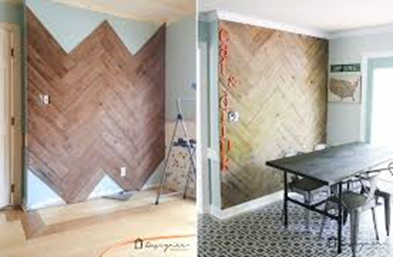 A wood plank wall can add a rustic focal point to any living space. Using distressed planks made of reclaimed wood, new wood, or even wood made to appear vintage, an aesthetically pleasing, texture-rich space can be created easily. The versatility of this type of wood wall paneling makes it possible to create any design, effect, pattern, or style.
By installing the planks vertically, diagonally, horizontally, in a completely unique pattern, using different kinds of planks with varying dimensions and finishes, customizing the wall treatment down to the last-minute detail is made easy with the concept of plank walls. This type of wood wall paneling looks great in any style of home.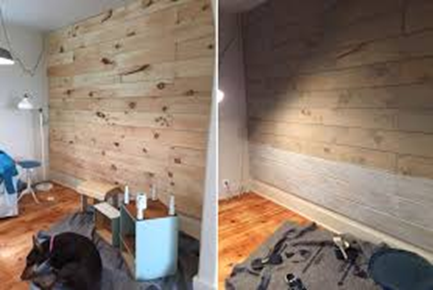 The most challenging part of setting up a plank wall can be preparing the planks and calibrating the spacing and shape configurations to ensure proper design manifestation. This can be made easy by buying pre-prepared wood planks which are already dyed and cut into desirable sizes.
The cost of the plank wall depends on the materials used, the area covered, and the level of precise detailing needed. Using salvaged wood or preparing your own planks from sheets of wood can bring the cost down. MDF also comes cheaper than solid wood without compromising on the finished look.
Tongue and Groove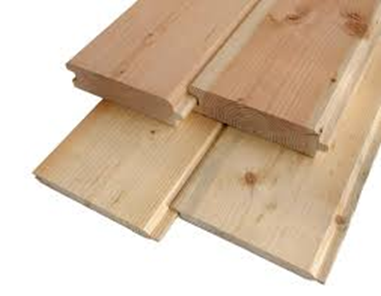 Whether it be building a porch wall or decorating interior accents, tongue and groove paneling has been the ideal traditional choice. These beautiful, easy-to-use wood wall panels bring instant depth, character, and appeal to any area they are installed in.
For any wall or ceiling, they are mounted on, tongue and groove wall boards produce an easily elegant, well-milled look. For any plank, they are standardized and able to give you ideal spacing. No need to butt edges or hack and piece together boards of varying sizes like a jigsaw puzzle. Using tongue and groove paneling each time offers a flawless installation.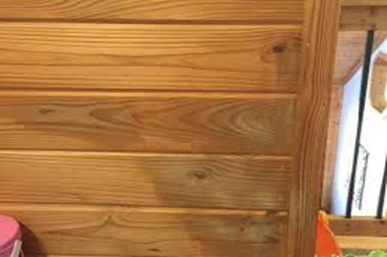 Tongue and groove wall paneling is a style that fits into nearly any architecture. Also, natural wood paneling improves traditional homes or more contemporary spaces. Woodgrain tongue and groove wall panels are available in four outstanding colors. Featuring a smooth, satiny finish that resists UV rays, mold, and other signs of wear. Installation is easy.
Available in favorite lengths, as well as tongue and groove-matched ends. These features add warmth and character that will set the area apart. These types of wood wall paneling cost between 150 and 250 rupees (2 to 3$) per square foot.
Flat Paneling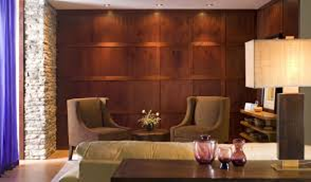 Flat panels originated in the 19th century and have been growing in popularity since then. The simple yet interesting look is a more formal approach as compared to raised panels. This type of wood wall paneling produces very clean and polished lines which can tie any space together and add a certain warm elegance.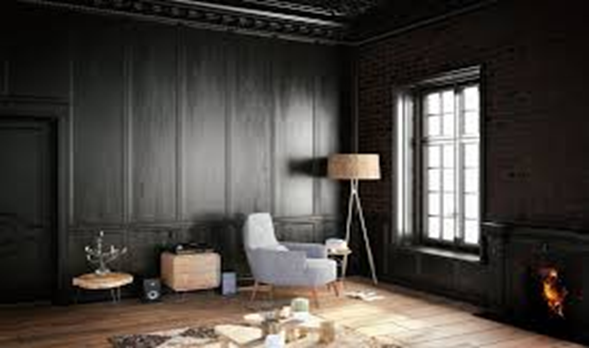 The texture of the flat wood panels accentuates the elements found in any room.
The popular area choices are chair-rail length, three-quarters of the way up, and the whole wall paneling. The cost of flat wood panels ranges from 450 to 850 rupees (6 to 11 $) per square foot.
Beadboard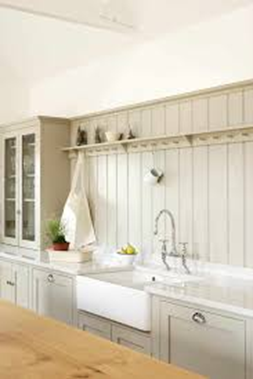 This victorian era wainscoting consists of narrow, vertical wooden stiles that interlock with each other to comprise a classy look. Traditional and timeless, beadboard mounted on the lower one-third of a wall adds romance to spaces such as bathrooms and bedrooms meant for "me time". This type of wood wall paneling matches with any material used in a room's design.
Depending on the look needed, the beadboard paneling can be added to the whole height of the wall or partly. Between each groove (the flat portion of the panel), the usual width is 1.5 inches or 3 inches. However, a custom width can be made.
There are two kinds of bedboard arrangements available- tongue-in-groove and sheets. Traditionally, artisans would meticulously fit each stile in with its neighbor between the horizontal panels using the more exhaustive tongue-in-groove method but now ready-made arrangements in the form of sheets are available which are installed using construction adhesive or nails.
The method of cleaning is one thing to be mindful of while using beadboard. It may be more vulnerable to collecting dust because the panels have grooves in them. Depending on the condition of the wood and the amount needed for the site, the cost of beadboard can vary. Real wood, for example, would cost more than MDF (medium density fiberboard). The average cost for the material can range from 35 rupees to 100 rupees (0.5 to 1.25$) per square foot.
Raised Panels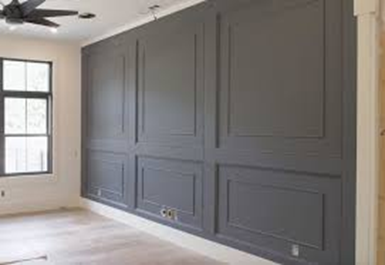 The panels that were popularized in the 17th century and in Queen Anne style homes have remained in style after all these years. Raised wood wall paneling features 3-dimensional frames: wooden beveled panels lifted over their horizontal and vertical adjoining rails. The six components of this panel-style include cap molding, cove mounting, top track, style, raised panel, and lower track.
This style of wood wall paneling is traditional and attractive in its appearance. The panels are remarkable because they are beveled. You can also invoke an impression of the interior design of colonial houses. The effect is tasteful and suited for wainscoting that occupies the lower third of the wall in formal dining rooms or living rooms where a buttoned-up look is desired.
Panel costs vary from 800 to 2400 rupees (10$ to 30$) per square foot.
Conclusion
While wall panels are not obsolete, there are some styles and colors which do not fit in with the current style profiles prevalent in the world of interior design. And even if this is a look from the past, with some sandy and light paint or stain it can still be made brand new and chic.
Modern wood wall paneling is new, gives a strong lasting impression, and adds character and texture. You can express yourself and have fun with the architecture of your house!
Wall panels are functional as well as decorative, providing insulation and soundproofing, combined with uniformity of appearance, along with some measure of durability or ease of replaceability.
Wood paneling was used for decorating walls for a long time. Today's wood paneling is in some ways a jump backward over the cheap products of the 1960s and 1970s to the glory days of solid wood paneling, but with many modern improvements. Given their long history, wood panels can look fantastic if they are used properly.