If you own a house, then you surely know the importance of keeping the gutters clean in your house. The main problem associated with cleaning gutters is that sometimes you need to endanger yourself. It is not comfortable for all people to climb down a ladder and enter a dark and congested area to remove debris and other waste.
While it is recommended that you consult a cleaning services franchise company for professional help, you can definitely do the cleaning on your own with the right and proper equipment.
If you are also one of those people who does not like to do this job traditionally then do not worry, there are other options for you as well. There are many ways by which you can clean gutter from the ground effectively. Here is every method that will surely help you to clean the gutter from the ground itself.
There are many ways by which you can clean your gutters effectively from the ground. You can learn various methods listed below and it is guaranteed that you will never feel unsafe in cleaning the gutter from next time. Here is a list of several options and you can choose among them to clean your gutter from the ground:
Power Washer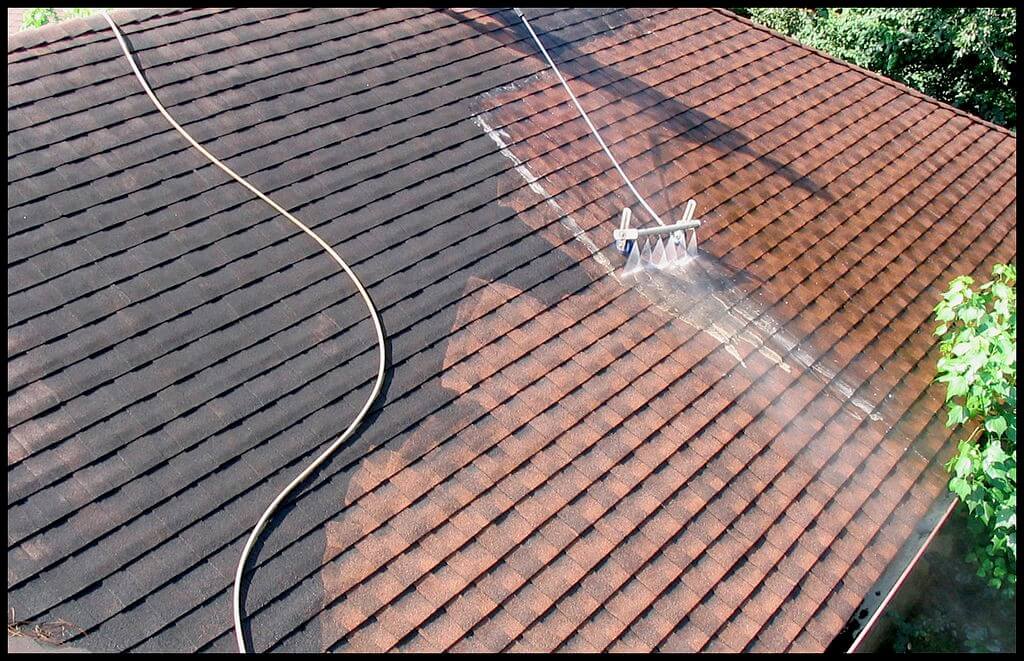 Using a power washer for cleaning a gutter is a great option. You just need to stand on the ground while the power washer works for you and efficiently removes all the debris from your gutters. They sometimes require an extension wand. This extension wand assists them in reaching greater distances without the need to climb a ladder. Regardless, using power to clean your gutters is one of the most convenient options.
There are some disadvantages associated with this method. The main disadvantage is that the whole procedure very quickly gets messy. As a precaution, you should always wear safety glasses to avoid the debris reaching your eyes.
Another thing that you should remember while cleaning the gutter using a power washer is you should wear waterproof clothes and gloves. The major drawback of this method is that it also gets the sides of the house messy. Hence this additionally requires cleaning of the house after cleaning of the gutters.
Another drawback associated with this method is that your house might be too tall for using a power washer to clean the gutters. If you own a duplex or something bigger than that then it might be difficult for you to reach the gutters directly from the ground. You should consider the size of your house before choosing this option to clean your gutters. Generally, for most houses, this is an ideal option and does not require much effort.
Using a Wet or Dry Vacuum
Many people own a wet or a dry vacuum which they mostly use in their garages. They are referred to as shop-vacs. If you are one of these people then you can use these to clean gutters safely from the ground. This vacuum is used for many purposes and can also be used to clean your gutters safely. The only thing you require to use a vacuum to clean your gutter is an extension. It can be used to reach gutters efficiently without much hassle.
If you cannot find an extension for your shop-vac then you do not need to worry about it. You can always do a little DIY to create your extension at home. Plastic tubes are easily available in most of the shops.
You can use these to create your extension for your shop-vac. Tubes are directly attached to create an extension and then the last tube is bent at an angle to make it more flexible so that it can easily get in the gutters for cleaning.
Shop-vac is a great option as it can easily clean leaves, pine needles, twigs, dust, bugs, and other such objects if you can make it work. This method is also very cost-effective as it will not cost anything if you already have one. And even if you do not own one then you can buy it and it can be used for other purposes too.
The main problem associated with this method is that it requires a lot of effort to create an extension for the shop-vac. At some point, you might not feel like putting so much effort to create an extension. Plastic tubes are abundant in the market, but people are generally not interested in such projects.
If you do not want to do all this for cleaning the gutter, then are much simpler ways listed further in this blog. Just keep in mind that this project does not require much effort and can be done if you have the will.
Garden Hose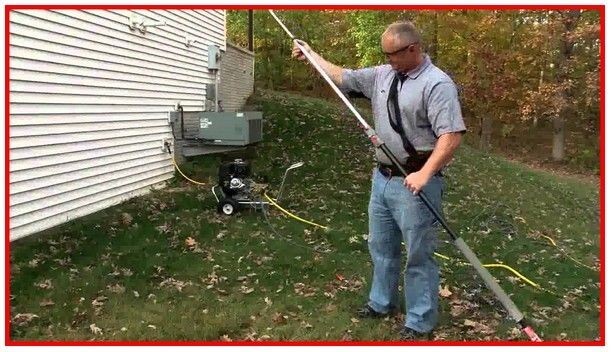 Garden hose is also a good option to clean gutters, but it might be a little difficult to clean the gutters from the ground. If you want to use a garden hose, then you are required to blast the water from one side of the gutter to the other side of the gutter.
This means that it will be a little difficult for you to reach the right spot with the hose if you do not have an attachment. This attachment does not need to be very complex, and it can be as simple as a hard tube. If you are using a hard tube, then it means that it should have a curved end.
When you will be ready with the whole setup then it will be easy to clean your gutters. But remember that this method does work well if your gutter is clogged and has many debris stuffed in it. If differ from house to house that whether the garden hose is effective in cleaning gutters or not.
Many people have found success in cleaning their gutters from a garden hose. The major factors involved in this method are how packed your gutter is and the size of your garden hose.
Leaf Blower
In the modern era, most people are going to own a leaf blower. A leaf blower makes the task of collecting dried leaves very easy but they also have some other extraordinary uses. If you own a leaf blower then you must be aware that it has multiple attachments with it. Some modern leaf blowers also have an attachment specially designed to clean out the gutters.
You can always use a long tube with a curved end as an attachment to the leaf blower. By using the leaf blower, you can stand underneath your gutters and easily blow out all the waste material and other debris. This method is a lifesaver if you have a powerful leaf blower and a long attachment.
This should be similarly effective to the power washer option listed earlier and it is highly recommended if you already have a leaf blower.
Telescopic Gutter Cleaning Tools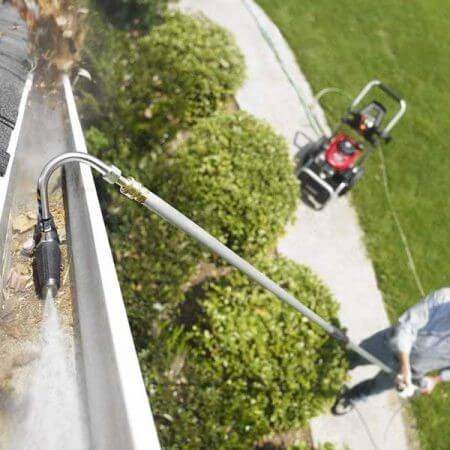 If you do not have the above-mentioned tools and you are bothered with the attachment you need to make, then you can always go for the telescopic gutter cleaning tools. These tools are easily available in various retail stores across the country. The best feature of these tools is that they are incorporated with a long pole that can be easily adjusted according to the size of the gutter and can be later used to clean your gutters efficiently.
Another magnificent feature of these tools is that they also have an arm claw attached to them. This arm claw can be used to remove the debris from the gutters. It can easily grab the debris, unlike other mentioned ways. Other telescopic instruments also might feature a cleaning pad with which you can easily dislodge the debris in the gutters by simply running it in the gutter.
These tools are worth every penny and you should not hesitate in investing in them. These tools are also budget-friendly and do not cost much. You can get your job done without spending loads of money on a professional.
You should first consider your needs and then choose the telescopic tool according to your needs. You can use these easily use these tools to clean gutters from the ground. Just make sure whichever tool you choose; it should be tall enough to reach the gutters without any obstruction.
You should always look for a long telescopic tool to clean your gutter depending on the height of the house. If you follow the instructions listed in the manual along with these telescopic tools, then you will be smoothly able to clean the gutters from the ground.
Professionals
Another great option by which you can get your gutter cleaned from the ground is by hiring a professional to do it. A professional can easily handle things for you if don't want to get in the mess yourself. There are many gutter companies in areas that are always happy to assist you in this job. You can call these companies in some intervals to keep your gutters well cleaned and in perfect condition.
These companies even offer special services like the installation of guards for the gutters. These guards are very effective and prevent the debris from reaching inside the gutter. This solves a major problem which is clogging of the gutters and in the end; you will not need much effort to keep your gutter cleaned. Whatever method you choose it is better to climb a ladder and risking your safety to do this task.
Traditional Way
If none of the above-listed options work for you, then you should follow the traditional way. There is nothing wrong with getting out a ladder, a bucket, and a scoop. This method has its advantages as you will be able to inspect all the clogs in the gutters.
Apart from this, you will also be able to spot any damage to the gutter that might cause a blockage. If you go out of the way and choose this method, then it is always advisable to have a friend or a family member to help you in this task.
This method is not recommended as it involves risking your safety and it takes a lot more effort. If you want to safely clean gutters from the ground, then you should avoid this method and choose any of the above-listed methods.
Conclusion
By now you must have understood that there are multiple ways to clean a gutter from the ground without having to step on a ladder. If you live in a house which is taller than the other houses then the best option for you is to hire a professional who can easily do this task for you. If budget is a constraint for you then you can always use the telescopic tools to do the job.
You should consider all the above options and then choose the best method for you. The main priority should be that you should feel safe while doing getting your gutters cleaned out from the ground.
You should make sure that your gutters are cleaned so that they can work smoothly. Now we are sure that you know how to clean things while staying on the ground. Cleaning your gutter from the ground does not have to be seen as a problematic thing any longer.