Locust trees belongs to a family of Plants called Fabaceae. They are a type of fast- growing flowering plants and have a lifespan of more than a hundred years. Locusts are known for their exceptionally durable wood, sweet smelling, showy fragrant spring flowers hanging in loose clusters, and vibrant fall foliage.
They have one of the hardiest woods even when compared to the strongest deciduous trees. Some species of Locusts come with long sharp thorns but thornless species are also found. They occur commonly in North America and Mexico.
Black Locusts (Robinia pseudoacacia), often referred to as false acacia, Yellow Locusts, and honey Locusts (Gleditsia triacanthos), also from the pea family, are some forms which are cultivated as ornamentals. Some are also used for erosion control and as timber trees.
Locust timber are excellent for making furniture, flooring, interiors, and small boats and for fencing. Black locust wood is more commonly used than honey locust woods. Apart from growing as long plants, they also grow as shrubs.
There are many natural varieties and cultivars, but all of them fall in to two genera namely, Robinia and Gleditsia. The Black Locust fall belongs to the genus Robinia while the famous Honey Locust belong to Gleditsia genera. But these are not the only Locust Trees there is.
In this article we will discuss variety of Locust trees that are widely found around the globe in different parts of the world.
Types of Locust Trees
There are about 20 different types of locust tree cultivars identified, all derived from 2 basic types- Honey Locusts (Glenditsia triacanthos) and Black Locusts (Robinia pseudoacacia)
These two varieties are endemic to North America region and can be differentiated by the presence of thorns on barks and branches. Black Locusts have smaller thorns while Honey locusts have generally bigger thorns.
In the following sections we will explore all the other types of locusts including the ones discussed above. We will see their differentiating characteristics and learn how to identify them.
Honey Locust Trees (Glenditsia Triacanthos)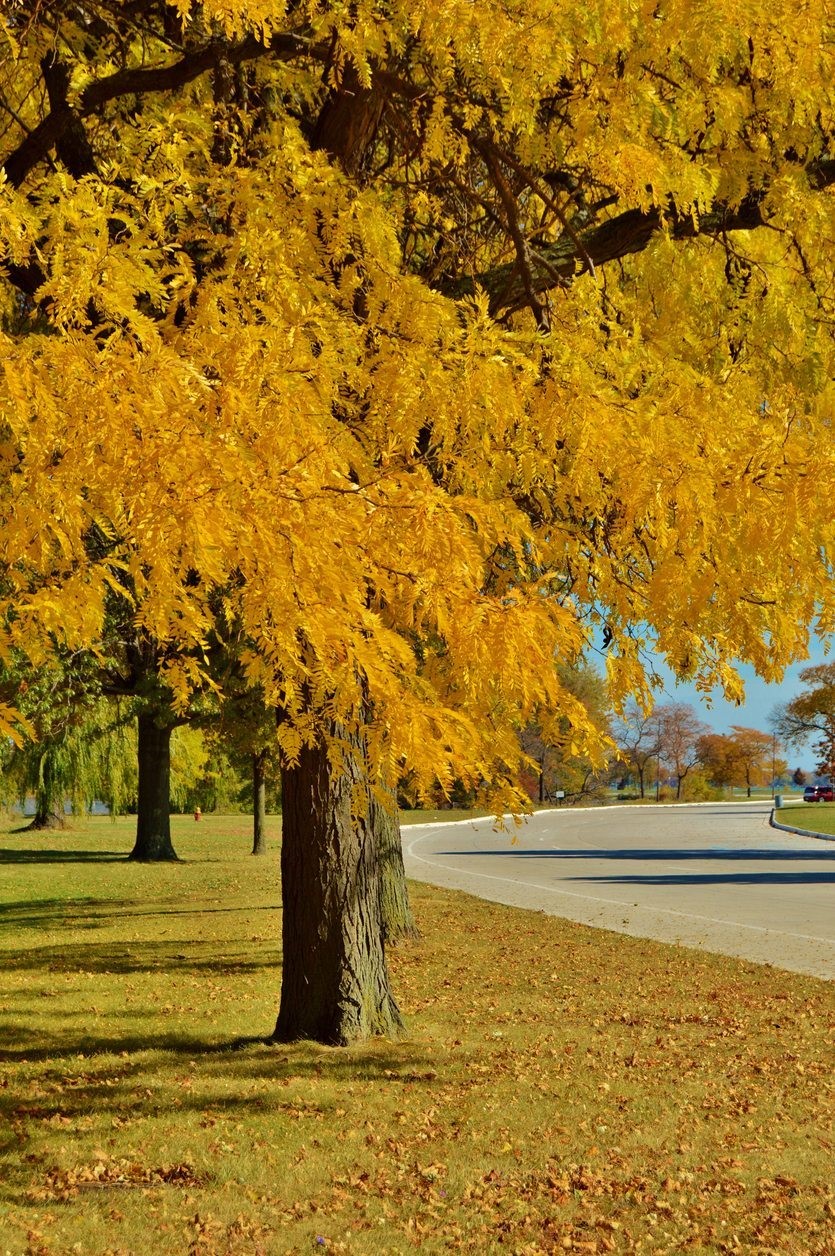 Honey Locusts are fast growing trees with hard bark. They grow in many different types of environments and thrives in sun.
The genus is native to the states of Pennsylvania, Lowa, Texas and Georgia. They grow between 66 Ft – 100 Ft tall and have thorny branches growing around it.
Due to the presence of these spiny barks, they are commonly known as the "Thorny" Locusts. These barbs usually grow to 4" but can be up to 8" long.
Honey Locusts are grown as ornamental beauty specimens in garden landscapes. The foliage of the plants turns beautiful yellow during the fall. With its vast spread foliage, widely spaced branches, and small leaves it forms excellent shade tree.
Though most of the species from this genus are with thorns, among them there are few with botanical term 'inermis', meaning harmless, which are thornless varieties.
These plants produce seed pods or legumes which are sweet tasting and are eaten by animals. They mature in early fall.
Honey Locust Leaves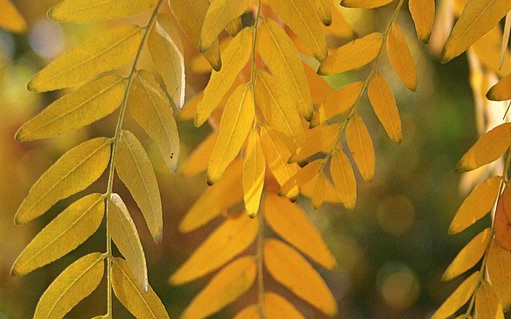 When compared to Black Locusts, leaves on honey locusts start to appear slightly earlier. These leaves have no leaflet at the tip which is one of their distinguishing character. They also tend to be a lighter shade of green as compared to black locusts.
Honey Locusts Tree Flowers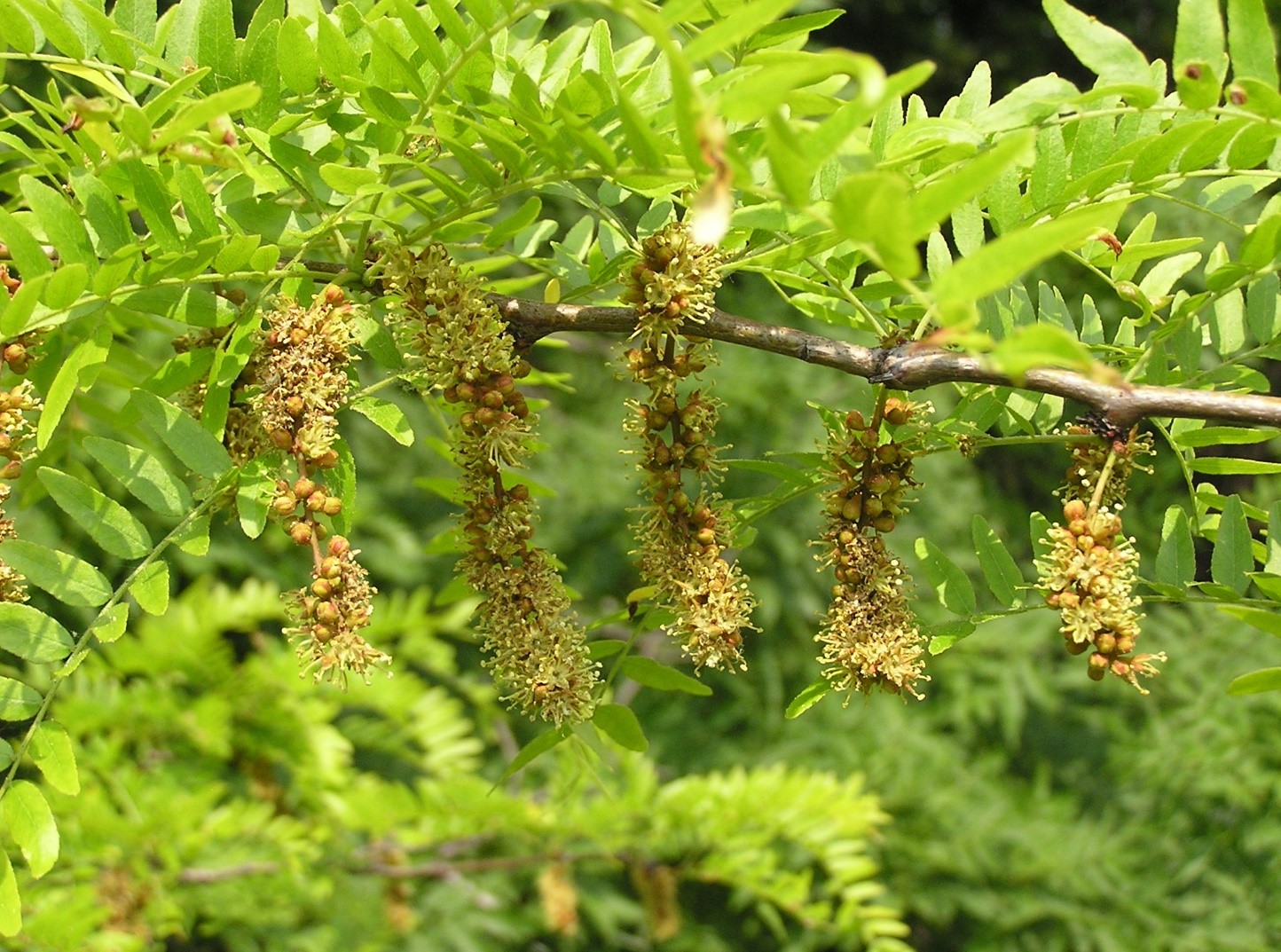 Honey Locust produces small creamy-green flowers. These are fragrant and hang in small, inconspicuous clusters in late spring and early summer. Their seeds are borne in pods that are flat, dark purplish-brown, and are corkscrew twisted. They are about 10-18 inches long and 1in wide. These pods generally persist on the tree after the leaf falls into early winter.
Honey Locust Bark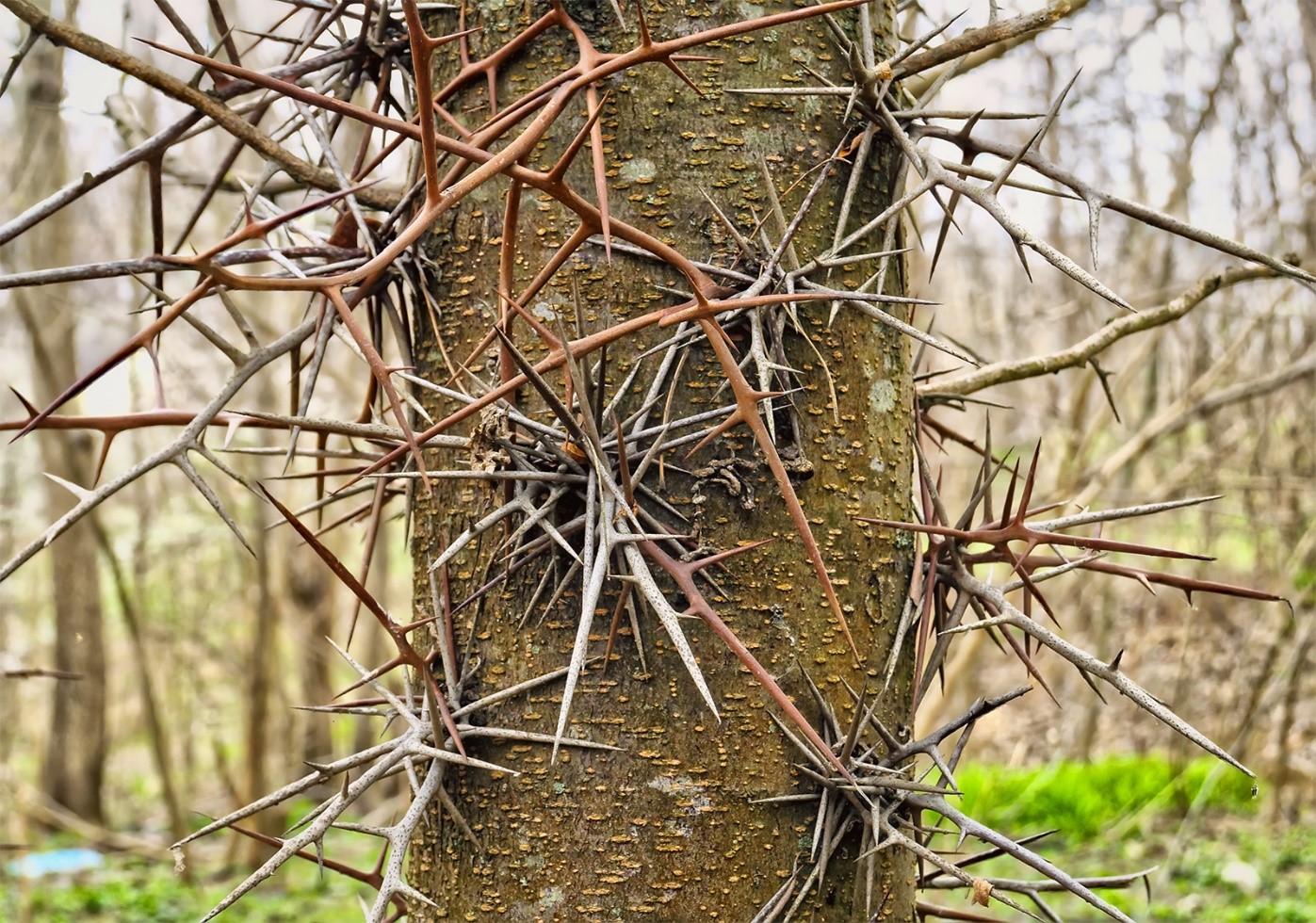 Honey Locust barks are grey-brown to red-brown to bronze initially. It is smooth with many horizontal lenticels that later turn into long, narrow, curling plates. It is often seen with clusters of large, branched thorns on its trunk.
Imperial Honey Locust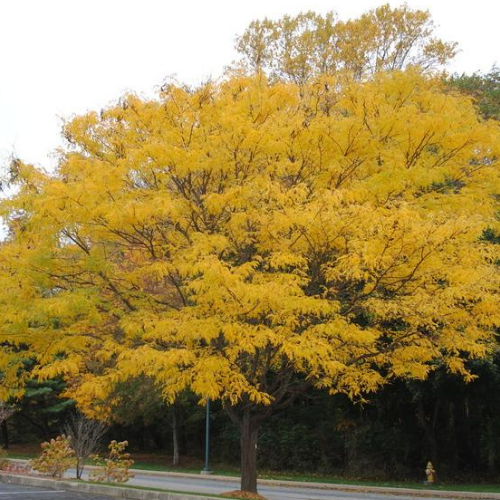 Botanical Name- (Gleditsia triacanthos f, inermis 'Impcole')
Imperial honey locusts are thornless specious of deciduous trees. It grows up to 40 ft. (12m) and spreads up to 35 ft. Since this variety does not have thorns and has a large canopy, it is considered as one of the popular variants of shade trees good for lawns and streets.
It has an overall ferny structure with a yellow- green tinge. Just like any other honey locusts, it can withstand a wide range of environment and soil conditions.  They are also resistant to saline conditions, lack of water, and high winds.
They produce small clusters of beautiful greenish- white florets blooming in late spring and early summer. They have feather-like pinnately compound leaves that are bright green throughout summer and spring before turning golden yellow in the fall.
Imperial locusts prefer full sun and moist, well drained soils. Bark of this tree is gray, brown, and its wood is good in crafting furniture and other woodwork.
Bristly Locust Tree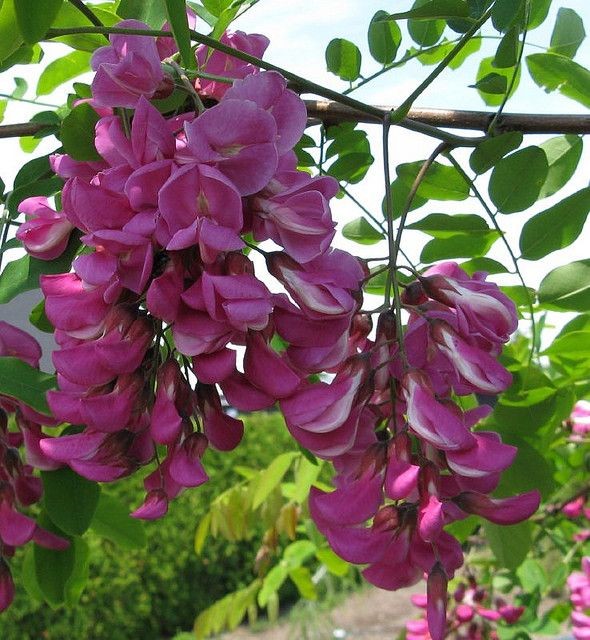 Botanical Name- (Robinia hispida)
Bristly locusts are large flowering shrubs having pink pea- like scented flowers, compound leaves, and reddish-brown seed pods.
They are considered invasive in many states due to its intricate root system and fast-growing nature. Bristly locust trees are also known by the names of most locust and rose acacia.
Bristly Locusts are perfect choice for someone who is looking for small plants for their garden, as they do not grow higher than 10 ft. (3m). They prefer full sun and well-drained soil. They also spread up to 15 ft. making them suitable for groundcover sunny gardens.
During late springs and early summers, these plants produce colorful purple-pink pendulous flowers.  These flowers attract honeybees and other pollinators with their intense fragrance. They have pinnately compound leaves. They can also survive in saline environment, loamy and moist soil.
Bristly locusts are also popular for their excellent role in erosion control. Their wood is also used in constructing fences, houses, darts, and other artifacts.
Being from Robinia genus, they have a small oval leaflet at the tip of each leaf. The bark of this species is gray and smooth with the young ones having small fine purple-brown colored hairs, giving them bristly appearance.
New Mexico Locust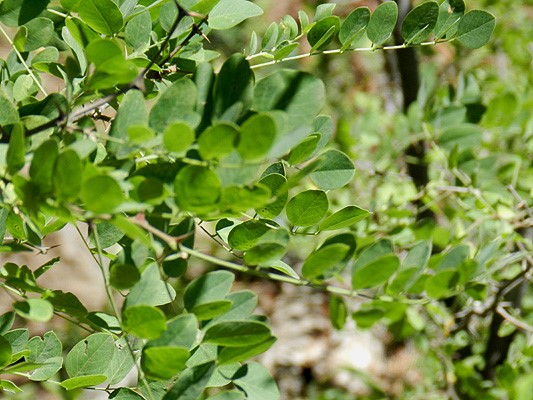 Botanical Name- (Robinia neomexicana)
New Mexicana honey locusts are found in states such as Colorado, Arizona, Utah, and New Mexico. It is native to the southwest region of the US.
The plant is also known by the names of southwest locust, hojalito, dessert locust, Pink locust, or Rose Locust tree.
It grows up to size of 16 ft. – 32 ft. in height and is cultivated both as a shrub or a tree based on the type of soil and amount of sunlight it receives.
Late springs and early summers bring clusters of purple-pink flowers with beautiful scent on these trees. The flowers attract bees and other pollinating insects. They also show the presence of spikes at the base of reddish- purple branches on which these flowers grow.
Flowers of this species are very uncommon from others of the genus Robinia. Instead of white flowers which are shown by most of the robinia species, these trees bear sweet smelling flowers of light purple and pink shades. This makes them popular garden landscape trees in warm climates.
New Mexico trees have fern like leaves which are between 4" and 6" long. Their dark green leaves show the presence of small hairs or bristles giving them grayish appearance.
They can be distinguished from other by their thick, large branches and clusters of flowers that bloom from spring to summer. The bark of New Mexico is light gray- brown in color and shows the presence of shallow furrows.
Black Locust Trees (Robinia pseudoacacia)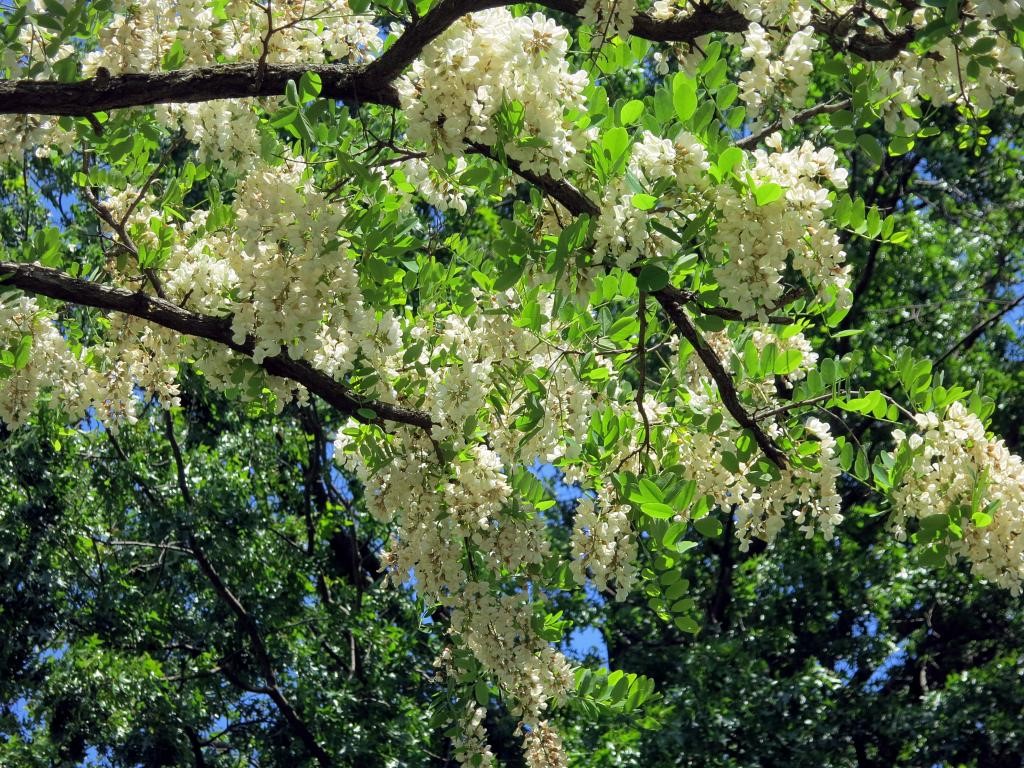 Black locusts are hard wooded, deciduous tree that are native to the North American region. They are considered as the most common variant of Locust Trees. They are used for multiple purposes and can be grown easily. Black Locust grows well in sunny locations and can withstand drought, inferior soil quality and damp growing environments. They are commonly found growing across riverbanks and woodlands.
Also known by the names of "False Acacia", "Common Robinia" and "Fragrant White Locust". They are widely planted for their decorative use but are also popular for their strong, hard, and solid variants of wood. In medieval times, the wood from these trees were used to crafting nails installed in ships.
Black locusts assume an average height of 40-100 ft. with some exceptional variants growing up to 171 ft. (52m). Immature black locust trees have sharp spines growing at the base of each leaf but unlike honey locusts, the sharp spikes do not grow in long branches around the tree and are short.
The leaves, barks, branches, and seed pods of Black locust trees are toxic.
Black Locusts Tree Flowers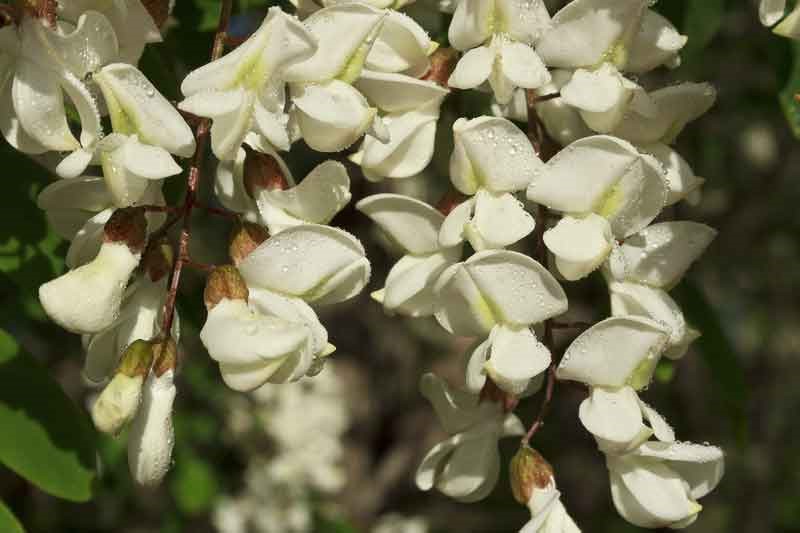 Black locust produces white colored fragrant flowers which bloom in spring. The color of these flowers helps to differentiate them from honey locust trees which produce creamy- green flowers.
These are produced in hanging clusters measuring between 4"-8" (10-20 cm). These flowers are rich in nectar and attract honeybees making them great honey plants. They are grown in regions where they can bloom and thrive well.
Black Locust Leaves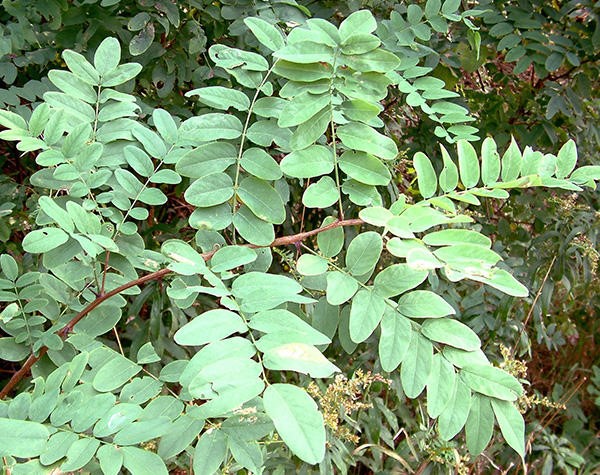 Leaves of Black Locust Trees are pinnately compound and can grow up to 10" long. As compared to honey locust, leaves of honey locust are dark green in color. They have small ovoid leaflets on each leaf. The fruits hang still in winter.
Black Locust Tree Bark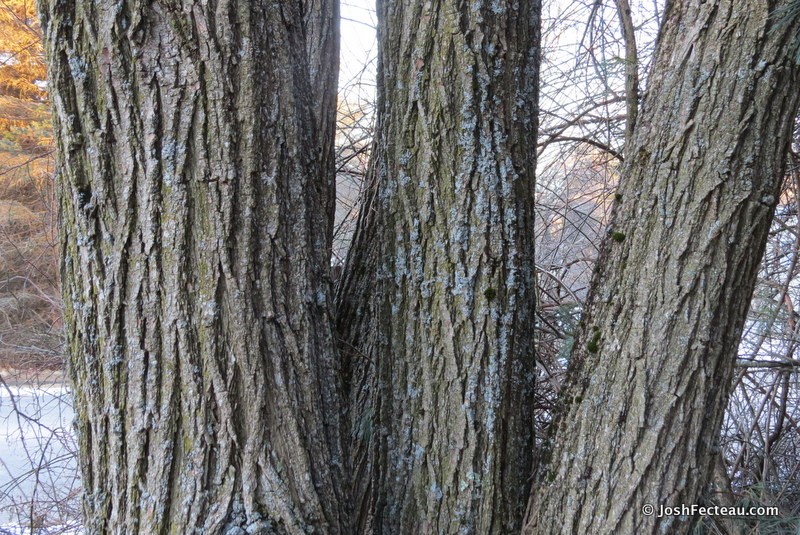 Black Locust tree barks are deeply furrowed. It is brown and gray in color however it has an overall reddish appearance due to orangey-red color of the deep groves. Unlike honey locust trees, barks of black locust trees are sharp and thorny.
Frisia Black Locust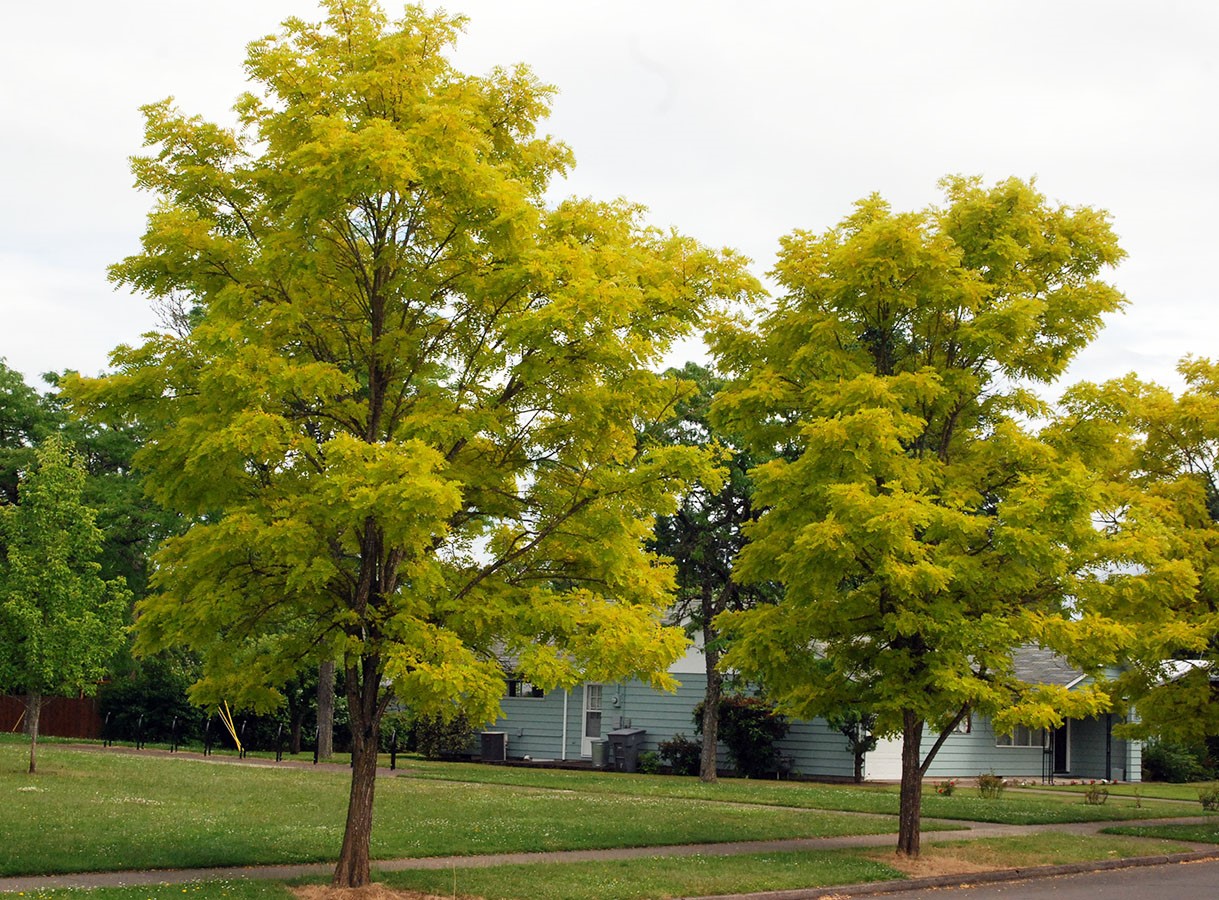 Botanical Name- (Robinia pseudoacacia 'Frisia')
This deciduous tree grows up to a length of 40ft and spreads across 25ft of area. They look oval with upright branches. Young shoots show the presence wine-red prickles or thorns.
The trees bear broadleaf types which appear bright yellow in spring but turns greenish- yellow in summer. These plants are distinguished by its golden-yellow bijugate leaves.
The trees produce 4 to 8 inch long, dense clusters of extremely fragrant white flowers which invites bustling bees. They are excellent honey plants and produces quite delicious honey which are sought- after.
Dark red to black colored, leathery, 2- to 4-inch-long seed pods are borne on the trees which persist on the trees throughout the winter.
Just like other black locust, their woods are extremely strong and durable, and the branches are brittle and are subject to damage in high winds.
Frisia black locust trees are known to be susceptible to canker, leaf spot, and powdery mildew.
Twisty Baby Black Locust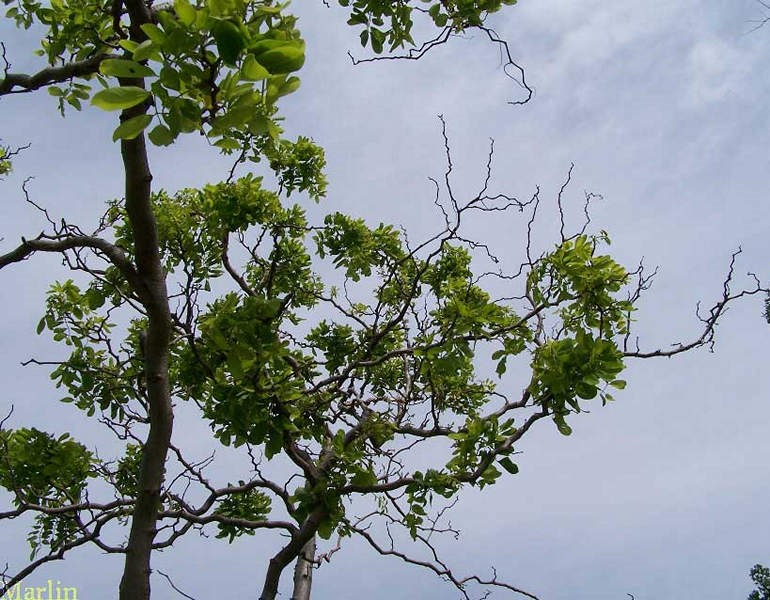 Botanical Name- (Robinia pseudoacacia "Lace Lady")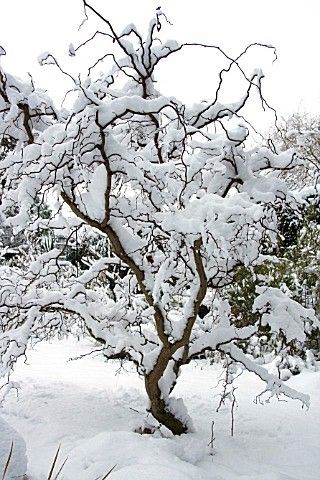 This species of Black locusts is named after its contorted branches. They are better known as Lace Lady and can be cultivated as a tree or a shrub.
It is a compact garden-scale tree featuring delicate foliage and contorted habit of growth, spineless and sparse-flowering. They are best used as a focal point in the garden, its bare branches are interesting in winters.
The twisted black bark and brown branches are extremely snowy and add significant winter interest. It adds extremely fine and delicate texture to the landscape composition which itself makes an accent feature alone.
The tree produces oval pinnately compound leaves that turn yellow in fall. They grow up to a length of 10 feet with a spread of 12 feet. They have low canopy and a clearance of 2 feet from the ground.
Purple robe black Locust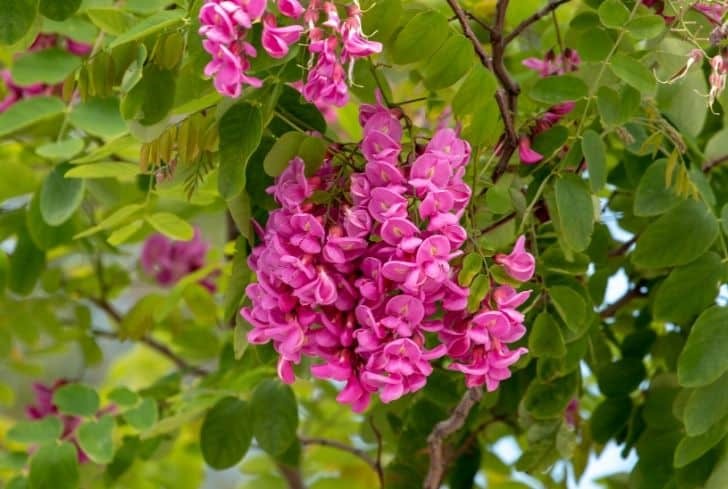 Botanical Name- (Robinia pseudoacacia 'Purple Robe'
Purple locusts are extremely attractive. Firstly because of its beautiful purple flowers and then due to its young red leaves that turns to blue-green and then to yellow in fall.
Just like other locusts their average growth is between 30 and 40 ft. with a spread up to 30 ft. wide. Locust trees are excellent choice for garden landscapes to provide shade because of its feather fern foliage and widely spaced branches.
They are drought resistant with hard wood, characteristics common to almost all locust trees. They produce beautiful clusters of pink-purple flowers which hang from the branches filling your garden with beautiful colors.
Purple robe locust leaves have metallic red color when immature which gradually turns into deep-green or bluish-green color.
Skyline Honey Locust Trees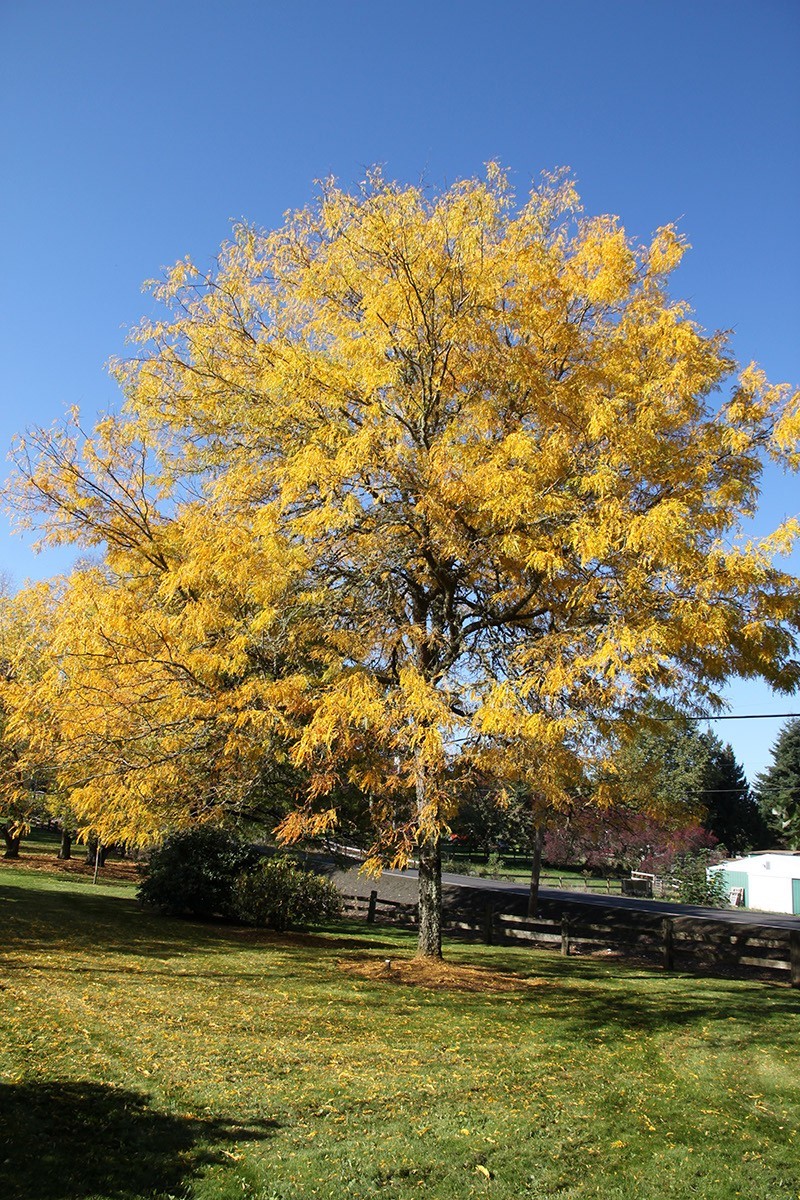 Botanical Name- (Gleditsia triacanthos 'Skycole')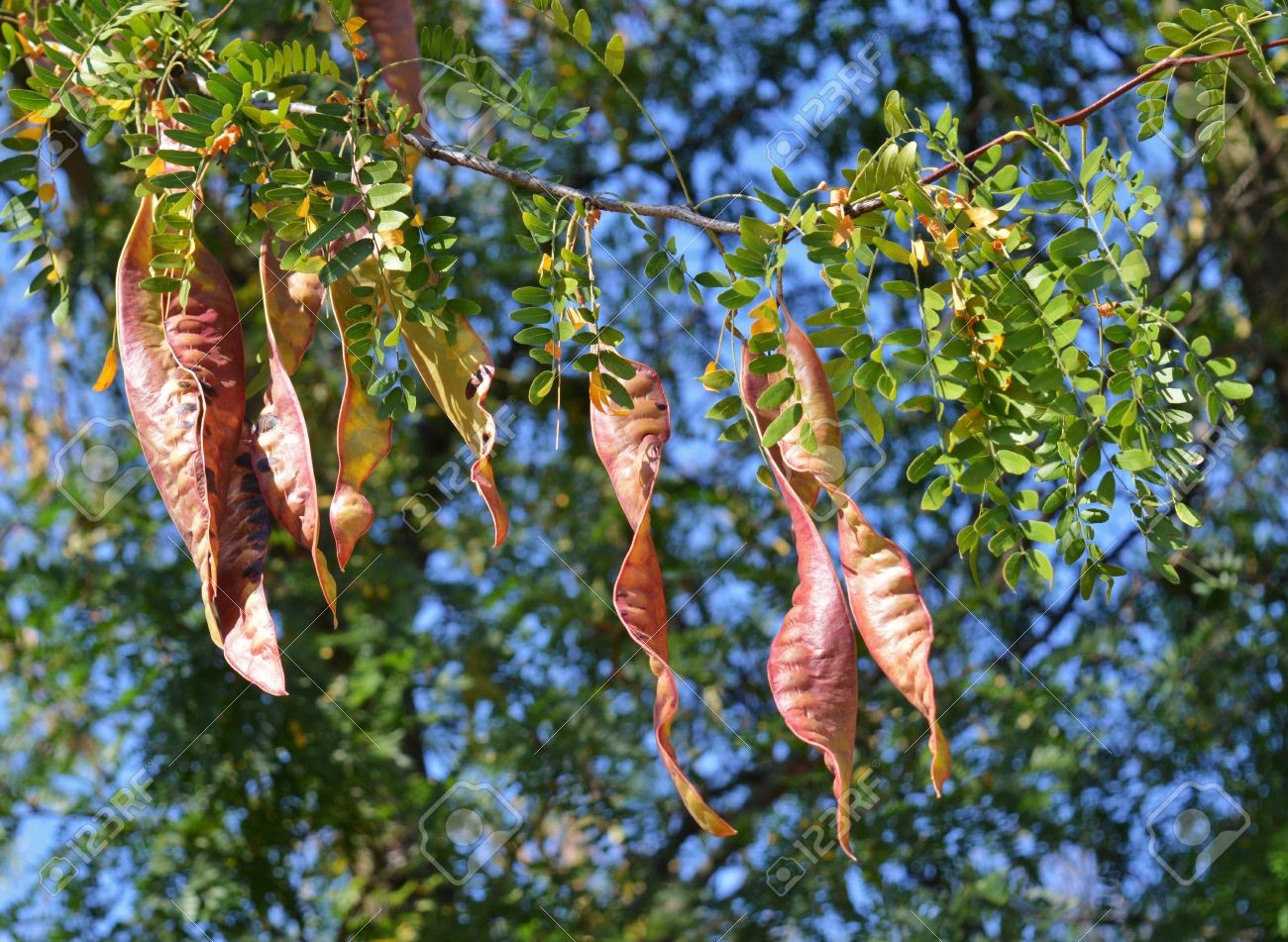 If you are looking for some shade tree, then this is again a popular option you can go for. Skycole grows upto a height of 45 feet and is known to have a canopy spread of 25 feet. They are popular and best known for their delicate yet ferny structure.
These trees are perfect for garden landscapes as their fern-like leaves and widely spaced branches gives sufficient shade without completely blocking out the sunlight.
The major reason behind the growing popularity of this species is that they can grow in undesirable conditions. They can survive and withstand full sun, high heat, alkaline or acidic soil and pollution. These qualities makes them ideal street trees. They can grow tall and wide surviving every kind of weather conditions.
Originating from the North American region, Skyline honey locust are a type of deciduous tree with a unique, pyramid-like shape. It can be used to accent your home or office with its excellent landscape composition and texture.
They produce greenish-white, inconspicuous flowers which appear in May and June and turn into long, twisted, purple colored seed pods. Just like other honey locust trees, these too contain a sweet substance.
They can be defined as fast growing legumes with qualities that enable it to sustain in droughts, poor soil conditions, high salt conditions, and urban pollution.
They have pinnate or bipinnate leaves containing ovate, small leaflets. Their foliage turn from dark colored leaves in summer to beautiful yellow in fall. They too have spiky trunk with thorned branches like other honey locusts.
Sunburst Honey Locust Trees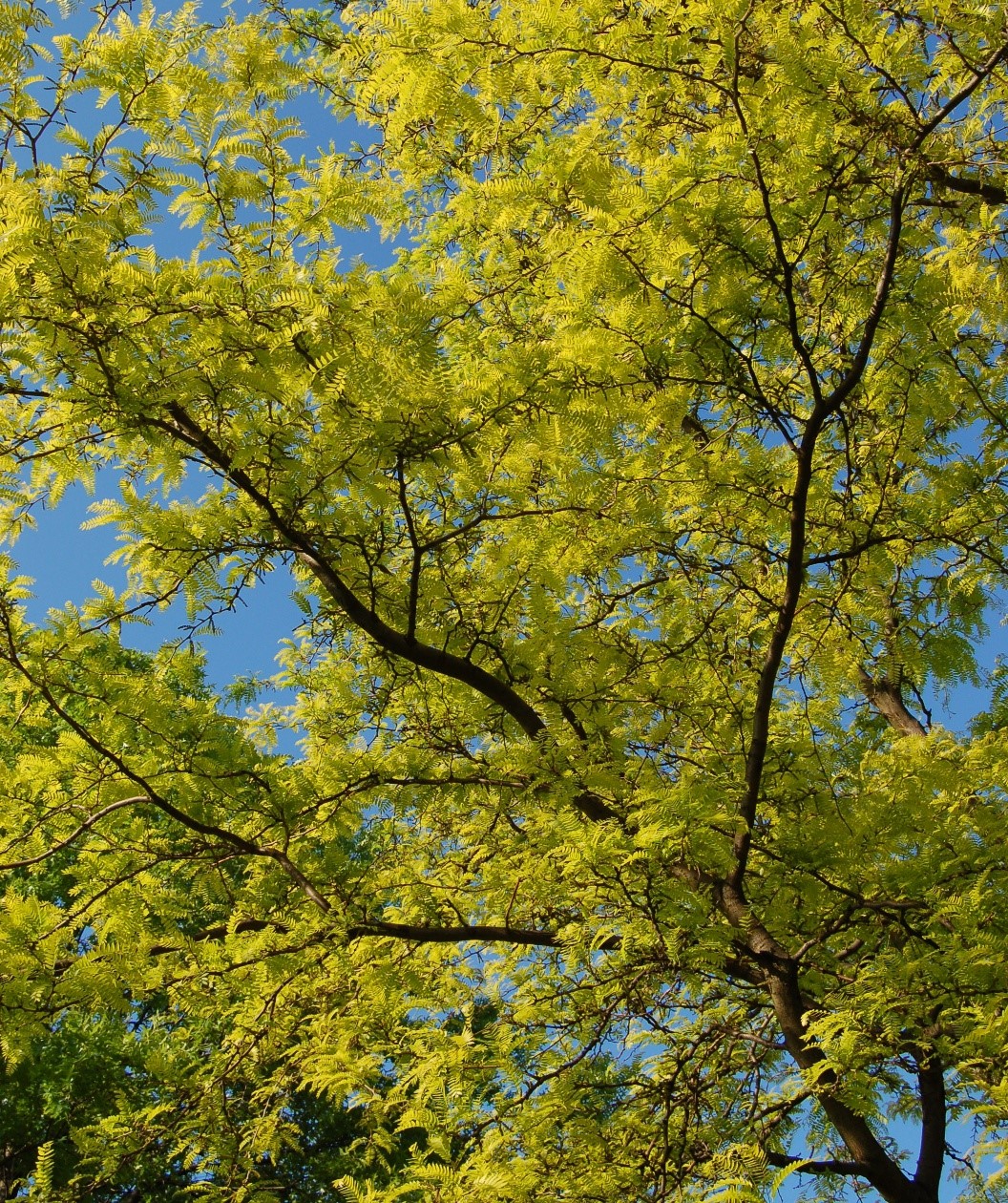 Botanical Name- (Gleditsia triacanthos var. inermis 'Suncole')
Suncole cultivar is deciduous tree variety popular for its feathery foliage that provides good shade from hot sun and is perfect for your garden landscapes. The term 'inermis' here means that the plant is a thornless variety.
Suncole species are rather shorter as compared to the native varieties. Instead of growing upto the length of 80 – 100 feet, Suncole reaches upto 40 Feets only in height.
Apart from acting as shade tree there are other reasons for why this tree is so popular. They lack thorns or are thornless and they are widespread and pod-less variety. So, you really need not to worry about clearing the sharp spines or pods during the fall.
Sunburst honey locust tree flowers are greenish yellow in color and can add sweet fragrance and vibrant colors of your garden. Leaves of this tree are pinnate and have fine texture. They change their color according to growth stages.
Shademaster Honey Locust Tree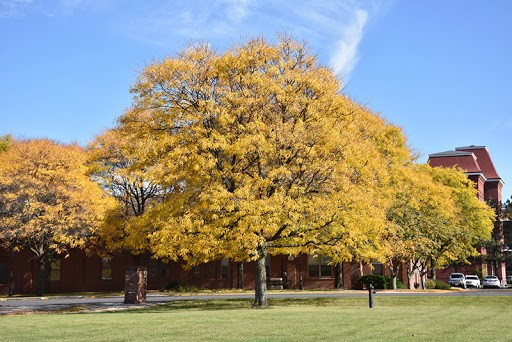 If you are looking for a lawn or a shade tree, this variety might really impress you. It is thorn less and pod-less of locust tree having small leaflets and making them easy to maintain varieties. You also would not have to worry about cleaning the fallen foliage plus they grow more quickly than most other locust trees.
They have extremely wide canopy which provides excellent shade. Branches are widely spaced and have pinnate leaves which ensures sufficient light to pass through them but gives enough shade from the hot sun. They grow up to a height of 75 ft. and has a large canopy size of 40 ft.
Shademaster Honey Locusts also feature green leaves that turn yellow during the fall. The flowers too are small and delicate having a yellowish tinge. These trees do not produce fruit which makes it extra low maintenance.
Thornless Honey Locust Tree (Glenditsia triacanthos f. inermis)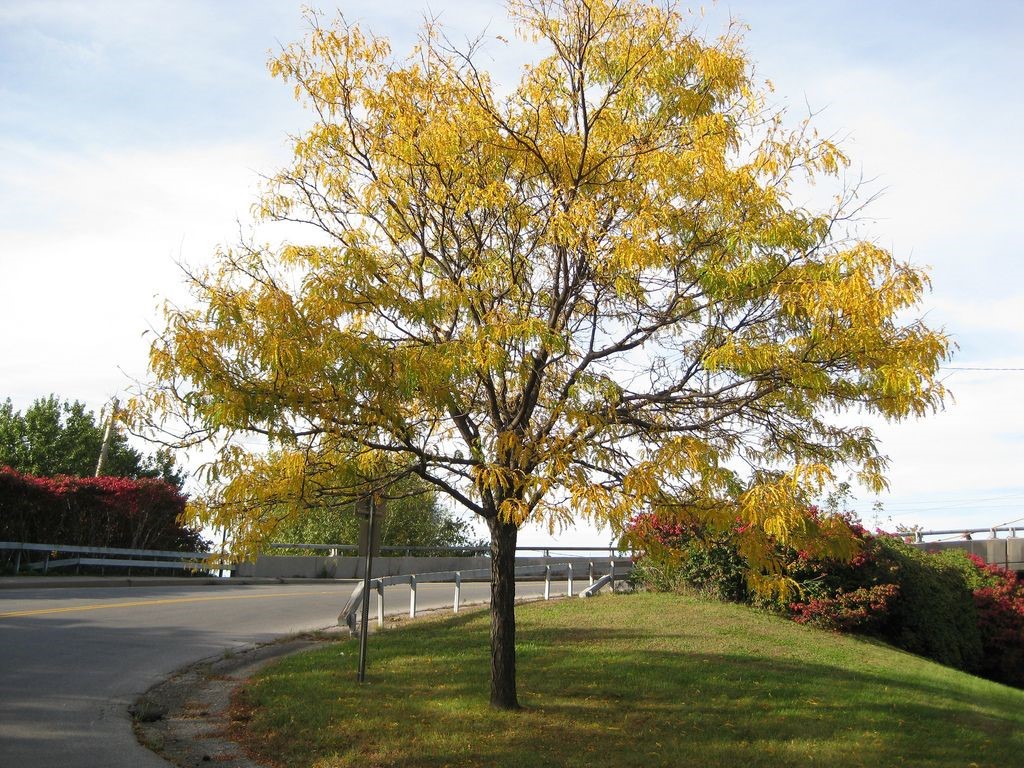 This thornless variety is perfect if you want to grow an elegant and tall honey locust in your garden. Along with beautiful foliage, these trees produce vibrant flowers with sweet scent that attract honeybees and other pollinating insects.
These 'inermis' varieties also have no sharp spikes on their bark so there is no danger for you to injure yourself from these.
Ruby Lace Thornless Honey Locust Tree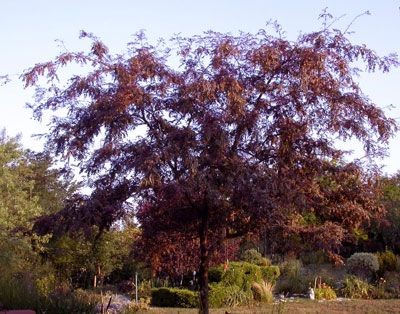 Ruby Lace Locust trees have young, vibrant, ruby red colored leaves which can make excellent addition to your landscape. It gives a very beautiful and unique color to your garden.
Apart from being beautiful in appearance, they also are very resistant. They are highly adaptable, can tolerate drought and high salt conditions and are generally grown as ornamental plants.
They can be used as a landscape feature or planted in patios. The leaves of this tree are ruby red in color during springs and turns to hues of pink, orange and purple as they gradually mature. Near summer, they turn into dark, bronzed green color.
Ruby Lace is a deciduous, upright, columnar specimen that generally grows to a height of 16 ft. and width of 8 ft. when planted in ground. If you want it to be used according to your needs, you should plant it in pots. This way it will give you more freedom and control over the plants growth habit and help you suit it to your individual needs.
The plant can flourish in both full and partial sunlight offering you with dappled shade and beautiful visuals for your garden.
Since, we have reached the end of the article, we now are aware of some of the varieties of locusts that exist. Most of them have lifespan of more than 100 years and their lumber has extremely useful. They are mostly used for making fences or furniture.