The color Grey has become a sensational color nowadays. It is a mix of light (white) and dark (black), positivity and darkness, neutral feelings, for some it brings out a comfortable and safe atmosphere while some might feel pure joy.
Grey, being a neutral color goes well with almost everything you put up, be it your wooden cabinets, metal cabinets, glass shelves, colored frames, potted plants, bright or dark-colored sofas/ accent chairs, etc.
One thing that also goes well with gray-colored walls is the carpets, of various colors and patterns. Carpets bring a nice touch to your rooms, and they are so much comfortable and stylish that you will now find them in almost every room including the bathroom.
But some might be confused as to which carpet will go with gray walls, because not every color matches. There are over +50 shades of grey to choose from. A few of the designers call the shade Grey an 'Off-white color', or 'shades of light'.
Because most people see Grey color as a dark shade and do not prefer to paint it in their home since their room will be dark, however that is not the case at all! This is because Grey is a neutral color and has more light shades than dark ones like Rose Quartz Grey, Timberwolf Gray, White Smoke, Blue Gray and so much more, and for the ones who want dark shades there are Charcoal Grey, Slate Grey, Scorpion, Outer Space, and much more.
Before choosing the carpet for your room, you need to select a shade of grey, light, or dark color for your walls. The interesting thing about this color is that you can choose from so many shades which will go along with your carpet, you can even go for patterns or stripes or prints, and it will look amazingly good.
One best way to find out if your carpet is going to match your walls is by looking them up on the screen or imagining them. There are plenty of sites wherein you can click a picture of your room, paint your walls and your carpet to check whether those colors are the ones you want or not.
Before finalizing your wall color, you can check that if you choose a dark shade of gray color, then light color carpets will work with them, if you choose a lighter shade of gray for your walls, go for a little dark shade for the carpet. You can easily check all the colors you want on those home decor websites.
Carpet Colors for Dark Gray Walls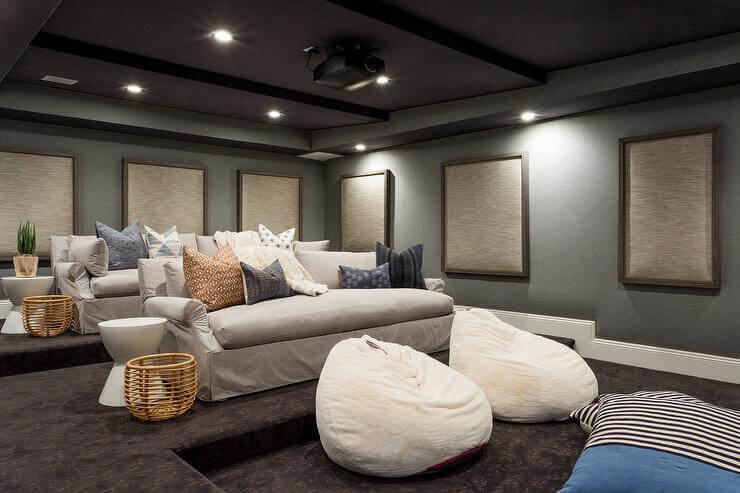 If you have finalized the color of your walls with a Dark Grey shade, choose these light-colored carpets –
Brown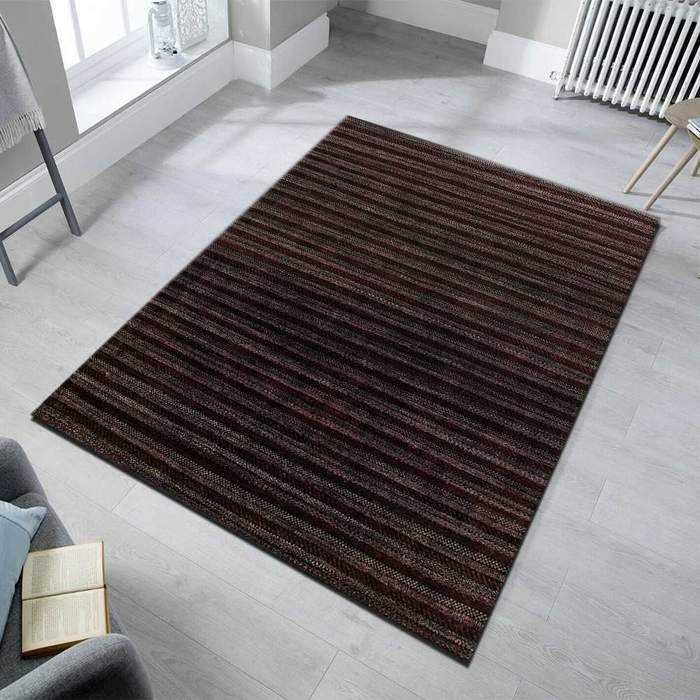 Brown color carpeting or even furniture would go extremely well with your dark grey walls, be it medium brown sectionals, or sofas, with accent chairs, and light brown carpet will match your dark grey walls, and not provide an off-color.
You can never go wrong in choosing both colors together, just put them up on the website and see for yourself.
If you are not a carpet fan or think that the carpet will not look best in the room, then you can opt that out and see what your room would look like with brown hardwood furniture, you will not regret the effects once you see them.
You can look for various shades of brown, even the light ones have multiple shades to choose from, compare each color and choose which suits you well.
White/Cream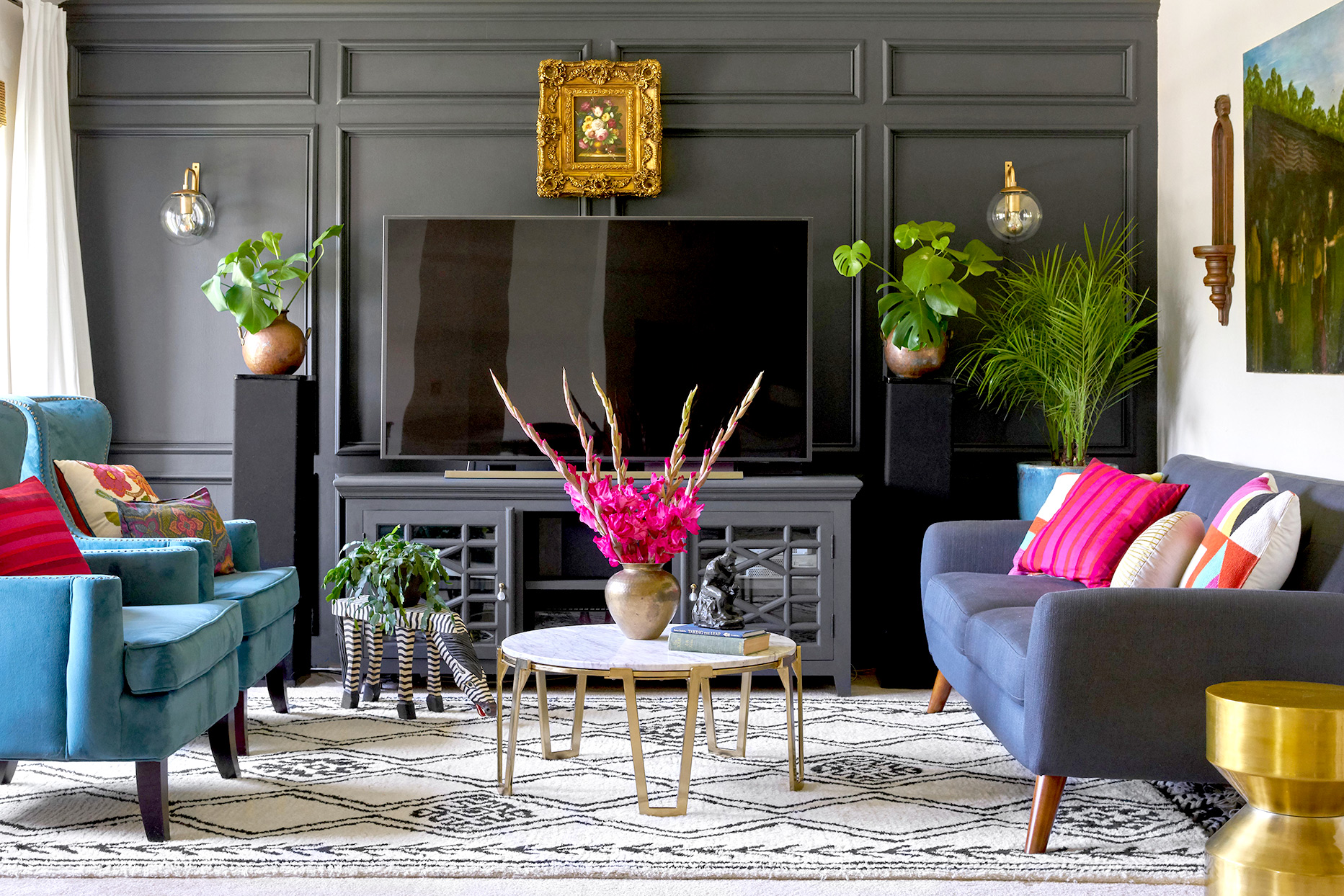 One more color that would go well with your dark walls is cream or white. If you feel that beige might not look that well in your room, you can try switching your carpet's color to cream or white, since both have almost the same texture.
If you already have white paint on your doors, cabinets, and then you go on for dark grey on your walls, then a white carpet will compliment your room. You can also choose both cream and white carpets for different rooms, like for the living room you can choose cream, and then for your bedroom, you can choose white, or vice-versa.
You do not have to stick to one color carpet for each room, you can choose the color which suits the room well.
Multi-Colored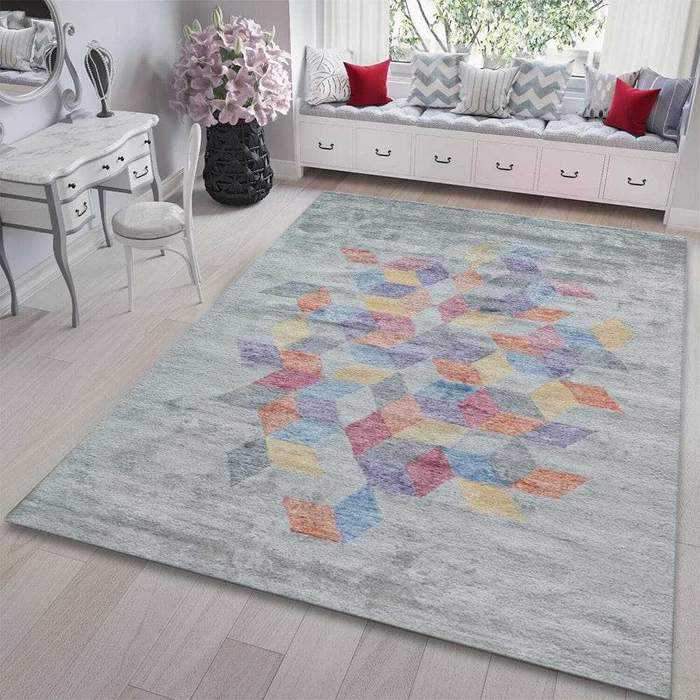 If you love all colors, then you can choose them for your carpet too, they will surely compliment your walls. While going for multicolored carpets, you must be careful as to which one to pick.
The rainbow colors will not go with your dark grey walls, you can try looking for dark multi-colored carpets, they might make your room a bit colorful with a touch of grey in it.
You should also try looking for multi-colored carpets which have some grey shade in them, or a black and white carpet, these will really tone up your room. Any carpet you choose make sure it matches your wall's shade and does not make it look off, which bright colors might do if the wall's color is dark.
Carpet Colors for Light Gray Walls
If you have finalized the color of your walls with a Light Grey shade, choose these dark-colored carpets –
Blue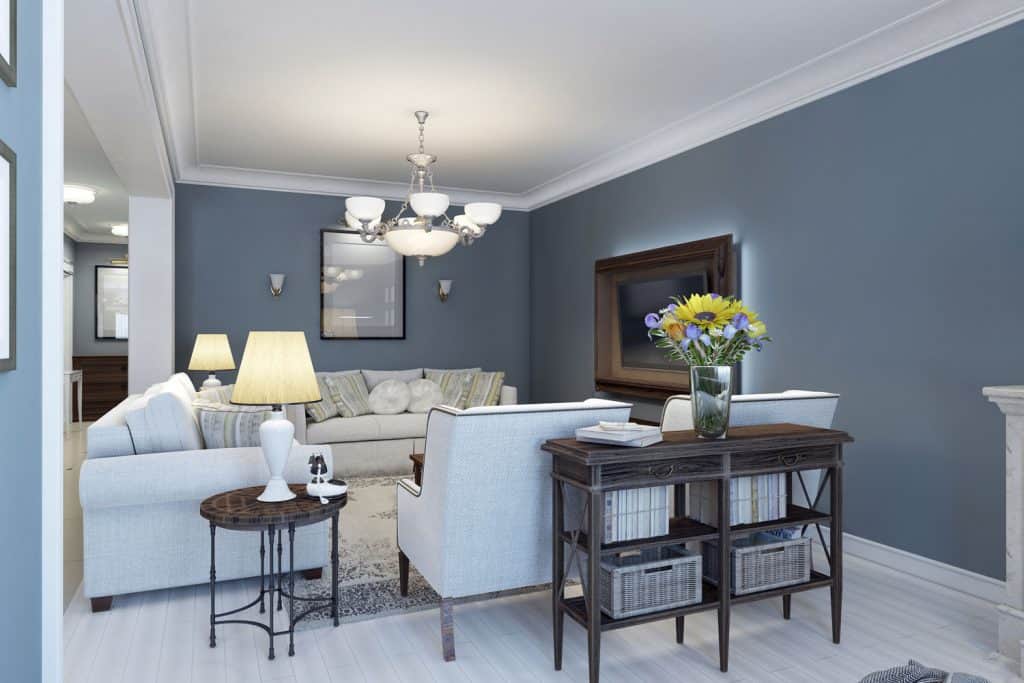 Blue has a unique property, that it goes well with both light and dark grey walls. If the shade of your wall is dark you can opt for extremely light blue colors, and if you have light gray walls, then you can go for light-dark shades of blue. Since you have decided to choose a light gray shade on your wall, it is best if you go for baby blue, or turquoise, or light blue carpets, and not create that woven off look.
When choosing the blue color for your room, you can opt for dark blue furniture with light blue accessories much as you did with the brown color for dark grey walls. Having a royal or navy-blue couch, with light blue cushions, a baby blue rug, and even a light blue lamp will really brighten up your room, all along with the light gray walls in the background.
Dark Grey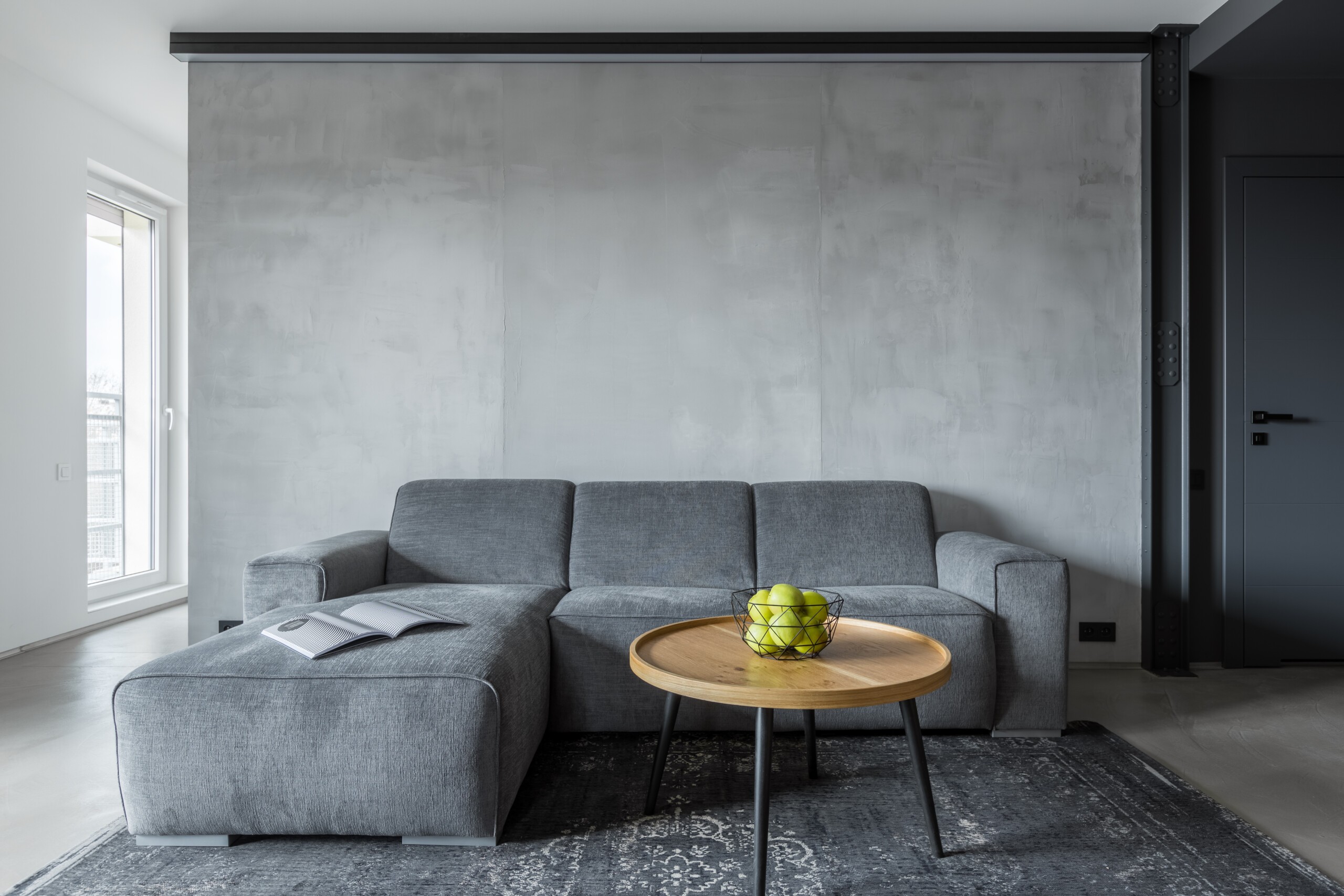 Yes, you can even use Dark Grey carpet over light gray walls. It may not necessarily make your room look all grey, because there are plenty of different shades of dark grey available, from a solid color to textured. You should opt for a textured gray color like Darker Fleck which will look good on your walls.
Since the carpet you choose has texture on it like sandpaper, it will automatically look a bit different than your wall shade. Look on your computer the colors it shows and then make the matches with the wall for easy selection, you will see a wide variety of greys to choose from, even darker grey. So, do not think that grey on grey will be bad, it might turn out to the color you always wanted for your room.
Seagrass Rug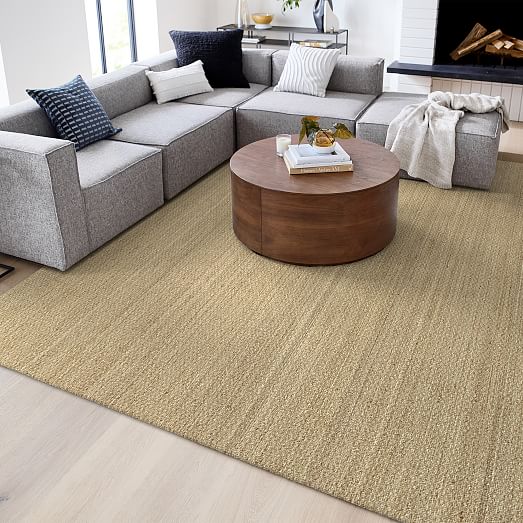 A seagrass rug will compliment your corridors, or living room, and give it a bright, homely look. Normally the seagrass color is blue and green, but if you search for seagrass rug, you will also find them in multi-colored textured rugs, that will liven up your room with bright colors, and beautiful accessories.
Although light gray walls would do best with dark colors, if you are a fan of bright colors and not dark, then you can put up dark furniture in your room and choose a light carpet like this one. By doing so, you will have the benefits of both dark and light colors.
For some, textured rugs might feel a bit hard when keeping your foot on them, and for some, it might not; this is something you check for yourself by going to the store and visibly seeing or touching it.
Let us now talk about a few colors which will go with both light and dark grey walls.
Pink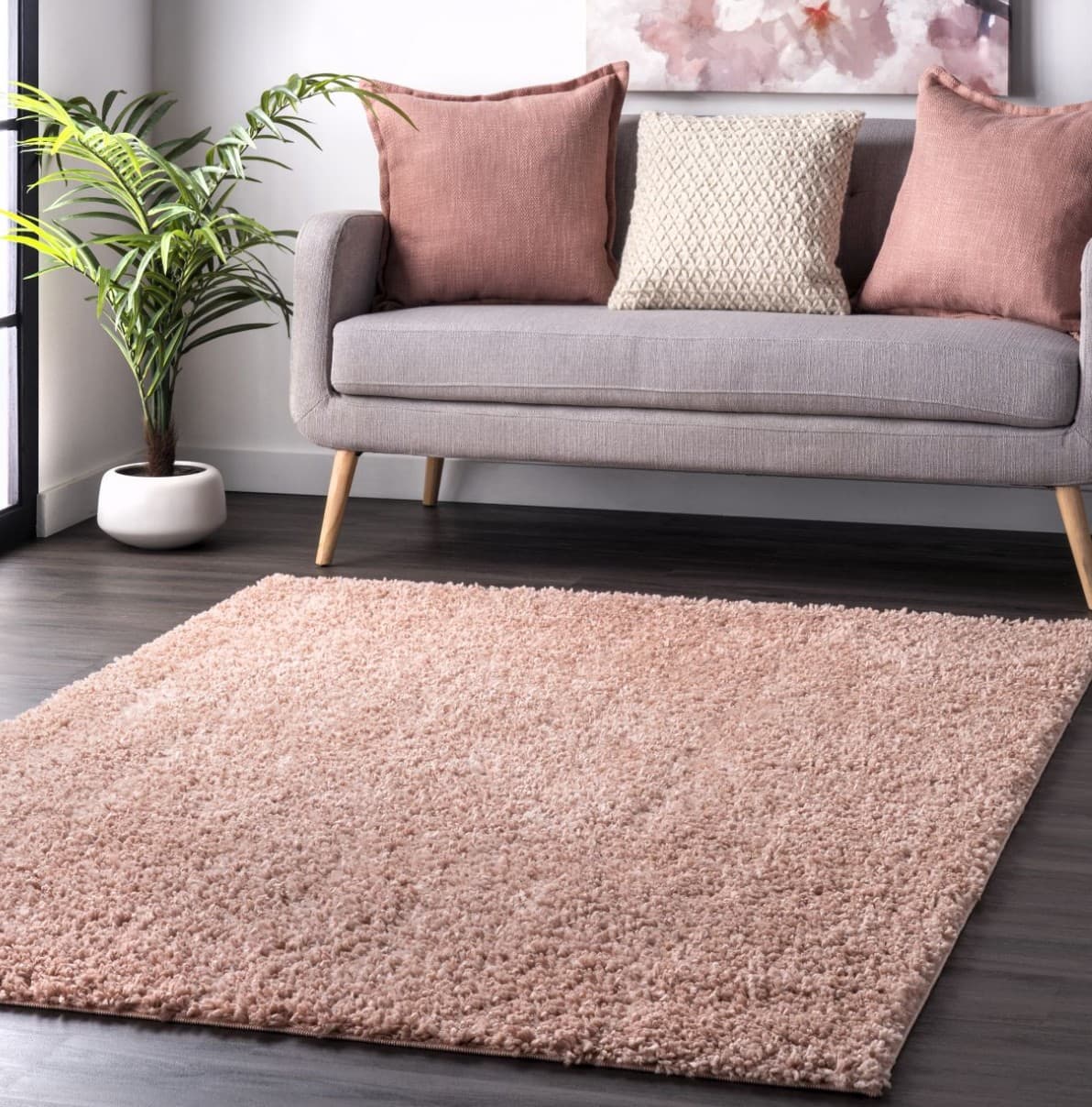 Pink and Gray go well with each other in every way. If you have Dark Gray walls, you can include Dark Pink carpet and furniture, and they will create a bold look for your living room.
The same goes with light gray walls, choose a blush or baby pink carpet with your light gray walls; it will create a smooth look representing yourself. You can also choose these colors as representing yourself if you are bold and daring or smooth and patient.
Yellow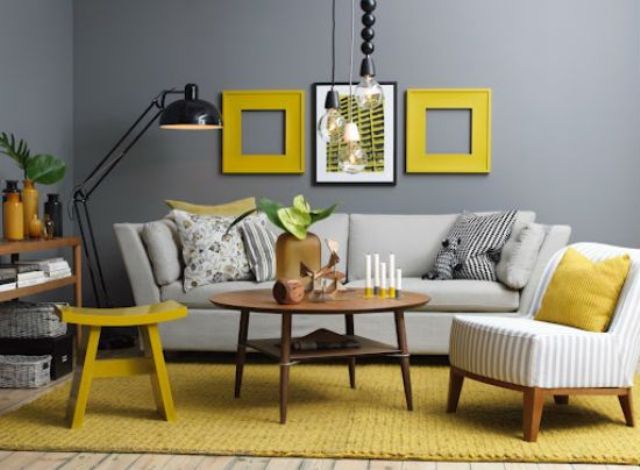 Being one of the brightest colors, yellow also goes with both dark and light gray walls. Pair the light-yellow shades with dark grey walls, both carpet, and furniture, you can even pair them with textured walls.
For the light grey walls, go for dark yellow shades which will compliment your room and give it a bold look. You clearly cannot go wrong with this color in any way, be it on carpet or furniture.
Brown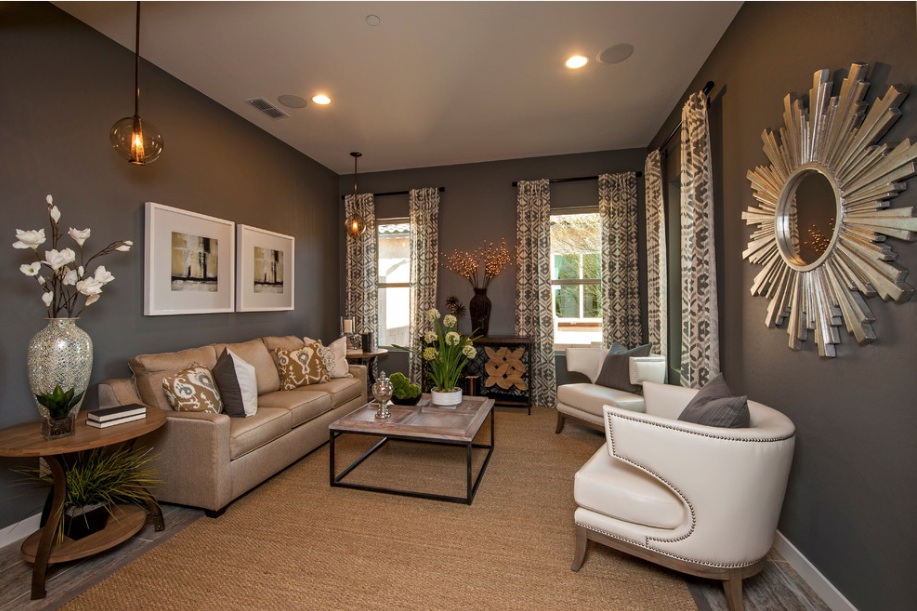 Although it is ideal to choose a brown color with Dark Grey walls, you can also use a slightly lighter to a medium shade of brown with light gray walls. You can also try putting some dark brown furniture with light brown accessories on it including the carpet. It will give your room a mix of bold and brightening. Brown and Gray is a common combination that you can see in most houses.
Blue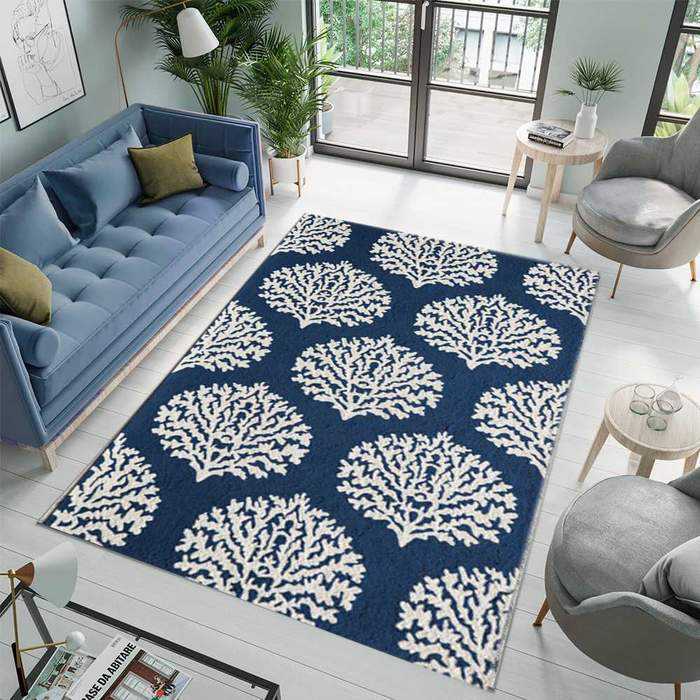 Just like Brown is ideal for Dark Grey walls, blue is ideal for Light Gray walls. However, if you pair any shade of Dark Blue like Royal blue, or Navy Blue with your Dark Grey walls, it will give a mesmerizing look to it.
Blue is a color that goes with almost every other color, especially primary colors, you can pair it with black or white or any other color and they will complement each other in a unique way.
Orange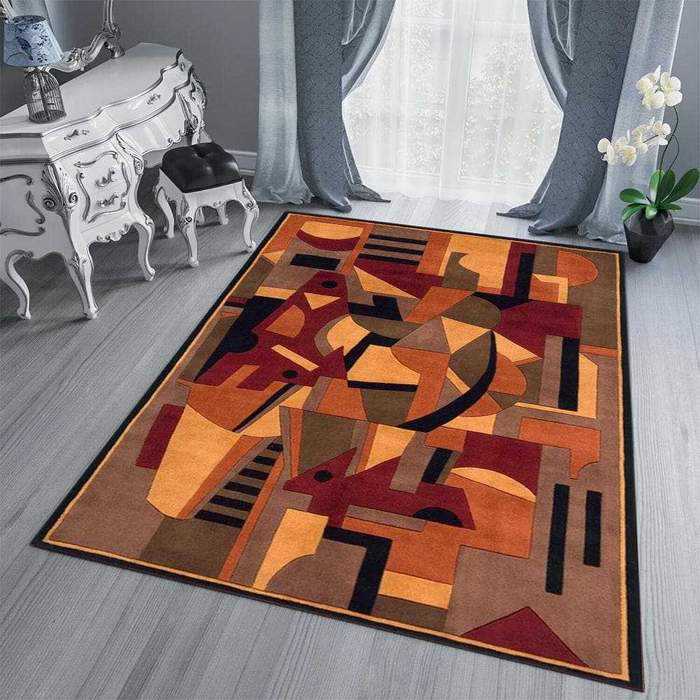 Orange is another bright and bold color which when paired with dark colors like black, grey, red, or light colors like white, pink, yellow, blue goes well with. Orange and Gray look best even in pictures, and they will complement each other in real too. You can choose any shade with Dark/Light Gray walls, there is not any specific option to choose from when it comes to Orange.
Conclusion
Gray goes well with various colors, be it light, dark, or even their own versions. If you do not feel that any other color goes well with your Grey walls, then you can choose different versions of Grey and incorporate them in your room like green, gray, silver gray, fox grey, etc.
And if you are a fan of all colors or feel that any other should be there apart from gray in your room, then you can select colors from the list above and see for yourself. You can either keep a color board and then select one color and compare if it goes well with your wall, or you can click a picture of your room and compare the carpet's color online, however you wish to do, make sure to check it before finalizing.
Not only carpet you can also choose which furniture color to put, which will match your walls and carpet. There are some colors that will go great with both Dark and Light Grey walls, these colors no matter what shade you choose will provide both a bold and comfortable, beautiful look to your room.
Most people either opt for a completely dark room, or a completely bright room, but a room with both aspects is the one that truly stands out. It is advisable to keep either your walls Dark/Light as per choice and then choose the opposite shade of color for your furniture, carpet, and other accessories.