If you are here, reading this out, you might already know that the meaning of a red door isn't limited to a single sense; it's like a case of polysemy, you see; the coexistence of many possible meanings for a word or phrase. A red meaning symbolism, traditions, cultures, and concerns lead us to different ideas about one.
One might solely assume that a red front door is just another idea of decorating the house exterior from Pinterest but that 'one' will be someone who isn't in knowledge with the various theories following the red door meaning.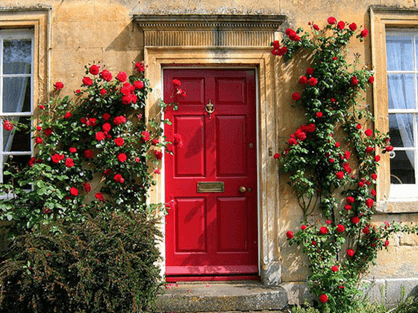 People usually find red significantly associated with warmth, heartfelt emotions, and real anger, but it all depends on their mindset and personality. So, that's something least concerning for us. We should be our thoughts about how we feel when we think painting our front door red will do good or bad? 
Going by the present information about the red door meaning, it can be fascinating and weird. A red door can mean:
positive energy, welcoming everyone, notably the travelers, to stay at night, care and warmth, protection, luck, success, and a mortgage-free home. I told you already, and it is going to sound eerie but exciting.
Getting inspired by the cobbled streets of Balat (Istanbul, Turkey) or the brightly colored homes of Burano (Venice, Italy), we, all at some point in our life, think to decorate our homes like that for once.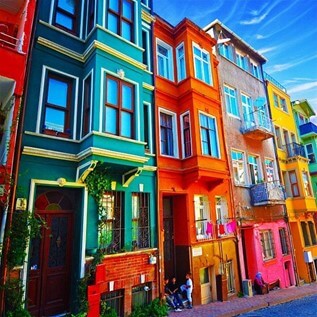 Painting the door red with a matching bricked design on supporting walls and adding a touch of white sounds interesting for people who love fun looking design, but they always get confused by these ghastly tales surrounding that beautiful red door.
Historically speaking, a red door meant an 'invitation.' It is an amalgamation of Chinese philosophy, old early American tradition, Biblical meaning, and being mortgage-free.
Let us get to know about each in further details:
Biblical Connection
Talking about the Biblical meaning of a red door, an ancient lamb story is followed by the Jews used the smears of the lambs' blood for protection from the plague, which was put on the front door. Red door meaning protection was derived from here.
In old Catholicism, the churches' doors were painted red to represent Christ's blood, which was evidently for protecting the world. Passing through one of these would have meant you were free from evil eyes. This was highly embarked as a sign of protection.
Early American Tradition
Following the old early American tradition, a red door meaning 'welcome' was widely considered. Welcome were the adventurers and travelers who required a safe place to stay at night. Houses with red doors at that time meant that the house owners were happy providing accommodations along with food and warmth to travelers.
The ancient beliefs nowadays are hardly believed as we live in a completely different era but reflecting the old traditions. Nowadays, American homes paint their doors red to convince them that they would like to get involved and keep friendly relations with their local society. This can be another theory people believe.
Scottish Tradition
Red door, meaning being free from the mortgage, is the widely followed theory. This theory, perhaps, has emerged from Scotland. House owners painted their doors red once they had paid off their mortgage, which was considered something worthy of pride.
As practical as it sounds, red used to be very expensive during those times. One would only spend this much if they were entirely free from any liability or debt. Hence, this was a followed tradition in Scotland.
The myth of the 'Reformation' identified by painting churches' doors red also began from Scotland.
Chinese Tradition
Some Asian countries like Pakistan, China, Vietnam, and India consider red to be lucky and promising. Therefore, brides usually wear red on their wedding days. Although wearing red during weddings is not compulsory but widely followed around in the far-east sides.
Like the old American tradition, the Chinese philosophy also states the red door to be meaning 'welcome.' This Chinese philosophy is based on Feng Shui, which is supposed to be an arrangement of objects giving rise to a flow of energy.
'Mouth of Chi' is the preferred term for the house's door. Hence, it's welcoming other people inside their houses. Feng Shui is also referred to as a painting keeping out the wicked. It looks like the luck linked with the red door, meaning started from here.
So, you can always go for a red front door without thinking of it as bad luck or something foul now after having so much knowledge. All it requires is a bit of creativity and tools you need, and you are set to give that old and boring exterior and impressive new makeover that might even make your neighbors envy you—just kidding!
That was all with the theories of a red door possibly. But if we observe closely, we will find strings attached to some of the practices that are followed today.
Ever Thought About the Reason Behind A Red Ribbon Being Cut During Inaugurations? 
Got thought stricken? As used to keep out evil energy and welcome positive energy, Feng Shui is one of the traditions that might relate to this one. Another one can be an Italian notion about keeping the envious and evil eye shooed away by cutting a red ribbon tied on the door handle.
When you go to another inauguration party, remember, and thank these myths you know, which might not be accurate but are entangled with a red door meaning good luck.
FAQs
What Does It Mean to Have A Red Front Door?
To be precise, "welcome" would be the answer according to all the theories, beliefs, and superstitions it is followed by. A red front door also means positive energy. It is related to being a lucky charm and assumed to bring tenderness and sincerity to the place.
Is It Bad Luck to Have A Red Front Door?
Of course not! Instead, it means good luck if you believe in the signs or the stories and myths about it, and if you do not, red is just a color, a right, a bright dazzling color which is also listed in the list of top-suited colors for a front door. You might not believe but trust us, that red doors are quite an in trend these days. You can check it out for yourself.
Is Red the Right Color for A Front Door?
Having a red front door is quite rare, which will make you unique for choosing it. If used for the front door, the red color carries a dramatic, creative, and playful vibe. So, it will make you stand out and create an eye-catching and striking look.
What Color Is Good Luck for A Front Door?
Red, orange, blue, green, brown or, white colors are considered for being lucky. South-faced doors are astrology based lucky charms. For these colors, being lucky is one point, and being beautiful and most suited for front doors is another in case you are looking out for some well-suited colors for your front door.
What Color Is Red Paint Best for A Front Door?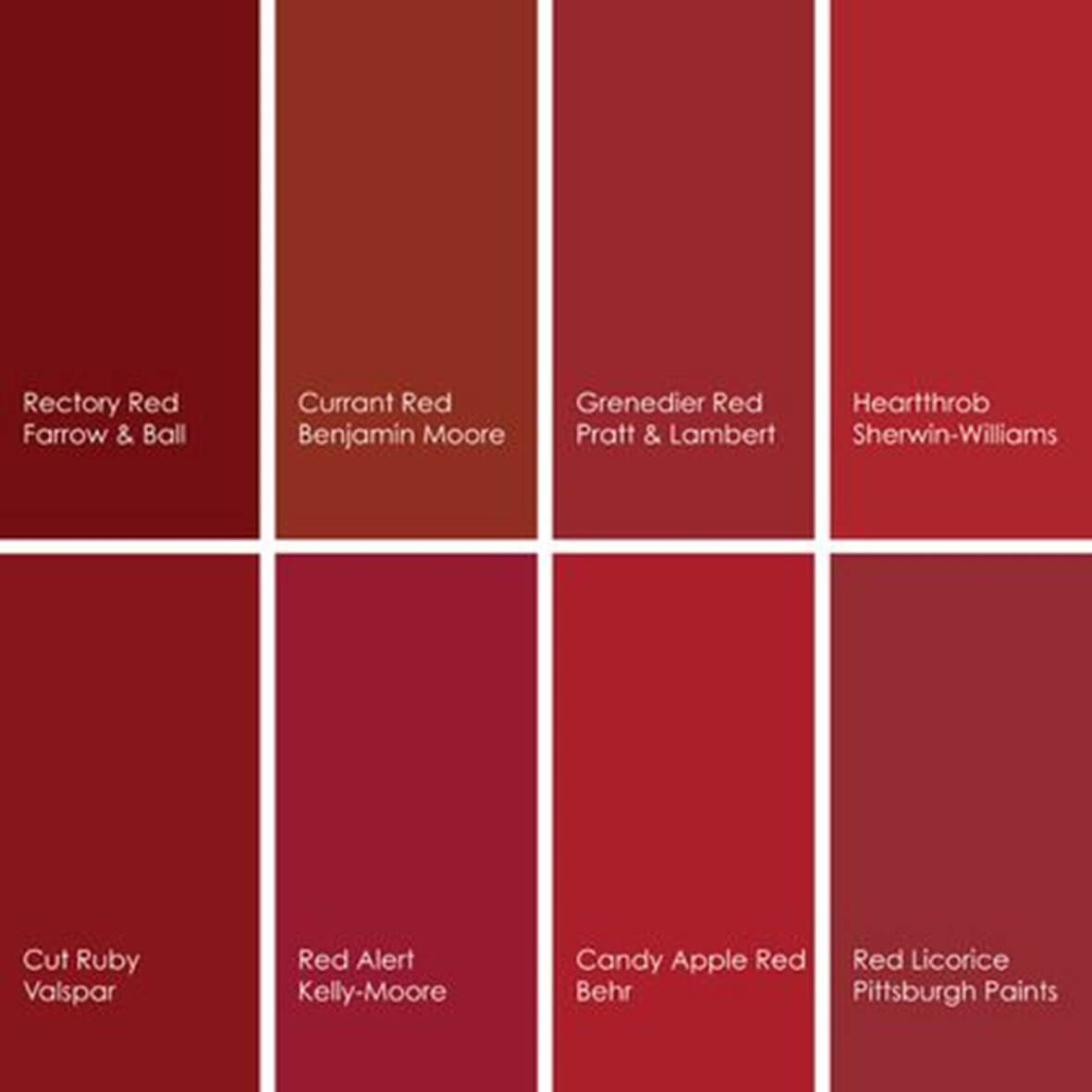 Heritage Red or Classic Burgundy could be a great choice. Supporting walls, plants, fences, or even lamps also play a significant role in deciding your whole house exterior. The quality of the paint also adds to the final outlook of the completed design. So, do not forget to keep that in mind as well.
You can choose one color from this color palette, too, in case it fits the requirement.
Is It Bad If I Paint My Front Door Red?
Not at all! A red front, meaning welcome, gives out positive energy and will prove to be great. If not red, then hardly will any other color make the difference.
What Colors Go with Red Front Doors?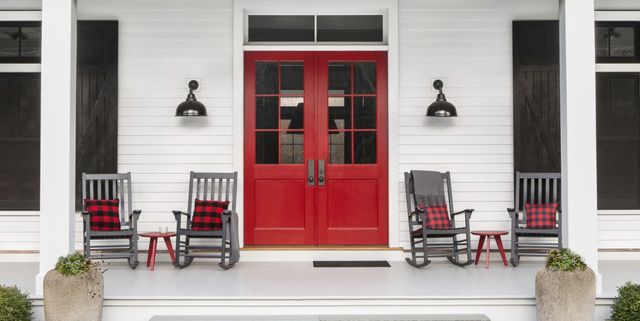 White, Brick-brown, cream, gray, and other warm neutrals look radiant with a red front door. This color palette is commonly followed by people all around with incredible tastes.
DIY Ideas for Red Front Door
Decorative Address Plate
White goes well with Deep red. You can put a white nameplate with it.
Welcome Sticker
Putting minimalist stickers of "hello" or "welcome," which looks good with the door, can be a good option.
Hanging Flower Basket
A flower basket with flowers of a single color or flowers with different colors will look good.
VIVOSUN Hanging Planters for Indoor Plants Self Watering Hanging Basket Flower Plant Pot White, 2...
Two Pots with Different Sizes: Two pots with diameter 10.2" and 8.3" to satisfy your different planting needs
Self-Watering Reservoir: The self-watering pot provides a space for water storage, which helps your plant drink freely; You don't have to worry about...
Well-Selected PP Plastic: The flowerpot is made of reinforced plastic PP, which is no rusting, no peeling, no denting, no fading but eye-catching
Heavy-Duty Chain Hanger: Comes with a 17.7 inch long heavy-duty chain hanger, strong and balanced, ensuring secure support while hanging
Tall Plants
Pots of tall plants having big leaves offer a fresh appearance to the exterior proffering a cheerful vibe about your personality.
A Doormat
Doormats are often ignored as a part of design and decor, which is a big mistake. Monogrammed doormats are in trendy these days and will sell out your exterior decor.
Seasonal Decor
Lights, lamps, flowers, ribbons, or wreaths can be prominent during festive seasons for the aesthetic.
Creative Doorknobs
You can get customized doorknobs or classic ones; any type will mark genuine creativity and make a good impression in front of your guests.
Windows
Choosing the right-sized and right type of window will have most of the work deciding your front exterior's whole appearance or look.
Building and Decorating A Porch
If you have space, you can build a porch, or if you already have one, you can decorate it with flowers, plants, foldable or wooden seating.
In case you like plants and greenery much, you could create a small green section over there, and it will look great. Kids love them so much as they like to spend more time there.