No matter the season or weather outside, you always want to feel warm and cozy when curled up at home. And by saying this, I don't mean that you should buy some extra fur jackets or shawls to cover yourself well. Rather, you should think bigger and change the vibe of your house from cold to warm and fuzzy!
Yes, you read that right! It's high time you convert your home into a place that you would look forward to going to after a long, cold day at work!
If the decor of your home is warming and welcoming, it also makes us feel warm inside too. Your home will exude the aura of coziness, making you want to spend all of your time there. For that, you simply need to decorate it in a way that it would feel homely and cozy. A major role, in that regard, will be played by the right choice of the rug by you!
Your area rug is a focal point that can make or break your living space ambiance. There are many ways to redecorate your home so that it becomes worth living in during the cooler seasons. Some of them are as follows:
Use The Same Shade For The Rug And Pillows
Two home accessories that are sure to alleviate the appearance of any space in your house are your area rug and some pillows. Both of them make the room appear magnificent and well finished when placed in a room.
At the same time, they make the space appear cozier as well. The rule with having pillows on your couch or sofa during the cooler season is simple: have as many as you can manage!
The more pillows you have, the better your guests will feel. Have enough that they may even want to curl up on your sofa and enjoy a warm coffee!
Just like that, a thick area rug right in the middle of the room will bring cozier feelings. However, ensure that your rug's color and shade are similar to that of the cushions. Retro area rugs work pretty well with many cushions lying on the sofas next to them!
Surround The Furniture With Candles
For a dreamy and cozy ambiance, you can fill your room with many candles, which will add much-needed warmth and drama to the living room. You need to ensure safety when you light them, and never leave an open flame unattended.
A rustic rug with a geometric pattern, right in the middle of the living room, will give it an elegant appearance. You can fill the space with a warm glow by lighting up the candles. As they flicker on one side of your living room, they surely give a dreamy flavor to the entire space with beautiful flowers.
Also, it's one of the most cost-effective ways to make your home look gorgeous and warm. You surely won't be burning a hole in your pockets while burning the candles. Yet, the outcome would be stupendous.
Have Warm Lights With Table Lamps
If you have the budget and you are a fan of luxury, you should invest a little in table lamps. Warm light oozing from the table lamps is one of the most sought-after ways of making your living room appear cozy. Use warmer colored bulbs too, instead of white ones, to avoid a harsh brightness.
All you need to do is to look for some table lamps that are colored similar to the rug. If the shades of the lamps complement the color of the rug, it would showcase a great partnership.
Also, it's not a difficult task. If you opt for the rustic color, it would be quite easy for you to find lamps and rugs of similar colors. You surely won't have to check out the market way too extensively.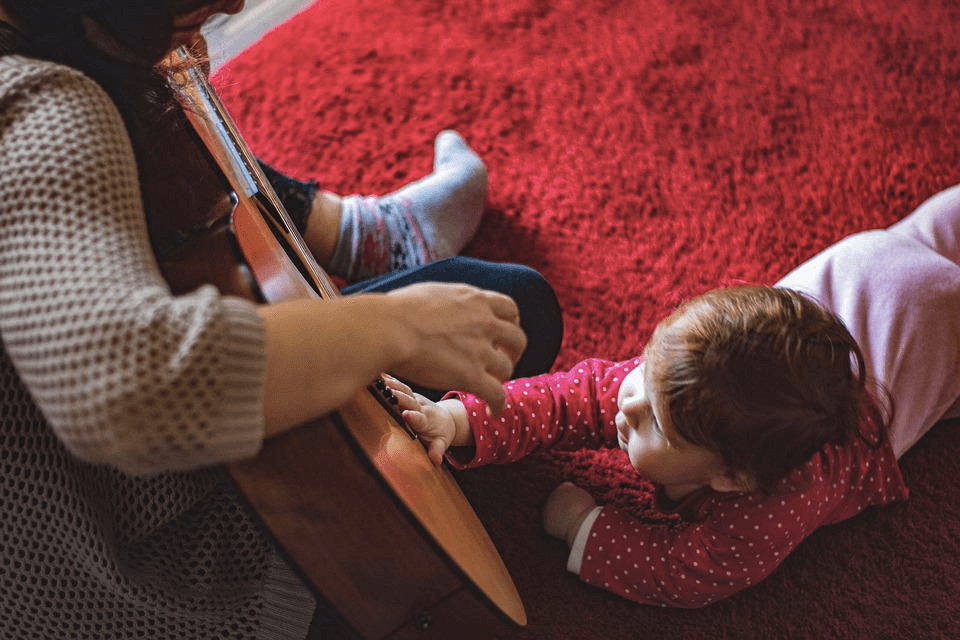 Copyright: Urirenataadrienn on Pixabay I License: CC0 Public Domain
Have Comfy Pieces Of Furniture
Let's get this straight, huge pieces of furniture may look good in the showroom, but when they enter your living room, they start appearing gaudy if not styled well. If you are looking forward to having warmer feelings in your living room, you should avoid huge furniture items at every cost.
Your aesthetic sense may want you to have that pristine 8-seater white couch you had seen at a friend's place and pair it with a large, shabby rug. But depending on your home space, this is something you should avoid if you want a cozy feel. Rather, choose smaller sofas and side tables but add lots of accessories on and around them.
Alongside this, to ensure your living room exudes warm tones, you need to get your hands on a dark-colored rug. Rather than going for vibrant and sharp colors, opt for solids.
Enjoy Your Warm & Cozy Space
Living in a place that is persistently cold is surely a tough job! However, you can make your home livable and cozy simply by following the above-mentioned tips. They will help you stay warm inside the house, even when the weather is chilly outside!