Stir-fry is a popular quick frying method that is best done using a round bottom wok pan. Modern woks are multifunctional, they can be used for deep-frying, stewing, steaming, smoking, and even making popcorn. Today, the best woks are made from carbon steel, stainless steel, cast iron, and cast aluminum with a non-stick coating. Each of these materials has its strengths and weaknesses. Below, our experts have prepared an overview of the most practical and high-quality round bottom woks that you can buy in 2022. Let's check out the top utensils:
1. Yosukata round bottom wok
Material: black or blue carbon steel;
Handle material: New Zealand Beech Wood;
Size: 14 inch (ca. 36 cm);
Price: $61.99–83.99.
This is probably the best carbon steel wok on the market! The best round bottom wok by Yosukata has a low semicircular shape resembling a saucepan, which is very practical for home use and helps to evenly distribute the heat. The typical shape of the body of the round bottom wok and carbon steel material contribute to rapid heating and better temperature control. The inner layer provides high corrosion resistance, is not scratched by metal spatulas and spoons, does not absorb odors and tastes, does not enter into chemical reactions with products, facilitates care, and practically nothing sticks to it. The handle is made of durable wood material, and thanks to a special type of fastening, the round bottom wok remains cool during cooking and does not require the use of oven mitts.
However, like any other carbon steel cookware, this round bottom wok requires pre-seasoning, which allows for the creation of the non-stick layer. Round bottom woks are made for both professional and amateur usage, so everyone will be able to handle them.
2. Lodge wok with 2 handles
Material: cast iron;
Handle material: cast iron;
Size: 14 inch (ca. 36 cm);
Price: $69.95.
This is one of the optimal best round bottom woks in terms of price and quality! Lodge's classic non-enamel cast iron wok is perfect for home cooks looking to buy a versatile and durable utensil. Gourmets around the world value cast iron for its ability to retain heat. The pan has a diameter of 36 cm, while thick rounded walls have a height of 12 cm. Low walls and good thermal conductivity of round bottom woks enable products to fry quickly and evenly at high temperatures. Comfortable handles on both sides of the round bottom wok provide a secure grip. The volume of the pan is 6 liters, so you can cook a dish for 3-4 servings at once. However, the pan weighs more than 4.5 kg, which limits its maneuverability. Tossing up fruits with one hand will definitely not be possible with it.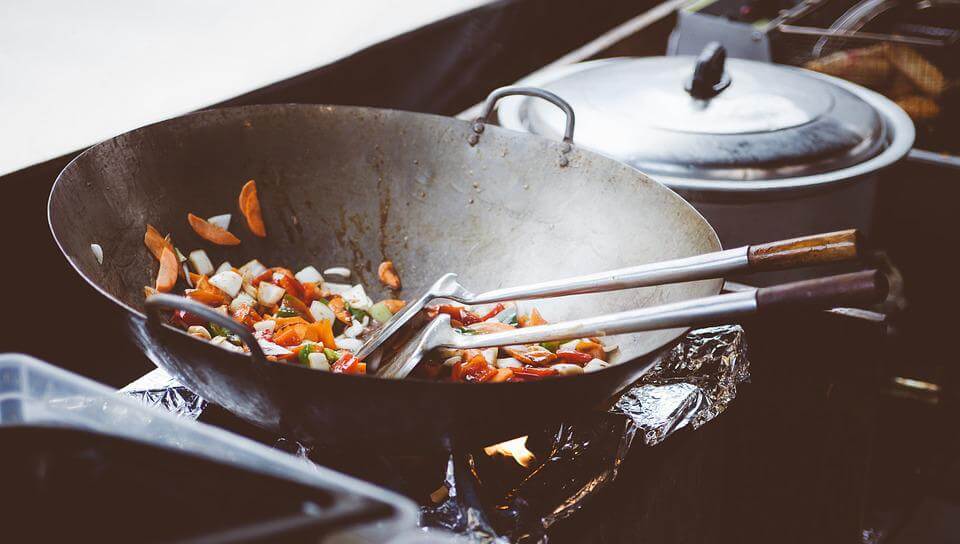 However, the round bottom woks on sale are already prepared for use, the buyer only needs to wash a round bottom wok with a detergent in running water, warm it up on the stove, and then grease it with oil. The package does not include the lid, but it can be purchased separately if needed.
3. Wok with removable handle by AMT Gastroguss
Material: cast aluminum;
Handle material: bakelite;
Size: 11 inch (ca. 28 cm);
Price: $35.
When choosing a budget best round bottom wok, you should not save on quality. The wok from AMT Gastroguss is made of cast aluminum, and the durable non-stick coating with aluminum-titanium oxides meets German quality standards. The advantage of the cookware is that it does not require special care and is stored compactly thanks to the removable handle. For housewives who use the round bottom wok occasionally or are just starting to master Asian cuisine, this is a great option. The lid is not included, but thanks to the standard dimensions of 28 cm, any lid of the AMT Gastroguss brand or any other European manufacturer will fit the wok.
4. Authentic cast iron wok by Staub
Material: cast iron;
Handle material: cast iron;
Size: 12 inch (ca. 30 cm);
Price: $140.
The best round bottom cast iron wok! The enamel surface greatly simplifies the maintenance of the cast-iron wok, without impairing its heat capacity and heat resistance, which allows frying at high temperatures. The modern glass enamel used in the manufacture of Staub cookware retains the unique property of cast iron to accumulate oil particles in its porous structure, forming a patina – a natural non-stick coating of round bottom woks.
A multifunctional and stylish round bottom wok will successfully complement your collection of kitchen utensils for all cuisines. In addition to Asian dishes, you can also cook pilaf, thick soup, stew, use it for frying and steaming on the grill, etc. The volume of 4.4 liters allows you to cook a dish for the whole family of 3-4 people at once. The tight-fitting glass lid is ideal for keeping warm and allowing you to watch the cooking progress. This hammered cookware can be used on all types of stoves, including induction.
5. Cast iron wok by Le Creuset
Material: cast iron;
Handle material: cast iron;
Size: 14 inch (ca. 36 cm);
Price: $289.
The most stylish and the best round bottom wok! The products of the French company Le Creuset have a very attractive design. Geometric handles of round bottom woks slightly raised above the body not only make the profile of the cookware refined and elegant but also facilitate its transportation from the stove to the table. Thanks to such original design features, even a fragile girl can easily handle this round bottom wok weighing 5.3 kg. A cast-iron lid is also included. It adheres tightly to the body, which allows food to remain juicy during cooking and stay hot longer. It is worth noting that Le Creuset's round bottom woks have slightly thinner walls than some other cast-iron models in the same price range. This results in better temperature control.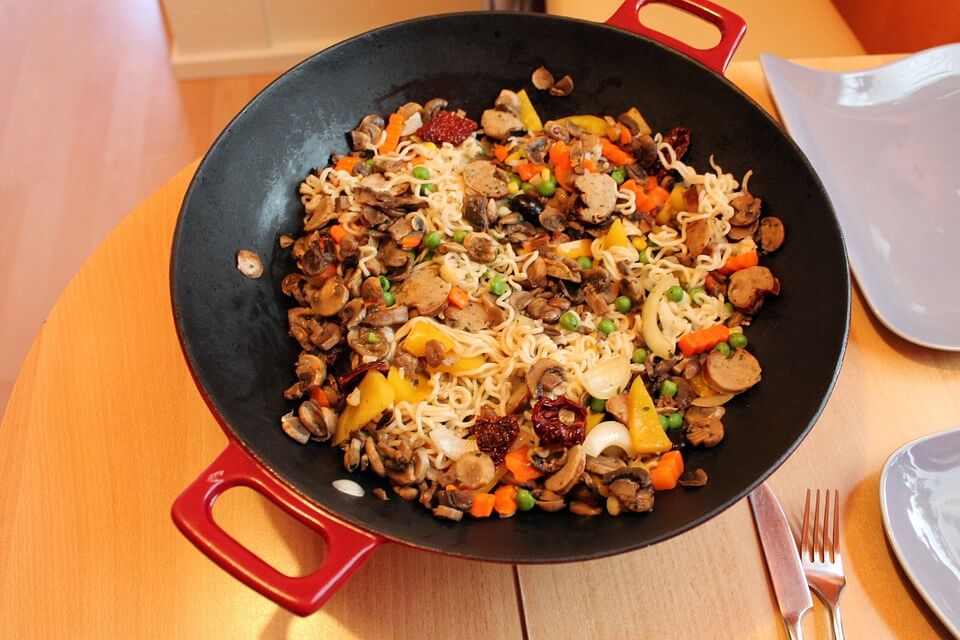 6. Wok 3-Ply by Le Creuset
Material: stainless steel;
Handle material: stainless steel;
Size: 12 inch (ca. 30 cm);
Price: $200.
This is one of the most multifunctional round bottom woks! It combines the best properties of steel and aluminum cookware with a three-layer structure and an aluminum core, which is lighter than steel cookware of the same size and volume. This best round bottom wok is only 3.2 kg, durable, and has an attractive appearance. The hardened non-stick coating is safe for health and provides maximum comfort when frying even with a small amount of oil – the rice will not stick to the surface, eggs will remain tender, and vegetables will retain their bright color and crunchiness. Preheating does not require the use of oil at all, which greatly expands the culinary possibilities.
This is useful and versatile cookware for the kitchen: due to the best round bottom, it can be used as a saucepan, heated up to 220°C in the oven, and can be washed in the dishwasher. The short steel handles require the use of a spatula to stir ingredients, but overall this is a great investment for the one looking for a durable and versatile round bottom wok.
7. Cast Iron Mini Wok Lodge
Material: cast iron;
Handle material: cast iron;
Size: 9 inch (ca. 23 cm);
Price: $23.95.
The best compact wok on the list! A cute little cast iron round bottom wok with a diameter of 23 cm is ideal for batch cooking and serving ready meals to the table. It will also be useful for people who live alone and cook only for themselves. Cookware retains all the best qualities of cast iron – heat capacity and resistance. Two handles make it easy to carry it from stove to table. Just remember to use dry potholders – the handles get very hot, and it's easy to get burned on them!
FAQ
What is a wok pan for?
A round bottom wok pan is versatile cookware that can replace numerous pots, pans, and other kitchen attributes. It can cook a variety of delicious dishes. There are several types of pans, and each buyer can choose the most suitable option for themselves. Round bottom woks differ in material, size, shape, and the presence of additional handles. First, you need to figure out what a round bottom wok pan is and why you need it in the kitchen. This will help you understand how to make the right choice.
What are the main characteristics of the best round bottom wok pan?
The round bottom wok pan has a round shape and is equipped with comfortable handles on the sides. Towards the top, the diameter of the cookware increases. Traditionally, a wok was used to cook over an open fire, and that's what this pan was designed for. In simple words, a wok is a convenient universal kitchen utensil that will definitely come in handy for lovers of tasty and healthy dishes.
What dishes can be cooked in a round bottom wok?
You can simply cook meat and vegetables or noodles in a round bottom wok. You can do this in many ways, choosing the right recipe. The most common is the stir-fry method, that is, fast frying with stirring. At the same time, in round bottom woks, the products retain their color, aroma, and structure. All ingredients should be chopped, and cut into pieces of approximately equal sizes. It is better to cook in small portions so that the food is fried, and not stewed.
How to wash a wok pan?
The most important condition is to wait until the dishes have cooled down and only then proceed to wash. The temperature difference has a bad effect on any material, it is better to wait 10 minutes than to spoil the cookware. You can wash the round bottom wok at a temperature convenient for you using detergent and a soft sponge. After washing, dry it with a paper towel. If round bottom woks are made of cast iron, then you can additionally apply a thin layer of sunflower oil.
How to prepare the wok before use?
Before you cook one of your favorite Chinese dishes in one of the round bottom woks, it must be properly seasoned. To begin with, wash the round bottom wok with detergent, then hold it over high heat, grease it with oil and wipe everything with a paper towel. The last two steps must be repeated until the napkins with which you clean the pan remain clean. And only then can you start cooking.