A cabana is just a tropical resort or hut alongside your pool where you can enjoy a classy evening, entertainment, host parties, and serve drinks. Earlier cabanas were mostly found in hotels, but nowadays, many new homeowners are adapting this unique technique for their homes since it brings out an exquisite feature. Here are the top 19 cabanas that you can have at your house and enjoy a cheerful evening.
Best Cabana Ideas for your Backyard
1. The Southwest Cabana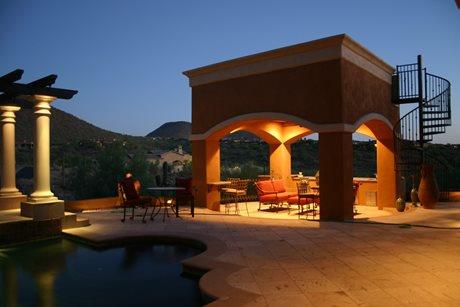 Perfect for all those who have a place in the desert, it provides a makeover to your natural environment. This cabana has iron pillars, a sturdy roof stair on the side going to the top of the roof to give you a full 360° view. It comes with a fully equipped outdoor kitchen with a griller, refrigerator, trash compactor, and multiple drawers.
It has granite texture on the slabs. It also has an open beam pergola running alongside your swimming pool. To bring in the Mediterranean feel, the fireplace is placed outdoor in the form of glass making it simple yet elegant. There are fountains on the side of your swimming pool, the entire structure is made up of Cantera stones and lastly, it also includes a koi pond.
2. Indoor Cabana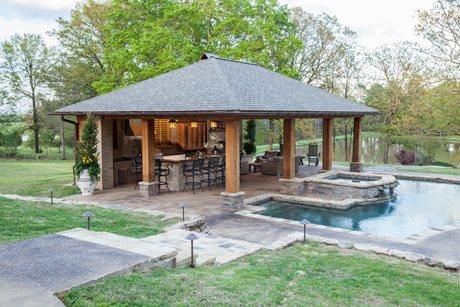 The reason it is called an indoor cabana is that you can have all the indoor comforts in it. This cabana opens from three sides, and you can see a fully loaded outdoor kitchen with stainless steel appliances and a granite texture, a pool, spa, and a fireplace located in the lounge area with comfortable seating.
Its stones and bricks are made up of rustic material, which gives it a smooth finish. It is perfect for a grown family. The roof of this cabana is strong enough not to let the rain come in, protect you from the sun, and provide warmth in winters.
3. Sports Bar Cabana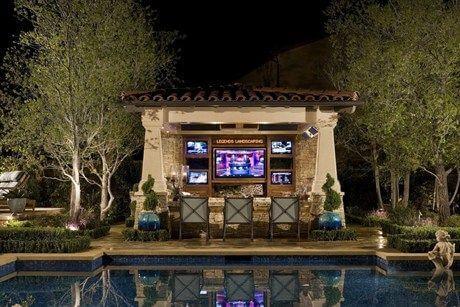 This cabana is for all the sports fans out there. It is a perfect source of entertainment, an excuse to host parties every day and be with your friends and family. It showcases an outdoor sports bar with multiple screens, a high-end sound system, and an electronic tape so that you never miss a show.
The outdoor kitchen is covered with a solid roof so that it is protected from sun and rain. It also includes a pool, spa, and fire pit. It uses a wood texture and granite textiles. It also includes a dining patio, lounge, and fountains alongside the pool.
4. Hurricane-Proof Cabana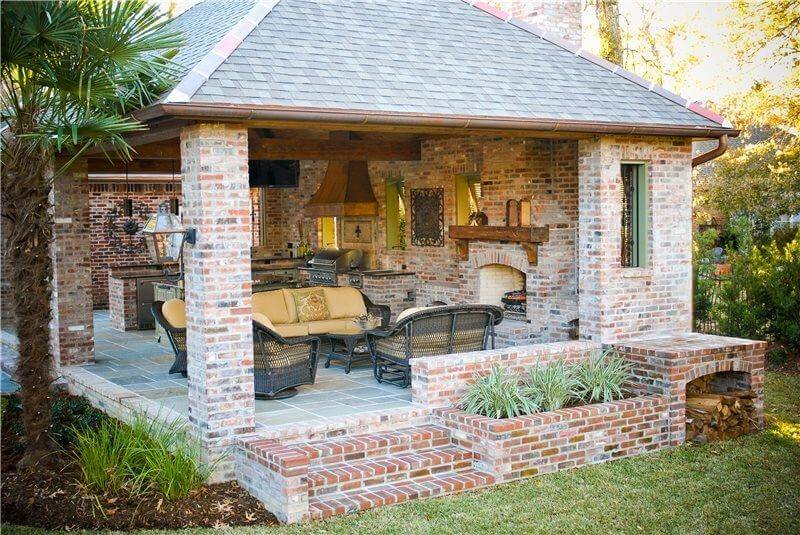 This cabana includes an outdoor kitchen that is made to survive hurricanes or any other impact that can destroy your evening. There is a fireplace built in the right next to the pool to give your evening a beautiful gesture.
The roof was made sturdy enough to tolerate heavy rainfall, protect you from the sun, and the appliances in the kitchen were made hurricane-safe and absorb moisture.
5. Harbor-View Cabana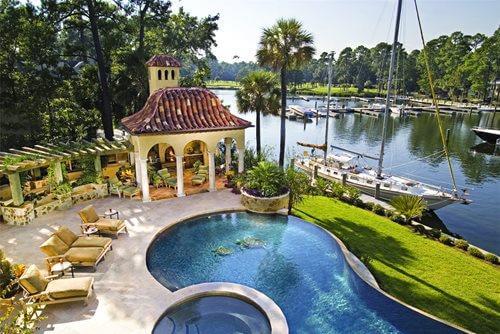 If your house is on an island, then this cabana is for you. It includes extensive landscape plantings, a cutting garden, and a private swimming pool.
It provides outdoor seating, under vine greenery. Outdoor kitchen, fireplace, built-in grill, and food prep surfaces are also included. Large date palm trees and Sabal palmetto trees have been added to give it a lush feeling.
6. Poolside Cabana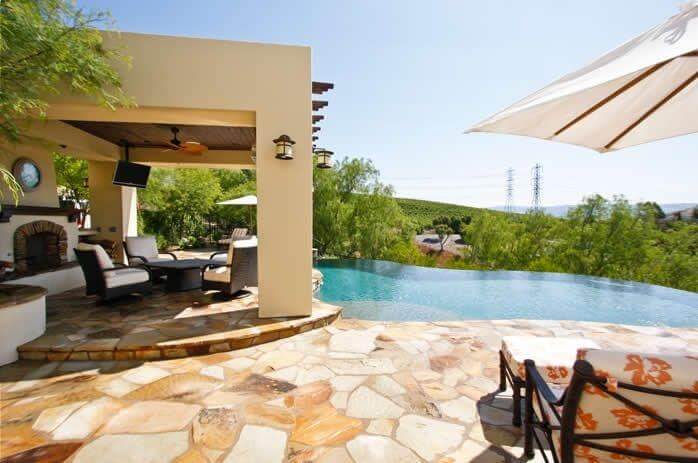 This cabana is for those parents who just want a relaxing evening, and it includes an outdoor seating under the roof of the cabana where the parents can relax while their kids are off to play in the pool.
It includes a fireplace and television adjacent to the pool so that you can keep an eye on them too. The seating is very comfortable and deep, and it also includes a ceiling fan.
7. Swim-up Cabana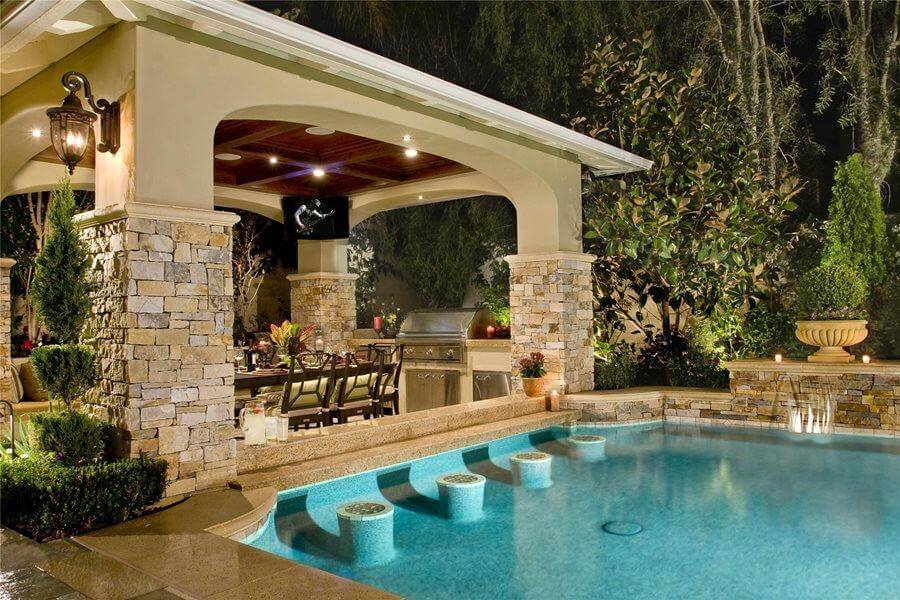 The fun way to enter this cabana is by swimming. The four in-pool barstools allow you to swim upright to the edge of a cabana and grab some drinks and snacks.
It can be used both day and night. At night, the lightning emerges from beneath and all around the cabana. It also includes a grill, television, and a dining table.
8. Nature-themed Cabana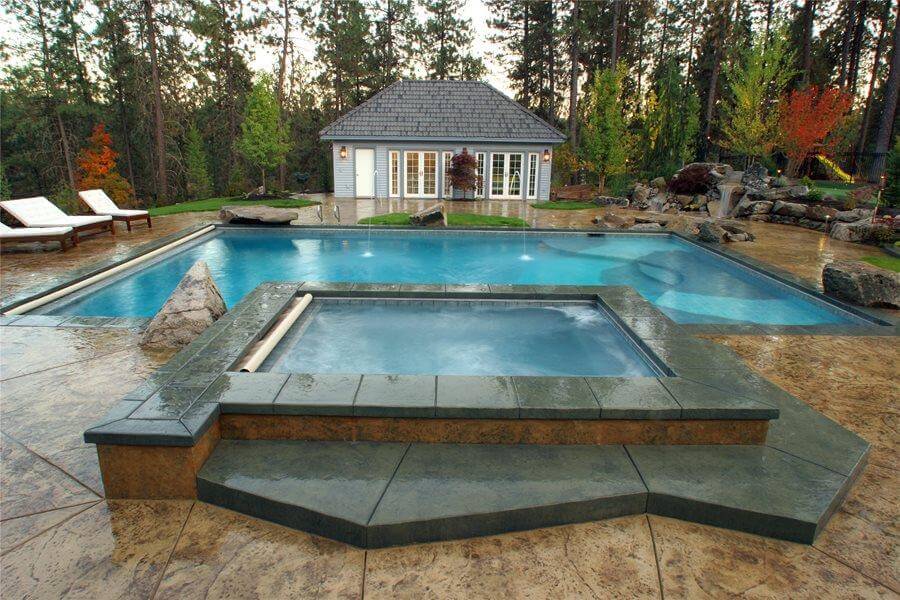 Does your house have Northwestern and traditional styles, and you want to include something exciting in your backyard? Well, this cabana is right for you
It includes a pool, spa, natural stone fountain, fire pit with comfortable seating. On one side of the pool are a gaming room, kitchen, and guest room, whereas on the other side is a fire pit. 
9. Backyard Bar Cabana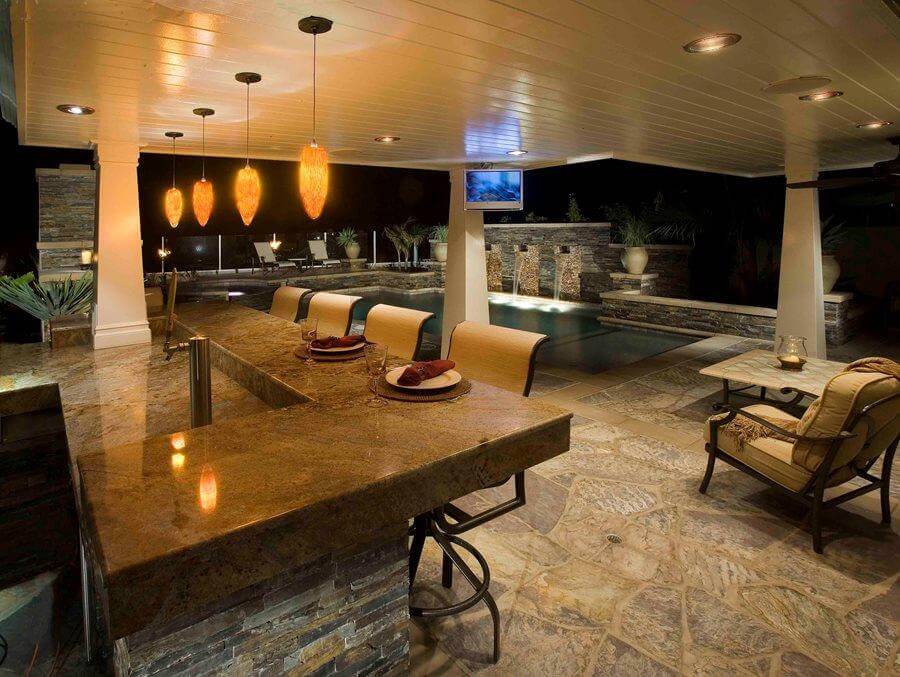 This cabana can be called the luxurious party spot of your house. It has a split-level bar with plenty of seating and a built-in beer keg and tap.
It is the perfect place to serve your fresh cold brew and hang out with your friends. It also has a pool with fountains, a screen to watch sports or any other thing and beautiful accessories.
10. Fireplace Cabana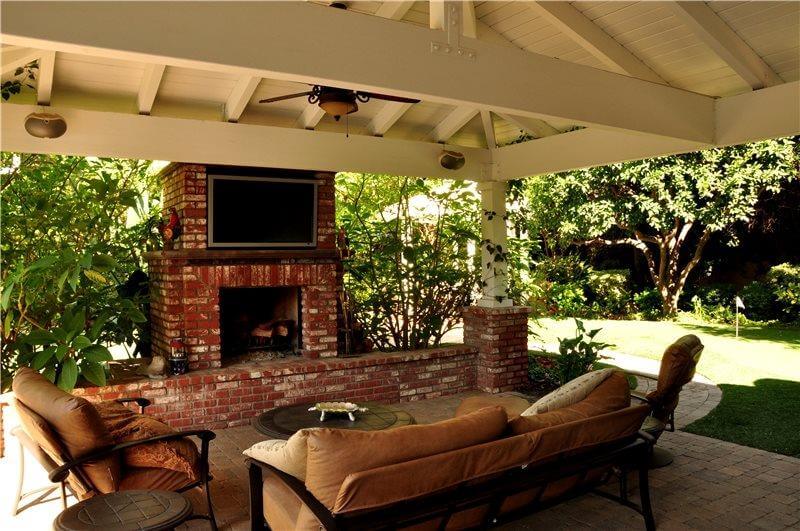 This cabana is built-in the center of the fireplace on a large brick wall with a television above it. The trees aside, the wall let the soft and thin air pass through while keeping the cabana private. It also has to put on the side of the cabana when someone wants to practice a bit.
11. Traditional Cabana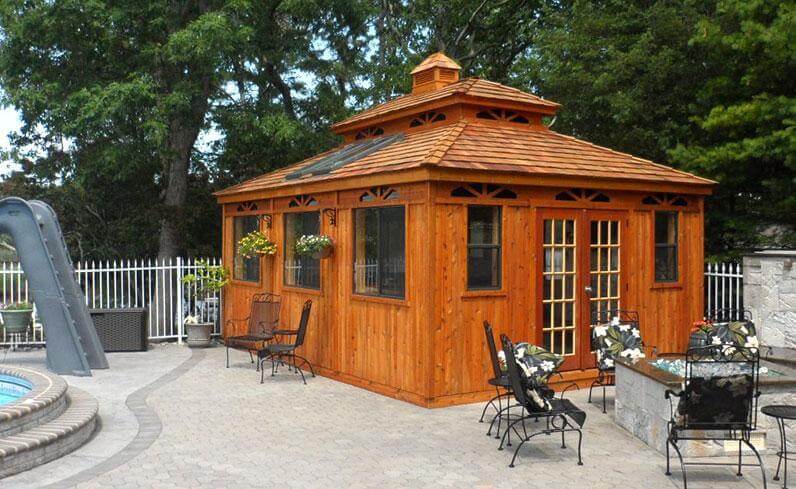 Do you want a touch of traditional for your cabana? This cabana includes a classic pool house, privacy, shade along with a classy feel to it. It's built-in a rectangular shape and tall. It has beautiful outdoor seating and a slide for the pool so that kids can have some extra fun.
12. Gazebo-Style Cabana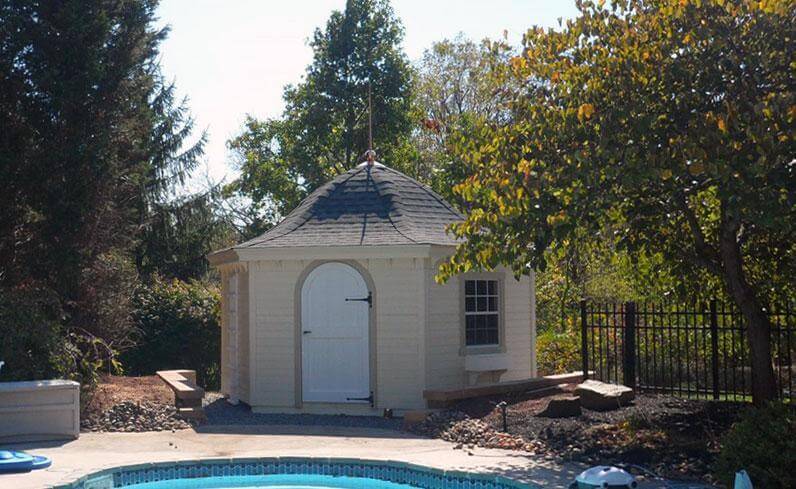 This cabana is shaped exactly like a gazebo. They might seem small, but they provide a warm and comfortable environment. It is built alongside a pool, and when you and your kids are done playing in the swimming pool, you can come up and enjoy sitting in the cabana. It also includes a fire pit.
13. Semi-Open Cabana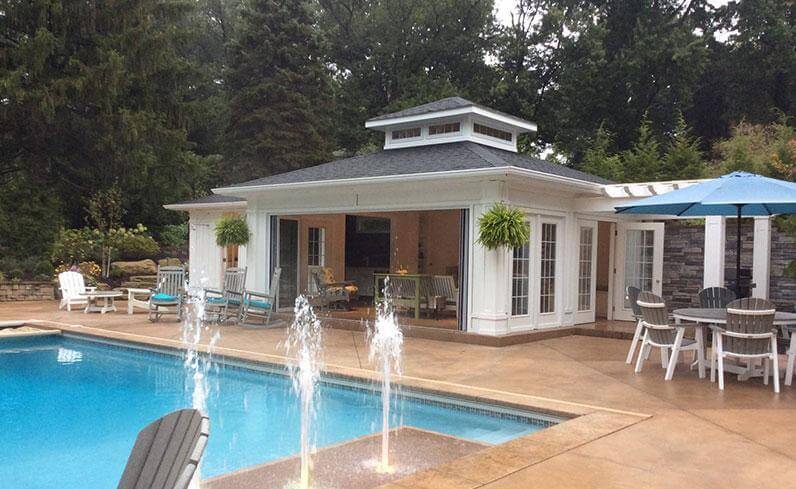 This cabana combines two cabanas, a traditional cabana, and a pavilion. It is semi-open so that you can enjoy watching the fountain show off your pool. But it also protects you from heavy rainfall and sun. It has both outdoor and indoor seating. And is quite classy yet elegant.
14. Garden Show Cabana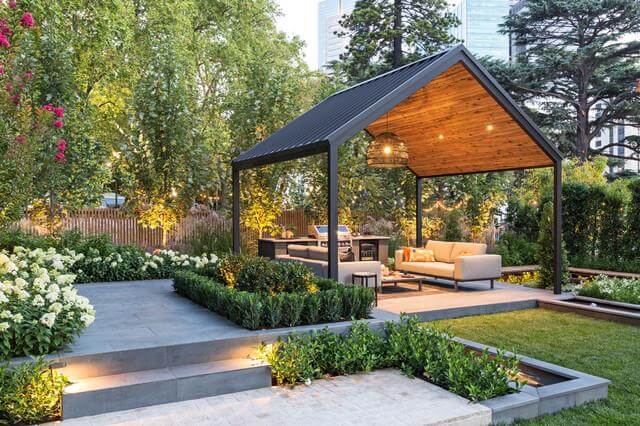 Are you the one who loves flowers and want too much of them? This cabana has a contemporary patio with an outdoor kitchen. It also has a concrete slab and timber feature.
It has a slower show all over the cabana when you enter this cabana, and it looks very luscious and beautiful, the details are astonishing.
15. Stone Cabana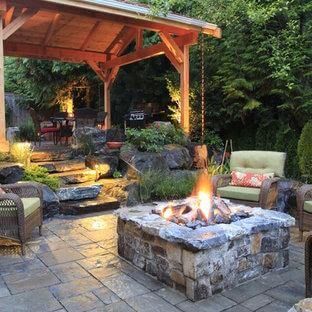 This cabana is suitable for a mid-sized backyard patio and comes with a fire feature. The fire pit in this cabana is the central image as it is made out of the same stone, which is used for the steps.
 It has both indoor and outdoor seating, and the fire pit is located in the open. The steps have lights at the edges of it. It includes a griller and lush trees to give it a natural look.
16. Open Cabana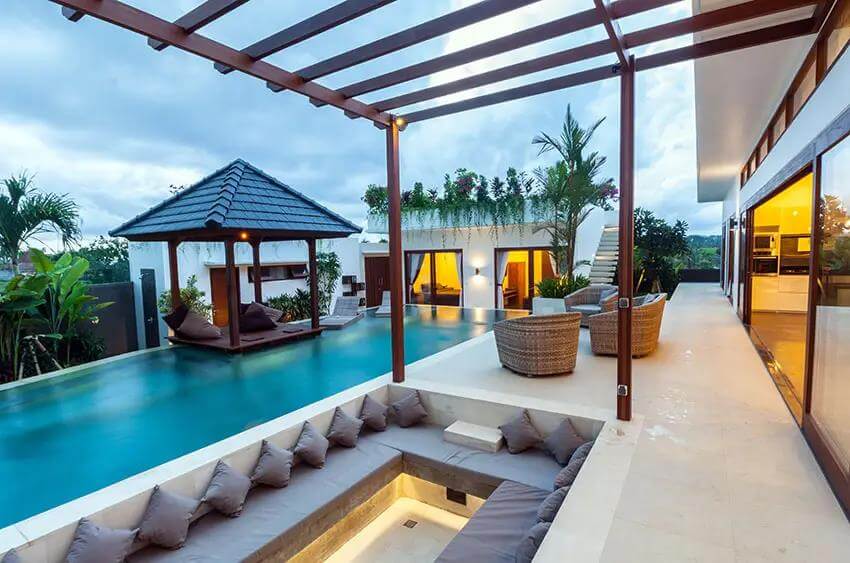 This cabana is built on the ledge of the pool and is open. There are four open walls for ventilation, it also has a place to sit and relax on the floor, and underneath it are white lights to give it a mild yet beautiful look.
It also has rattan chairs giving it a natural look. The cabana has a solid roof to protect you from rain and the sun.
17. Asian-Themed Cabana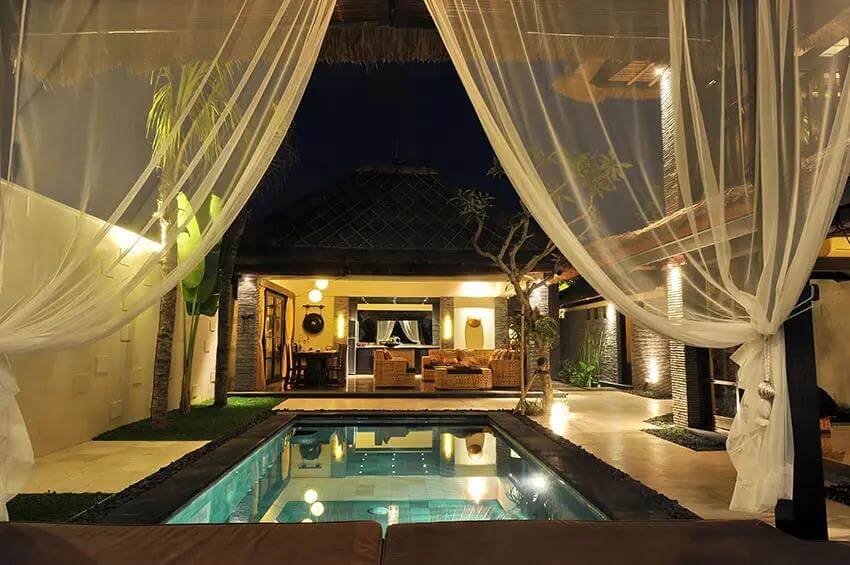 This pool cabana is Asian-themed; it overlooks the full view of the pool and the dining area. The rattan chairs are used in this cabana to create a more creative look.
The cabana has drapes attached to it for your privacy. The trees and pillars are put on the side to give it an elegant feel and the white lights.
18. Tropical Cabana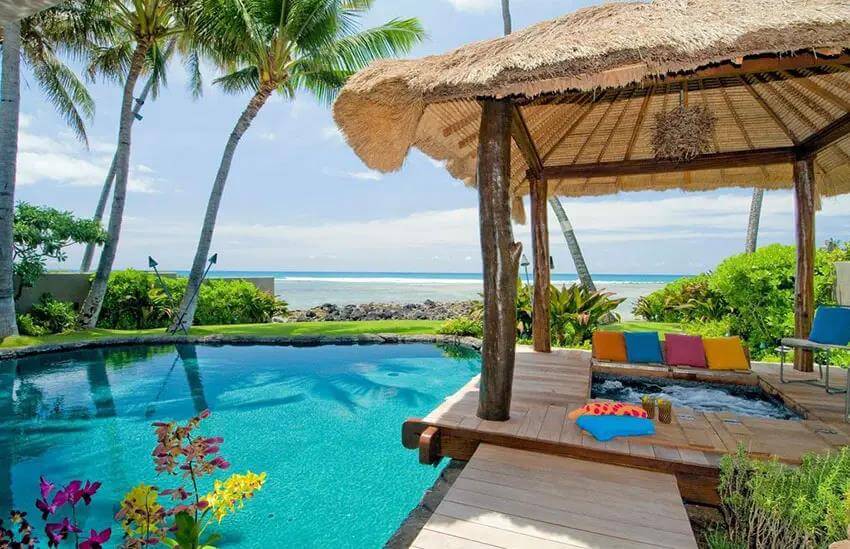 This cabana gives you a proper tropical feel. The cabana is made out of woven straws. Apart from the pool, it also includes a whirlpool bath, if you want you can include a hot tub or jacuzzi instead of that. This cabana has wooden floors and wood posts giving it a proper tropical feel.
19. Cabana for Big Backyard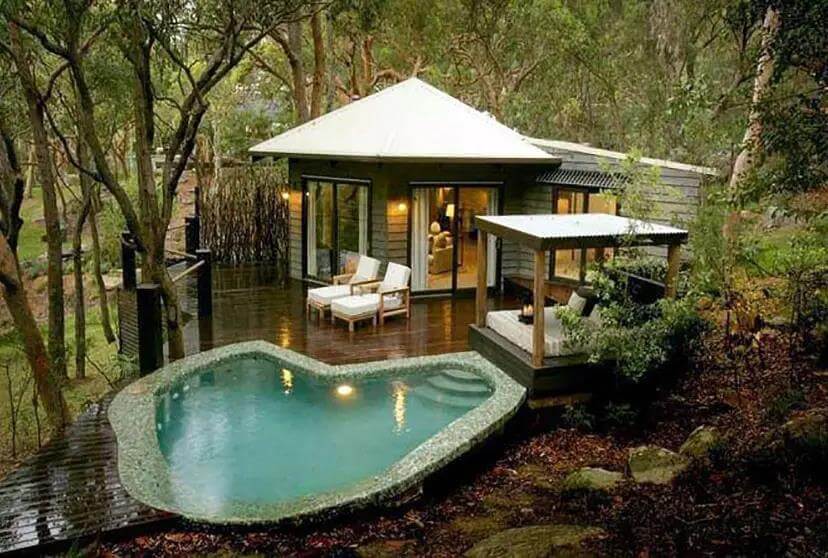 If your backyard is significant, then this cabana is the best for you. You can call this cabana as a guest house too. It includes a pool, wooden raised floorings, a flat roof, a cabana, and a small guest house. It fits well with your natural environment.
It also has comfortable seating and a proper guest house for when you want to chill apart from your home for a relaxed night.
Conclusion
These 19 cabana ideas are perfect for any type of backyard. It has cabanas for families, luxurious cabanas, private cabanas, and it includes all types of styles which you can choose accordingly. What are you waiting for? Renovate your backyard into something exciting now!