Knock! Knock!
Who's there?
Holiday.
Holiday Who?
Holiday Season.
The Aussie Holiday Season is knocking at your doors. What are you going to do? Welcome it with open arms. Well, Of course! But before that make your home welcoming and warm with holiday decor for this holiday season.
As soon as November starts, people get excited about the festive season and kick off some indoor decor. From decorated dining, shimmering lights to the Christmas tree; it all starts with ideas. And the epitome is you can expand your creative boundaries far beyond the new year.
These ideas can be based on the availability of supply. Narrow all the supplies you'll need to bring all your ideas to life. For instance, since plenty of indoor décor includes flowers, reach out to your florist and confirm whether they have the flowers you need.
According to an expert Auckland florist or a professional near you, knowing the flowers in season will help create ideas and themes around them. If you're considering getting your supplies online, place the order in advance to ensure that your packages arrive on time. This will help avoid getting your supplies delivered late, leaving you less time to prepare your décor.
We have Santa's bag full of the best Indoor Decor ideas for you. Let's hang lights together. Shall we?
Snowflake Theme custom Ornament
There are many holidays in winter, but Christmas is always one of the most anticipated holidays for most people. The most festive pattern in this season is the snowflake pattern. And custom snowflake pattern ornaments can make your decoration even more unique. If you are a shop owner, these beautiful interior snowflake decorations will attract a lot of customers for you. You can customize these beautiful and unique custom decorations on the professional website of GS-JJ & CustomSticker.
1. Snowflake Custom Die Cut Stickers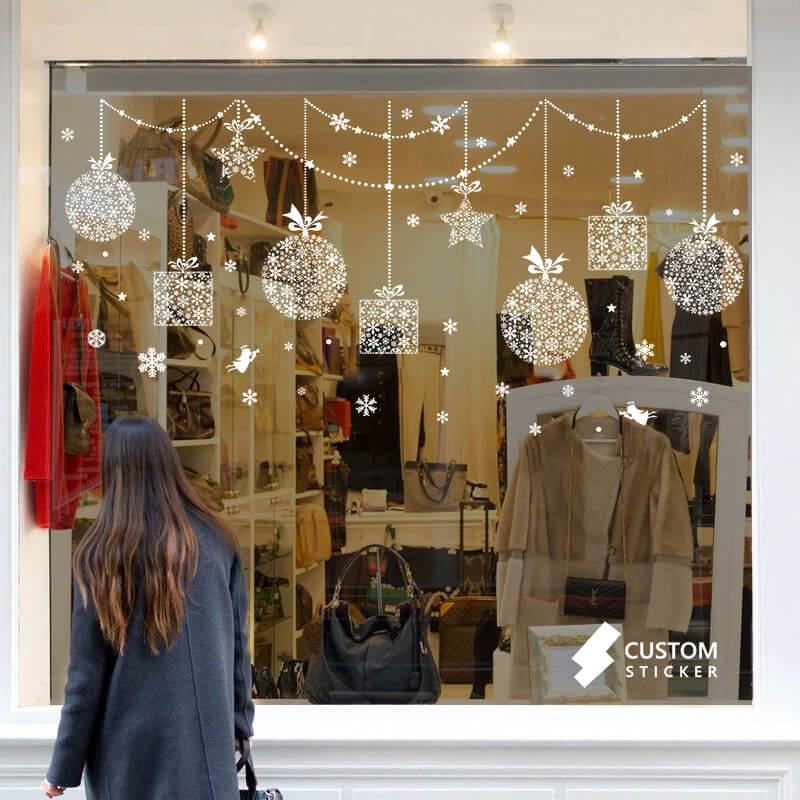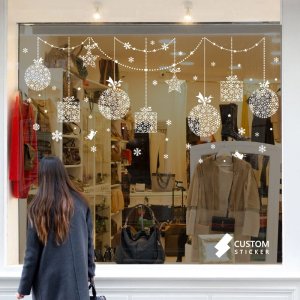 The most comfortable thing in the winter holiday season is to enjoy the snow scene outside the window at home. Why not consider keeping snowflakes on your windows forever? You can use Snowflake custom die cut stickers. Put these stickers on your windows to create a cozy atmosphere, and you can also style your snowflakes, or design your own shop's unique pattern into it.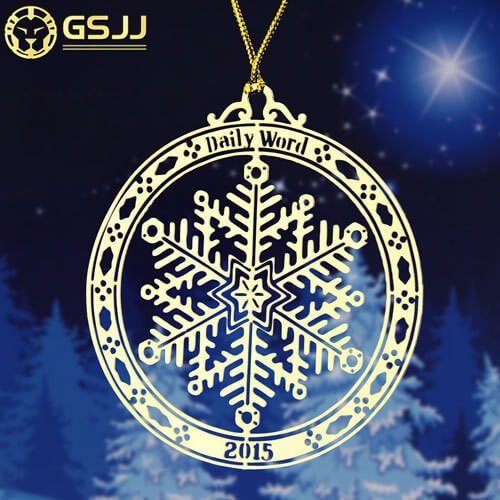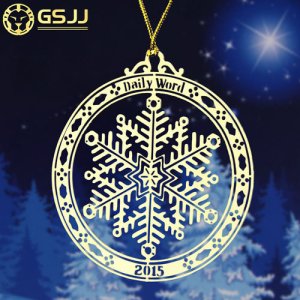 Holidays need metallic shiny colors for embellishment, which will make the decoration more gorgeous and colorful. You can join your favorite elements like the best wishes for next year. You can hang them on trees, or by windows, or give them to customers as bookmarks. These trims are all metal and can be reused.
Garlands and Wreaths
Hands down the most common and beautiful decor for the holiday season are garlands and wreaths. They are easily found in holiday markets and they can be DIY too. The beauty of these pieces is that they are very versatile and are part of nature. You can hang garland down the staircase railings, on the fireplace, doorway, etc. Similarly, wreaths go on top of the fireplace, on doors, they can be also hung as chandeliers, and on windows.
Garlands and Wreaths can be made with lights, beads, flowers, fall leaves, ribbon, jute, and different ornaments. You can also drape garlands around lights and on windows. It doesn't necessarily have to be over the top, it can be basic as well.
Tree
From Thanksgiving to New Year a tree is customary. If you think that having a tree is a very traditional idea and there's nothing unique about it. Pause. Have you tried 'companion trees'?
'Companion trees' are about clustering more than one tree in a room. All trees are of different heights and decorated with ornaments. Another trick is to put a tree in every room of your house to bring festive cheer to every room. They can be of any size you want, but conceptually small trees fit well in small rooms. Some interior designers like the idea of using a planter as a stand for Christmas trees. How do you like this idea?
Moreover, decorating the trees is a task of its own. You can decorate your tree around a color theme like red or white. Or you can decorate your tree to tell a story from the passing year. Shining stars, ice balls, Santa's sacks, lights, candies, heirlooms, etc are basic and affordable ornaments to decorate a beautiful tree. Throw some gifts under the tree for festive vibes.
Pictures Over the Year
The best way to relive the year is through pictures. You can make a garland from pictures, create a mantel or create a whole gallery wall. Get canvas prints of pictures from throughout the year and create a meaningful and celestial gallery wall.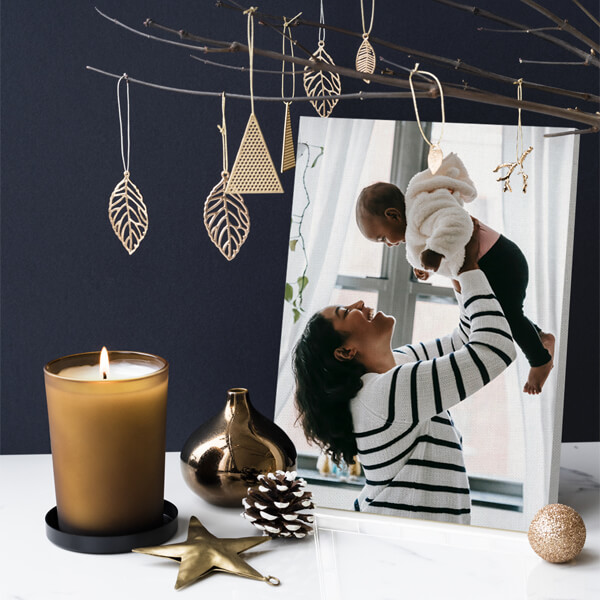 Canvaspop has custom handmade canvas prints, so you can choose the canvas's color, size, and edges. It'll give you freedom for creativity. You can choose the color of canvas prints According to your color theme.
If you're going for a minimalist look, consider using print hangers. Here you can display art prints without a frame, which creates a sleek design. For a more creative approach, consider stringing them up.
You can place strips along your walls and then use clothespins to pin the prints in different locations based on your preference. For the extra ambiance, use string lights as opposed to normal strings. These methods allow you to swipe photos whenever you deem fit.
For numerous photos, consider arranging your photos into a grid. All you need to get an excellent outcome is a ruler that keeps your grid clean and consistent. Experiment with angles and spacing for a more creative display.
Fireplace and Mantel
As soon as nights start cooling down, fireplaces get their flame back. But, a fireplace doesn't have to be boring, it should have its own spark both in a literal and decorative sense. Decorate your fireplace with garland, wreaths, candles, canvases, DIY decors, and everything that winter has to offer. The holiday season is also famous for mantels. A mantel is easy to create, you'll have to add layers and textures to it.
More things that go with fireplace and mantel decorations are vases and bowls. Like vases filled with seasonal flowers, or decorative flowers, leaves, berry twigs, etc. Bowls of pine cones, apricots, dry fruits, candies, chocolate, give welcoming vibes to the decor. You can also put a loaf of bread and wood on the mantel; simple.
Layers, Textures, and Warmth
The holiday season is about maximalism. So, why hold back from layering? Layering will give a room an interesting look that makes it come alive, giving it different points of interest. Throw some pillows, cushions, and blankets on the sofa. This will fulfill the concept of layering, texturing, and warmth. Warmer color tones like orange, red, mustard, etc., go well with holiday decor. Choose a warm color theme for this season and decor around it.
Talking for themes, rustic, metallic, celestial, farmhouse-like themes are holiday favorites.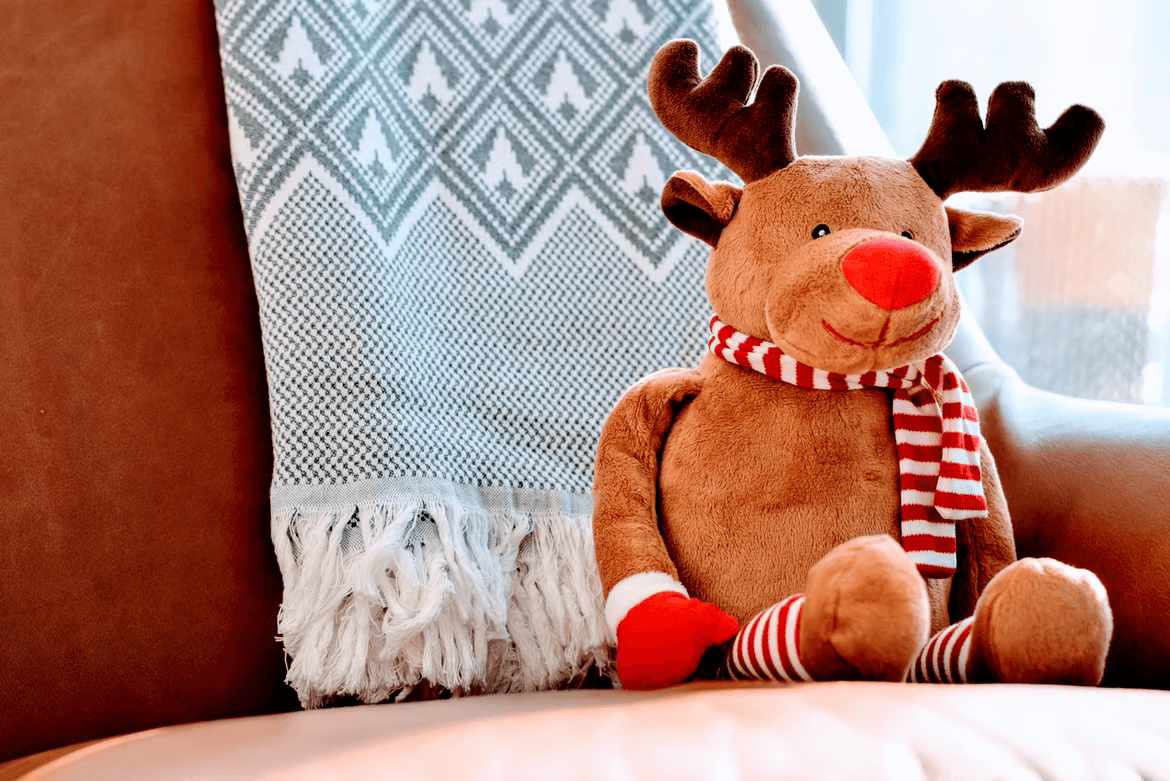 Presentable Table
Whether it's a dining table or coffee table it should be presentable and welcoming. For decorating a dining table you have to consider space carefully because you need space for enjoying food as well. So, be minimal yet practical. Decorate your dining table with candles, metallic shining crockery, or mud pots, wine glasses, and of course warm food. Hung a beautiful chandelier over Dining.
For a coffee table or living room table, you can use some books, a decorative tray with bowls of candies, a coffee bowl, a coffee mug, vases, a crochet table top piece, candles, etc. Isn't that efficient and effective?
Guest Friendly Theme
This season is about friends and family. And with your close one coming to meet you, you need to decorate your space accordingly. You have to create a welcoming, comfy, and cozy environment.
Fur throw at sofa or bed, books, scented candles, flower vases, meaningful notes, mesmerizing lights, welcoming front door with a wreath, these all can bring warmth and comfort for your guests. Don't forget about good food, hot chocolate, and a warm coffee!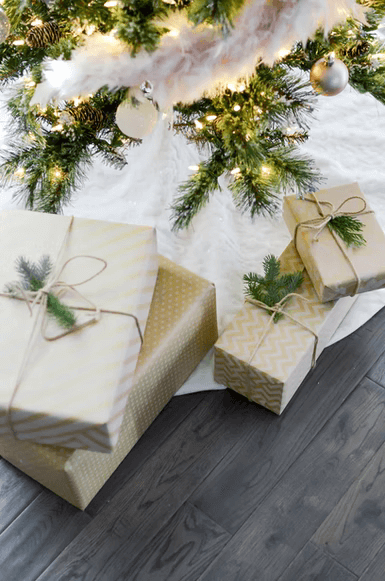 Incorporate Natural and Handmade Stuff
Bring nature indoors, not just with trees, but flowers, twigs, fallen colorful leaves, wood, jute, etc. Decorate your home with greenery; from garlands to a mantel, you can fabricate so much. You can crochet tabletops, handmade table runners, Santa's socks, stuffed cute toys, vase covers, pumpkins, gnomes, etc.
Handmade options are endless from knitted tree skirts to a handmade snowman. And the best part is handmade stuff can be incorporated into any space; from the living room to the guest bedroom.
Talking of a handmade snowman or Santa clause? You can make anything and put your art to showcase.
Besides, if you want to keep it minimalist; keep it minimalist. Stick to a theme and color combination. But, no restrictions to experiments.
Lastly, have a happy holiday!