A propane refrigerator is different from an electric refrigerator because it uses a propane tank to function. Unlike electric refrigerators, these include a network of tubes and chambers having water, ammonia, and hydrogen gas, which get heated up through a propane flame and then cool down with the help of a condenser.
These are best to buy for an off-grid environment, reliability, energy-saving, preserves food for a long period of time. The fuel required for this refrigerator is also readily available and easy to store, being the best refrigerator than an electric one.
Propane gases like LPG are energy efficient and will save lots of money on those expensive electricity bills.  Not just food, you can also keep your drinks and cheese in the fridge too, it works the same as a normal refrigerator does. There are not any high complications or techniques used in propane refrigerators.
Before you go on buying the best propane refrigerator for your home, it is best to go through the essential factors that should be checked while buying. Only reading the reviews or going after the Brands or asking your friends for the suggestion of buying a Propane refrigerator is not enough.
Let us look at some of the best Propane Refrigerators that you can buy at an affordable price and keep your food fresh for a long period of time –
7 Best Propane Refrigerators
Norcold Portable Refrigerator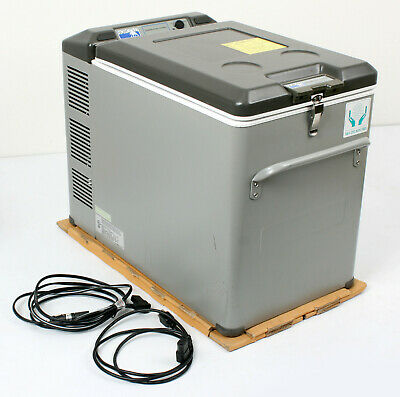 This portable refrigerator can be used in your RVs, car, truck, or even at camping. It contains a 2-in-1 freezer and refrigerator which you can operate electronically through a control panel for setting the correct temperature for your food or drinks.
It also comes with a DC cord, with a cigarette lighter plug, and for some people, an AC adapter is also available, but it is optional. The exterior part of this model is of corrosion-proof plastic and durable, the fridge is supported with tough and removable handles and a removable or reversible hinged lid.
The interior part of this fridge contains a wire basket that can hold up to 12-oz cans, it is easy to clean and store your food/drink, it is made up of stainless steel, apart from that it also has a little side place to keep anything else. It measures 15.6 inches in height, 22 inches in width, and 15.7 inches in depth. 
With the help of an indicator light, you can get to know if there is any fault in its installation, not only this, but the fridge also includes an airtight compressor with built-in low voltage protection, to protect your fridge at every step.
Lastly, it also has a battery protection set to three settable levels so that your fridge's battery never drains out and turns on when the voltage comes.
Danby Compact Refrigerator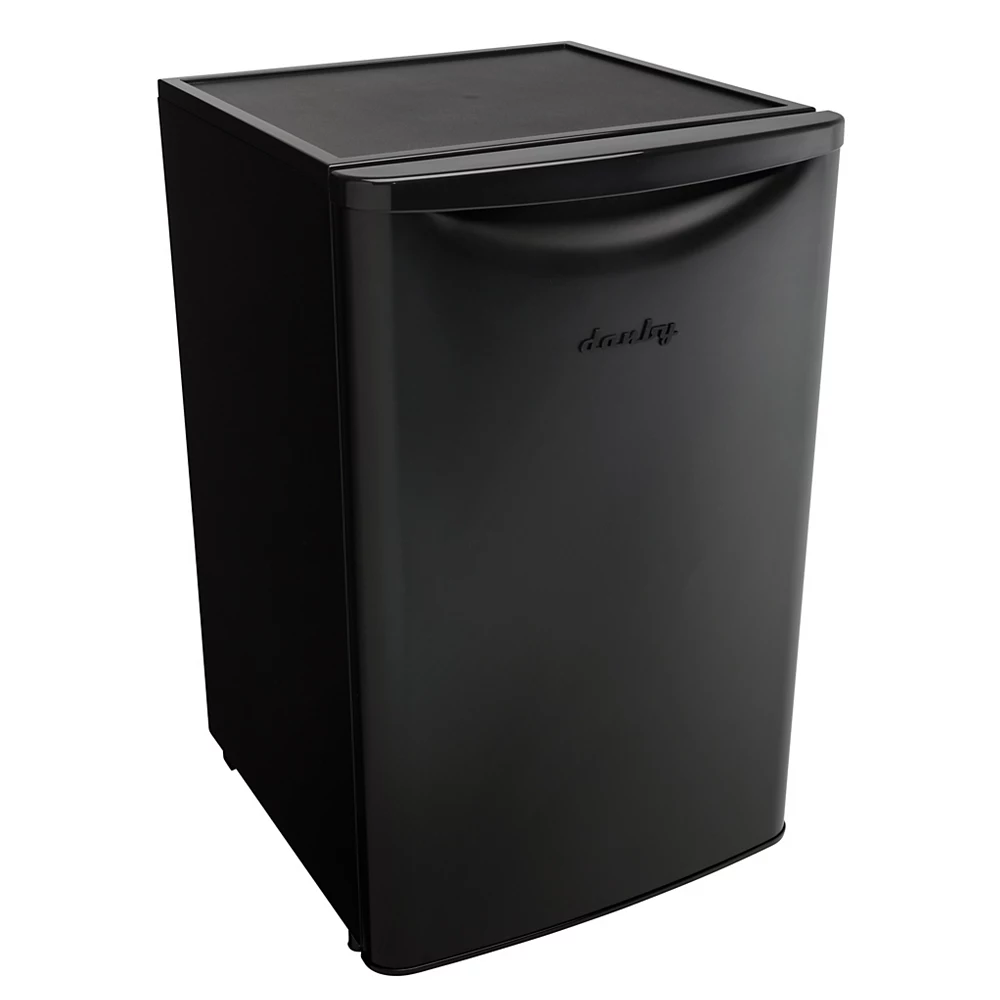 Available in Black, Stainless Steel, and White colors, the Danby Refrigerator including a freezer is best suitable for apartments, basements, cottages, or offices. This mini fridge is 4.7 cubic feet with a 3.14 cubic feet fridge and 1.5 cubic feet freezer, its freezer is separated from the main fridge, which means you can operate it differently, making this the main point of attraction of this fridge. 
You can easily store the longest bottles of juices, cold drinks, etc. on its door shelves, and keep your vegetables crispy and fresh on the vegetable shelf. The exterior of this model is Black Stainless Steel, or White, whatever color you want to choose, is a mini fridge with a separate freezer, for all those who wished for both items in a small fridge.
It has reversible door hinges so that you can place this anywhere you want in your room. It also has an Energy Star which proves that it is energy efficient and uses R600a refrigerant that is environment friendly.
The interior of this fridge is white with 4 shelves including 2 full-width adjustable shelves, one drawer with a glass cover to keep your vegetables crisp and fruits fresh. It operates on a mechanical thermostat and has a handy manual defrost system so that you do not have to complicate other items when it is time to defrost.
Smeta Electric Absorption Refrigerator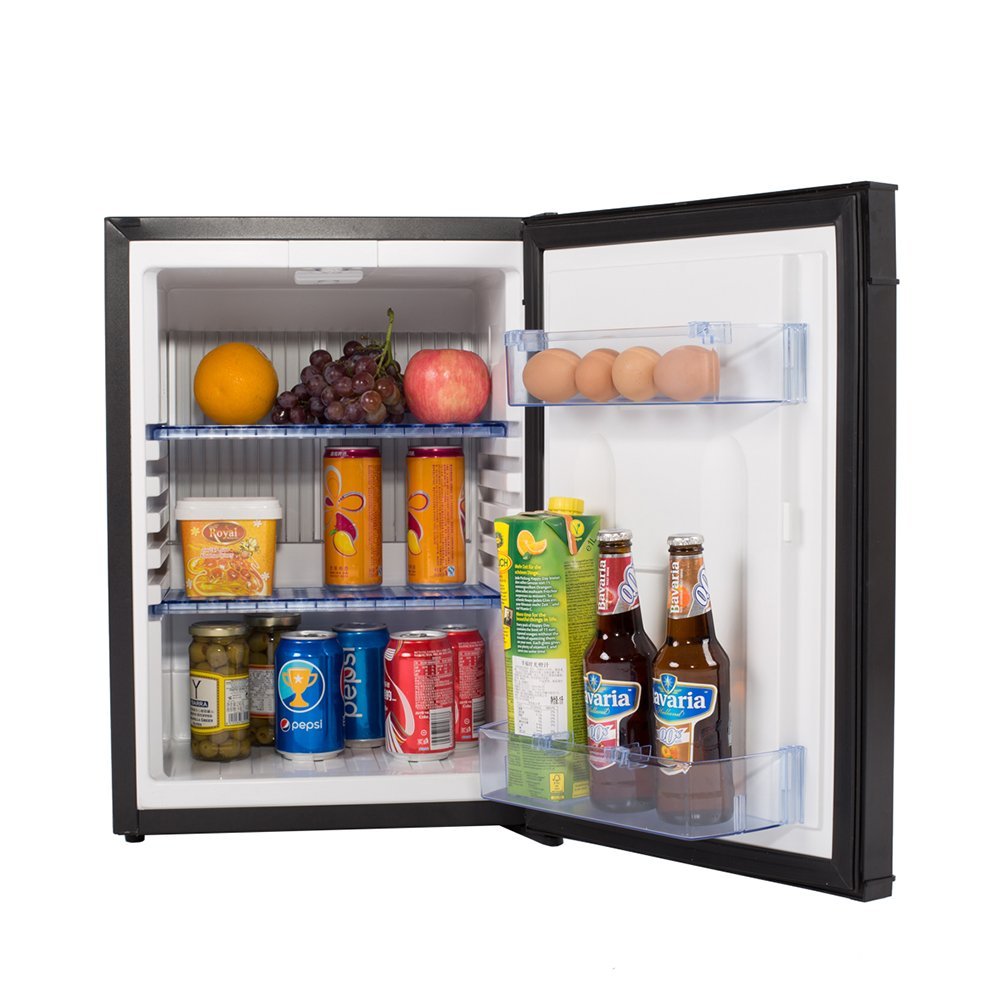 This is a stand-alone model with two compartments, the down one for the fridge, and the upper for the freezer. The fridge measures 23.6 inches in length, 25.6 inches in width, and 57.5 inches in height, and has a capacity of 6.1 cubic feet.
The temperature for both the fridge and freezer is set, it does not go up or down more than that, for the fridge, the temperature goes about 32-50° F, and for the freezer 3.2° F.
The fridge functions on either a propane gas or 110 volts, both being suitable and affordable even at places with minimum electricity.
This fridge does not require a compressor, it adapts itself to an absorption cooling system making it environmental-friendly, and highly efficient. Because of this, the fridge also cancels on the noise others might make and has a long shelf life.
The exterior of this fridge is white, with two compartments and a control panel at the bottom for switching electricity and gas. It includes an adjustable thermostat, and free-standing installation which means you can install it anywhere you want even in your RV or truck.
The interior of this fridge is also white with LED lighting, 4 removable wire shelves which you can adjust according to the height of your item. It also includes one large drawer to keep your vegetables and fruits crisp and fresh.
Smeta Propane Refrigerator with Freezer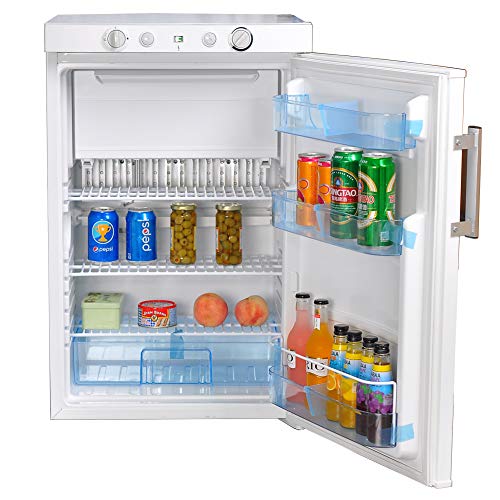 With a glossy finish, this Stand-Alone fridge measures 20.6 inches in length, 23.2 inches in width, and 32.2 inches in height, with a capacity of 3.4 cubic feet, and the freezer's capacity is 0.4 cubic feet.
This fridge is ideal to keep in dorm rooms, RVs, garages, etc., and can be powered through either a propane gas in which LPG can be used, electric gas like AC110v, and DC12v.
It absorbs the cooling system, is noise-proof, works on piezo ignition, has a flame indicator system so that you are prepared beforehand only. It comes with huge storage units with sliding-out shelves and a plastic drawer to keep your vegetables crisp and fruits fresh.
It provides automatic defrosting and LED lighting, consumes very little energy, and has multiple applications like you can use it both indoors and outdoors. The exterior of this fridge is white color with a glossy finish, control panel having a battery switch, power switch, safety valve, flame indicator, and thermostat knob situating on the top front of the fridge.
The interior of the fridge is also white, with 3 adjustable shelves, a freezer, and three storage spaces all with three wire shelves.
Superior Propane Off-Grid Refrigerator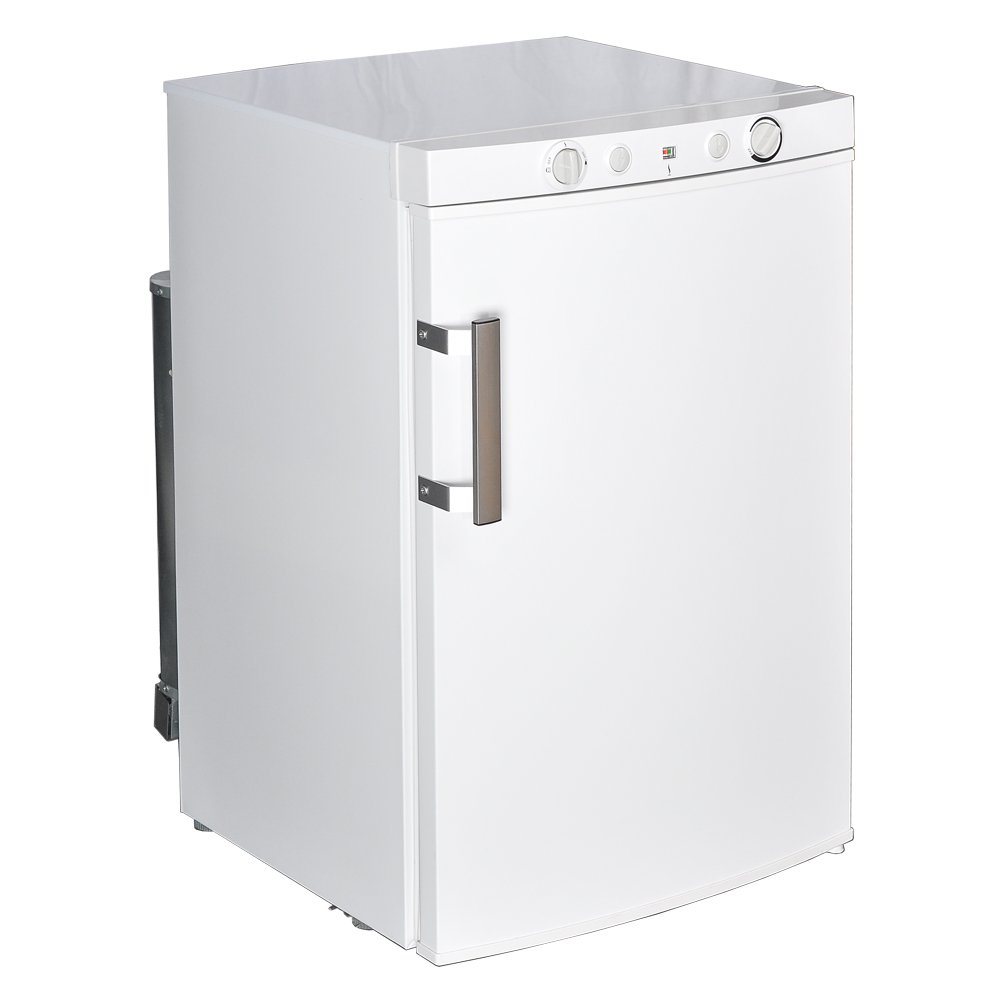 This is a 10 cubic foot refrigerator that works on either LPG or 110 volts. The exterior part of the fridge measures 64 inches in height, 24 inches in width, and 29 inches in depth, it is white in color, comes with two compartments – fridge and freezer, it also includes reversible door hinges which means you can place it anywhere easily.
Its total weight is 180lbs and comes with front leveling legs and rear rollers for smooth movement. The interior of this fridge measures 36.5 inches in height, 19.5 inches in width, and 19 inches in depth, the interior of the fridge runs on LED lights powered by four AA batteries.
Below the fridge, there exists a control panel with an igniter, safety valve, thermostat, and a flame indicator are situated. The inside of the fridge is white in color, with 5 adjustable wire shelves, one large drawer for your vegetables and fruits, the door shelves can hold up to 2 liters of bottles.
Apart from this, there is a space of 4 inches on the top left and 1 inch on the back or side of the fridge for better air circulation. The freezer measures 13 inches in height, 17 inches in width, and 15 inches in depth, the total weight of the freezer is 2.1 cubic feet and runs on propane or 110V electric gas.
The freezer has a diffusion refrigeration system and is ranked as a R717 Environmentally friendly ammonia refrigerant.
Avanti 2-Door Refrigerator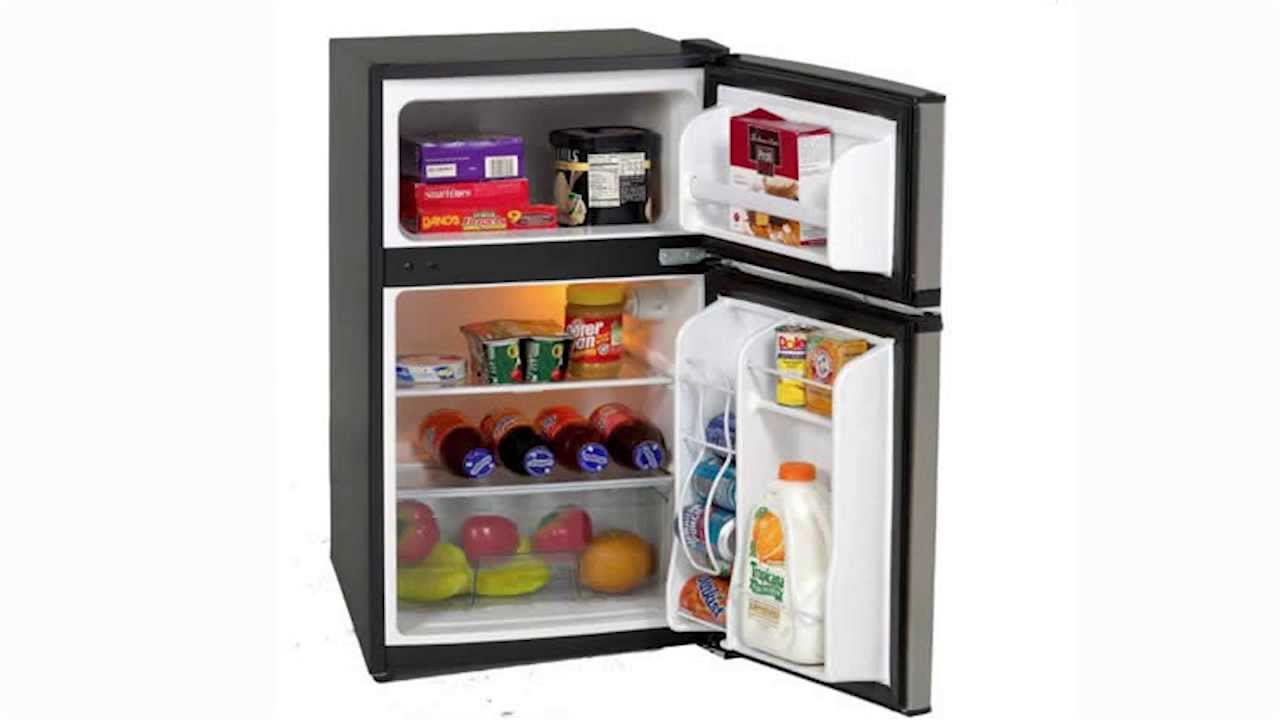 The fridge is platinum in color with a glossy finish making it stand out in your kitchen. It is a Stand-Alone model with a total capacity of 7.4 cubic feet and has an energy star certification. The fridge dimensions are 55.75 inches in length, 21.75 inches in width, and 23.5 inches in height, and is 2-door, the top part being the freezer and the bottom a fridge.
The total weight of the fridge is 92 pounds and includes a freestanding installation method. The exterior of this fridge is glossy and platinum, reversible door hinges so that you can swing it from left to right easily, it also comes with leveling legs for easy movement.
The interior of this fridge is white in color, includes one wired shelf in the freezer, along with an ice cube tray, 4 clear adjustable glass shelves in the fridge, adjustable door bins, one large clear vegetable drawer to keep your fruits and vegetables crisp and fresh.
The side door has a bottom shelf that can hold up to 2 liters of bottles, and the rest are normal ones. All the fridge runs on R600A Refrigerant which is CFC free and energy efficient.
Walsh Compact Refrigerator
Available in three sizes, this fridge is handy and space-saving with its measurements as 17.48 inches in length, 19.09 inches in width, and 19.49 inches in height. It has a solid black color, and is quite portable, can be kept in college dorms, RVs, offices, garages, bedrooms, etc.
You can store anything from an eatable to a drinking object in it, it uses R600 Refrigerant which is highly efficient and consumes less energy. The exterior of this fridge is a black, single door, can fit anywhere from your kitchen to your dorm room, to your garage, it contains reversible door hinges to move left to right, and leveling legs so that you can adjust and place it according to your choice.
The interior of this fridge has a temperature control system ranging from cool, colder, and coldest as per your need. You can adjust the temperature manually, the temperature range goes from 32°F – 47°F, while the chiller zone is 27°F – 37°F.
It also has a door storage to keep at least one 2-liter bottle, and a wire shelf, the fridge also comes with a power cord.
Propane Refrigerators Buyer's Guide
You understand what type of fridge your family requires, using that and the list of factors mentioned below, you should choose the best fridge.
Size
This is one of the most important factors to look for when buying your fridge. You need to make sure that the fridge you are buying fills up your space just perfectly, not too less space, not too much.
The best way to figure this out is by measuring your ample space and then see the measurements of the fridge. This also goes if you want to install a mini-fridge in your car, or a cooler. So, whenever you are buying a new fridge, measure the length, width, height of you is and then check the measurements of the fridge before purchasing it.
Capacity
Capacity is another essential factor to keep in mind while buying your fridge. When buying a fridge, you must check whether the amount of storage you want can be occupied in the fridge or not, otherwise you will be in havoc while shifting things and making space.
Since you can install propane refrigerators in your car and they work for a longer period, therefore you can store more food and drinks in it. You can choose from a 50 to 90 to 135 gallons of fridge depending on how many people are living in the house.
Power
There are various types of refrigerators like One-Way, Two-Way, Three-Way, etc. and each one requires a power source. An electromechanical compressor consumes less energy than a direct refrigeration would, however it is ideal to buy a propane-powered model.
A propane model will be suitable if you do not want the hassle of wiring and energy efficient. You can power your propane refrigerators on the same current as your AC unit because a propane model becomes inactive if the temperature goes above 5°.
Cooling and Defrosting
Cooling is a must for refrigerators, and the best way to buy a fridge with the best cooling system is to check for the stars. Most fridges with 2 or 3 stars and at a reasonable price get sold fast, the more the stars, the better the cooling system.
For defrosting, it is recommended to choose a propane fridge with an auto automatic defrosting system, that will not only be efficient but effective than the normal ones too. Auto Defrostation will save you from the hassle of remembering to defrost your fridge and waiting for hours to clean it too.
Noise
You do not want to wake up in the middle of the night hearing noises coming out of your fridge, which is why you must make sure that while the technician is installing your fridge, he makes sure to check the noise too.
 There are few propane refrigerators that can make noise, and it would be trouble for you afterward to stop the noise if you do not get it checked beforehand.
Nobody wants their sleep to be affected, or even normal daily activities, with the screeching noises coming from the kitchen. So, you should make sure that your fridge is completely noise-free.
Warranty
Is Warranty important? Of course, without that, there is no use in buying any refrigerator. Through warranty, you can replace any item you want to, be it an inside item like a shelf, compressor, freezer unit, or any outer part like the handle of the door, or the door itself, or its top shelf.
With your warranty, everything can be replaced within one year, or maybe two, depending upon the warranty. Not only for a fridge, but it is also important to carry your warranty card for every gadget you buy and get a free replacement.
Extra Features
You can also opt for that refrigerator which has a few extra special features because of which it stands out in the market. Some of the propane refrigerators have features like an adjustable shelf, that allows you to have an extra shelf to keep whatever you want to.
Due to the limited space your fridge has, this feature will allow you to keep more items in your fridge. One more feature is a separate fridge and freezer, which helps your food to remain fresh and frozen without the hassle of maintaining the temperature.
Apart from this, there are plenty more features like 2 doors, adjustable temperature, freeze resistance, etc.
Price
After evaluating all the points above, now is the time to check out the price and maybe for some people, brands.
Yes, you can go for the famous brands but even the non-famous brands are equally appreciating as the famous ones, so choose wisely.
Talking about price, the excellent quality refrigerator can be sold at a minimum of $600 – $900, less than that will be of average quality, more than this price is up to you to buy, looking at your budget.
Conclusion
Propane Refrigerators are the best to use in your home, office, garages, college dorms, trucks, or even an RV. These refrigerators use Propane gas (LPG), which is a mix of butane (R600a), and R290. 
Using these gases, the fridge consumes less energy than most of the fridges using electricity and making your bills come in pages. Most of the propane refrigerators are mini-sized, only a few of these are 2-door or 3-door.
The main benefit of using these refrigerators is that they are portable, can shift wherever you want, you can take them indoors as well as outdoors during camping, family vacations, etc. They have temperature adjustment for all your food and drinks, and you can adjust it however you want.
Switch to these refrigerators today and you can feel the change, you do not have to worry about the long dues anymore, and you do not have to wish to carry a cold drink on a hot and humid climate too far off distances thinking it might get warm when you can carry it inside your mini fridge.
And drinks are not the only thing you can store in it, you can also store your cheese, wine, bread, all good for a nice little picnic. So be it anything you want to fit, you can, choose the fridge according to the size you want, by measuring the space and you are ready to go.