Desks are the main base when you must get your work done. Yes, you can sit on your bean bag, on your bed, on your red couch, and work, but after a while, you will start feeling strain in your eyes and pain in your back and shoulders because of the wrong posture, which is why it is recommended to work only on a desk and a chair.
Even desks are of every size, smaller ones for kids, and a bigger and sturdy one for adults. The main question one asks is what size of desk should we have. The size of the desk depends upon various factors including type, material, sturdiness, comfort.  A large desk size which is of standard usage measures 60 by 30 inches with a height of 30 inches.
This is a standard large size which you can use as a base and then make significant changes according to your requirements. You should check what type of work you have, if it is an online job, for homeworks/assignments, for playing games, for watching Netflix, etc.
There are so many desks to choose from like a corner desk, the quite popular L-shaped desk, the standard rectangular desk, etc. With the correct measurements, you can search for the perfect desk, which will solve every purpose you have and will not be a chaos.
You can go through the list below providing what all you should consider before buying a desk, because let us face it, we are going to be spending a lot of time on it, so better to buy the one which is comfortable, durable, long-lasting, and affordable.
Let us investigate detail of what size desk you should have –
Purpose
The one factor which will depend on what size of desk you should have is the purpose you are going to use your desk for. This is very essential as remembering this will then help you in choosing a larger desk, or medium size, or a small one. For instance, if you wish to paint with your watercolors in between working hours then you should go for a larger desk, or else a medium desk is fine.
You can try making a blueprint or just a rough sketch of what your desk will entail, like it will contain a laptop or a computer, your accessories, your books, etc. By making a sketch you can figure out how much space your desk will take and then while ordering out down the measurements and get the perfect size you want.
Visual
Not only the space, but you can also check if the desk is visually appealing with the shades and color of your room or not. You can be a little choosy with the color and extra features too if you wish to. What you will find mainly online is desks being categorized as per the profession or the number of persons. You can even choose those, as their base is already set, and you can just choose the color and features.
Desk Dimensions
Whether you buy it online or go to the store, the store person will always ask you what work you want to use it. That is because all the desks are kept according to their usage having the base dimensions, for students, working professionals, homeowners, video gamers, etc. Below are some of these desk dimensions you can look at –
Professional Desk
These desks are usually vast so that you can not only put your laptop or computer on it but other stuff too. You will see these desks mainly in offices or even at home for yourself, and are used by managers, vice-president of the company, high-level employees, and for you.
Most of these desks have a back support which is kept against the walls and a front side where you sit and work. These desk's basic dimensions are 60 inches by 30 inches and have ample space to keep everything you want.
Student Desk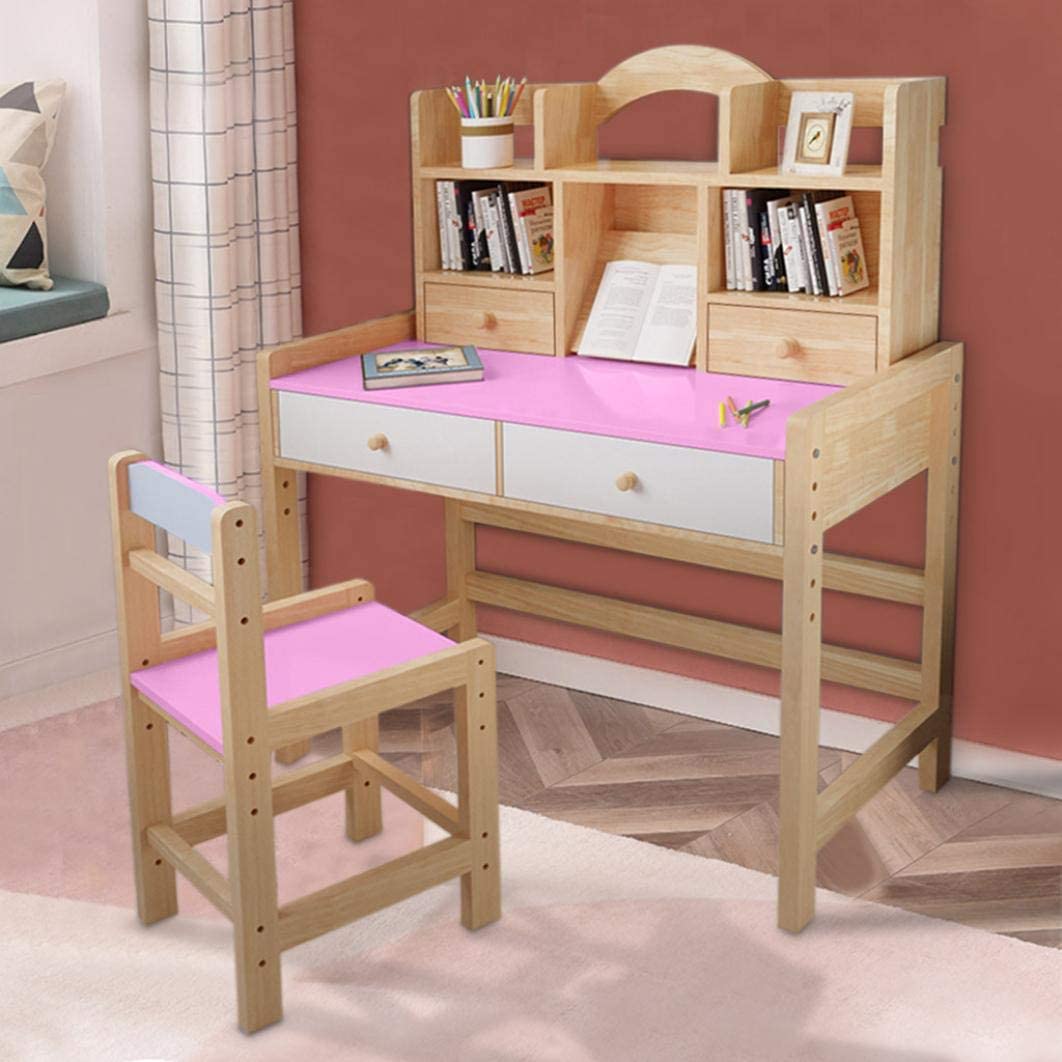 A student desk is primarily for school-going or college-going students where they can easily do their homework/ assignments and submit them on time. Most desks made for students have the basic dimensions of 30 inches by 18 inches, which is not enough for them to work on.
If you want a desk for doing your school/college work, then prefer to choose one which is bigger and with shelves made on the bottom to keep your books or notes, it is easy to keep a pile neat and clean and not messed up.
Computer Desk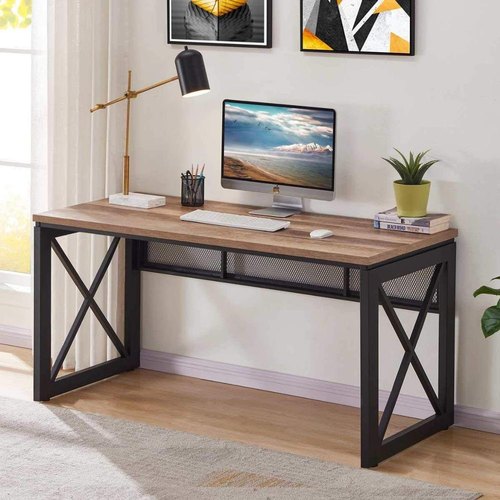 Computer desks are mainly made only for the purpose of putting a computer, mouse, and keyboard on it. You can find these desks in libraries, offices in colleges, etc. where there is no need for storage space since all the work is done through the computer only.
The basic dimensions of this desk are 50 inches by 25 inches, the depth of this desk is not that big as of the others, however some do have a pull-over table underneath the desk to keep your keyboard and mousepad.
Multiple Screens Desk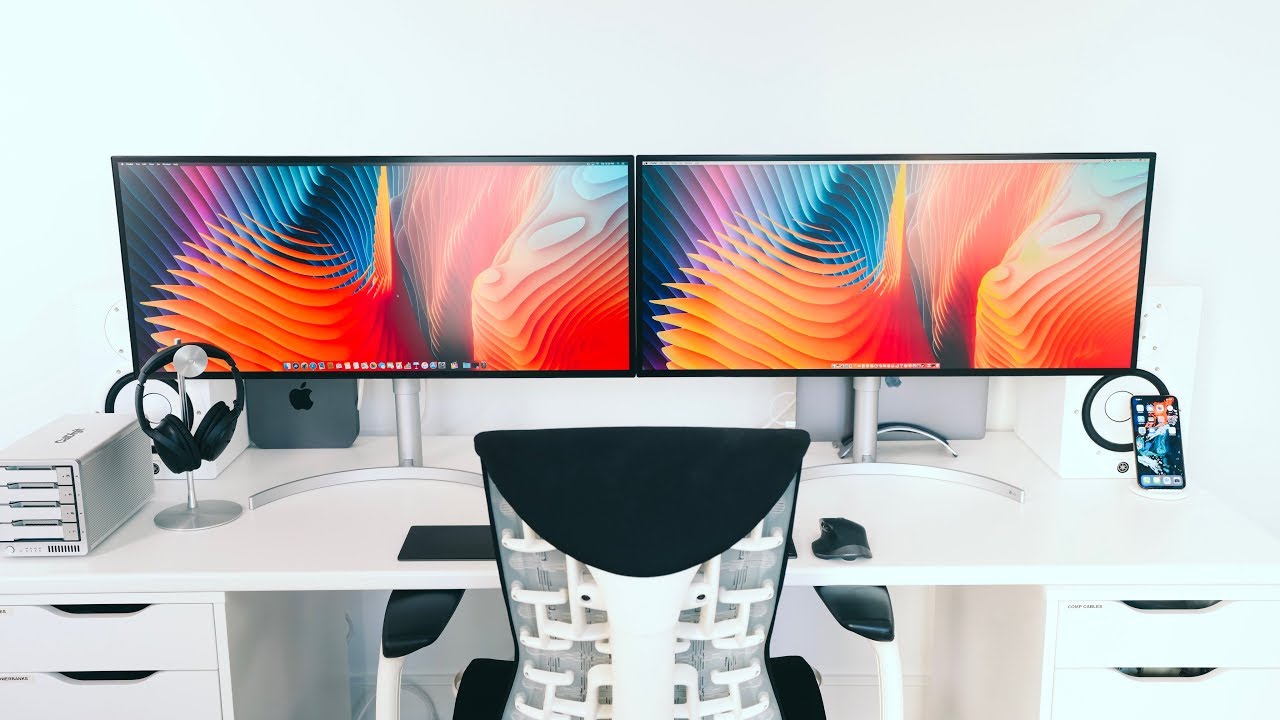 Lastly, a desk to set up multiple screens at one time, is wildly used for editing videos, music, playing video games, editing a movie, etc. When selecting a desk, you should start by measuring the width of your monitor which you can either ask from the manufacturer or measure it yourself, whatever the number ones add 6 inches to that, that is how much space you will be needing to keep at least 2 monitors, add more if you want to keep more. The basic dimensions of this desk go about 60 inches which is almost the same as a professional desk.
Ergonomics
This is a process that tells you how you should sit on your desk, what angles to check, and how to work efficiently so that any person can carefully use it be of any height. It is best to go to a store and buy a desk, because it is only then that you can figure out the angles.
You need to make sure that the desk is of the right height, and not a bit up and down, and that there is enough room for your legs to stay. For your arms, bend them at 90° and check if they are rested properly while you move your mouse or just keep them down.
Your monitor should just be an arm's length away from your eyes, make sure to keep it stiff and not tilted, and just make sure that you are not putting any strain on your eyes while glaring at the screen.
Desk Shapes
There are various shapes of desks having both positive and negative effects, which you should undergo before choosing. The shape of the desk also plays an essential role in choosing which one you should get.
A standard rectangular desk can be kept anywhere in your home, against your wall, in the center, in a corner, in a row, etc.
The only problem with this desk is that there will not be much storage space available.
A U-shaped desk is perfect for keeping multiple items on, you can stretch yourself out fully and work at any time with a relaxed chair and desk, but having this desk requires a lot of space, so make sure you have that much.
A corner desk saves tons of space and can be kept in any room keeping the visual in mind.
The only disadvantage of having this desk is that you will be facing the wall, you will not be having any visual appearance at the back of your computer.
An L-shaped desk is as similar as the U-shaped one, you can easily stretch out, is perfect for multiple monitors, enough storage space, etc.
However, you will be only having one desk in your room as it is long and will cover whatever area you want to put it in.
Build Your Own Desk
Nowadays what some people prefer to do is to build their own desk instead of buying one, it can be due to high price, bad quality material, bad experience, ample of time to spare, etc.
There are two ways you can go for the DIY approach, if you know how to handle the tools, build it on your own, you might occupy at least half a day to check out all the measurements and then calculating them, but it is worth it.
The second approach is that you can submit the measurements to a carpenter who can build it for you, in both the ways you will be saving a lot of money, which usually we get a delivery charge if buying online, and as taxes if buying it from the store.
Different Types of Desk You Can Choose From:
Joiscope Student Desk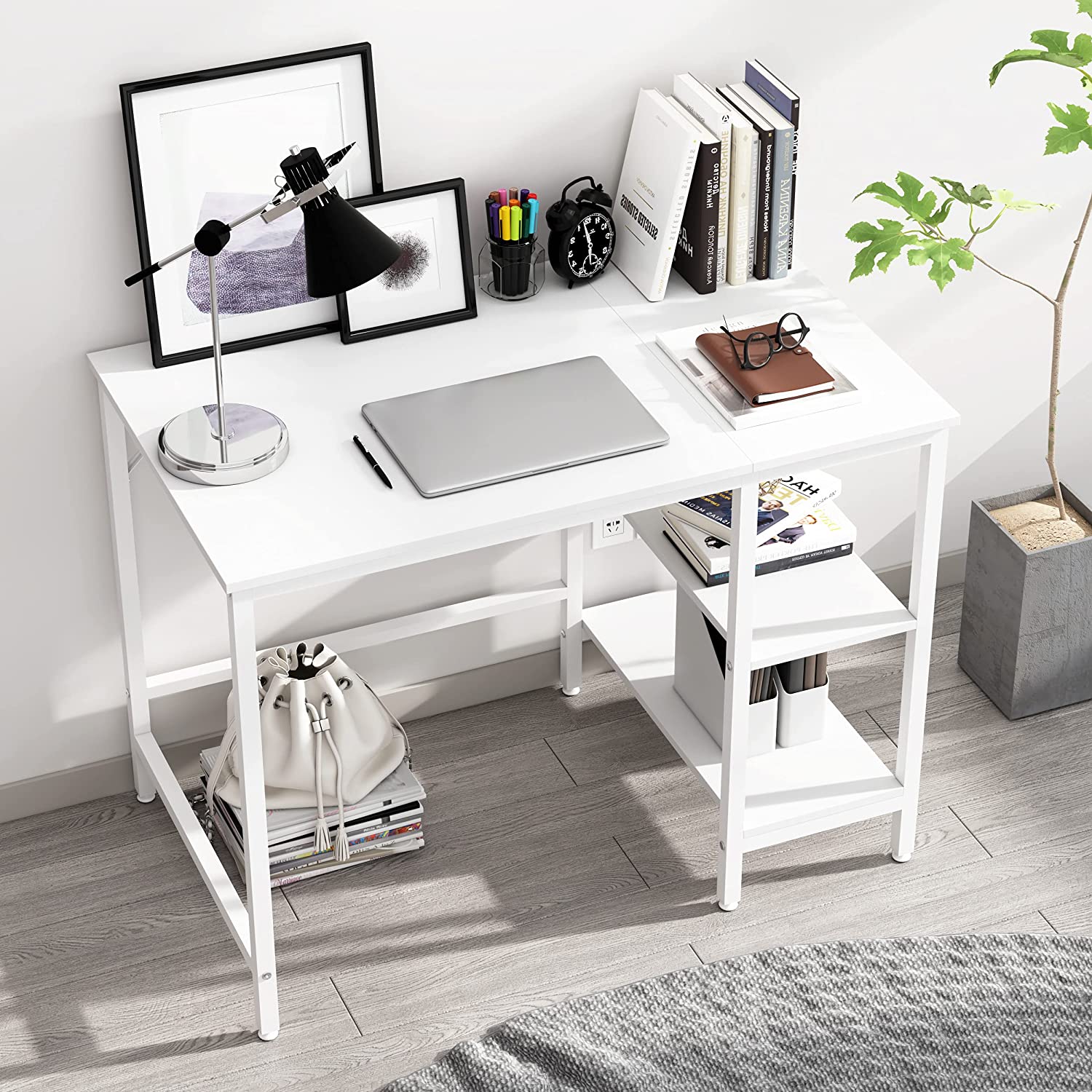 This desk is made of Oaktree, having dimensions of 40 inches, 47 inches, 55, and 60 inches. It is rectangular in shape with 2 shelves on the below side to keep your documents or books. Their material is durable and firm, and the computer table is stiff, all comes with easy assembling, which can be done by a single person only.
Sale
JOISCOPE Home Office Computer Desk,Small Study Writing Desk with Wooden Storage Shelf,2-Tier...
STURDY STRUCTURE:Constructed by premium steel and chipboard, the computer desk is absolutely solid, stable, sturdy and durable.
EASY ASSEMBLY:Our installation can be done by a single person.In addition, we also provide you with a detailed installation video, you can refer to...
MULTIFUNCTIONAL DESIGN:Our table has a multi-purpose storage function, providing two-layer shelf, which can save space for you.
BROAD APPLICABILITY FOR ROOM:We have adopted an industrial style design while ensuring practicality. There are two color options.
ODK Corner Desk
Although this is a corner desk it does include a pull-over table and small storage board to keep a minimum of items. Its dimensions are 28.3 inches by 29.9 inches, so you can see how small this desk is. This desk is ideal for those people who just want to scroll down or enjoy watching movies or do anything that does not require much storage space.
Sale
ODK Corner Desk, Triangle Computer Desk, Small Desk Sturdy Steel Frame for Workstation with Smooth...
【Triangle Design】- Make full use of your corner space. Just a corner space can both meet your working and gaming needs. Overall dimensions are...
【Keyboard Tray & Large Storage Space】- Upgraded version with a keyboard tray, designed for better working and gaming experience. The open shelving...
【Durable & Sturdy】- With a thick metal frame and premium desktop, the desk can support up to 220+ lb. The desk top is durable and easy to clean,...
【Easy Assembly】- The desk package comes with all accessories and detail instructions, very easy to install. Just follow the instructions step by...
Mr. Ironstone L-Shaped Desk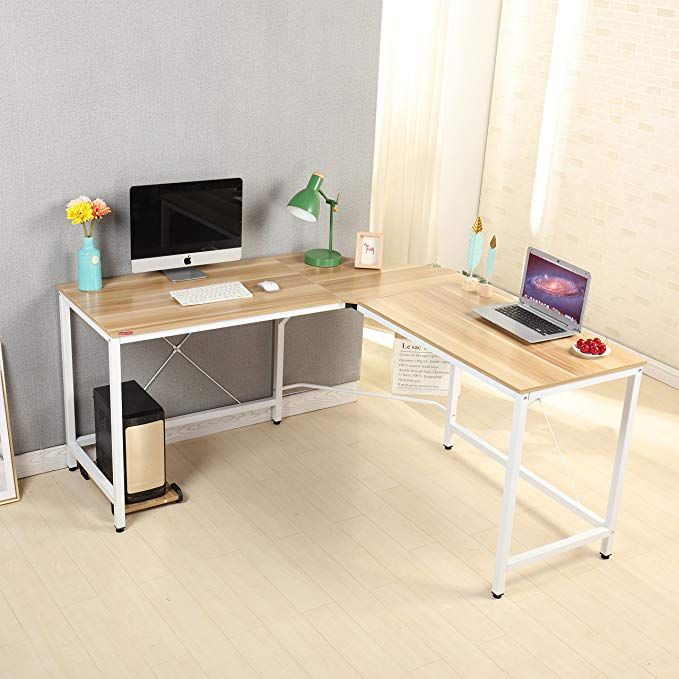 Having 50.8 inches of length, and 18.2 inches of depth, an L-shaped desk saves a lot of space, and you can use multiple computers at one time. It is affordable, you can easily stretch yourself, and mostly you can keep everything and anything you want on it. It is sturdy, available in various colors, just make sure to measure the space of the desk and your area.
Mr IRONSTONE L Shaped Gaming Desk Corner Computer Desk, Home Office Desks Writing Workstation with...
Easy to assemble & Express Services: Hassle free & Time Saving Installation for the L shaped computer desk. Mr IRONSTONE provides every l shaped desk...
Durable & Sturdy Construction: Constructed with thicken metal frame and P2 MDF board, this upgraded computer desk is much more durable and sturdier...
Large Desktop & Ample Leg Room: This corner desk with 50.8"L x 18.2"W double black-colored desktops ensure your conversions around with ease while...
Wide Application: Modern simple style computer table has a design-like appearance, will be a beautiful décor for your home. Modern office desk is...
Conclusion
When thinking about what size desk you should buy make sure to go through a ton of factors. Having a proper desk is very important because if you buy a desk without looking at the factors, you might end up having the desk small, or way too big, or having too much space, or having less space around it.
It is essential to go through the list of factors mentioned above because it will help you to find the desk you want and that is perfect for your posture. Going the DIY way is also the best if you are the one who wants to save money, but still get a good, sturdy desk for yourself. Mostly everyone nowadays wants to do things on their own, since it saves a lot of money and frankly, we want to if we can.
The biggest advantage of doing the DIY way is that you will not have to explain your requirements again and again to the person and you can add whichever feature you want to and subside whatever you wish to.
Nearly 60-70% of people nowadays go for this way since they also already have plenty of bricks, cardboard, etc stuff lying around in their home that can be of great use. Doing it the DIY way will also consume all the free time you have in a productive way.