Life will be perfect if the earth itself provides all the water needed by plants. But that is impossible to happen, and it is our responsibility to keep our favorite plants and vegetables happy by providing them the water they require to thrive. If you want to have a healthy garden, you need to understand and follow the raised bed watering solutions listed below.
Raised bed gardens are ideal for growing herbs, plants, fruits, and vegetables in your backyard. They are easy to install and provide consistency and even watering to the plants. The best feature about these raised garden beds is that they do not require much maintenance after the initial installation.
The method you follow to water these raised beds creates the main difference between a thriving garden full of happy plants and a struggling garden where plants are either under watered or over watered.
Weather Is Important for Plants
If the question arises in your mind that does weather affect plants? The answer is yes! The high or shallow temperature for a plant can be a bit harmful. But there is still some disparity related to temperature stress in plants. Some plants begin to wilt whenever there is a temperature rise, while others have a robust resistive tendency and are at their best even in extreme conditions.
Plant growth is affected by high temperatures in numerous ways. The high temperatures mainly affect photosynthesis, in which plants produce oxygen using carbon dioxide and sunlight.
Photosynthesis is the opposite of respiration which humans and animals perform. When there is an uncomfortable rise in the temperature, then both these processes become unbalanced.
Plants require more water in the summer heat and when it is dry or windy weather. During the summer season, hot areas such as Arizona require watering of raised beds even twice a day. While in other seasons, raised water beds may only require one- or two-times watering in a week.
If you have an automatic watering system, you adjust the timer's frequency according to the weather conditions. So, it would help if you also focused on the weather while following any raised bed watering solutions.
You Should Be Aware of The Watering Needs of Plants
Water is one of the most important things needed by almost every living being on earth. Watering a plant is not a difficult task, but how much and how often to water is a little tricky. The plant cells are like water balloons.
When the plant cells are filled with water, then they become stiff, and plants stand upright. But whenever there is a lack of water supply, these cells deflate, and the plant looks wilted. So water pressure and cellulose are mainly responsible for maintaining the shape of the plants.
It would help if you kept in mind that soil is like a sponge. Most of the houseplants like a porous texture of the soil, allowing sufficient room for air pockets and water. Observe the soil before watering. If it is a bit moist, you can hold off watering.
If the water pours out immediately through the drainage holes in a raised waterbed, then this means the soil is bone dry, and it is repelling water. This will not let the water reach the roots of your plants.
You should continuously monitor plants for any signs of under-watering. As explained earlier, these signs include brown dry edge leaves, leaf curls, and slow growth.Although, sometimess plants wilt in the afternoon but recover by morning, this is mainly because of heat stress, and there is no role of water stress. In most cases, it is how a plant prevents the loss of moisture through its leaves.
Overwatering plants is also not good, and you should allow plants to become a bit heat-tolerant by not overwatering them. The signs that indicate that you are overwatering your raised garden bed are rotten and soft roots, constant wet soil, and yellowish-green leaf growth. Inconsistent watering also causes these problems.
Water More Deeply Rather Than More Frequently
Whichever raised bed watering solution you follow, the water must reach the root of your plants. Healthy root growth is not possible if water does not reach the entire root system of your plant, so you avoid shallow watering.
You can keep a soil probe (any long metal object such as a screwdriver) to check the watering depth. If the device moves smoothly inside the soil, it means the plant bed needs no further watering, but if there is some resistance in its movement, then it means that the plant needs additional watering.
You can also use a moisture meter to measure the moisture level. For example, it would help if you waited for the top inch of the soil to dry out before you water your raised garden bed again. You can also occasionally water twice as long to flush excess salts from the soil.
If you do not have any particular device to monitor soil moisture, do not worry. Your hands are simple enough for the job. If you feel that the soil is slightly damp or spongy on the touch, it means it does not need further watering. Don't get deceived by the surface, and you should check the root zone of your raised gardening bed (3″ inches or deep) with your finger.
Water Plants in The Morning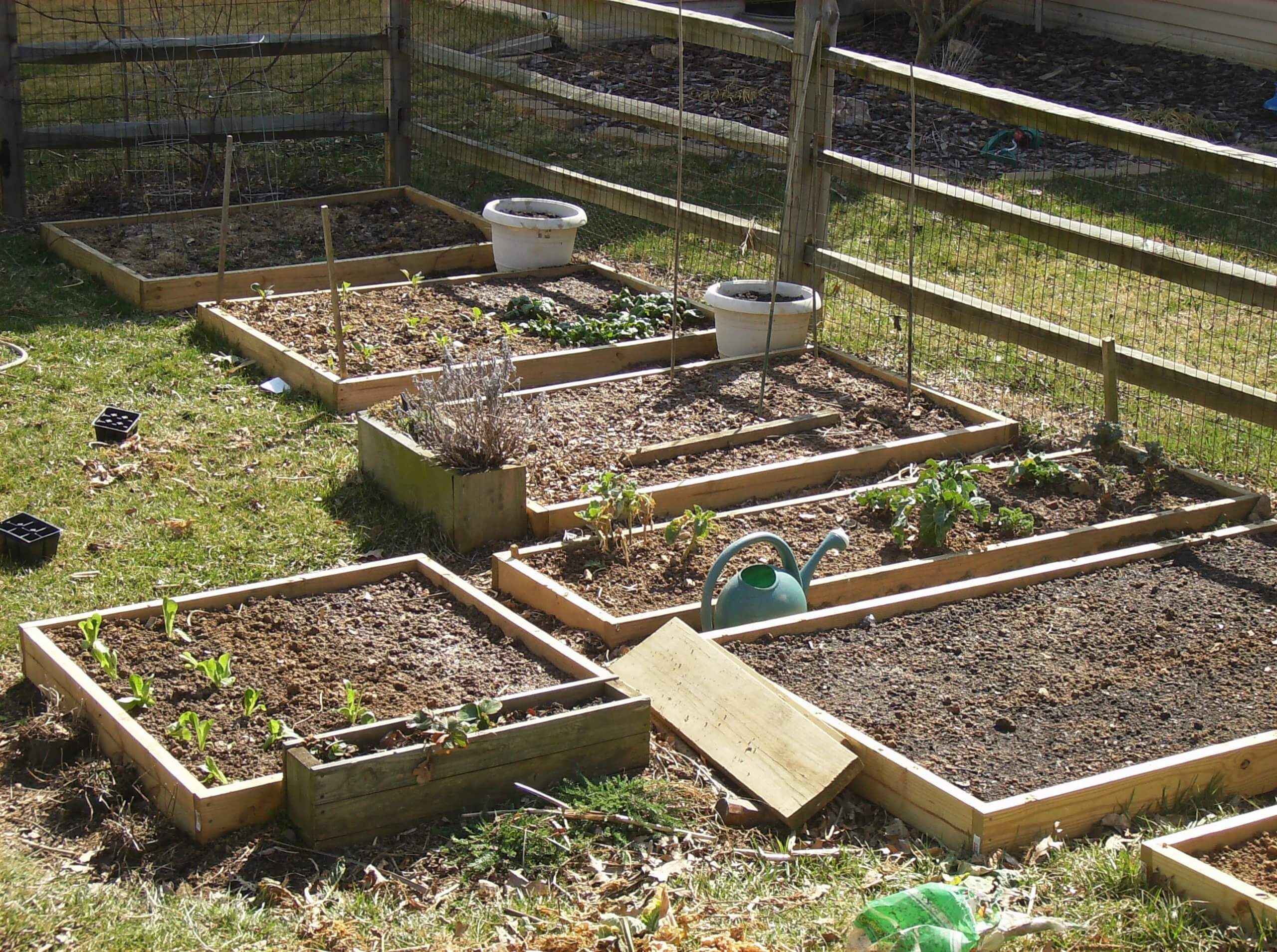 The best time to water plants is early in the morning when it is still cool. This is because very less water is lost through evaporation, and the water reaches the roots easily by running down the soil. Another benefit of watering in the morning is that water is available for the plant throughout the day; this helps plants to deal better with the heat produced by the sun.
There is a myth that watering in the morning makes the plants more susceptible to scorch. Firstly, almost every corner of the earth does not receive enough sunlight for water droplets to scorch the plants. Secondly, even if you live in any area that receives a lot of heat, the water droplets will be evaporated due to heat before it can focus sunlight and scorch plants.
Sometimes it is difficult to water the garden in the morning due to life and work schedules. In this case, you can water your garden in the late afternoon or early evening. One important thing that you should keep in mind while watering plants in the evening is that there should be enough sun to dry the soil a bit before night.
Excess water makes leaves damp, and this encourages fungus problems like sooty mold and mildew. If you are using a drip or soaker irrigation system, then you do not need to worry about this problem; leaves do not get wet in this form of watering.
Consistent and Even Watering Is Required for A Raised Garden Bed
The best solution among raised bed watering solutions is to use any type of automatic watering system to water your plants. The best feature about these systems is that they have timers. These timers can be adjusted to water the plants according to the season as the weather.
Timers can be easily calibrated to water the plants every day during the hottest months of the year or less frequently, depending on rain. Consistency is also important in watering because inconsistent watering causes several problems such as drying out of seeds and seedlings; this further stresses an established plant which can invite many plant diseases.
Best Automatic Watering System
Many automatic watering systems are available in the market that makes the watering of raised plant beds a no-brainer. They majorly include soaker hoses, drip lines attached to a timer, and sprinklers. However, out of these three methods, drip-line irrigation is the most effective one among raised waterbed solutions.
Soaker hoses
The garden hose is a unique system that can efficiently water your raised bed garden. The water seeps out slowly through the tiny pores present along the length of the rubber hose at a particular flow rate. This allows plants to absorb the right amount of moisture.
By this method, water quickly reaches the root zone without any excess water pressure. Another benefit of this method is that the water is delivered right to the roots. This keeps the foliage dry and reduces the chances of any fungal infection. Note that drip irrigation systems are different from soaker houses.
Sprinklers
Sprinklers can be used in large, raised plant beds. But there are many disadvantages associated with sprinklers. Firstly, they can be quite wasteful, as they use a large amount of water and almost 50% of it is evaporated on hot and windy days before it reaches the roots. 
Secondly, they encourage many fungal diseases that thrive on wet foliage and can easily be transmitted. The main advantage of these sprinklers is that they are less expensive as compared to other options, and the amount of water as well as it is sprayed on can be adjusted. 
Drip Lines
Drip lines are a system of tubing and nozzles that supplies water exactly to the point that it needs it. Drip line irrigation system requires some initial planning to install, but they conserve water by providing it only to the parts of the bed that needs it.
The flow rate of water in these drip lines is also slow, which prevents the loss of water through evaporation. If you live in an area where water is scarce, or use of it is restricted, then a drip irrigation system is surely best for you. The drip line system is constructed using flexible plastic drip hose tubing with tiny holes which spray or drip water slowly on the soil. The drip line is surely one of the best-raised bed watering solutions.
You Should Spend Time in Your Garden While Watering Each Day
Whichever raised bed watering solution you follow for your garden, the most important thing you need to keep in mind is that you should be physically present to monitor the system while operating. If an automatic watering system is installed in your garden, you should program it to run when you are normally present.
This will help to ensure the smooth functioning of the system, and you can easily spot any problems such as a dead battery in the timer, overwatering, or the leak in a line before the problem affects the health of your plant.
Choose Watering Method According to Soil Type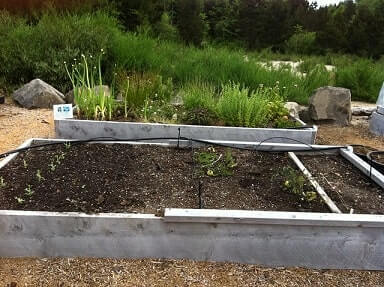 The different types of soil have different capacities to hold water. Soil that is clay-based easily holds onto the water as each particle of clay has lots of surface area for water to attach. Sandy soil is generally avoided for raised gardening beds because it has bigger particles as compared to clay soil type.
Sandy soil lets the water pass easily through it and hence does not retains moisture. Loamy soil is also a good option for raised bed garden as it retains some moisture yet is also well-drained.
A method by which you can improve soil's ability to hold water is by adding compost to it. In this way, you supply just the right amount of water to the plant. Sandy soil without compost is just like a basket full of golf balls, and water passes easily right through.
When you add compost to the soil, it is like adding sponges to the soil. Water still runs through it, but some are stored in sponges. Compost improves the quality of sandy soil and improves clay soil by aerating them and providing better drainage.