What do the polls of 2021 say? Cricut vs Silhouette, right, which one to be opted?
Well, do not try and jump to one just because of the designs maybe which are out and have got the market in an uproar as we always know that we should not judge a book by its cover! The answer could only be found if you have got covered each detail of both craft cutting machines.
Every year comes and brings together a fresh new controversy. Let it be cricut vs silhouette this time, then. Claiming and giving points off to your own favourite might be somewhat biased because it would prove the other tool inutile which again, might be misleading for those people who would really make good use of the other tool following their own requirements and needs.
Afterall, it totally depends on how a person's going to use the machine for making it work fine for themselves, right?
Detailed perks of having one of the machines with its set drawbacks are all mentioned here, in this guide presuming it would help you make the decision of getting the right one accommodating your own conditions.
Cricut vs Silhouette- Cost
Pricing is the foremost factor to consider before spending it on something. Since the machines in 2021 are top models and fresh new, of course they would be a bit expensive but is that price worth enough to really invest in? Let us see.
Silhouette Cameo 4 is the new model priced around $300 while the Cricut Maker costs something near $400.
So, of course, it needs no calculations to find which one is cheaper from both. Silhouette Cameo 4 is a bit cheaper from Cricut Maker, which wins the round of pricing, but does that mean it has got less features? We will find that in not much time though.
Cricut vs Silhouette- Cutting Power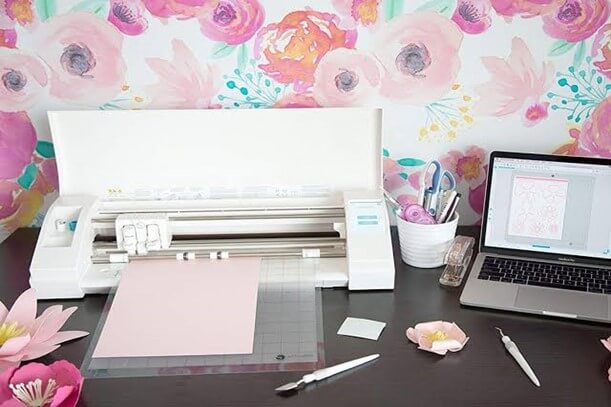 Both are crafting machines so the primary function they should be more than efficient in must be their cutting power.
Since the year has changed and it is 2021 now, so have the Silhouette machines which earlier used to have 210 grams as their cutting force straight away losing the battle from the cutting force of 4000 grams belonging to Cricut Maker.
Since Silhouette Cameo 4 had been launched in the market, the cutting force has been increased to 5000 grams which marks a difference of 1000 grams of cutting force with the Cricut Maker.
This already calls out Silhouette Cameo 4 as the winner of Cutting Efficiency, but what matters is how you will be using the machine.
Is it vinyl and paper that you would want to cut, or would you be cutting harder and thicker materials such as balsa wood, leather, etc.? This should be considered before buying any of the tools because the lighter the material, the lesser the force it would require to be cut.
Cricut vs Silhouette- Better Blades?
Silhouette Cameo 4 in 2021 has a total of 3 different blades while the Cricut Maker happens to be available with not 5 or 6 but almost 10 different blade options.
The 10 different options in blades of the Cricut Maker that you will find, would be:
Fine Point
Deep Point
Bonded Fabric
Rotary
Knife
Quick Swap Perforation
Quick Swap Wavy
Quick Swap Debossing
Quick Swap Engraving
Quick Swap Scoring Wheel
The 3 blades of Silhouette Cameo 4 are:
One Tap Autoblade
Rotary
Kraft 
One tap Autoblade is the central blade of the machine which automatically chooses.
how much of the blade needs to be visible and the user would not need to adjust it by hands i.e., manually. Rotary blade is the one that will be used while dealing with fabric and crepe paper. For cutting hard materials which happen to be leather, balsa wood and craft foam, Kraft blade would come handy
If you would like to have available with more than multiple options, surely go for Cricut Maker but opting for Silhouette Cameo 4 would also be proven effective if you exactly know how to work your way with the blades. All depends on how you use a particular tool.
Cricut vs silhouette- Size Cutting.
The size of material you can cut using a Cricut Maker is probably 12 inches by 2 feet. This is something rather smaller than the Silhouette.
Cutting area of the Silhouette Cameo varies from 12 inches × 10 feet and 12″ × 24. This depends on whether you are using the mat or not.
If you do not know what a mat is then, here we go, it is used as a base sheet which is practically sticky. The material which will be cut is placed upon this sheet and then the machine is used over it.
Now if we go by facts, vinyl and paper could be cut by a Silhouette machine without using a mat giving you the cutting area of 12 inches x 10 feet.
It has also been found that cutting width could be upgraded while using a Silhouette Cameo Plus or Silhouette Cameo Pro. It could be switched up to a 15″ or 20″ cutting width.
Henceforth, there remains no doubt declaring Silhouette Cameo 4 as the winner for this round.
Cricut vs Silhouette- Cutting Speed
Since we have mentioned each machine's ability of cutting certain material sizes, it is appropriate to discuss the cutting speed as well.
The previous versions of Silhouette Cameo would lose if we took them into consideration but if we look at the newer versions such as Cameo 4 then it does have far better cutting speed than the older versions; It speed is fairly 3 times than that of older ones.
Cricut Maker has been holding up the speed since a long time as it has been in the market. It used to be faster than a Silhouette machine but since we have recently developed models of the Silhouette machines, it makes both equal if talking about cutting speed.
Cricut vs Silhouette- Software Status
Well, this goes straight down to this-
If you want to create your own designs or like to go with customising the designs which already exist, then have a Silhouette Studio Software.
A Silhouette Studio is easy to download and use without the internet once downloaded. You would even save your $3-4 for buying one of those cut files. Though most of the files are available online in SVG format, for importing those files you will need to have an upgraded Designer Edition. However, the Designer Edition is easily available on the internet for purchasing.
If you are going to purchase a Silhouette machine, then the software is a must buy. You would surely not regret it. However, you would not be able to connect this software to your mobile or tablet. It can only be used on a PC or laptop maybe.
Surprisingly enough to mention, most of the people with Cricut Maker chose to have a Silhouette Studio Software paired up with their device. This might tell you already which one is better when it comes to the software.
If you are a new user or just comfortable enough while working with other people's creations and designs, going for the Cricut Design Space might be better. It cannot be said much about creating own designs on it, but it is manageable and handy.
Pros of having the Cricut Design Space are that you need not to buy an upgraded version for exporting SVG files like in Silhouette Studio and it has features of being able to connect to a phone or a tablet. Cricut Design Space can also be marked as simpler in use than the Silhouette Studio Software.
This seems a tie between both taking into consideration both pros and cons.
Overview of Cricut vs Silhouette
Taking the price, and advantages and disadvantages into consideration, let us look at both machines' good and bad points which will eventually decide the verdict.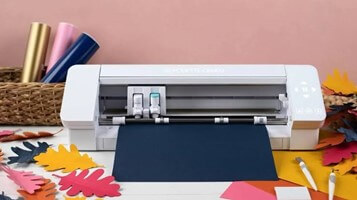 What is Good? – Silhouette
Able to work mat- free.
Can be used while being offline.
Comes with assorted designing choices.
Contains Autoblade function
Dual Carriage
Files can be shared independently.
If used with HTV materials, then mirroring design is possible.
Bluetooth
What Is Not Good?
Edges might be differing.
Difficulty in cutting high density materials.
Messy vinyl cutting
Problems with cutting tiny design.
What is Good? – Cricut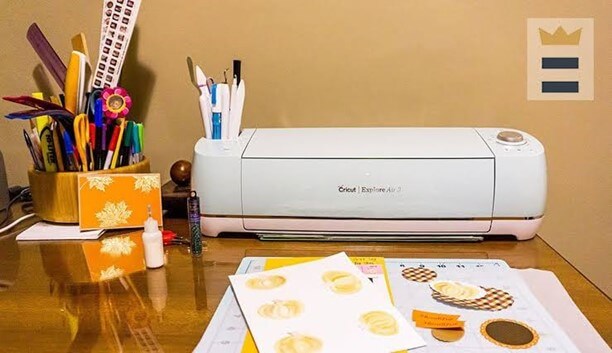 Quick Working
Durability of cutting mat
Different sort of materials can be cut.
Does not make much noise.
Complex designs can be easily cut.
More options available in Dual bearing
Even cuts
What is Not Good?
Sometimes face difficulty in file sharing.
Requirement of internet connection
Complex vinyl cutting
Designing software require an update.
Conclusion
So, the battle ends up with the result that both machines are good according to the use of the artist using it.
For people who are into graphic designing or strive for more creative outcome every time they craft something, a Silhouette machine should be declared the winner.
However, people who want to make their way with using rather simpler, faster, and easier tools with limitations in design can take Cricut as their winner.
What to always keep in mind is having more than enough knowledge about your projects on which you are working as the types of projects you are taking will only decide the best crafting machine for you, let it be a Cricut Maker or a Silhouette model.
The type of PC you use also impacts on your Cutting machine. Mac or Windows, both are different types when we go talking about PCs, which will also state whether your cutting tool, when paired with one of them, would run smoothly or not.