Porches, patios, and decks give you that open space attached to your house, which can be used in multiple ways. However, do you ever feel that your existing patios, porches, or decks are not being used to the fullest? If this is the case, you must have probably thought of adding porch enclosures to your existing ones.
If you have ever thought that your house's existing open patio, deck, or porch does not let you use it more efficiently, then there is no better option than giving it enclosure. Open spaces restrict you from using it in so many that an enclosed space does not. Moreover, even if you do not have an existing porch, patio, or deck, it is probably time to think about one.
Enclosing an Existing Patio, Porch, or Deck Space!
Today, having patio, deck, or porch enclosures has become a statement style for everyone. As a result, the open spaces are out of trend, and the new enclosed spaces are all over today. For safety purposes and due to the changing climatic conditions, people prefer closed spaces today.
There are numerous ways of doing so when you think of enclosing your patio, deck, or porch. Using different materials and experimenting with space has become common now. However, before you decide on a particular style, you should know the benefits it would give you in your area.
The Benefits of Adding A Porch Enclosure to Your Home
Having patio, deck, or porch enclosures ensures your safety and protection. Having an enclosed space keeps away the insects, birds, and small creatures that could enter your house through an open space. Also, forgetting to pick up any critical material from an enclosed porch won't let you worry about it.
Moreover, if you live in extremely cold climates, porch enclosures will keep you safe from the cold. Also, with an enclosed porch, you will be able to enjoy the beauty of nature without actually going outside.
Types of Enclosed Porches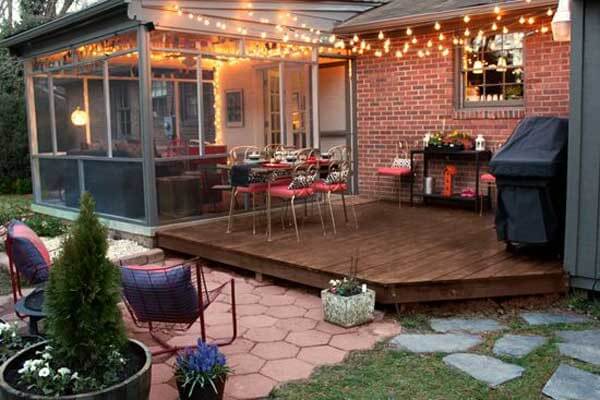 Four types of porch enclosures are usually used at homes. All of these types have their advantages and consequences. No matter which kind of house or patio, deck or porch you have, you will find the one from these four porch enclosures that fit right with your home. Keep reading to know which one is for your porch!
Screen Rooms
The screen room allows you to enjoy the beauty of nature from the inside. Screen rooms may look expensive, but they usually come in the budget for porch enclosure. Screen rooms are the best choice when one loves nature but is tired of its nuisance.
Three Seasons
Three Season rooms are designed in a way to let you enjoy three seasons with comfort- summer, spring, and fall. These rooms depend on the type of climate an area experiences. At patio enclosures, they offer glasses of full length and screen panels for rolling to facilitate the control of the consumer's hands. This helps you control airflow as well as keeps away the outer elements from your three seasons room.
Four Seasons
As the name suggests, the Four seasons room allows us to use and enjoy our patio, deck, and porch enclosure despite the extreme climate. A thermally engineered frame is used in the construction of these rooms and the same allows us to enjoy every single day in our porch enclosures. In addition, a zoned heating and cooling system is framed inside so that you can choose your desired temperature and relax.
Moreover, glasses of full length and screen rolling panels are provided with this room to allow control over airflow and the outer elements.
Solariums
Unlike the other types of rooms, Solariums are all-glass rooms. From the roof to the sidewalls, everything is constructed of glasses. Solariums make the perfect room for stargazing at night and sunbathing in the day. One can experience the surroundings uninterrupted with these rooms.
Adding some screen rolling panels and opening glasses will ensure maximum ventilation in the room. For the patios, decks, and porches at the back of houses, Solariums are a great idea.
Patio enclosures also offer sunrooms construction to their customers. Sunrooms add a nice space to the house to relax at times. If you plan to add a sunroom to your house, there are certain features you should know. These features will help you make a better decision.
10 Sunroom Features You Should Know!
When you plan on adding a sunroom to your house, it is necessary to have certain things in mind. For every new thing that is supposed to be added to the house, you plan it out in advance. So, when you are thinking about a sunroom, you probably have an image of what you want.
However, there are certain features that a sunroom has and should be present for better quality and experience. Here are ten sunroom features that you should know for choosing the best type of sunroom for your house from Patio enclosures.
Glass
At Patio enclosures, they offer various types of glasses for different screen rooms, sunrooms, and porch enclosures.
Single Pane Glass is a popular glass type and comes standard with three-season rooms.
Double-pane Insulated Glass comes with up to 40% UV protection and is standard for four-season rooms and solariums.
Comfort Gard Plus is an advanced quality glass type that keeps you warm in winters and reduces your cooling cost by 25% in summers. It has low e-coating and argon insulating gas and is available for all sunrooms and solariums by Patio enclosures.
Glass Tint is a glass type in bronze tint which provides shade and UV rays protection with reduced solar heat to your room. This is an available option with all other glasses of Patio enclosures.
Screens
When you are planning on a sunroom being beautiful, it should also have quality standards. Patio Enclosures offers sunrooms screen rolling panels that have structural integrity and maximum visibility through them.
The screens are made of black-painted aluminum mesh, which is almost invisible. This aluminum mesh helps in resisting sagging and gives ultimate strength. If compared to traditional fiberglass screens, Patio Enclosures screens are better in terms of quality and appearance.
These screens stay cleaner and durable for a more extended period. Screens come standard with all screen rooms, sunrooms, and porch enclosures.
Electrical Raceway Posts
These raceway posts allow you to add any electrical connectivity features to your sunrooms or porch enclosures. This raceway post comes standard with four season rooms and is an additional option for three-season and screen rooms. They add this post in a clean and neat finish.
Door Locks and Handles
Patio enclosures provide various door handles for each type of sunroom and screen room.
Easy-grip handles are designed for screen rooms for effortless openings and closings.
Black aluminum handle with a wood accent is a low-profile handle used in three-season rooms for easy opening and closing of blinds.
Color-matched euro style handles are low profile handle which matches your frame color. This is a standard in three-season elite rooms, four-season rooms, and solariums.
Door and Window Rolling System
Doors and windows need to roll effortlessly to make any patio, porch enclosure, or sunroom perfect. At Patio enclosures, they use different rolling systems for each sunroom and screen room. The rolling systems they use are Triple-trach with Nylon Tires and Triple-track with Ball-Bearing Wheels for screen rooms and three-season rooms.
Monorail with Ball-Bearing Wheels and Monorail High-compression, European Ball-bearing tires are the rolling systems used in four-season vinyl, aluminum rooms, and solariums.
Locking Systems
Patio enclosures offer different locking systems to ensure excellent safety to their clients. There are three types of locking systems that they offer.
A single-point locking system is single-point locks for doors and windows of screen rooms.
A single-point locking system with an anti-lift bar is used in three-season rooms to prevent the windows and door panels from lifting outside.
A dual-point throw bolt locking system with a night latch is used in three-season elite rooms, four-season rooms, and solariums of Patio enclosures. It offers dual security with top and bottom throw bolts. In addition, the night is latching allows you to ventilate the room without opening any windows or doors.
Framing
Frames offered by Patio enclosures are of two main types- Aluminium sunroom frames and Vinyl sunroom frames. While aluminum frames are available for all kinds of sunrooms, the vinyl frame is only available for four-season rooms.
Roof Options
The type of roof you choose enhances the look of the overall enclosure and varies in quality. At Patio enclosures, they offer various roof options for the porch enclosures or sunrooms that you choose.
They offer custom-made roofs when adding patio, deck, or porch enclosures to existing roofs of your house. In addition, custom-made wooden roofs are also offered. Other than these roofs, solarium glass roofs, single-slope roofs, gable roofs, 3 inches, and 6-inch double insulated roofs, and Comfort-guard glass roof panels are also available for different screen rooms, sunrooms, and porch enclosures.
Weather Stripings
One needs protection from extreme weather in sunrooms. Weather stripings are polypropylene barriers that do not allow the outer temperature to enter your sunroom or screen room and lets you enjoy the inside without external interference. At Patio enclosures, they provide three different weather stripings depending on the sunroom you choose.
Polypropylene weather stripings are used in sunrooms and three-season rooms.
Polypropylene weather stripings with a fin seal are explicitly used in all view elite three seasons rooms.
Triple polypropylene weather stripings with a fin seal are used in four season rooms and solariums. This triple-layer provides additional protection from moisture.
Weather Lock
A weather lock is additional weather stripping to provide extra protection against the outer temperature. At Patio enclosures, they give this as a standard product. Patio enclosures advanced weather lock system is added where the doors meet. It acts as a superior seal to keep all the outside elements away, including wind. This striping provides a tight-fitting between doors to keep the outer weather from entering your sunrooms or porch enclosures.
Pricing and Cost Factors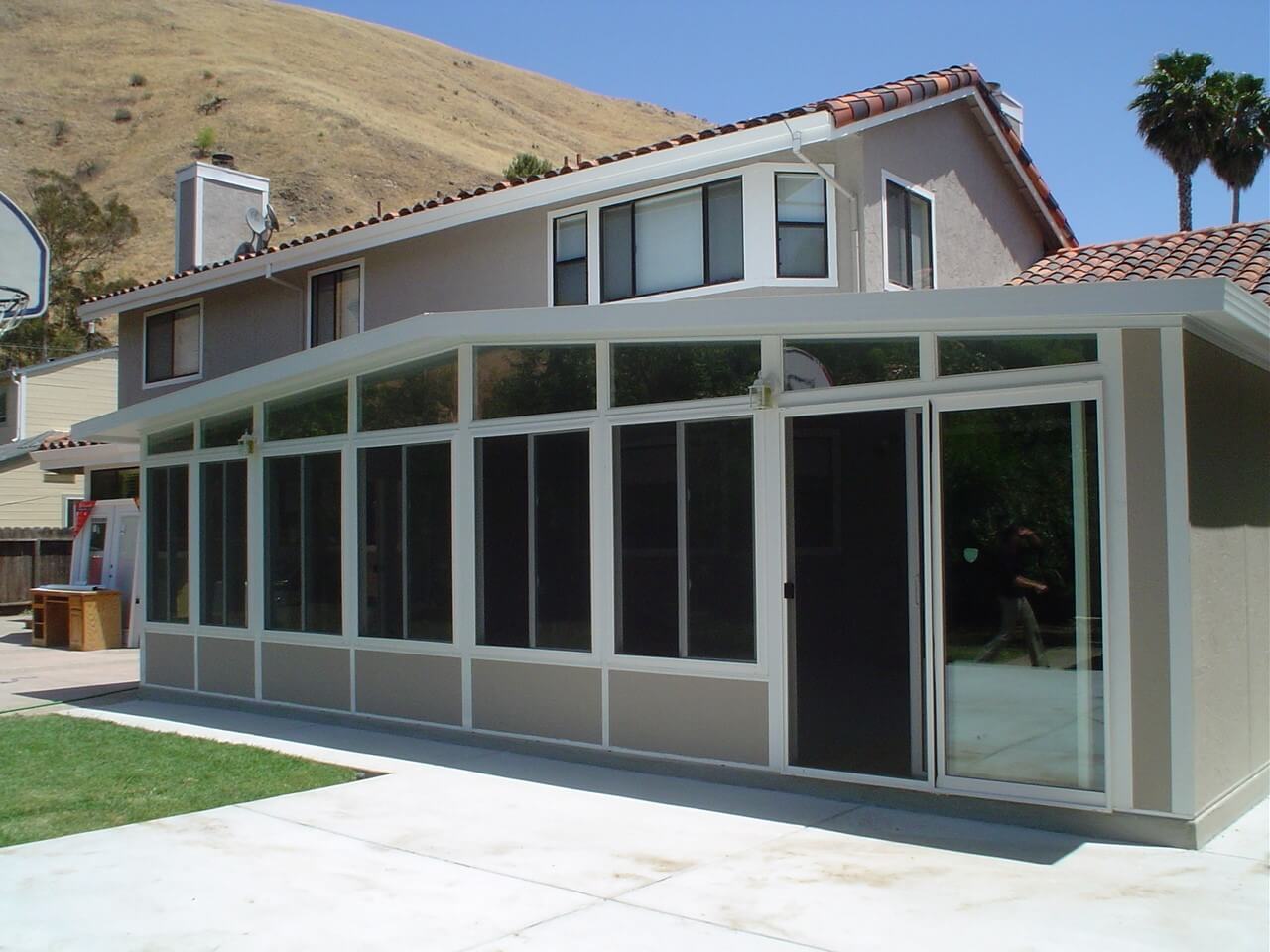 The pricing for a porch enclosure depends on various factors. Since their services are customized according to different houses and the requirements of other people, their prices vary for every porch enclosure.
A design consultant is sent to your house for in-home estimation. The patio enclosures do this in-home estimation free of cost. After the physical assessment of your home and patio, porch, or deck, the design consultant gives you the cost of getting a patio, porch enclosure, or screen room.
The various factors that decide your price are the location of your house, the type of enclosure you are willing to get- patio, deck, or porch enclosure/ screen rooms/ three-season rooms/ four season rooms/ sunrooms. With these factors, the products you are willing to get installed in your enclosure or room decide the project's overall price.
To help their clients achieve home improvement goals without digging a hole in their pockets, the Patio enclosures have collaborated with Greensky trade credit, a home improvement financing industry. They provide easy and quick approval and application process to their clients so that they can have their sunrooms or porch enclosures funded quickly.
They offer zero interest, zero payment plans, and reduced rate APR plans. These plans help the client to get their project done with partial payments.
Warranty Information
Patio Enclosures offer a lifetime limited warranty on all of its manufactured products. This means that your custom-made patio enclosure or any enclosure would have a contract and complete customer service till the time you own the house.
This includes glass, roof panels, framing, and many more products. Also, Patio Enclosures provide personalized services before, during, and after the enclosure is made. They also offer various replacement parts to do not have to go anywhere else to get any part or product replaced.