Is your garden missing something? Well, growing vegetables in your garden may add up to freshness in your life but it sure is short of color. Is your garden nothing but all green? It might sometimes cross your head that adding flowers to your garden may add a bit of color and vibrancy to your garden but is sure to take up the space you reserved for your vegetables and fruits.
Well, if you are the one who prefers productive plants over beautiful ones, then choosing a variety of plants might be not your cup of tea. Above this, you might resist giving some precious piece of land to some fruit-less plant. Flowers are sure to give a colorful look to your garden, but growing them could be tedious and tiresome, and spacey. For some space is not the issue, but for many spaces may be only one issue hindering their choice of flowers.
Well, what if flowers can be used as a border to differentiate between varieties of your vegetables and can also be used to fill up your evenings with its amazing essence in your cup which will also satisfy your body's requirements. Figuring out which flower will do this for you?
Well, it is the flower who is doing it for ages and has registered its name in traditions and cultures and even books? Now if you have nothing but greenery and vegetables in your garden, you can use this amazing daisy-like flower "chamomile" to flaunt your garden to your guests and relatives and astonish them with your amazing way of handling your garden.
These chamomiles can be grown on the borders of your garden and vegetables and are not even as unproductive as you think a flower is. Also, it can do one thing that flowers can do the best luring pollinators. Thus, they can also help your fruits with little space.
Chamomile flowers
If you are the one who is just in love with Daisies but always resisted them due to lack of space then, there is an alternative for you which is the one and only "chamomile". Chamomiles are daisy-like flowers that can be grown on the outskirts of your garden and some of the plant species.
Chamomile flowers are popular in history for their herbal properties and traditional use in medicines. So this flower doesn't turn out to be as unproductive as its companions. Even chamomile is still in use in the medical industry and many more like the cosmetic industry etc.
Also, chamomile finds its use in beverages like tea, beer, and ale. Chamomile is known for its medicinal purposes but however, if you have some specific pollen allergies then, you might have to refrain from it as it is basically a flower and might worsen your problem.
Chamomile records its name in Egyptian, Roman, Spanish, and Greek History for its unimaginable cure for fever and its healing effects. Not only this by growing it around your lovely vegetables, but it also swears to protect them with its smell from dreadful insects that might prove harmful to your lovely vegetables.
However, with its beautiful yellow center and cute white petals, it will fill your garden with the loveliness of the daisies and some cuteness of its own to leave you bewildered and your guests wondering. Its uses are sure to help you as it is beneficial for everyone be it old or young or a female.
In females, it is known to benefit the uterine making them fit for their future. It has been in service of mankind and in the offering to Gods since ages due to its miraculous charm be it for medicine or for its underlying glory.
Chamomile flowers can be grown in any part of the world, but it depends on the place that which of its species will strive best in the area.
Generally, there are two species of chamomile namely, German chamomile and Roman Chamomile.
However, there are other species of chamomile, but these are the most prominent ones and are likely to be found in your area.
German Chamomile
This German chamomile can be found in any continent of the world in the present times with its white florets and yellow disc florets. This species is a native of southern Europe and strives best in the region. Unlike its companion, it does not have scales and will freshen up your mornings with its strong aromatic smell.
Its blossoms are at its peak in early midsummer which will add a freshness to your summers with its white florets and strong aroma. This specie is no less in registering itself to history and finds its use in ancient Egyptian history for its magical medicinal properties.
It also contains a blue oil which is the reason behind its strange properties and strong smell. It finds its use to cure sore stomach, skin, sleep, and your bowels. Also, if you are a heart patient and want to keep your cholesterol levels in check, then this species is the one for your by lowering your cholesterol levels, all you must do is, brew it and drink it.
Tired of your stomach and intestinal cramps, you do not really have to go through all that pain when you have this species of German Chamomile by your side. However, you might have to take care not to take it with other medicinal drugs as it might react, and you really do not want to suffer consequences. So, check it with your physician before yielding its benefits.
Roman Chamomile
Roman chamomile with its glamorous daisy-like petals is sure to steal away your heart. Roman chamomile with downy leaves, rising 20-30 cm above almost half of the German chamomile is often confused with the same.
However, it has completely different properties compared to the same. Its fruity and strong aroma will fill your garden with its aura and your mornings with rejuvenation.
Unlike the German chamomile, it strives best in Europe, North America, and Argentina. Its blooms at its peak in June and July giving a sweet, delightful smell.
It is no less in medicinal properties and is used in skincare and hair care products. Unlike German chamomile, it has no specific harmful effect with the drugs. If you want to add a sweet smell and freshness to your lawn, then it is best to serve this purpose for you.
Also, it is best and is used as herbal medicine for skin and digestive aid. To strive the best, it requires light soil, sun, and moisture, and each square meter contains up to 100 plants, just perfect to create a distinction among your plants.
However, you might refrain from presenting it to a pregnant woman as it might prove unsafe for them. It is also beneficial if you have some problem in your respiratory tract.
How to Grow and Harvest Chamomile in Your Garden?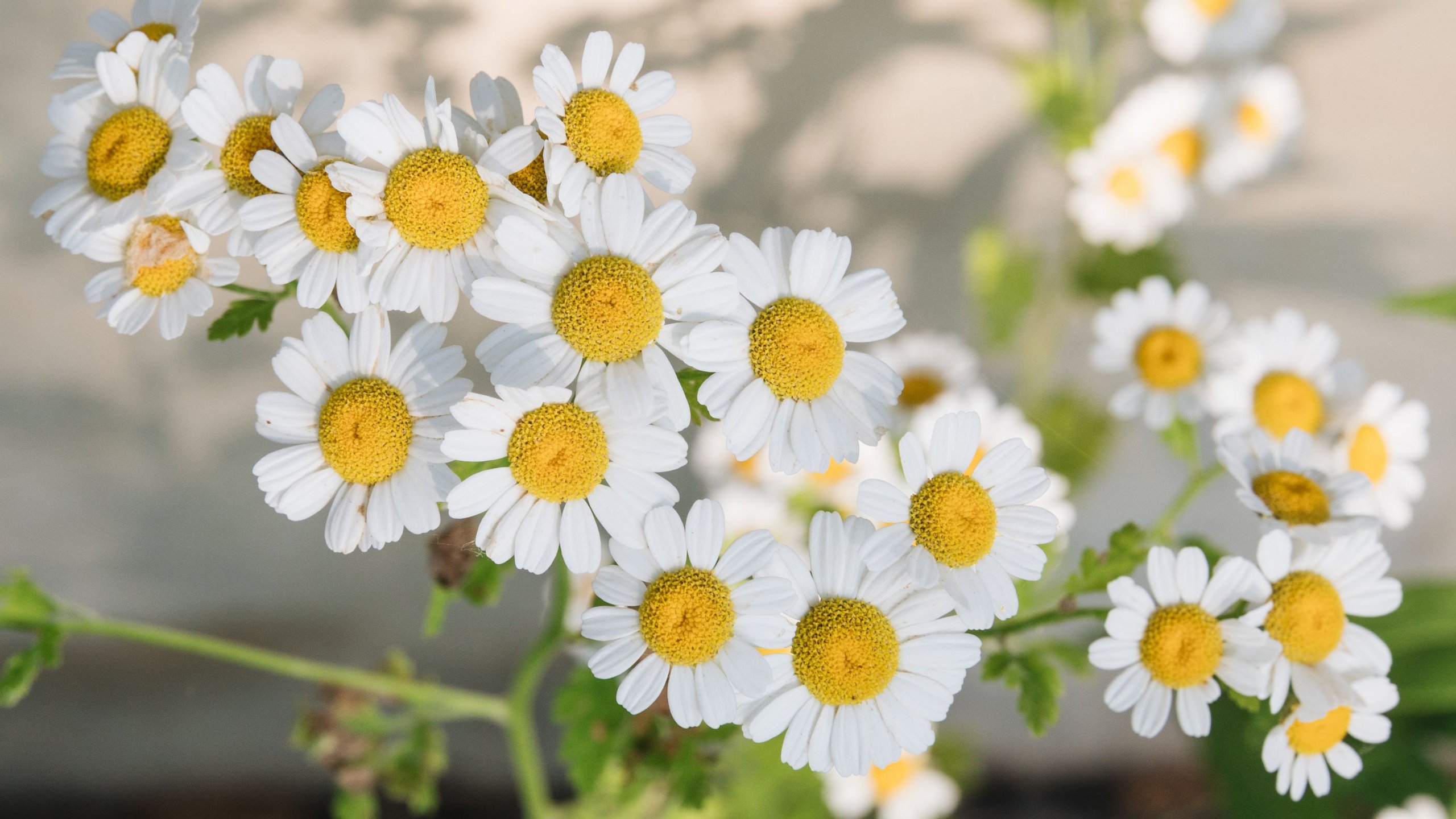 Chamomile with its medicinal and beautifying properties deserves all the hassle and effort to bring it to the comfort of your home. With all these steps you will be able to not only grow but also take up all the benefits at little space you have in your garden. Let us go through them.
The first thing that you need to do to make this beautiful flower your own is to buy its seed from the market. While both Roman and German chamomile has their own share of herbal properties, I must tell you that it is not the same regarding taste. Roman chamomile is a bit bitter than German chamomile. Well, if the skin is what your sole priority is then you might have to savor some bitter taste for that, but if it is that is not the case, and you like to fill your evenings with the freshness of chamomile tea then German chamomile will serve you the best.
After you are done purchasing seeds as per your requirement, then you might be thinking about how to grow them? Well, for that choose a place with a good amount of sunlight with a partial afternoon shade to sow the seeds of your lovely chamomile. It grows best in places withal a good amount of sunlight. However, in tropical climates, an area with a partial shade will be the best.
To dig chamomile into your garden, wait for the last spring frost to subdue, and then you are all ready to add chamomile into your garden, just maintain six inches between your seeds and choose a sun-filled area for full blooming. Water immediately after sowing chamomile seeds and be sure to give your plants one inch of water every day until they are ready to go.
Give a good amount of mulch such as leaves, rotten vegetables, straws, etc to ensure your soil has enough moisture and organic material to support your lovely chamomile's growth. Organic material adds to the quality of the soil and enhances the growth of plants not only chamomile but other vegetation too. Be sure to add more of it to your soil.
Mix a good amount of compost and fertilizers in the soil where you have planted your chamomile to ensure their healthy growth. Also, this should be done before digging your chamomile into the soil. Be sure to add compost and fertilizers to the soil so that it becomes rich in nutrients to benefit your chamomiles to the best.
When soil is ready, dig a large hole to sow your seeds. Water them as stated above and be sure to give a good amount of sunlight even if you potted your chamomiles.
When petals begin to bend backward, it is time to harvest them and savor your amazing tea. But for that, you need to harvest them with pruning and dry them under the sun and if the harvest is good enough, store them in a cool, dry container so you can savor your chamomile tea whenever you wish to.
With all these steps you are ready to add the beautiful and aromatic chamomile into your garden. All you must do is follow all the steps diligently and carefully and no one can come between you and your beautiful garden with chamomiles.
Benefits of Chamomile
Chamomile tea is known to cure your insomnia and give you a sound sleep. It helps you relieve stress and let you sleep like a baby.
Intake of chamomile tea aids your digestive issues and is proved to be helpful in many gastrointestinal disorders just like bowel disorders.
Also, it helps you give a fragrant garden with its sweet, fruity, and rejuvenating smell. With its amazing smell, be sure to freshen yourself in the morning and astonish anyone that enters your home.
If you have been going through anxiety and are tired to try all the cures and not getting the desired result, then this chamomile tea is sure to help you in it and provide relief to this problem.
Its wound healing properties were not the talk of ancient times only, it would be healing properties continue to astonish people. It helps to heal wounds as an ointment. Well, chamomile in your house will prove to be an instant ointment.
Chamomile Tea
Thinking about how to make a perfect cup of chamomile tea. Here it goes.
For a cup of water use one tablespoon of your harvested and dried chamomile.
Boil the water and put it in the tea-infused along with the dried chamomile.
Add ice to it.
You are all ready to savor this tea now.
You can also drink it hot if you wish.
There are numerous benefits of adding chamomile to your garden and you will never regret your choice of adding chamomiles into your garden.
All you must do is grow them once and then harvest them for your use and then just let go of all the hassle as they find their way to garden themselves in the same place.
You harvest they grow. Not only do they offer you a healthy life but also a beautiful and fragrant garden.