While going for a fireplace, this question always pops up in our head: How high should a mantel be?
Well, stating it as straightforward as possible, the fireplace mantel has no rules set about how high a mantel should be, neither are there any absolutes when we talk about a fireplace mantel's height.
The height of the fireplace mantel can vary depending on numerous reasons. First being, the room size, second is the ceiling height, third is the local codes, fourth being, your own personal preferences, and lastly the budget which of course sets the boundaries of expenditure.
Although, you are quite free to choose the fireplace mantel's proportions to your own interest when we consider the designs of any kind of architectural model or buildings there ought to be some standard, ideal height and width proportions.
There happen to be the focal points when we design or create a look of a room or a space and in this case, the fireplace and the fireplace mantel play a key role. It is the focal point of the rooms many times if they are in a living room or a bedroom.
So, how high should a mantel be if we are going with the standard average height?
Let us go with what most of the design specialists and decor theory say.
From the floor, a height of 4 and 6 feet should be considered as the ideal height of a fireplace mantel. A larger room tends to look good with a 6 feet high fireplace mantel while a small room works fine with 4- 4.5 feet. Smaller rooms should not have much higher mantel as it could cover up the whole space and would make the room smaller.
How High Should A Mantel Be? – Ceiling Height
As mentioned above there are a lot of factors that should be considered before deciding upon the correct mantel height. If the room is around 7-9 feet, which is common for a room height in the present scenario, a height of 3- 4.5 feet from the floor should be the right one.
This will leave you with a space of nearly 4 or more feet above the mantle to the ceiling. You would then have the space to decorate and put things on for interior decoration purposes which is a must if it is a living room or even a bedroom for giving the room a complete finish.
What type?
Timber and Box- beam are both trendy mantels for the space. Which will look good depends on your taste, though both are statement makers.
However, a box-beam mantel could be easier to install if you are working on a DIY project or have an already existing fireplace.
Ideal Length of the Mantel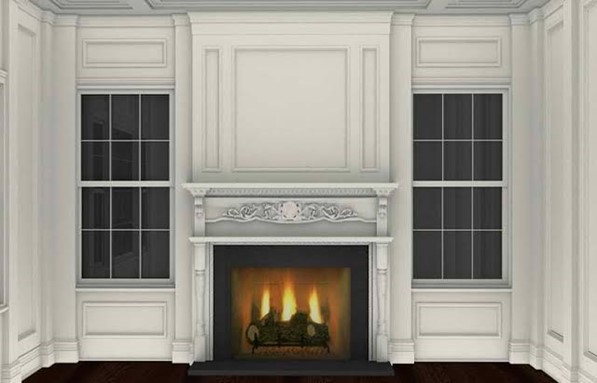 Some people prefer to have their mantels touching both ends of the wall while some are just happy to have it slightly longer than the firebox.
Going by the average, 12″ longer than the fireplace box can be considered. A mantle also needs to be away from the opening of the firebox as it could enter the dangerous point of catching flames and fire.
A difference of 12 inches between the mantel and the firebox could be safer, to begin with. This can be stated by referring to the mantel height codes and regulations suggested by the National Fire Agency (NFPA). This is indeed for providing the house members with a safer environment. Also, there would be fewer chances of any kind of fire accidents then.
This is also known as the optimal mantel height and measurements. Once this is taken care of, you would be able to clearly know how the mantelpiece would look like on the wall, and therefore, you can take care of the other things regarding how high should a mantel be?
Stick Out length of the Mantel.
Questions like: How high should a mantel be? Till what length should the mantel stick out of the wall? need no answer in a special way because it depends on the style and type of your fireplace.
Some of the fireplaces are built in a way that they come out of the wall, in other words, they are rather protruding. On the other hand, some are inbuilt with the wall.
Some also have some sort of covering over them.
These types affect the measurements of the mantel too. A minimum of 3 inches should be taken as the ideal measure to have the mantle sticking out. Fireplaces that have a covering or hoods above them can support mantels much longer than their hoods.
Ideal Thickness of the Mantel
The type of material you will be using for your fireplace mantel should decide this. 3-7 inches of thickness is appreciated taking the type of the material into consideration.
Thick wood planks should be used as 5-7 inches for an ideal thickness while thinner ones would do well if they are 3-4 inches.
The mantel should not be too thick or thin, that looks odd while placed above the fireplace.
Mounting Above the Mantel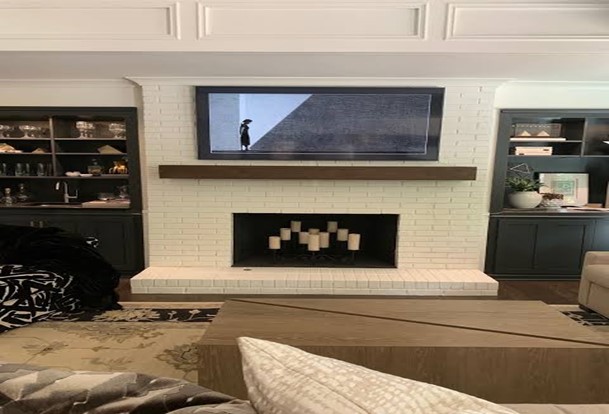 If you are mounting a TV, an artwork, or any kind of frame or wall hanging above that mantle, it should be up to 4 to 12 inches above the fireplace mantle.
For shorter mantels which are generally shorter than 4 feet from the ground, 12 inches above the mantle would look better proportioned.
Mantels that happen to be taller than 4 feet from the floor, mounting at a height of 6 inches above them could be best suited for placing a tv or anything above it.
Pre-Installing and Mounting Tips
Pre-Installing methods are vital to consider beforehand. There are always some rules or regulations we need to follow to do something. In this case, it is important to go through the codes and standards set by the National Fire Protection Association of your area
If you are Mounting a flat screen above your mantel and fireplace, it should be mounted a bit downward tilted. This helps make the viewing angle better placed.
After all this information it should be clear enough to know that there is no 'proper way of placing a mantel or mounting a tv or a painting above the fireplace mantel.
The thing that should be considered before doing this certain job just involves a bit of science, not rocket science obviously, just basic science.
The dimensions and the procedure should be followed taking the room into consideration because that is what matters the most. This should be done to make your everyday lives safer and easier.
Looking at What Other People Say
The information above is based on general and basic research of how high should a mantel be? But let us just have a sneak peek at the people's personal experiences about the same.
Let us see what these people say when it comes to how high should a mantel be.
"Mantel heights vary depending on the overall design, but average, traditional mantel shelf height is 52″-58″ high off the hearth. The mantle below is 53 1/2″ high."
– Says a Quora writer
"There is no standard. They might be roughly 1.5x the width of the firebox; they might extend the entire length of the wall."
– Says another Quora writer.
Conclusion
It is quite evident to say now that there is no proper answer to the question that how high should a mantel be?
It is subjective. You just need to follow some architectural design codes as well as the local building ones to have a perfect fitting mantle above your fireplace. It really depends on house to house, room to room, and space to space.
Doing general research by compiling some of the information from other people's personal experiences and recommendations in such cases help a lot in guiding the way to a better decision. All that remains should be just taking the measurements of your own space where you would be Installing the mantle and your god to go.
This also remains prominent in deciding the safety and security of you and your family. Hence, it is essential to just follow the main building codes with some standard proportions.
So, the next time someone asks you how high should a mantel be? Remember to tell him the correctly incorrect answer.
FAQs
How far should the mantle stick out?
A minimum of 3 inches beyond the opening of the firebox can be good. Do not make it too short or too long.
What is a good depth for a fireplace mantel?
The ideal depth is said to be 7 inches for a fireplace mantel. It allows a room for placing showpieces and looks more luxurious.
What is the best wood for a fireplace mantel?
If you want to have strong and pressure-holding wood, then none other than maple would prove to be great. It is light-colored in brown and gives a great finishing to the whole decor.
Is it bad to mount the TV above the fireplace?
Originally, it is inadvisable to mount a TV above the fireplace because electronics and heat do not go too well. But if you follow some safety measures and ensure that the appliance would not be in danger of blowing up, then you can mount the tv. By the way, instead of tv, you can also hang beautiful wall art or paintings, it will look stunning as well.
How much weight can a mantle hold?
60-inch mantels can hold up to 150 lbs. 72-inch mantels can hold up to 180 lbs.
It also depends on the type of material you are using. Some wood materials are thick to hold more weight while some are thinner doing vice versa.